This post may contain affiliate links. For more information, read my disclosure policy.
If you're looking for some of the best shortbread cookies you've ever eaten, you're coming to the right place today. This shortbread has it all: soft, buttery, macadamia nuts, and chocolate chips!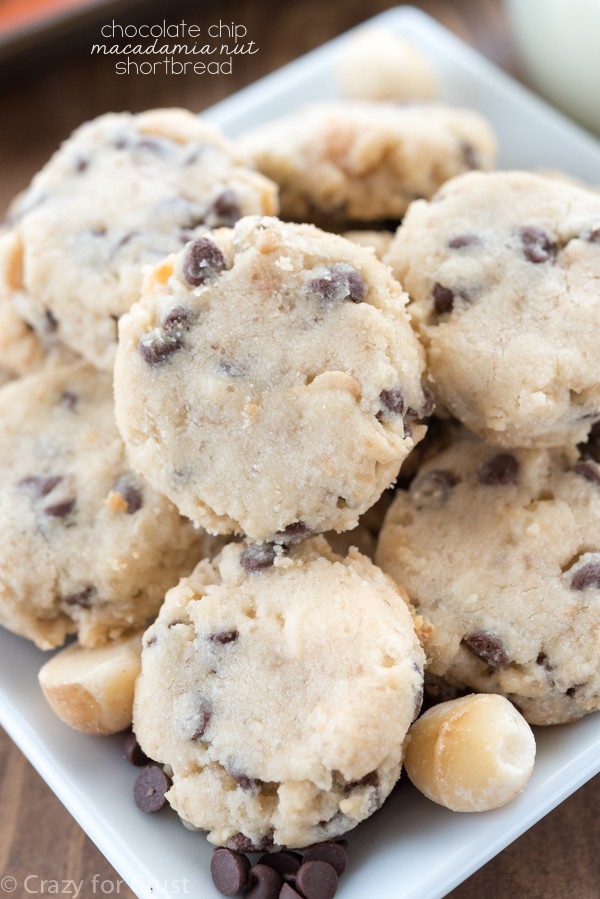 You want to know one thing I was totally disappointed with in Hawaii? Macadamia nuts are just as expensive there as they are here. I packed with extra room in my suitcase expecting to come home with pounds and pounds of them in all different flavors. Instead, my return suitcase was full of Marriott mango shampoo and Hershey's Macadamia Nut Kisses.
(YES, they do make those! I bought 5 bags!)
I know I've been posting a lot of copycat food from the trip (like…island breeze cocktails, buttermilk banana pancakes, and marshmallow whipped cream) and I but can you handle just a few more? Please? I promise you, you want these cookies: they're shortbread cookies full of macadamia nuts and chocolate chips!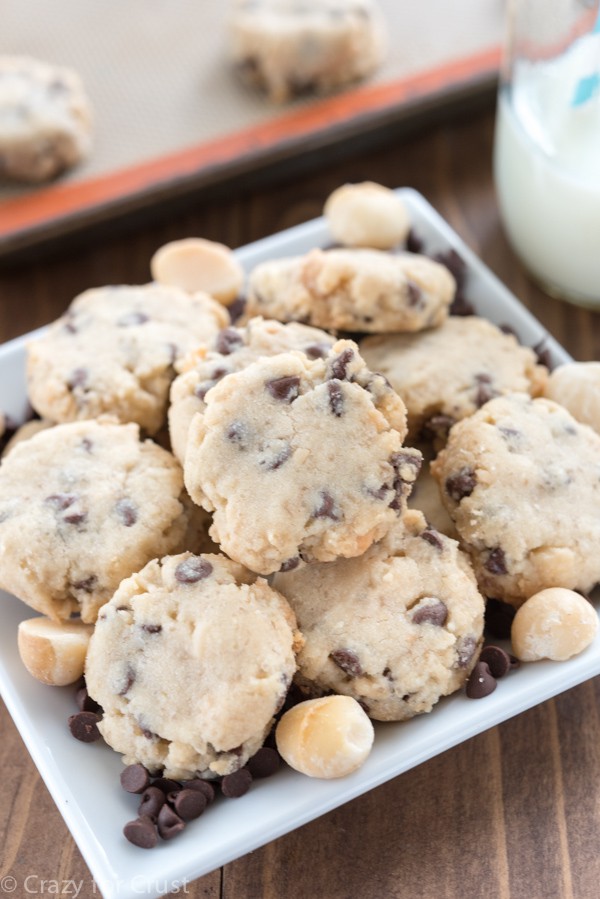 I could not wait to copycat this recipe. In fact, they're the first thing I made when I got home from Hawaii. And guess what???
You guys, MEL ATE THEM! And he said he loved them. And that they were one of his favorite recipes. That's a gold star for these cookies!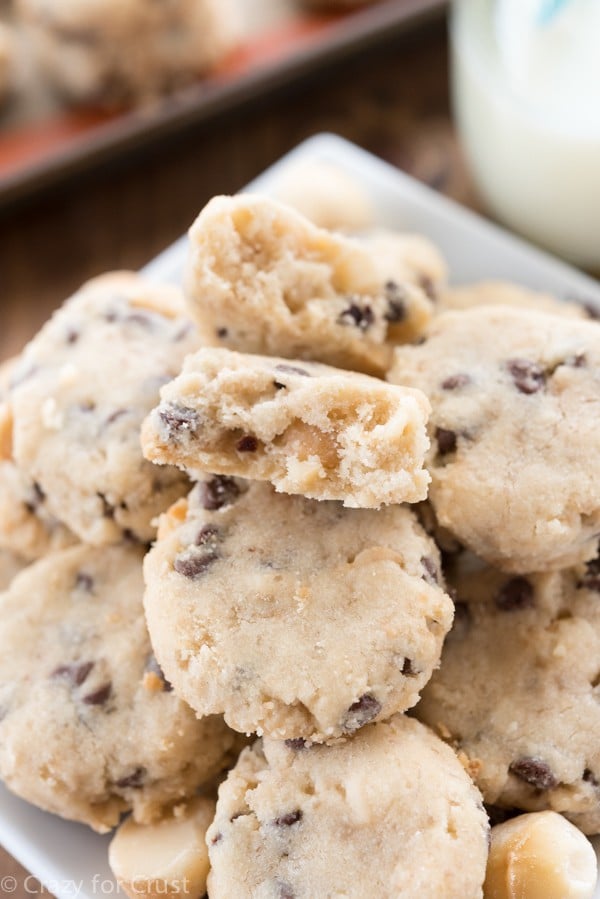 There's this cookie shop in Hawaii called Honolulu Cookie Company. They sell all sorts of shortbread cookies: coconut, plain, chocolate dipped, pineapple, coffee, and so many more. They also make mini chocolate chip shortbread cookies that sell for $11 for a 12-ounce tin. Yes, they're that expensive, and we ended up buying two tins on our trip.
The three of us ate both tins, $22 worth of cookies, in a week.
#totallytruestory

This is a super simple recipe, based off the shortbread I made last Christmas. Just a few simple ingredients create one of the most buttery shortbread cookies ever!
Let's break down the recipe:
Butter. Shortbread cookies need lots of butter! I used unsalted but you can use salted butter if that's what you have. Just cut the salt called for in half. Please make sure to use real butter. Don't use margarine or spread – stick to the good stuff!
Sugar. Normally I use powdered sugar for my shortbread, but in these I used pure cane sugar. You can buy this sugar in the regular grocery store with all the other sugar. You may also see it called "Turbinado" or "Sugar in the Raw". Three names, one sugar. If you can't find it or don't want to use it, just use powdered instead.
Macadamia Nuts. The macadamia nuts are finely chopped for this recipe. Use the food processor to get them really small. They help bind the cookies together. I like buying my macadamias at Trader Joe's; they have big bags for a pretty good price.
Chocolate Chips. I used mini chocolate chips so they'd fit better in mini cookies. Larger chips might cause the cookies to fall apart. Both Nestle and Guittard sell bags of mini chocolate chips these days. If you can't find them, simply chop up some regular sized ones instead.
All combined these ingredients make for the most soft and butter shortbread cookies ever. The macadamias give a little extra flavor and crunch and the chocolate is the perfect compliment.
Like I said before, Mel liked these. So…that's pretty much your ringing endorsement that you must make them. TODAY!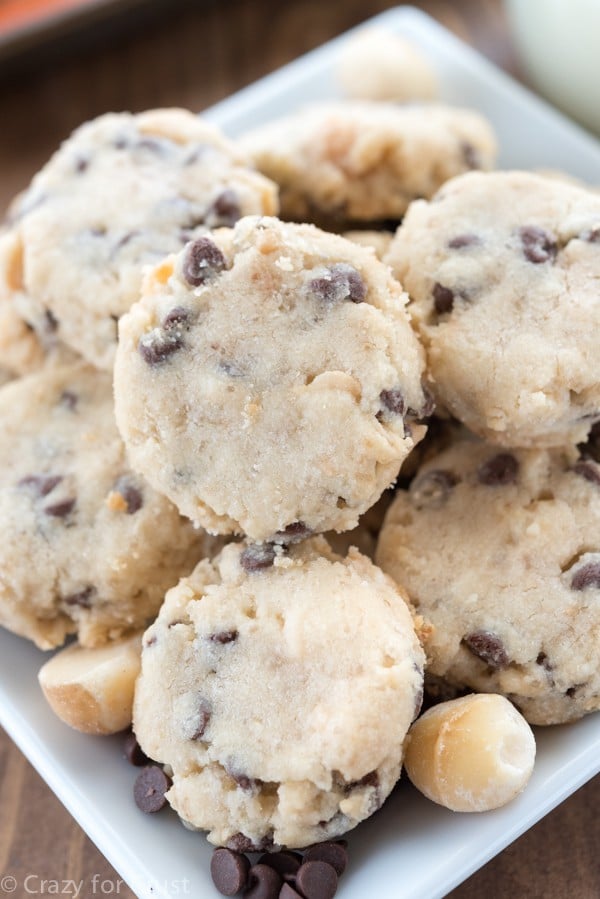 Enjoy!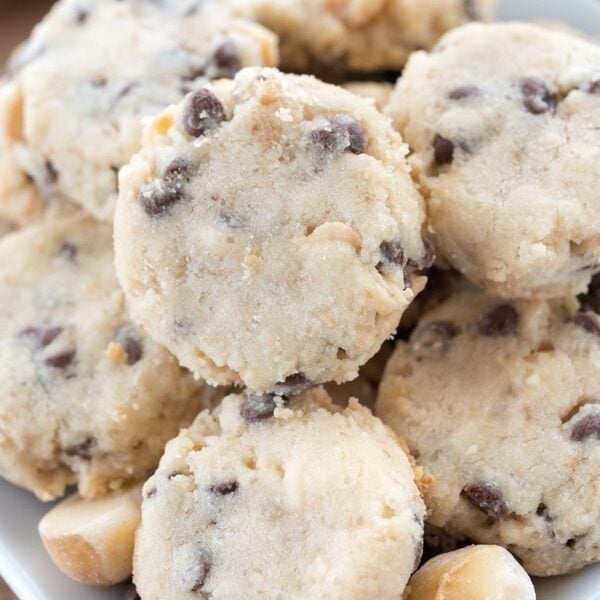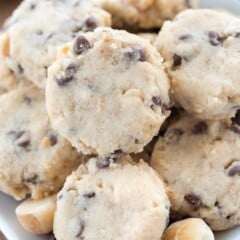 Macadamia Chocolate Chip Shortbread Cookies
These Macadamia Chocolate Chip Shortbread Cookies are buttery and soft and the perfect shortbread cookie! Filled with finely crushed macadamia nuts, the flavor is one of the best ever - especially with chocolate chips!
Ingredients
1/2

cup

unsalted butter

softened

1/3

cup

cane sugar

also called turbinado or sugar in the raw

1

teaspoon

vanilla extract

1 1/4

cups

all purpose flour

1/2

teaspoon

salt

1/3

cup

macadamia nuts

finely crushed

1/2

cup

mini chocolate chips
Instructions
Line cookie sheets with silpat baking mats or parchment paper.

Make sure you've crushed your macadamia nuts very small. Use a food processor to make it easier.

Mix butter and sugar in the bowl of a stand mixer fitted with the paddle attachment. You can also use a hand mixer. Ad vanilla, flour, and salt and mix until combined. Mix in finely crushed nuts and chocolate chips and stir combined.

Scoop 1 tablespoon balls of cookie dough onto prepared baking sheets. These don't spread much so you can place them closer together than a normal cookie. Press dough balls down slightly with the palm of your hand. Chill cookies on cookie sheets for 15 minutes.

Preheat oven to 350°F. Bake chilled cookies for about 12 minutes, until they start to get golden around the edges. Let cool completely before removing from cookie sheets. Cookies are crumbly and buttery. Store in an airtight container for up to 3 days or freeze for up to 1 month.
Nutritional information not guaranteed to be accurate
Chocolate Macadamia Nut Cookies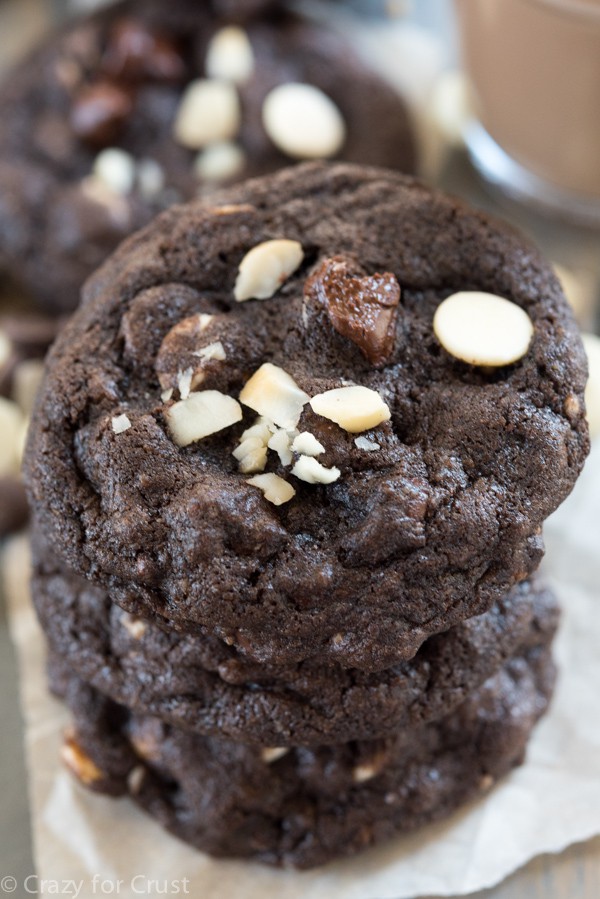 Macadamia Nut White Chocolate Pie
White Chocolate Macadamia Nut Magic Cookie Pizza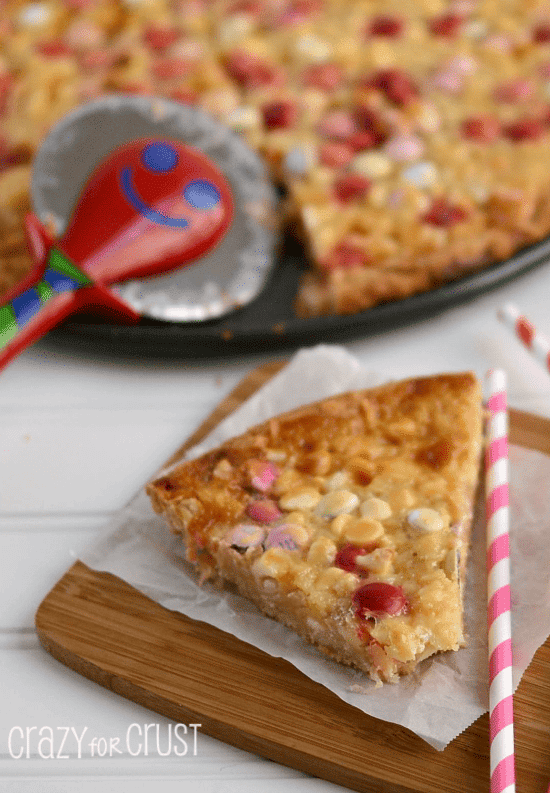 Sweets from friends:
Banana Macadamia Pancakes by The Food Charlatan
Coconut Macadamia Bites by The Creative Bite
Macadamia Nut Blondies by Shugary Sweets
Last Updated on May 20, 2022