This post may contain affiliate links. For more information, read my disclosure policy.
I've found that there are a lot of things in life I wish I could do at the same time, but can't.
Like, reading a book and watching TV at the same time. I can't concentrate on both at once. The TV can be on while I'm reading, but it has to be muted.
Or, trying to read two books at the same time. I used to hate it in college when we had all sorts of English Lit books to read and I couldn't read the latest Dean Koontz thriller until summer. That would just kill me.
How about trying to talk on the phone while being a parent? Just. Can't. Happen.
Or, better yet, trying to sleep past 6:00 am while being a parent. Again: not gonna happen.
My most recent favorite conflict is really frustrating me. Being thin and being a food blogger. Those two together just aren't working for me.
But now I've found two things that, in the past you may not have considered pairing, but can.
Reese's Peanut Butter Cups and M&Ms. Glue them together with chocolate and you can enjoy your two favorite candies all in one bite. (Well, more like three or four bites. These babies aren't small.)
Now, when you get frustrated that your child wakes you up before the sun bothers to rise and you haven't had a decent conversation with your BFF in months, you can eat some of these hearty treats and you'll feel better about it all.
I promise.
It's as easy as melting some chocolate chips or melts and using them as the glue to hold the M&Ms onto the peanut butter cups. I added the basket weave on the top for a decorative effect.
These would make great party gifts or just a good pick-me-up snack at the end of a long day.
Now about that food blogger vs. thin conflict, I don't know if these will be much help.
You know one other thing you can multitask? Reading this post and clicking HERE to vote for me! (Thank you again for letting me pester you.)
Happy Multitasking!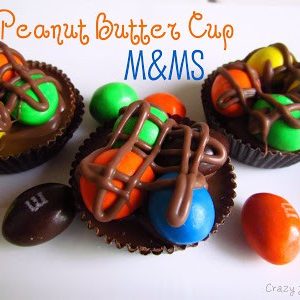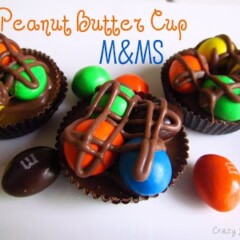 Peanut Butter Cup M&Ms
Ingredients
Reese's Peanut Butter Cups

Peanut M&Ms

Chocolate chips

The amount of these items depend on how many you are making. You need four M&Ms and only about a tablespoon of chocolate chips for each peanut butter cup.
Instructions
Melt chocolate chips in microwave safe bowl. Add some melted chocolate to the top of the unwrapped peanut butter cup. Place four M&Ms on the top and drizzle with more melted chocolate. I used a squeeze bottle for my chocolate but it is not necessary to do so. Chill until hardened.

Enjoy responsibly (unlike me, who can eat several at a time).
Nutritional information not guaranteed to be accurate
Last Updated on May 12, 2020