This post may contain affiliate links. For more information, read my disclosure policy.
My homemade Peanut Butter Balls taste like Reese's peanut butter cups but so much better! This is an easy candy recipe with simple ingredients that are like buckeye balls but completely coated in chocolate.
If you're looking for the best peanut butter balls ever then you're in the right place!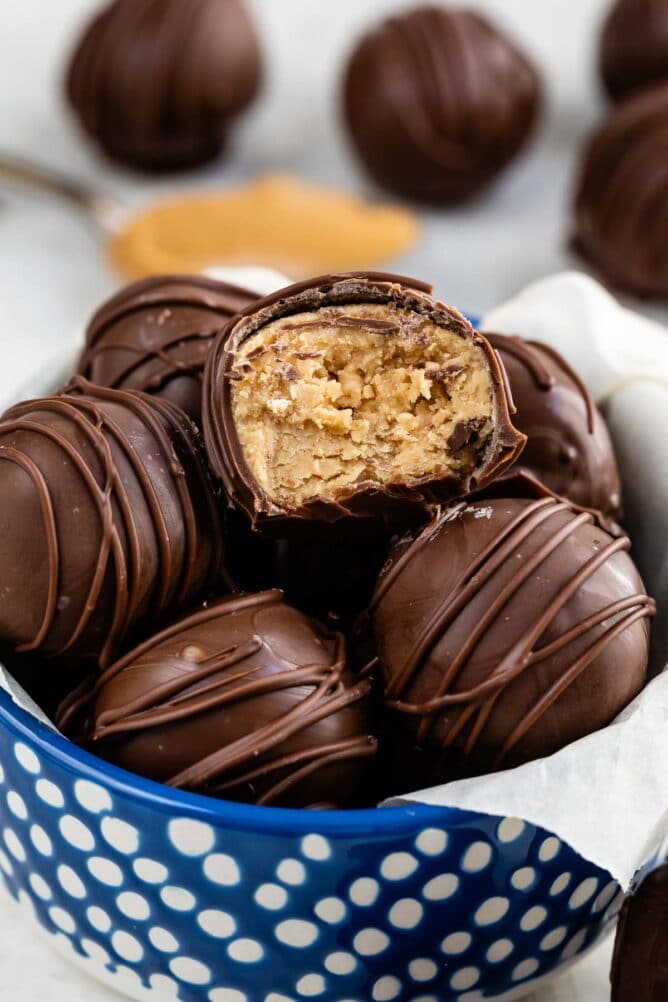 The Best Peanut Butter Balls Recipe
I have another really easy candy recipe for you today – peanut butter balls! These are like buckeyes but so much better, and they taste just like a peanut butter cup.
These no-bake peanut butter balls are about the least intimidating candy recipe ever – they're practically fool-proof and we love them!
This recipe is easy – five ingredients easy!
You don't need a candy thermometer or an advanced degree in dessert making – all you need are a few bowls, a baking dish, and a microwave.
They taste like Reese's peanut butter cup but better because they're homemade. The magic is in the peanut butter filling – it has a very similar texture and flavor.
I'm sharing my best tips for making, dipping, and storing these sweet treats.
They are freezer-friendly and also keep well for five days at room temperature. Perfect for gifting!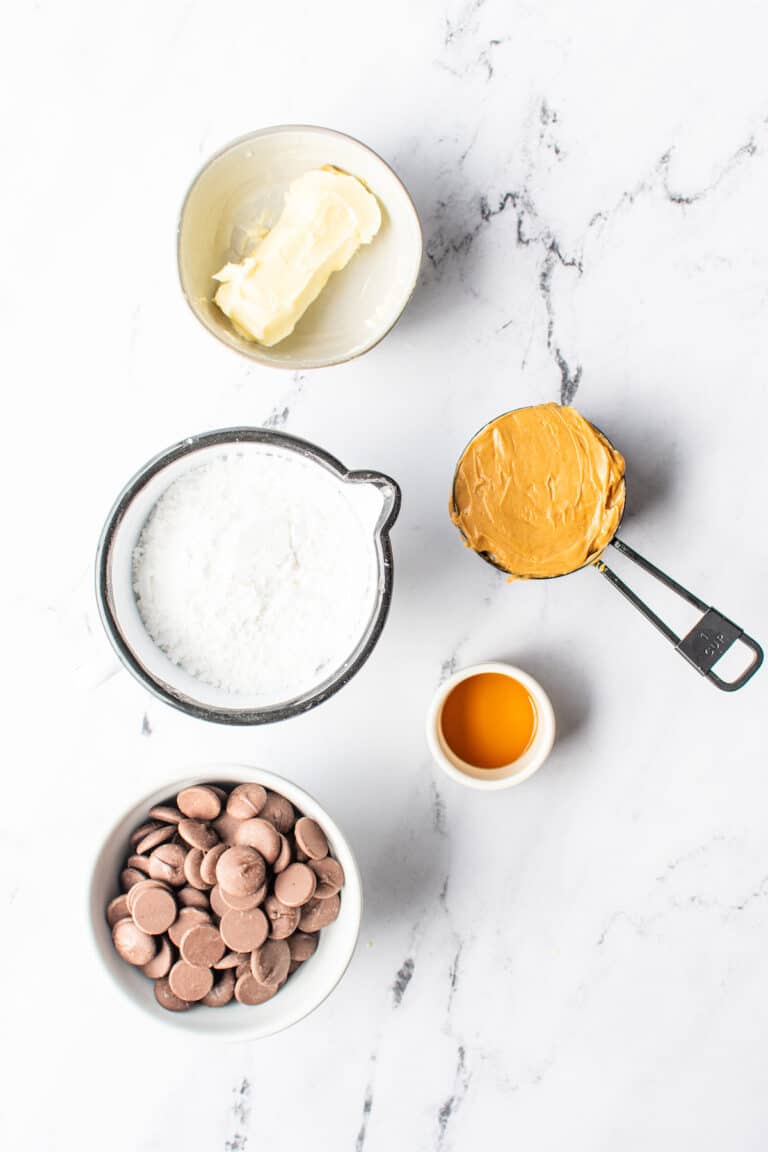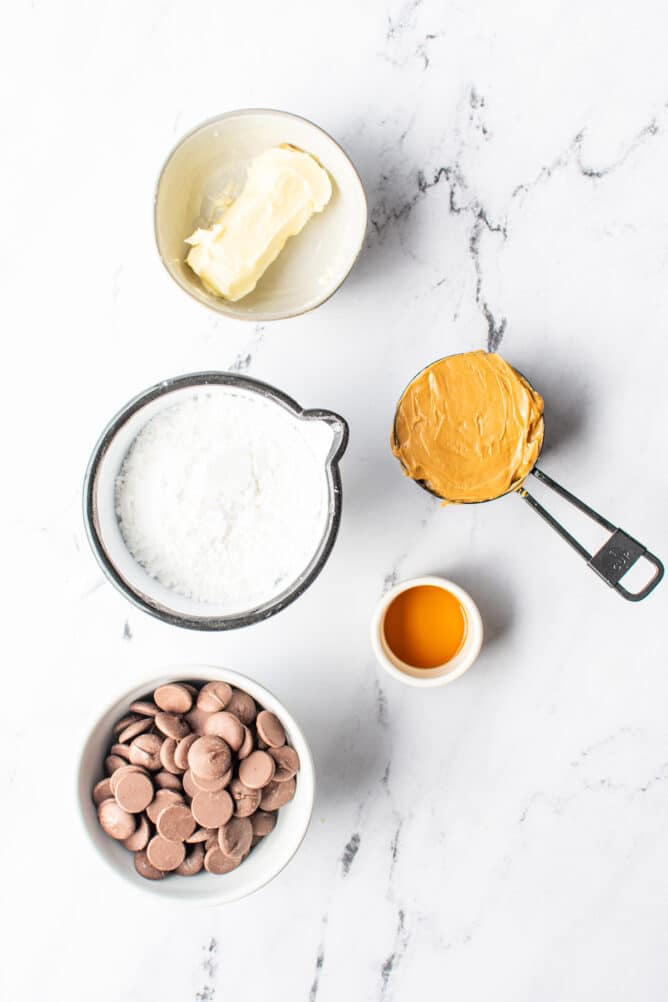 Ingredients in Peanut Butter Buckeyes
You only need 5 ingredients to make these peanut butter truffles!
Peanut Butter: I use creamy peanut butter but you can also use crunchy peanut butter for some extra texture – don't use natural peanut butter.
Butter: I use unsalted butter, but you can use salted if it's all you have. You'll want it to be room temperature.
Powdered sugar: for sweetness and binding
Vanilla: for flavor
Melting chocolate: Ghiradelli Candy Melts or Candiquik are the two best tasting you can buy at the grocery store. I recommend milk chocolate but dark chocolate would be fantastic too!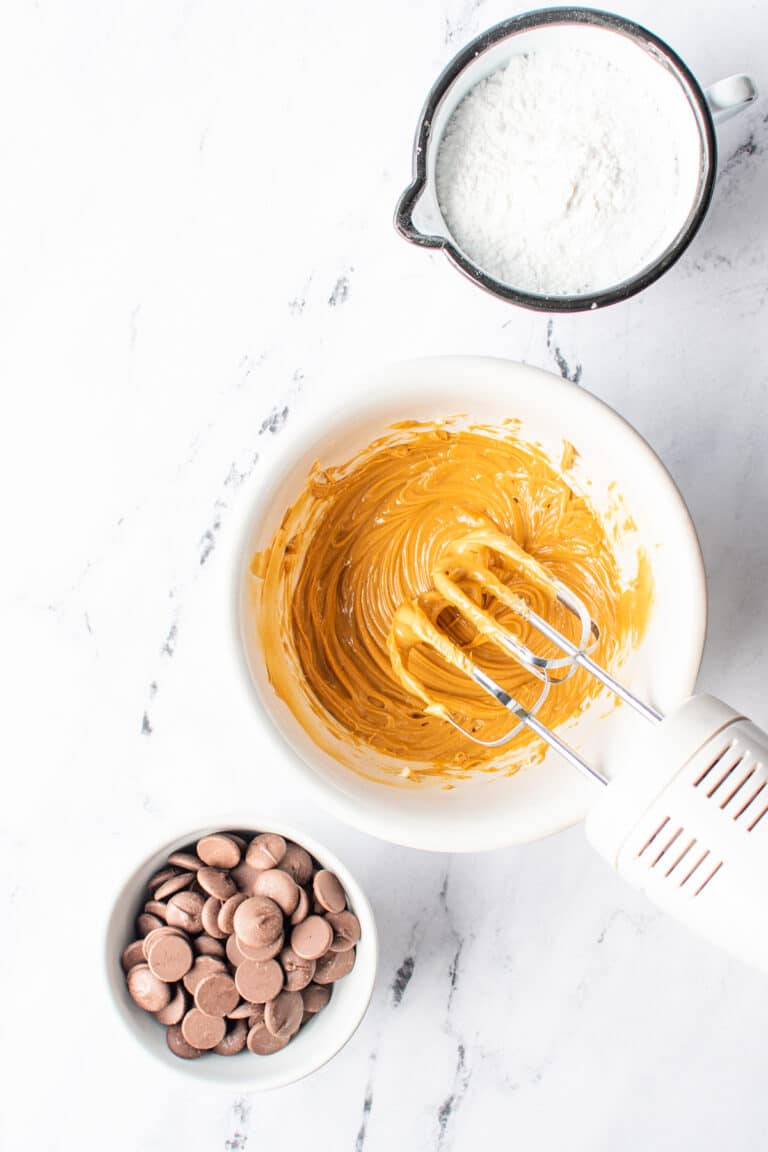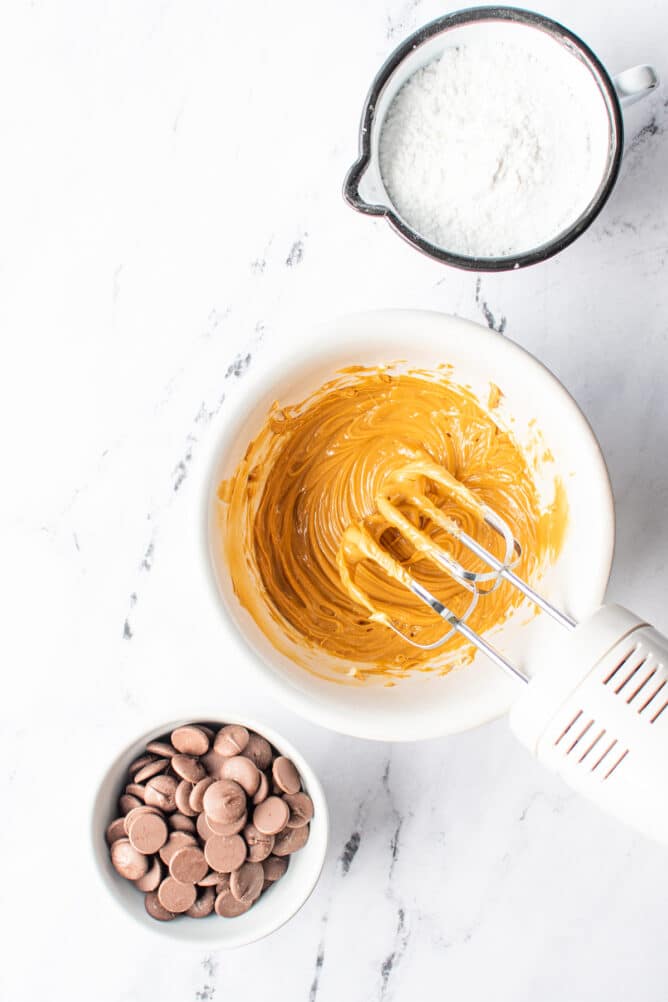 How Do You Make Peanut Butter Balls?
Mix: Cream the peanut butter and butter in a mixing bowl. Slowly add the confectioners' sugar while mixing on low until the mixture is well combined. Add the vanilla and mix again.
Roll and Chill: Line a baking sheet with wax paper or parchment paper. Scoop 1-inch balls of the peanut butter filling and roll between your palms. Chill the balls for 20 minutes or until they harden.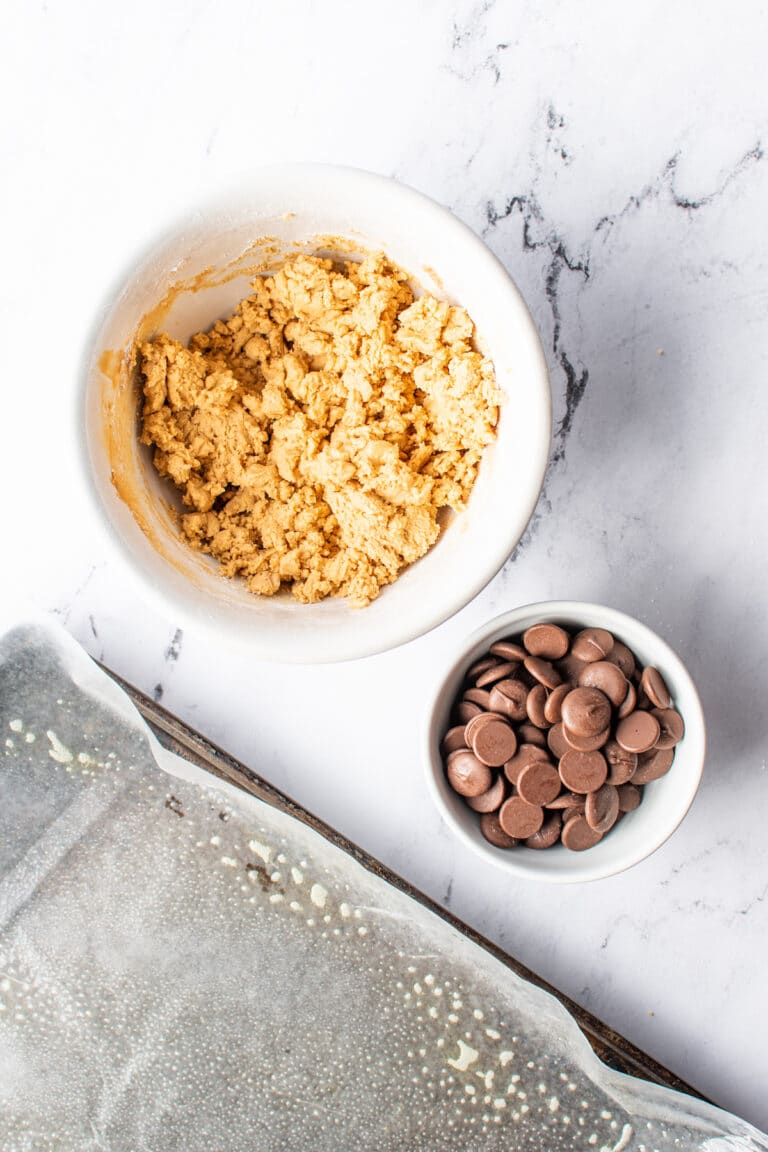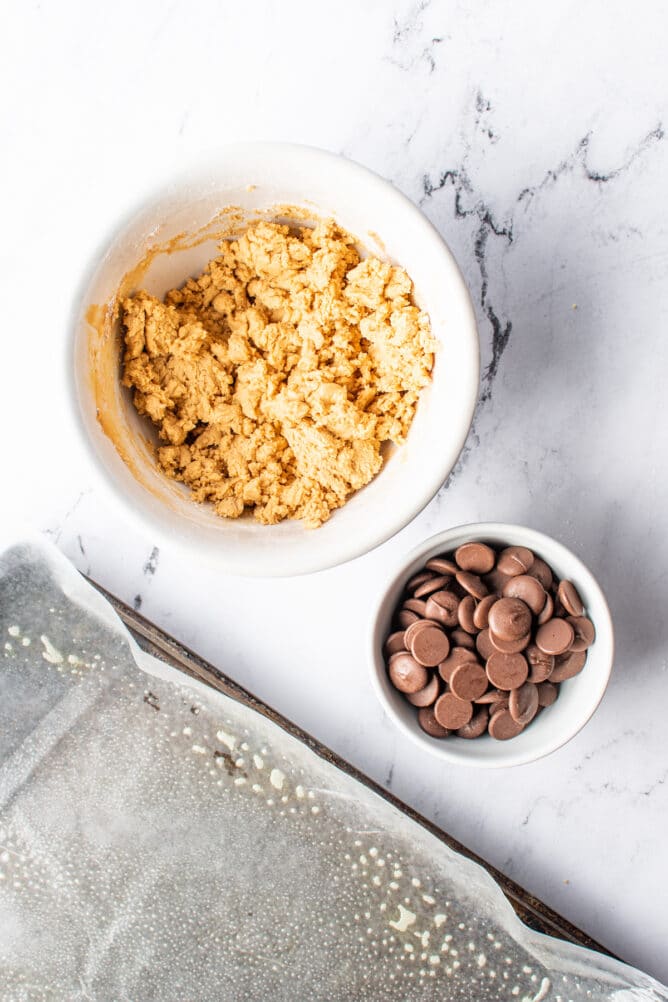 Melt: Melt the chocolate following the package instruction. Most likely, you can do this in the microwave in 30 seconds or so.
Dip: Use a toothpick to dip each peanut butter ball in the melted chocolate, coating it evenly on all sides. Let the excess chocolate drip off and then place on the baking sheet. Get all my best tips for dipping candy in chocolate here!
What's the difference between Buckeyes and Peanut Butter Balls?
If you're making Buckeyes, you won't dip the the whole truffle. If you're making peanut butter balls, then you will. This recipe is a totally no bake chocolate covered peanut ball.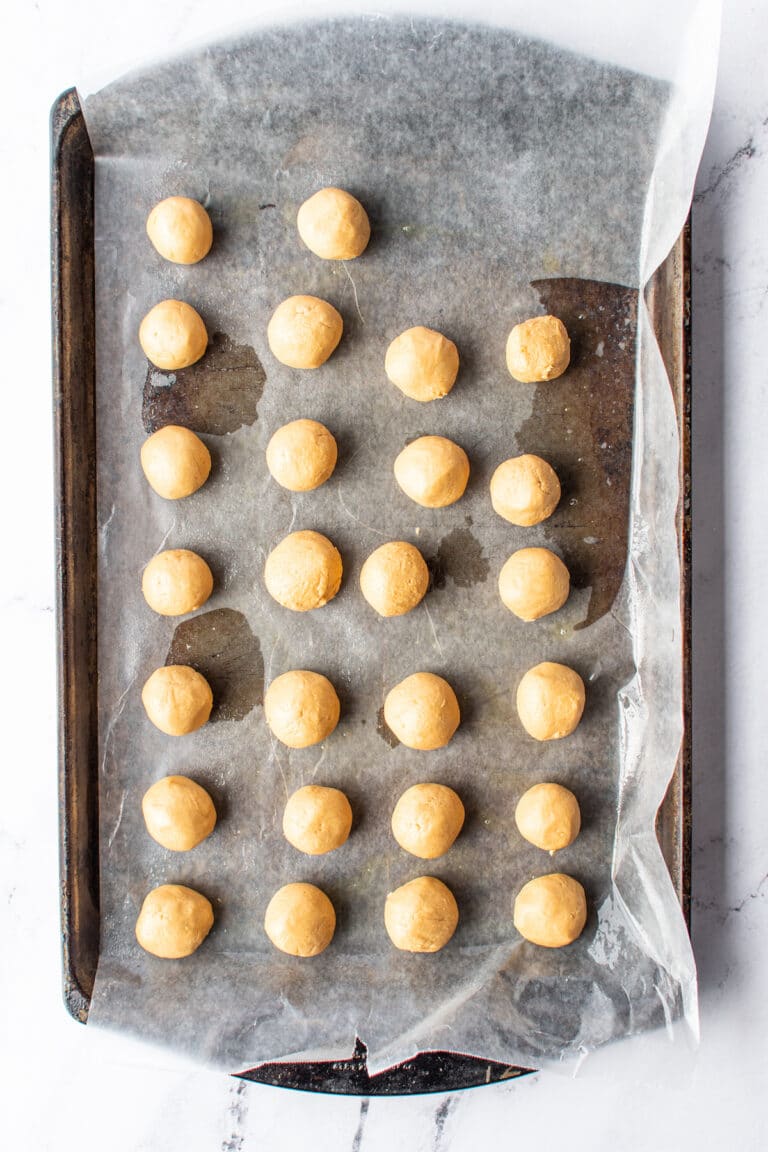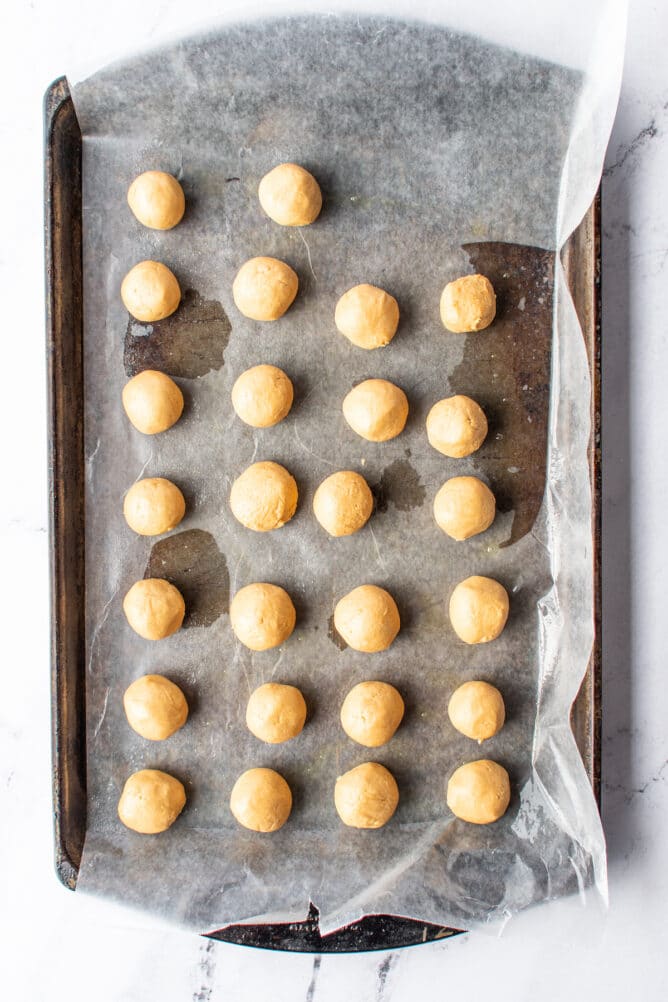 Set: Place all of the dipped balls back on the cookie sheet and leave them to set. Once the chocolate has hardened, they are ready to serve.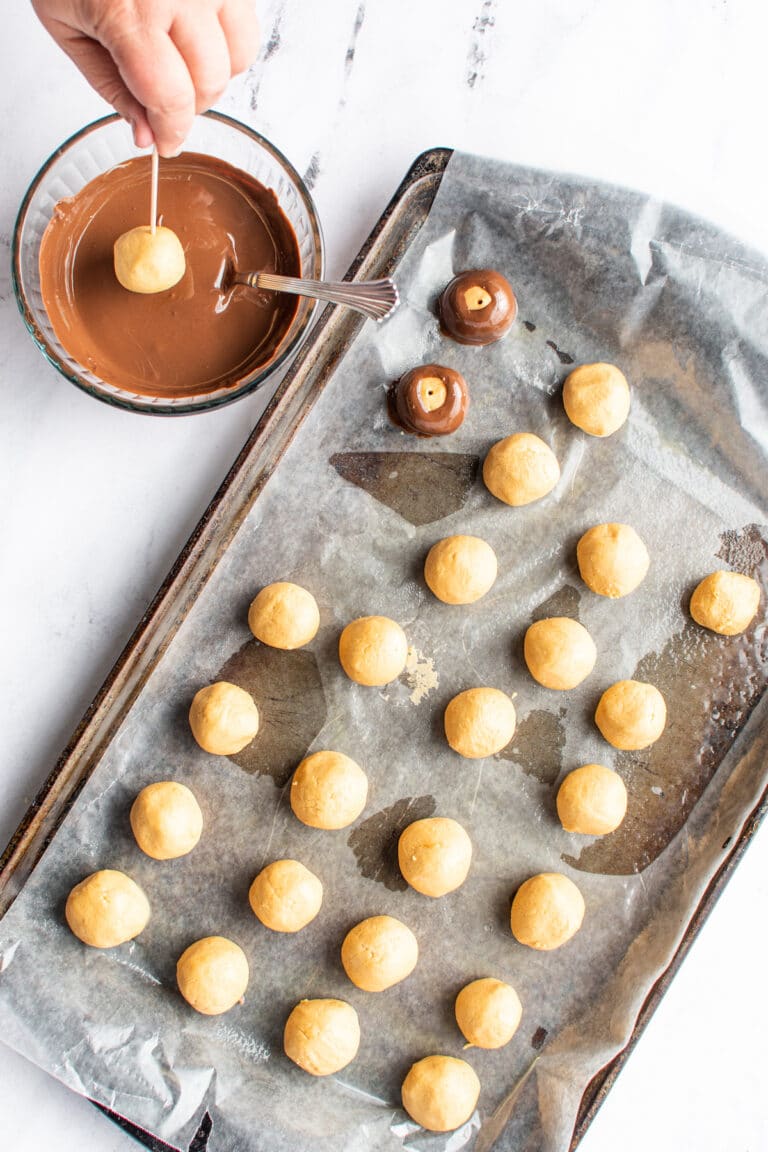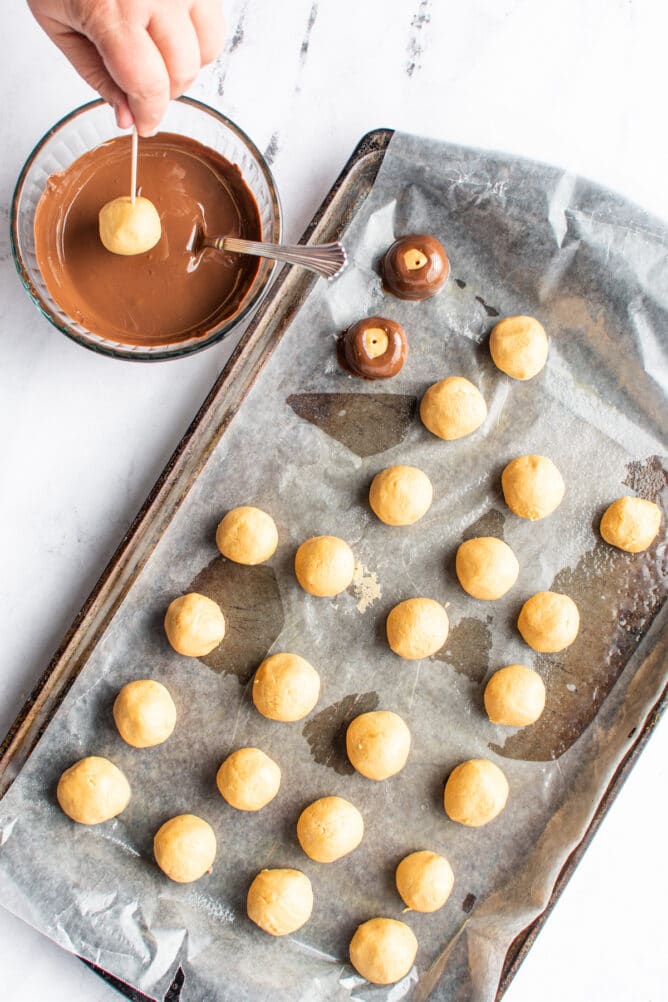 How to Store Easy Peanut Butter Balls
Keep them in an airtight container, and they will keep for five days in the refrigerator.
Best Chocolate for Peanut Butter Truffles
There are lots of chocolates out there you can use to roll truffles in but here is what I recommend using:
Ghiradelli Candy Melts: find these in the baking aisle. They come in chocolate or white chocolate and they taste the best out of all of the melting chocolate.
Candiquik: find it in the baking aisle. It's chocolate made for melting and comes in a block. This is similar to almond bark but tastes better.
Baking Chocolate: you can also use semi-sweet baking chocolate bars but that gets really expensive!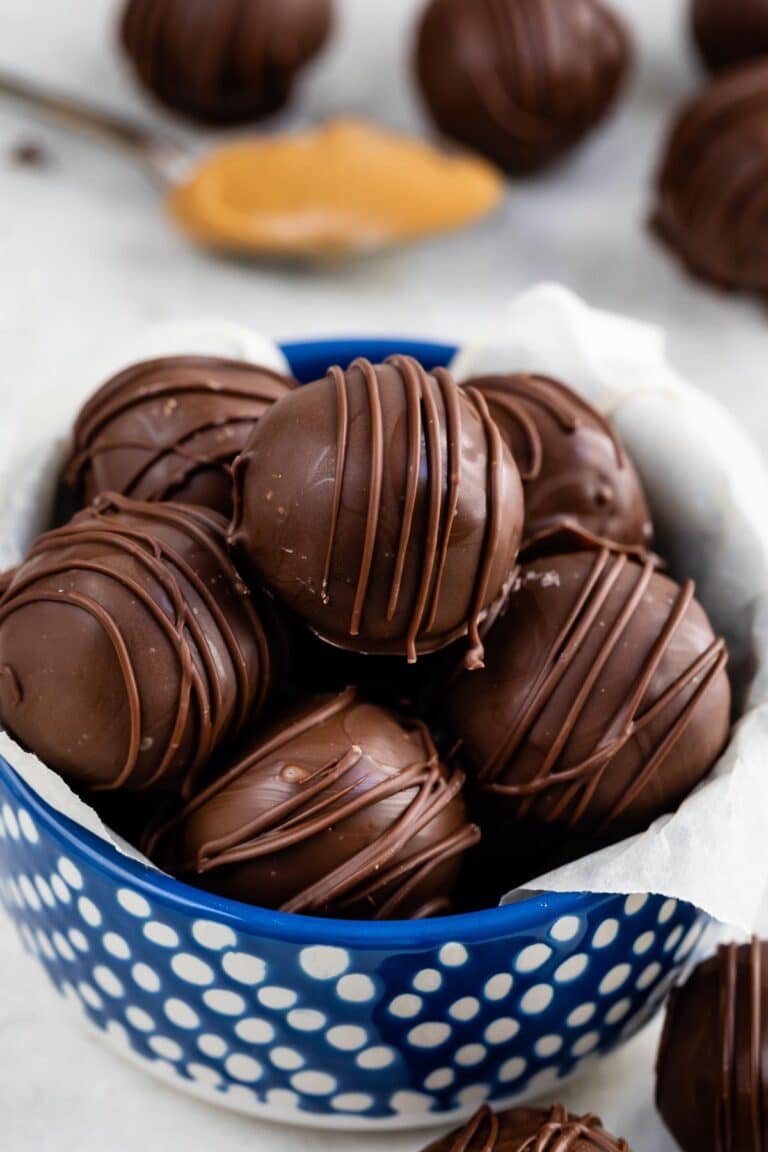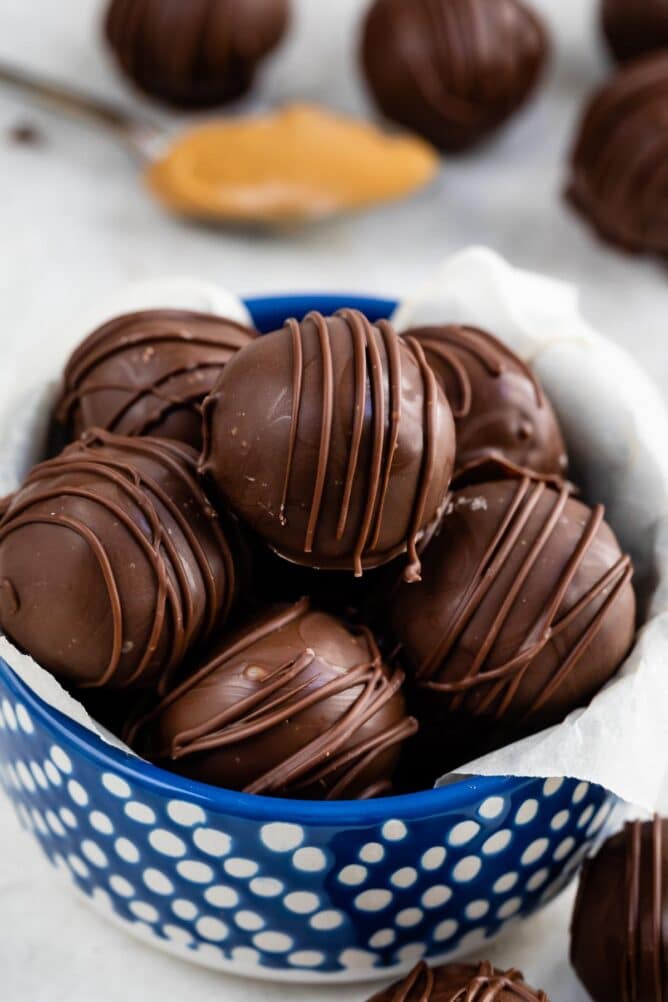 Peanut Butter Ball Recipe Variations
You can easily switch this recipe up to make it your own – feel free to experiment!
Chocolate: Use white chocolate, dark chocolate, or milk chocolate – they all work great! I recommend sticking with candy melts, Candiquik, almond bark, or even bars of baking chocolate for the best results. Avoid chocolate chips – they don't melt as well!
Peanut Butter: Use your favorite peanut butter! Crunchy, creamy or flavored.
Decorations: Sometimes, I add some sprinkles before the chocolate sets. This is great for holidays, so think red and white for Valentine's day, red and green for Christmas, pastel sprinkles for Easter… you get the idea!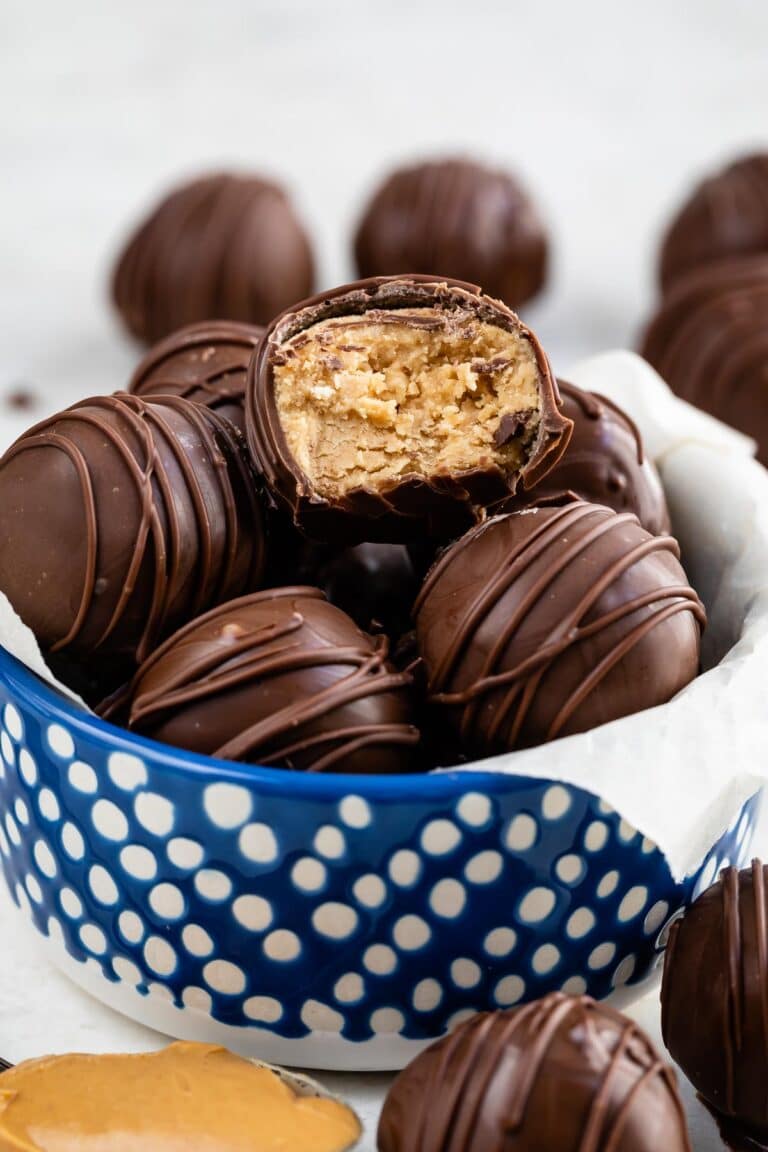 FAQ
Can I make homemade Reese's peanut butter cups instead of balls?
You can make adorable mini peanut butter cups with this recipe, too! Lightly coat mini liners with cookie spray and coat the bottom with a layer of chocolate. Add a peanut butter ball and flatten it. Cover it with more chocolate, and then leave them to sit at room temperature until they're set.
Can you use melted chocolate chips?
I don't recommend using chocolate chips for this recipe. You need a really smooth and dippable melted chocolate. Chips are thicker when melted, making it hard to dip and coat the peanut butter balls evenly. So use melting chocolate for the best results!
Can you use chunky peanut butter?
Yes, if you want to make crunchy peanut balls substitute the same amount of chunky peanut butter for the smooth kind.
Can you freeze peanut butter balls?
Yes, you can freeze them. It works best to layer them in a container with wax paper between each layer so they don't stick together. Thaw them in the refrigerator or at room temperature.
Mistakes to Avoid When Making Buckeyes
Be sure to measure your powdered sugar correctly – too much will make the mixture dry. Make sure your butter is softened so it mixes together properly, and use candy melts for dipping so the mixture doesn't melt in your hands.
Other Favorite Candy
Have you made this recipe?
Tag @crazyforcrust on Instagram or hashtag it #crazyforcrust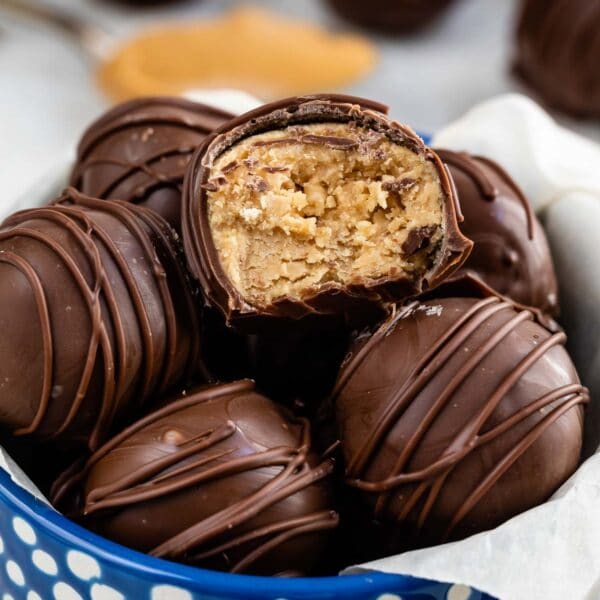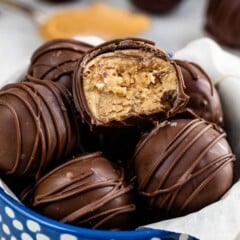 Peanut Butter Balls Recipe
Make sure to make a double batch and share one. Everyone loves a good peanut butter candy. This is an age old recipe, better than any Reese's Peanut Butter Cups!
Ingredients
1

cup

(283g) creamy peanut butter

6

tablespoons

(84g) butter

2 ¾

cups

(311g) powdered sugar

1

teaspoon

vanilla

1

package

10 ounces Chocolate melting chocolate (such as Ghiradelli or Candiquik)
Instructions
In a mixing bowl, cream the peanut butter and butter together with a hand mixer.

Slowly add the powdered sugar until well combined. Add the vanilla.

Line a large cookie sheet with wax paper or parchment paper.

Scoop 1-inch balls of the peanut butter mixture and roll into a ball. Place on the cookie sheet. Continue until all the peanut butter mixture is gone.

Refrigerate for 20 minutes until hardened.

In a microwave safe bowl, melt the melting wafers for 30 seconds. Stir and if not completely melted add for an additional 10 seconds, stir and repeat as necessary. (Refer to package directions for melting instructions as well.)

Remove the peanut butter balls from the refrigerator. Using a toothpick, dip one ball at a time into the chocolate until covered. Place back on the lined cookie sheet. Let harden completely before serving.

Store in an airtight container in the refrigerator up to 5 days.
Recipe Notes
There have been some comments saying the recipe is too sweet or doesn't work. It DOES work – I've made them several times. Here are some tips:
The dough comes together easily if using a stand mixer. If you're using a hand mixer, you might want to reduce the sugar to 2 1/2 cups.
Be sure you're measuring your sugar correctly and not packing it. I have added the weights in grams so that helps.
I find 2 3/4 cups powdered sugar to be fine for sweetness and taste. If you want them less sweet you can reduce sugar to 2 1/2 cups.
Make sure you're using SALTED butter. If you're using unsalted add 1/4 teaspoon salt.
This recipe does work. Just have patience with mixing – it takes awhile to get the mixture all together.
Recipe Nutrition
Serving:
1
serving
|
Calories:
98
kcal
|
Carbohydrates:
11
g
|
Protein:
2
g
|
Fat:
6
g
|
Saturated Fat:
2
g
|
Cholesterol:
5
mg
|
Sodium:
50
mg
|
Potassium:
48
mg
|
Fiber:
1
g
|
Sugar:
10
g
|
Vitamin A:
58
IU
|
Calcium:
4
mg
|
Iron:
1
mg
Nutritional information not guaranteed to be accurate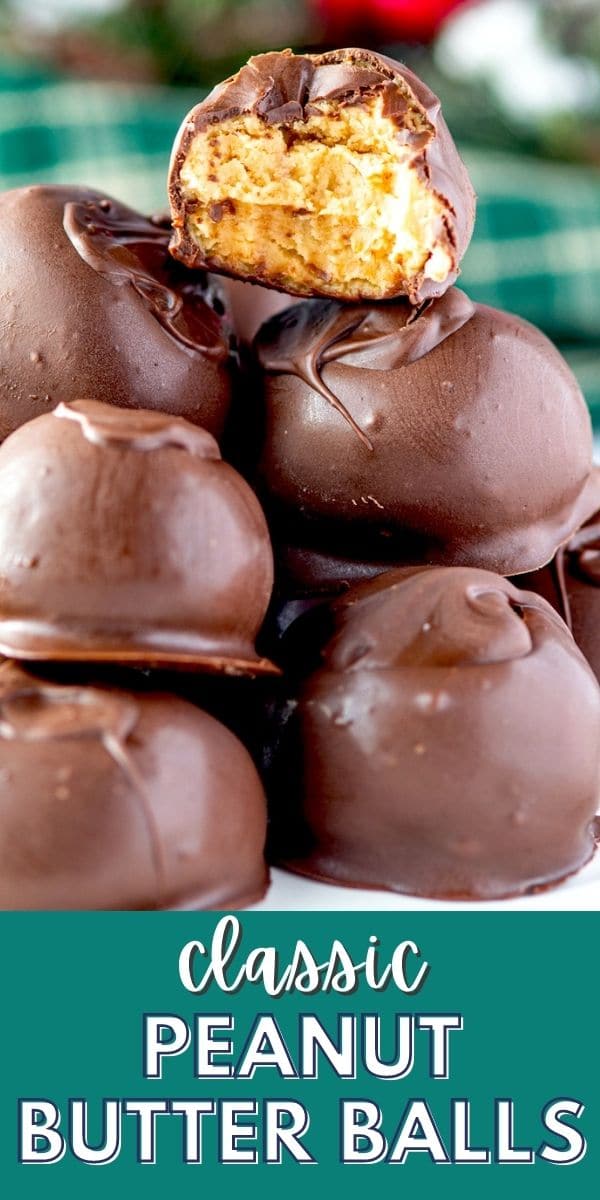 These EASY Peanut Butter Balls are chocolate covered like buckeyes but better – and they're done in no time at all! This candy recipe is no bake and tastes like a peanut butter cup – use your favorite kind of chocolate too!
Last Updated on August 21, 2022