This post may contain affiliate links. For more information, read my disclosure policy.
This No Roll Chocolate Pie Crust recipe has been 5 years in the making. Why did I wait so long??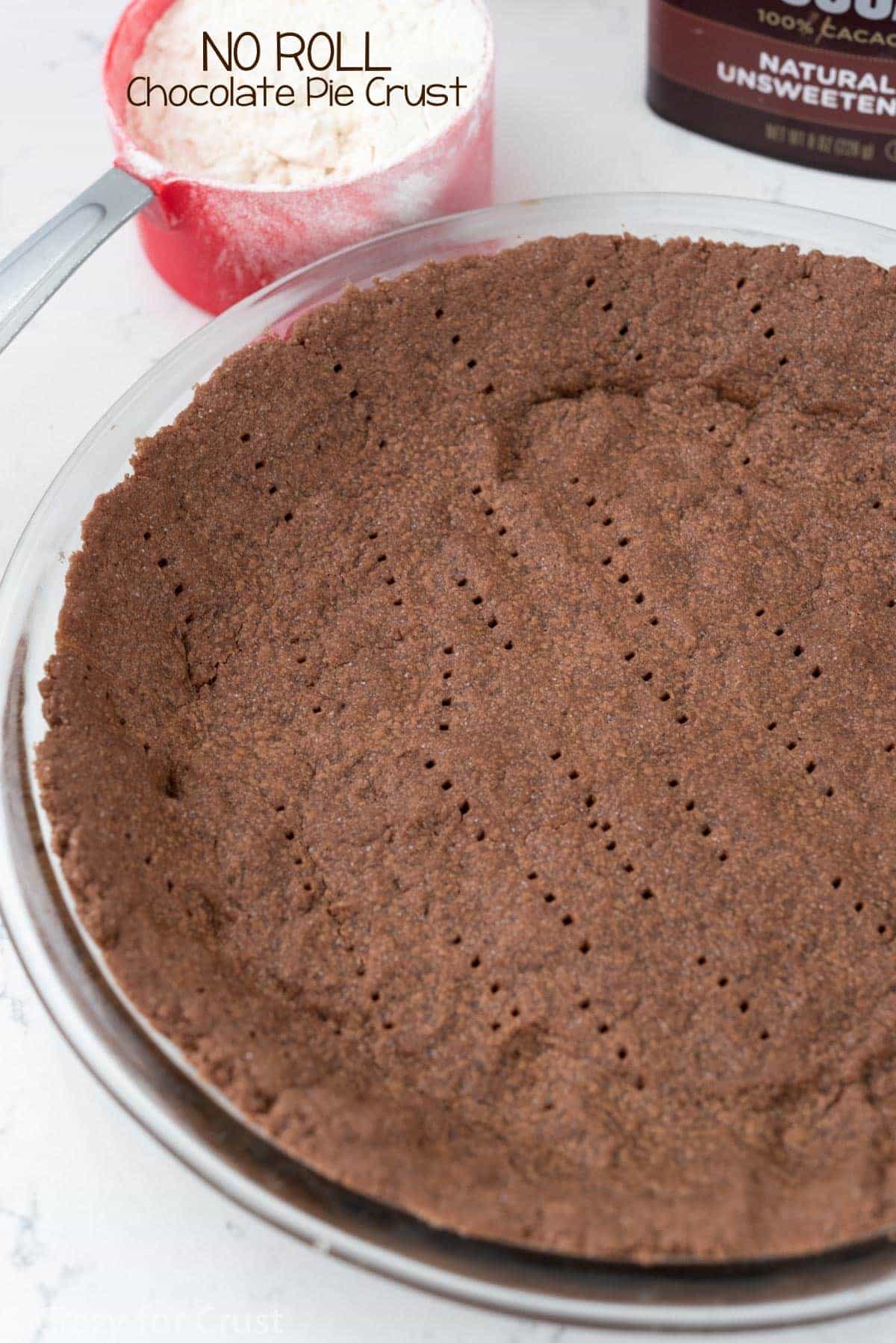 I'm not joking – I've been thinking about making a chocolate pie crust recipe for years, but I've never gotten around to it. This year? I DID IT. And I'm so glad I did because it adds an absolutely wonderful flavor to pie. I mean…chocolate is good with everything, isn't it?
Just think – your favorite pie recipes…with a chocolate all butter crust. Like…banana coconut pie with a chocolate crust, pumpkin pie, candy pie. You guys, I just. Can't. Even.
If you follow me on snapchat (crazyforcrust) you may have seen behind the scenes on this pie. I'm using snapchat to get used to making videos and I'm having a ton of fun being silly while I bake. Luckily, this one worked! 🙂
This Chocolate Pie Crust is like a pastry pie crust – not a crushed cookie crust. It's like eating chocolate pie dough!
I had to do a few tries to get this recipe right. I started it with my all butter pie crust recipe, which is my favorite gold standard pie crust, and I added cocoa powder and sugar. But, alas, it's not as easy as just adding a few things. My first recipe wouldn't roll out, so I chilled the second one. Then it broke all over the place and I wanted to cry. (I mean, I was snapchatting the darn thing!)
Then I had the idea to make a no roll pie crust. Everyone hates rolling things out, right? Flour, mess, arm workout. Why not just dump the crumbly pie dough into the pie plate and press it in?
Guess what? IT WORKED. And not only does it taste good, but it makes your house smell like a chocolate factory.
I made two pies with this crust recipe that I'll be sharing with you over the coming weeks. One is a baked pie and one is a filled pie. Both are chocolate heaven.
Okay, so are you ready to learn how to make this no roll chocolate pie crust recipe? Get your aprons ready!
BTW, This post has LOTS of photos. It's step-by-step photo tutorial on how to make this no roll chocolate pie crust. If you just want the recipe without seeing how to make it, you can jump to the recipe.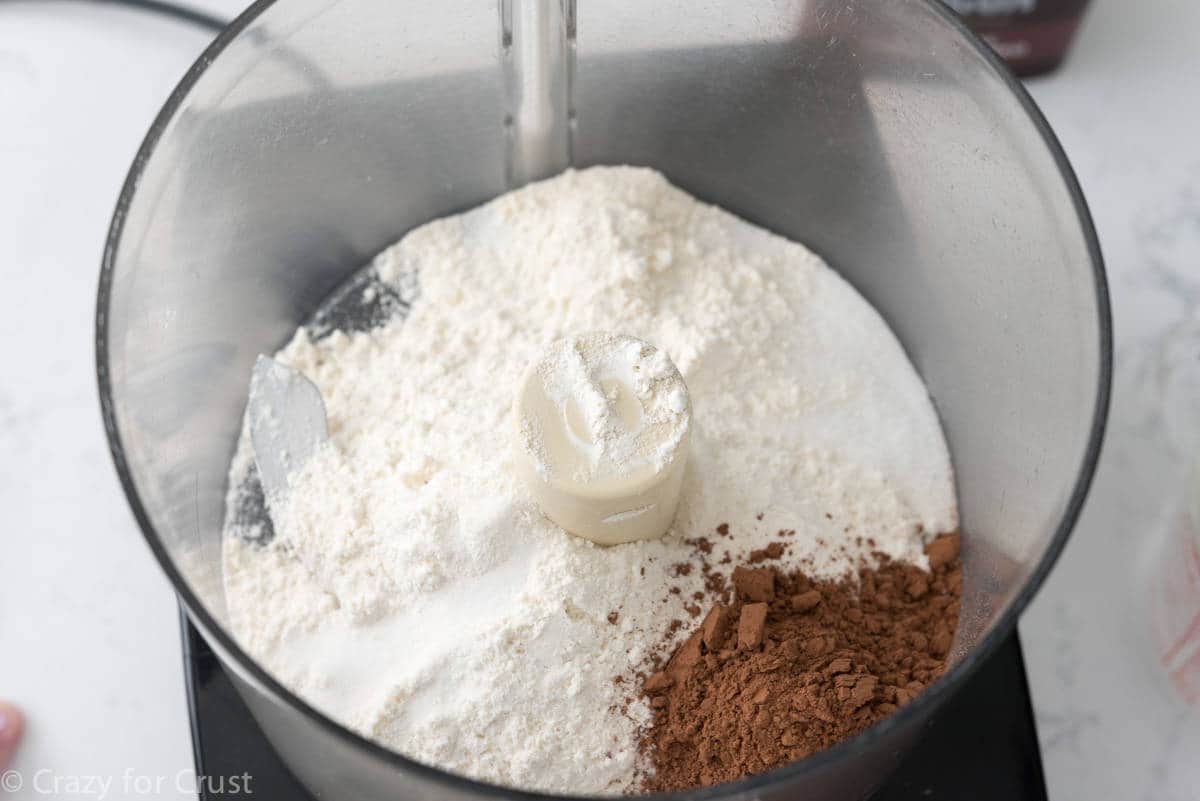 The first thing you're going to do is mix your flour, sugar, salt, and cocoa powder in a food processor. Just pulse it a few times.
(Don't put your nose too close to the vents unless you like snorting cocoa, for your info.)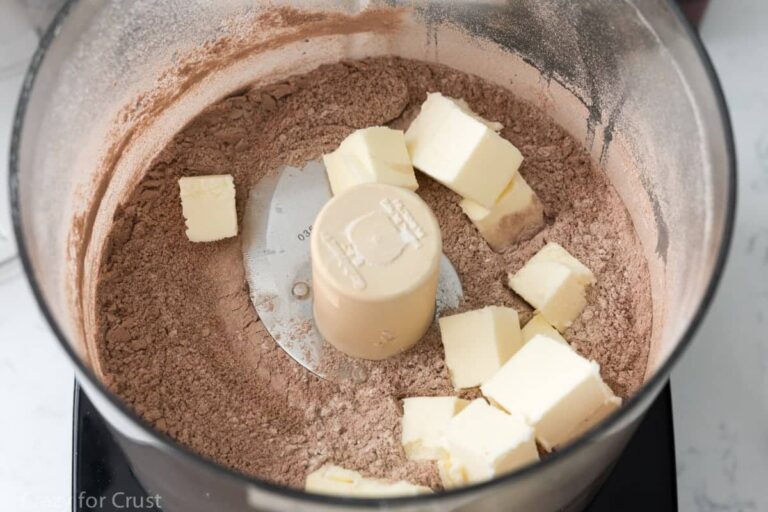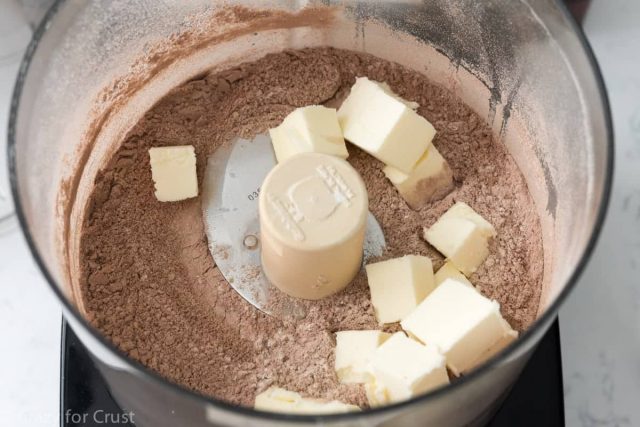 Then add one stick of very cold, diced butter. Pulse the machine a few times to get it worked into the dry ingredients.
Then add 1 tablespoon of water and let the machine run for several seconds. Eventually it'll get crumbly, like the photo below. This is where you have to judge if you should add more water or not. Is it very powdery? When you try and clump it together, does it fall apart? If so, add 1/2 teaspoon more, up to 1 teaspoon. Don't let the dough work all together into a ball, just let it run until it sticks together in a crumbly mess.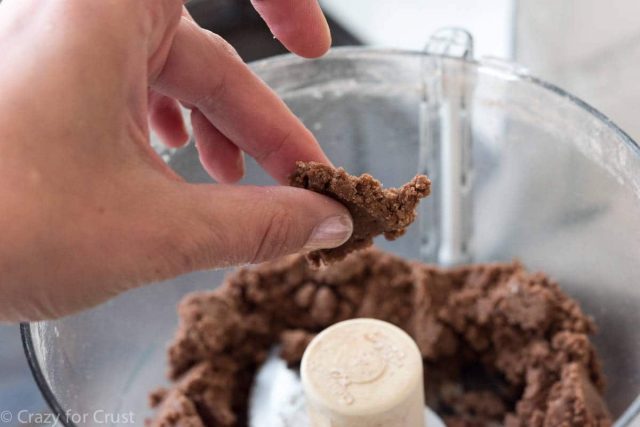 The chocolate pie crust dough should be able to pinch together, like so.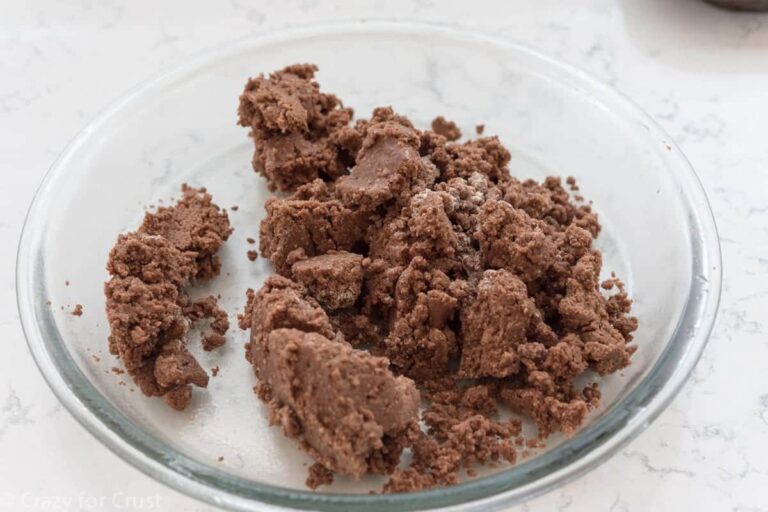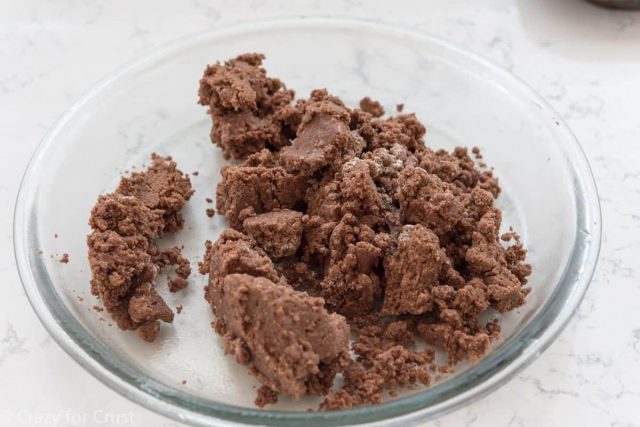 Then dump the chocolate pie crust dough into a 9″ pie plate. You can use a plate that's smaller than 9″ but there is not enough dough for a bigger pie plate.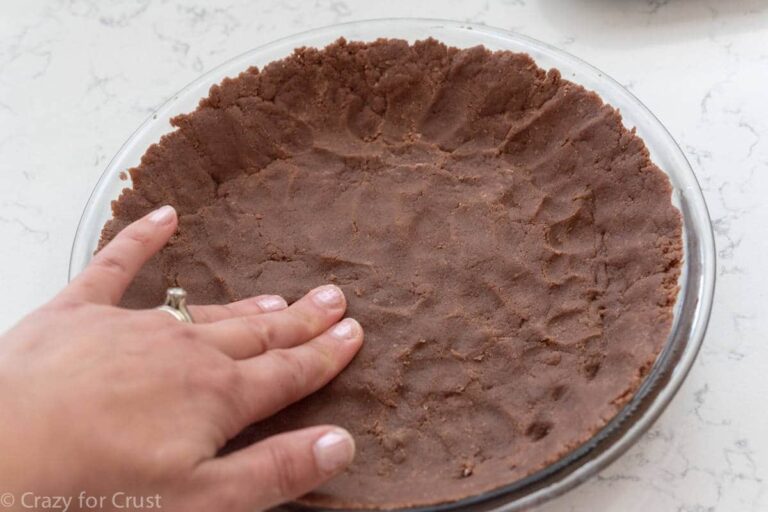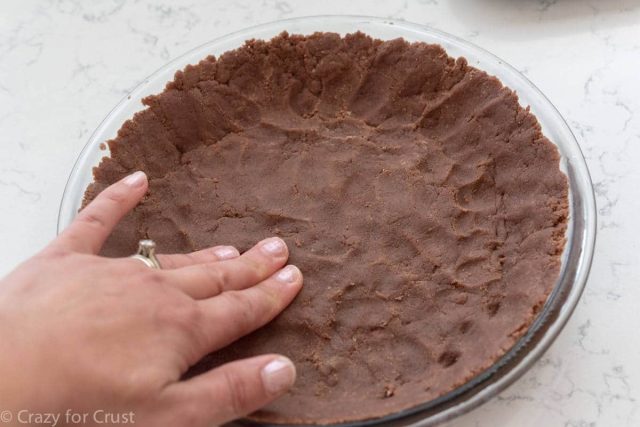 Then just press the dough into the bottom and up the sides of the plate, easy peasy!! Be sure to chill it for at least an hour (or 10-15 minutes in the freezer) before baking it.
Now you have the perfect No Roll Chocolate Pie Crust for all your pie making needs.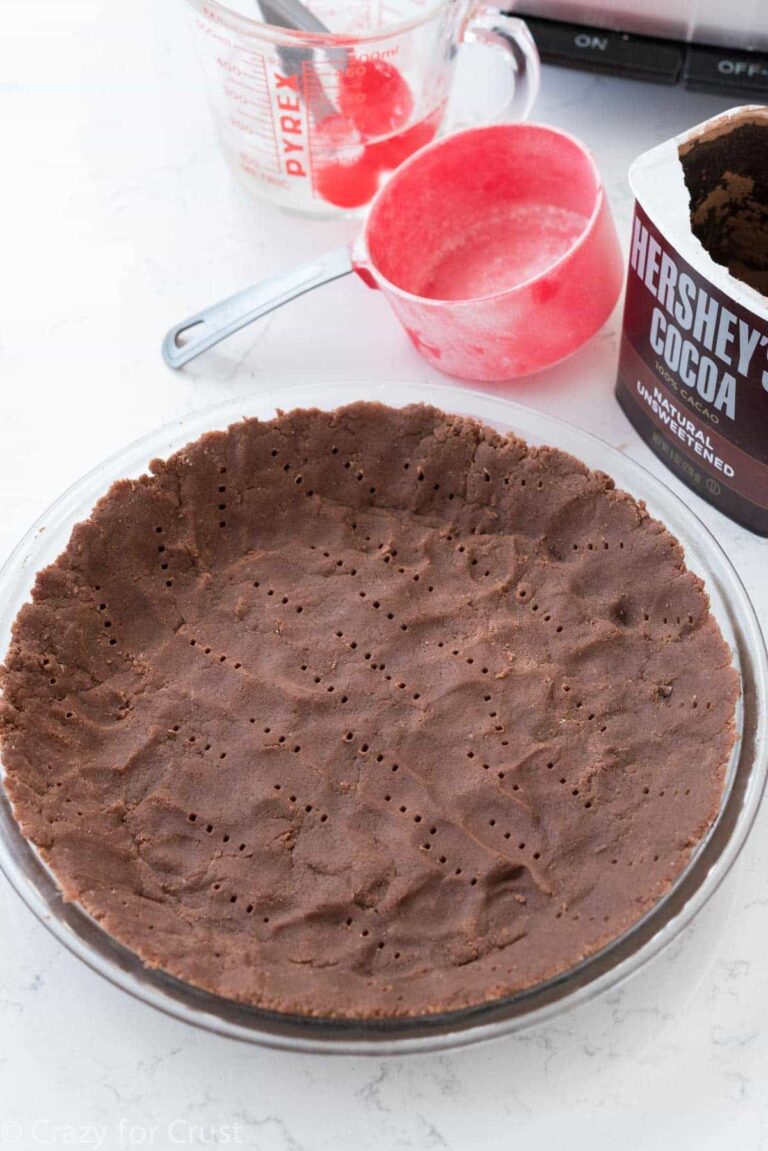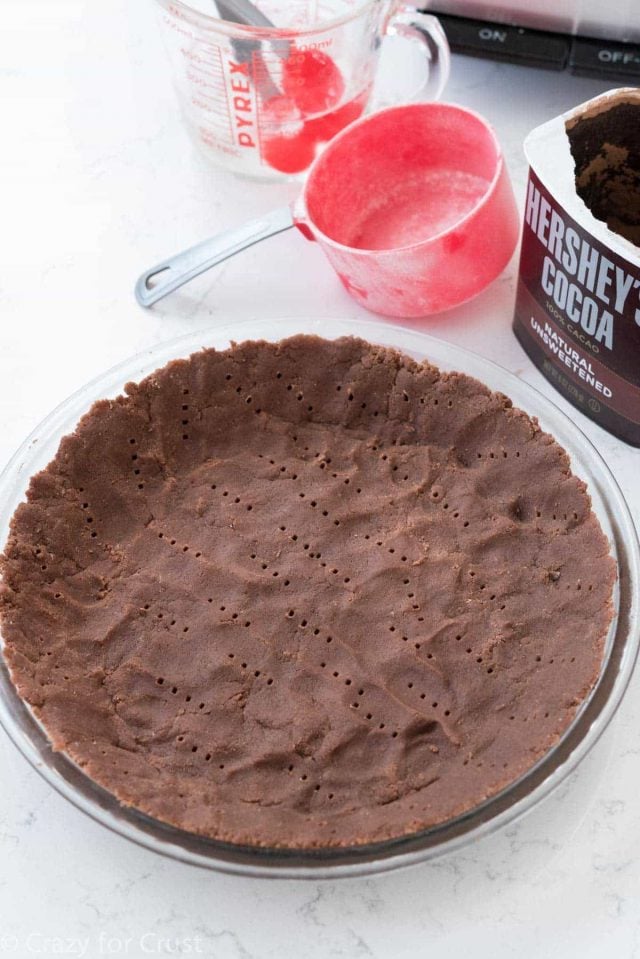 This no roll chocolate pie crust works for both baked pies and pre-baked crust (filled) pies. If you're baking a pie (like pecan) just fill the pie crust like you normally would and then bake as directed. If you are making it as a pie crust for a filled pie, like pudding, just poke holes in it with a fork (as you can see in the photo above) and bake the cold crust, cool, and fill.
It's a little bit more crumbly than a normal pie crust, but it's so good it's worth it. Plus, it makes every pie chocolate. #winningatlife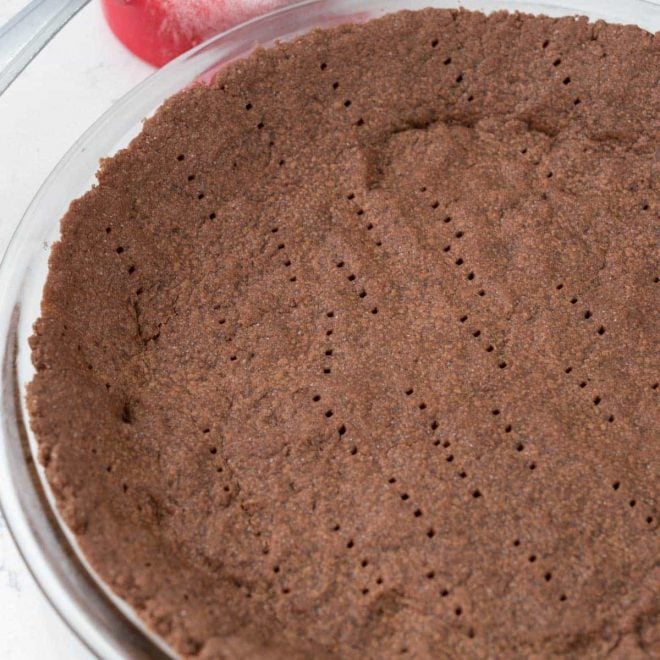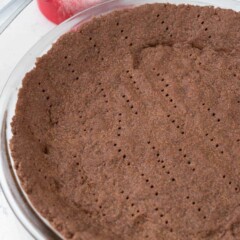 No Roll Chocolate Pie Crust
This easy No Roll Chocolate Pie Crust starts with my all butter crust recipe and adds chocolate! Plus, it's NO ROLL! No mess, just press and bake!
Ingredients
1/2

cup

unsalted butter

1 1/4

cups

all-purpose flour

2

tablespoons

unsweetened cocoa powder

2

tablespoons

granulated sugar

1/4

teaspoon

salt

1

tablespoon

+ 1 teaspoon ice water
Instructions
Dice butter into small cubes. Place back in the refrigerator.

Place flour, cocoa, sugar, and salt in a food processor. Pulse a few times to combine.

Add the cold diced butter into the food processor. Pulse a few times until the butter is worked into the flour mixture.

Add 1 tablespoon of ice water. Let the food processor run for several seconds, until the dough becomes crumbly. If the dough seems too dry, add 1/2 teaspoon water and pulse a few more times. You can add another 1/2 teaspoon of water as needed. Just make sure it's not too wet! The dough should be pinchable, but not dry or wet.

Pour crumbly dough into a 9" pie plate. Use your fingers to presss across the bottom and up the sides. Chill for at least one hour (or freeze for 10-15 minutes) before baking.

If making a baked pie shell for an unbaked filling: poke the very cold crust with the tines of a fork all over the bottom and sides. Bake at 400°F for about 8-10 minutes. Cool, then fill as directed.

If making a baked pie, fill chilled pie crust as directed and bake as the recipe directs.
Recipe Nutrition
Serving:
1
serving
|
Calories:
186
kcal
|
Carbohydrates:
18
g
|
Protein:
2
g
|
Fat:
12
g
|
Saturated Fat:
7
g
|
Cholesterol:
31
mg
|
Sodium:
1242
mg
|
Fiber:
1
g
|
Sugar:
3
g
Nutritional information not guaranteed to be accurate
Check out all of my
pie crust recipes
for even more inspiration! And you can find more pie recipes to make on my
pie recipes Pinterest board
!
All Butter Pie Crust Photo Tutorial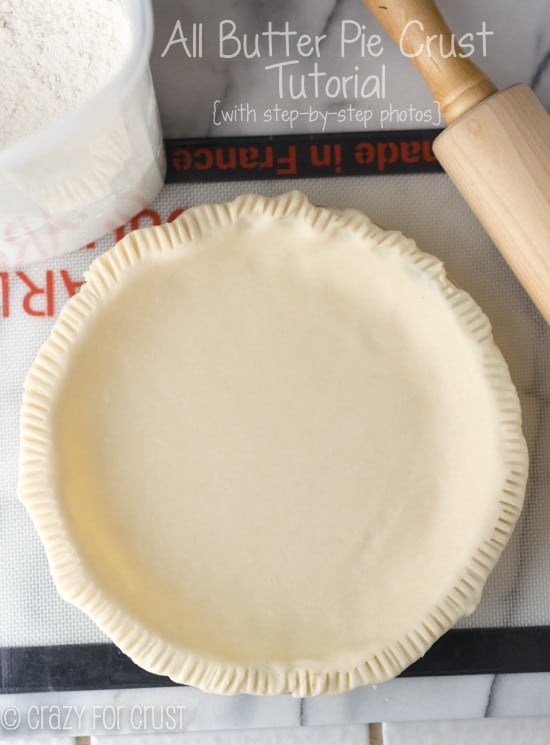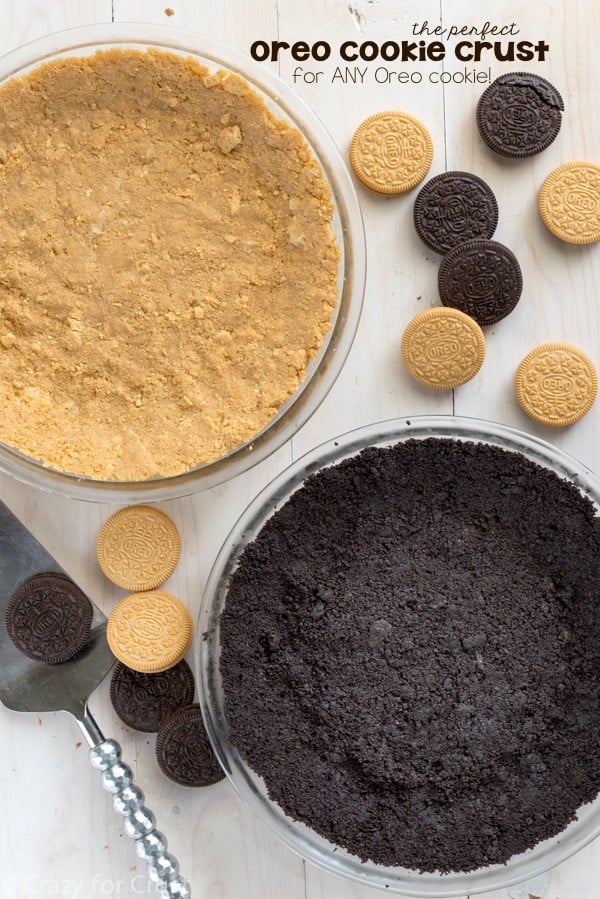 Last Updated on September 20, 2019