This post may contain affiliate links. For more information, read my disclosure policy.
No Bake Banana Pudding Dream Dessert – this easy dessert lasagna recipe is made with BANANA pudding! It's layered with no bake cheesecake and a Golden Oreo Crust!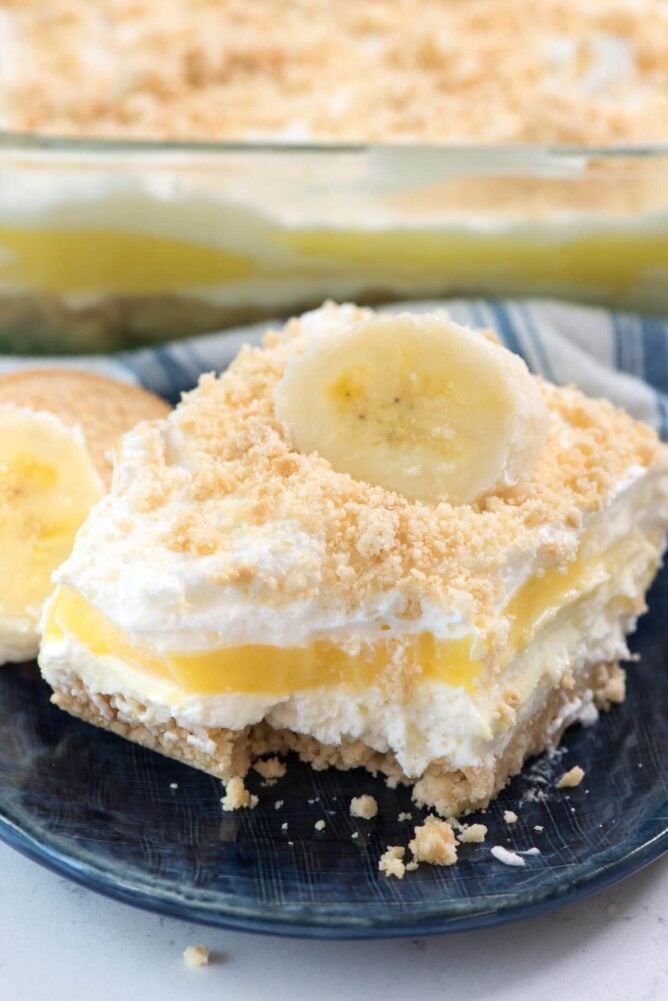 Last week I got to have a super fun "is this my life" experience: I got invited to a premiere of the new movie Rough Night. The PR agency was hosting a dinner and movie showing close by and somehow I got on the list. I get tons of press email every day and most of it goes in the delete bin, but this one I responded to promptly with a YES!
If you haven't heard about the movie, it's a cross between The Hangover, Bridesmaids, and Very Bad Things. Basically it's a dark comedy about a bachelorette party; it's very raunchy with lots of bad words and references. In other words, it was hilarious. Before the movie we had drinks and appetizers at a local restaurant (can I tell you that fried ravioli is the best thing ever?) and I got to meet one of my favorite radio personalities from a local morning radio show (for you Nor Cal people: Katie from the Wake-Up Call is just as hilarious in person as she is on the radio!)
Dinner was great, the movie was funny, but the best part about the evening? I was allowed to bring a couple of guests. Since it was definitely a "Girls Only" party (evidenced by the specially adorned headbands and straws…think bachelorette party…) I invited two of my close non-blogger friends. As a blogger, I often get to do cool things, like go on press trips or to new restaurants. So while the specialness of the evening wasn't lost on me, it wasn't something new. Being able to bring a friend that isn't used to free stuff and being treated like a VIP was super cool.
It's kind of how I imagine celebrities feel when they bring their mom to the Emmy's…divided by a trillion because nothing I do is anywhere near celebrity status, ha!
The day that I went to the premiere, I'd spent the day in the kitchen baking and cooking up a storm. I hired an assistant to help me crank out recipes and videos once a week (our record is 7 new recipes + photos + videos…in one day). Needless to say, I was exhausted when I left the house, and after two wines and a tequila shot that Katie bought for the table, I was even more tired when I got home.
Instead of going to bed like I should have, I did what Dorothy normally does: drank more wine, watched RHOA, and ate way too much Banana Pudding Dream Dessert.
It was the perfect night, don't you think?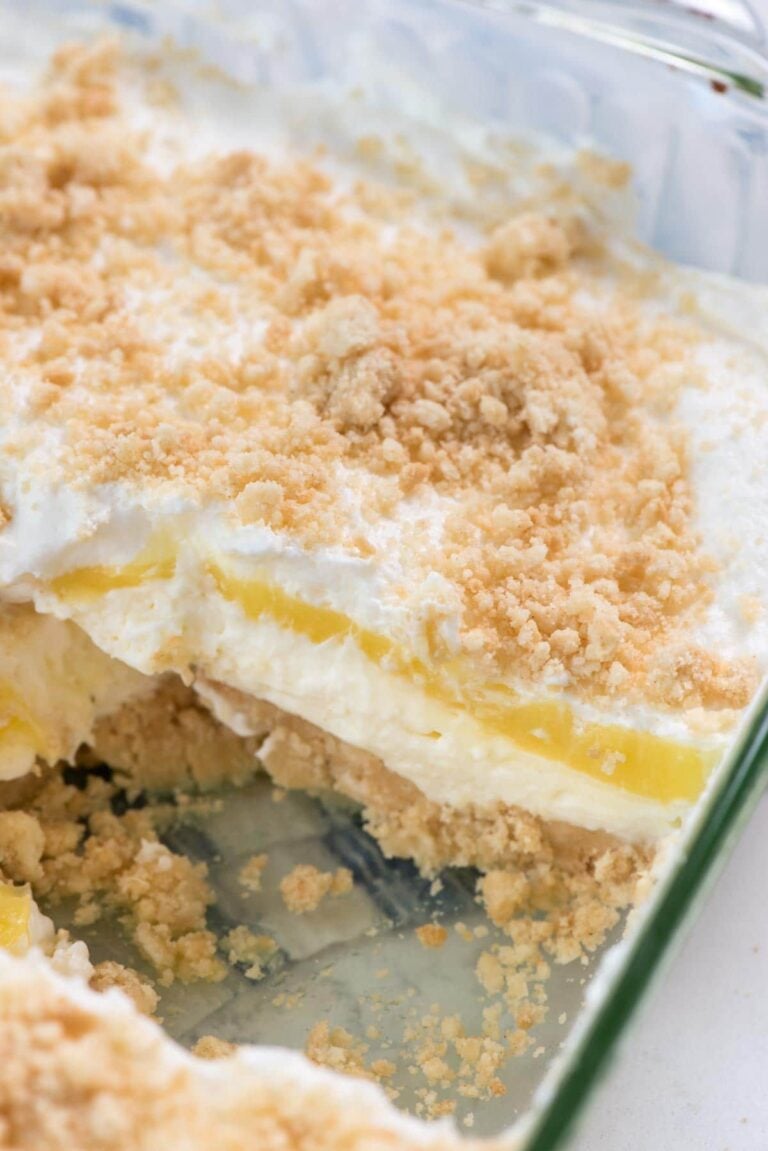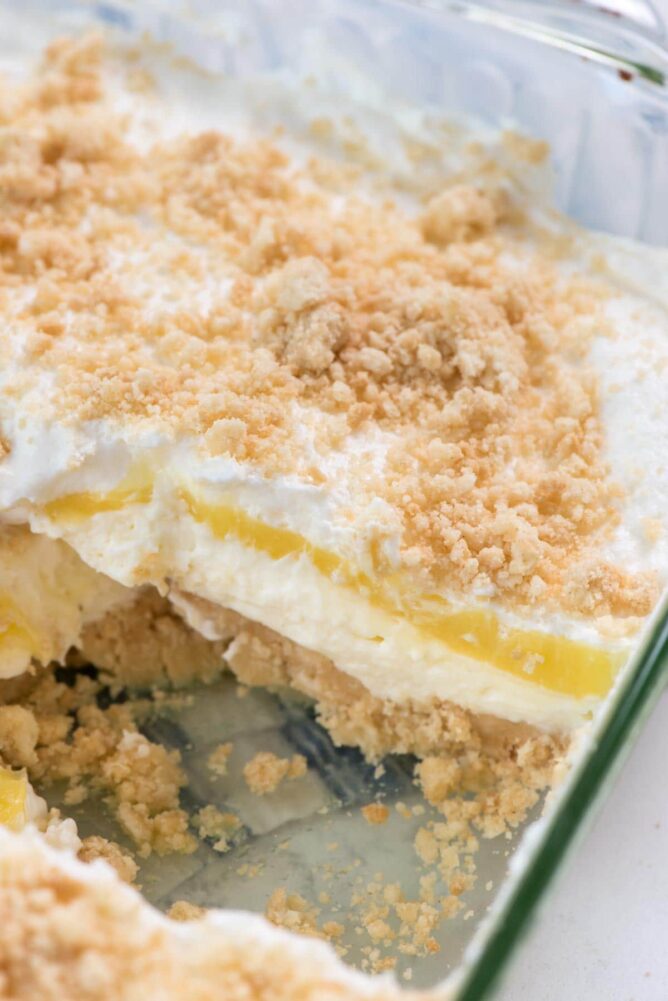 No Bake Banana Pudding Dream Dessert is the dessert known by many names: No Bake Dessert, Lush Dessert, Dessert Lasagna, Dream Dessert. Really, I never know what to call it. Basically, it's layers of fabulousness on top of a crust. And it's no-bake, which means it's the best dessert in the entire world. I've made pumpkin and mocha, mint and coconut, strawberry and lemon before, and now I can add BANANA to that list.
Enter: No Bake Banana Pudding Dream Dessert, aka Banana Lush or Banana Pudding Lasagna. And guess what else? It has a GOLDEN OREO CRUST.
(Bananas and Golden Oreos should be married. In fact, why is there not a banana pudding Oreo yet???)
Let's break down this dessert:
Layer 1: Golden Oreo Crust, easy, no-bake, butter and Oreos. YUM
Layer 2: No Bake Cheesecake with cream cheese, sugar, and some whipped topping (Yes, you can use whipped cream).
Layer 3: Banana Pudding. Good old banana pudding from a box; can't replicate that fabulousness!
Layer 4: More whipped topping and more cookie crumbs.
Layer 5: MY MOUTH.


Good luck only eating a few bites of this No Bake Banana Pudding Dream Dessert. It goes down SO EASY. Make it for a potluck and watch it disappear!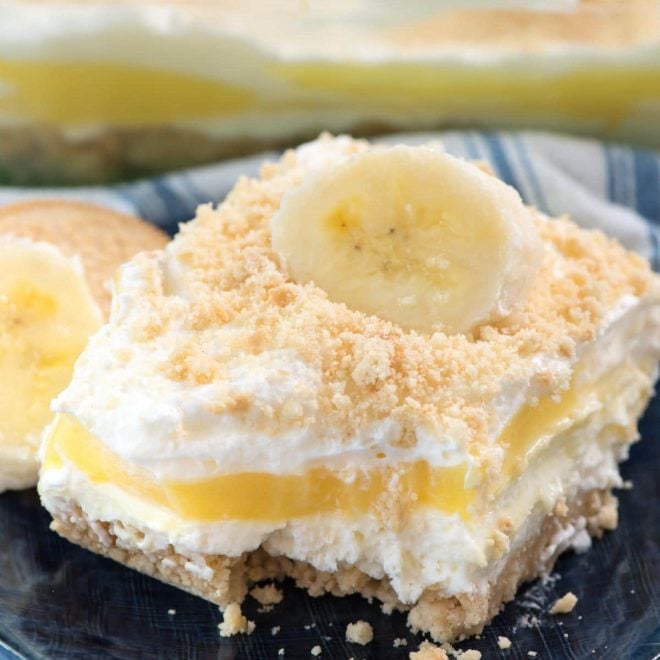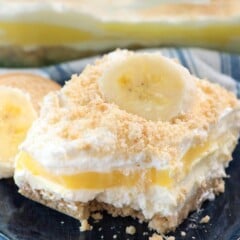 Banana Pudding Dream Dessert
No Bake Banana Pudding Dream Dessert - this easy dessert lasagna recipe is made with BANANA pudding! It's layered with no bake cheesecake and a Golden Oreo Crust!
Ingredients
25

Golden Oreos

crushed (see note)

6

tablespoons

butter

melted

8

ounces

cream cheese

room temperature

1/4

cup

granulated sugar

8

ounces

whipped topping

divided

1

box

3.4 ounces instant banana cream pudding mix

1

cup

milk
Instructions
Mix the crushed Golden Oreos and butter. Press into the bottom of an 8x8" or 9x9" square pan. Chill 10 minutes.

Beat cream cheese and sugar in a large bowl until smooth. Stir in 1 cup of the whipped topping until combined, then spread over crust in the pan.

Add the pudding mix to a large bowl (you can use the same one you used before). Whisk in milk until pudding thickens. Once it has set, spread it over the cream cheese layer.

Top with remaining whipped topping and some additional crushed Oreos for decoration.

Optional: add 1-2 sliced bananas in between the cream cheese and pudding layer.

Chill at least 2 hours before slicing and serving.
Nutritional information not guaranteed to be accurate
Click here for easy ways to use overripe BANANAS
If you love Banana Pudding recipes, check out my Banana Pudding Pie, Banana Cream Pie Ice Cream, or Banana Cream Pie Milkshake.
And be sure to check out my friend's takes on banana pudding: Banana Pudding Dip by Melissa's Southern Style Kitchen, Banana White Chocolate Cheesecake Bars, by It's Yummi, Banana Pudding Cake by Spend with Pennies, or Banana Cheesecake Blondies by Grandbaby Cakes.
No Bake Peanut Butter Cocoa Pebbles Dessert
Strawberry Shortcake Pie with Golden Oreo Crust
Last Updated on February 2, 2023