This post may contain affiliate links. For more information, read my disclosure policy.
Learn the EASY way to cut a pineapple without any special tools! This simple method always works – it's no frills but the simplest and best way to get pineapple chunks or tidbits!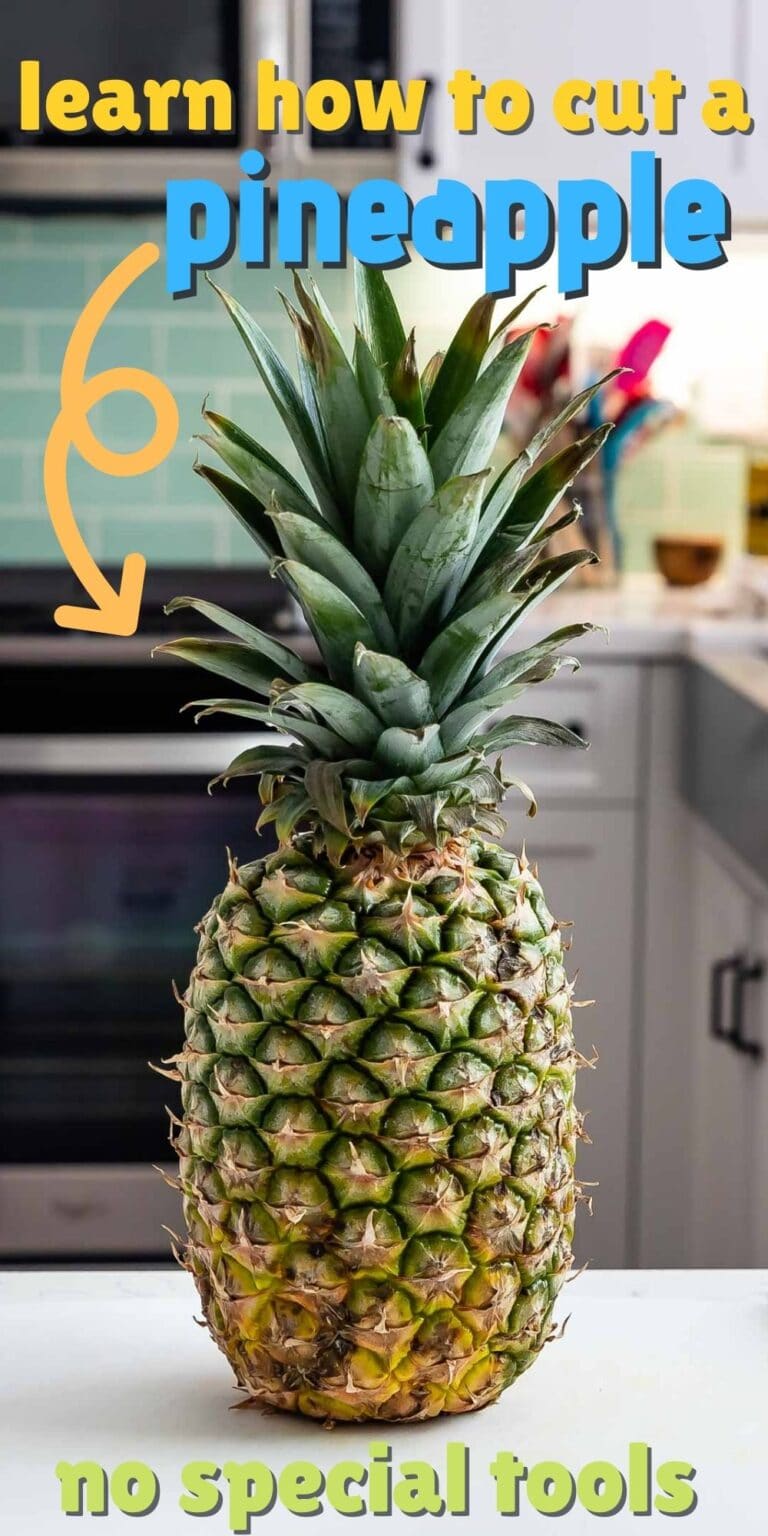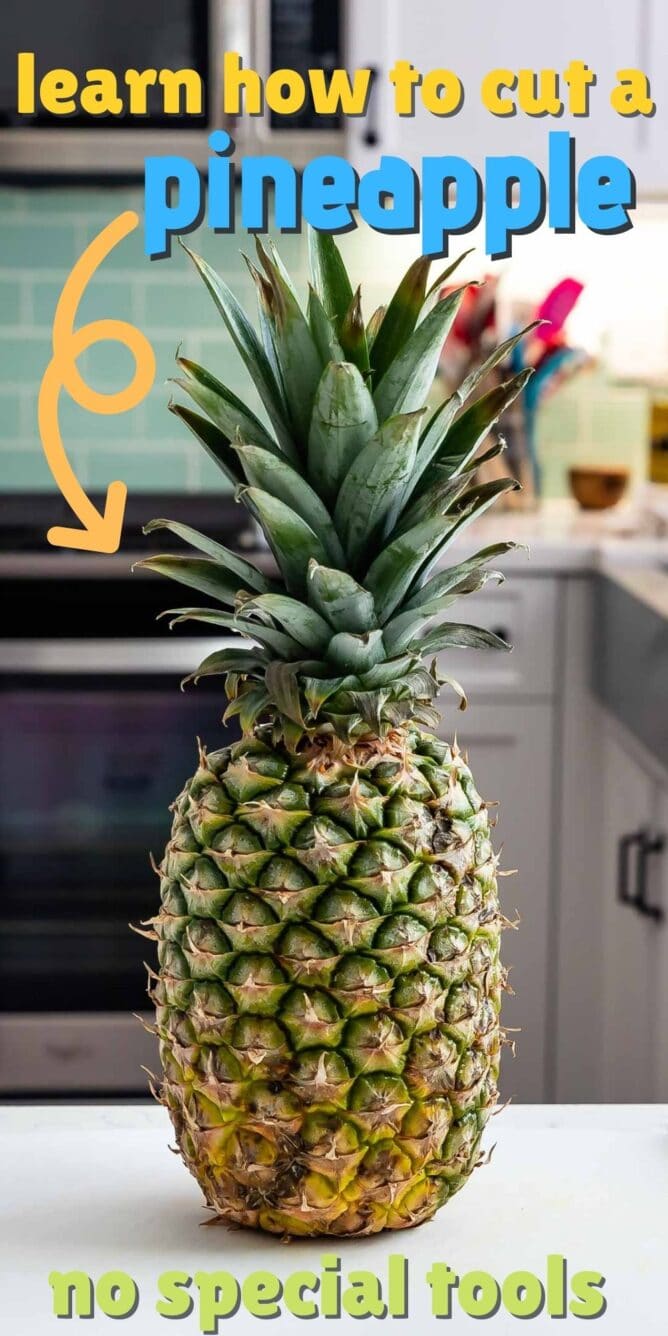 What you need to cut a pineapple
I love me some fun kitchen gadgets but I hate storing them – so if you want to know how to cut a pineapple with just a knife and cutting board, this is the way you should do it.
Here is what you need:
TIP: make your cutting board a nonslip surface by wetting a paper towel, wringing it out, and laying it flat on your counter. Place the cutting board on top and it shouldn't move!
How to Cut a Pineapple into Chunks
Ever wondered what's the easiest way to cut pineapple? Here is your step-by-step method!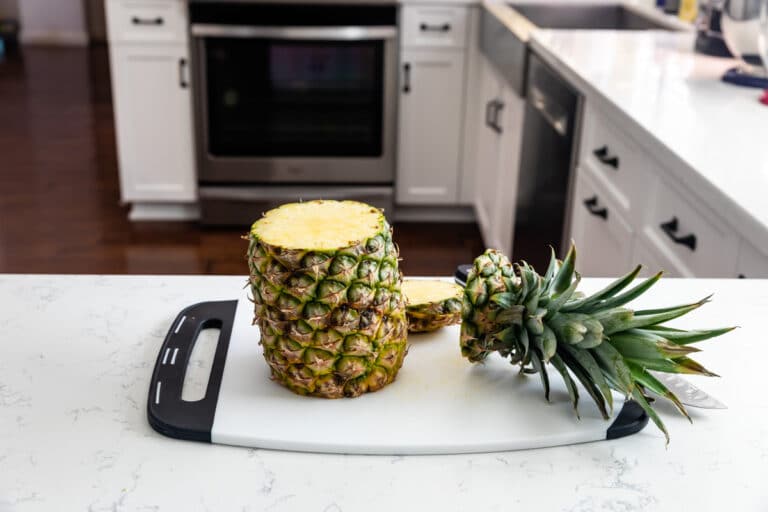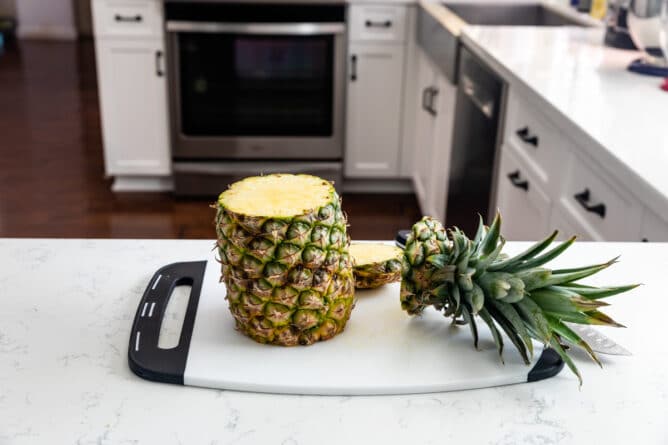 First, cut off the top and bottom. Try to make it as level as possible. This way the pineapple is steady while you slice off the skin.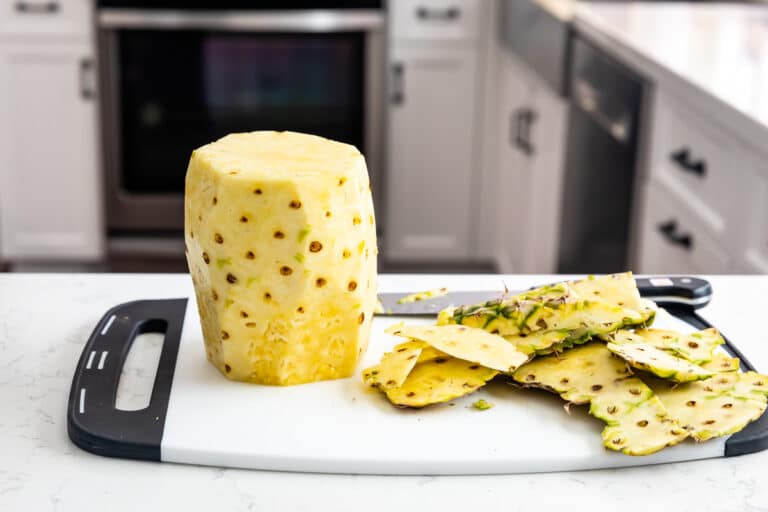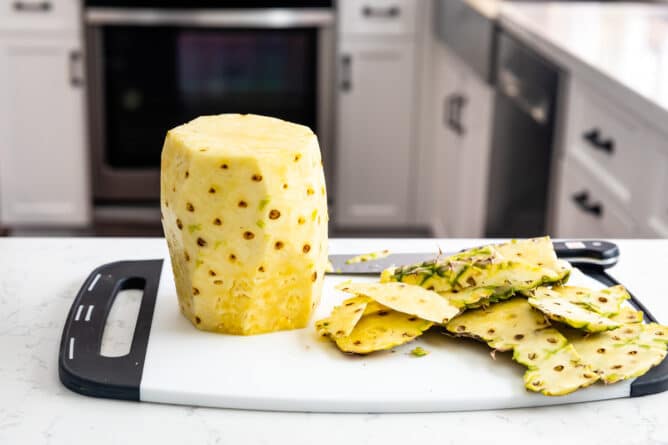 Then, use your knife to cut off the skin. Work it down the sides of the pineapple. Cut off as many of the eyes as you can.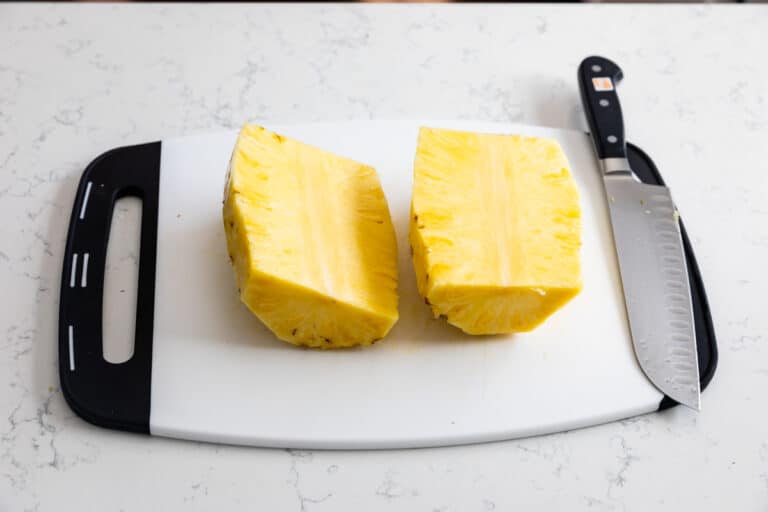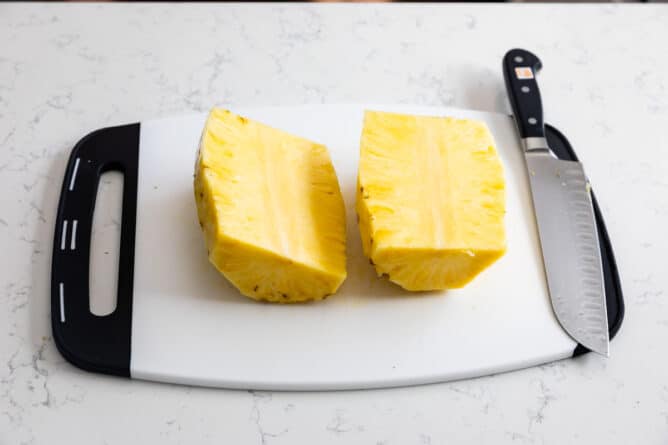 Next, cut the pineapple in half.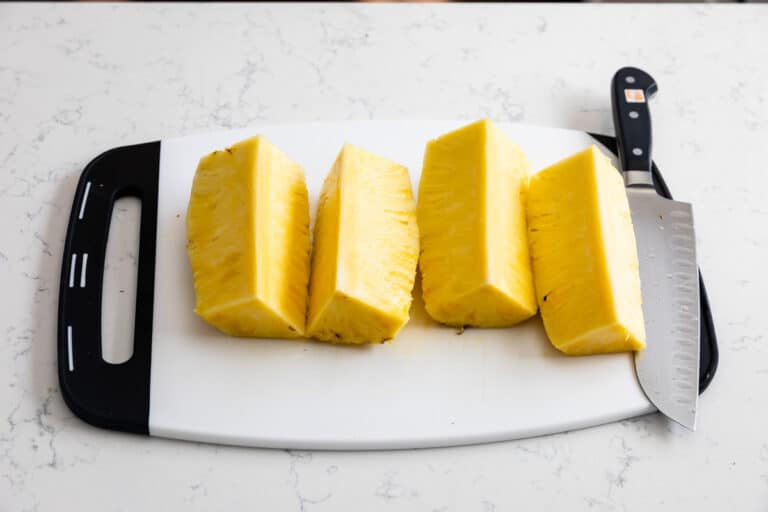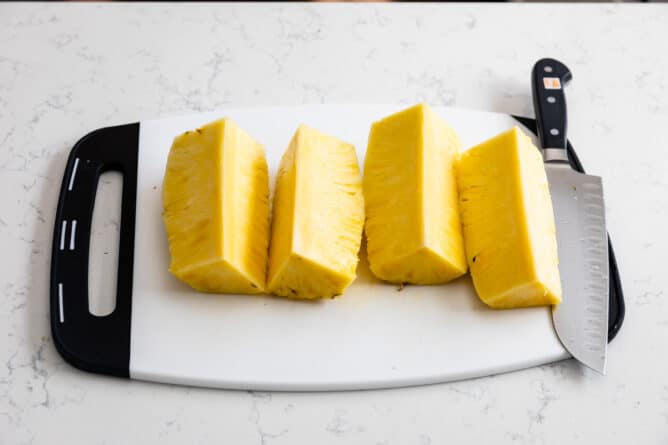 Then cut it into quarter size spears.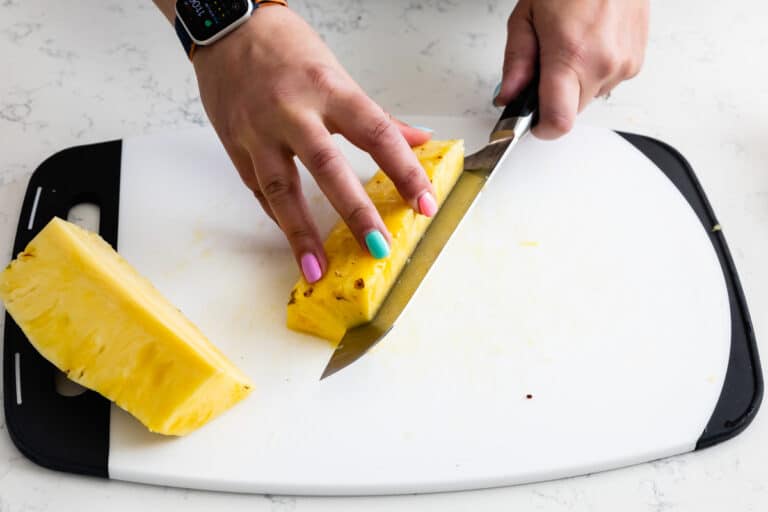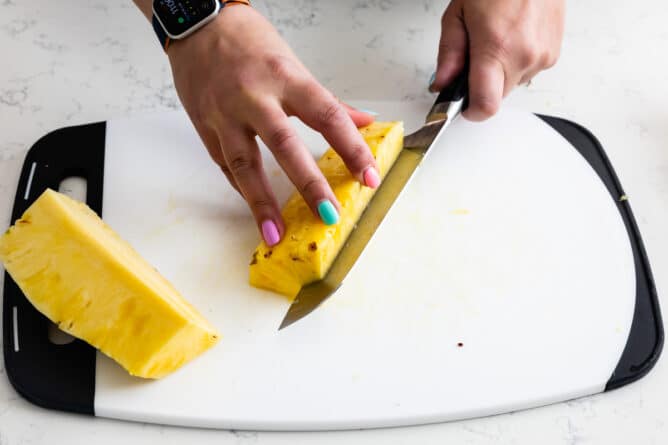 Next, you need to cut out the core. Cut along the diagonal, thinking about cutting off one point of a triangle, to get the core off.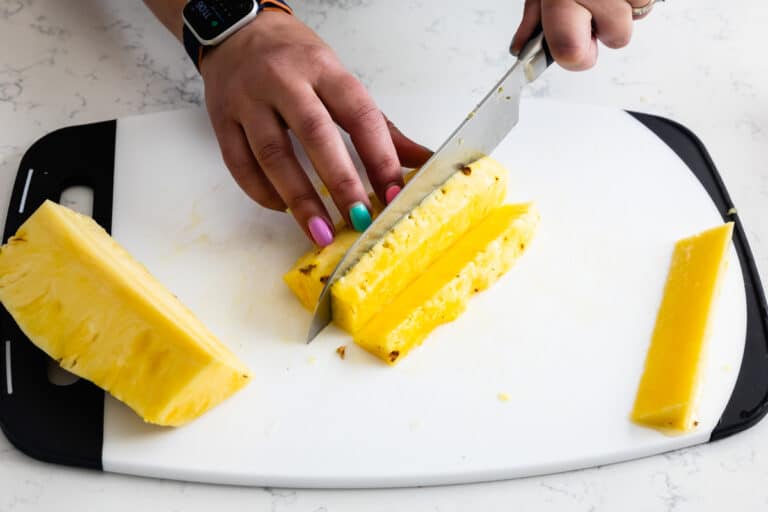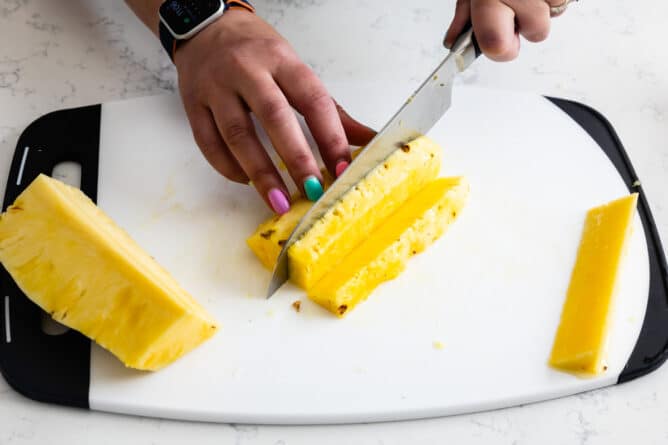 Then slice lengthwise.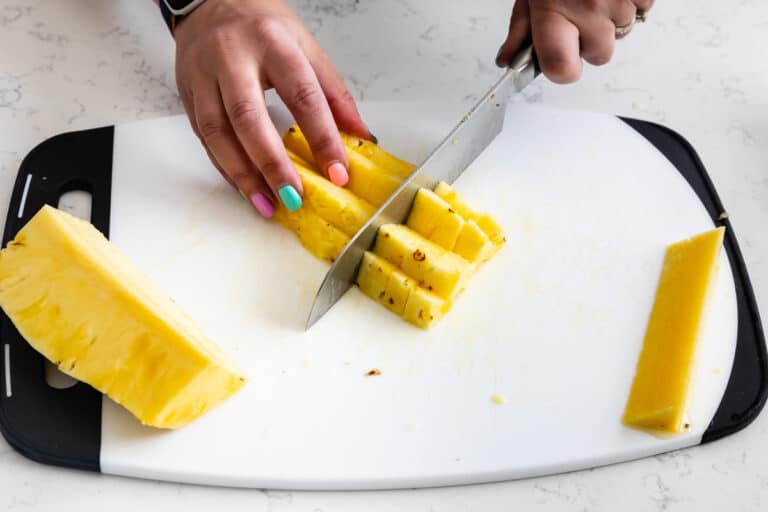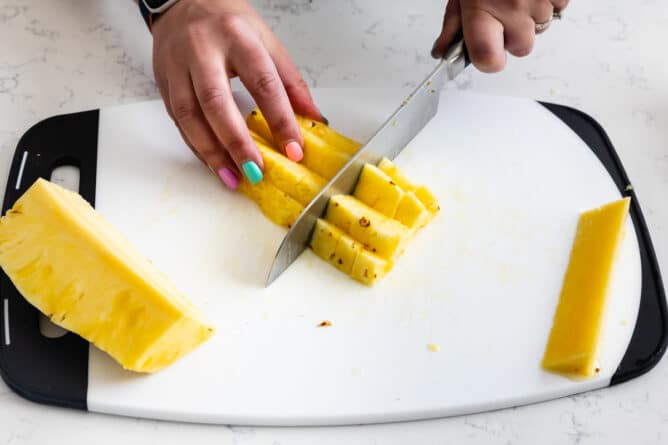 And then chop or dice into bite size chunks.
You do not need to rinse the pineapple once it's cut – just eat and enjoy!
How to tell if a pineapple is ripe
Smell is the best way to tell if a pineapple is ripe. You want to make sure the leaves aren't dried out and that it's not overly soft or too firm, but smell is the best way. Sniff the bottom of the pineapple – it should smell nice and sweet.
How to store and freeze pineapple
Store cut pineapple in an airtight container in the refrigerator for up to 3 days (or until it starts to soften and brown).
You can also freeze diced pineapple: place the chunks in a resealable bag or airtight container in the freezer for up to 3 months. You can also lay all the chunks out on a cookie sheet that's been lined with wax or parchment paper. Freeze then move the frozen chunks to a bag so they are loose and not all stuck together.
This is the best way to cut a pineapple without waste!
Ways To Use Cut Pineapple
Have you made this recipe?
Tag @crazyforcrust on Instagram or hashtag it #crazyforcrust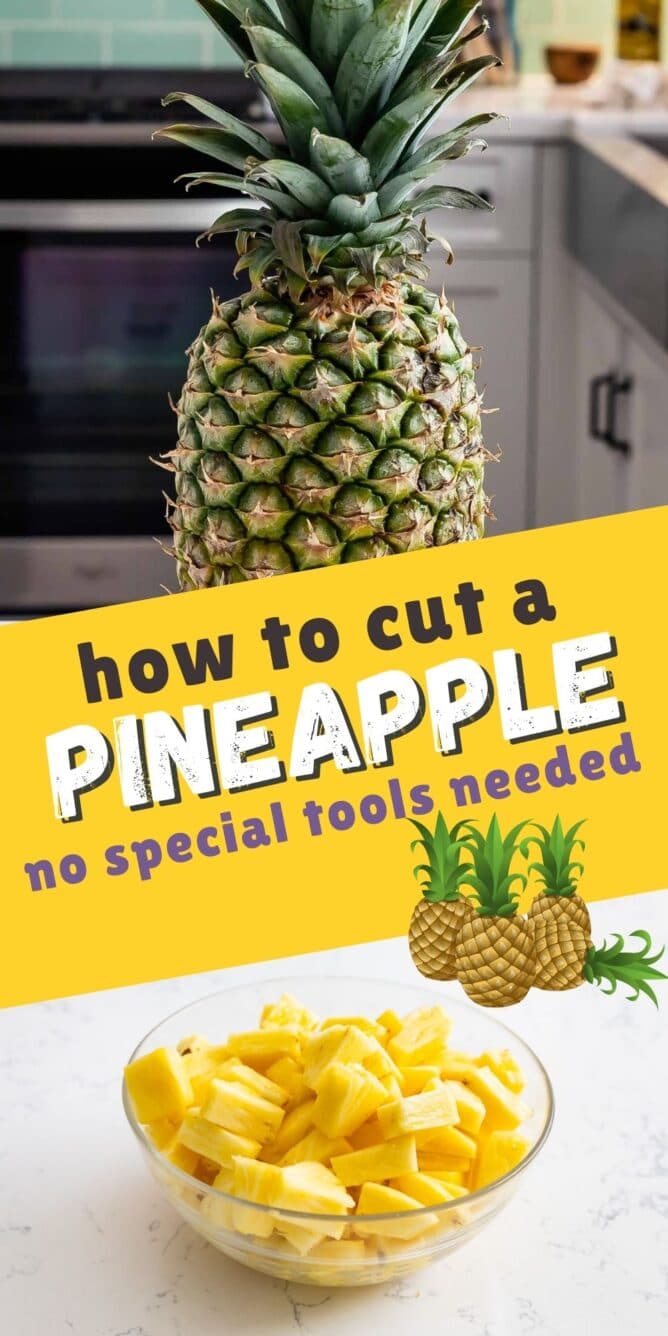 This simple technique will have you enjoying sliced pineapple all year long for baking or just eating.
Last Updated on May 4, 2021