This post may contain affiliate links. For more information, read my disclosure policy.
These are the BEST Fudgy Brownies – an easy recipe that's done in minutes. They're ONE BOWL Brownies and they are SO good – you can't stop eating them.
Seriously though, if you want the gooiest brownies EVER then make this recipe.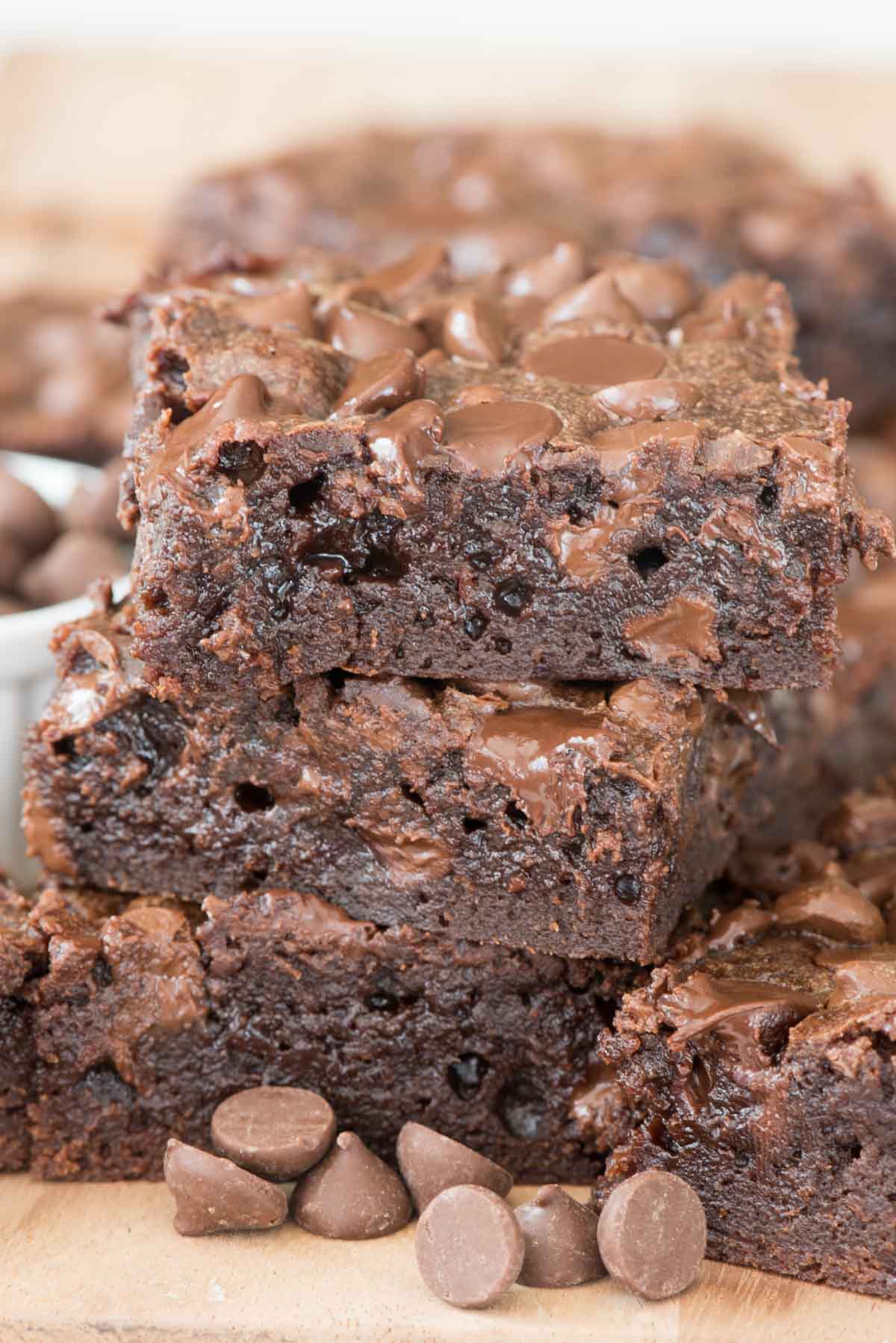 THE BEST FUDGY BROWNIES EVER
These photos should speak for themselves. I consider myself somewhat of a brownie aficionado. I have a gold standard brownie recipe, a go-to easy brownie recipe, and a brownie mix I use regularly. I've resisted other brownie recipes for the longest time because, well, once you have one you love, why try another?
Why? Because if I hadn't I wouldn't have found THIS one. And OMG, you guys: BEST BROWNIE EVER. I'm not joking. This brownie recipe is my new gold standard brownie…especially when you eat them warm…straight from the pan…not that I'd know or anything.
I can honestly say I've never had such a gooey, fudgy brownie recipe that didn't have melted chocolate or butter in the batter. Every brownie recipe that just has cocoa that I've tried is good but not as rich and fudgy as my normal brownies. Recipes made with oil work and taste just fine, but I've always found butter brownies to be richer in flavor. But these? These are fudgy to the extreme, which is a requirement for a good brownie recipe.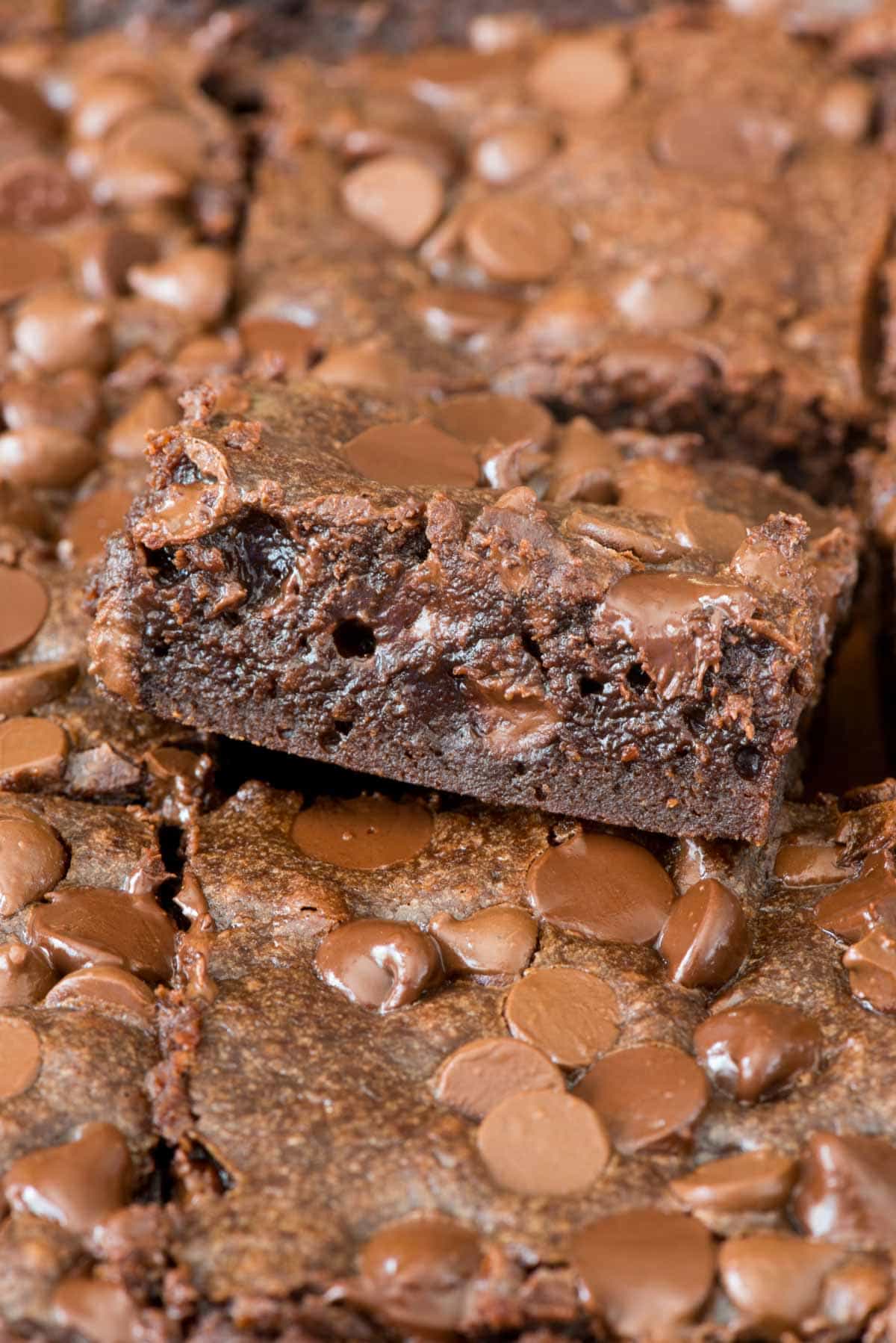 One Bowl Brownies with Oil
These brownies really are a one-bowl recipe. You don't need to sift anything in a different bowl or whisk anything together separately. Basically you toss, mix, bake.
How are they just one bowl brownies? Because they just use cocoa powder (instead of melting chocolate) along with all the other dry ingredients. You'd think cocoa powder wouldn't be enough to make the most chocolatey brownies ever, but you'd be wrong.
When it comes to cocoa powder, you can use any kind you like in this recipe. I use regular unsweetened, but since there is no leavening (i.e. baking soda) the chemical reactions won't be altered if you use dutch process. These would also be great with Special Dark Cocoa. Read all about the different kinds of cocoa powder.
These brownies are also made with oil instead of butter, so no melting or microwave/stovetop needed! You will NOT miss the butter, believe me.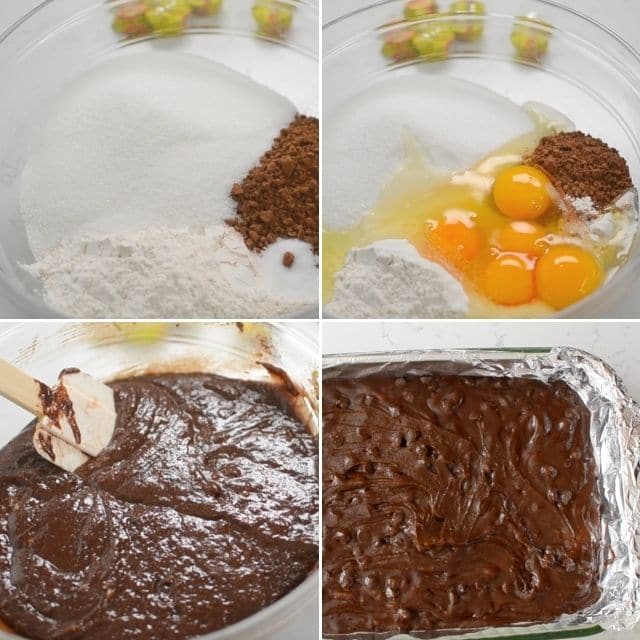 Secret to FUDGY Brownies
What's the secret? I'm pretty sure it has to do with the 5 eggs in the recipe.
Eggs are the backbone of this brownie, giving it the richness where oil might lack and structure in place of leavening. Whatever the chemistry is, the brownies are the bomb dot com, and you need to make them.
The only change I made from Amy's recipe is I added about 1 1/2 cups more chocolate chips than she called for. I just love lots of chocolate chips in brownies…what can I say? #addictedtochocolate
How to make Brownies without butter
Whisk dry ingredients.
Mix in oil and eggs.
Stir until smooth, add chocolate chips.
Pour batter into a 9×13-inch pan.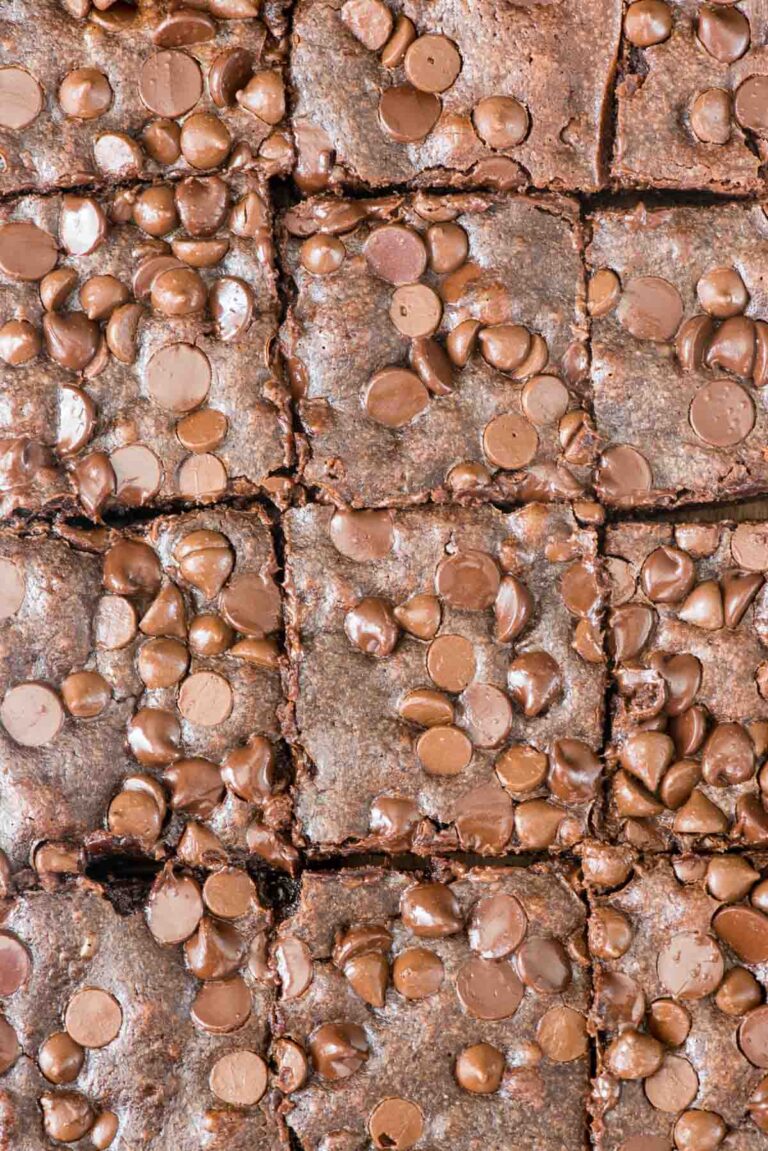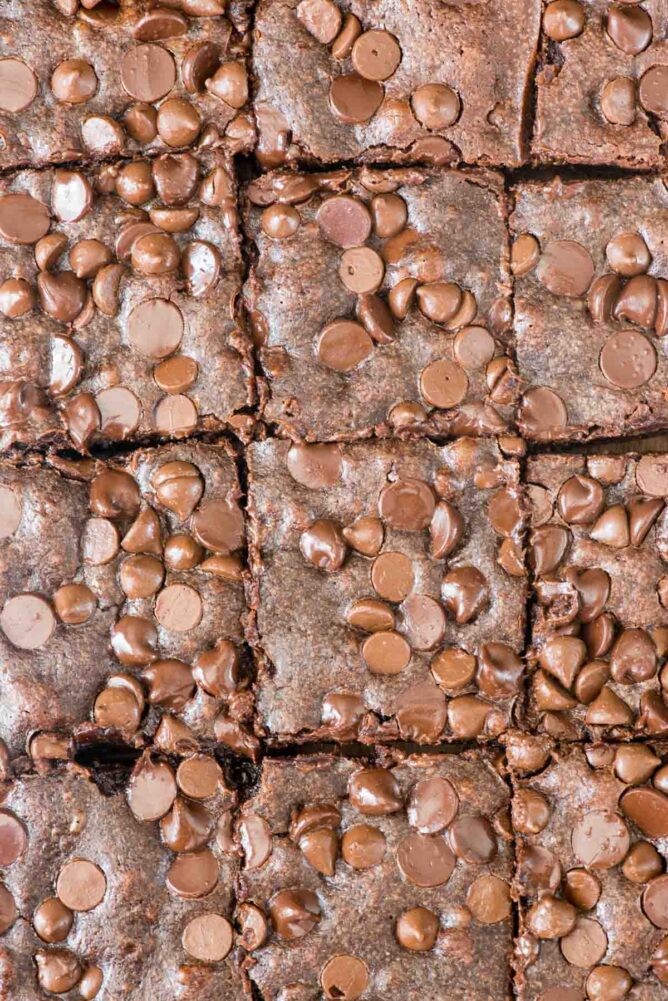 FAQ and Tips
How to make fudgy brownies?
This recipe is super fudgy because of the eggs. I also like to take them out before they're over done – so be sure to watch them.
My brownies took longer to bake!
Chances are your definition of done and mine are different. I like mine gooey and erring on the side of under done, so take that into consideration.
Are fudgy brownies chewy?
These aren't super chewy, they more gooey.
What does an extra egg do to brownies?
It makes them into this recipe: SUPER FUDGY!!
Be sure you go check out her book (details below)…your family will thank you!
Other Brownies We Love
If you looooove brownies like I do be sure to check out these salted caramel brownies from scratch or gooey Oreo brownie bars!
Have you made this recipe?
Tag @crazyforcrust on Instagram or hashtag it #crazyforcrust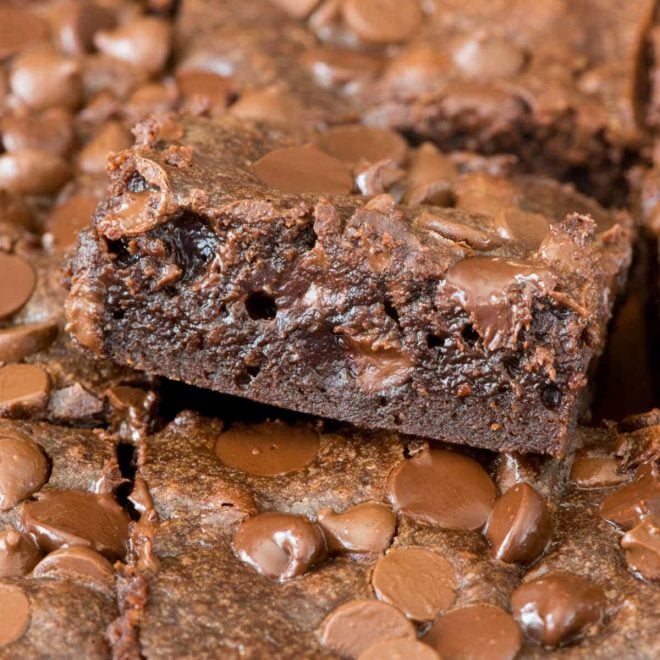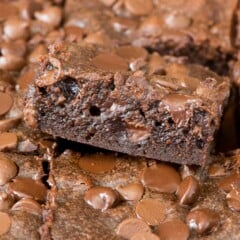 Perfectly Fudgy One Bowl Brownies
These are the BEST perfectly Fudgy One Bowl Brownies – an easy recipe that's done in minutes. These brownies are SO good – you can't stop eating them. And, minus the chocolate chips, they're dairy free.
Ingredients
1 3/4

cups

all purpose flour

3/4

cup

unsweetened cocoa powder

2

cups

granulated sugar

1

teaspoon

salt

5

large eggs

1

cup

vegetable oil

2

cups

chocolate chips

divided

1/3

cup

walnuts

optional (I didn't use them
Instructions
Preheat oven to 350°F. Spray a 9×13″ pan with nonstick cooking spray (I lined mine with foil first).

Whisk flour, cocoa, sugar, and salt. Stir in eggs and then oil until completely moistened. Stir in 1 1/2 cups chocolate chips and walnuts (if using).

Pour batter into prepared pan. Sprinkle the remaining chocolate chips over the top. Bake for 22-26 minutes, or until a toothpick comes out with just a few crumbs.

Let the brownies cool completely before slicing for clean lines. They taste so good warm though!
Nutritional information not guaranteed to be accurate
When I started blogging I had no idea how many bloggers there were. I started 6 years ago, so there were less than there are today, but there were still so many I had no idea about. I feel like I've met and interacted with a lot of them since I started but there are still tons of food blogs I've never heard of, read, or seen. It blows my mind, really.
Given all that it really boggles my mind that there are so many food bloggers that live near me. Not only that, but we are friends, we have lunch, we hang out, our families hang out together. So when one of these food blogger-turned-real friends writes a cookbook I have to brag a little. I mean, I have a famous friend who happens to be a food blogger and is now a published author…oh, and she's a super nice person too.
I'm talking about my friend Amy Flanigan from the blog Belly Full. She wrote a cookbook and THIS is her brownie recipe. Need I say more?
This brownie recipe comes from Amy's book, Good Fast Eats. It's food that's fast, but it's not fast food. Amy's mantra is to make good food that's easy to prepare and fast to cook and even better to eat. While the book is mostly full of savory recipes, her desserts look mouth-watering. Besides brownies there are Coconut Pie, Chocolate Chip Cookie Skillet, and Cinnamon Roll Pastry Twists. I plan to work my way through every single one of those soon.
And, I guess, if I have to make real food for dinner or something (ha!), I am making the Shrimp Satay Ramen first, followed quickly by Sweet and Sour Chicken. Both are something Jordan will eat!!
Okay, let's get back to brownies because, really, is there anything else to talk about? They. Are. Simply. Amazing.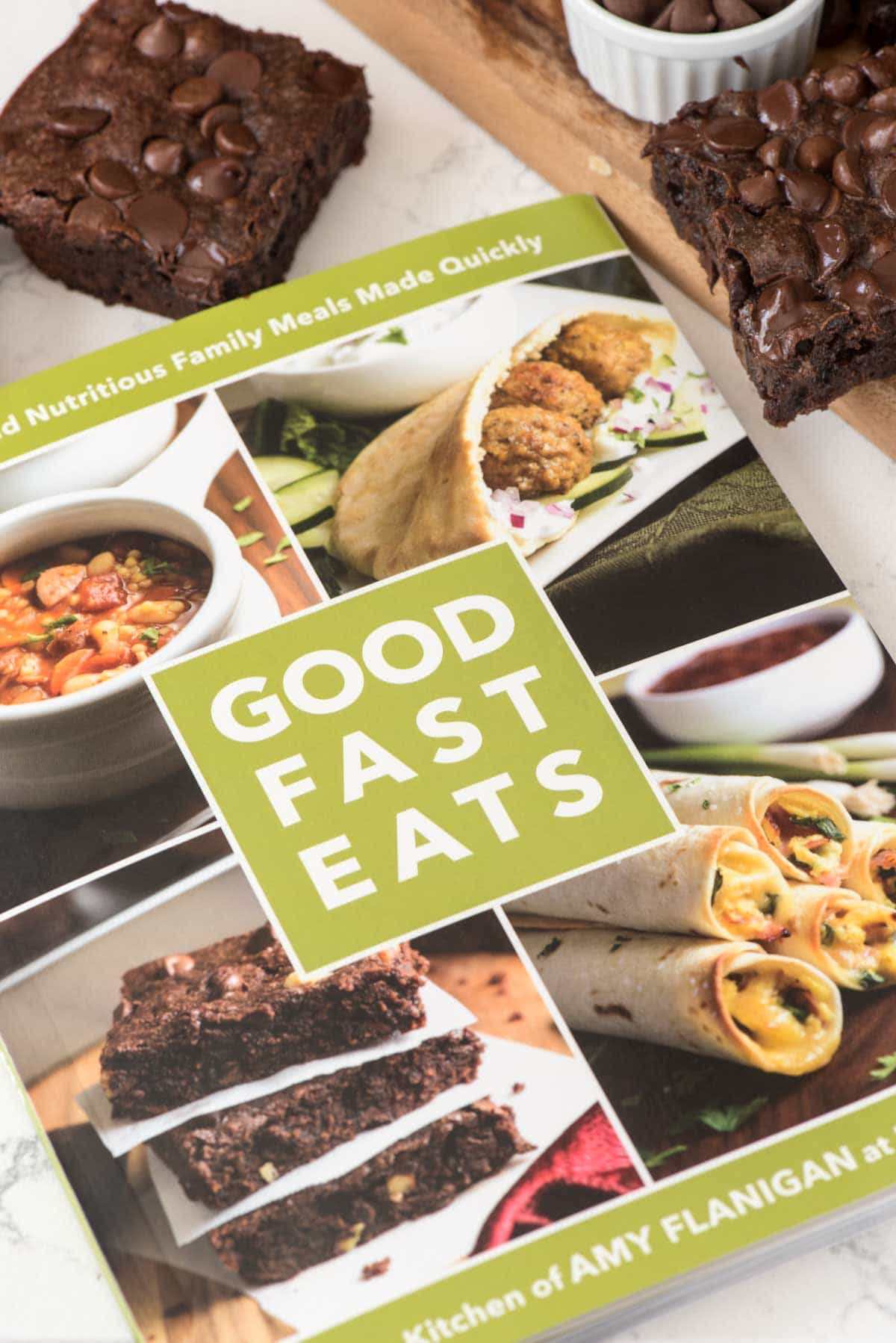 Last Updated on April 1, 2023