Roasted Carrots
This post may contain affiliate links. For more information, read my disclosure policy.
Learn how to Roast Carrots in this easy recipe! Use regular or baby carrots tossed with seasoning to make roasted carrots as a side dish vegetable for dinner!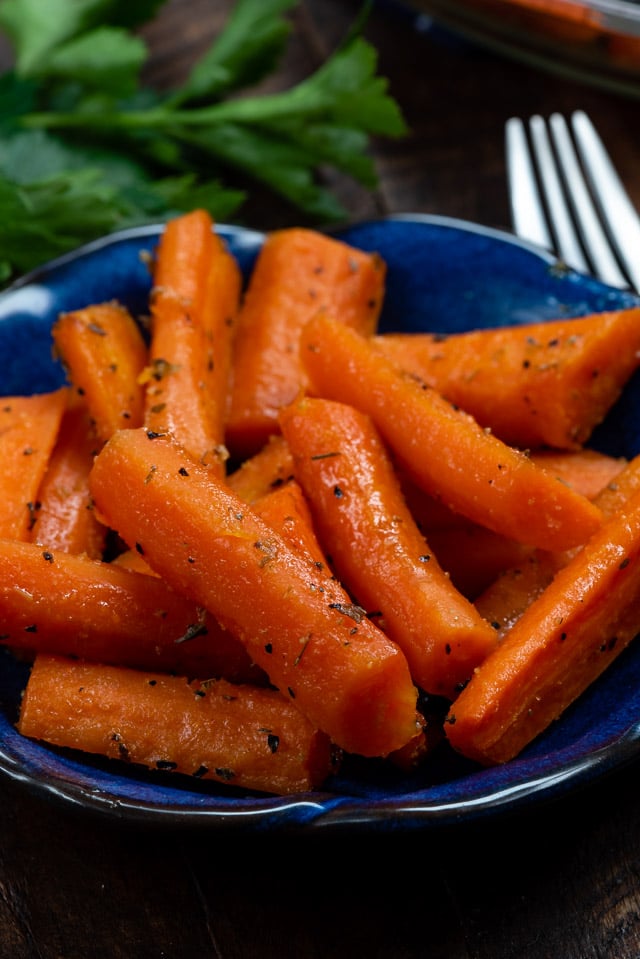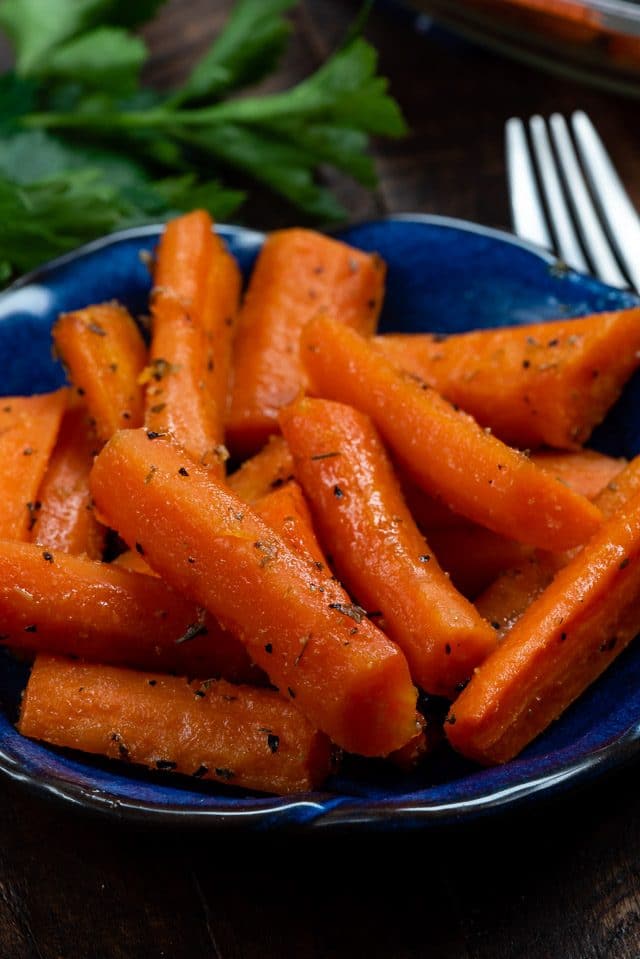 Growing up I hated cooked carrots. I'd eat raw ones all day long but cooked? No thank you! As an adult I've perfected the way I make cooked carrots so that I love them just as much as I love eating them raw.
The secret to making cooked carrots is to roast them. Roasting vegetables makes the flavor just so much better and enhanced than boiling them. It's hard to over cook a roasted vegetable: if it gets too done it's clearly burned. However, it's so easy to over cook boiled vegetables, especially carrots. They don't change color like green ones do and before you know it you have a soggy mess.
My point is: if you think you don't like cooked carrots, try making my recipe. Roasting carrots is a game changer!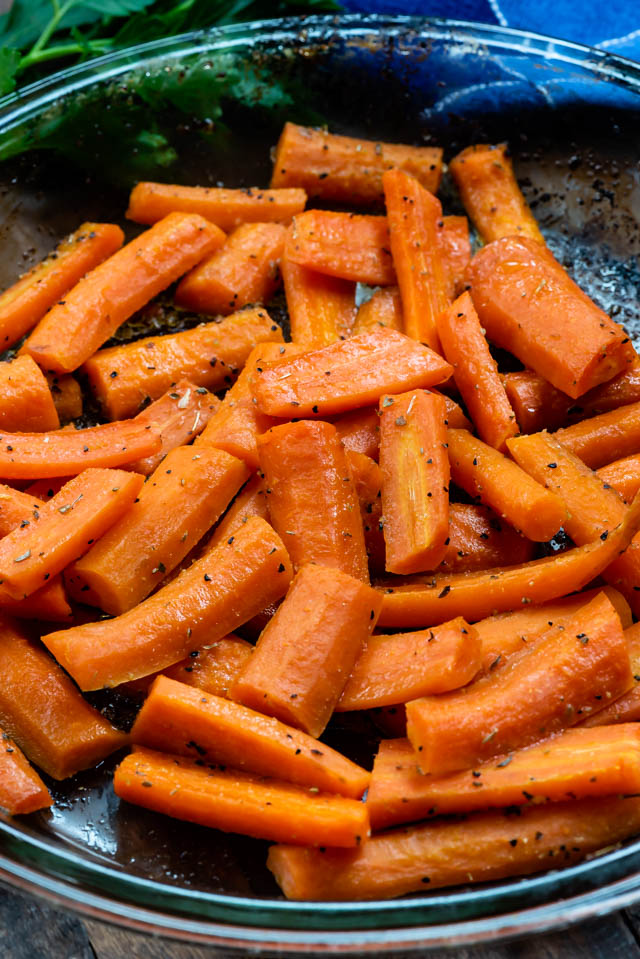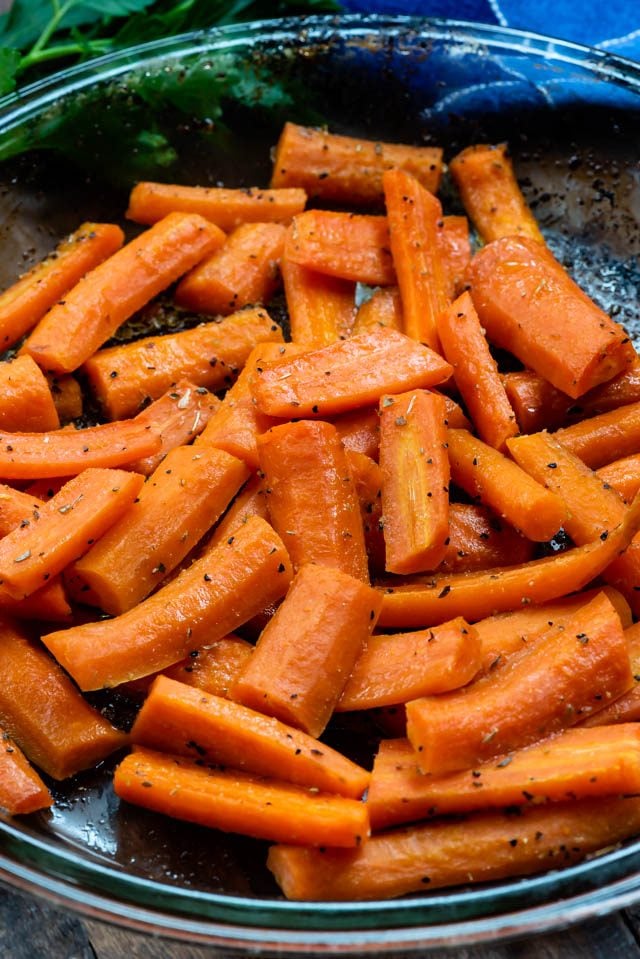 Some vegetables, like green beans or zucchini, it's fine to just pop them in the oven to roast them. However, with carrots (like potatoes) I prefer to par-boil them a bit before roasting. This ensures a done carrot that's perfectly roasted and not burned on the outside and raw on the inside.
What is par-boiling?
Par-boiling means to partially boil or partially cook your carrots by boiling them for a short time. I only boil these for a couple of minutes; you don't want them fully cooked when you par-boil. You want them partially cooked so that you can finish them off by roasting them.
Should you peel carrots before roasting?
I always do. Carrot skin is a little off-putting so I always peel my carrots, unless I'm using baby carrots. This recipe is good with either kind!
How long do you roast carrots?
The time it takes to roast your carrots varies depending on the size and shape. If you're using uniform sized cuts that are the size of baby carrots, and you've par-boiled them, it'll take 25-30 minutes to roast them in a 400°F oven. Sliced carrots or thicker ones will take more or less time.
With all vegetables, it's important to season them before roasting. This adds flavor to your vegetable making them taste great to all ages!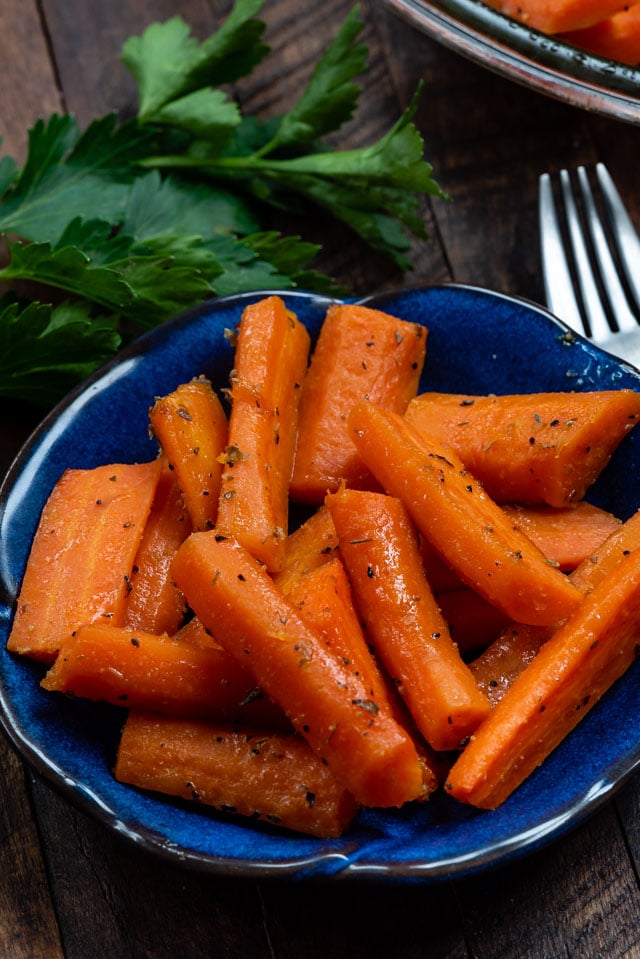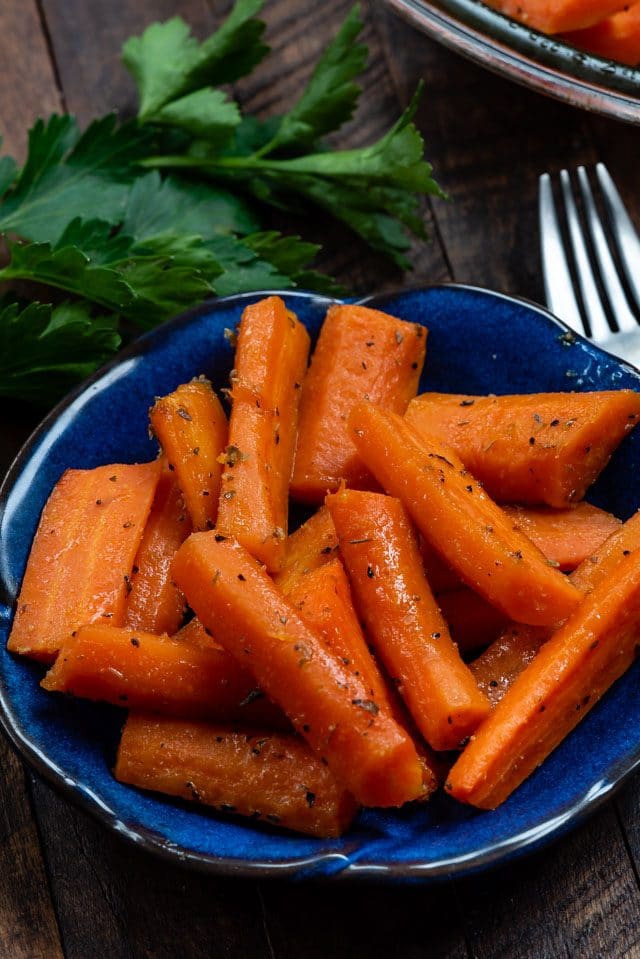 I love to season my carrots with a mixture of spices and a little something sweet. I use:
Olive oil
Honey (or maple syrup)
Salt
Pepper
Garlic Powder
Onion Powder
Italian Seasoning
The mix of spices gives great flavor and the honey gives a twinge of sweetness. These are the perfect easy dinner side dish or you could even serve them on a holiday table. Par-boiling then roasting them makes them soft and crunchy with a delicious flavor. Even my picky eater loves these!
Want even more? Subscribe to Crazy for Crust to get new recipes and a newsletter delivered to your inbox. And stay in touch on Facebook, Pinterest, Twitter, and Instagram for all my latest updates. If you make this recipe, share a photo on social media tagging @crazyforcrust and using the hashtag #crazyforcrust.
Servings: 4 servings
How to make Roasted Carrots
Learn how to Roast Carrots in this easy recipe! Use regular or baby carrots tossed with seasoning to make roasted carrots as a side dish vegetable for dinner!
Ingredients
1 pound carrots — sliced into chunks the size of baby carrots (or use baby carrots)
2 tablespoons olive oil
1 tablespoon honey or maple syrup
1 teaspoon salt
1/2 teaspoon pepper
1/2 teaspoon garlic powder
1/2 teaspoon onion powder
1/2 teaspoon Italian seasoning
Instructions
Preheat oven to 400°F. Spray a cookie sheet with nonstick cooking spray (or line with foil and spray with nonstick cooking spray for easy clean up).
Par-cook your carrots in one of two ways:
Place carrots in a microwave safe dish with about 1/4 cup water. Heat for 2 minutes in the microwave. Drain. OR

Bring carrots and water to a boil in a saucepan. Boil 3 minutes. Drain.
Cook your carrots:
In a medium sized bowl, whisk together the oil, honey, and spices. Toss with partially cooked carrots. Spread to cookie sheet.

Roast in oven for 20-30 minutes, or until the carrots are fully cooked through, stirring at least once during baking.

Serve hot. Store in an airtight container in the refrigerator for up to 3 days.
Course: Side Dish
Cuisine: American
Keyword: carrots
Nutrition Information
Amount per serving (1 serving) — Calories: 127, Fat: 7g, Saturated Fat: 1g, Sodium: 660mg, Potassium: 362mg, Carbohydrates: 15g, Fiber: 3g, Sugar: 9g, Protein: 1g, Vitamin A: 18945%, Vitamin C: 6.7%, Calcium: 41%, Iron: 0.4%
**Did you make this recipe? Don't forget to give it a star rating below!**
Parmesan Roasted Zucchini is another favorite side dish.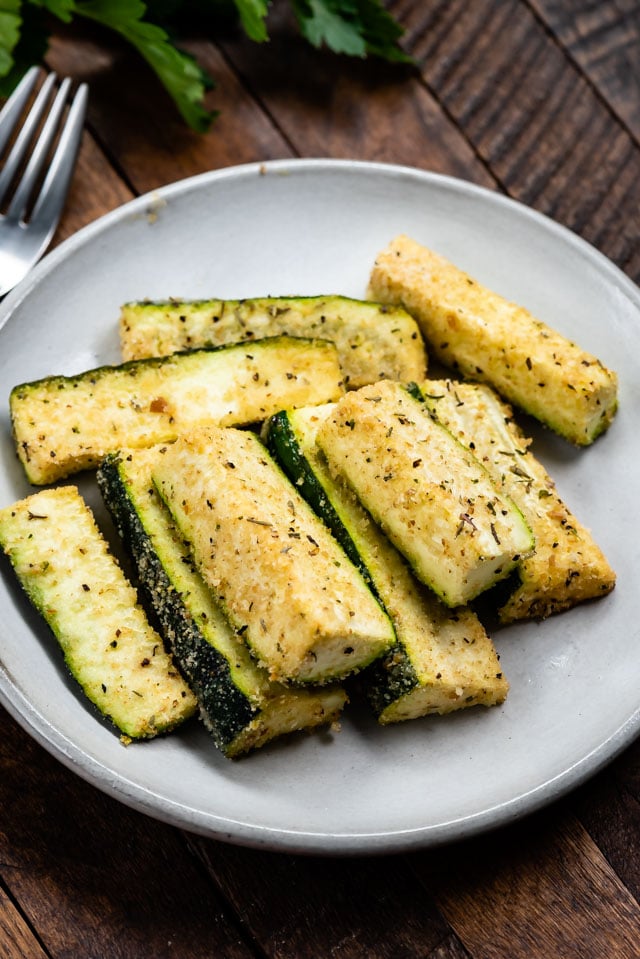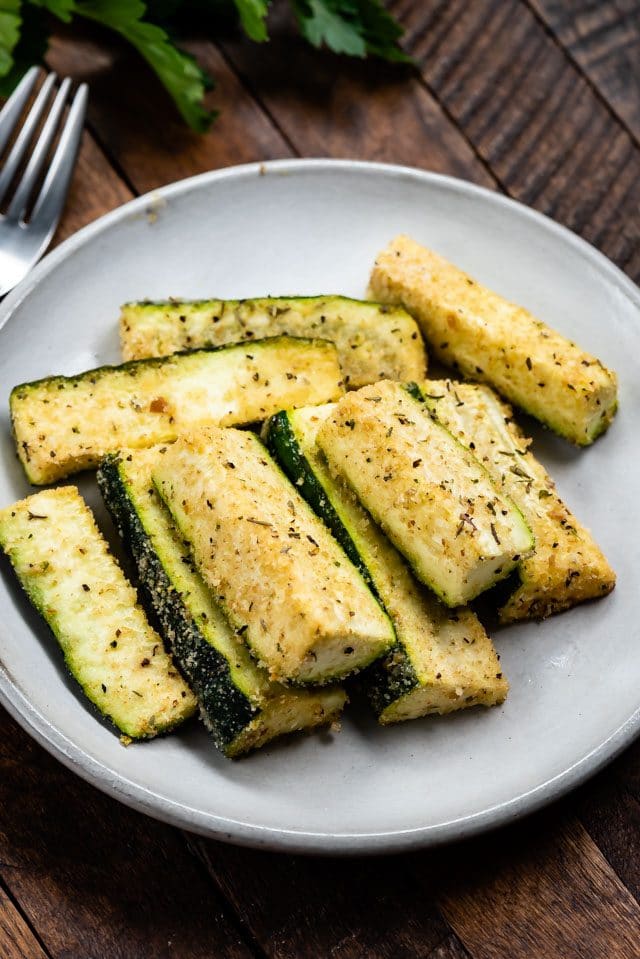 We also love roasted green beans with bacon!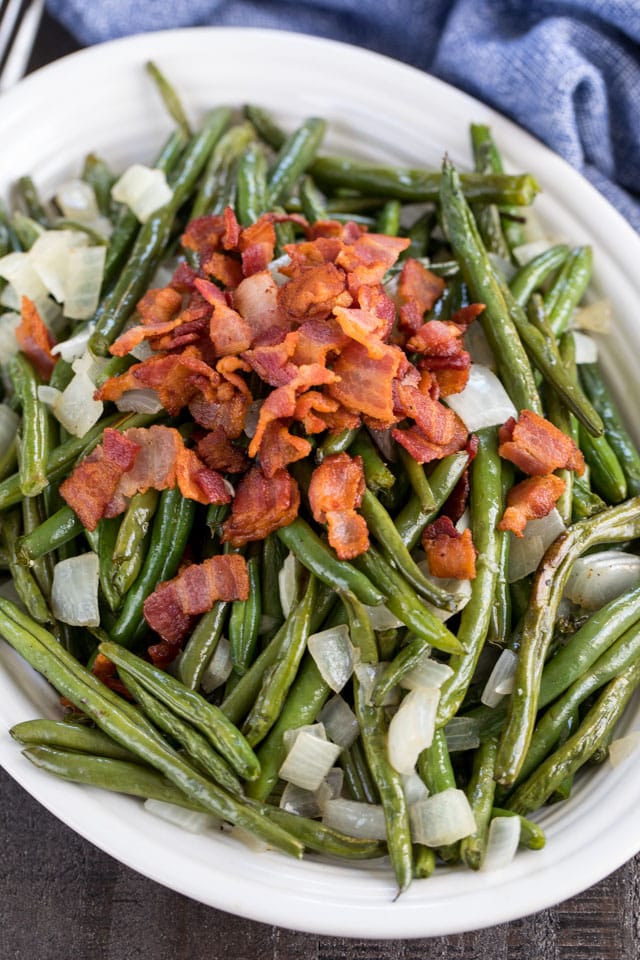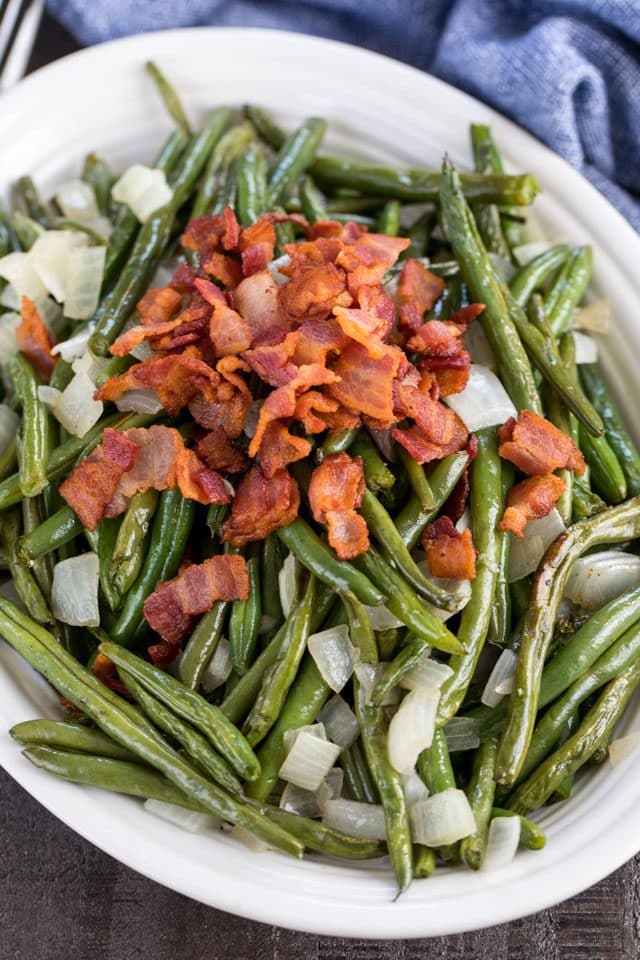 Parmesan Roasted Brussels sprouts are my favorite side dish.