This post may contain affiliate links. For more information, read my disclosure policy.
Learn how to cook carrots with this easy Roasted Baby Carrots recipe! Use regular or baby carrots tossed with seasoning to make roasted carrots as a side dish vegetable for dinner. They're tender, delicious, and so easy – they will be your new favorite side dish.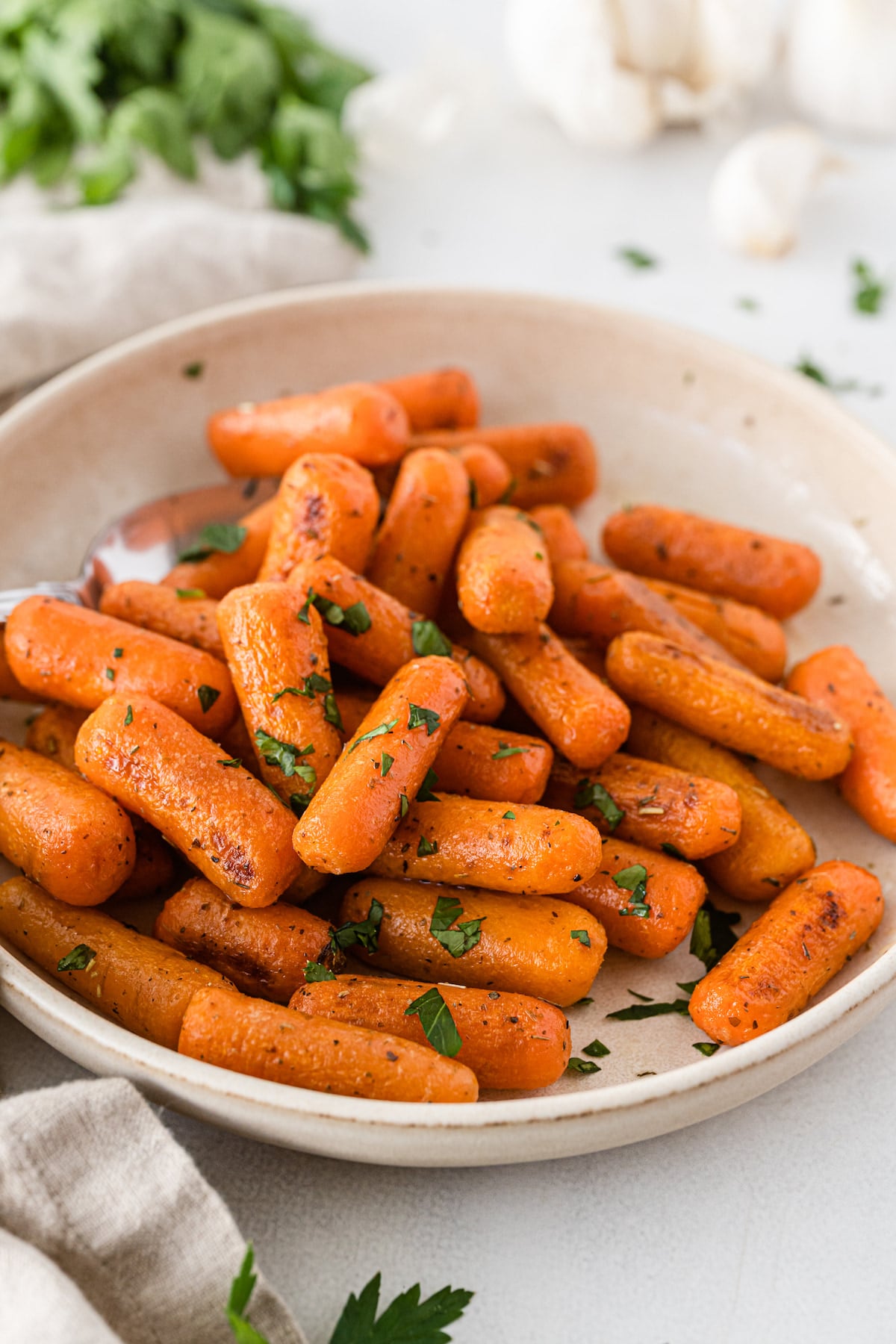 Always Perfect Roasted Carrots Recipe
Growing up, I hated cooked carrots. I'd eat raw ones all day long but cooked? No, thank you! But now I've perfected how I make them so that I love them just as much cooked as I love eating them raw.
The secret is to roast them. Roasted carrots have the best texture, and the flavor is amazing. Roasting draws out the natural sweetness and you get a nice caramelized flavor. They're so much better than boiled carrots!
Roasting is also easy; it's hard to overcook a roasted vegetable: if it gets too done, it's clearly burned. However, it's so easy to overcook boiled vegetables, especially carrots. They don't change color as green ones do, and before you know it, you have a soggy, mushy mess.
If you think you don't like cooked carrots, try this recipe. Roasting carrots is a game-changer!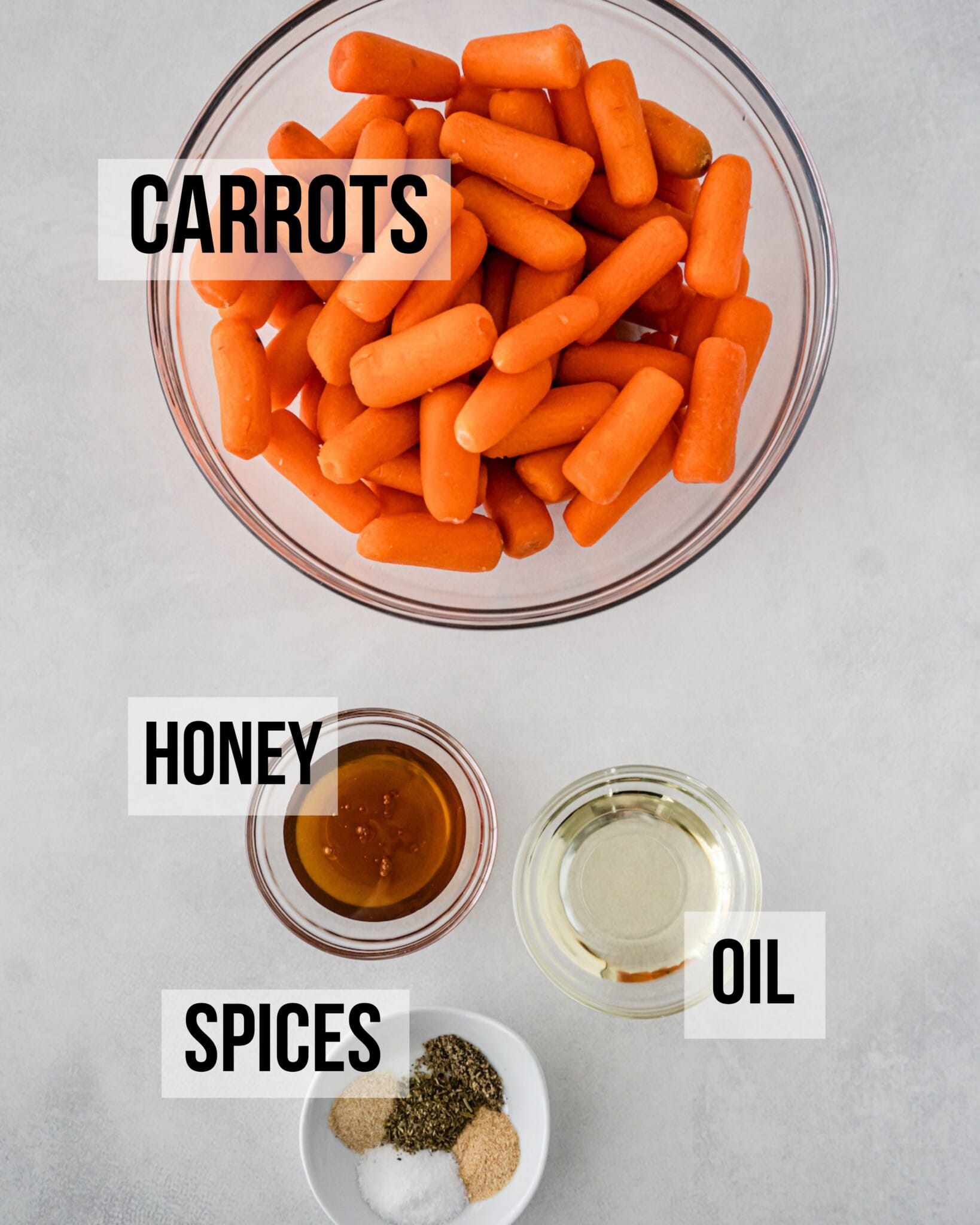 Seasonings for Cooked Carrots
With all vegetables, it's important to season them before roasting. I love to season my carrots with a spice mix and something sweet, so this is a honey-roasted carrots recipe. They're savory with a hint of sweetness. In other words, delicious!
Olive oil – I prefer oil to butter for roasting because oil can go to a higher temp without smoking.
Honey (or maple syrup)
Kosher Salt
Pepper
Garlic Powder
Onion Powder
Italian Seasoning – I used dried seasoning. Feel free to substitute thyme, rosemary, or parsley.
For the best roasted carrots, you should par boil them first. This quick and easy step precooks the carrots, so they roast evenly in the oven.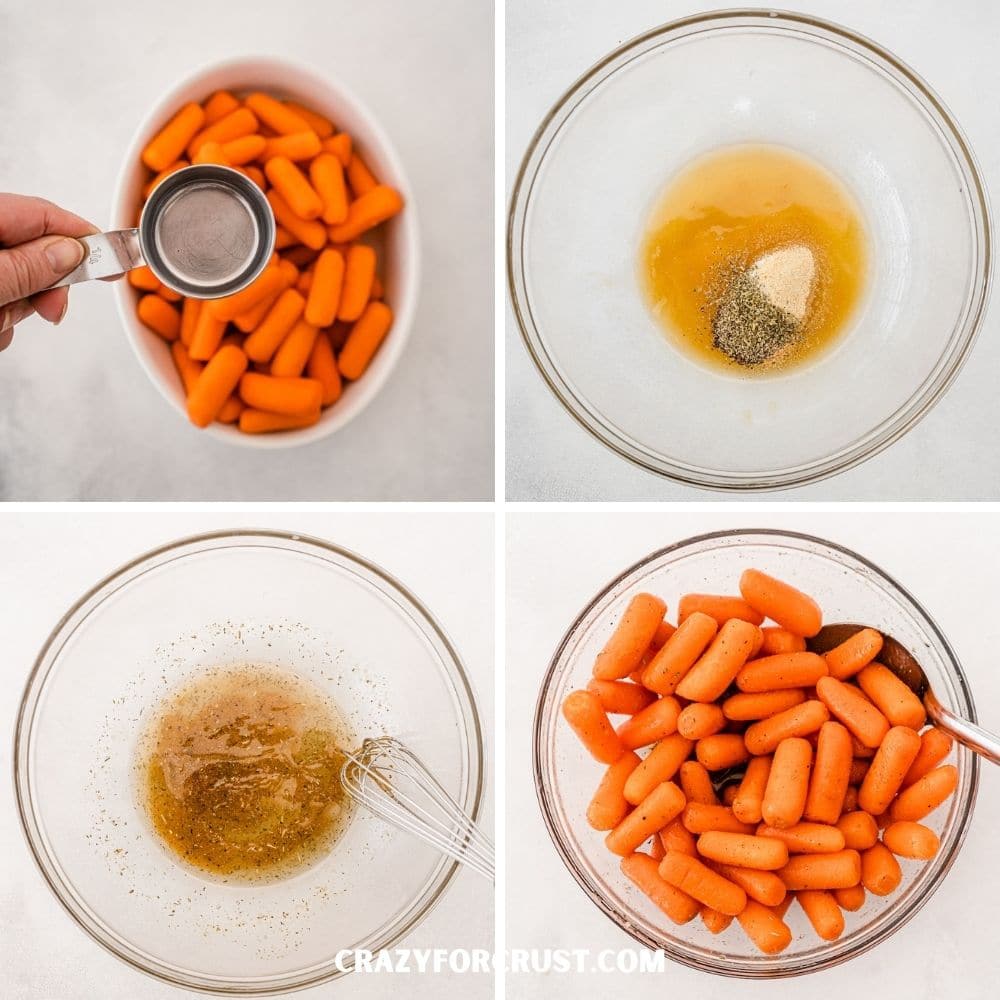 How to Pre-Cook Carrots
Par-boiling means to partially boil or partially cook your carrots by boiling them for a short time. I only boil these for a couple of minutes; you don't want them fully cooked when you par-boil. You want them partially cooked so that you can finish them off by roasting them.
If you don't par cook the carrots, they will cook faster on the outside than the inside when they are in the oven. It also gives them a better texture. Raw carrots that are roasted can be a little rubbery and chewy. Par boiling softens them, so they have a tender texture.
How long to boil carrots for?
Stovetop: Place the carrots in a saucepan with water. Bring the water to a boil, cook the carrots for three minutes, and then drain them.
Microwave: Place the carrots in a microwave-safe bowl or dish. Add ¼ cup of water. Microwave them for two minutes and then drain the water.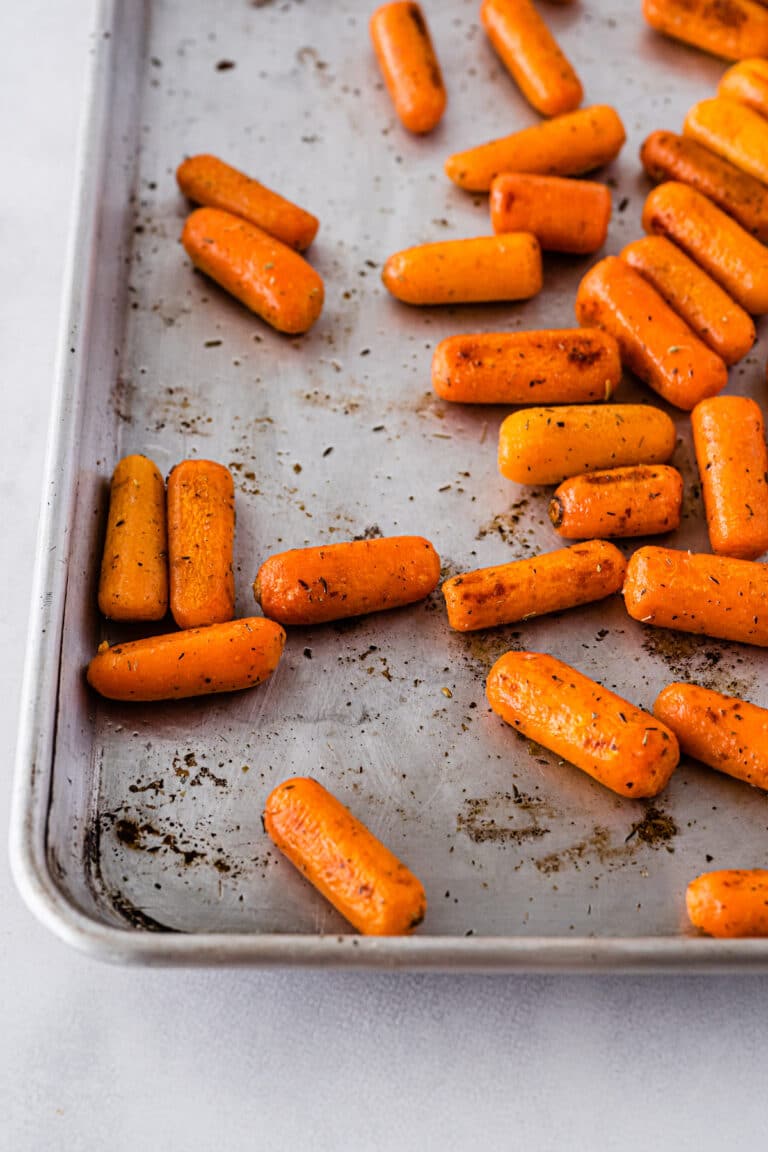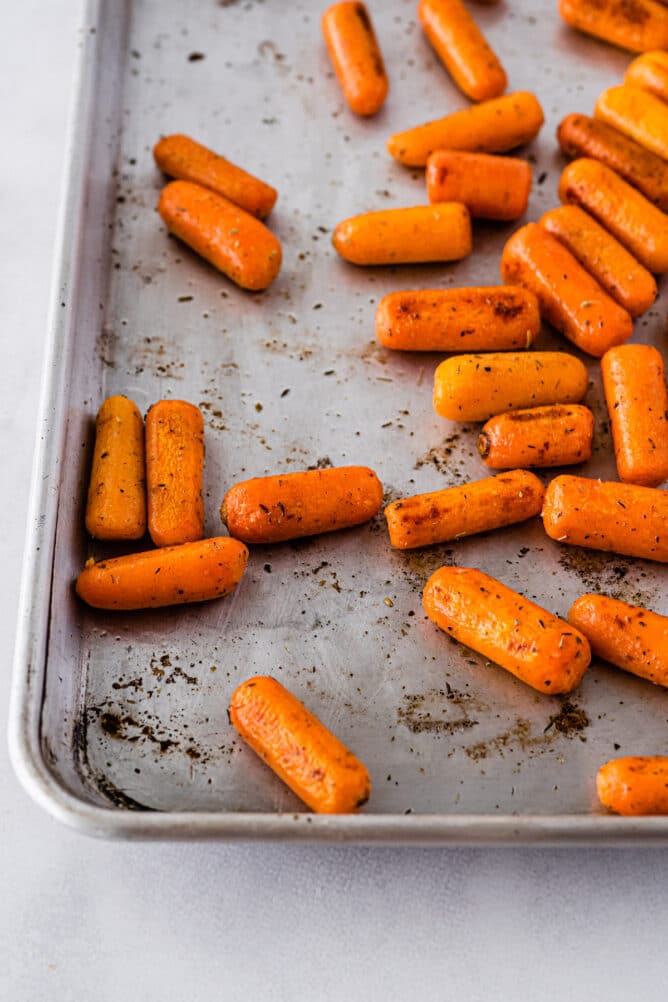 How to Cook Baby Carrots
Par-boil your carrots as stated above.
Once they're par-boiled, then it's time to season them with the honey and seasoning mixture.
Cook carrots on a rimmed baking sheet until soft and roasted. Use aluminum foil or parchment paper for easy cleanup.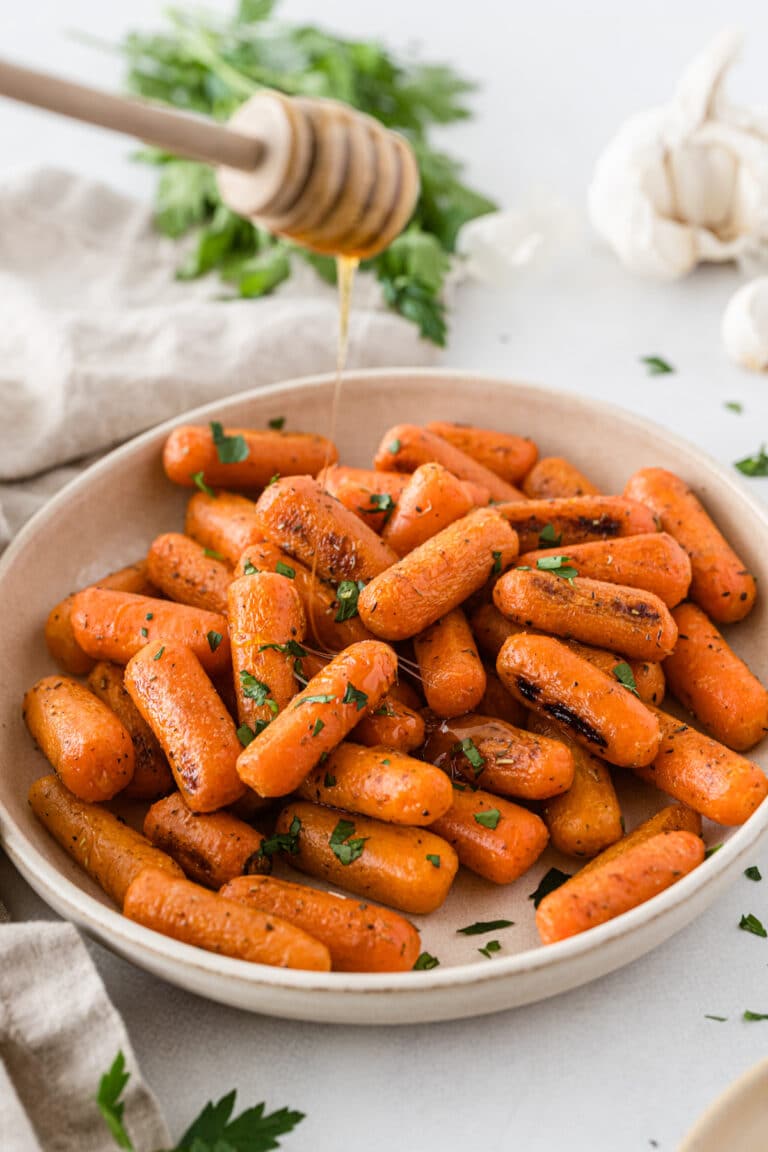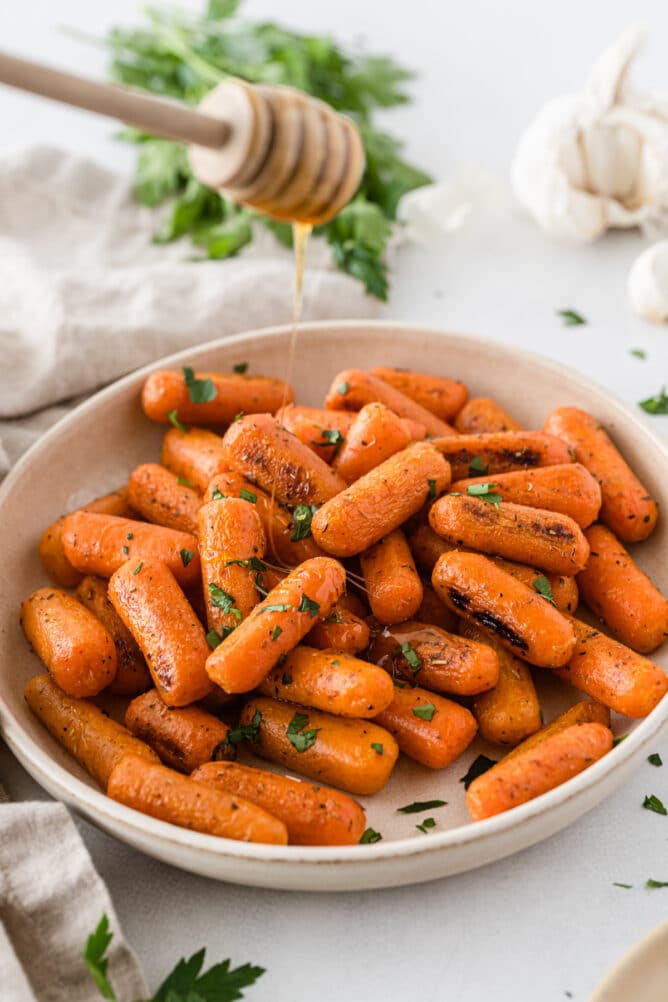 Tip From Dorothy
Expert Tips
For easy clean-up, line the baking sheet with foil. Just be sure to coat it with cooking spray, so the carrots don't stick.
If you use regular carrots, cut them into even-sized pieces, so they cook evenly. Depending on the size and thickness, you will need to adjust the roasting time.
You can make whole roasted carrots, but the cooking time will differ. Try to use whole carrots that are approximately the same thickness.
Experiment with different spices and seasonings. There are endless possibilities so use up what's in your spice rack to create different flavors.
This oven roasted carrots recipe is excellent for meal prep. Once roasted, you can keep them in the refrigerator for up to three days.
Cooked Carrots Recipe FAQ:
How long to boil carrots?
It depends on the size, but it generally takes about four to five minutes to boil sliced carrots. If you boil bigger pieces, it will take longer. If you are par boiling carrots, it should only take about three minutes since you are not cooking them all the way through.
Do you have to peel carrots?
Technically, no, but I like to peel them, so they look nicer. The outer skin is not always appealing, and it's easy to peel it off. If you use baby carrots, you don't need to peel them.
Can I steam carrots in microwave?
Yes, place them in a microwave-safe container with water, and they are easy to steam in the microwave. The amount of time will vary depending on the size. Baby carrots will only take a few minutes.
Can I use regular carrots not baby carrots?
Yes, but cut them into equal-sized pieces, so they cook evenly.
Is it better to boil or roast carrots?
I think it's way better to roast them. First, you can season them to add flavor, and second, the heat from the oven draws out their natural sweetness. Plus, it's harder to overcook them, which means no more mushy carrots.
How to store roasted carrots?
Store them in an airtight container in the refrigerator. They will keep for three days.
Can I freeze cooked carrots?
Yes, cooked carrots freeze great! I like to freeze them in a single layer on a baking sheet (so they don't freeze in one lump) and then transfer them to a freezer container. They will keep well for several months.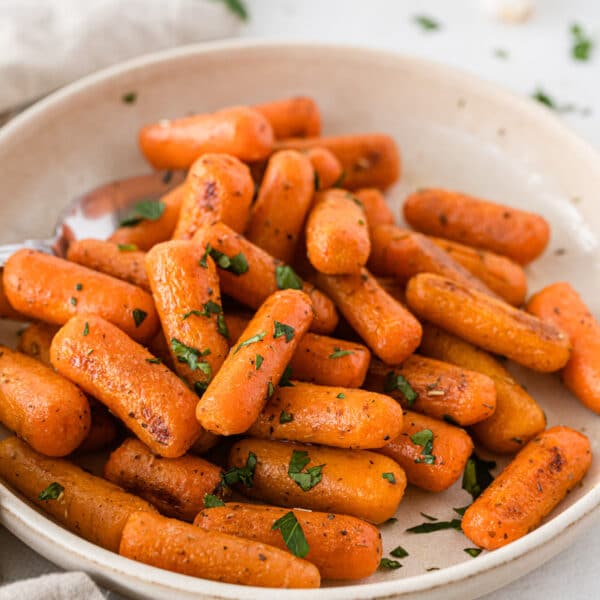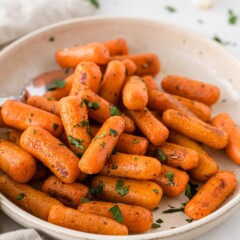 Cooked Carrots Recipe – How to Roast Carrots
Learn how to Roast Carrots in this easy recipe! Use regular or baby carrots tossed with seasoning to make roasted carrots as a side dish vegetable for dinner!
Ingredients
1

pound

carrots

sliced into chunks the size of baby carrots (or use baby carrots)

2

tablespoons

olive oil

1

tablespoon

honey or maple syrup

1

teaspoon

salt

½

teaspoon

pepper

½

teaspoon

garlic powder

½

teaspoon

onion powder

½

teaspoon

Italian seasoning
Instructions
Preheat oven to 400°F. Spray a cookie sheet with nonstick cooking spray (or line with foil and spray with nonstick cooking spray for easy clean up).
Par-cook your carrots in one of two ways:
Place carrots in a microwave safe dish with about 1/4 cup water. Heat for 2 minutes in the microwave. Drain. OR

Bring carrots and water to a boil in a saucepan. Boil 3 minutes. Drain.
Cook your carrots:
In a medium sized bowl, whisk together the oil, honey, and spices. Toss with partially cooked carrots. Spread to cookie sheet.

Roast in oven for 20-30 minutes, or until the carrots are fully cooked through, stirring at least once during baking.

Serve hot. Store in an airtight container in the refrigerator for up to 3 days.
Recipe Nutrition
Serving:
1
serving
|
Calories:
127
kcal
|
Carbohydrates:
15
g
|
Protein:
1
g
|
Fat:
7
g
|
Saturated Fat:
1
g
|
Sodium:
660
mg
|
Potassium:
362
mg
|
Fiber:
3
g
|
Sugar:
9
g
|
Vitamin A:
18945
IU
|
Vitamin C:
6.7
mg
|
Calcium:
41
mg
|
Iron:
0.4
mg
Nutritional information not guaranteed to be accurate
This cooked carrots recipe is the perfect easy dinner side dish, or you could even serve them on a holiday table. Par-boiling then roasting them gives them the best texture, and the sweet and savory seasoning adds delicious flavor.
Give these roasted carrots a try soon, and let me know what you think! If you're like me and thought you didn't like cooked carrots, I know this roasted baby carrots recipe will change your mind. Even my picky eater loves these!
Last Updated on November 9, 2023