There is little in the world I like more than a warm slice of French Bread. This post is going to teach you how to make my French Bread recipe at home so you can enjoy it every time a craving hits. It's the BEST one I've tried!!
I'm going to cover all the basics, from ingredients to process, and even how to get it nice and golden on top. You WILL be able to make your own French Bread when you're done reading this!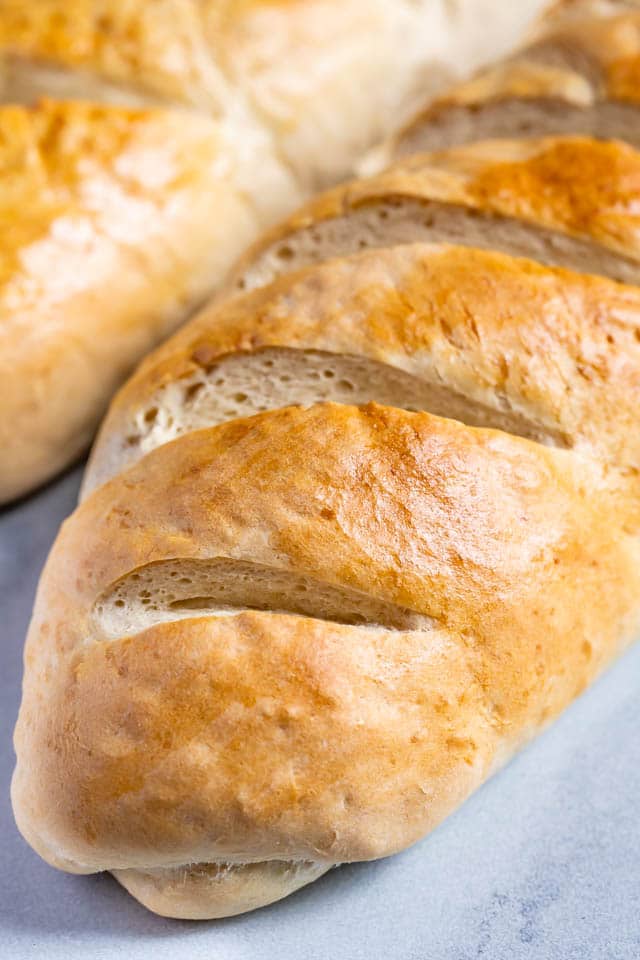 If I had to choose between dessert and bread and only eat one for the rest of my life, I'd have a huge struggle. Often, a nice thick slice of bread IS my dessert!
I'm an equal opportunity bread lover: I like sandwich bread, dinner rolls, wheat bread, sourdough, French bread…you name it I love it.
One of my guilty pleasures at the grocery store is the bread display by the registers. They get me every time! If I see that display I know I'm going home with a loaf – and we polish it off in less than a day.
Sometimes you can't get to the grocery store, or your store doesn't have fresh loaves out, so it's always nice to know how to make your own. Today I'm going to teach you how to make your own French Bread. It's easier than you think – I promise!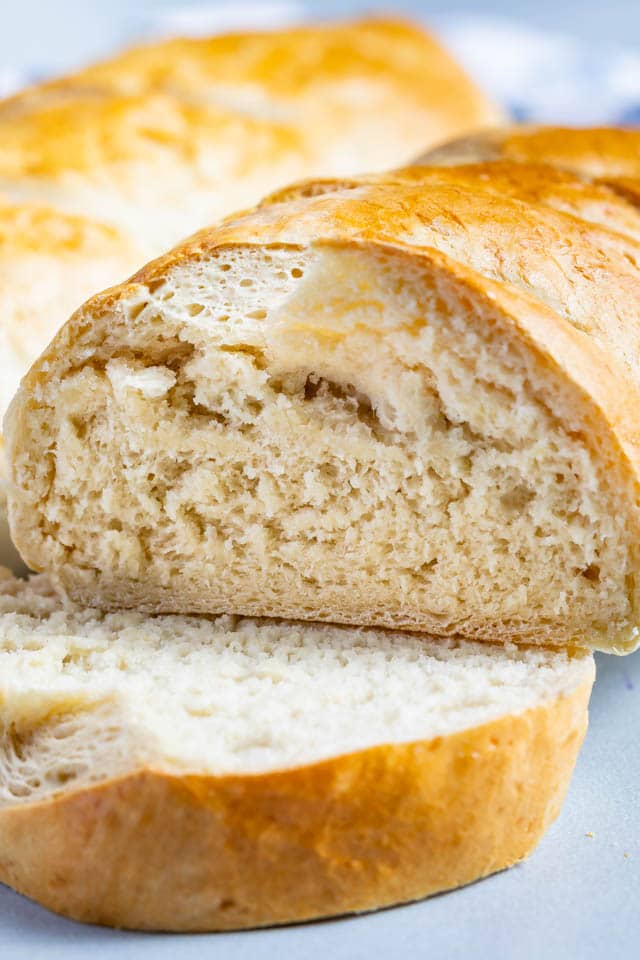 Making homemade bread has a few steps, but it's actually easier than you think. If you follow this tutorial you're going to have success making your own bread every time.
Ingredients in Homemade French Bread
Here's what you'll need to have on hand:
All-purpose flour
Rapid Rise (Instant) Yeast
Salt
Water
Oil
An egg white (for the egg wash)
The recipe calls for All-Purpose flour, and I always recommend using what the recipe calls for, but in a pinch you can substitute bread flour 1:1. The shape and consistency of the loaves might be different, but in a pinch you can sub it.
My preferred yeast is Instant Yeast (I use Fleischmann's Rapid Rise Yeast) because it cuts out half the rising time in bread recipes. Almost all yeast brands have an Instant Yeast, but they're sold under different names (all will say "instant" somewhere on the package). If you can only find Active Dry Yeast, see the note in the recipe.
Besides those two ingredients, you need all the other normal ones for making bread: salt for flavor, water and oil, and I use an egg wash to get that crusty golden outside.
How to make French Bread
We're going to take this step by step: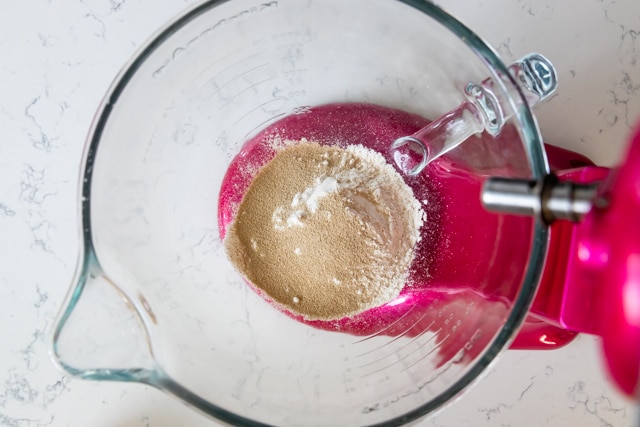 First, whisk 1 cup of flour, salt and yeast in the bowl of your stand mixer. (You can do this by hand too, it will just take longer.)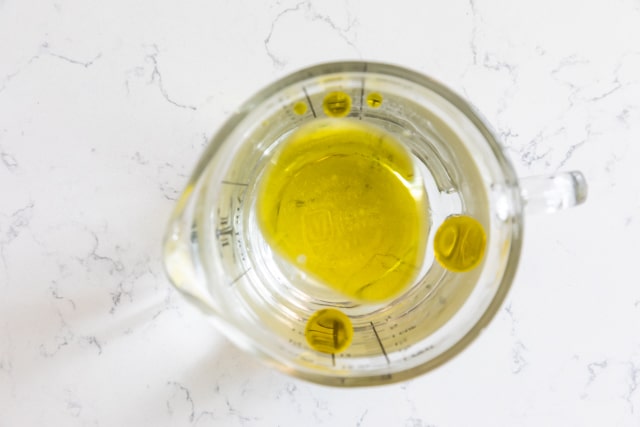 Heat your water to between 120°-130°F. You need it at that temperature to activate your yeast. How do you know the water temperature? I recommend using an instant read thermometer (this is my favorite) because it'll tell you exactly when it's hot. But if you don't have one, think hot bath water.
Once the water is hot, add the olive oil, then add the wet ingredients into the dry. Using the dough hook, mix (while scraping the sides of the bowl) until all the wet ingredients are moistened.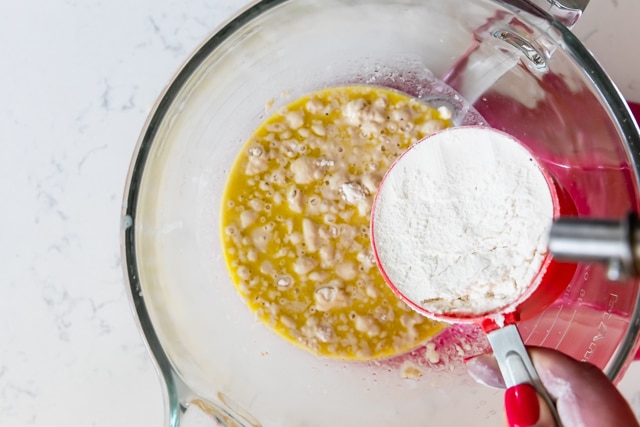 You'll then add 2 more cups of flour, mix with the dough hook until moistened, then add 2 more cups of flour, for a total of 5 cups.
Run the mixer until the dough comes together. It won't form into a ball, but it will be only slightly tacky to the touch.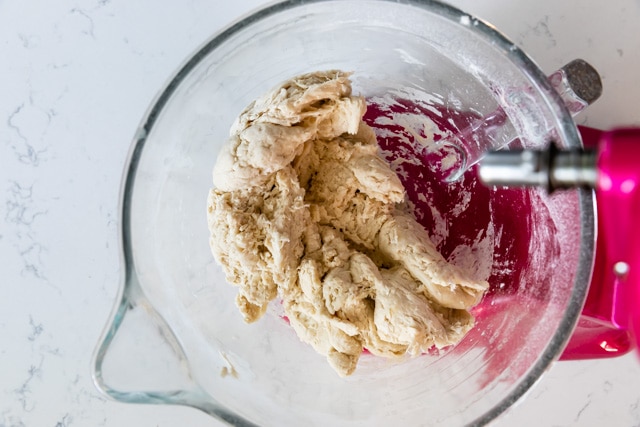 That is what the dough looks like when you're done mixing.
Then, turn out the dough onto a lightly floured surface.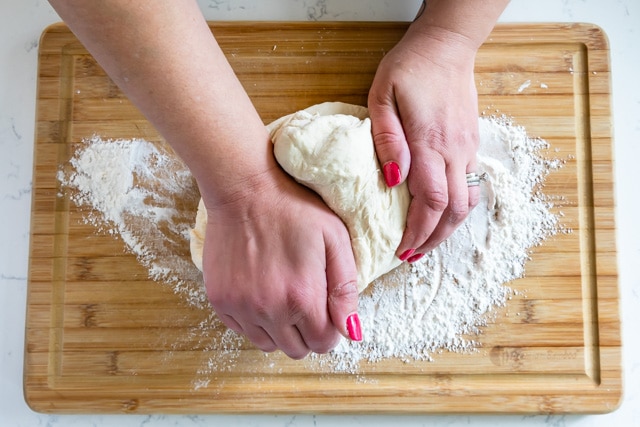 Knead the dough until it's elastic and forms into a ball. You'll know it's done kneading when it springs back when you press it with two fingers.
At this point, the instant yeast does it's job: it only has to rest for 10 minutes. Cover and let it rest while you clean up.
After 10 minutes, it's time for form your loaves of bread.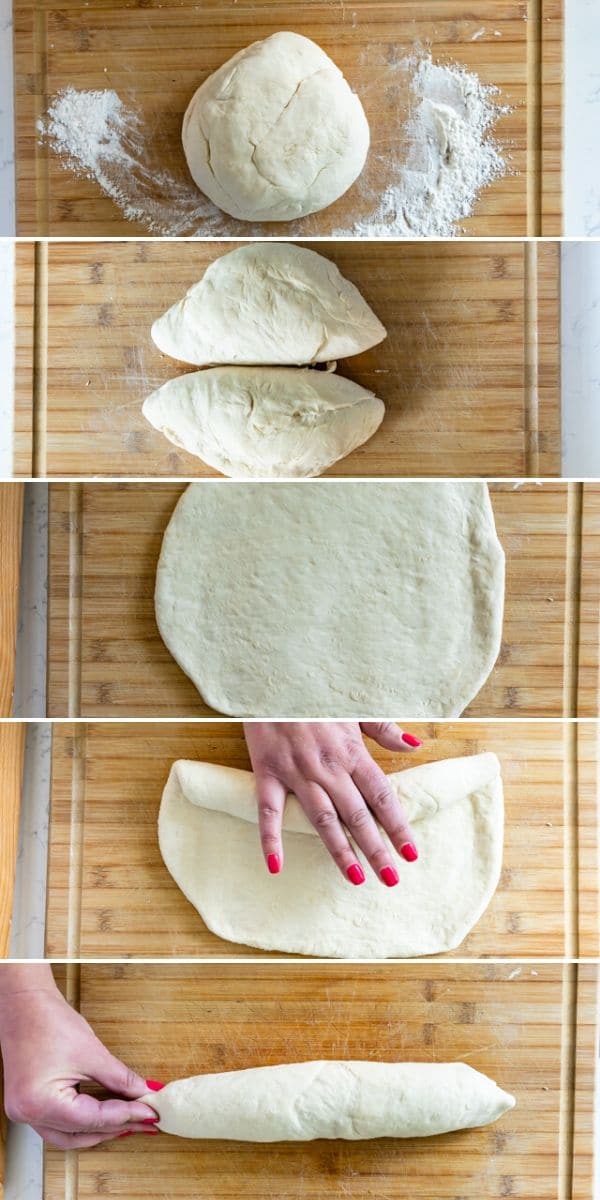 This recipe makes two loaves of crusty French Bread. After the 10 minutes resting time is up, divide the dough into two pieces.
Roll each out into a rectangle, then roll them up from the long side. Pinch the ends to form the loaf.
Place the loaves on your baking sheet and cover. Place in a warm area to rise until doubled, about 45 minutes.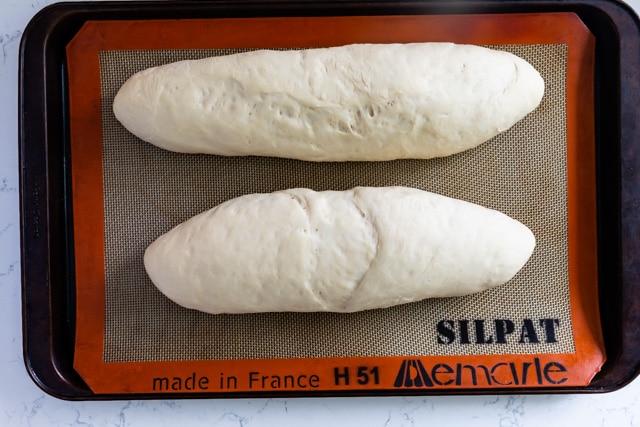 After about 45 minutes, the loaves are nice and puffy. Now it's time to prepare them for the oven.
Use a sharp knife to cut shallow slits in the dough.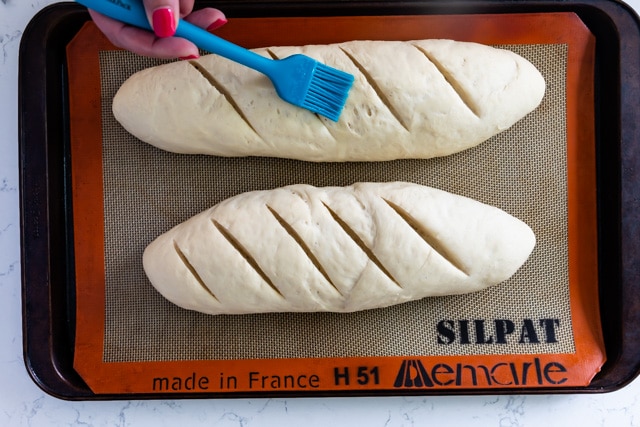 Brush the loaves with egg wash. I used an egg white but if you want to use a whole egg, you can, just beat it first.
You're going to bake the loaves for about 20-25 minutes, but if you want them nice and golden and crusty, make sure to re-brush them with egg-wash halfway through baking.
For a crusty golden loaf, do a second egg wash halfway through baking.

PRO TIP
Once they're baked, they're golden and warm and the BEST French Bread ever!!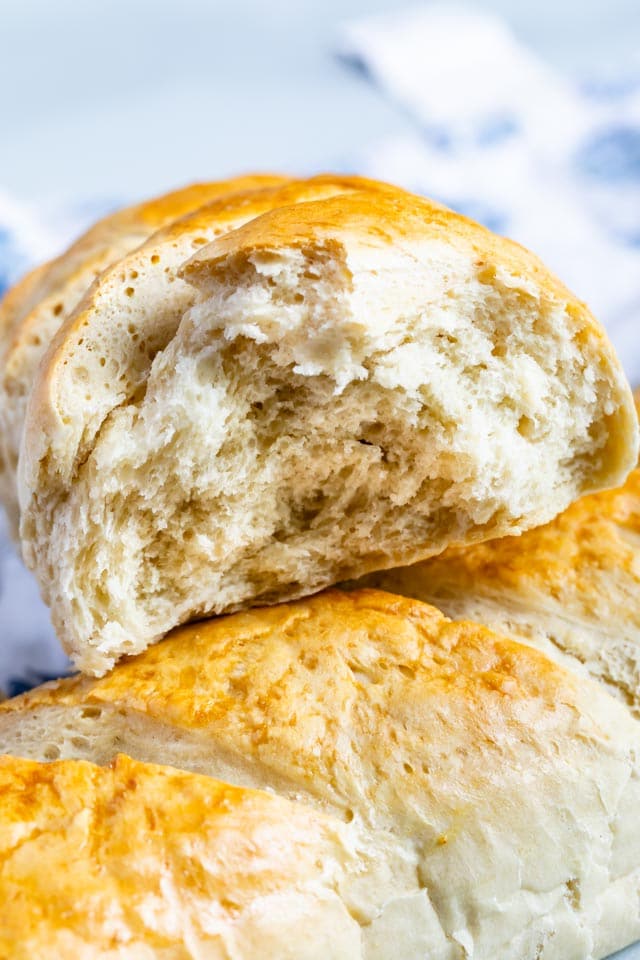 Look how crusty and golden that is! With the soft and flavorful center and the crusty outside, this bread is the perfect side dish or dessert. It's a soft French bread recipe that you're not going to be able to stop eating!
Serve this French Bread with:
Other favorite yeast recipes:
Have you made this recipe?
Tag @crazyforcrust on Instagram or hashtag it #crazyforcrust
Ingredients
4 1/2 – 5

cups

all-purpose flour

divided

2

packets Fleischman's Yeast Rapid Rise Yeast

or any instant yeast

2

teaspoons

salt

1 3/4

cups

water

1

tablespoon

olive oil

1

egg white
Instructions
Add 1 cup of flour to the bowl of a stand mixer fitted with the dough hook. Add yeast and salt and whisk to combine.

Place water in a heat-proof measuring cup. Heat for about one minute (maybe longer, it depends on your microwave) until water is between 120°-130°F. It's best to check this with an instant-read thermometer, but if you don't have one, think hot bath water. Add oil to water, then pour into dry ingredients.

Run mixer with dough hook, scraping the sides of the bowl, just until the flour is all moistened. Add 2 more cups of flour, mix, then add an another 1 1/2 cups of flour and let the mixer run until the dough is thick and starts to come together, adding an additional 1/2 cup flour as needed. It won't form a ball but will only be slightly sticky to the touch.

Turn dough out onto a floured surface and knead until the dough forms a ball and is elastic and springs back when pressed with two fingers; cover and let rest 10 minutes.

After 10 minutes, divide the dough into two equal pieces. Roll each piece of dough into an approximate 12×15-inch rectangle (no need to be exact) and roll it up from the long side. Pinch the ends to form the pointy ends of the loaf.

Place loaves on a cookie sheet covered with a silicone baking mat or parchment paper. Cover and let rise until double in size, about 45 minutes.

Preheat oven to 400°F.

Uncover loaves and use a sharp knife to score 4-5 times on top to create the French bread look. Brush the dough lightly with egg wash.

Bake for 20-25 minutes or until the loaves are golden and hard and sound hollow if knocked on. To make a browner and crunchier crust, as shown in the photos, do a second brushing with egg white after 15 minutes of baking.

Cool slightly before serving, store in an airtight container for up to 3 days.
Recipe Video
Recipe Notes
This recipe is adapted from BreadWorld.com, where they used active dry yeast. If you have only active dry yeast, do the following:
Place water in the bowl of a stand mixer. Sprinkle in yeast; stir until dissolved. Add oil, salt and enough flour to make a soft dough, mixing with the dough hook. Knead on floured surface until smooth and elastic, about six to eight minutes. Place in greased bowl, turning to grease top. Cover; let rise in warm draft free place until doubled in size, about 30 to 45 minutes.
Punch dough down. On floured surface, divide dough in half; roll to 15×10-inch ovals. Roll up from long ends to make loaves. Pinch seams and ends to seal; taper ends. Cover; let rise in warm draft free place until doubled in size, about 30 to 45 minutes. Bake as directed.
Nutrition Information
Serving:
1
serving
|
Calories:
121
kcal
|
Carbohydrates:
24
g
|
Protein:
3
g
|
Fat:
1
g
|
Saturated Fat:
1
g
|
Sodium:
237
mg
|
Potassium:
36
mg
|
Fiber:
1
g
|
Sugar:
1
g
|
Calcium:
5
mg
|
Iron:
1
mg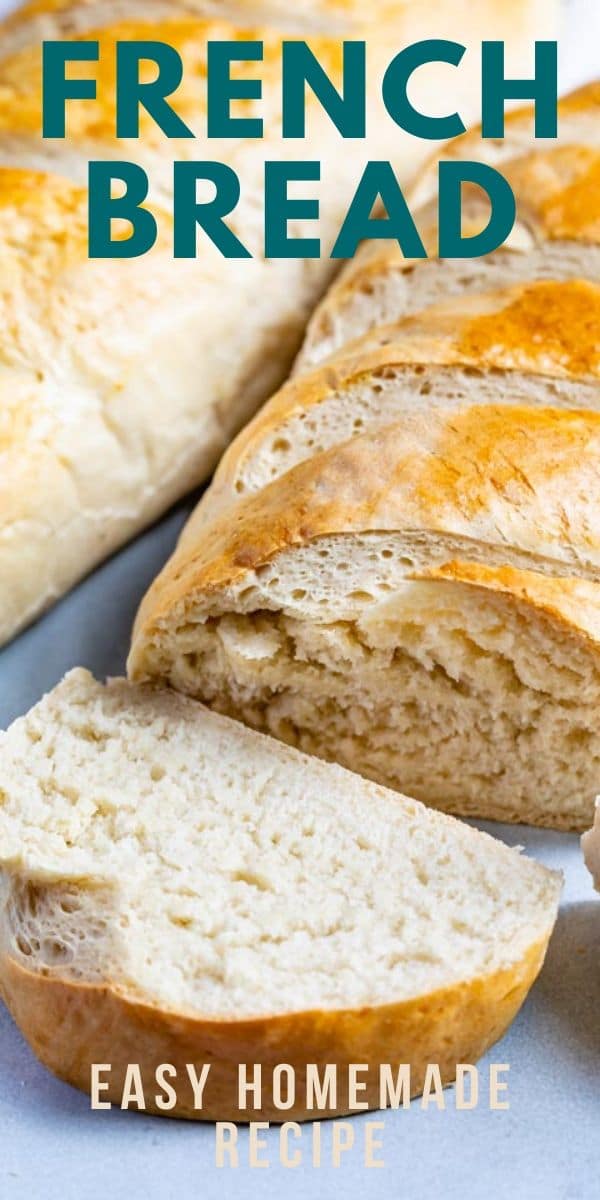 French Bread is a crusty bread that can be used as a dinner side dish or to make French bread pizza or garlic bread! And making it from scratch is easier than you think – I have a full photo tutorial and tips in the post on how to make this bread!
All text and images © DOROTHY KERN for Crazy for Crust. Please do not use my images without prior permission. If you want to republish this recipe, please re-write the recipe in your own words, or link back to this post for the recipe. Disclaimer: Nutrition information shown is not guaranteed to be accurate.
This post may contain affiliate links. For more information, read my disclosure policy.
Published on: March 22, 2020