This post may contain affiliate links. For more information, read my disclosure policy.
This Clam Chowder Soup Recipe is the BEST ONE you'll ever eat. It's a creamy New England Clam Chowder full of clams, potatoes, and delicious flavor. It's homemade chowder that uses canned clams, clam juice, and roux to thicken the creamy base. I've been making this recipe since I was a kid – and it's ALWAYS a hit.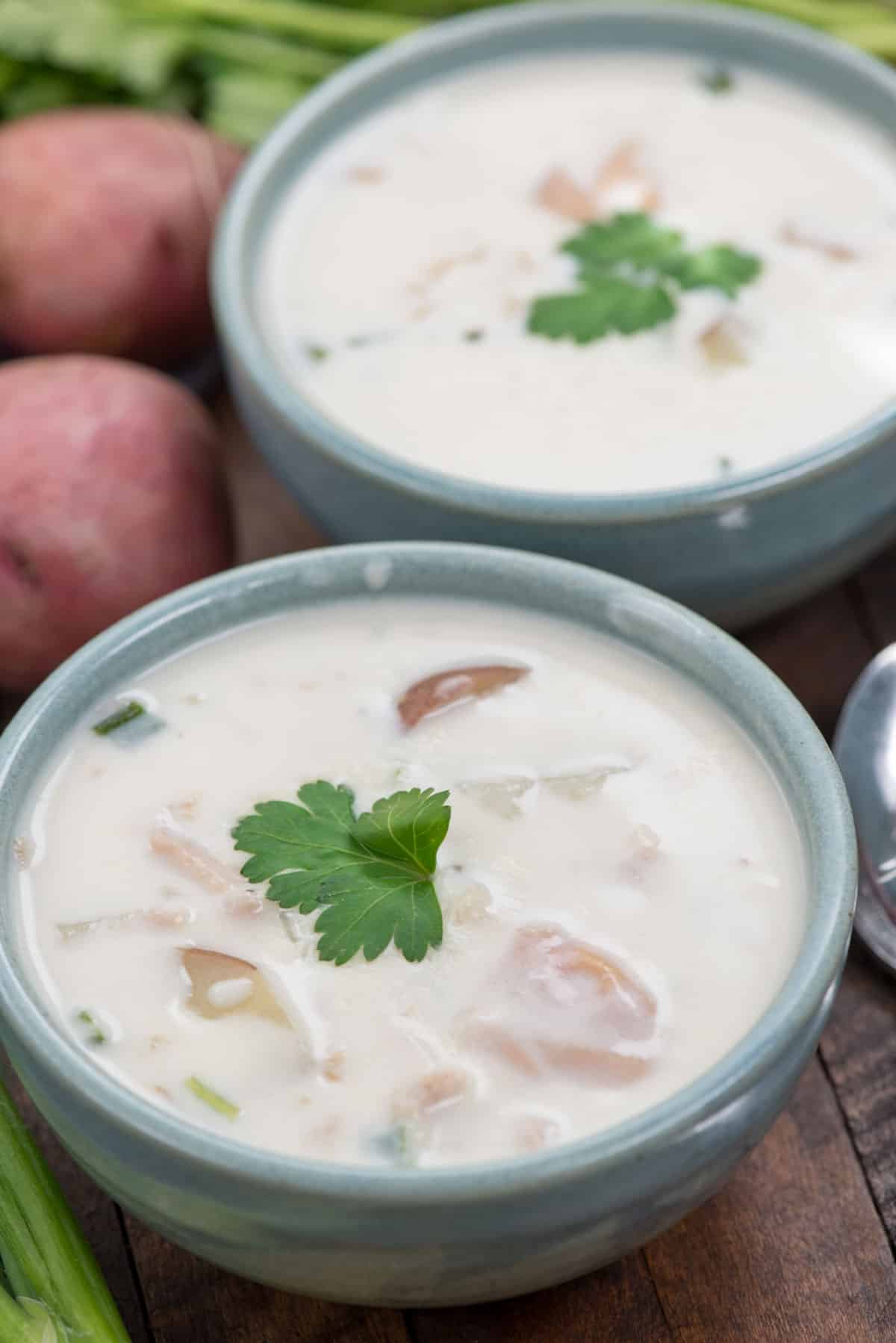 BEST Homemade Clam Chowder
This is the clam chowder I fell in love with as a kid! If you're craving a comforting bowl of deliciousness, this clam chowder soup recipe is the thing to make.
The recipe is from my mom, who got it from my dance teacher during my long-ago tap-dancing days. Mom fell in love with it and made it at least a couple of times a year. I love it so much I still get big cravings for it, and my craving doesn't go away until I make it. Once you learn how to make clam chowder you'll never stop craving it!
Why you'll love this recipe
It's hearty, creamy, and totally satisfying. It has the perfect balance of clams, potatoes, and aromatics combined with a thickened broth for the best bowl of clam soup.
I absolutely love clam chowder – it's my favorite soup – but this one compares to no soup I've ever had. It's seriously the best clam chowder recipe, and I've tried them all.
Once you taste it and compare it to other recipes, you'll realize this one is so much fuller and more well-rounded.
Clam Chowder Ingredients
Red potatoes – you can leave the skin on or peel them before you cut them into bite-sized pieces.
Garlic and green onions: This flavor combo is fantastic. Green onions aren't as potent as other onions, and they have a fresh flavor.The aroma when you sauté them with the garlic in the oil is so good, I dream about it sometimes.
Unsalted butter: You can substitute salted if needed.
All-purpose flour: This helps thicken the soup.
Half and half: Don't have it? Use regular milk.
Clams: I use chopped canned clams in this recipe – they're cheaper, easier, and what the recipe called for whem my mom started making it.
Clam juice: There are many clam chowder recipes out there made with chicken stock. Um, no. This is clam chowder, so I use clam juice from a bottle and canned clams. It adds a TON of flavor.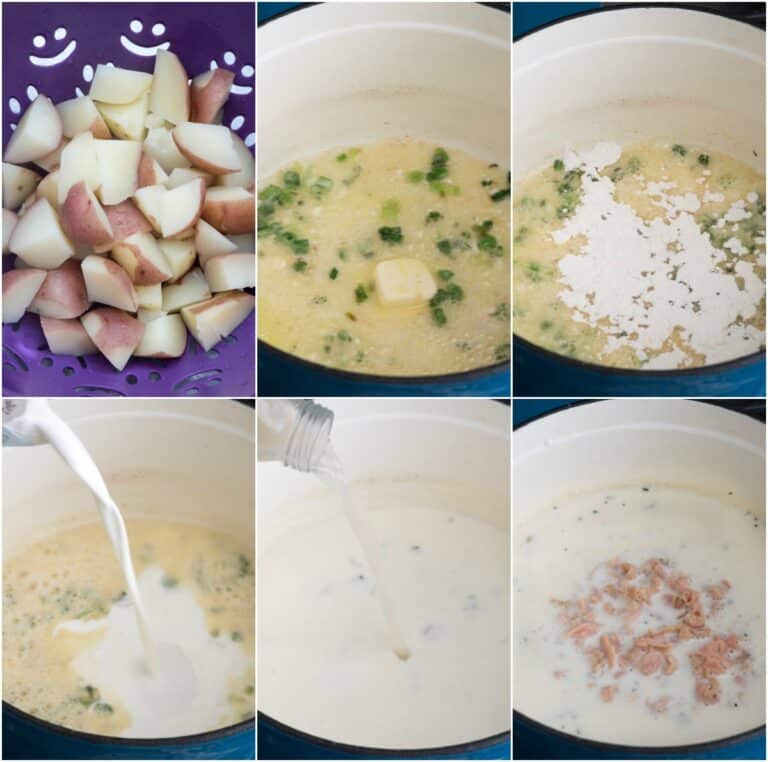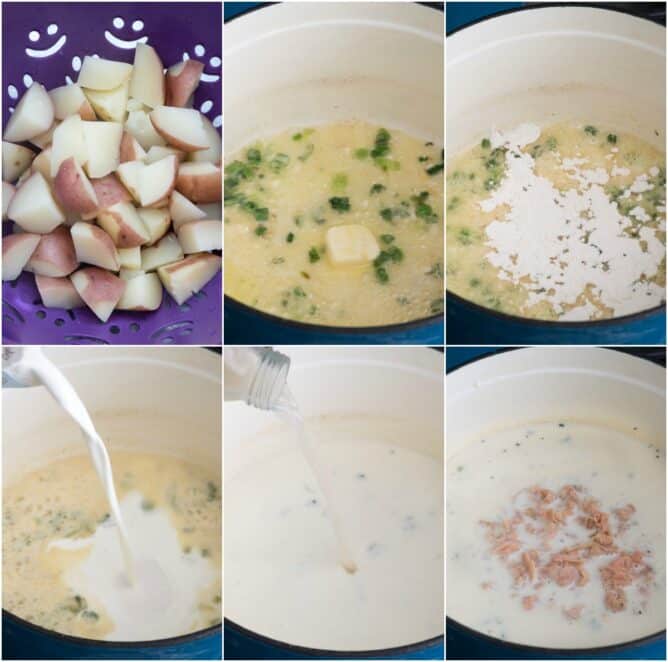 How to Make Clam Chowder
Place the cubed potatoes in a pot and cover them with water. Bring the water to a boil and cook them until they are fork-tender. Drain off the water and set the potatoes aside.
In the same pot, you boiled the potatoes cook the onions and garlic in olive oil until they are fragrant.
Add the butter and, once it's melted, stir in the flour and cook it for about a minute or so. This is the roux and will thicken the soup.
Whisk in the half and half, combining well with the butter and flour mixture. Cook and whisk the mixture for about five minutes or until it thickens
Add the clam juice and reserved juice from the canned clams and stir.
Once the soup is hot, add the potatoes and clams. Cook the chowder for about five minutes or until the clams are hot.
Serve immediately with crusty sourdough or oyster crackers sprinkled on top.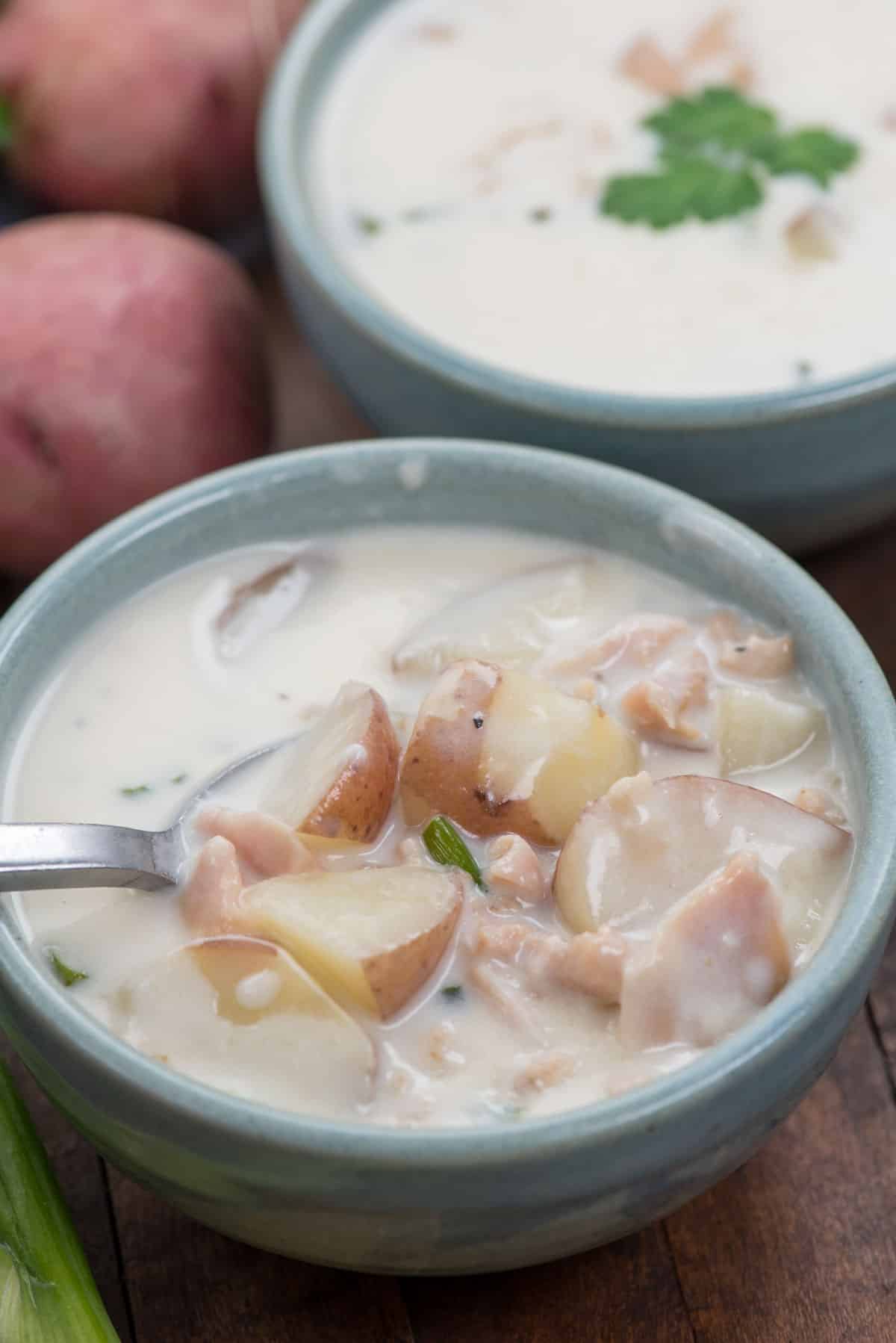 Tip From Dorothy
Expert Tips
If you make this recipe in one pot, it does take some time. I'd rather spend more time cooking than cleaning up, so I prefer the one-pot method. If you want to speed up the process, you can boil the potatoes in one pot while you start assembling the soup in a second pot. It will save some time, but there will be more to clean up.
I like red potatoes for the color, but you can use other waxy potatoes like Yukon golds or new potatoes.
Don't overcook the clams. Wait to add them until the end and cook them long enough to warm them up. This should only take about five minutes. If you overcook them, they will be tough.
Serving: We love this clam chowder with some crusty sourdough bread on the side to soak up every last drop. You can also serve it in a bread bowl or top it with oyster crackers or crushed saltines.
FAQ:
Is clam chowder a soup?
Chowder is a type of soup that is hearty and comforting. Different clam chowder recipes will be thicker like stew or thinner like soup. My recipe is in the middle – rich and creamy but not too thick.
What are the different types of clam chowder?
There are two types of clam chowder: New England clam chowder and Manhattan clam chowder. The New England style, like my recipe, is made with half and half, which gives it a creamy texture. Manhattan style is made with tomatoes and no milk or half and half.
How to store leftover clam chowder?
Store leftovers in an airtight container in the refrigerator. If should keep well for up to four days. If it thickens after it's chilled, add a splash of half and half or clam juice when you warm it up.
Can you freeze clam chowder?
Technically, you can freeze clam chowder, but the vegetables don't always hold up great, and the half and half can separate. I prefer to enjoy it all and not freeze it. However, if you want to freeze it, allow the soup to fully cool and keep it in a freezer-safe container. It will keep for several months.
This is such a special New England clam chowder soup recipe and just writing about it makes me want to make another batch ASAP! It's tried and true and delicious every time. I hope you love it just as much as I do!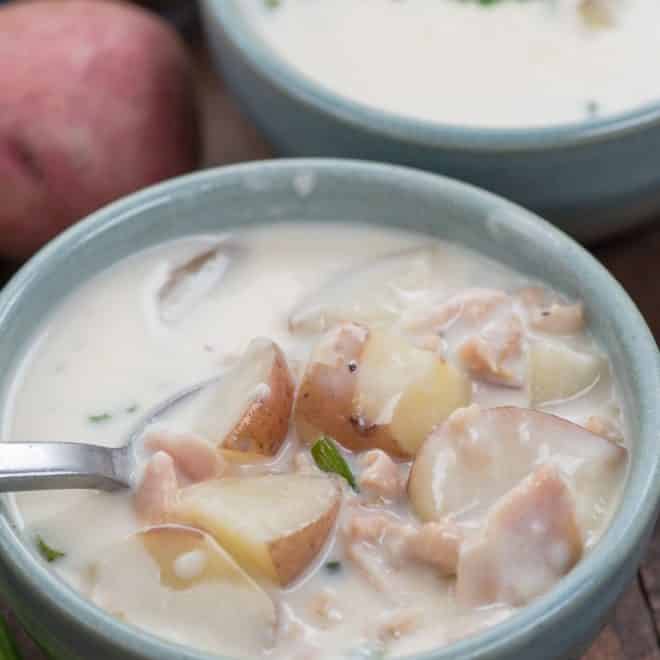 Mom's Clam Chowder Soup
My Mom's Clam Chowder Soup Recipe is the BEST ONE you'll ever eat. This New England Clam Chowder is creamy and full of clams and potatoes and delicious flavor.
Ingredients
2

cups

(300g) cubed red potatoes (about 7-8 baby potatoes)

1

tablespoon

(15ml) olive oil

¼

cup

(15g) chopped green onions (about 2 onions)

1

clove

garlic

minced

4

tablespoons

57g unsalted butter

¼

cup

(32g) all-purpose flour

1

pint

(473ml) half and half

or whole milk

4

6.5 ounces each

cans chopped clams (with juice)

1

jar 8 ounces/236g

clam juice

1

teaspoon

salt

more to taste

½

teaspoon

pepper

more to taste

¼

teaspoon

dried basil
Instructions
Cube the red potatoes bite sized. You can peel them or not, your choice. Place them in your soup pot and cover with enough water to just cover the potatoes. Bring to a boil and cook until just fork tender. (Cooking time will depend on potato size.) Drain and set aside.

Open the canned clams and drain the juice into a measuring cup. Set the clams aside for the end of cooking.

Place the pot back on the stove over medium heat. Add the olive oil, then the green onions and garlic. Stir until fragrant, just under minute or so, then add butter and cook until the butter is melted. Stir in the flour and cook a minute or two.

Whisk in the half and half, making sure to fully mix in the flour mixture. Cook about 5 minutes or so, or until the mixture thickens, stirring often and whisking when necessary. Be sure to get all the bits off the bottom while you're stirring so the flour mixture doesn't stick.

Once the milk mixture has thickened, add the jar of clam juice and the reserved juice from the cans of clams. Stir to combine then cook until hot.

Once the soup is hot, add the potatoes and clams and cook no more than 5 minutes, or until clams are hot.

Serve immediately with crusty sourdough.
Recipe Notes
We love this served with sourdough bread!
Feel free to use whole milk in place of the half and half.
Don't add the clams until the soup is basically done – if you cook them too long they'll get tough.
Recipe Nutrition
Serving:
1
/6 recipe
|
Calories:
319
kcal
|
Carbohydrates:
26
g
|
Protein:
11
g
|
Fat:
19
g
|
Saturated Fat:
11
g
|
Cholesterol:
62
mg
|
Sodium:
7477
mg
|
Fiber:
1
g
|
Sugar:
2
g
Nutritional information not guaranteed to be accurate
The Best Clam Chowder Soup Recipe is THIS one! It's my mom's recipe and it's a creamy chunky New England Clam Chowder with potatoes and tons of flavor!
Last Updated on March 13, 2023