This post may contain affiliate links. For more information, read my disclosure policy.
We LOVE French Bread Pizza in this house – it's one of my go-to dinners! Today I'm showing you how to make this easy pizza recipe and sharing all my tips and tricks for the BEST recipe ever!
This post is sponsored by Mirum, but all opinions are my own.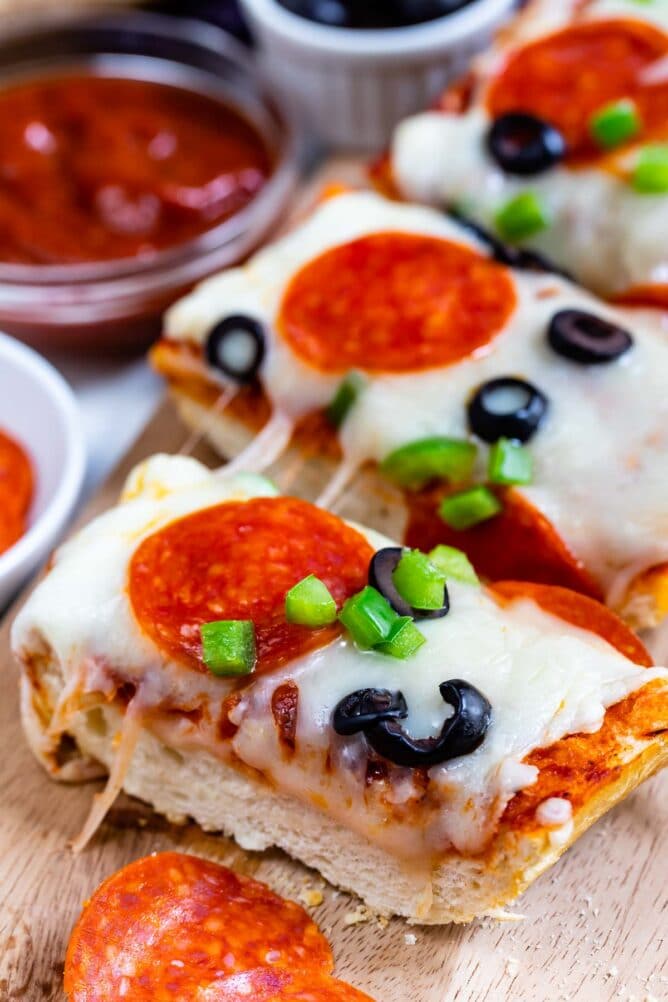 Pizza night is my favorite night of the week – and whenever I make French Bread Pizza my family goes wild. We absolutely inhale this recipe every time we make it.
Use my tips and tricks to learn how to make the best French Bread Pizza you'll ever eat!
Table of Contents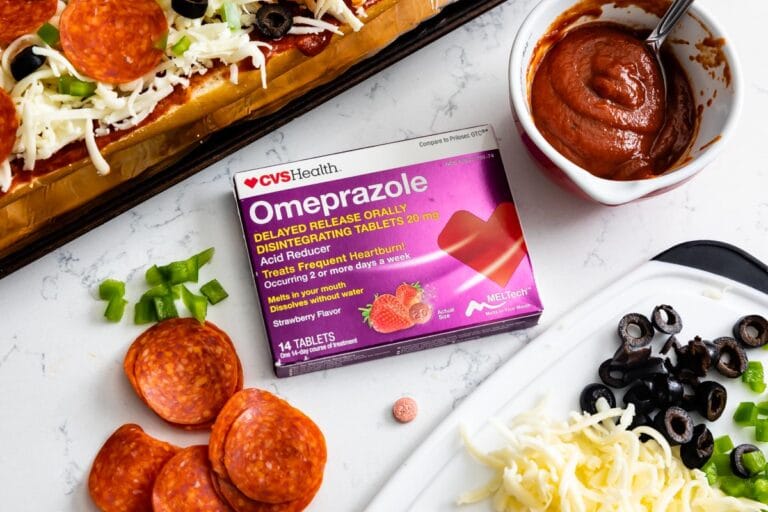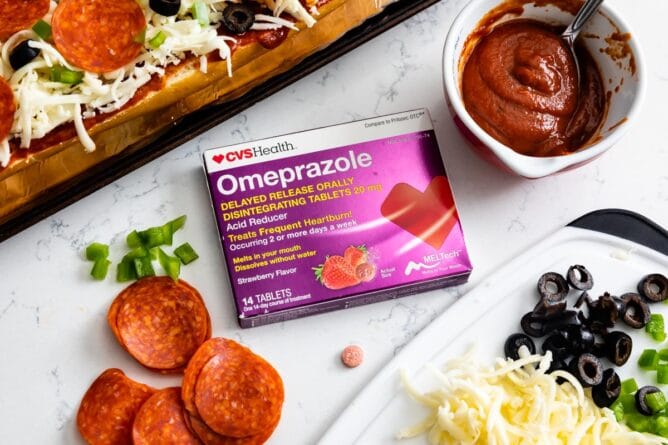 Why I love French Bread Pizza
One, we love that it's easy and fast – no yeast required. We can top it with our favorite toppings – and even section the French bread so each family member gets their favorites. It's also a great way to use the second loaf in my two loaf French Bread Recipe!
While I love bread and pizza – who doesn't? – the one thing I don't love is when these ingredients kick up my frequent heartburn. However, I don't let my frequent heartburn stop me from enjoying my favorite things, so I keep it in check with CVS Health Omeprazole ODT.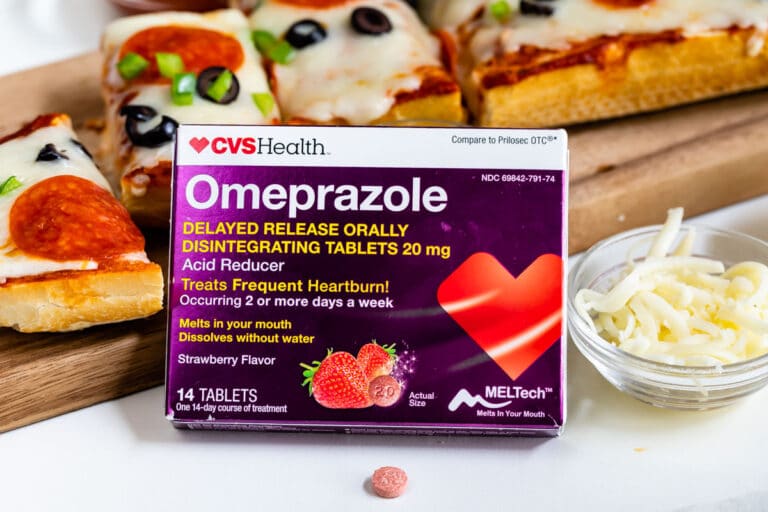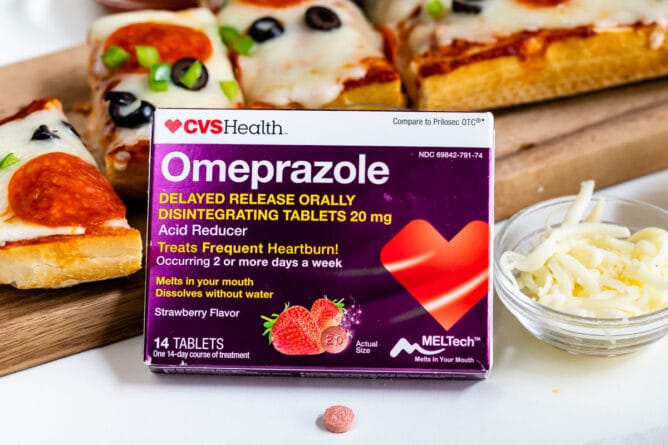 I'm proactive about my frequent heartburn treatment: I treat it daily with CVS Health Omeprazole Orally Disintegrating Tablets*. It melts in on your tongue with a pleasant tasting strawberry flavor – no water needed. Take it every morning for 14 days before eating and it provides 24-hour relief for frequent heartburn.
*Use as directed for 14 days to treat frequent heartburn (occurring 2 or more days a week). May take 1-4 days for full effect. Not intended for immediate relief.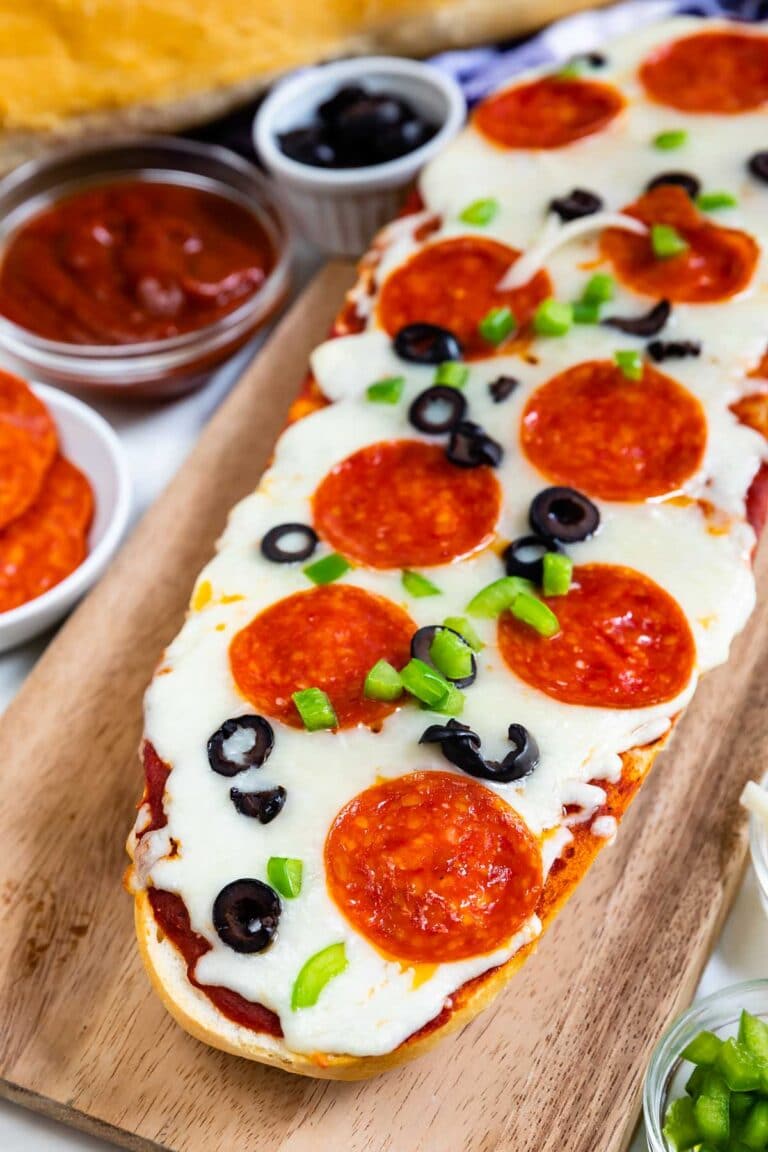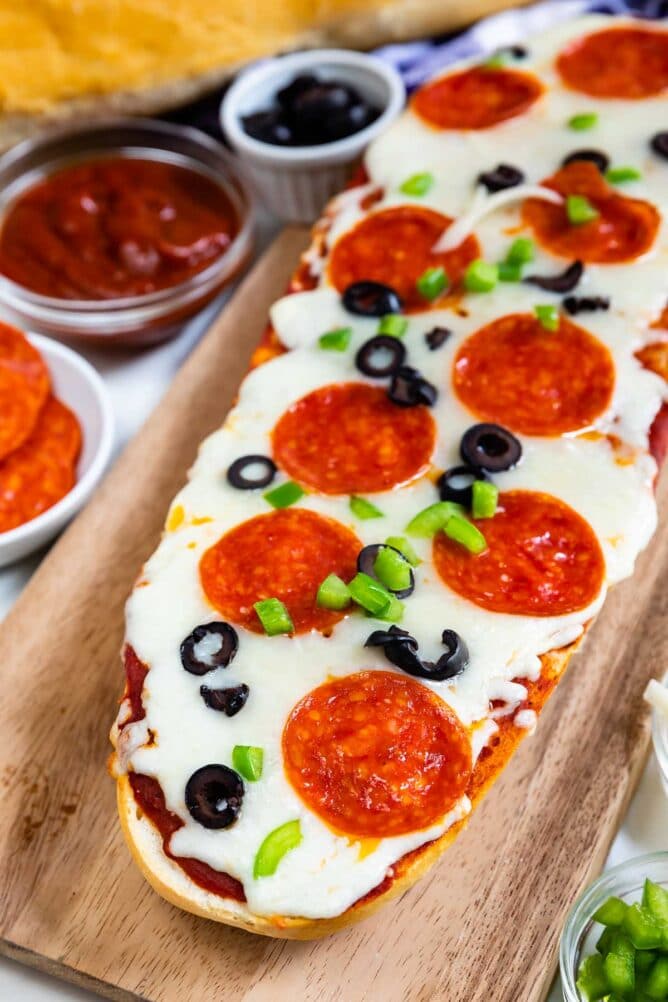 Basic Ingredients
To make this recipe you just need 3 basic ingredients:
French Bread: use any kind you like, but it's best to get a long loaf, not a round one.
Sauce: I'll talk about this in variations, but you need some sort of pizza sauce. I love my homemade no-cook pizza sauce!
Cheese: Mozzarella, of course! I recommend shredding your own cheese for optimal melting. (Packaged shredded cheese is coated to keep it fresh, and sometimes it doesn't melt as well because of that.)
Once you have the basics, you can top your French bread pizza with anything you like (see variations, below).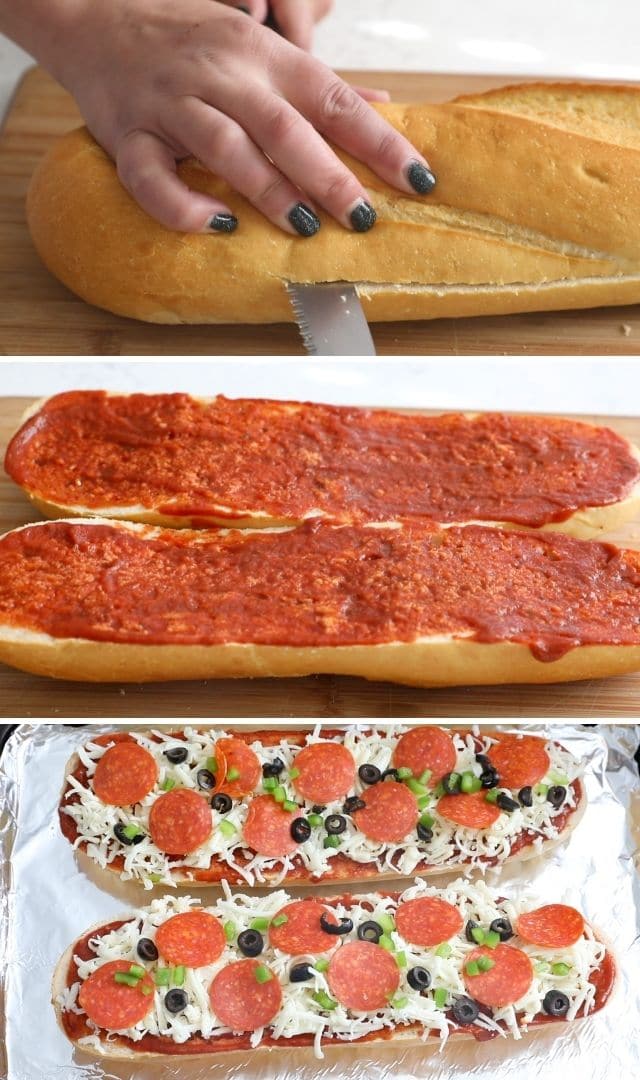 How to make French Bread Pizza
1. Slice: Cut the loaf in half horizontally. Just cut carefully so you don't end up with it thick at one end and skinny at the other.
TIP: place toothpicks around your loaf as a guide for cutting!
2. Sauce: spread the sauce all over the bread.
3. Toppings: add your cheese and toppings.
4. Bake: bake at 400°F until the bread is toasted and the cheese is melted, about 10-15 minutes.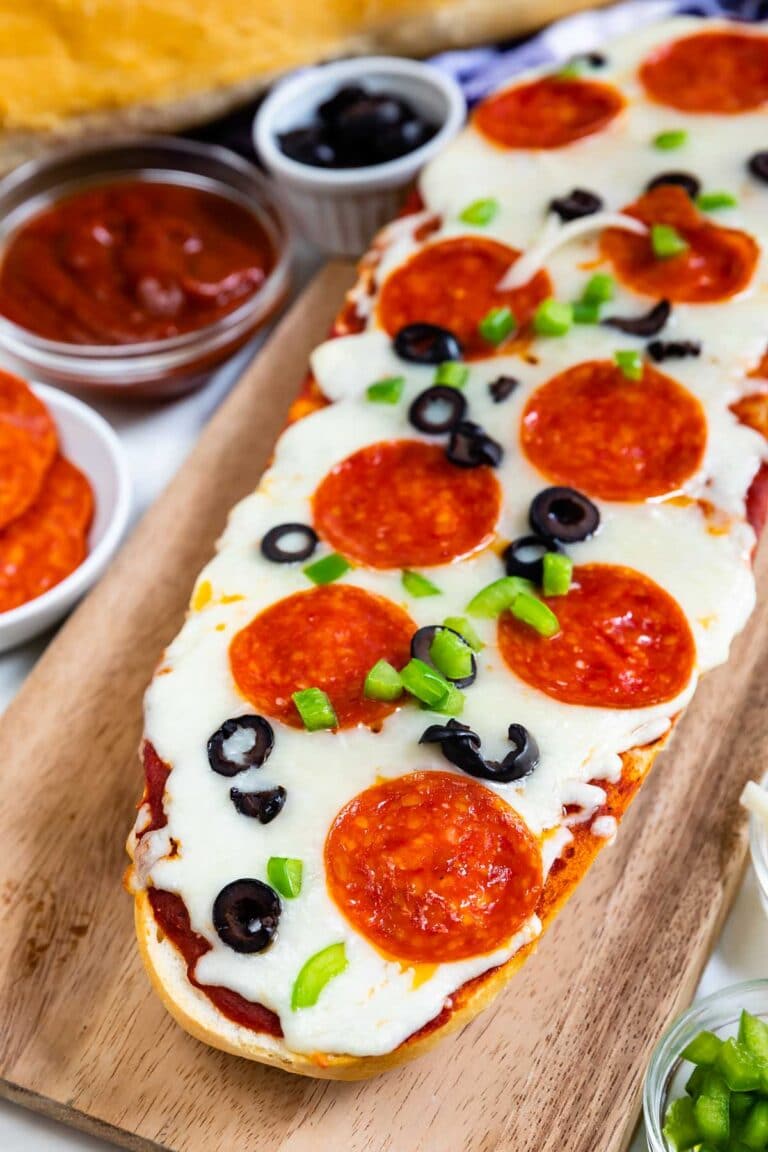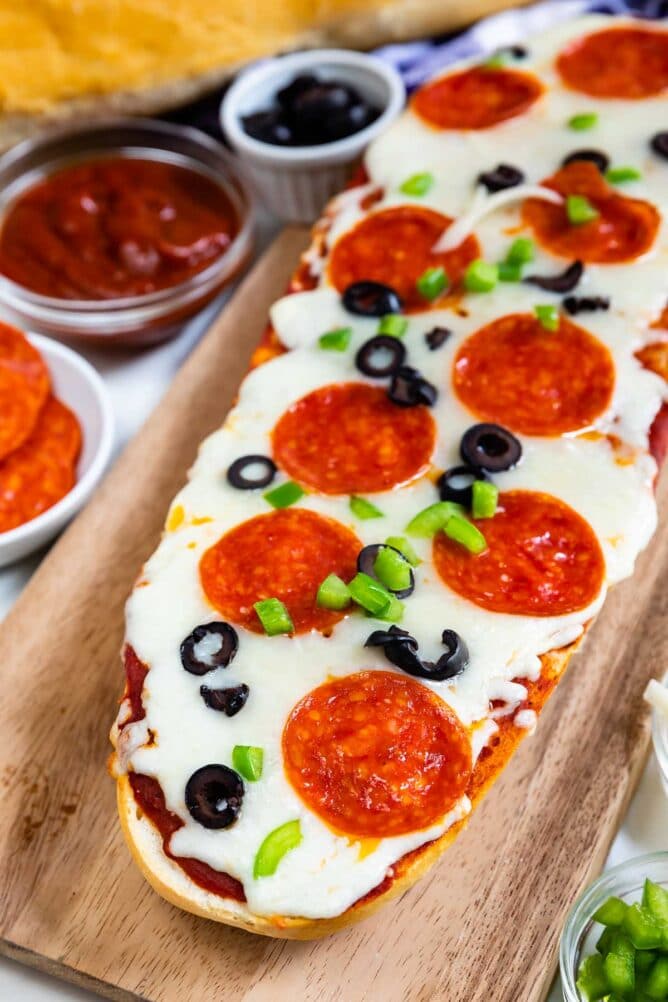 Variations and Toppings
Really you can make ANY kind of pizza with this recipe: choose your favorite toppings!
Here are a few topping ideas:
Pepperoni
Olives
Peppers
Sausage
Ham & Pineapple
Salami
Here are some of our favorite combinations:
Hawaiian French Bread Pizza: use pizza sauce and mozzarella cheese, top with ham and pineapple and bacon.
Pesto: use pesto instead of sauce, top with mozzarella and your favorite toppings.
BBQ Chicken: use BBQ sauce and mozzarella, then top with sliced red onions and leftover chicken.
Breakfast French Bread Pizza: skip the sauce and top with scrambled eggs, sausage or bacon and cheddar cheese.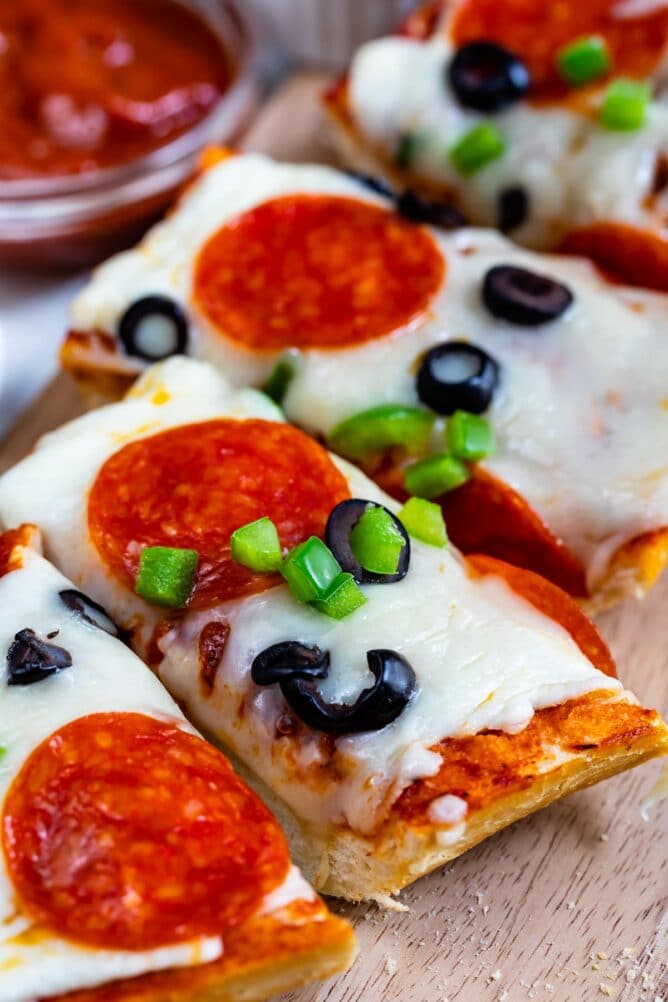 FAQ
How to make French Bread Pizza not soggy?
If putting the sauce on the pizza and baking it seems soggy to you, the best way to avoid it is to bake the French bread for 3-5 minutes BEFORE adding the sauce. This toasts it a bit so the sauce doesn't soak into the bread.
How long to cook French Bread Pizza?
I bake mine about 10-15 minutes, or until the cheese is melted and the bread is toasted.
How do you store leftovers?
Store leftovers in the refrigerator in an airtight container.
How to reheat French Bread Pizza?
If you want to keep it crunchy, you should reheat leftovers in the oven at 400°F. Or you can use a toaster oven or air fryer. You can also reheat in the microwave, but it will be soft, not crunchy.
If pizza and bread recipes like these have a way of aggravating your frequent heartburn, don't forget to grab Omeprazole ODT from your local CVS for daily relief!
Other Pizza Recipes
Have you made this recipe?
Tag @crazyforcrust on Instagram or hashtag it #crazyforcrust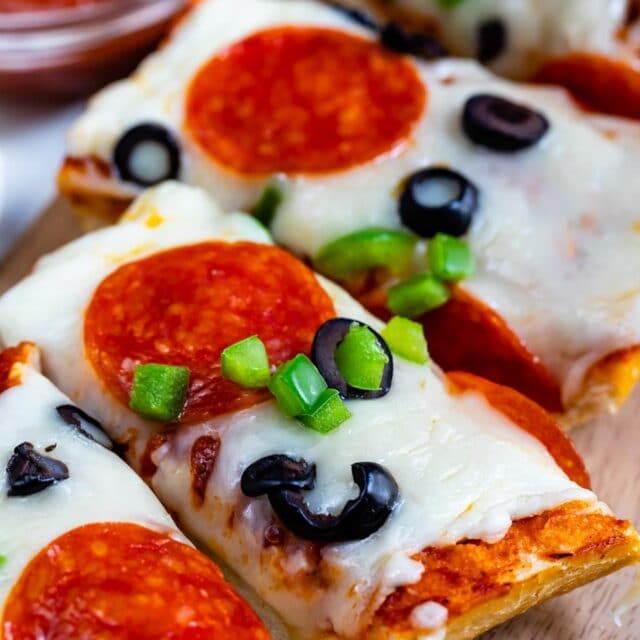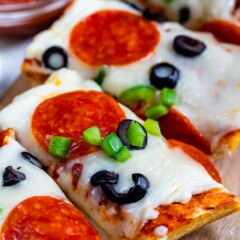 French Bread Pizza
Learn how to make one of our favorites – French Bread Pizza! This easy recipe is the perfect method for making your favorite pizza with your favorite sauce and toppings on french bread instead of pizza dough.
Instructions
Preheat oven to 400°F. Line a cookie sheet with foil for easy cleanup.

Slice the french bread in half horizontally. Place both halves face up on prepared cookie sheet.

Spread sauce evenly over bread. Top with cheese and toppings.

Bake 10-15 minutes, or until cheese is melted and bread is somewhat toasted.

Slice and serve hot. Store leftovers in refrigerator.
Recipe Notes
Topping Ideas:
Pepperoni, salami, sausage
Olives, mushrooms, peppers, onions
Ham, pineapple
Tips
If you don't want the sauce to soak into the bread, toast the bread by baking it 3-5 minutes before topping with sauce.
Reheat pizza in the oven or using a toaster oven or air fryer to keep leftovers crunchy.
Recipe Nutrition
Serving:
1
serving
|
Calories:
310
kcal
|
Carbohydrates:
40
g
|
Protein:
16
g
|
Fat:
10
g
|
Saturated Fat:
5
g
|
Cholesterol:
29
mg
|
Sodium:
683
mg
|
Potassium:
181
mg
|
Fiber:
2
g
|
Sugar:
3
g
|
Vitamin A:
341
IU
|
Vitamin C:
1
mg
|
Calcium:
221
mg
|
Iron:
3
mg
Nutritional information not guaranteed to be accurate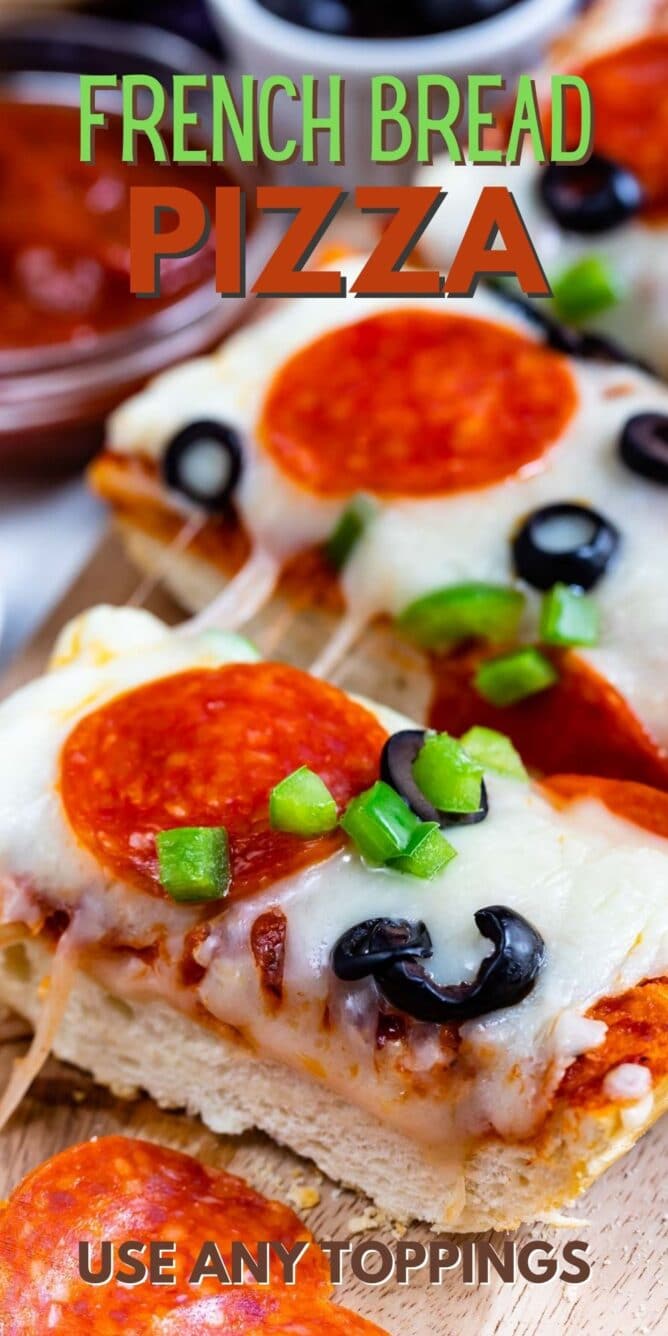 Learn how to make French Bread Pizza! This is an easy recipe you can make with any toppings – it's crunchy and fantastic for pizza Friday!