Fluffy Potato Rolls
This post may contain affiliate links. For more information, read my disclosure policy.
Because my life wouldn't be complete without dinner rolls, I made more for you. This time? The best, fluffiest, most perfect Potato Rolls you'll ever eat.
Try to eat just one. I dare you.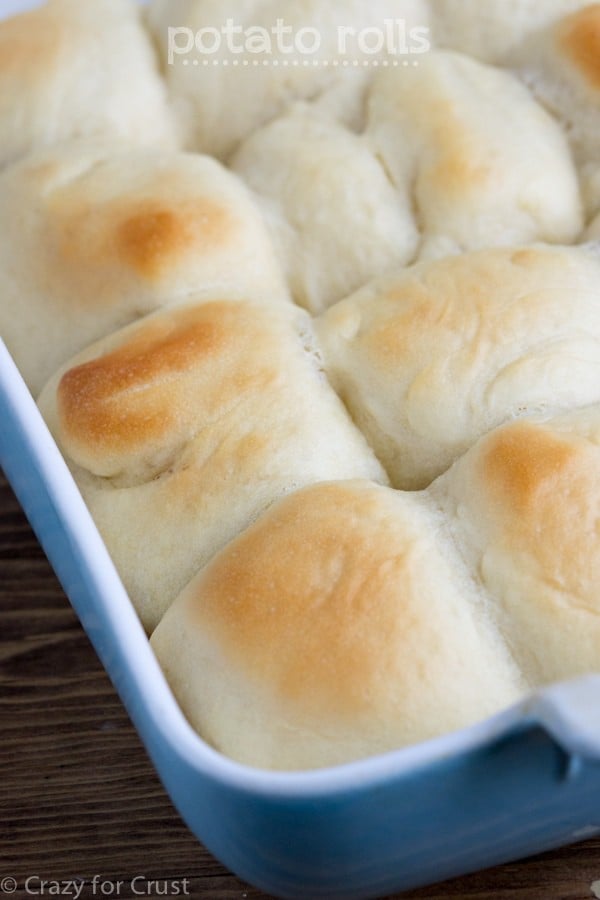 Ever since I made 45 Minute Dinner Rolls (and her sister, small batch dinner rolls), I've been dying to make Potato Rolls. One, they just sound cool (potatoes IN BREAD??) and two, potato bread is so darn good that I know homemade would be even better.
I was right.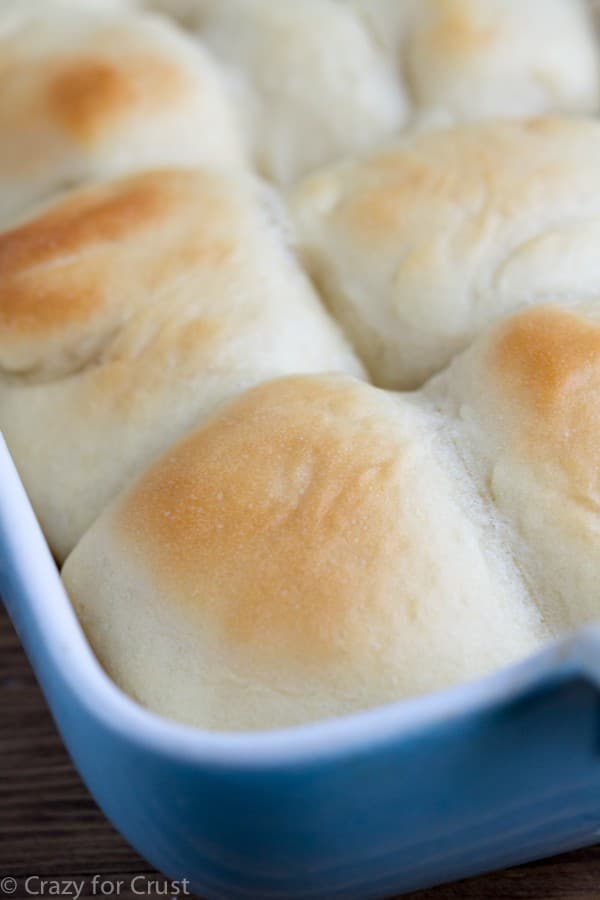 I don't make dinner rolls every night, but I kind of wish I could. However, because I need help with my willpower (read: I have none when it comes to bread), I only make them on certain occasions. One of those occasions is soup night.
I love having soup for dinner and I'd eat it several times a week all year long except for two reasons:
It's blasted hot here from May-October and no one wants soup in 100 degree weather.
Jordan hates soup. She hates most of what I make for dinner, but soup is her #1 nemesis.
Since it's winter and generally California-cold (which means it's in the 60s and my fingers are blue 90% of the day), I like to make soup at least once a week for dinner. If we don't have some sort of bread in the house I can appease Jordan with, I make dinner rolls.
You should have seen her face when she saw this pan of Potato Rolls! It kind of mirrored mine.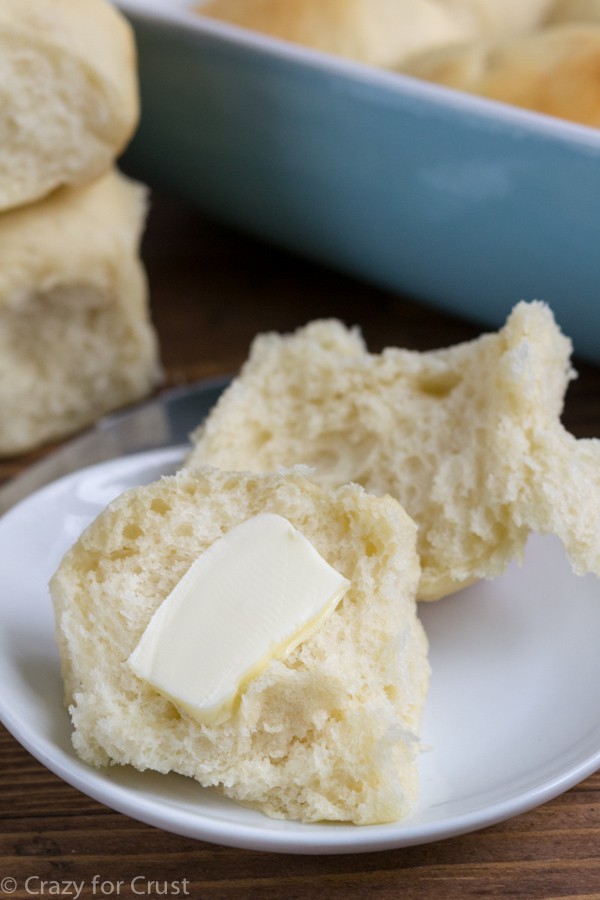 The recipe for these rolls is absurdly easy. It's actually not that much harder than making my dinner roll recipe, it just takes a little longer. (But a 45 minute version is so on my list.)
You need a few key things to make these perfect rolls:
Bread flour. There is no all-purpose in this recipe, and now I know why people love bread flour so much. It has a high protein content which creates more gluten which, in turn, creates a better roll. I've always used a combo of flours, but all bread flour makes these super soft and fluffy!
Potato Flakes. This recipe uses  boxed potato flakes. It's just so much easier to use the flakes because we never have mashed potatoes on hand when I want to make rolls. NOTE: Some potato flakes come in boxes without inserts. Beware when opening the package. Or this will happen.
Active Dry Yeast.
As most yeasted recipes do, you need warm water to activate your yeast. I always heat my water in my microwave for 30-60 seconds (depending on how much water is called for in my recipe) until it's like hot bathwater. In all reality, you should use an instant read thermometer if you aren't used to working with yeast. Using a thermometer will ensure your yeast is the perfect temperature. (I need to buy myself one!)
Like when you make one of my cinnamon roll recipes, the dough for these rolls needs to rise for a couple of hours before you shape and bake them. 2-3 hours is sufficient for the dough to double in size.
Once the dough is doubled, you punch it down to remove air bubbles and then portion it into 12 rolls. Once they rise again (about 30 minutes) you bake until they're golden. And they're perfect!
I hope you enjoy them as much as we did. Not only did we eat them with soup for dinner, but I made sandwiches with them too. Perfect for mini subs for your Super Bowl Party this weekend! (Hint, hint.)
Servings: 12 rolls
Potato Rolls
Fluffy, soft, and perfect! These Potato Rolls are great for dinner or lunch.
Ingredients
1 1/4 cups water
3 tablespoons vegetable oil
3 tablespoons granulated sugar
1 1/2 teaspoons salt
1/2 cup potato flakes
3 cups bread flour
2 1/4 teaspoons 1 packet Active Dry Yeast
1 teaspoon lemon zest — optional
1/2 teaspoon white pepper — optional
2 teaspoons dried minced onions — optional
Instructions
Combine yeast, 1 cup flour, potato flakes, sugar, salt, and optional ingredients (if using) in the bowl of a stand mixer fitted with the paddle attachment. (See notes for hand mixer instructions.)

Combine water and oil and heat to 120° to 130°F. It's best if you can use an instant read thermometer, but I don't have one. I heat my water to very hot bathwater temperature, about 45-60 seconds in my 1100W microwave.

Pour the liquid ingredients into the mixing bowl with the flour and yeast and mix with the paddle attachment for 4 minutes on medium speed. Change to the dough hook and gradually add remaining flour.  Knead in mixer for 5-7 minutes until smooth and elastic.

Place dough in a bowl that's been lightly oiled or sprayed with cooking spray. Cover with plastic wrap and let rise until double in size, about 2-3 hours. Turn dough onto a lightly floured surface and punch it down to remove air bubbles. Divide dough into 4 parts, divide each part into 3 sections for a total of 12 rolls. Shape each piece into a smooth ball and place in a 9x13" baking dish that's been sprayed with cooking spray. For individual rolls, you can place in muffin pans or 2 to 3 inches apart on a cookie sheet.

Cover the pan with plastic wrap and let rise at room temperature until indentation remains when touched (about 30 minutes).

Preheat the oven to 375°F. Bake for 20-25 minutes.
Course: Side Dish
Cuisine: American
Keyword: bread
Nutrition Information
Amount per serving (1 roll) — Calories: 171, Fat: 4g, Saturated Fat: 2g, Sodium: 296mg, Potassium: 80mg, Carbohydrates: 28g, Fiber: 1g, Sugar: 3g, Protein: 4g, Vitamin C: 2.2%, Calcium: 5%, Iron: 0.4%
Small Batch 45 Minute Dinner Rolls with Maple Butter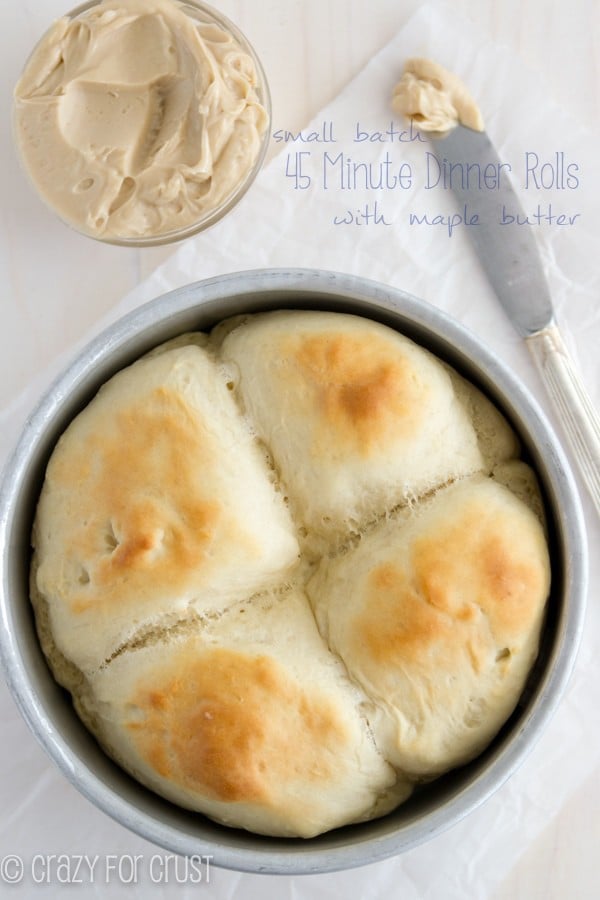 Peanut Butter Snickerdoodle Crescent Rolls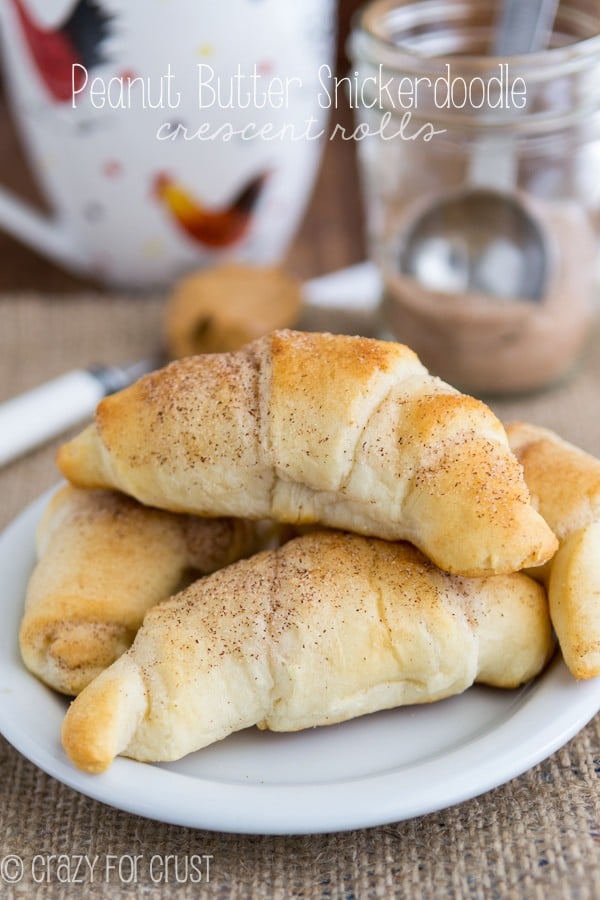 Perfect Overnight Cinnamon Rolls with a photo tutorial!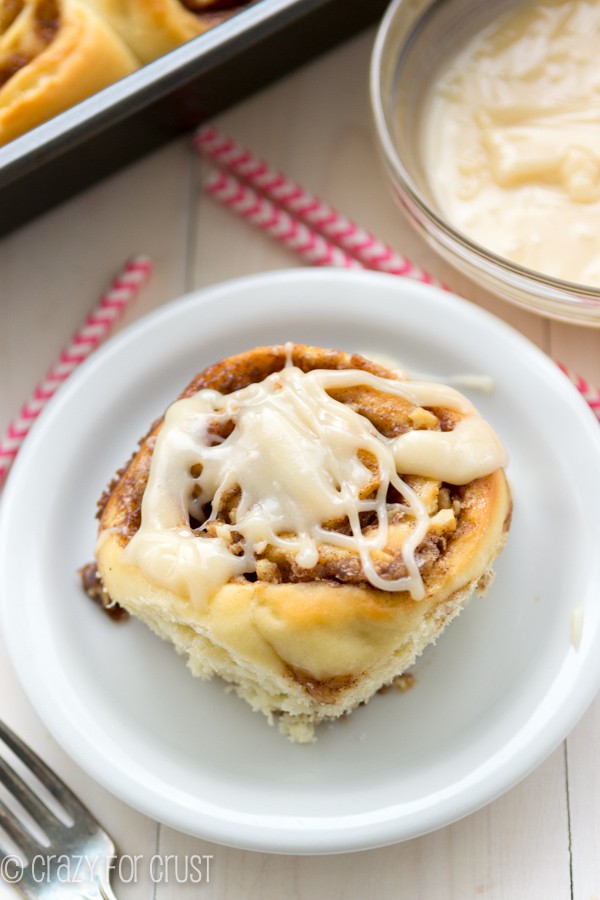 Sweets from friends:
Fast and Easy Dinner Rolls by Center Cut Cook
100% Whole Wheat No Knead Dinner Rolls by Averie Cooks
Homemade Sweet Potato Dinner Rolls by Oh Sweet Basil