Have you ever had a gooey bar? They are the best baking invention since pie, I'm not kidding. The concept of a gooey bar recipe is simple: two layers of cookie dough or thick cake batter dough with a gooey mixture of sweetened condensed milk and toppings inside. The options are endless, and I've made so many. My first ever gooey bar recipe was my Funfetti Gooey Bars. The first time I made them they never even made it to photographs because they disappeared so fast. I had to make them again, and when I posted them they were what made this blog take off on Pinterest. I owe my success to Funfetti Gooey Bars! After that I started using other cake mixes, like lemon or red velvet, or adding in flavors like pumpkin or apple. Then I branched out into cookie dough, using chocolate chip cookies and peanut butter cookies mixed with Oreos or chocolate or more peanut butter. The options for these delicious and easy bar cookies are endless. They are so easy to make and everyone loves them!
Wether you like chocolate or vanilla, caramel or peanut butter, sprinkles or lemon, this list of the best gooey bar recipes is for you. Mix and match to find your favorite flavors but before you do make sure to run to the store and buy all the sweetened condensed milk because you're going to need it all!
Gooey Bar Recipes are loved by all and are so easy to make!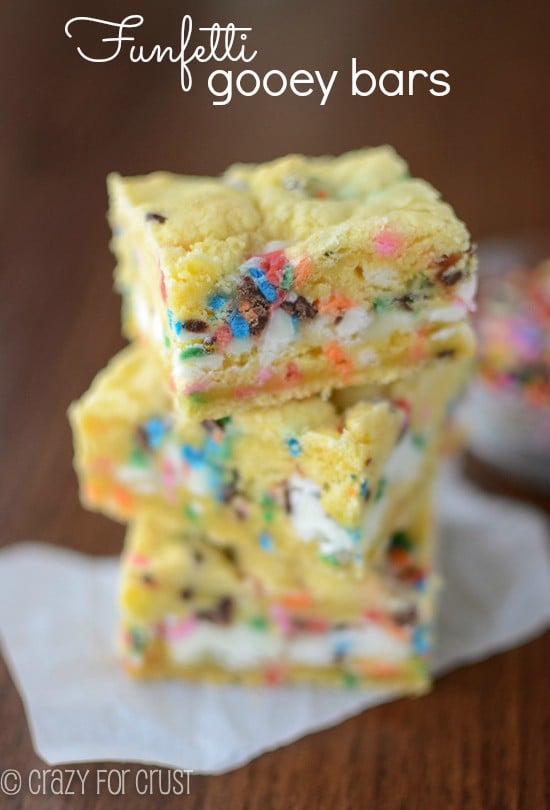 From a Mix
White Chocolate Snickerdoodle Gooey Bars
Double Decker Cookie Gooey Bars
Healthier Chocolate Gooey Cake Bars
Peanut Butter & Jelly Gooey Bars

From Scratch
Chocolate Chip Cookie Gooey Bars
Peanut Butter Cookie Gooey Bars
Oreo Stuffed Chocolate Chip Cookie Gooey Bars
Butterscotch Blondie Gooey Bars
Chocolate Chip Caramel Butter Bars
Caramel Peanut Butter Cookie Bars