So you know all those caramel brownie recipes you see all over the place? These are like those, but instead of being brownies, they're peanut butter cookie bars. Yeah, I love me too. Gooey Caramel Peanut Butter Cookie Bars – a rich indulgent peanut butter cookie filled with gooey soft caramel! These are a dream bar cookie recipe.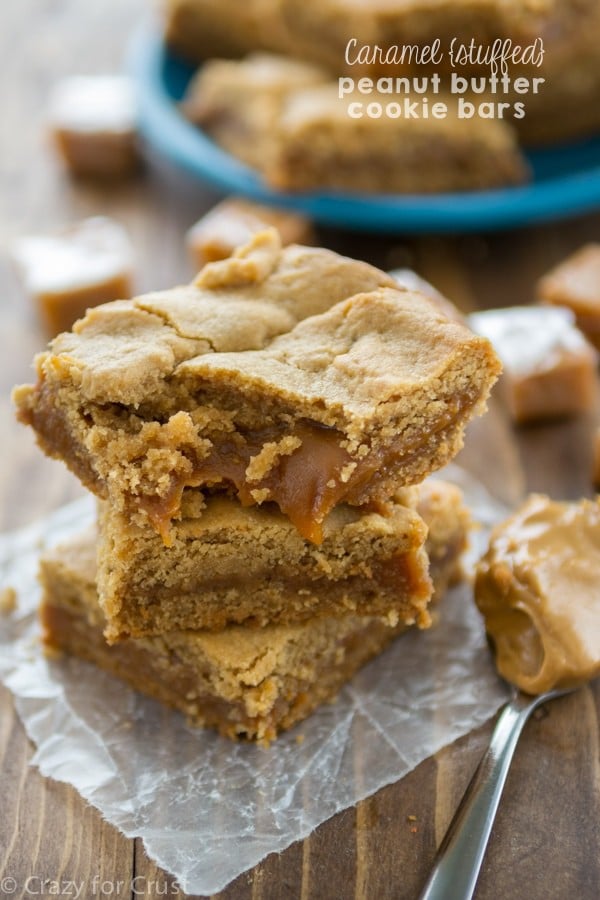 I have a confession to make: I'm a helicopter mom. And I'm not proud of it, not one little bit.
If you're not familiar with the term "helicopter mom" it describes those parents (typically the mom, but often the dad or both parents). You know – the ones that are uber involved with every little thing in their child's life? Always at school, always solving their problems, always stunting their growth into capable adult humans who can be on their own, that sort of thing.
I try really, really hard not to hover and actually pride myself on not being at school at recess and lunch to make sure the girl drama doesn't get out of hand (yes, there are mom's who do that). I tell her to "work it out" and I roll play with her…but then she cries and sobs and wails and I email the teacher.
Her poor teacher. I've already talked to Jordan's 4th grade teacher more than I ever did her 3rd grade one. I tell myself that's because (1) I know her better, (2) I'm not running and online blog conference and writing a book so I'm actually present this year, and (3) I want Jordan to succeed, have friends, be liked, and not be bothered by 9 year old boys who lick necklaces and rub them all over her arms.
But I'm hovering. And I know I need to stop. 4th grade is a hard year – they have to learn to exist on their own. And that's hard for me because I've been doing all-the-freaking-things for 9 years. Moms – you know what I mean right? It's time for me to let go a little. And that makes me want to cry and it makes me want comfort food.
My comfort food is peanut butter. And caramel. Last week I needed some comfort dessert, and these bars were IT. Caramel Peanut Butter Cookie Bars – there's not much more comforting than that!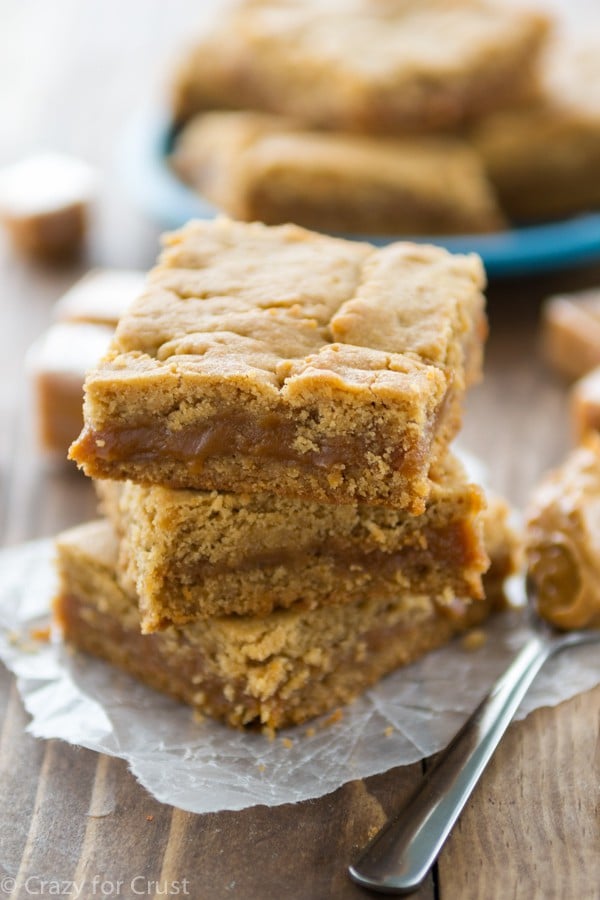 You've seen the brownie versions of this bar all over the place. A few years back a chocolate chip cookie one went around too. I've tried to make both those versions before and it's never worked. The caramel either bubbles out and burns or cooks into the bottom layer or gets so hard eating the bars requires dental work.
But these? They're perfect. I found the perfect caramel recipe in a new cookbook I love, which I'll be formally reviewing in a few weeks. It's called Extreme Brownies, by Connie Weis. The caramel in the center is perfect – creamy, smooth, and it stays soft.
Because brownie and chocolate chip cookie have been done before I thought I'd do something different: peanut butter cookie bars! Didn't you know that peanut butter + caramel were the bees knees?
A few notes about the recipe:
Unwrap all the caramels

before you make the cookie dough.
Start the caramel while the base cookie layer is baking. It's hard to time it all but you want the caramel to be done right about the time the base layer is done so you can

pour hot caramel on hot cookie bars

.
Make sure to

keep the caramel layer in from the edges of the bars

, about 1/4-1/2″. You want to try and seal the cookie layers together and if the caramel touches the pan it'll bubble and stick.
If you just drop pieces of cookie dough on top the caramel, it's too hard to spread them without ruining the bottom layer.

Here's the trick:

pull of pieces of dough and flatten them between your hands, then lay them on the caramel. All the pieces don't have to completely seal to each other, but you'll get more even coverage that way.
Try not to eat these hot straight out of the oven. You'll burn your mouth. It's hard, but be patient and wait until they cool a bit. 🙂
These are my most favorite bars yet. I couldn't keep away from them! They're perfect for when you need a stick-to-your-love-handles comfort food dessert.
Caramel Peanut Butter Cookie Bars are the ultimate comfort dessert: peanut butter cookie bars stuffed with the perfect soft caramel recipe!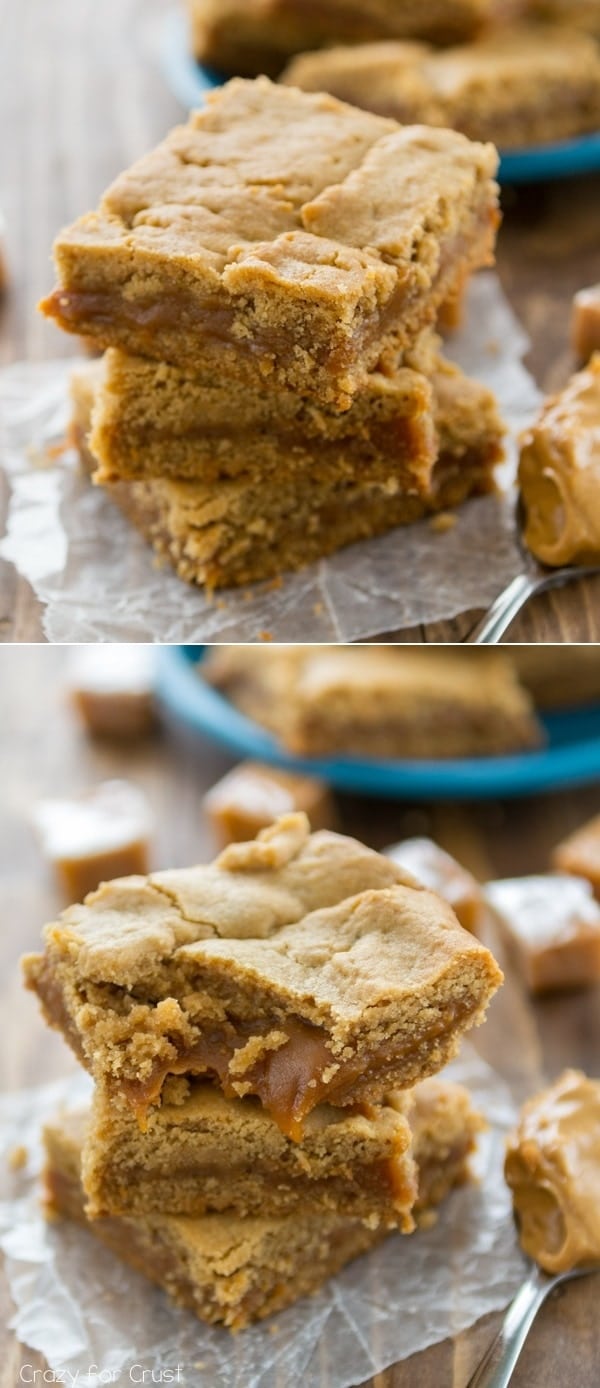 Plus, I must burn a lot of calories with all that helicoptering. Or so I tell myself anyway…
These may not be traditional gooey bars but they are super gooey…and if you love these you'll also love all my other gooey bar recipes!
Caramel Peanut Butter Cookie Bars
Peanut butter cookies sandwiched with gooey caramel are the best dessert! These are easy to make and the caramel stays soft for chewing!
Ingredients
For the Peanut Butter Cookie Bars:
1/2

cup

unsalted butter

softened

3/4

cup

peanut butter

3/4

cup

packed brown sugar

1/4

cup

granulated sugar

1

large egg

1

teaspoon

vanilla

1

tablespoon

milk

1/4

teaspoon

salt

1/2

teaspoon

baking soda

1 3/4

cups

all purpose flour
For the Caramel
1/3

cup

+ 1 teaspoon heavy whipping cream

2

tablespoons

unsalted butter

1

11 ounce bag Kraft Caramels (around 38-40), unwrapped

2

tablespoons

all-purpose flour

1

teaspoon

vanilla extract
Instructions
Preheat oven to 350°F. Line a 9x13" pan with foil and spray with cooking spray. The foil is needed here because the caramel can get sticky!

Cream butter, peanut butter, and both sugars in the bowl of an electric mixer fitted with the paddle attachment. Add egg, vanilla, milk, and salt and baking soda. Mix until combined. Slowly add flour and mix until dough comes together.

Press half of dough into the bottom of the prepared pan. The dough will be sticky - spray your hands with cooking spray first. It will be a very thin layer of dough!

Bake the bottom layer of cookie dough for 10 minutes.

While the dough is baking, make the caramel.

Place the heavy whipping cream and butter in a heavy bottomed 2Qt sauce pan over medium-low heat. Add unwrapped caramels one at a time. Stir often until the caramel is melted and smooth. Sift the flour into the caramel (if you have a small mesh strainer, just place the flour in it and tap the side of the strainer until all the flour falls through). Stir until the flour is incorporated. Turn heat all the way to low until the bottom layer is done cooking, stirring often so it doesn't burn. Right before taking the cookie out of the oven, turn off the heat and stir in the vanilla.

After 10 minutes, remove the bottom layer from the oven and pour the caramel over the top. Try to leave a 1/2" border around the cookie base. If the caramel touches the edges of the pan it will boil and stick.

Break off pieces of the remaining dough and flatten between your hands. Lay on the top of caramel. Continue until the entire pan is covered, pressing the edges to seal them together. A little of the caramel may peek through, that's okay.

Bake for an additional 10-15 minutes, until the bars start to get golden on the top. Cool completely before slicing. Store in an airtight container at room temperature. Do not refrigerate or caramel will get too hard to eat.
Click here to see more PEANUT BUTTER recipes!


 Caramel Brownie Peanut Butter Cookie Bars
Peanut Butter Caramel Shortbread Bars
Almond Joy Peanut Butter Cookie Bars
Sweets from friends:
Easy Peanut Butter Soft Caramels by Something Swanky
Caramel Peanut Butter Chocolate Chip Cookie Bars by Averie Cooks
Milky Way Magic Bars by Wine & Glue
SaveSaveSaveSave
SaveSave
SaveSave
All text and images © DOROTHY KERN for Crazy for Crust. Please do not use my images without prior permission. If you want to republish this recipe, please re-write the recipe in your own words, or link back to this post for the recipe. Disclaimer: Nutrition information shown is not guaranteed to be accurate.
This post may contain affiliate links. For more information, read my disclosure policy.
Published on: September 8, 2014