This post may contain affiliate links. For more information, read my disclosure policy.
Dulce de Leche Gooey Bars – this EASY sugar cookie bar recipe has gooey dulce de leche inside! Cookie bars with caramel are always a hit!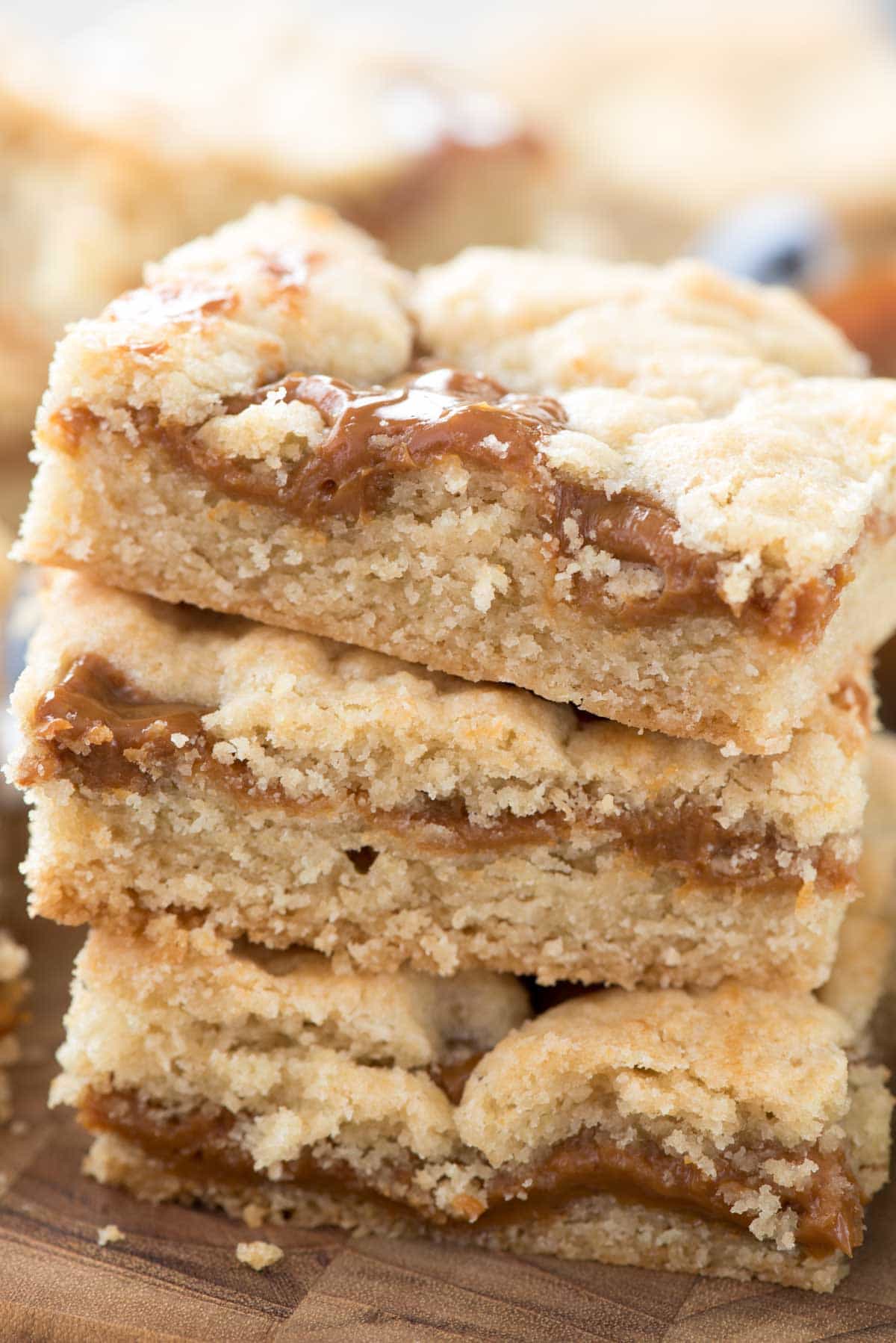 Last week I had a major "my daughter is growing up" moment: she tried out for the middle school dance team and I wasn't part of it at all. It's very strange not to be the one signing her up, watching tryouts, and being the contact point for the coach. Middle school, I'm learning, is a whole other ball game when it comes to severing the ties with your kids.
My first instinct that this was going to be different was when she had to fill out a form online (not me). She had to use her school email to access the form, so she had to login on her computer and I didn't need to have any part of it. Then she had to check her email for updates from the coach. Then came the audition days: I had to drop her off at the middle school – an unfamiliar place to both of us – so she could spend an hour with a coach whom I'd never met.
Now we're on pins and needles, waiting for results because, for the first time in her life, not everyone makes the team. And she has to remember to check her email to find out the results. I'm not sure if I'm ready for this whole "next phase" thing. I love the independence, but it scares the crap out of me at the same time.
Since I'm pretty much no longer needed, I'm going to just focus on what I do best: dessert.
After Easter, there aren't really any other holidays for months…but don't forget that Cinco de Mayo is right around the corner. I know you are probably already planning tacos and margaritas and salsa, but don't forget that you also need churros and more churros as well as all things dulce de leche, like pie or ice cream or coffee creamer.
And now, you can also add Dulce de Leche Gooey Bars to your menu this May…or really anytime you want caramel.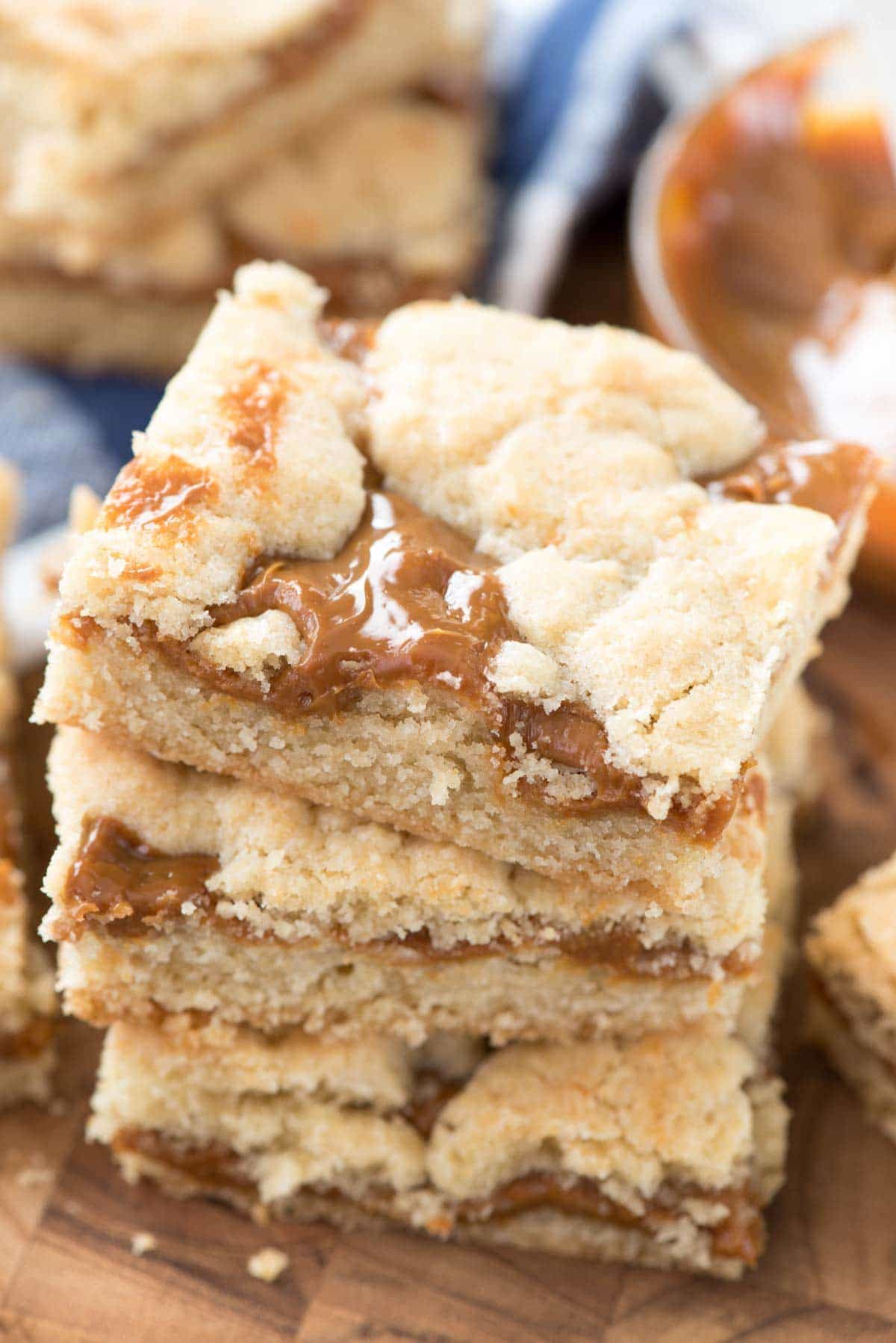 Dulce de leche is basically the best thing on the planet: it's cooked sweetened condensed milk that gets all thick and caramely. The flavor is deep and rich and it's so thick you can eat it with a spoon, or you can melt it and pour it over ice cream or use it as a dip for churros.
You can buy it in any grocery store where they sell sweetened condensed milk and you can often find it in the Mexican foods aisle as well. If you can't find it or don't want to buy it but have a can of sweetened condensed milk laying around, you can make your own dulce de leche in a slow cooker or my blogger friend Barbara has a pressure cooker dulce de leche recipe.
It's perfect for adding to coffee or ice cream or to stuff inside sugar cookie bars to make them gooey bars. Dulce de leche creations that I adore: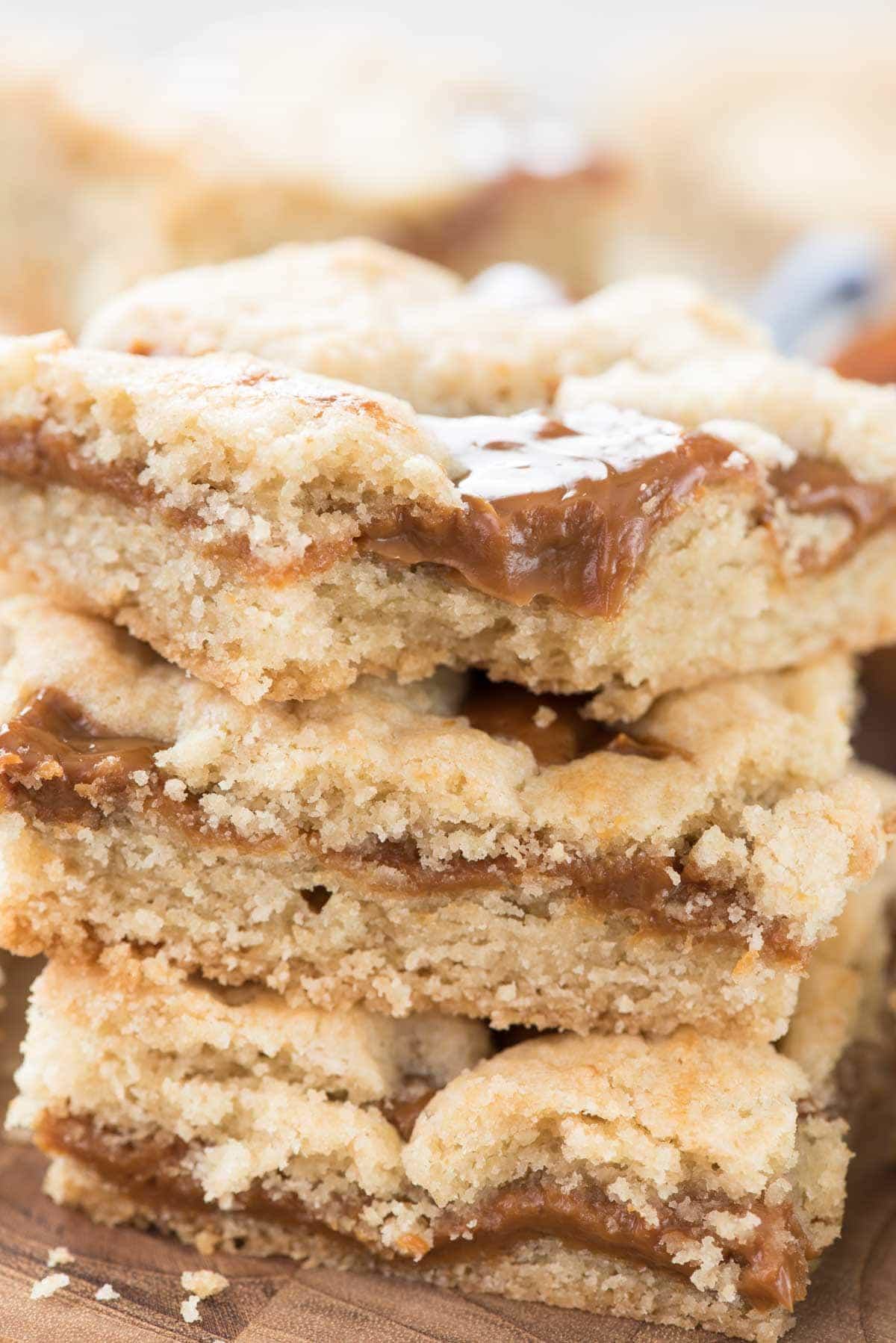 We all know I have a gooey bar obsession; I have flavors like lemon, funfetti, peanut butter and so many more. Gooey bars are the easiest things in the world to make; they start with a cookie dough recipe or a cake mix. These are a sugar cookie gooey bar using my favorite sugar cookie recipe.
Once you have whatever dough you're using, you press about 2/3 into the pan then top it with toppings and, normally, sweetened condensed milk.
For this dulce de leche gooey bars recipe, I used the caramel in the center instead without any mix ins (but you could add chocolate or white chocolate chips).
Then you crumble more cookie dough on top and bake and bam, the perfect sugar cookie bar recipe.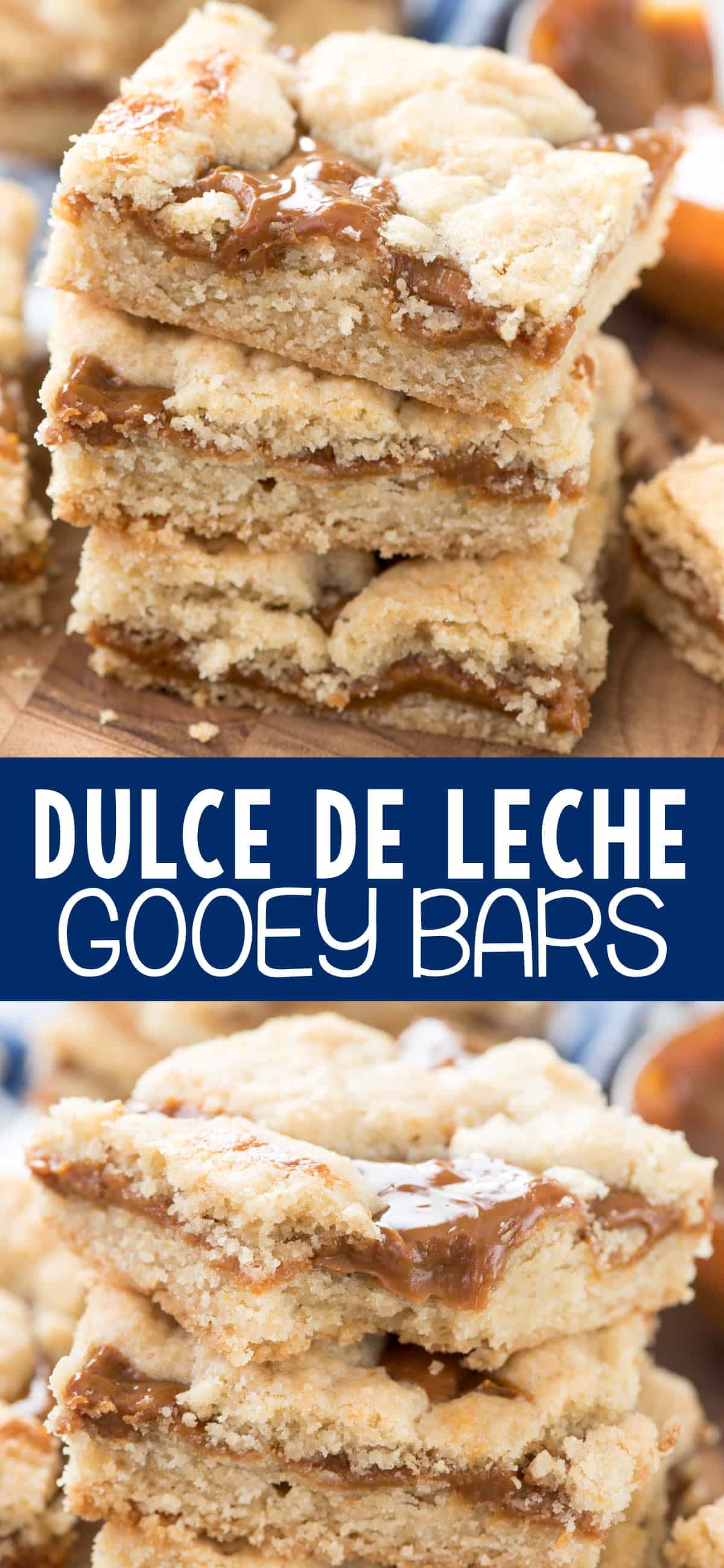 I froze the dulce de leche gooey bars immediately, but I kind of snuck back to the freezer a few times…or more than a few…because they were so good!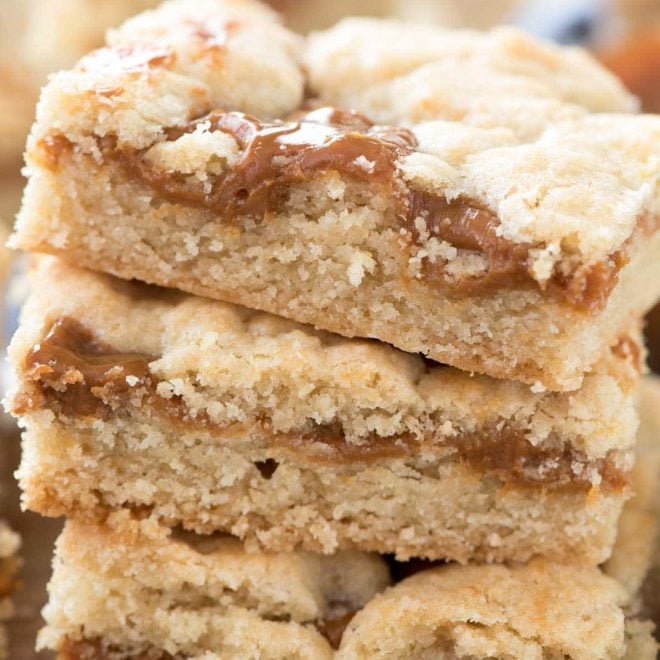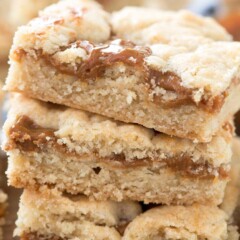 Dulce de Leche Gooey Bars
Dulce de Leche Gooey Bars - this EASY sugar cookie bar recipe has gooey dulce de leche inside! Cookie bars with caramel are always a hit!
Ingredients
3/4

cups

unsalted butter

3/4

cups

sugar

1

large egg

1

tablespoons

vanilla extract

1/2

teaspoon

baking soda

1/2

teaspoon

cream of tartar

1/2

teaspoon

salt

2

cups

all purpose flour

1/2

cup

dulce de leche
Instructions
Preheat oven to 350°F. Line a 9x9" pan with foil and spray with nonstick cooking spray.

Cream butter and sugar with a stand mixer fitted with the paddle attachment (or you may use a hand mixer). Once the mixture is creamed and fluffy, mix in the eggs and vanilla extract until smooth, then mix in the baking soda, cream of tartar, and salt. Slowly mix in flour until the mixture is just combined.

Press about 2/3 of this mixture in the bottom and about 1/2" up the sides of the prepared pan. Spread dulce de leche over the top, then sprinkle the remaining dough over the bars.

Bake for 22-25 minutes, or until the top looks done and is golden around the edges. It will still be someone jiggly in the center. Cool completely before cutting. It's easier to cut when it's chilled.

Store in an airtight container for up to 3 days or freeze for up to 1 month.
Recipe Nutrition
Serving:
1
bar
|
Calories:
320
kcal
|
Carbohydrates:
39
g
|
Protein:
4
g
|
Fat:
17
g
|
Saturated Fat:
10
g
|
Cholesterol:
62
mg
|
Sodium:
2298
mg
|
Fiber:
1
g
|
Sugar:
19
g
Nutritional information not guaranteed to be accurate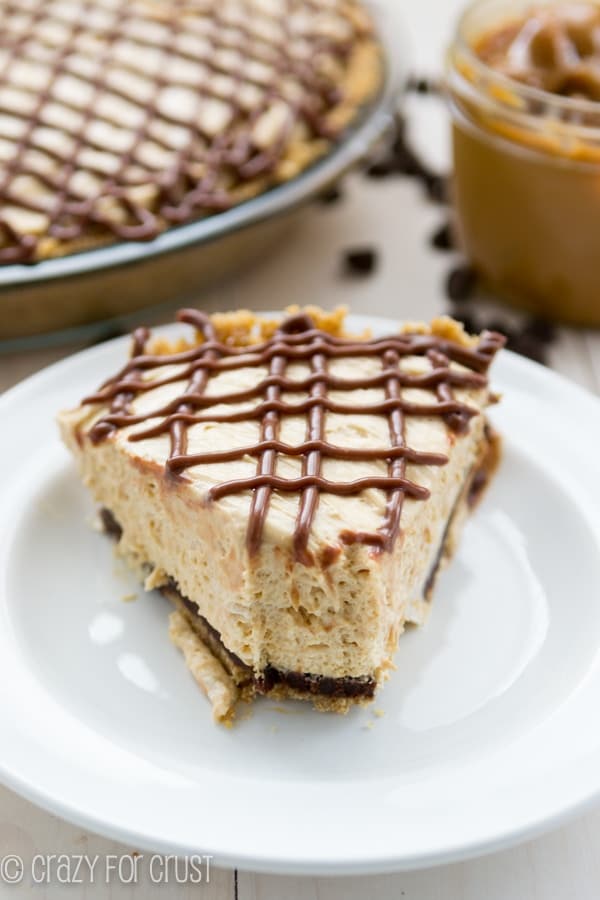 Chocolate Chip Cookie Gooey Bars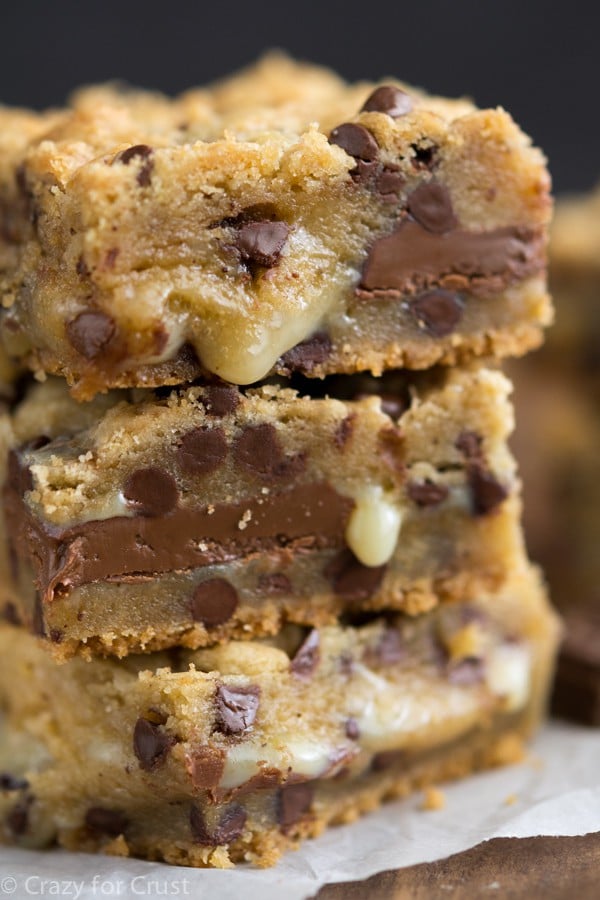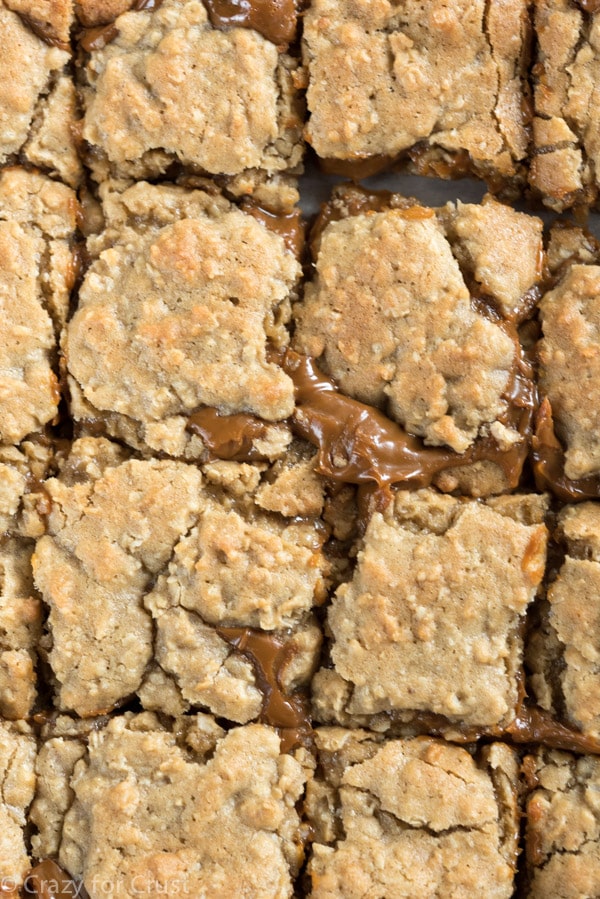 If you love these, be sure and try Dulce de Leche Fudge, Dulce de Leche Banana Cream Pie, and Dulce de Leche Churro Donuts.
Last Updated on March 4, 2019