This post may contain affiliate links. For more information, read my disclosure policy.
I could eat a whole bag of Robin Eggs in one sitting. I've been known to polish off whole boxes of Whoppers.
As a kid I was addicted to Ovaltine.
These Malted Gooey Cake Bars marry both of those addictions!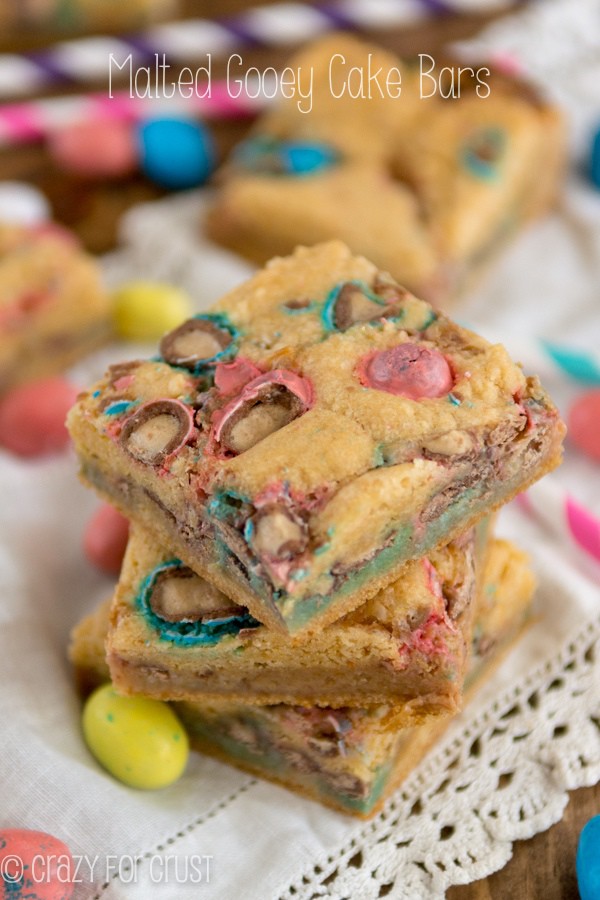 So… I'm writing this on Sunday morning. We had a long night. The yucky kind.
Now, I'm sitting here envisioning everything I need to do this week: writing, photographing, baking, editing my book, re-taking some of those photos, scheduling social media…
And I'm trying to do them all in the next few hours. Because I can see my future, and it ain't pretty.
What is pretty? These Malted Gooey Bars. If you can't stop buying bags of Robin Eggs this time of year, these bars are for you! They're the perfect Easter treat.
The idea for these bars came from my BFF Lisa over at Wine & Glue. Last week she made Robin Egg Magic Bars. And instantly I thought…GOOEY BARS!
I'm nothing if not predictable.
These bars are so pretty for Easter. And they're super easy to make. And they're filled with Robin Eggs and malted flavor!
The bar is a basic yellow cake mix that's been jazzed up with some Ovaltine (malted milk powder). I'm sure there are other brands, but Ovaltine is what I grew up on and still use.
Gooey cake bars are made by mixing the cake mix with a stick of butter and an egg. You don't use the ingredients on the box. I added some Ovaltine and a little milk to my normal recipe. You press about 1/2 the mixture in the bottom of a 9×9 inch square pan.
The middle (gooey) layer is made with sweetened condensed milk that's been mixed with more Ovaltine. Then you sprinkle on some crushed Robin Eggs. The rest of the dough gets pressed on the top.
These bake up with the texture of a bar but they taste like a malted cake with a gooey center. I think these are my favorite version so far. And I have a lot of versions.
If you're reading this and it's not Spring, don't worry. Use Whoppers instead! Robin Eggs and Whoppers are pretty much the same thing and using those little round chocolate balls would make this a year-round treat.
Which is good because I have an addiction to feed.
A gooey bar and a Whopper/Robin Egg addiction!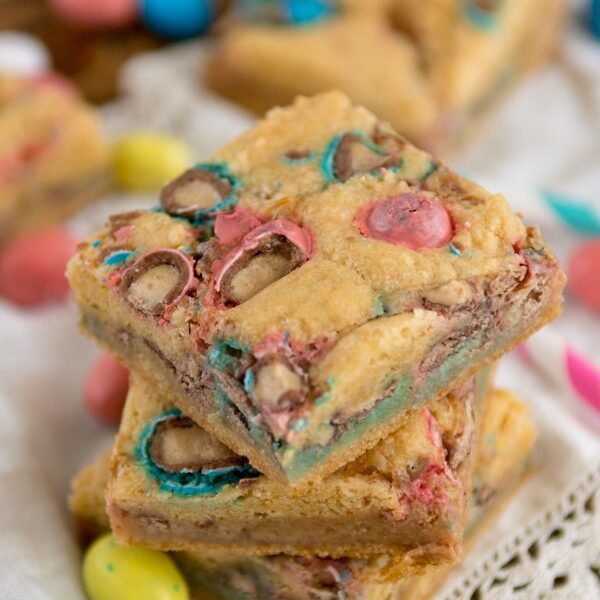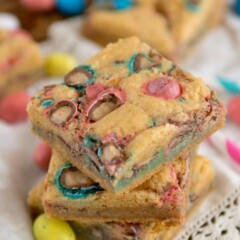 Malted Gooey Cake Bars
Gooey cake bars are the easiest dessert you'll ever make. Add some Ovaltine and Whoppers or Robin Eggs and you have a malted version! These are perfect for a potluck because everyone will love them.
Ingredients
1

yellow cake mix

1

stick

1/2 cup butter, softened

1

egg

1

tablespoon

nonfat milk

1/4

cup

+ 3 tablespoons Ovaltine

malted milk powder, divided

1/2

cup

from a 14 ounce can sweetened condensed milk

1 1/4

cups

malted milk balls

Whoppers or mini Robin Eggs, lightly crushed, divided
Instructions
Preheat oven to 350°F. Line a 9x9" pan with foil and spray liberally with cooking spray so that the bars don't stick.

Add cake mix, butter, egg, milk, and 1/4 cup Ovaltine to the bowl of an electric mixer fitted with a paddle attachment. Mix until a thick dough forms. Note: you can do this with a hand mixer but it will take a long time for the dough to come together, so just be prepared.

Press about 1/2 of the dough into the bottom of the prepared pan. Stir 3 tablespoons of Ovaltine into the sweetened condensed milk and pour over the top of the base. Sprinkle 1 cup of the crushed malted candy over the top.

Separate remaining dough into small balls and evenly space over the top of the bars. Press down to flatten. Sprinkle with the remaining 1/4 cup of malted candy and press lightly to stick.

Bake bars for about 25-30 minutes, or until they just begin to brown. Cool completely before slicing, otherwise the mixture will be too gooey to cut. Optional: eat straight from pan with a fork.
Nutritional information not guaranteed to be accurate
Click here to see my best Cake Mix recipes!
Sweets from friends:
Easter Egg Fudge by Wine & Glue
Chewy Malt Ball Cookies by Shugary Sweets
Peanut Butter Cake Bars by Something Swanky
SaveSaveSaveSave
Last Updated on May 13, 2020