Guess what? It's Ice Cream Week! All week long I'm going to be sharing ice cream recipes with you (and so will Ashton from Something Swanky!)
Up first is one of my favorite flavors: Funfetti. Would you expect anything else?
I made Funfetti Cake Batter Ice Cream and sandwiched them with Funfetti Sugar Cookies to make Funfetti Cake Batter Ice Cream Sandwiches!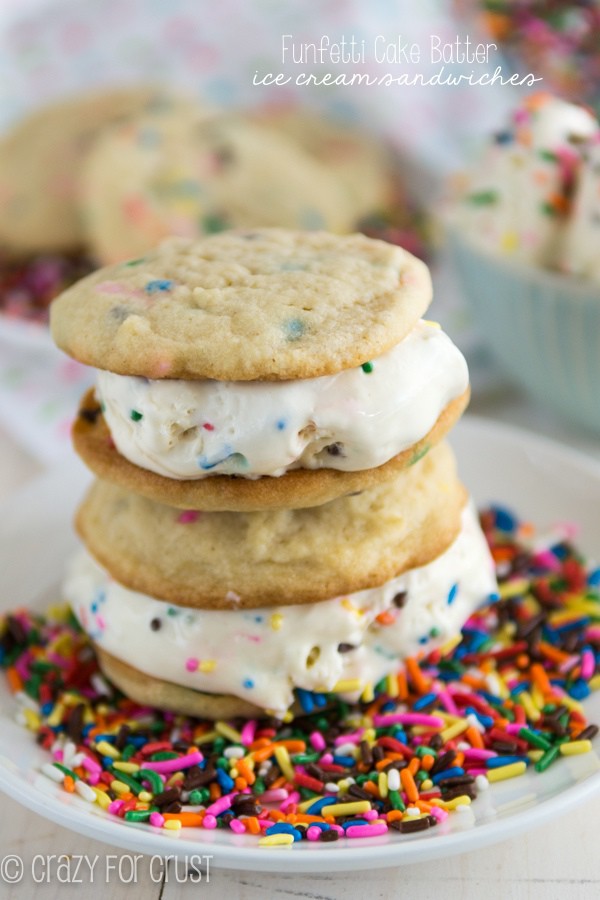 Last week we had dinner and movie night (our standard when Dad is on a business trip) and Jordan chose to watch the new version of The Parent Trap. Normally I end up working through movie night because, let's be honest, there is only so many times I can watch Space Buddies or Princess Protection Program before my eyeballs explode.
I started off checking emails and pinning…and within about 15 minutes the laptop was closed I was totally sucked into the movie. It brought back so many memories of my childhood watching the original Parent Trap movie. I was obsessed with that movie as a kid, and so many of the lines in the new version are exactly the same as the original. I found myself reciting along and totally drawn into the story, even though I knew the ending.
It's just too bad when Jordan asked what other movies Lindsay Lohan has been in I had to shut her down. When she asked why I just said "Miley Cyrus and Justin Bieber." She understood.
Speaking of cuh-razy, let's talk about these ice cream sandwiches. They start with Cake Batter Ice Cream!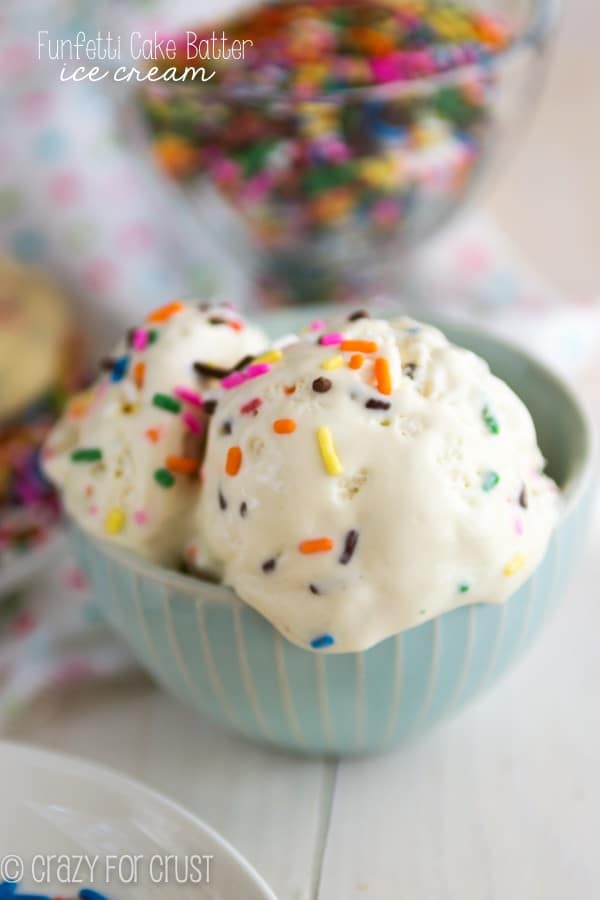 Now, if you read my blog at all, you know that 99.9% of the time I make Easy Ice Cream. I do own an ice cream machine, but I forget to freeze the canister. Plus the easy version is just so easy! Get all my No Churn Ice Cream Recipes here.
If you've never had easy ice cream, it's only got two base ingredients: sweetened condensed milk and whipped cream. Once frozen, it turns into amazing ice cream!
To make my easy ice cream, I like to use fat-free sweetened condensed milk. Eagle brand makes it, and Walmart has a generic version. If you can't find it, use the regular sweetened condensed milk.
For the whipped cream component, you can whip heavy whipping cream. Or, you can use Cool Whip. I use the fat free kind, use your favorite.
Now, I know how some of y'all feel about Cool Whip. Please spare me the "death" comments. I'll shout it from the rooftops to anyone who will listen: I Love Cool Whip.
But you don't have to use it. You can use fresh whipped cream, is my point.
Then you add your flavoring. To make this Cake Batter, I used butter extract. I prefer that to using cake mix because I hate having open boxes of cake mix all over the place and butter extract achieves the same goal. Toss in some sprinkles and you have funfetti!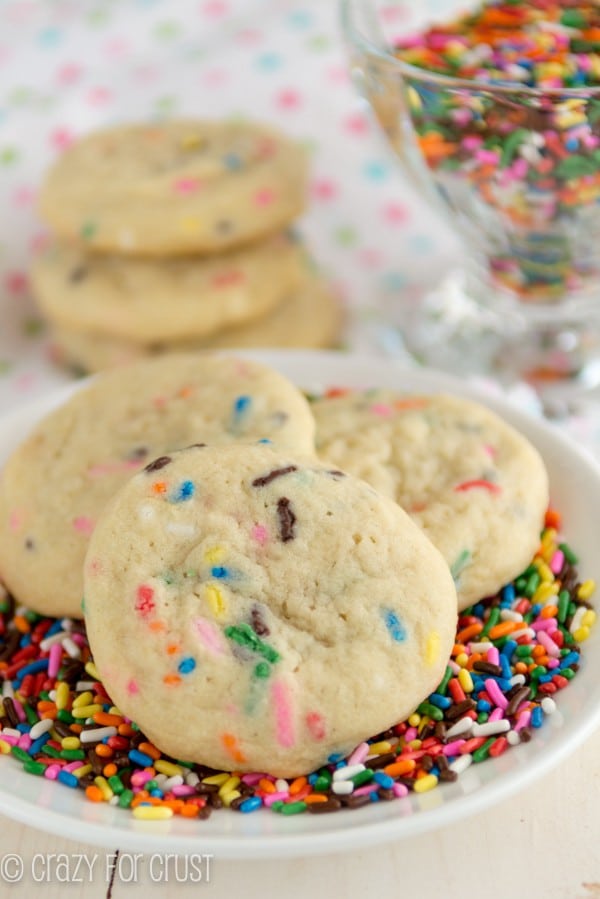 The ice cream is amazing on it's own, but it's even better when it's sandwiched between two cookies. #anythingisbetterwithcookies
I used my Perfect Sugar Cookie recipe to make these cookies. In that recipe I have a sprinkle variation – just add some sprinkles to the batter before baking. They add some extra sweetness and a little funfetti crunch, so they're perfect without frosting.
They're also perfect when sandwiched with Cake Batter Ice Cream!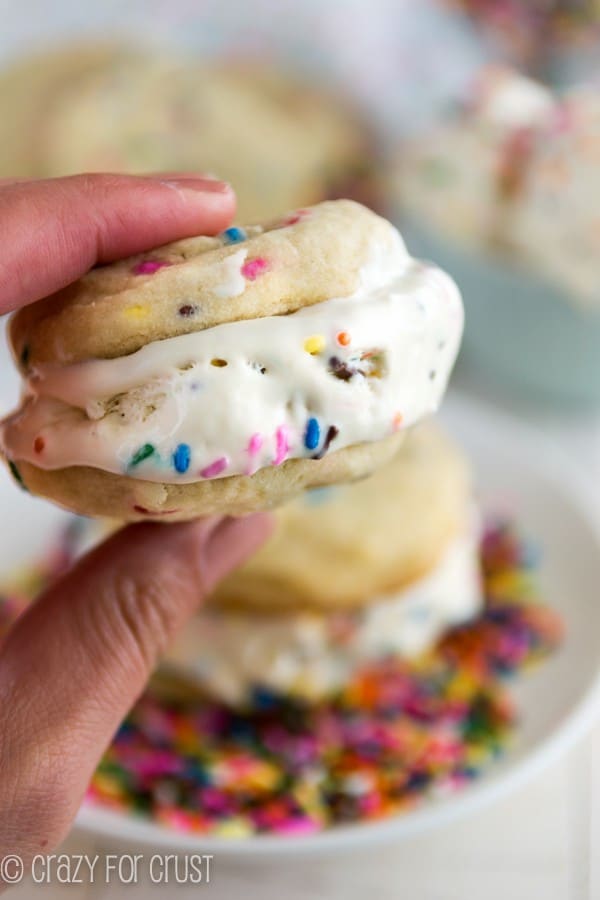 I suggest that you have both components made and ready, then make the ice cream sandwiches right before serving. Freezing them made the cookies too hard to enjoy, and by the time they thawed out enough to eat the ice cream was a soupy mess.
I had a hard time just eating one of these ice cream sandwiches. I have a really hard time eating only one or two of the cookies alone, so when paired with homemade ice cream? I'm done for.
And, of course, kids love these. Show me a kid that doesn't like (1) cake batter or (2) sprinkles and I'll be shocked.
I'd say show me an adult who felt that way and I'd be shocked too, but I live with one. (An ice cream he will eat is coming up later this week!)

So Cake Batter Ice Cream + Funfetti Sugar Cookies = The BEST Ice Cream Sandwiches!
If they make it to ice cream sandwiches, that is. 🙂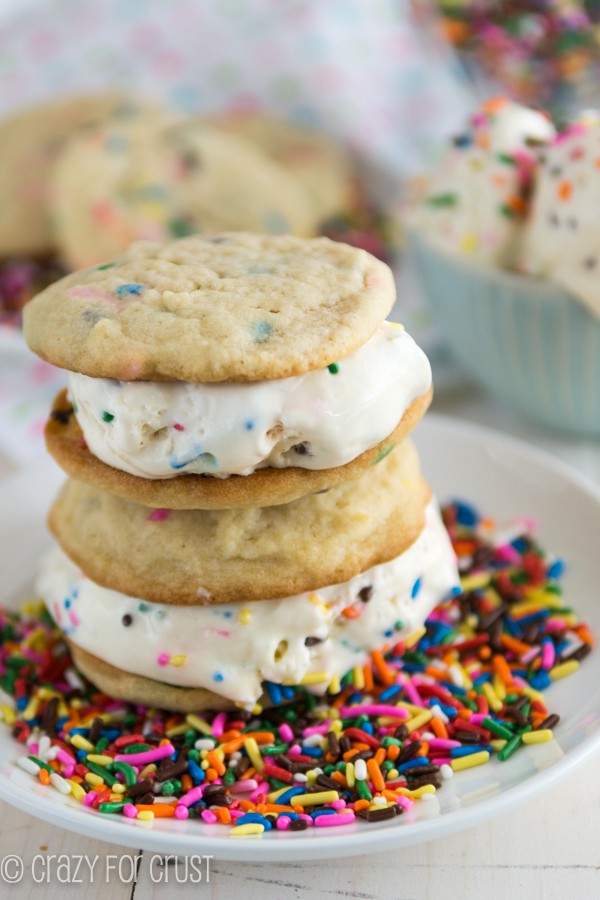 Don't forget to go check out Ashton's Ice Cream Recipes this week for ice cream week!
Be sure to check out all my funfetti recipes!
Funfetti Cake Batter Ice Cream Sandwiches
Easy ice cream sandwiches made with my favorite sugar cookies and cake batter ice cream.
Ingredients
1

recipe Perfect Sugar Cookies made using the sprinkle option

baked and cooled (or your favorite store-bought cookie)

1

14 ounce can sweetened condensed milk (I like to use the fat-free kind)

1 1/2

teaspoons

vanilla extract

1

teaspoon

butter extract

2

8 ounce containers Cool Whip (regular, light, or fat-free), see note

2/3

cup

sprinkles

rainbow jimmies
Instructions
Place the sweetened condensed milk in a large bowl. Stir in the vanilla and butter extracts. Fold in the Cool Whip and the rainbow sprinkles.

Place ice cream mixture in an airtight container. (You can use both of the Cool Whip containers, it will fit.) Freeze for at least 4 hours or overnight.

When ready to serve: sandwich 1/4 cup of ice cream between two cookies. I do not suggest making these and freezing them - the cookies get too hard. Make and serve immediately.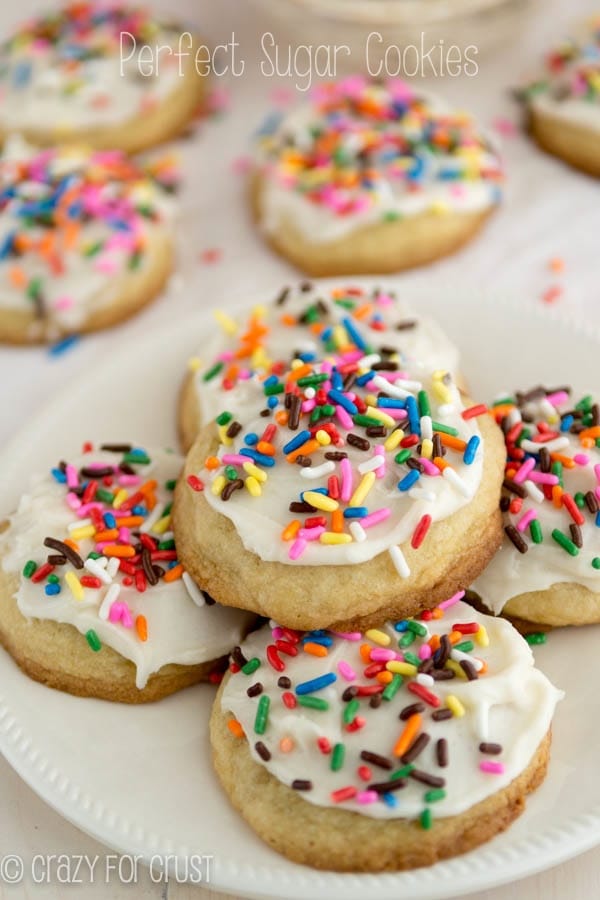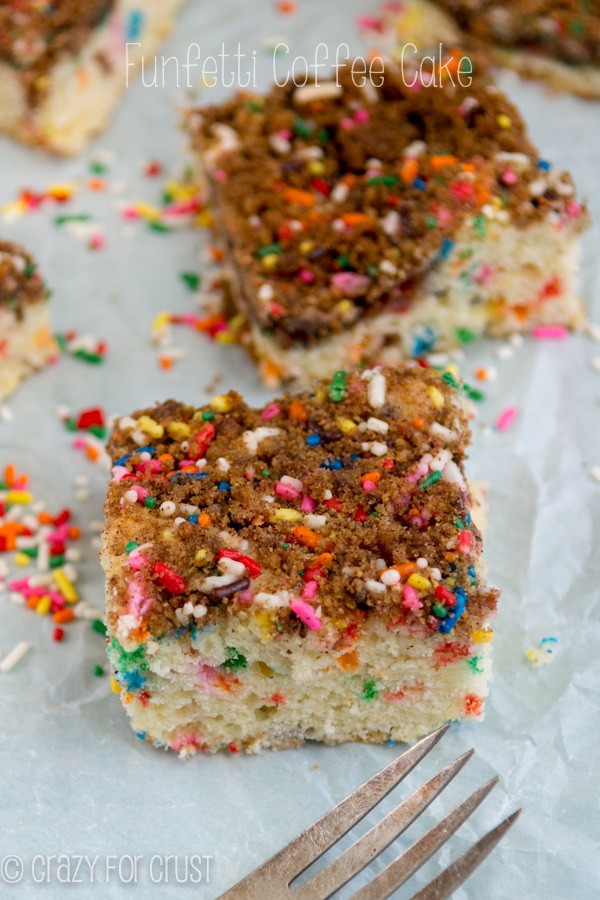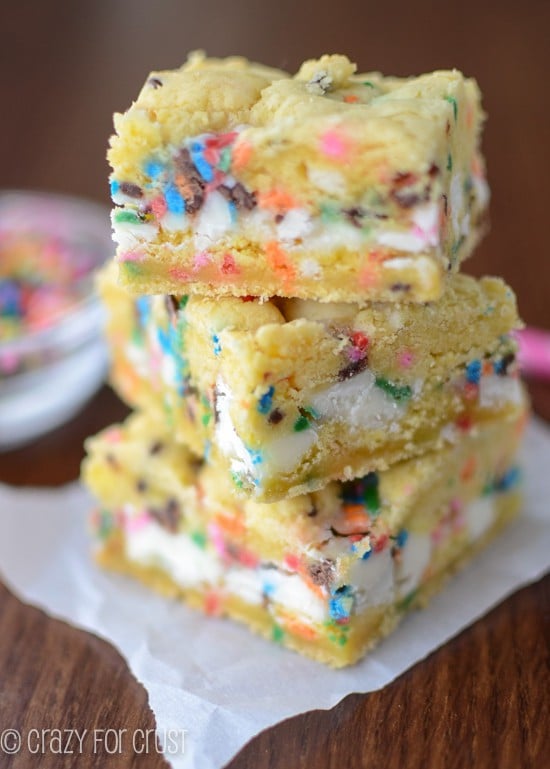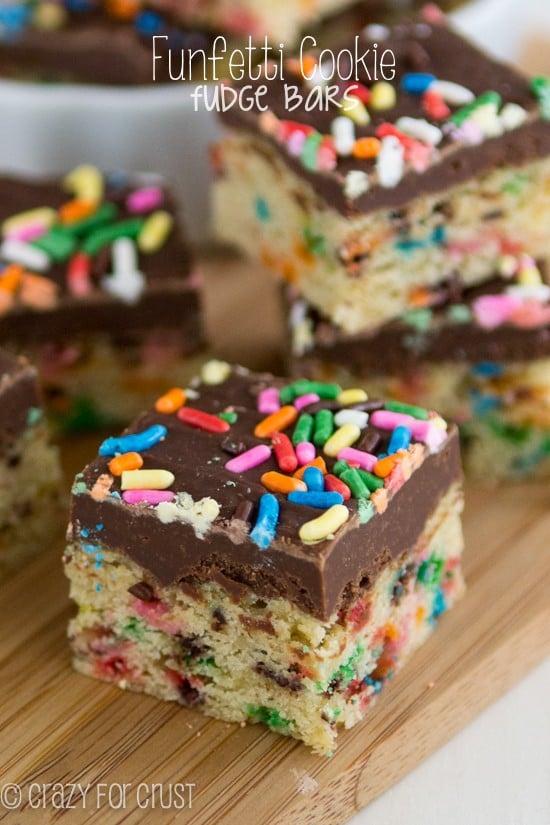 Sweets from friends:
Funfetti Millionaire Cake by Life, Love, and Sugar
Easy Homemade Funfetti Cake by Sally's Baking Addiction
Funfetti and Oreo Sprinkle Chocolate Chip Cookies by Averie Cooks
All text and images © DOROTHY KERN for Crazy for Crust. Please do not use my images without prior permission. If you want to republish this recipe, please re-write the recipe in your own words, or link back to this post for the recipe. Disclaimer: Nutrition information shown is not guaranteed to be accurate.
This post may contain affiliate links. For more information, read my disclosure policy.
Published on: July 14, 2014