This post may contain affiliate links. For more information, read my disclosure policy.
French Silk Brownies – Two desserts I love: French Silk Pie and Brownies, all in one bite! This is the ORIGINAL French Silk Brownies recipe! They're a fudge brownie topped with an eggless french silk pie filling…I'm sorry for your waistline.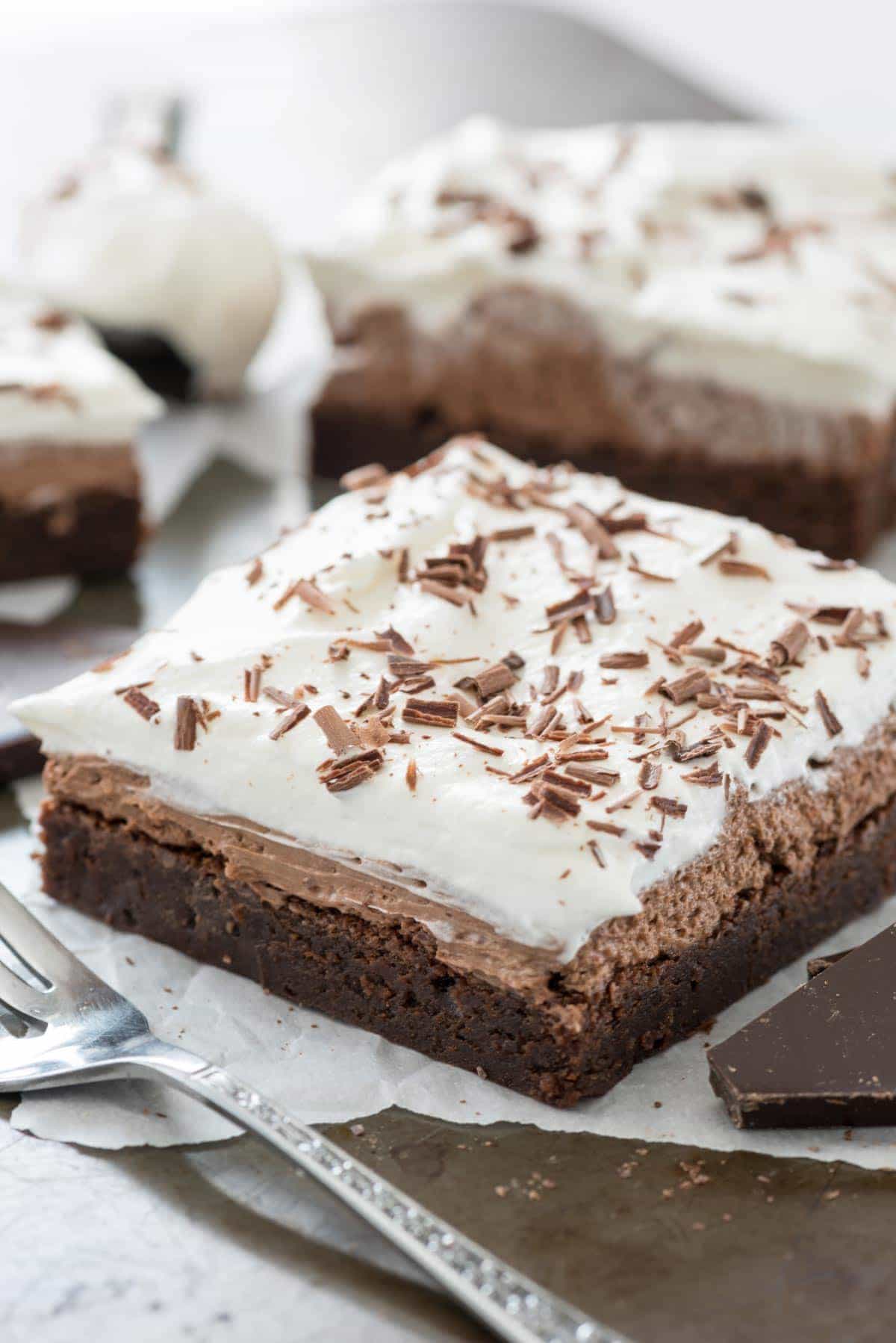 What is it with the end of the school year? The powers that be seem to pack one millionty things into 6 weeks and it drives me insane.
First up is the Revolutionary War re-enactment, where Jordan plays a Mulan-esque soldier who was injured in battle. She needs a costume, so I have to figure out how to make a Continental Soldier's jacket that will live up to all the costumes of kids with moms who care. (Edited to add: I figured out how to make one. It's called Amazon.)
Then comes the science fair project to be displayed at Open House. I'm kind of excited about this one, because Jordan chose to work with cupcakes for her experiment…then I remind myself that I'm not doing the project, I have to let her do it, and instead of excitement I feel dread because instead of just getting it done I'll be nagging her until the last minute.
And, of course, we can't forget about all of the band concerts, talent shows, class parties, and other events that make me look at my calendar and scratch my head. I think the only event I am looking forward to with glee is the week the 5th graders learn about "Family Life" and I'm only excited about that because I get to watch Jordan squirm.
I swear, being a parent is hard. Food babies are so much easier, don't you think? And I'm really good at creating that: marrying two foods and making them have a baby.
French Silk Brownies: French Silk Pie married Brownies and they had a baby: a fudgy brownie topped with an eggless French Silk filling!!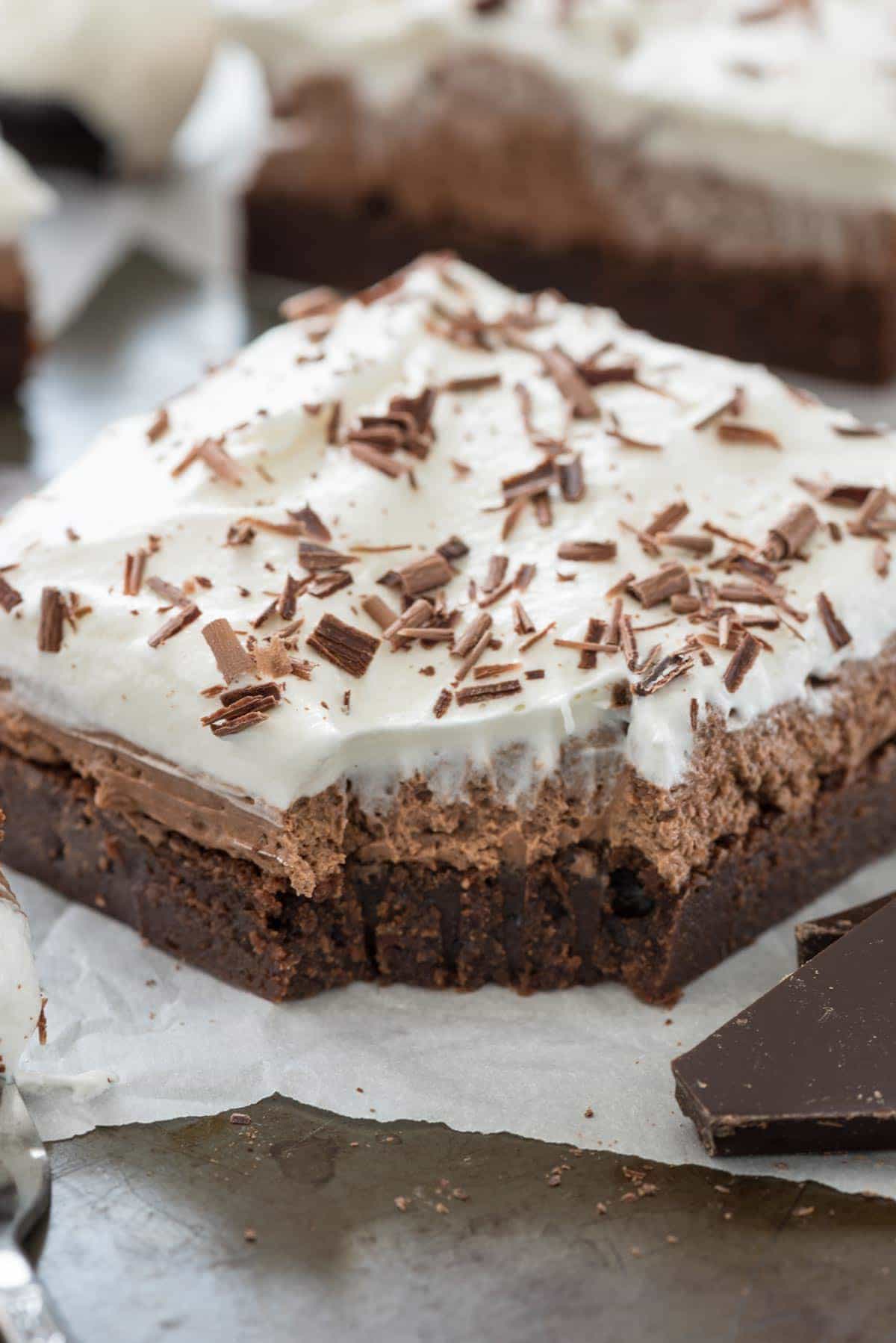 This recipe was one of those ones that I had to get out of my house immediately. I took a bite to taste them and I knew I was doomed to inhale the entire pan if I wasn't careful.
They start with my favorite brownie recipe. It has 3 kinds of chocolate and is made with melted butter. It's the richest and most fudgy brownie recipe! You bake and cool them before you add the topping.
Now, I'm partial to my homemade brownies but I love a box mix almost just as much. If you're in a pinch or just don't have the time, you can use a box brownie mix. Just make them according to the package directions for a 9×13″ pan. (Better yet, have you made up a batch of my Homemade Brownie Mix to stash in your pantry?)
Then comes the fun part.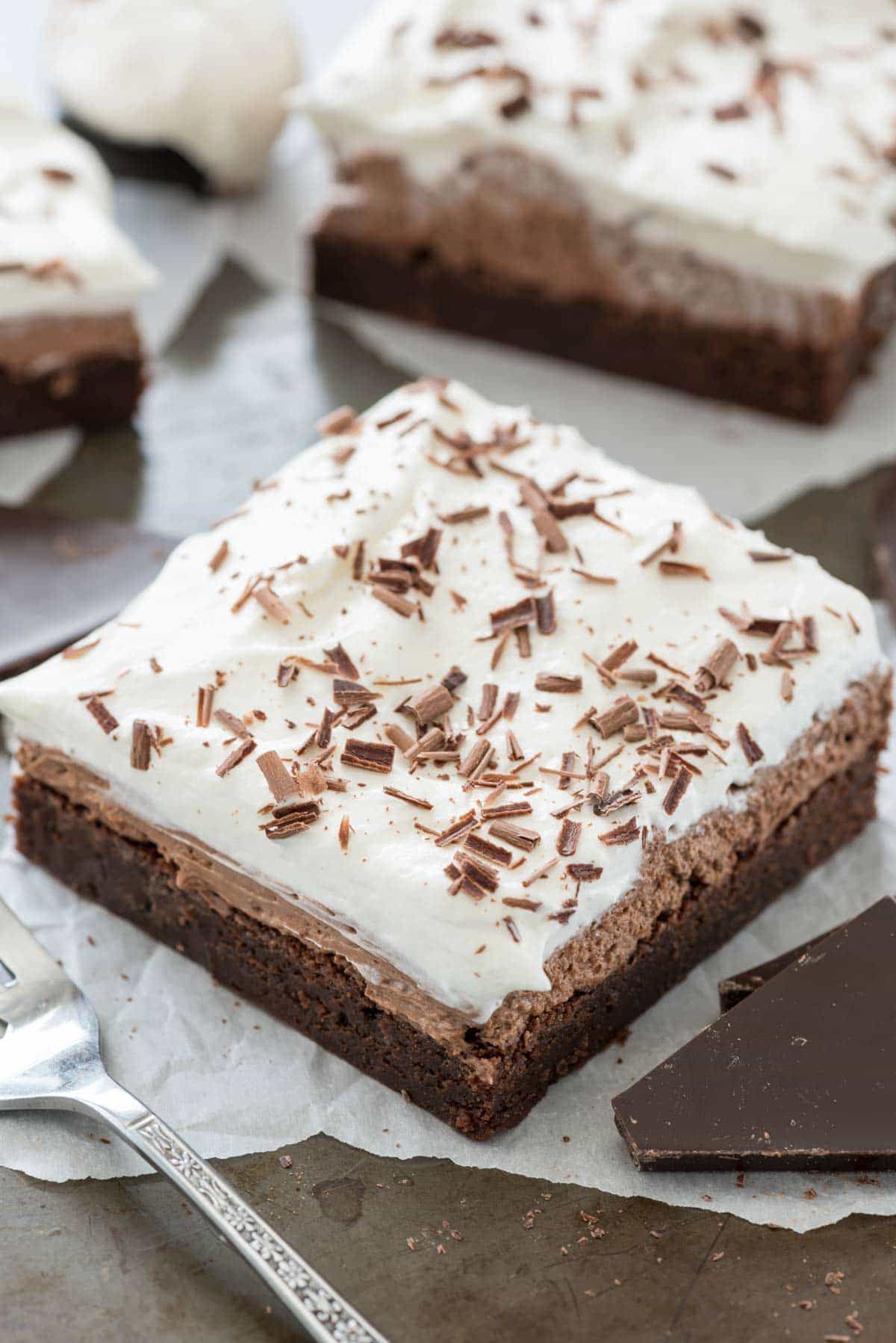 French Silk Brownies is an easy recipe FULL of chocolate and brownie flavor; everyone cannot get enough of these!
Once the brownies are cool, it's time to add the french silk. Now, I know that "traditional" french silk uses eggs; they're not really cooked (some recipes call for using pasteurized eggs) and, well, that freaks me out. I know I ate French Silk Pie by the pound at Baker's Square for years before I realized how they were made and I didn't die…but still.
To keep myself safe and sane (because using raw eggs would have inevitably caused me to get tons of hate comments), I made an EASY french silk recipe that uses NO eggs! That's right, it's fluffy, chocolatey, and tastes just like the real thing…but it's safe to eat no matter who makes it.
What's the secret? Melted baking chocolate, cream cheese, and whipped topping (or whipped cream). You mix those together and you get a fluffy chocolatey pudding mousse french silk texture! Plus, the taste is INSANELY good.
Simply spread it on top of the brownies, top with more whipped cream and some chocolate shavings, and then try to get it out of the house as soon as possible. And if you don't love brownies as much a s I do, try out my French Silk Cupcakes. They're amazing too! The next thing I'm going to try? Frosting my brownies with Tiramisu Mousse.

I ate way more of these than that one bite, FYI… 🙂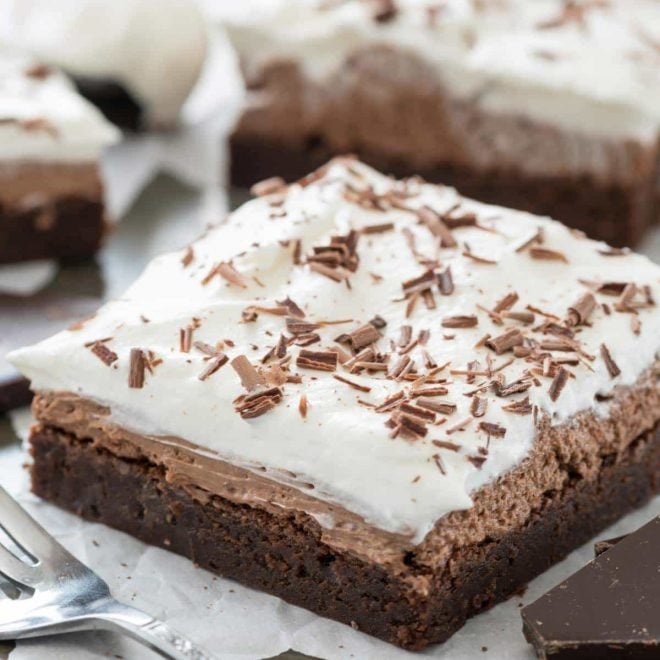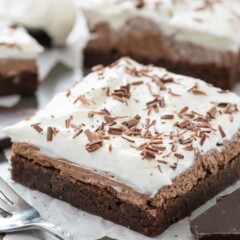 French Silk Brownies
These French Silk Brownies are the best recipe! Start with my favorite brownie recipe or a box mix and top them with egg-free easy french silk! These are EPIC brownies we couldn't stop eating.
Ingredients
For the Brownies:
1

box brownie mix

plus ingredients to make the brownies, OR use the following brownie recipe:

2

ounces

unsweetened baking chocolate

2

ounces

semi-sweet baking chocolate

3/4

cup

unsalted butter

1 3/4

cups

granulated sugar

3

eggs

1

tablespoon

vanilla extract

1/2

teaspoon

salt

2

tablespoons

unsweetened cocoa powder

1

cup

all-purpose flour
For the French Silk:
4

ounces

semi-sweet baking chocolate

plus more for garnish

8

ounces

cream cheese

softened

16

ounces

2 - 8 ounce tubs Cool Whip (see note)

1

teaspoon

vanilla extract
Instructions
You can make a box brownie mix according to package directions, or make my favorite brownie recipe as directed in step 2. Let them cool completely. It's probably easiest to make these straight in the pan without foil, or use parchment instead for ease of cutting.

To make my brownie recipe: Preheat oven to 350°F. Line a 9x13" pan with foil or parchment and spray with nonstick cooking spray. Place baking chocolates and butter in a large microwave safe bowl. Heat in 30 second increments, stirring between each, until melted and smooth (about 2 minutes depending on your microwave). Stir sugar into chocolate mixture, then stir in eggs until well mixed. Add the vanilla, cocoa, and salt and stir until smooth, then carefully stir in the flour. Pour batter into the pan and bake for about 20-25 minutes until a toothpick comes out with just a few crumbs an inch from the side of the pan. I like to make these a little underdone so they stay fudgy and rich.

Melt chocolate in a large microwave safe bowl for 30 seconds, then stir, heat for 30 seconds again, then stir well, then heat on 10 second increments, stirring between each, until smooth. Let cool 5 minutes.

Beat cream cheese in a large bowl with a hand mixer until smooth. Add chocolate and mix until combined, then mix in vanilla. Fold in half of the Cool Whip (one 8 ounce container).

Spread the chocolate mixture on top of the brownies, then top with second container of Cool Whip. Use a potato peeler to shave some additional baking chocolate all over the top.

Chill for at least one hour before serving to allow it to set. Store in the refrigerator for up to 3 days.
Recipe Nutrition
Serving:
1
brownie
|
Calories:
316
kcal
|
Carbohydrates:
35
g
|
Protein:
4
g
|
Fat:
19
g
|
Saturated Fat:
12
g
|
Cholesterol:
66
mg
|
Sodium:
1164
mg
|
Fiber:
2
g
|
Sugar:
27
g
Nutritional information not guaranteed to be accurate
The BEST Brownie Recipe (can be made gluten-free)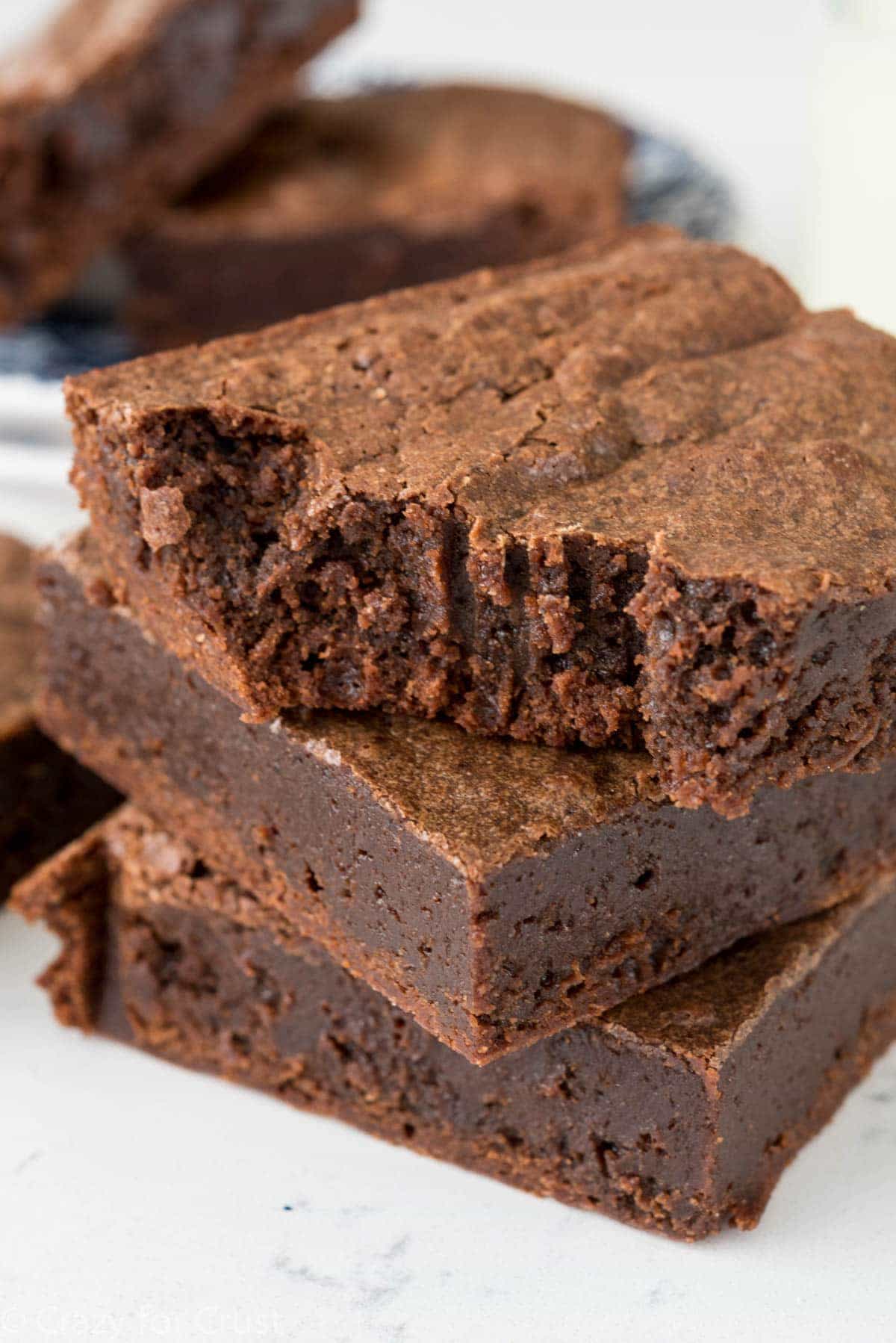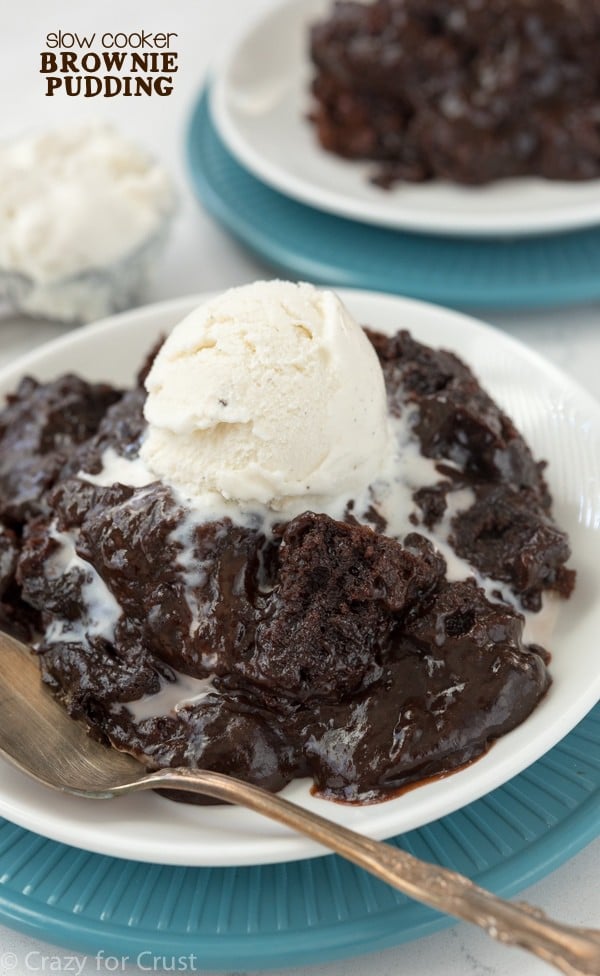 Peanut Butter Ice Cream Brownies
Sweets from friends:
The Best French Silk Pie by Averie Cooks
Chocolate French Silk Pie Bars by A Farmgirl's Dabbles
French Silk Pie Cookies by A Cookie Rookie
Last Updated on February 2, 2023