This post may contain affiliate links. For more information, read my disclosure policy.
I'm just gonna say what you're all thinking: these brownies are ridiculous. But in a very, very good way.
They're what happens when Crack Brownies marry Slutty Brownies: they're fudgy, chocolatey Peanut Butter Cup Brownies that have an Oreo Crust.
Like I said, ridiculous. But you want them anyway.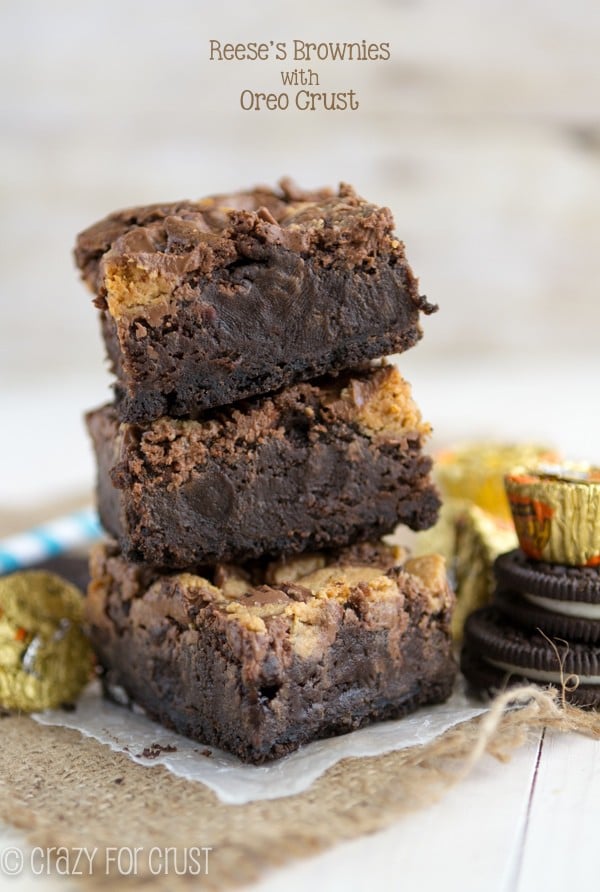 Sometimes I surprise myself. Sometimes I have to just gape in awe at my brilliance as a dessert thinker-upper.
Yes, that's my new title. Like it?
Dessert Thinker-Upper (noun): a person who thinks deeply and seriously about dessert and who comes up with ridiculous dessert recipes that make you drool.
So in my role as Dessert Thinker-Upper, I'm always thinking about my next new dessert. I think about it at the gym, in the shower, and while I'm driving. I think about desserts when I'm trying to play Life with my daughter and when my husband talks to me about NFL Total Access. Long car trips? The perfect time for thinking up crazy ridiculous desserts.
If you read my post yesterday, you'll know all about my trip to Palm Springs. On the way home I was thinking on a dessert I could make to send to our friends who lent us their condo, to say thanks. Because that's how I say thank you: with dessert.
Makes you want to do something nice for me, doesn't it?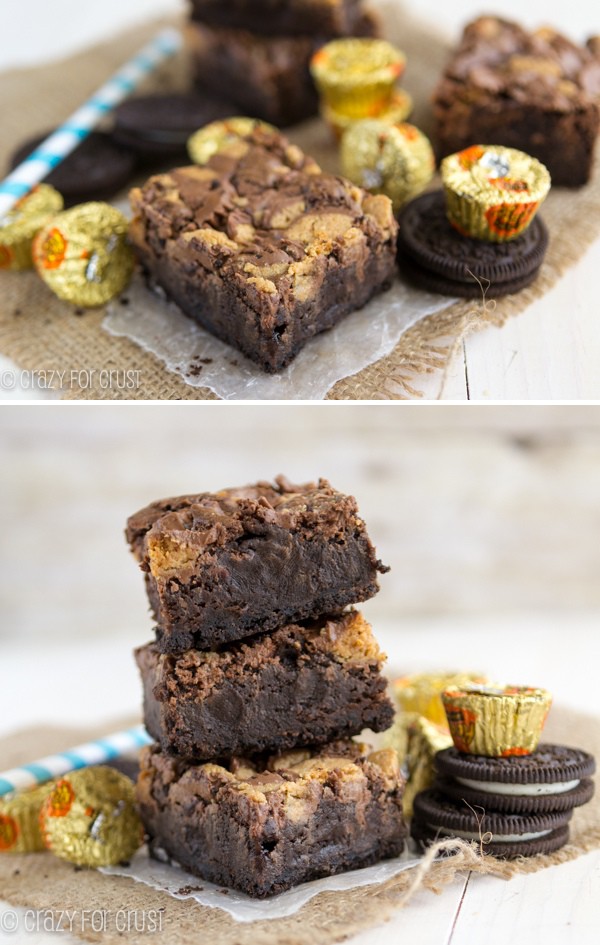 Anyway, the treats needed to be mailed, so I thought cookies then bars then brownies. Because besides pie, I always think about brownies.
My next website needs to be Crazy for Brownies.
And if I could pick one kind of brownie to eat, it would have a crust. Brownies are just better with crust! If you don't believe me, try it. You'll thank me.
Naturally my next thought was an Oreo Crust. Because, well, who doesn't love that?
And then, well. I thought, go big or go home. And I decided I would throw chopped Reese's Peanut Butter Cups on top.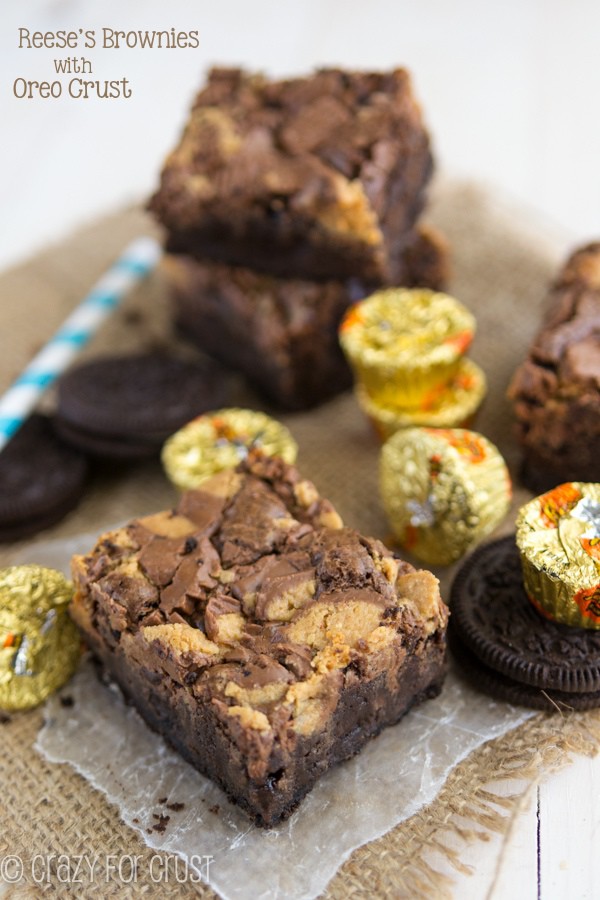 I mean, do I even need to describe how good these are?
Crunchy Oreo crust.
Rich, fudgy, thick chocolate brownie. (These are baked in a 9×9 pan for ultimate thickness!)
And, BTW, fudgy, gooey brownie is where it's at. Cakey, dry, sub-par brownies need not apply at Crazy for Brownies.
Chopped Miniature Reese's Peanut Butter Cups.
Like I said, ridiculous.
In a good way.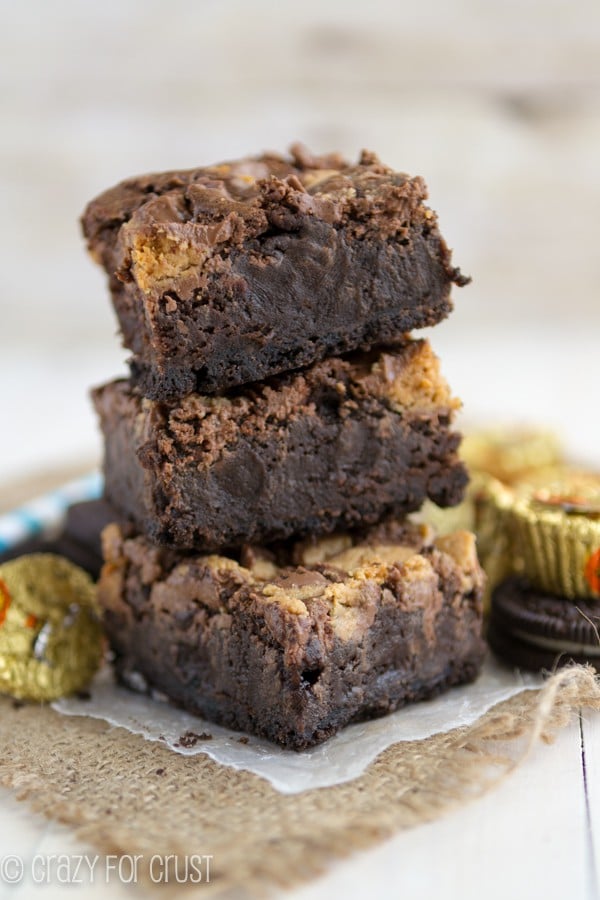 My job is hard. But someone has to do it.
You're welcome.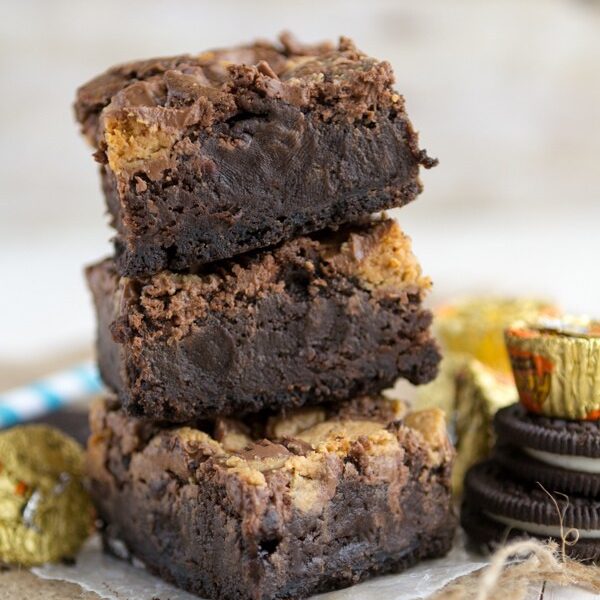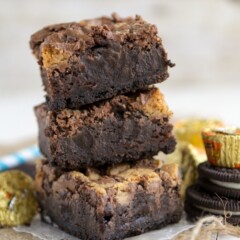 Peanut Butter Cup Brownies with Oreo Crust
These Peanut Butter Cup Brownies with Oreo Crust are the ultimate brownie! A crunchy Oreo crust topped with a homemade rich and fudgy brownie is baked with chopped Reese's Peanut Butter Cups!
Ingredients
For the Crust:
20

Oreos

1/4

cup

butter

melted
For the Brownies:
2

ounces

unsweetened baking chocolate

coarsely chopped

2

ounces

semi-sweet baking chocolate

coarsely chopped

3/4

cup

unsalted butter

1 3/4

cups

sugar

3

eggs

1/4

teaspoon

salt

1

tablespoon

vanilla extract

2

tablespoons

unsweetened cocoa powder

I used Hershey's Special Dark

1

cup

all-purpose flour

25

Miniature Peanut Butter Cups

Reese's, unwrapped and coarsely chopped
Instructions
Preheat oven to 350°. Line a 9x9" pan with foil and spray with cooking spray.

Crush Oreo cookies to a fine crumb using a food processor. You can also place them in a gallon size ziploc bag and roll it gently with a rolling pin until you have a fine crumb. Stir cookies into melted butter and press into the bottom of your pan. Chill until brownies are prepared.

Place the two baking chocolates and butter in a large, microwave safe bowl. Heat on HIGH power for 2-3 minutes, stirring every 30 seconds, until chocolate is smooth. Stir in sugar. Add eggs, salt, vanilla, and cocoa and stir well. Add flour and stir carefully.

Spread batter in prepared pan. Sprinkle the top with the chopped peanut butter cups.

Bake about 31-34 minutes, until a toothpick 1 inch from the outside of the pan comes out mostly clean. The center may still be a little jiggly. Let cool before cutting.

Store in an airtight container at room temperature for up to 4 days, or place in an airtight container and freeze for up to one month.
Nutritional information not guaranteed to be accurate
Click here to see more PEANUT BUTTER recipes!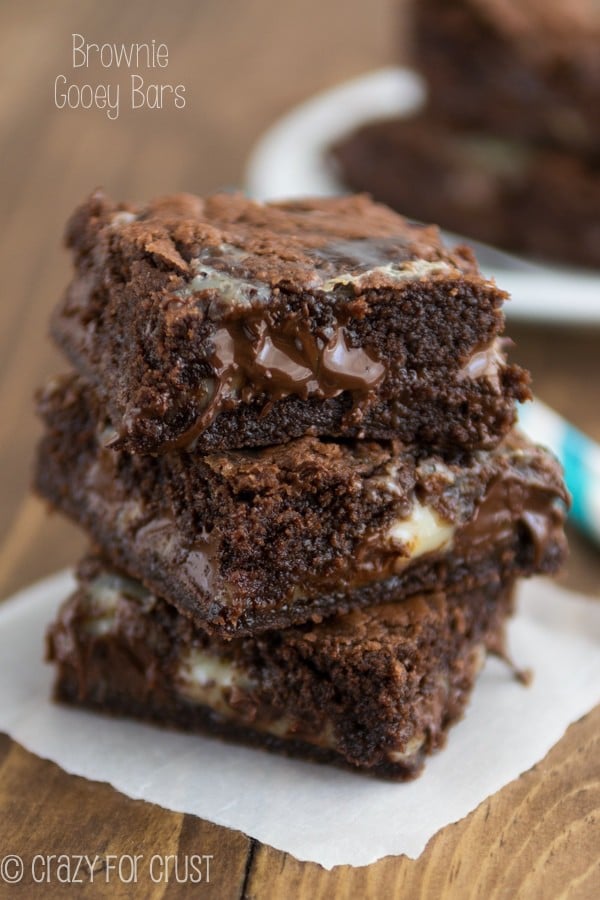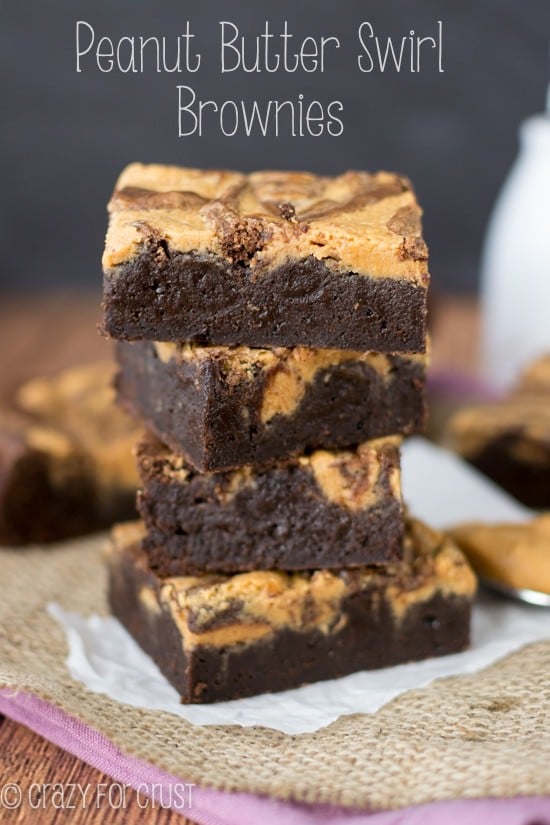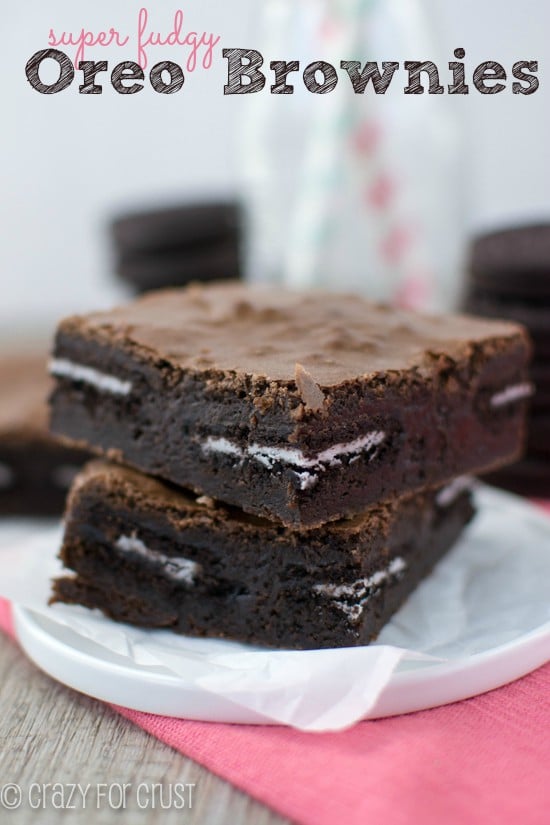 Sweets from friends:
The Ultimate Chocolate Peanut Butter Brownie Sundae by Bless This Mess
Brownie Pudding by Cookies & Cups
Oreo Cream Brownies by Something Swanky
Last Updated on August 21, 2018