This post may contain affiliate links. For more information, read my disclosure policy.
Learn how to make the BEST EVER Brownie Frosting! It's a cooked chocolate fudge frosting that coats the brownies like a rich ganache. It's irresistible and takes an ordinary brownie to a whole new fudgy chocolate level.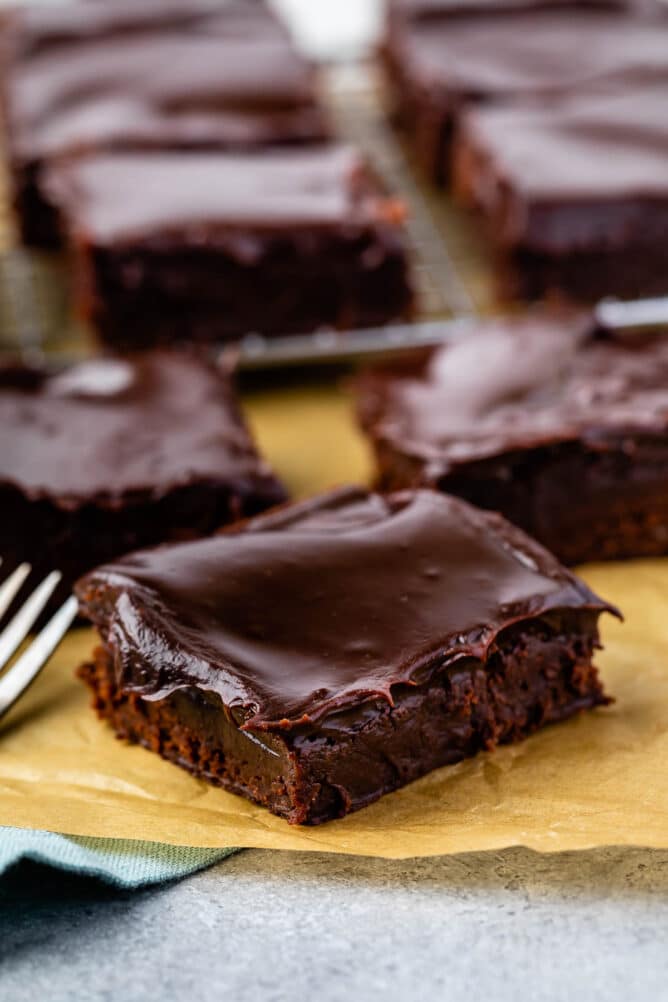 How make Brownie Frosting Video
These easy double chocolate fudge brownies were my undoing the first time I made them. I could not resist them at all!
The actual brownie part is fantastic – rich and fudgy – but it's the brownie icing that's really the star. It's has a texture like ganache and is super-rich like fudge. So, the best name for it is double fudge frosting. It. Is. To. Die. For. I mean…just look.
The BEST Brownie Frosting Ever!
This chocolate frosting for brownies is the best I've ever had. It's a cooked chocolate frosting with heavy whipping cream, butter, and sugar. You pour it on the brownies and let it cool. It's like ganache but better.
You can use it to top any brownie recipe, but I love it with my brownies made with my homemade brownie mix. But you know what? It's a great addition if you want to make a box mix. It will take them to a whole new level.
With this frosting, you will get the best double fudge brownies!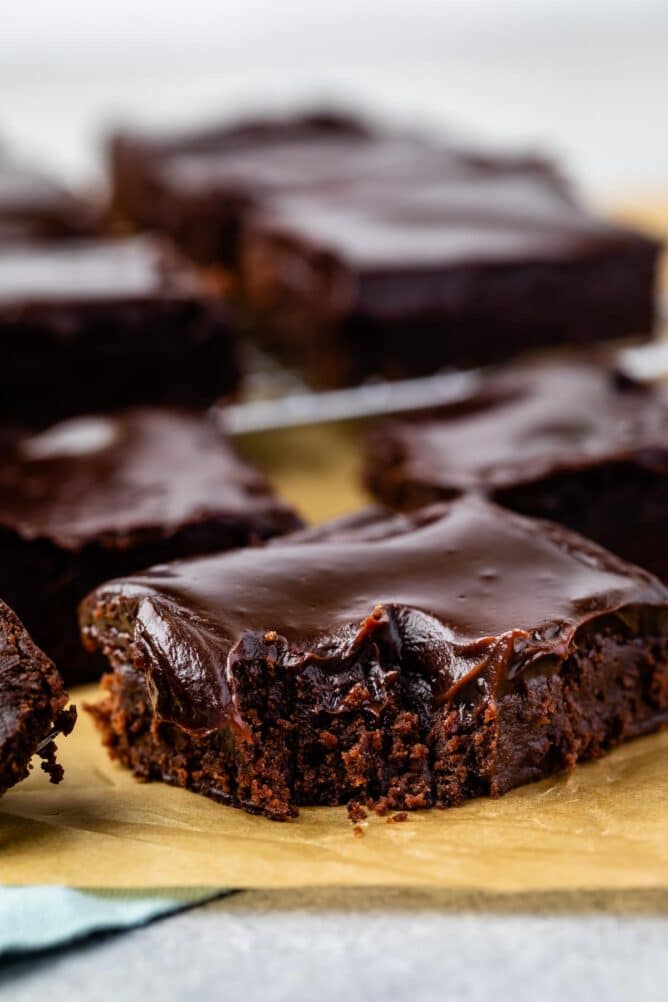 What makes a good frosting for brownies?
I think the best brownie frosting recipe for brownies is the kind that looks a little shiny and coats the top of the brownies like ganache. It's not light and fluffy like chocolate buttercream. Instead, It's similar to old-fashioned frosted brownies: rich and fudgy.
You need to use real butter and heavy cream to get that texture and richness. Plus, the frosting is cooked, which thickens it and gives it the best texture.
So, instead of beating the frosting ingredients with a mixer, you combine them in a pan and heat them on the stove. Then you just pour the icing over the brownies.
What you get are the best fudgy frosted brownies. I mean, do you need any more convincing? You have to try this chocolate icing for brownies!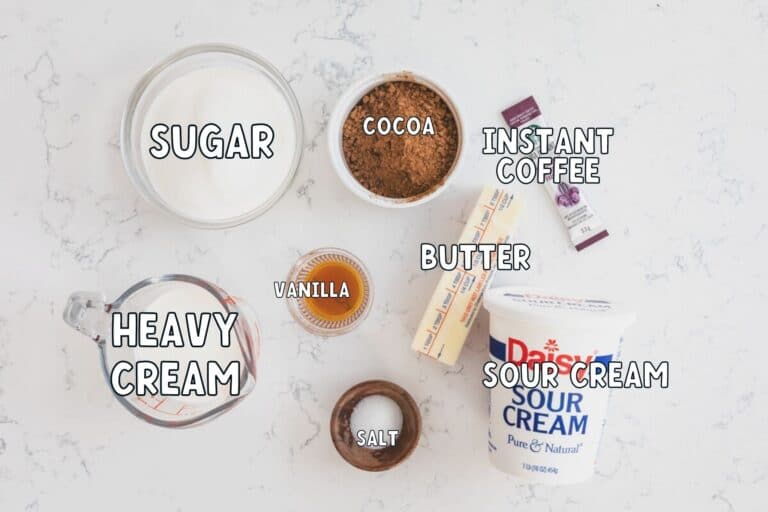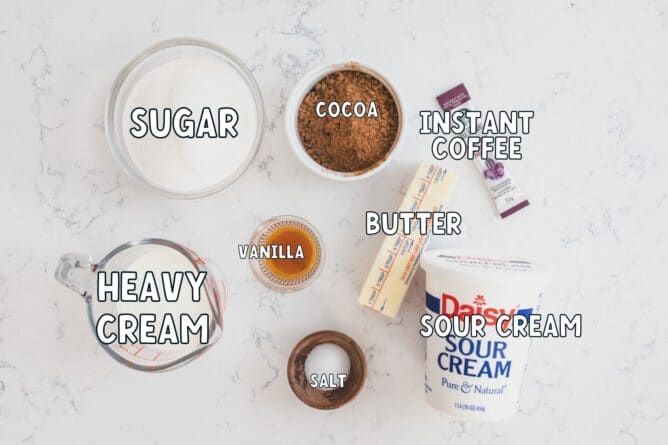 Ingredients in the BEST Brownie Frosting
Brownies: For this recipe, you can use a store-bought brownie mix. Just follow the instructions on the box! Or, make homemade double chocolate brownies with my from-scratch brownie mix instead. Make and bake the brownies first and then let them completely cool before icing them.
Heavy whipping cream: There is no substitute for this!!!
Sour cream: Also, no substitute for this – it makes a nice creamy frosting.
Instant coffee granules: This is optional! Your frosting won't taste like mocha or coffee, but the bit of coffee accentuates the chocolate flavor, making it much deeper and more intense.
Vanilla extract: For flavor
Unsalted butter: If you're using salted butter, omit the salt.
Granulated Sugar: Weird, I know! But it's a cooked frosting!
Cocoa: Use any unsweetened cocoa powder – you can use regular, dark or dutch process. Learn all about cocoa!
Pinch salt: To accentuate the flavor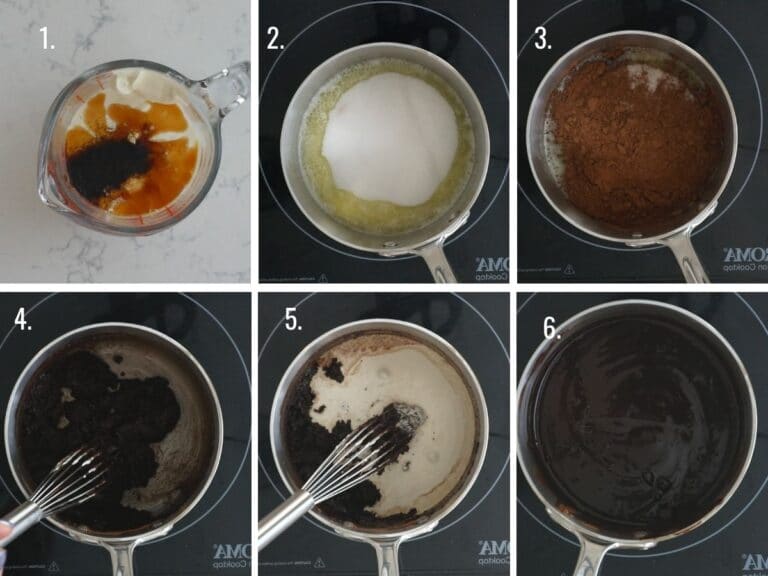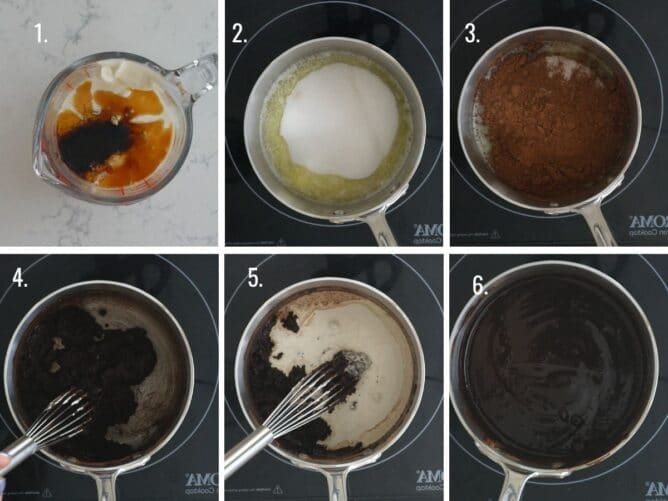 How to Make Brownie Frosting
Whisk the cream, sour cream, instant coffee, and vanilla in a bowl or large measuring cup.
Place the butter in a saucepan and melt over low heat. Once it's melted, whisk in the sugar.
Then add the cocoa powder, and salt.
Whisk them until they're thick and combined.
Slowly add the wet ingredients while whisking, and then cook the frosting for two to three minutes over low heat. Don't let it boil.
As it cooks, it will slightly thicken – once that happens, take the pan off the heat.
Pour the frosting over the brownies and use a spatula to smooth it. Allow the frosting to cool completely. Chill the frosted brownies in the refrigerator if you want the frosting to harden.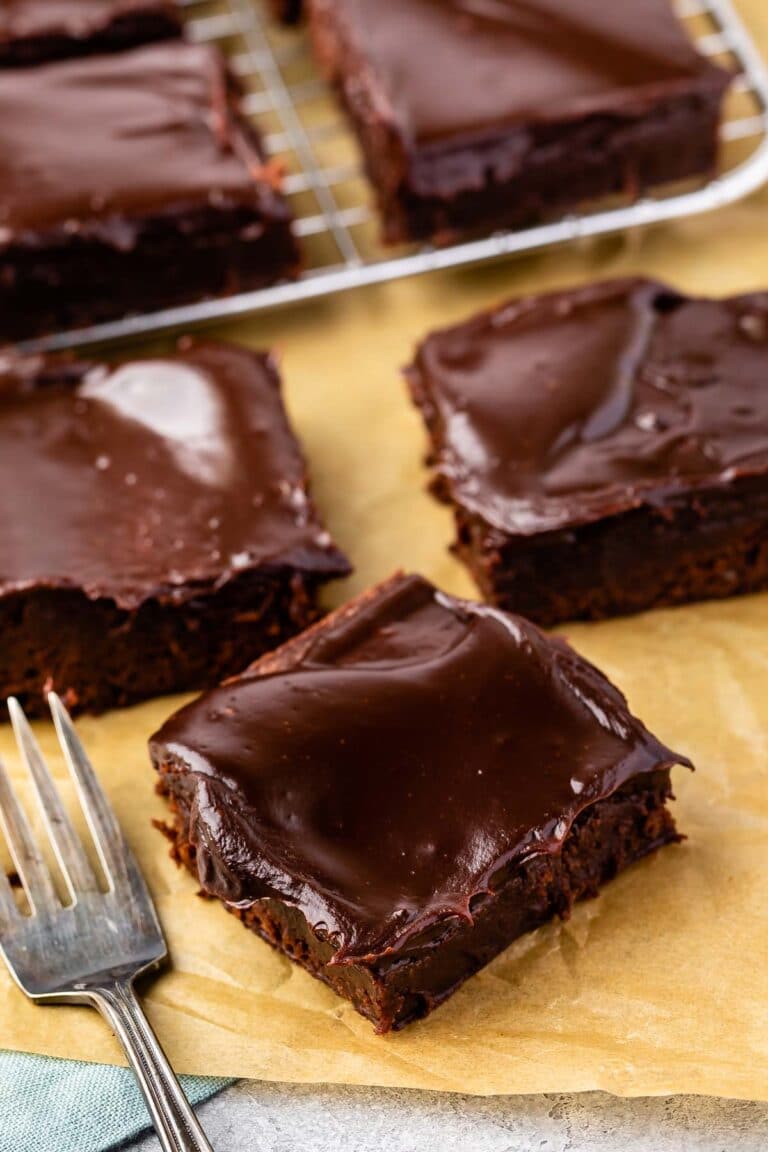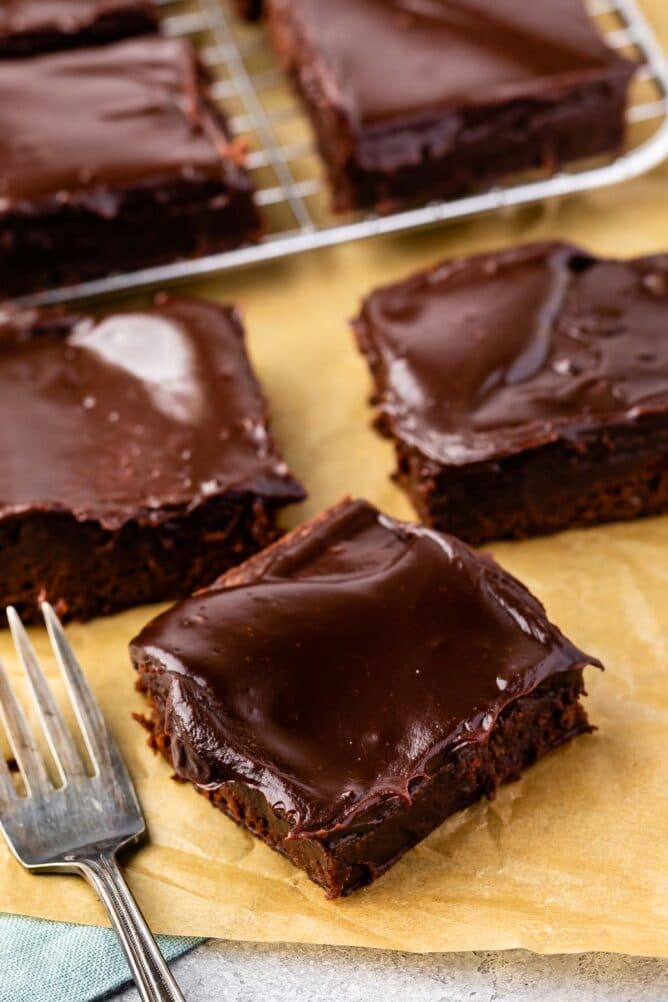 Expert Brownie Icing Tips
The instant coffee is optional, but it gives the frosting a rich chocolate flavor, so I definitely recommend using it.
Don't boil the frosting when you cook it. Instead, cook it on low for the recommended time. This will ensure you get a rich, fudgy texture.
Wait to ice the brownies until they are completely cooled.
Store frosted brownies loosely covered at room temperature. They will keep for three days.
Or, store them in the refrigerator if you prefer hardened icing.
FAQ:
Can I put frosting on brownies?
Yes! Frosted brownies are so good.
What can I substitute for heavy whipping cream?
There is no substitute. For the best frosting, top your brownies with heavy whipping cream frosting.
Can I use any brownie recipe?
Yep! Any homemade brownie recipe or brownies from a mix will work.
Does the frosting harden?
No, it won't harden on its own at room temperature. You can refrigerate the frosted brownies if the frosting is set up more.
When should I add the icing to the brownies?
Wait until the brownies are cooled to frost them.
Can I decorate the brownies?
I think sprinkles would be fun!
What other frosting recipes could I use?
Brownies are great with vanilla buttercream, chocolate buttercream, or chocolate cream cheese frosting!
Favorite Other Brownie Recipes
The next time you make brownies, turn them into double fudge chocolate brownies with this fantastic brownie frosting recipe! It is the best way to add a chocolatey finishing touch. Enjoy!
Have you made this recipe?
Tag @crazyforcrust on Instagram or hashtag it #crazyforcrust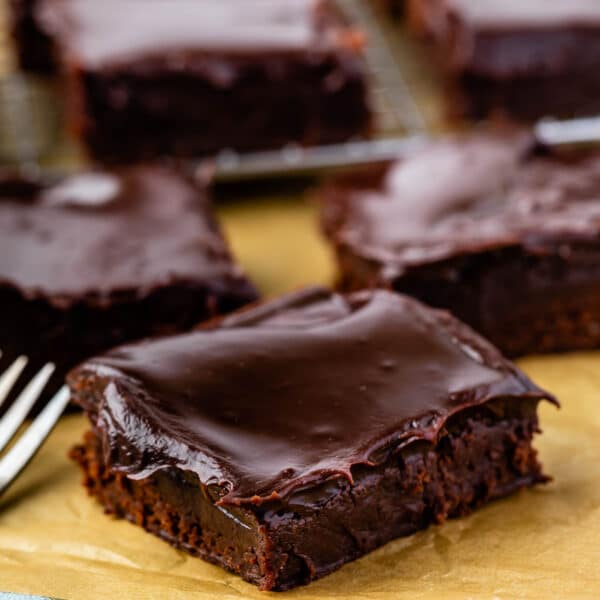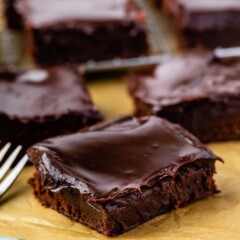 Easy Double Fudge Brownie Recipe
These Easy Double Fudge Brownies are as easy as a box, but SO MUCH BETTER! Super rich and fudgy, they're topped with a cooked chocolate frosting that satisfies any chocolate craving. Cut the brownies into shapes for any holiday!
Ingredients
Brownies:
1

recipe

homemade brownie mix

OR

1

box

store bought brownie mix

(disregard rest of brownie ingredients; make brownies as directed on box if using this option)

1

cup

(237ml) vegetable oil or (226g) melted unsalted butter

4

large

eggs

1

teaspoons

vanilla extract

2

tablespoons

(30ml) water
Frosting:
½

cup

(118ml) heavy whipping cream

(do not substitute)

2

tablespoons

sour cream

½

teaspoon

instant coffee granules

(optional, but gives a dark rich chocolate flavor)

1

teaspoon

vanilla extract

4

tablespoons

unsalted butter

¾

cup

(150g) granulated sugar

½

cup

(40g) unsweetened cocoa powder

Pinch

salt
Instructions
Preheat oven to 350°F. Line a 9×13" pan with foil and spray with nonstick cooking spray.

Stir all the brownie ingredients together in a large bowl using a wooden spoon or spatula. Spread in prepared pan and bake 22-28 minutes until a toothpick comes out with just a few crumbs stuck to it. Let the brownies cool completely before frosting.

To make frosting: Whisk heavy whipping cream, sour cream, instant coffee, and vanilla in a measuring cup. Melt butter in a medium saucepan. Whisk in sugar, cocoa powder, and salt, the mixture will be grainy. Slowly mix in the wet ingredients. Cook for about 2-3 minutes over low heat until the mixture thickens slightly, but don't let it boil.

Pour frosting over brownies and spread to coat. Let cool completely. The frosting will not harden unless you chill the brownies.

If you want to cut shapes, use cookie cutters and cut them once the frosting is cool. Add any sprinkles or pipe on football laces using white chocolate, frosting, or Cool Whip.

Store loosely covered on the counter, or chill to set the frosting. Will keep for up to 3 days on the counter.
Recipe Notes
If you're using a box brownie mix, make the brownies according to the recipe on the box, not my recipe.
Recipe Nutrition
Serving:
1
brownie
|
Calories:
413
kcal
|
Carbohydrates:
57
g
|
Protein:
4
g
|
Fat:
19
g
|
Saturated Fat:
10
g
|
Cholesterol:
33
mg
|
Sodium:
197
mg
|
Potassium:
39
mg
|
Fiber:
1
g
|
Sugar:
38
g
|
Vitamin A:
167
IU
|
Calcium:
10
mg
|
Iron:
2
mg
Nutritional information not guaranteed to be accurate
When I used to tell stories:
Want to know what else undid me last week? Having to spend $200 on new curtains for my living room.
We got new neighbors in November. I don't know where they moved from, but I'm betting it was somewhere where you need to leave floodlights on 24 hours a day. You see, instead of having normal backyard lights, the house next door has actual park lamp lights. There are two 14 foot tall poles with three bulbs each. They glow all night long, and it looks like National Lampoon's Christmas Vacation in my bedroom.
Since I've already had to ask them to turn down the music in their garage (it was shaking my office, literally), I'm not betting too much on the lights going out any time soon.
So, why did I have to spend $200 on living room curtains? Because I needed red ones in the bedroom and after shopping at every single store, I couldn't find the right color to match the bedspread. The living room curtains matched, so instead of spending $100 on curtains and $200 on new bedding, I opted to move them upstairs. Then I had to buy new ones for the living room.
All because my new neighbors think we live in a jail yard…or something. Neighbors make me want to move to the country.
The caveat? The new curtains are teal. #tealallthethings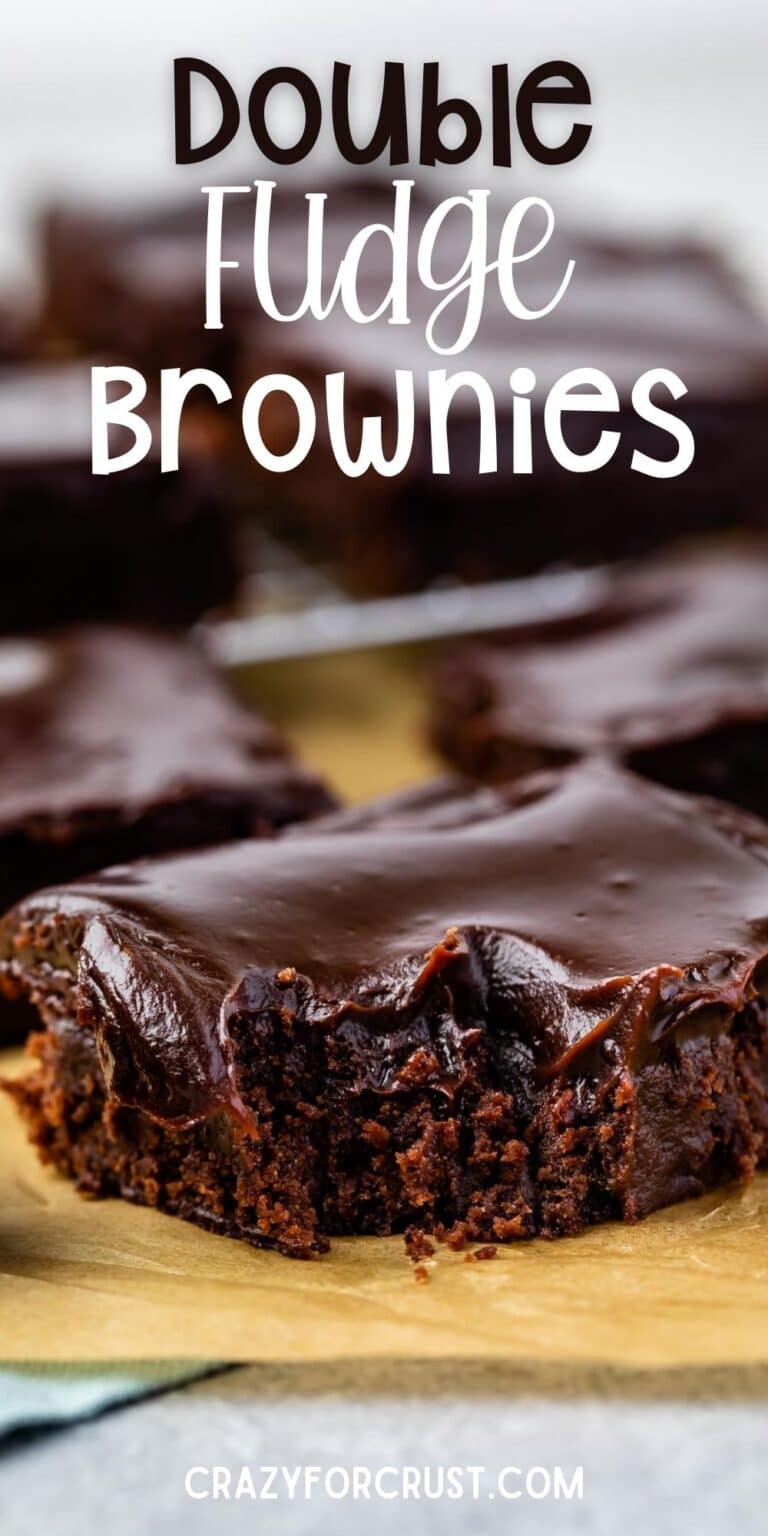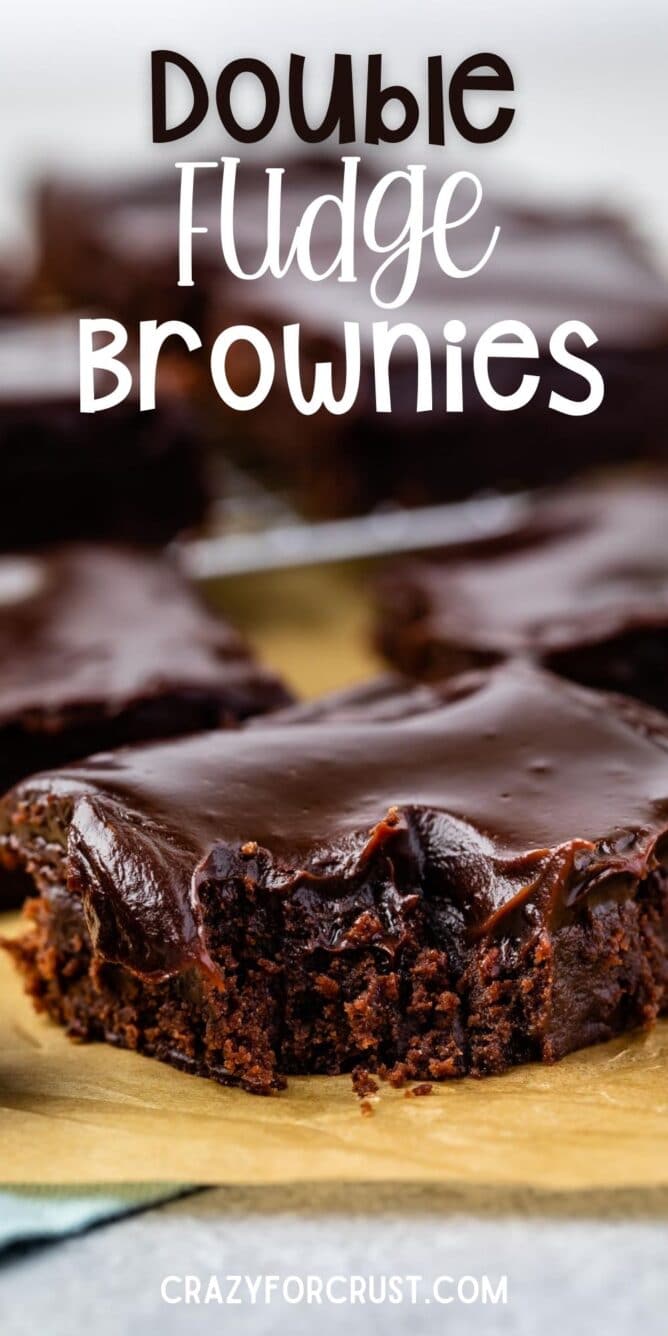 These Double Fudge Brownies are irresistible and taken to a whole new fudgy chocolate level with my chocolate fudge frosting on top!
Last Updated on April 1, 2022