This post may contain affiliate links. For more information, read my disclosure policy.
My favorite homemade brownie recipe topped with dulce de leche and chocolate chips…Happy Mother's Day to me!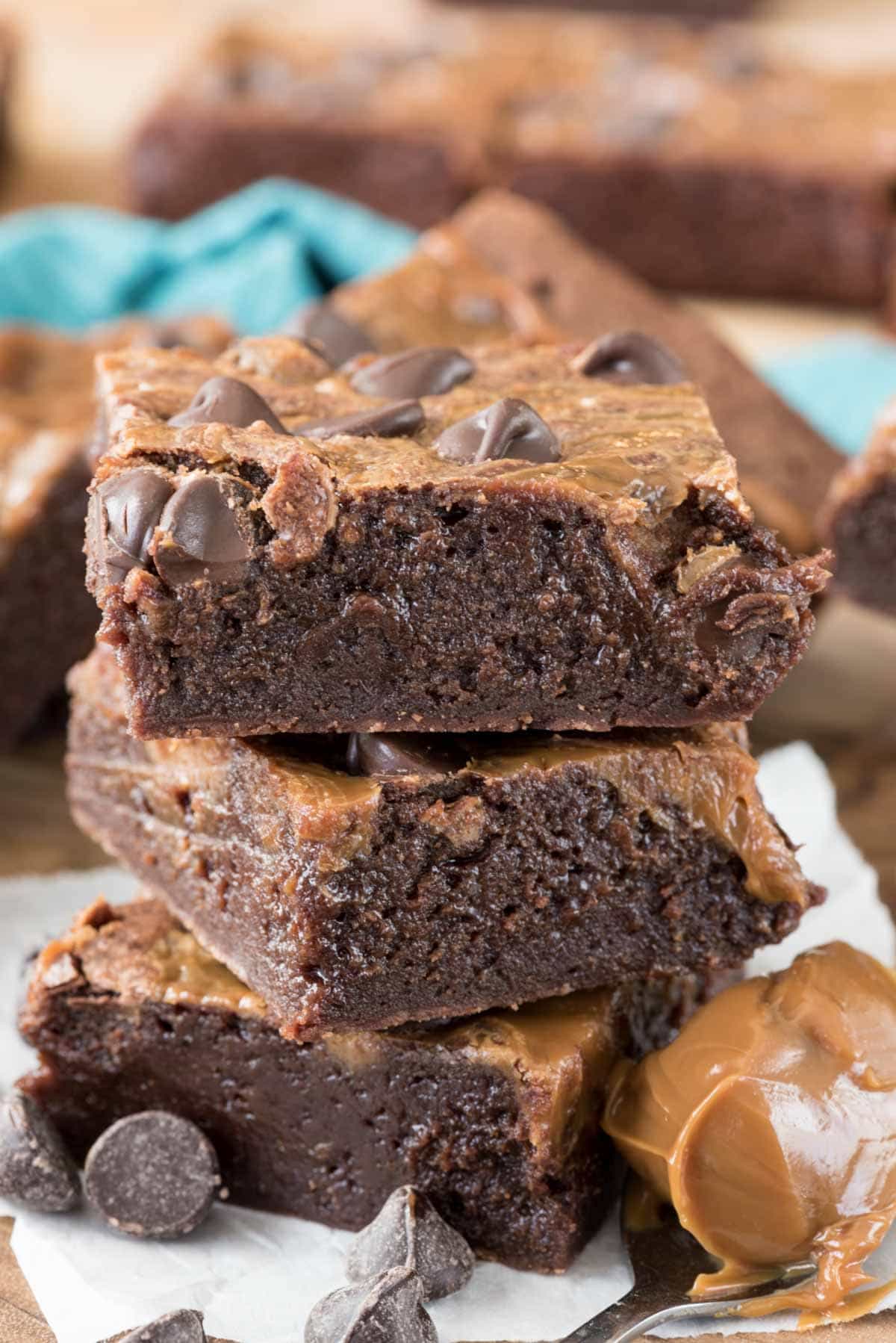 These brownies almost didn't happen and that would have been a travesty. Thank goodness my chocolate craving won and I have them to share with you today!
The last week of April was a doozy. It's the end of the school year and things are just crazy busy, as May always is. Add in 11-year old girl drama and well, Mama starts drinking on Wednesday and eating her weight in chocolate by the weekend. What's that saying? Screw it, Skinny isn't as good as Chocolate…or something?
So it was Friday that week and I was exhausted. I wanted to sit on the couch and binge watch the Real Housewives of Dallas (#TeamBrandi) when I realized my mom was coming the next day to celebrate early Mother's Day. I couldn't let the opportunity to make all the things go by because, let's face it, my mom is my #1 taste tester when I see her.
I needed an easy brainless no-frills recipe that could be made and photographed in a day. My mom loves caramel and brownies, so what could be easier than turning my favorite brownie recipe into a caramel brownie?
Nothing. Nothing could be easier!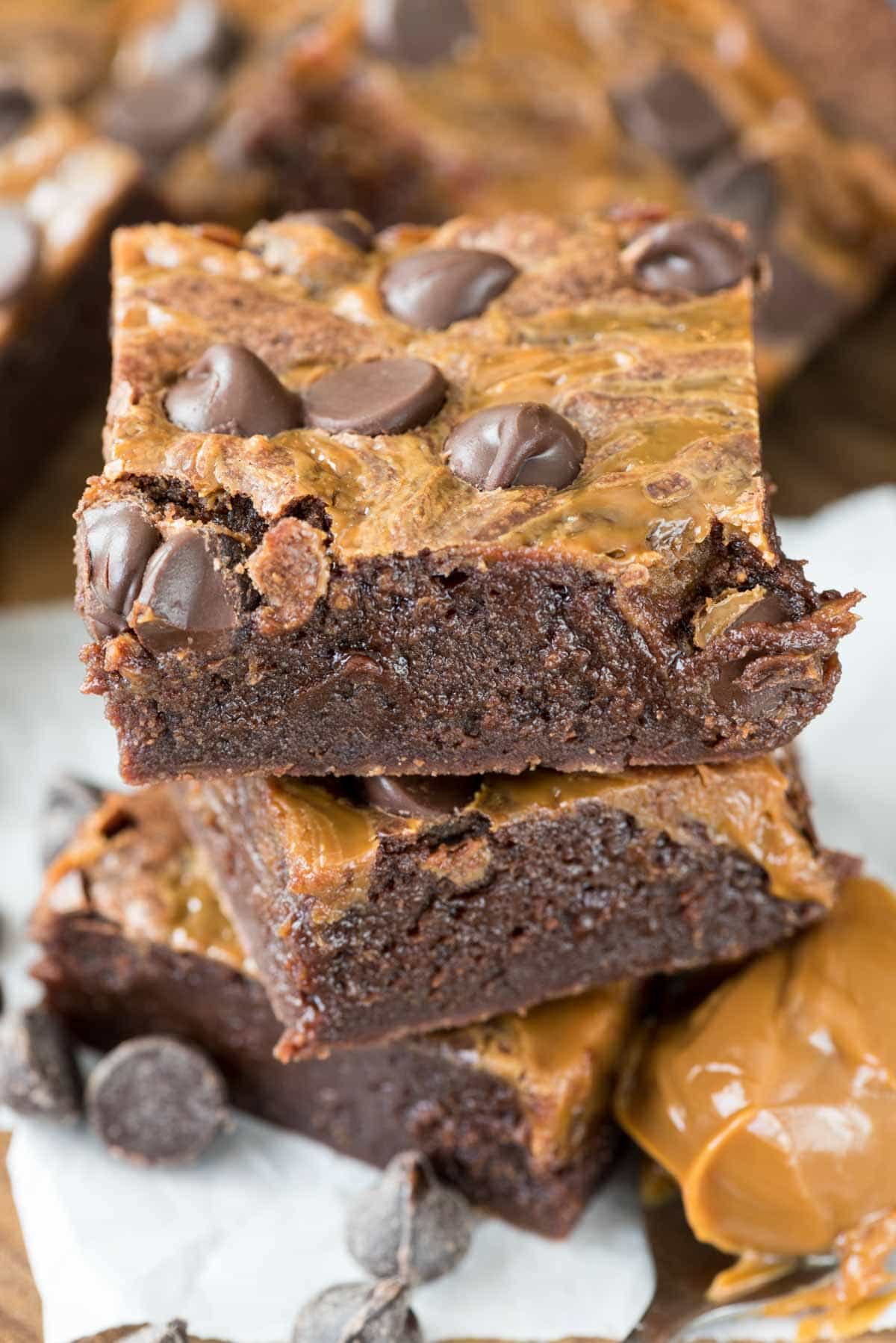 I don't make caramel topped things very often because I have difficulty with caramel a lot of the time. It boils off, sinks in, is too hard…and generally is kind of a jerk when it comes to baked goods. But dulce de leche? Now THAT is easy to work with.
Have you ever had it before? Dulce de leche is a sweet milk caramel. In fact, it's basically cooked sweetened condensed milk (and you can make your own in a slow cooker). It's thick and milky and super caramel flavored. And it goes great with chocolate brownies, just like regular caramel. It's not as finicky either; it spreads and cooks just fine, unlike ice cream topping or caramel squares.
To make these brownies, I whipped up my favorite brownie recipe, spread them in a 9×9 pan instead of a 9×13 (I wanted super thick brownies) and then I swirled a heaping cup of dulce de leche over the top. As they baked, some of the caramel seeped into the brownies, creating a gooey rich center, but most of it stayed put on top so every bite has chocolate and caramel in it!
I also topped it with chocolate chips. You can never have too many of those!

These brownies, ohmergerd, you guys. So, first, they stay suuuuuper fudgy in the center. They tasted almost like a soft fudge, seriously. Jordan kept going back for more until I had to cut her off so I could go back for fourths and fifths. These were definitely the winner of the weekend…and they totally cure girl drama and can make a bad week good again. Just like mom! 🙂
Happy Mother's Day to my mom and all the moms out there! Enjoy your day…and some brownies. 🙂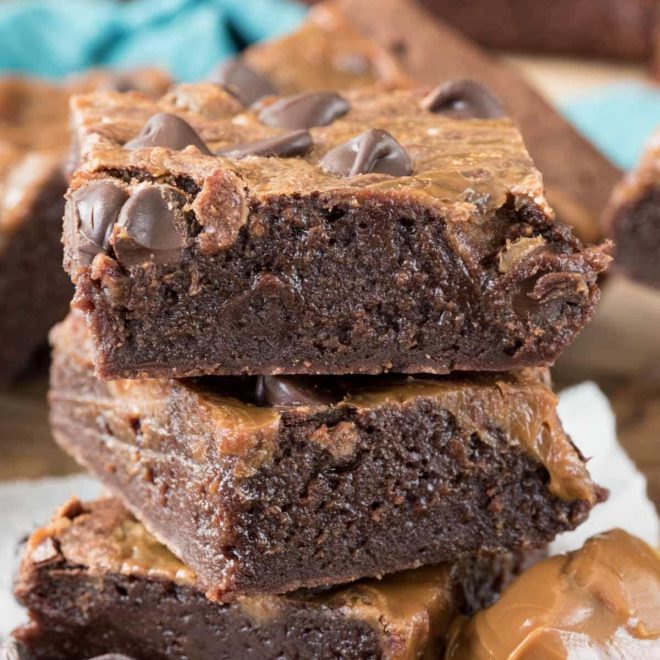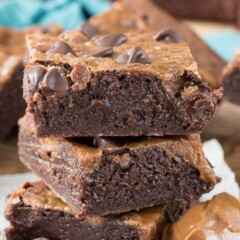 Easy Fudgy Caramel Brownies
These easy Fudgy Caramel Brownies recipe is the BEST brownie recipe! The dulce de leche makes them gooey and keeps them super rich and fudgy.
Ingredients
2

ounces

unsweetened baking chocolate

2

ounces

semi-sweet baking chocolate

3/4

cup

unsalted butter

1 3/4

cups

granulated sugar

3

eggs

1

tablespoon

vanilla extract

1/2

teaspoon

salt

2

tablespoons

unsweetened cocoa powder

1

cup

all-purpose flour

Heaping 1/2 cup dulce de leche 

homemade or from a can

1/2

cup

chocolate chips
Instructions
Preheat oven to 350°F. Line a 9x9" pan with foil or parchment and spray with nonstick cooking spray.

Place baking chocolates and butter in a large microwave safe bowl. Heat in 30 second increments, stirring between each, until melted and smooth (about 2 minutes depending on your microwave).

Stir sugar into chocolate mixture, then stir in eggs until well mixed. Add the vanilla, cocoa, and salt and stir until smooth, then carefully stir in the flour.

Pour batter into the prepared pan. Drop spoonfuls of the dulce de leche over the top and swirl them with a knife. Sprinkle with chocolate chips. Bake for about 28-35 minutes until a toothpick comes out with just a few crumbs an inch from the side of the pan (when dipped in the brownie, not the caramel). The center will remain jiggly on these right up until they are done baking, and even once the edges test clean, they'll be rich and fudgy in the center.

Cool completely in the pan then cut into squares and serve. Store in an airtight container for up to 4 days or freeze for up to one month.
Nutritional information not guaranteed to be accurate
Have leftover dulce de leche? Make one of these: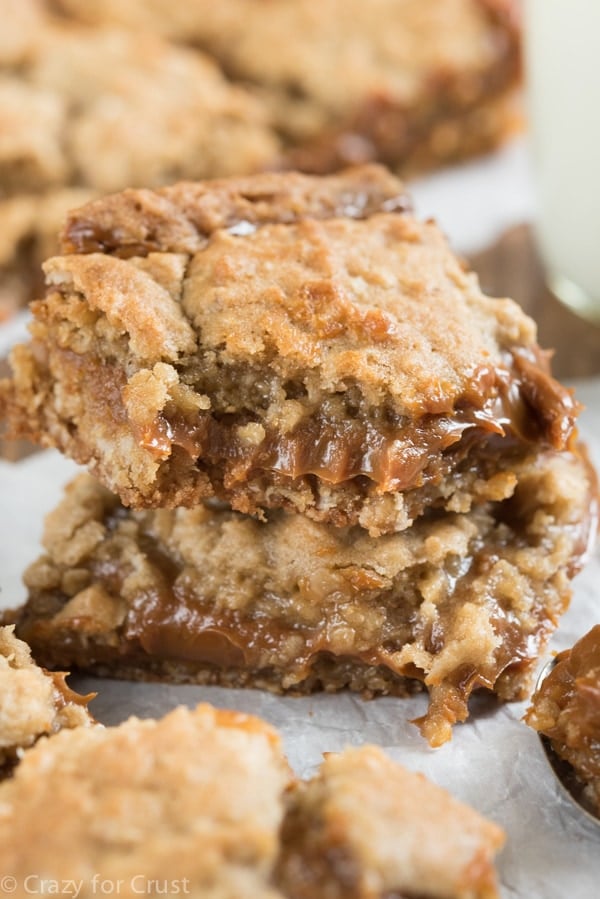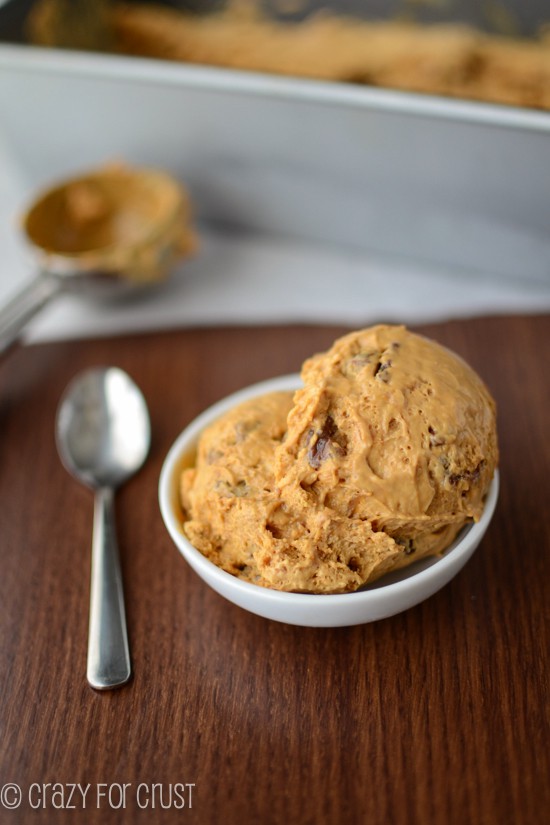 No Bake Black Bottom Dulce de Leche Pie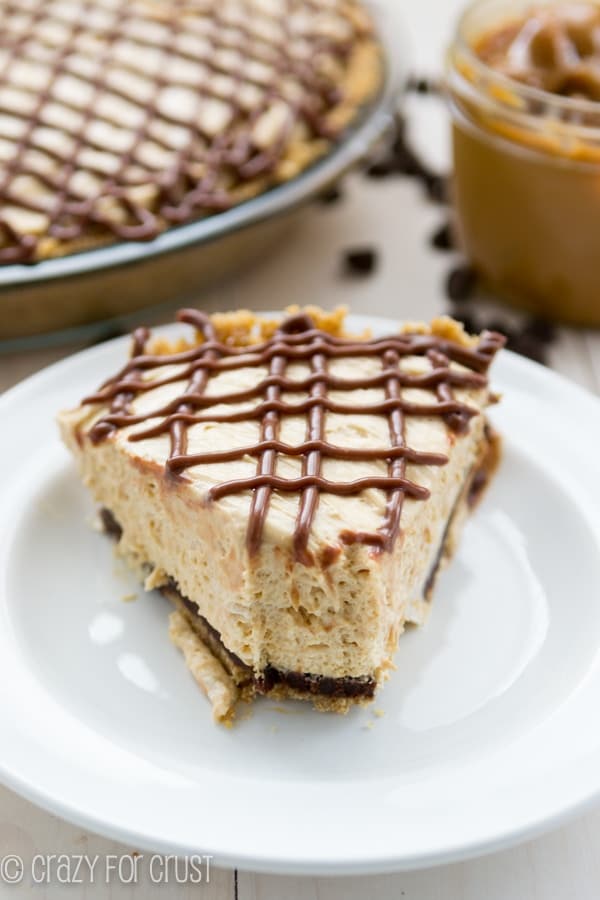 Sweets from friends:
Brown Butter Dulce de Leche Cookie Cups by Handle the Heat
Strawberry Dulce de Leche Cake by Life, Love and Sugar
Dulce de Leche Churro Donuts by Oh Sweet Basil
Last Updated on August 21, 2018