This post may contain affiliate links. For more information, read my disclosure policy.
You know those chocolate macadamia nut cookies you get at the grocery store? These are a gazillion times better!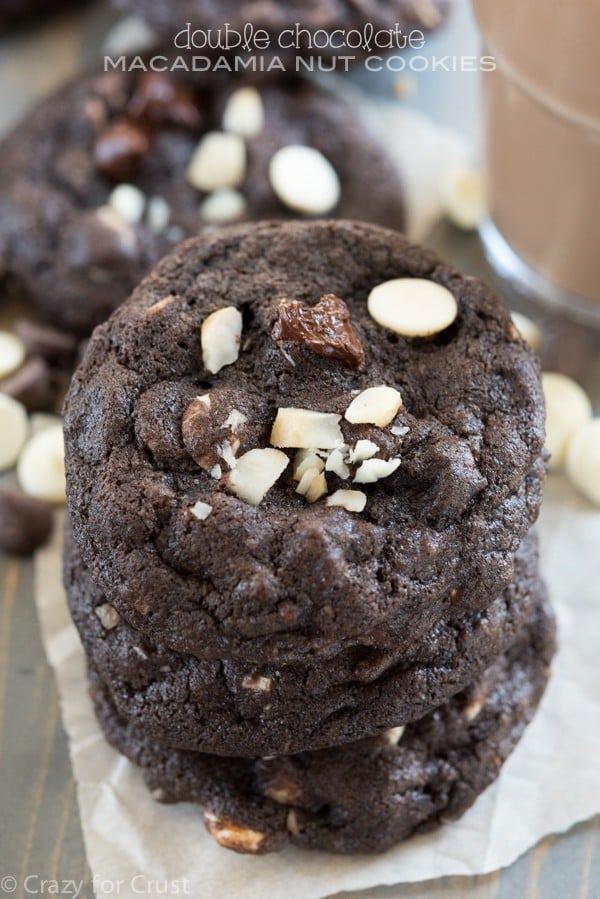 You guys, I have a problem. A coffee problem.
A long time ago I decided that I wouldn't be a regular visitor to the coffee shop. An occasional latte? Sure. But it was ridiculous to go there every day when I could make my own for cheaper. That worked for a few years. And then I fell off the wagon. Hard.
For the last several months I've had a several-times-per-week coffee shop habit. Now that Jordan's out of school she's accompanying me on all my errands (really, the highlight of summer is listening to kids whine through the grocery store, is it not?) so my $2.50 coffee turns into a $5/trip expense. That's not even including the cookies she begs me for.
If I could stop the cycle I could probably pay for my kitchen remodel with coffee savings. Luckily, I've been reminded how much I love iced coffee at home, thanks to International Delight.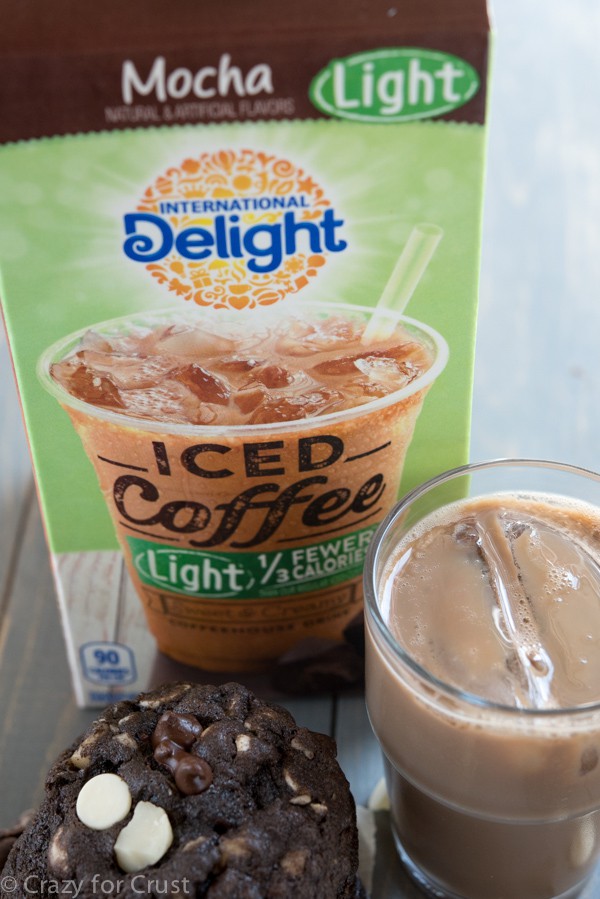 I used to buy the International Delight Iced Mocha Light cartons all the time. They taste just like an iced mocha, but there's only 90 calories per cup. That's way less than anything you'll buy at the coffee shop…and it's much cheaper too.
Plus, by drinking the light iced coffee, I feel like it leaves room for cookies. #priorities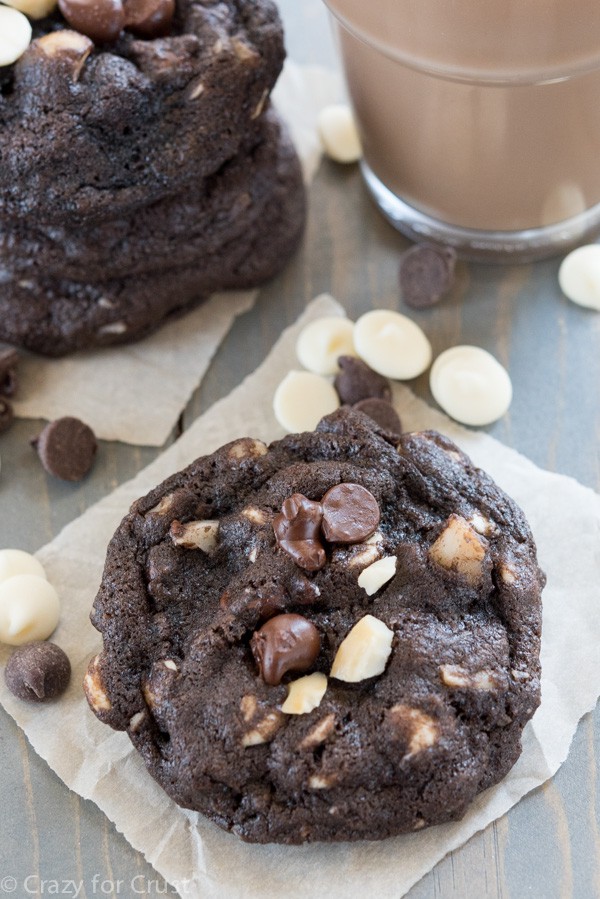 For some reason I have no control when it comes to buying cookies at the store. Jordan begs, I say yes. The problem? None of them taste as good as homemade. Especially the chocolate macadamia nut ones. Those get me every single time because I love macadamia nuts so much. They're my favorite!
(Watch out Hawaii. I'm going to buy allthemacadamianuts while we're there!)
To recreate my coffee shop combo without the price tag, I decided to make my own double chocolate macadamia nut cookies and pair them with the International Delight Iced Mocha Light. I think I did a pretty good job, especially since I could not stop eating these cookies.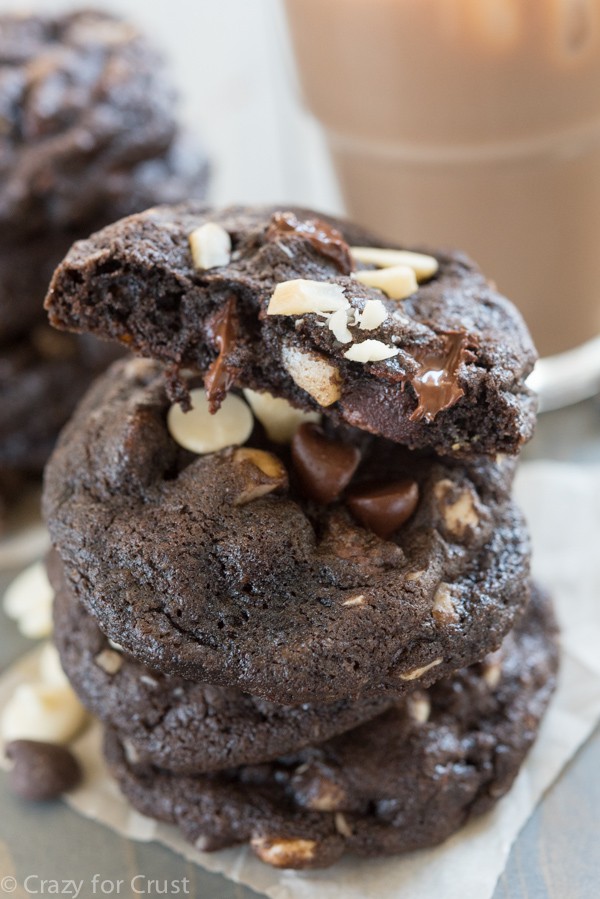 Let's break down the cookies, okay? They are rich and super chocolatey. The cookie base is my absolute favorite chocolate cookie. It's the same one I used to make my Homemade Peanut Butter Oreos. I had kind of forgotten about this recipe until I decided to make this cookie and I can tell you for a fact it's my go-to chocolate cookie recipe now!
The deep dark chocolate of the cookie is made by using dark chocolate cocoa powder. This is different than the regular unsweetened cocoa you normally use. It's still unsweetened but it's super dark. Most grocery stores sell it and you can find it alongside the normal cocoa powder. If you can't find it, just use regular unsweetened.
The best part about this cookie dough is that it requires NO chilling but it still produces a soft gooey cookie with the expected cookie exterior. It's like magic!

I filled the cookie with two kinds of chocolate chips: semi-sweet and white. You can use any combination of chocolate chips you want. Dark or bittersweet chocolate chips would be perfect in these too!
You can't forget the macadamia nuts. They make the cookie, IMO. I know macadamia nuts are expensive but they're so worth it. I like to buy mine at Trader Joe's in a huge package…and then I try not to eat them all by the handful.
Pair these at-home cookies with an at-home iced coffee and take a few minutes to relax…as much as summer lets you, that is. And if you're curious, check out how much money you'll save by not buying coffee at the coffee shop. I could save $15 a month and that's not including Jordan's hot chocolate or all the baked goods I pay for.
With that money, I'm going to buy more cookie ingredients and make ALL THE COOKIES.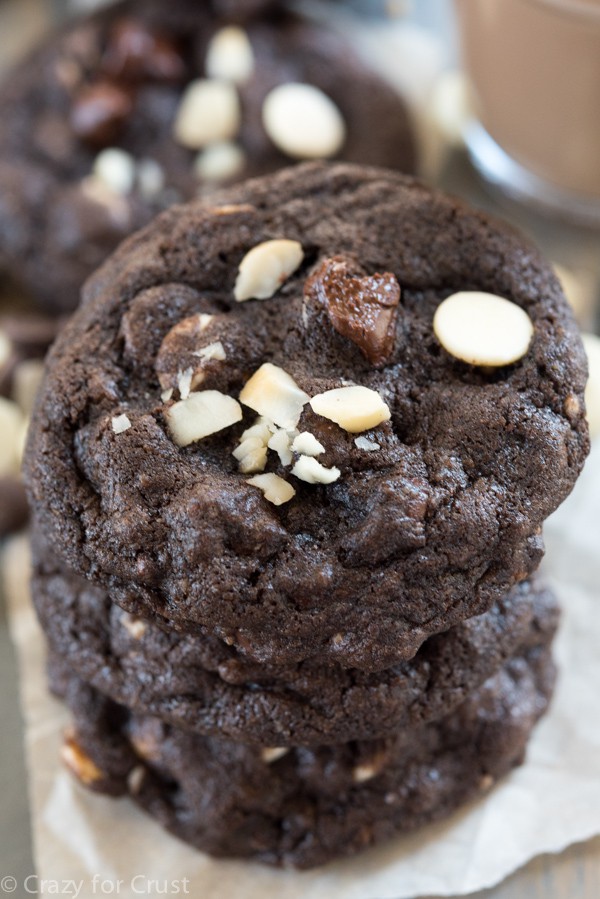 What would you do with your savings?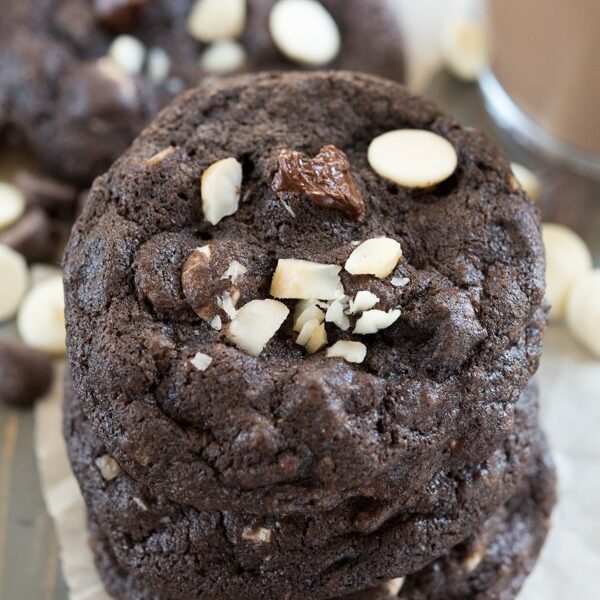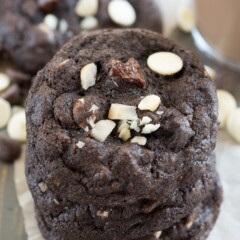 Double Chocolate Macadamia Nut Cookies
My favorite chocolate cookie! Dark chocolate cocoa filled cookies made with two kinds of chocolate chips and macadamia nuts!
Ingredients
1/3

cup

Hershey's Special Dark unsweetened cocoa powder

you can use regular unsweetened but they won't be as dark as shown

1/2

teaspoon

baking soda

1/4

teaspoon

salt

1 1/4

cups

all-purpose flour

1/2

cup

butter

softened

2/3

cup

brown sugar

1/4

cup

granulated sugar

1

teaspoon

vanilla

1

large egg

3/4

cup

chocolate chips

3/4

cup

white chocolate chips

1

cup

chopped macadamia nuts
Instructions
Preheat oven to 350°F. Line cookie sheets with parchment paper or silicone baking mats.

In a medium bowl, whisk together cocoa powder, baking soda, salt, and flour. Set aside.

In the bowl of an electric mixer fitted with the paddle attachment, cream butter and both sugars. Mix in egg and vanilla and mix until smooth. Add dry ingredients and mix until combined. Mix in both chocolate chips and macadamia nuts.

Scoop 2 tablespoon sized balls of dough onto the cookie sheets, 3 inches apart. Bake for 9-12 minutes until they just lose their glossy sheen. Err on the side of underdone for these cookies; they taste better that way. Cool at least 5 minutes on cookie sheets before removing.

Store in an airtight container for up to 3 days or freeze for up to one month.
Nutritional information not guaranteed to be accurate
Connect with International Delight:
Facebook / Pinterest / Twitter / Instagram / Newsletter
Chocolate Peanut Butter Cup Cookies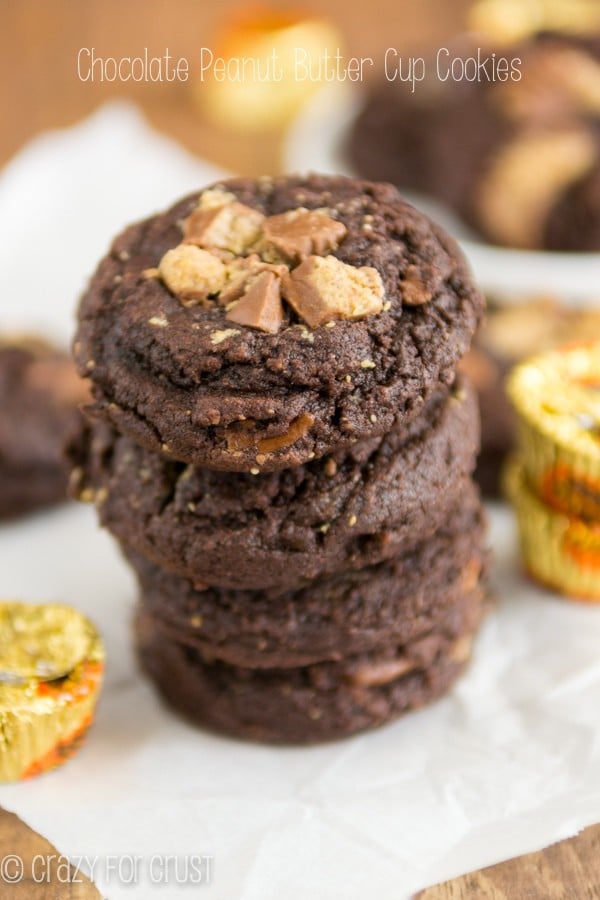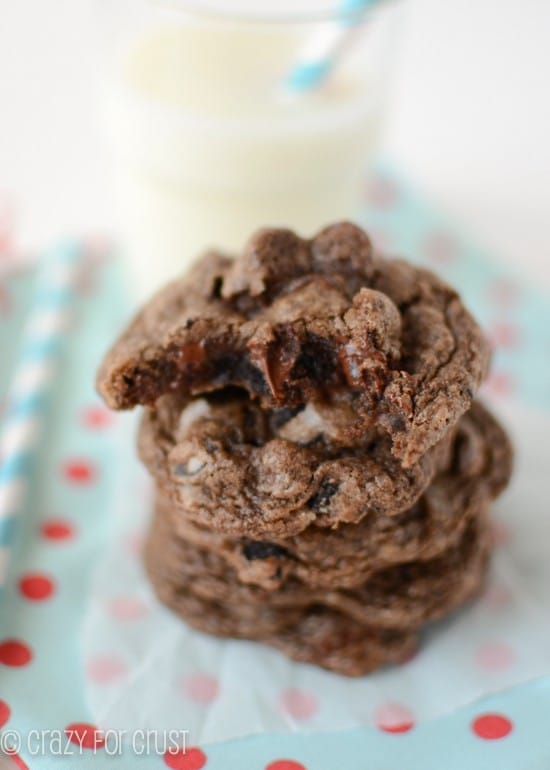 Chocolate Peppermint Patty Cookies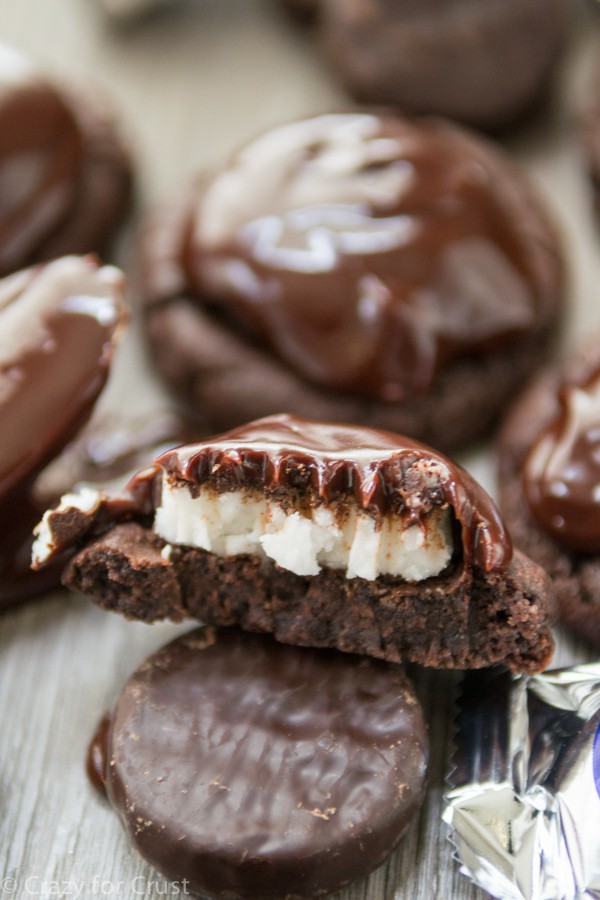 This conversation is sponsored by International Delight. The opinions and text are all mine.
Last Updated on May 20, 2022