Reese's Pieces Cookies
This post may contain affiliate links. For more information, read my disclosure policy.
Reese's Pieces Cookies are a basic chocolate chip cookie filled with Reese's Pieces instead of chocolate chips! This is my favorite chocolate chip cookie recipe made even better with the peanut butter crunch of the candy.
Why use chocolate chips when you can use Reese's?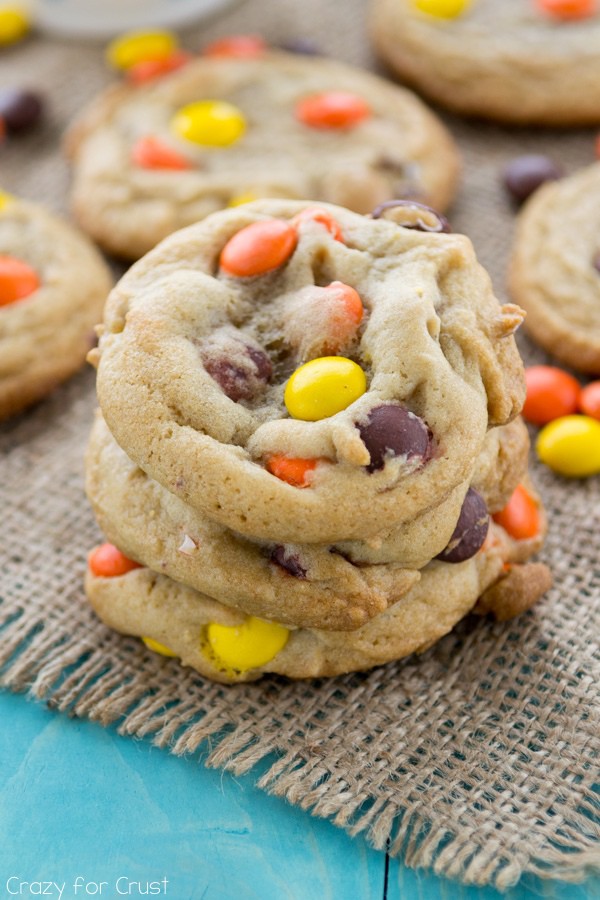 Reese's Pieces Cookies – satisfy a craving?
Do you ever just get a total craving for something? Like, say, brownies? Or cake? Or maybe banana muffins? Or COOKIES?
Unfortunately, I get these cravings all the time. Even though I'm constantly surrounded by a plethora of dessert, I still get cravings that need satisfying NOW. When that happens, I know I should listen because if I don't I'll end up eating 14 pounds of other dessert to compensate, which won't satisfy the craving, so I'll just end up making what I want anyway and eat it.
It's a problem.
Last week I was craving Chocolate Chip Cookies but I also wanted peanut butter. What's a girl to do in that situation? This: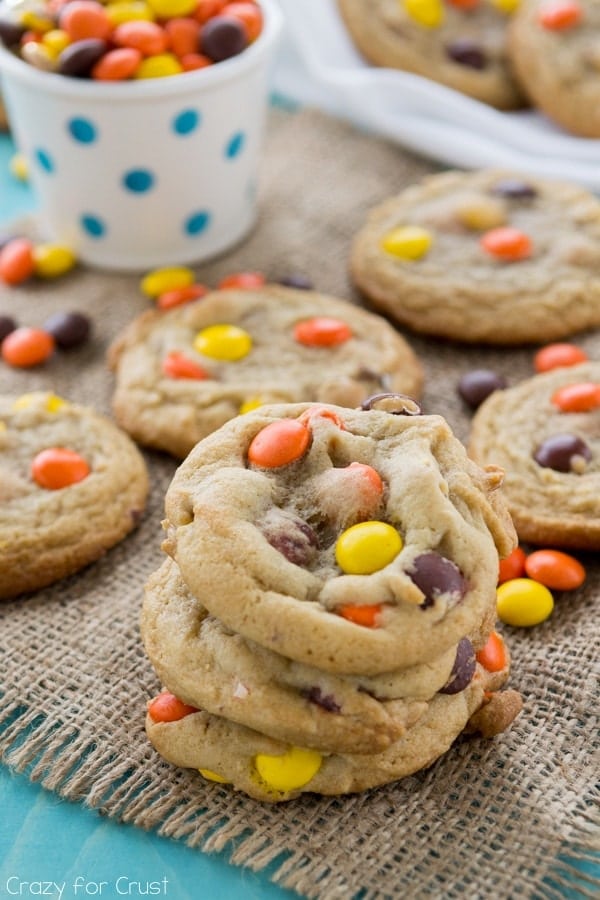 Reese's Pieces Cookies. That satisfied BOTH cravings! This easy cookie recipe is full of Reese's Pieces!
I took my favorite chocolate chip cookie recipe and substituted Reese's Pieces for the chocolate chips. The result? A toffee-like cookie that has crunchy candy bits and tastes like peanut butter. #totalwin
(It seems I love putting candy in cookies. Remember when I did this with Rolos and Kit Kats?)
So many times when you find a Reese's Pieces cookie it's a peanut butter cookie, which is great, but sometimes you don't want a peanut butter cookie. Sometimes you want the distinct flavor of a chocolate chip cookie, but with a hint of peanut butter.
When you look at Reese's Pieces cookies on Allrecipes or Pillsbury, all you find are peanut butter cookies. In that case, come here, because these Reese's cookies are just a plain old chocolate chip cookie without the chocolate chips!
And when I say "plain old" I mean fantastic. This recipe is my favorite cookie recipe!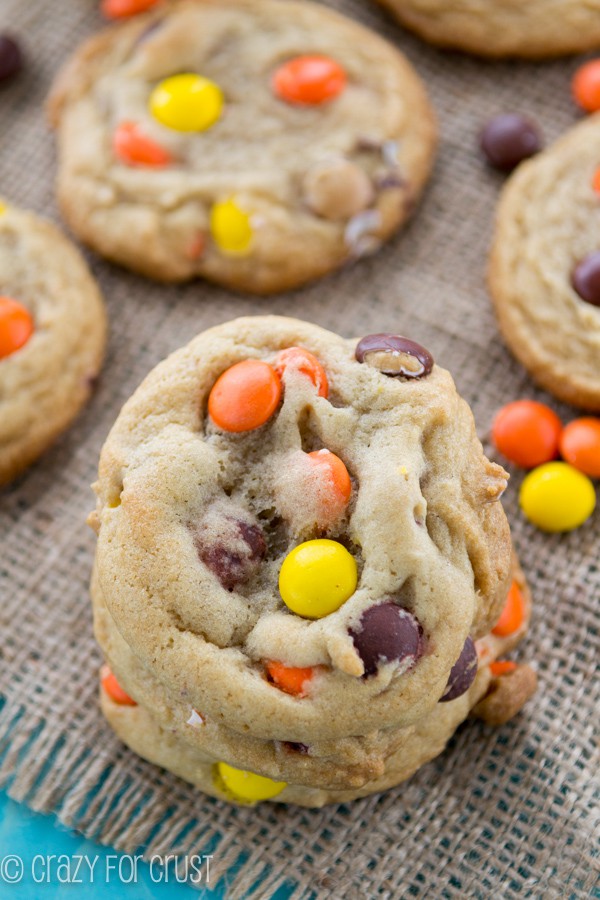 What makes the perfect chocolate chip cookie?
For me, several things:
Softness: a cookie shouldn't be crunchy. I chill my cookie dough to make sure it's super soft, and I use melted butter to help with that too.
Depth of flavor: I use melted butter and tons of brown sugar to make sure my cookie has a huge amount of flavor.
Mix ins: use whatever you like! Chocolate chips are perfect for a basic cookie, but adding Reese's Pieces make these cookies heaven.
I love how the Reese's give this cookie a hint of peanut butter flavor without being overpowering. I love me some peanut butter but sometimes I just want a bit of it, you know? Making Reese's Pieces Cookies without peanut butter allows the candy to shine!
Want even more? Subscribe to Crazy for Crust to get new recipes and a newsletter delivered to your inbox. And stay in touch on Facebook, Pinterest, Twitter, and Instagram for all my latest updates.
Servings: 18 cookies
Reese's Pieces Cookies
Reese's Pieces Cookies are a basic chocolate chip cookie filled with Reese's Pieces instead of chocolate chips! This is my favorite chocolate chip cookie recipe made even better with the peanut butter crunch of the candy.
Ingredients
1/2 cup 113g unsalted butter, melted
1/3 cup 66 g granulated sugar
1/2 cup 104g light brown sugar, packed
1 large egg
1 teaspoon 5ml vanilla extract
1/2 teaspoon baking soda
1/2 teaspoon salt
1 1/2 cups 186g all-purpose flour
1 1/2 cups Reese's Pieces Candy — use regular ones or the minis in the baking aisle
Instructions
Note: This dough requires chilling.

Place melted butter in the bowl of a stand mixer fitted with the paddle attachment (or a large bowl if using a hand mixer). Add granulated and brown sugars and mix on low speed until the mixture is smooth. Mix in egg and vanilla extract and mix on medium speed until combined.

Mix in baking soda and salt, then slowly mix in flour and mix just until the batter is smooth and comes together. Be sure to scrape the sides of the bowl during mixing. Slowly mix in Reese's Pieces.

Line a cookie sheet with a silicone baking mat or parchment paper. Scoop 2 tablespoon balls of dough onto the cookie sheet. Spacing doesn't matter because you will be chilling the dough. Cover with plastic wrap and chill for at least 2 hours.

Preheat oven to 350°F. Line a second cookie sheet with parchment paper or a silicone baking mat.

Remove the chilled cookie dough balls from the refrigerator and space them 2-inches apart on the cookie sheets. Bake (2 tablespoon sized cookies) for 11-15 minutes, or until the edges are a light golden and the tops are no longer glossy. Let cool on the cookie sheets at least 10 minutes before removing.
Nutrition Information
Amount per serving (1 cookie) — Calories: 199, Fat: 9g, Saturated Fat: 6g, Cholesterol: 24mg, Sodium: 135mg, Carbohydrates: 26g, Fiber: 1g, Sugar: 18g, Protein: 3g
Be sure to check out all my peanut butter cookie recipes if you're craving peanut butter! Want other ways to use Reese's? Try Loaded Reese's Peanut Butter Cup Bark, Reese's Pieces Blondies, or Reese's Peanut Butter Fluff.
Reese's Explosion Peanut Butter Cookies will surely satisfy your peanut butter craving!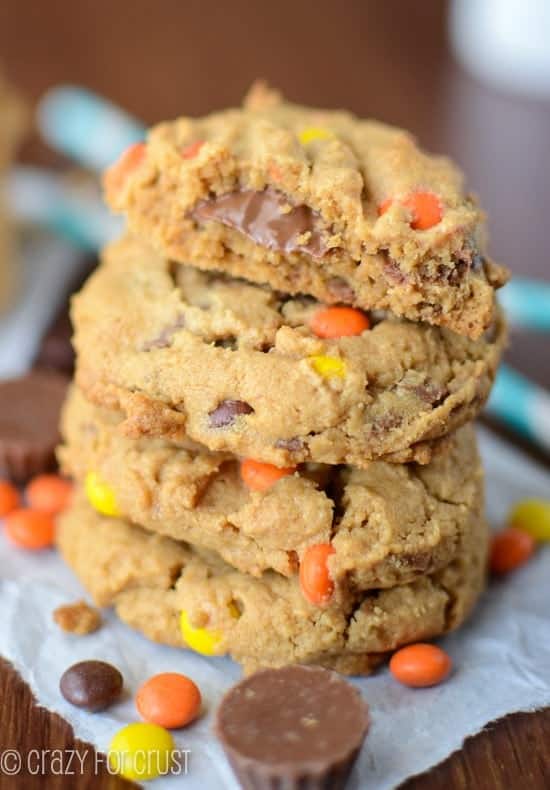 Want a chocolate chip cookie AND Reese's? Make Reese's Stuffed Chocolate Chip Cookies!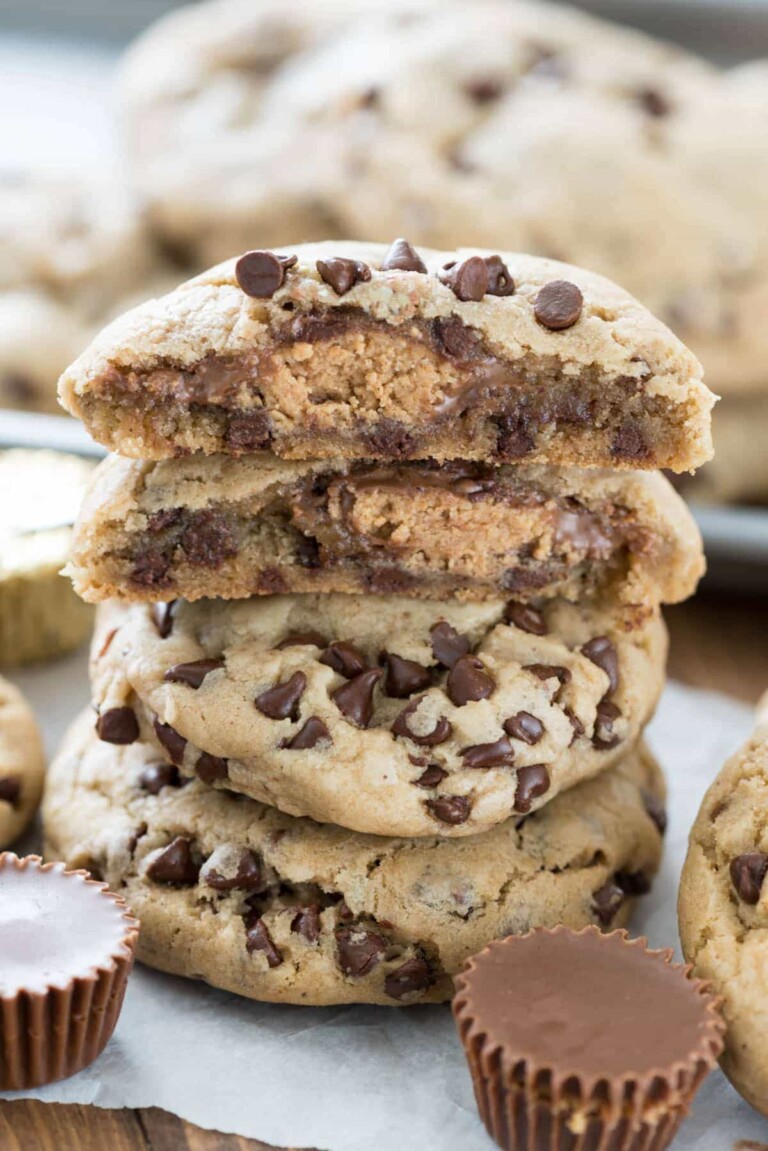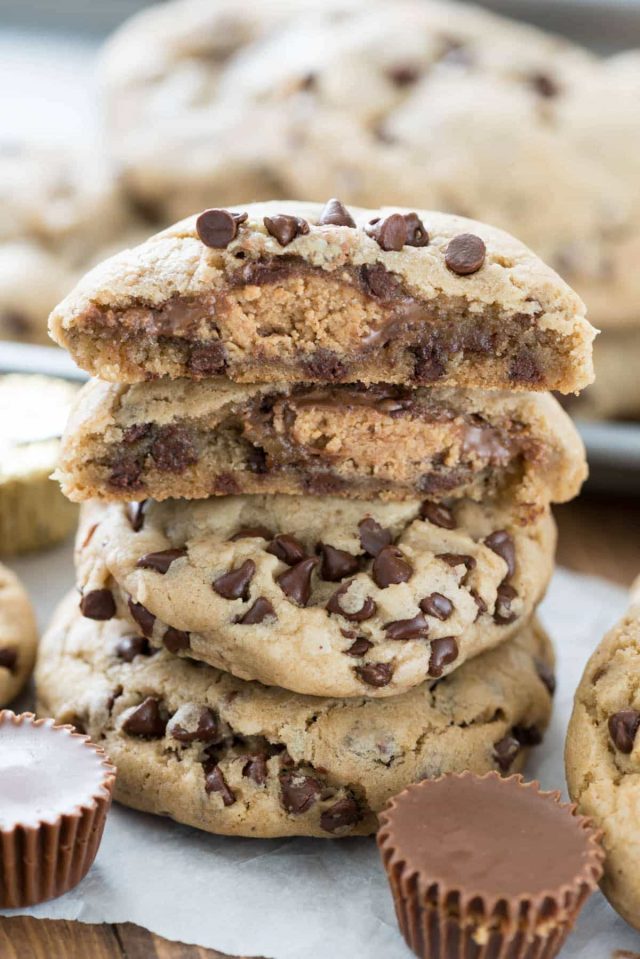 Another way to use Reese's Pieces? In Reese's Overload Brownies!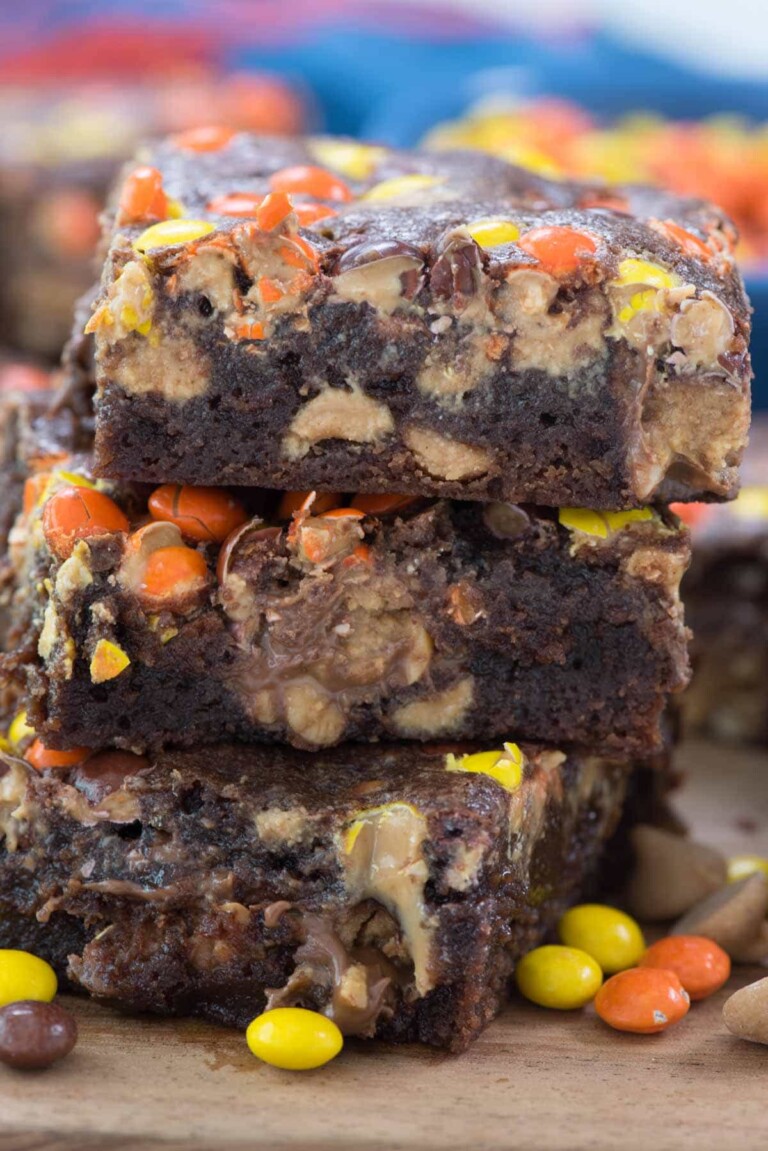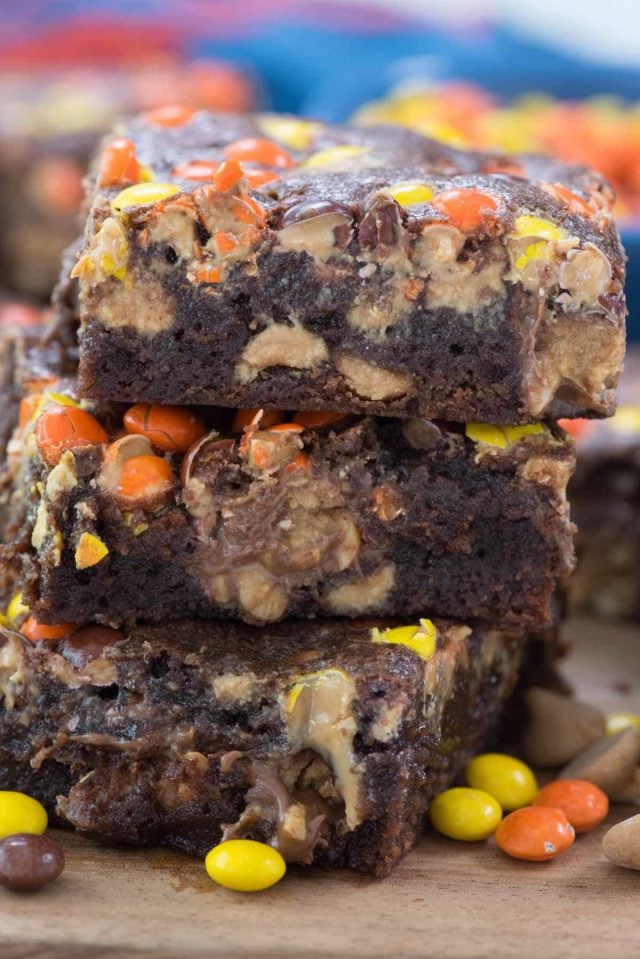 **Did you make this recipe? Don't forget to give it a star rating below!**