This post may contain affiliate links. For more information, read my disclosure policy.
This EASY Deep Dish Pizza Recipe has a homemade dough done in under 20 minutes! It's perfect for making your favorite pizza at home – we have made this recipe so many times!
This post is sponsored by Fleischmann's® Yeast, whose RapidRise® Yeast makes it possible to make homemade dough so quickly.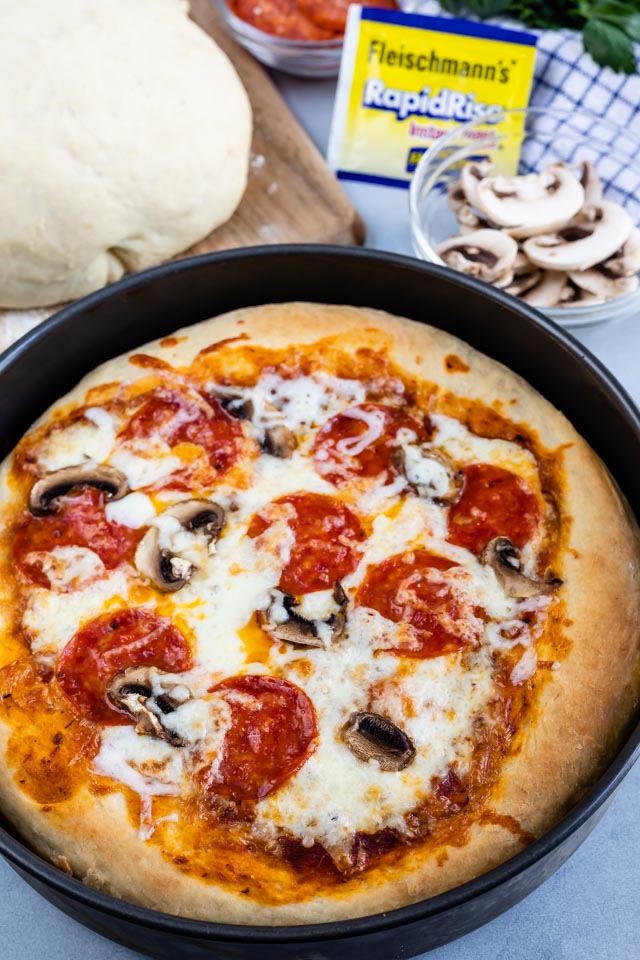 Friday night is usually pizza night in our house! We used to order in a lot but a few years ago our local spot closed so we've been making it at home – from scratch!
There really is nothing like a homemade pizza crust. Making it from scratch can't compare to the packaged or canned or store bought ones. We love making homemade pizza because then we can make it how we like it – like as a deep dish pizza!
Even though this is different than Chicago style deep dish, it still reminds me of one of my favorite places. We haven't traveled a lot lately, but making this recipe at home reminds me of all the pizza I've eaten there!
If you love homemade pizza you're in the right spot – I'm going to show you how to make an EASY dough in less than 20 minutes – and how to make it into deep dish pizza without any fuss!
Table of Contents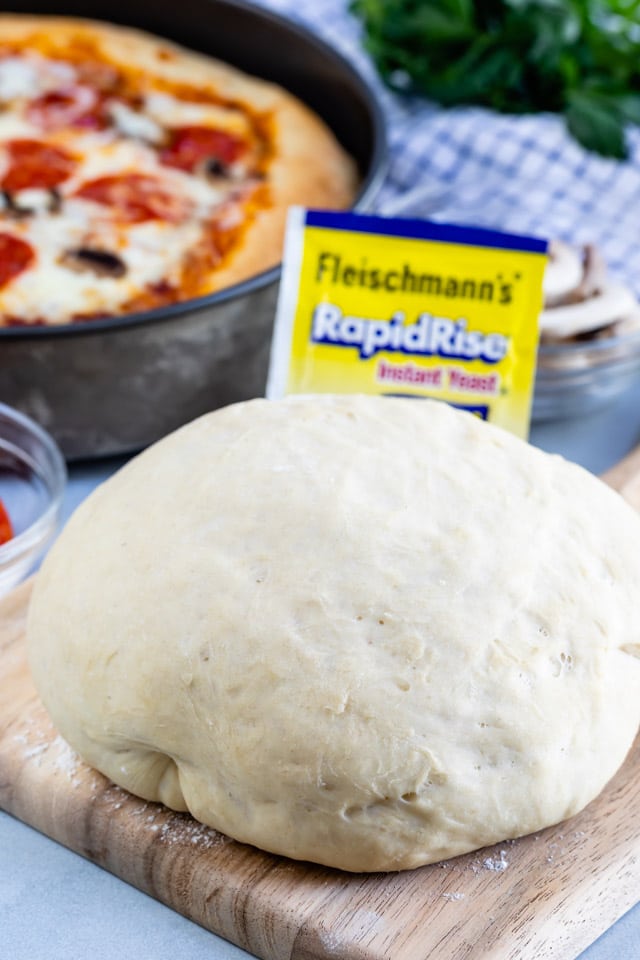 How to make Pizza Dough
You just need a few simple ingredients to make homemade pizza, and one of them is yeast.
There are options for yeast when you go to the store, but always get Fleischmann's® RapidRise® Yeast because it makes baking bread and dough so much easier.
Other than yeast you just need:
Besides that you only need about 20 minutes to make homemade pizza dough. You don't even have to let it rise – just rest while you get the toppings ready.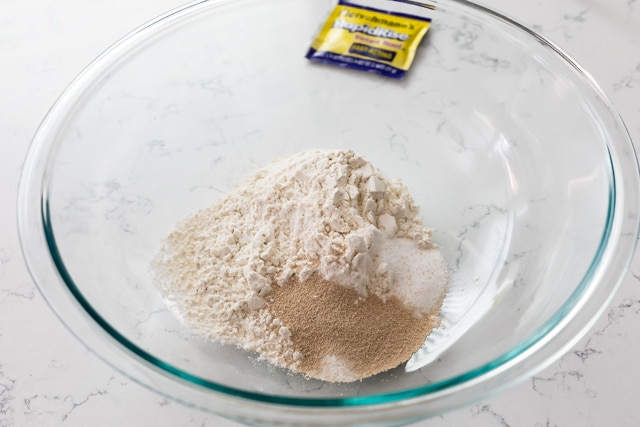 Why use RapidRise® Yeast?
Fleischmann's® RapidRise® Yeast is my favorite to use when making any bread or pizza or yeast recipe. It's instant yeast (also called fast-acting) and it's the best one to use for two reasons:
You don't need to proof it. Instead of letting it sit in hot water to activate and bubble, you just mix RapidRise® Yeast into the dry ingredients. This cuts down on the time and guesswork it takes to make the dough.
It cuts down on rise time! Instead of two risings that normally happens when you make bread, you just have to let the dough rest for 10 minutes during that first "rise" which cuts down the time considerably.
When making pizza with this yeast, you don't have to do a second rise at all – so your waiting time is only 10 minutes!
Read more about working with yeast and how I use yeast in baking!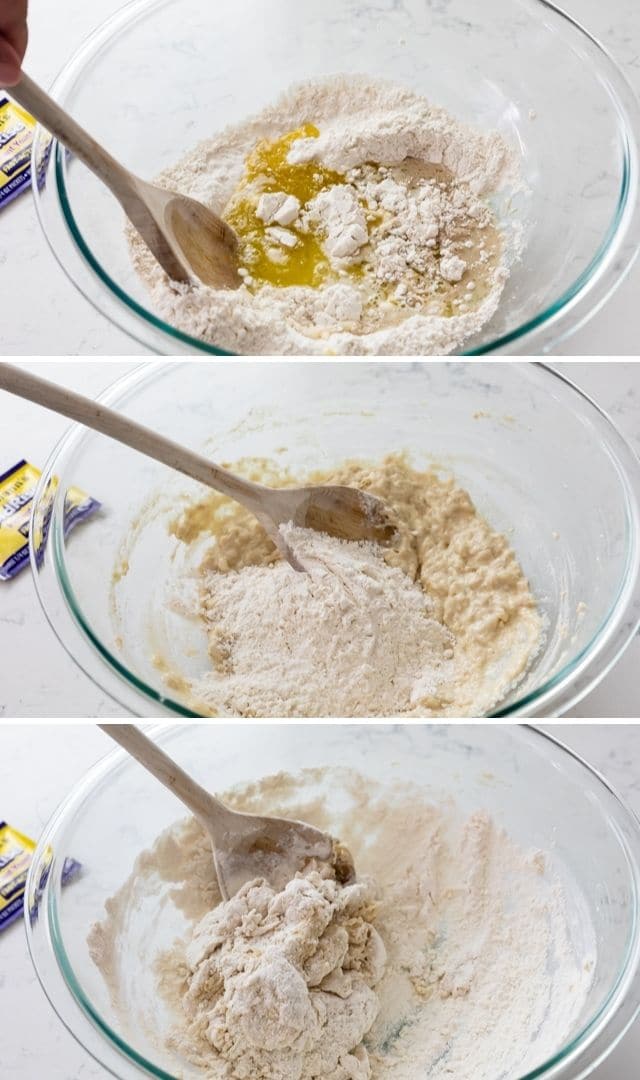 One Bowl Pizza Crust
You don't need a mixer to make this recipe – just one bowl and a wooden spoon.
Simply add all the dry ingredients to the bowl.
Then heat the water to between 120-130°F. If you have an instant read thermometer, that can help for testing the temperature, but if not think "hot bath water." Then add the oil and water to the dry ingredients.
Stir the mixture until you can't stir anymore, adding more flour as needed.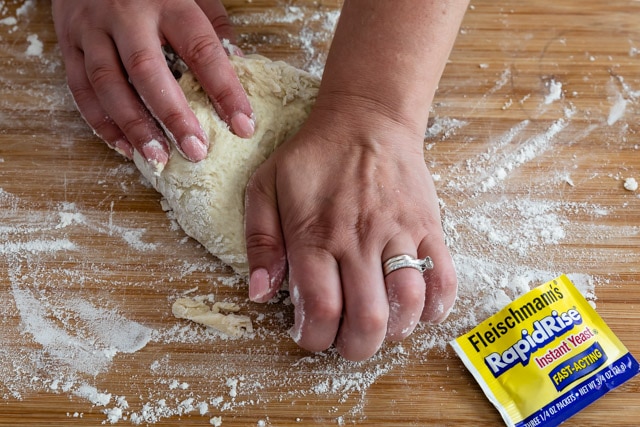 Keading Pizza Dough
Kneading this dough only takes a few minutes. You want to work the dough until it comes together and forms a cohesive ball.
Add more flour as needed so the dough won't stick to your cutting board, but don't add too much or your pizza won't be fluffy.
You'll know your dough is done when it forms a ball and it bounces back when touched with two fingers.
Be sure to check out this post for more tips on kneading.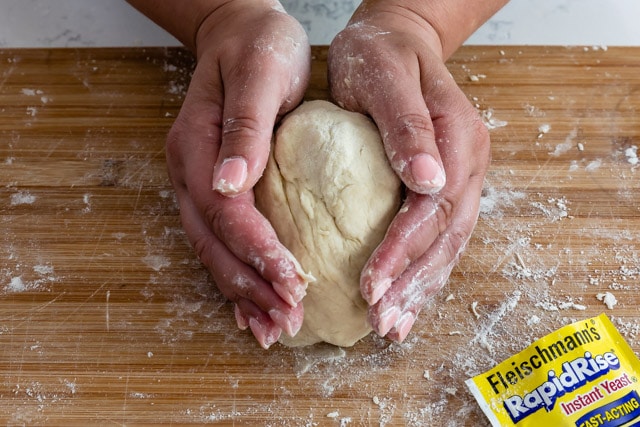 Pans for Deep Dish Pizza
Now once you have your dough you can make ANY pizza – but why not give deep dish a try?
Deep dish pizza comes in lots of forms, and this one has a nice thick crust. You don't need any special pans or anything, chances are you have exactly what you need:
9-inch round cake pan OR
9 or 10-inch cast iron pan
You can use bigger pans but then you'll have a more traditional crust, not deep dish.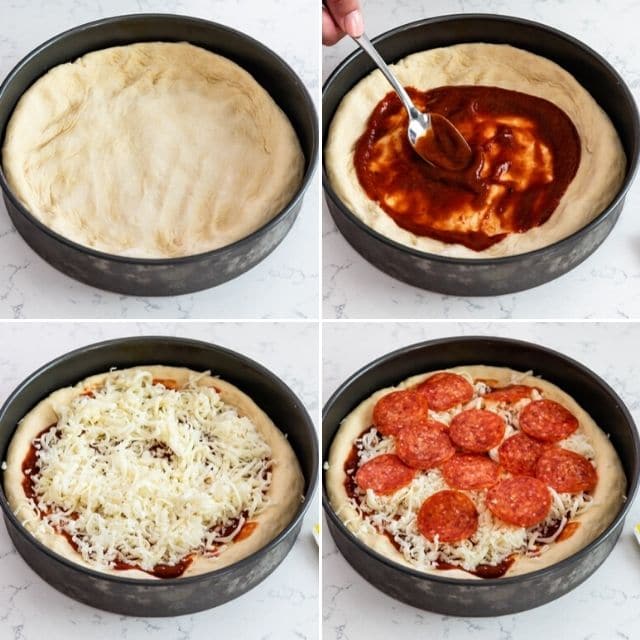 Assembling Deep Dish Pizza
First, press the dough in the prepared cake pan.
Top the dough with sauce to your liking. I used tomato sauce on this pizza but we love using pesto too!
Then add cheese and toppings. Use ANY toppings you like! We love making 2 pizzas, one for us and one for our picky daughter.
The key to a crunchy crust – no matter the pizza – is baking at a high temperature. This pizza is baked at 425° until it's cooked through and golden brown, about 20 minutes.
Remove the pizza from the pan after removing it from the oven. This also helps keep it crunchy (the longer it sits on the hot pan, the crust will soften).
Let it cool slightly before trying to slice, so you don't lose all your cheese to the pizza cutter.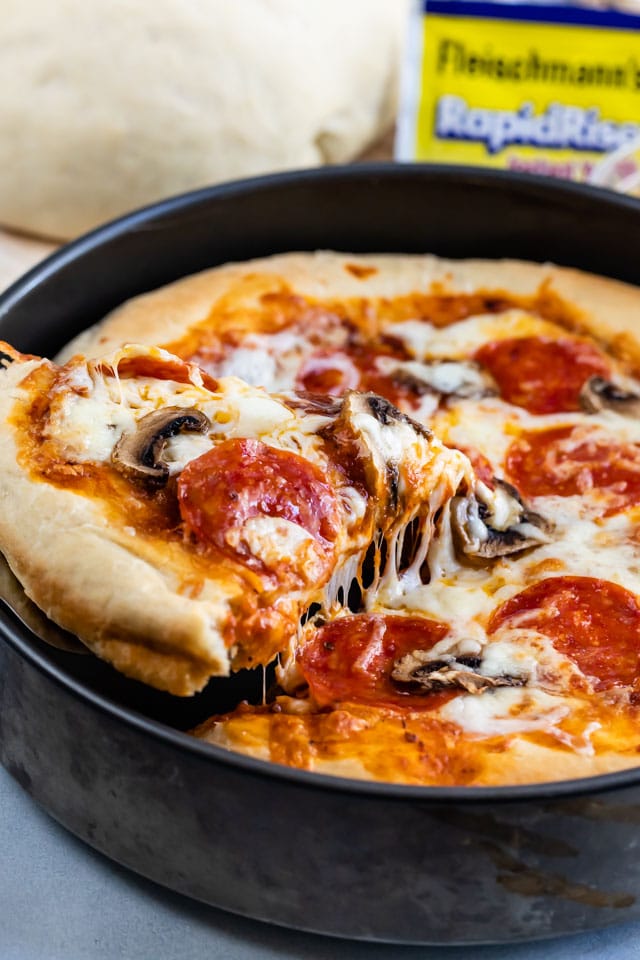 Other pizza toppings to try:
And if you love working with yeast, be sure and try these:
Orange Sweet Rolls
Cloverleaf Dinner Rolls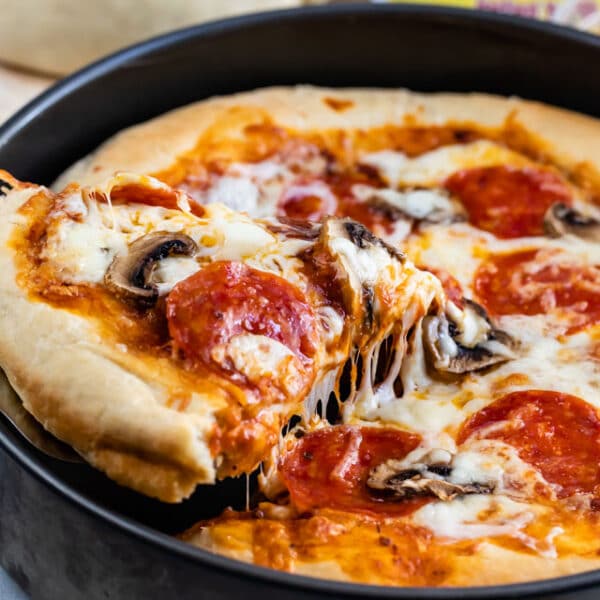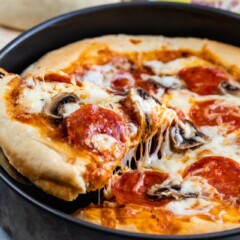 Deep Dish Pizza Recipe
Easy Deep Dish Pizza has the best homemade pizza dough and your favorite toppings.
Ingredients
CRUST:
1 3/4 to 2 1/4

cups

all-purpose flour

1

package

Fleischmann's® RapidRise Yeast

2 1/4 teaspoons

1 1/2

teaspoons

sugar

3/4

teaspoon

salt

2/3

cup

very warm water

120° to 130°F

3

tablespoons

olive oil
TOPPINGS
1/2 to 1

cup

pizza sauce

Other toppings as desired

1 to 2

cups

shredded mozzarella cheese
Instructions
Preheat oven to 425°F.

Combine 1 cup flour, undissolved yeast, sugar and salt in a large bowl.

Place water in a measuring cup or bowl that is microwave safe. Heat until it reaches 120-130°F (it's easiest to test this with an instant read thermometer). Add the oil to the water mixture.

Add water mixture to flour and mix until well blended, about 1 minute. Gradually add enough remaining flour to make a soft dough. Dough should form a ball and will be slightly sticky.

Knead on a floured surface, adding additional flour if necessary, until smooth and elastic, about 4 minutes. Let dough rest for 10 minutes.

Grease a 9-inch round cake pan with nonstick cooking spray. Press your pizza dough into the prepared pan.

Spread with pizza sauce. Top with desired toppings and sprinkle with cheese.

Bake on lowest oven rack for about 20 minutes, or until cheese is bubbly and crust is browned.
Recipe Nutrition
Serving:
1
serving
|
Calories:
282
kcal
|
Carbohydrates:
35
g
|
Protein:
9
g
|
Fat:
12
g
|
Saturated Fat:
4
g
|
Cholesterol:
15
mg
|
Sodium:
518
mg
|
Potassium:
137
mg
|
Fiber:
2
g
|
Sugar:
2
g
|
Vitamin A:
215
IU
|
Vitamin C:
1
mg
|
Calcium:
103
mg
|
Iron:
2
mg
Nutritional information not guaranteed to be accurate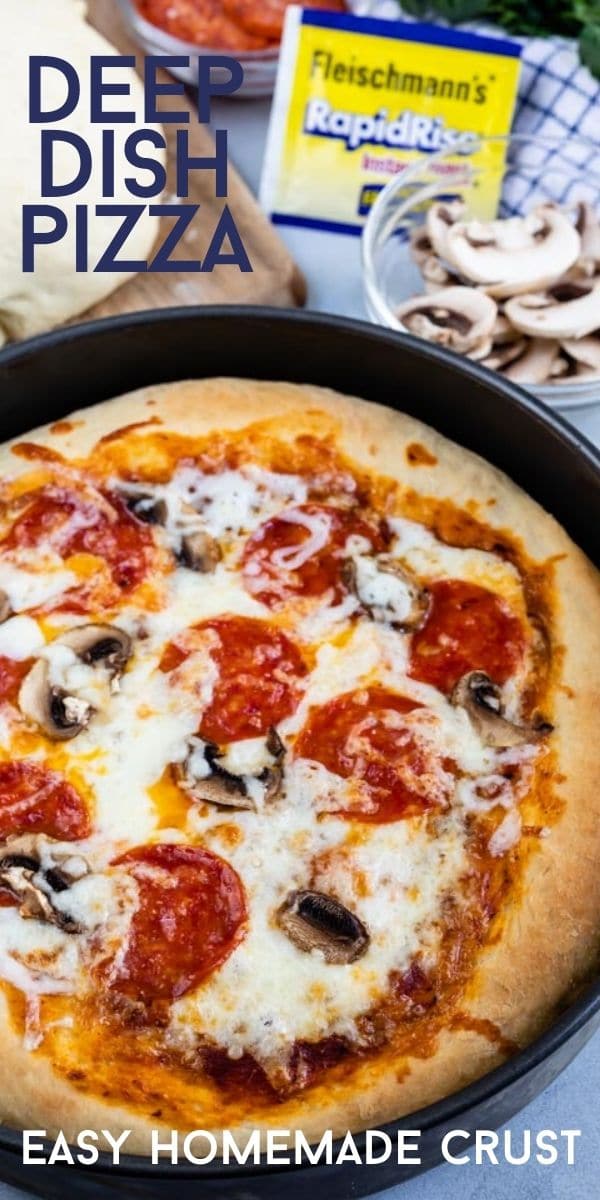 I'm going to show you how to make an easy homemade crust for your next pizza night! We love making homemade crust and this one is perfect for Deep Dish Pizzas.