This post may contain affiliate links. For more information, read my disclosure policy.
A Cosmopolitan Cocktail is a simple four-ingredient vodka drink that is so easy to make at home. It's pink, a little tart and a little sweet and a perfect cocktail for happy hour! And you probably have all the cosmo ingredients you need!
If you feel like a martini without having to go to the bar, then you should try this one – it's our favorite and we make it way too often!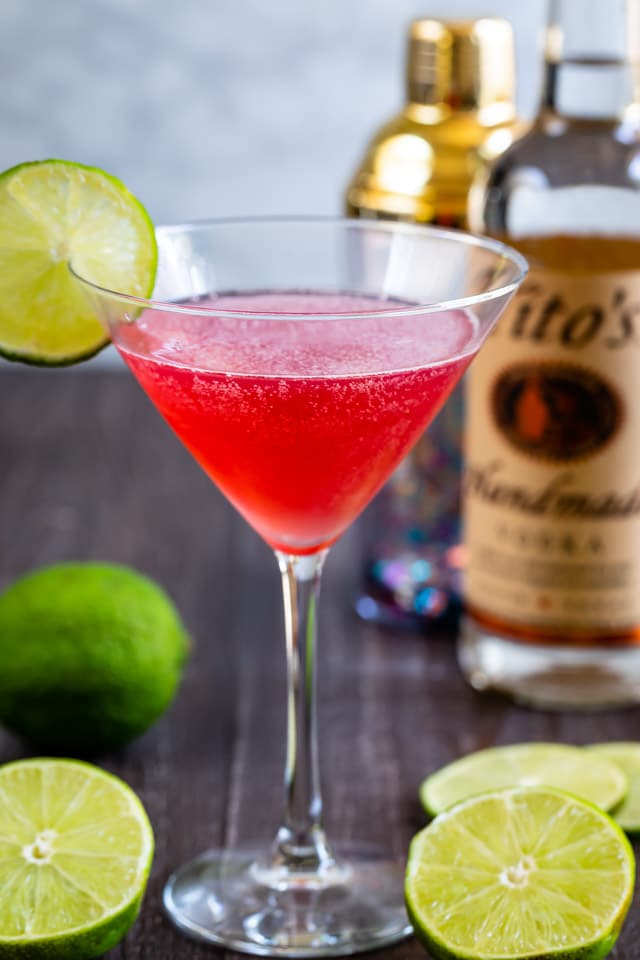 Table of Contents
Best Cosmopolitan Drink
A classic cosmo cocktail is my absolute favorite martini recipe and I never realized how easy they are to make at home.
I love going out for a drink, but sometimes I'm like, "this drink costs how much?" I know, not very cool, but sometimes drink prices – especially for cocktails – are so expensive! So, I say let's have an at-home happy hour, shall we? And I have the perfect drink for you to try: a classic cosmopolitan!
A cosmopolitan drink with triple sec, vodka, cranberry and lime is so easy to make at home and a whole lot cheaper, too.
I've been making this cocktail for years – I first fell in love with it the night I got engaged – and have been loving them ever since.
Cosmopolitan Cocktail Ingredients
You only need four ingredients to make it. It's sweet, tart and pink – perfect for a girl's night happy hour, but the fellas love them, too (my husband included).
Here are the cosmopolitan ingredients:
Vodka – pick your favorite brand!
Triple sec – this adds a pop of orange flavor
Cranberry juice – gives the drink it's signature pink color and adds tartness
Lime juice – adds a fresh splash of citrus
This is basically a classic cosmo recipe but the nice thing about it is that you can adjust the amounts to suit your own tastes.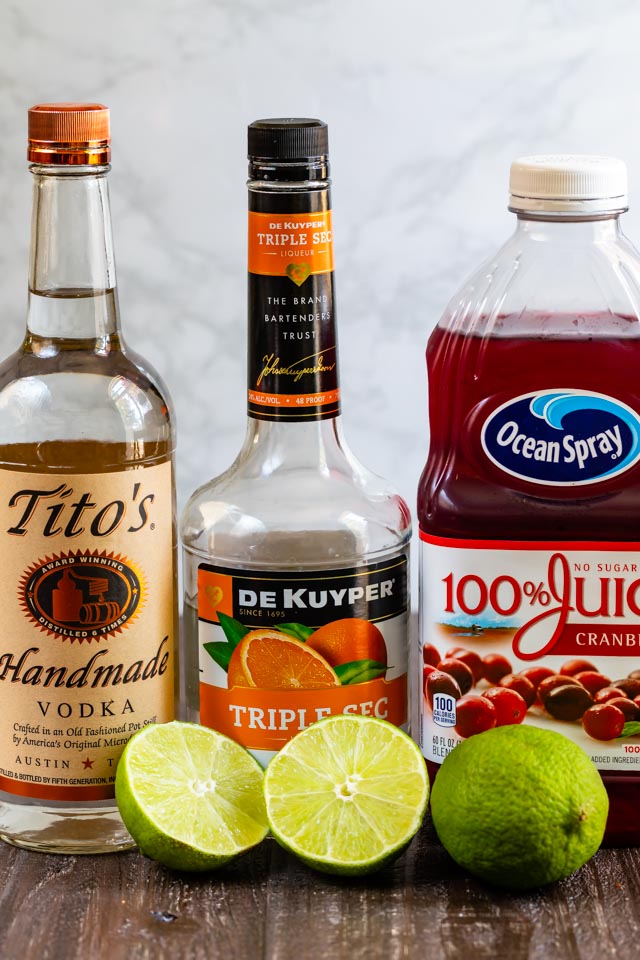 In addition to the ingredients, you will also need a martini glass and a cocktail shaker.
The shaker makes a big difference in preparing the drink. It's an easy way to mix the ingredients, but it also quickly chills the drink with ice. That way, you don't have to add ice to the actual drink which can dilute it.
How to Make a Cosmo Martini
Just add all of the ingredients to a shaker full of ice, secure the cap and shake it for at least 10 seconds. I took a mixology class once and the bartender told us the secret to a good martini is how long you shake it!
Open it up strain the drink into the glass. Add a slice of lime for garnish!
Make a pitcher of Cosmopolitan Drink
The recipe I'm sharing is for one drink, but you can easily scale it up and make a big batch of cosmopolitans.
I often like to mix it all and then shake as I go, so I'm not measuring out ingredients during a party.
To scale up your drink: multiply the ingredients by the number of cocktails you'll need. I figure two per person!
Just mix all of the ingredients in a pitcher and keep it the refrigerator until you're ready to serve the drinks. Then you can shake and serve individual cosmos when you're ready.
This is fun for parties and happy hours with friends – just make the batch of drinks ahead of time, set out a bucket of ice and let everyone shake and serve their own drinks.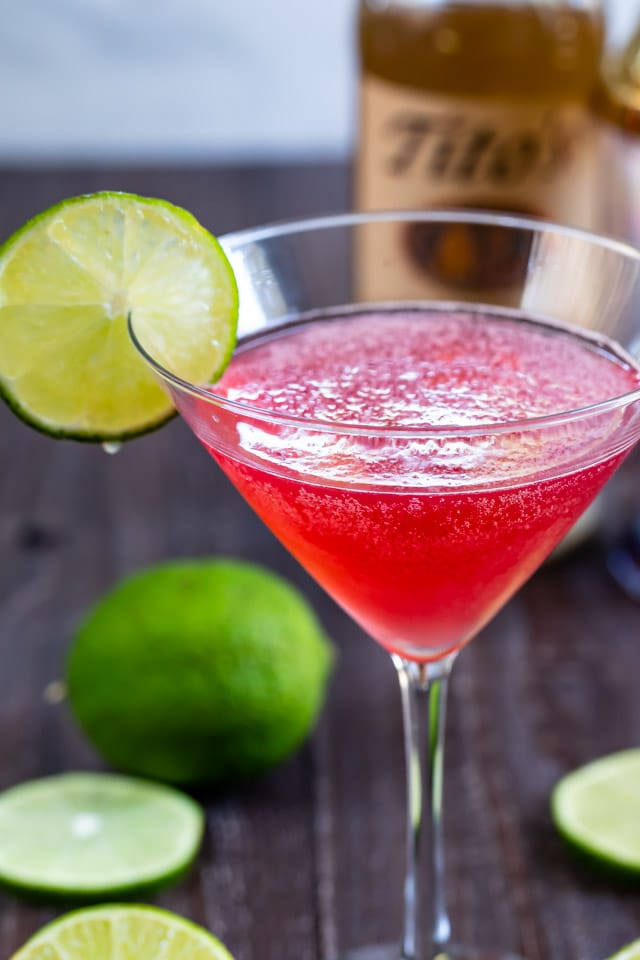 I think this is the perfect cosmopolitan recipe, but feel free to play around with it and adjust to your liking! I love the sweet and tart flavors and I love that I don't have to go out to have one. I hope you love it, too!
Other favorite martini recipes:
Have you made this recipe?
Tag @crazyforcrust on Instagram or hashtag it #crazyforcrust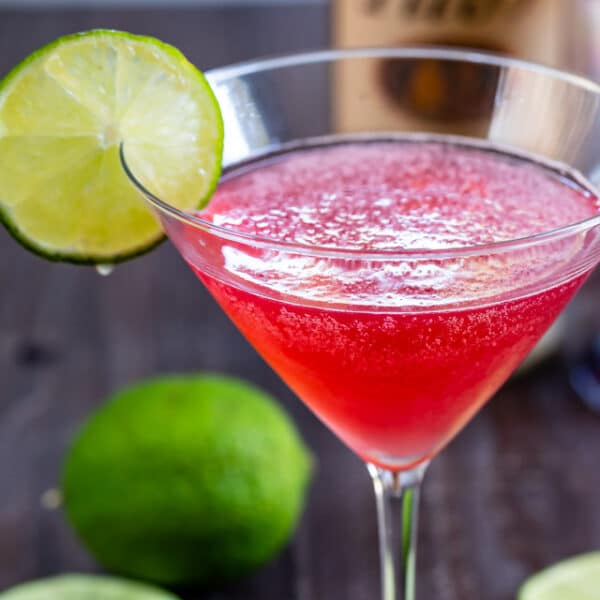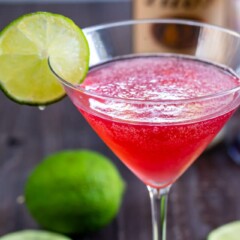 Cosmopolitan Cocktail Recipe
A Cosmopolitan Cocktail is a simple four-ingredient vodka drink that is so easy to make at home. It's pink, a little tart and a little sweet and a perfect cocktail for happy hour!
Ingredients
1 1/2

ounces

vodka

1

ounce

triple sec

1

ounce

cranberry juice

1/2

ounce

lime juice
Instructions
Place all ingredients in a cocktail shaker filled with ice. Shake vigorously for at least 10 seconds.

Strain into martini glass. Garnish with a slice of lime.
Recipe Notes
TIP: for a party, make a pitcher then measure out each drink and shake and serve. This way you're not measuring all night long. To scale it up: multiply each ingredient by the number of drinks (figure at least 2 per person). Then to make your drink, measure out 4 ounces of the mixture, shake and serve.
Recipe Nutrition
Serving:
1
serving
|
Calories:
202
kcal
|
Carbohydrates:
14
g
|
Protein:
1
g
|
Fat:
1
g
|
Saturated Fat:
1
g
|
Sodium:
4
mg
|
Sugar:
13
g
|
Vitamin C:
7
mg
Nutritional information not guaranteed to be accurate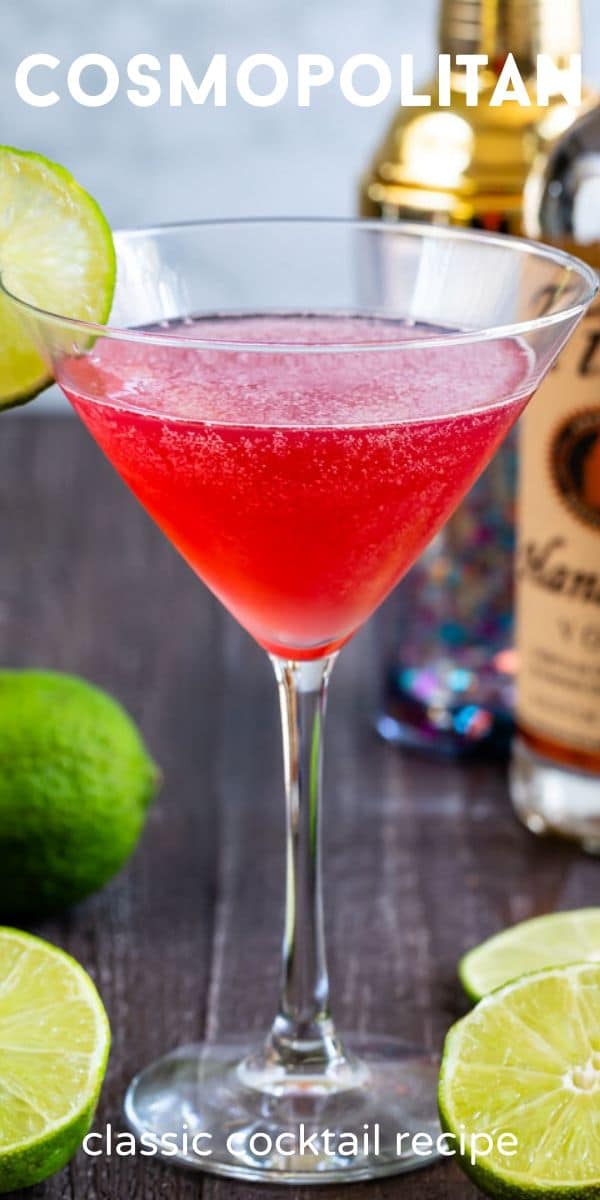 Last Updated on May 25, 2022