This post may contain affiliate links. For more information, read my disclosure policy.
Chocolate Peanut Butter Truffle Cookies are the perfect mix of chocolate and peanut butter. They are filled with a gooey chocolate peanut butter truffle filling.
Can you believe it's been over a month since I shared a peanut butter cookie recipe? That's, like, a record. To make it up to you, I'm posting something that's going to blow your mind. Thanks to Skippy Peanut Butter, I'm introducing you to a Chocolate Peanut Butter Truffle Cookie. Yeah. I did that.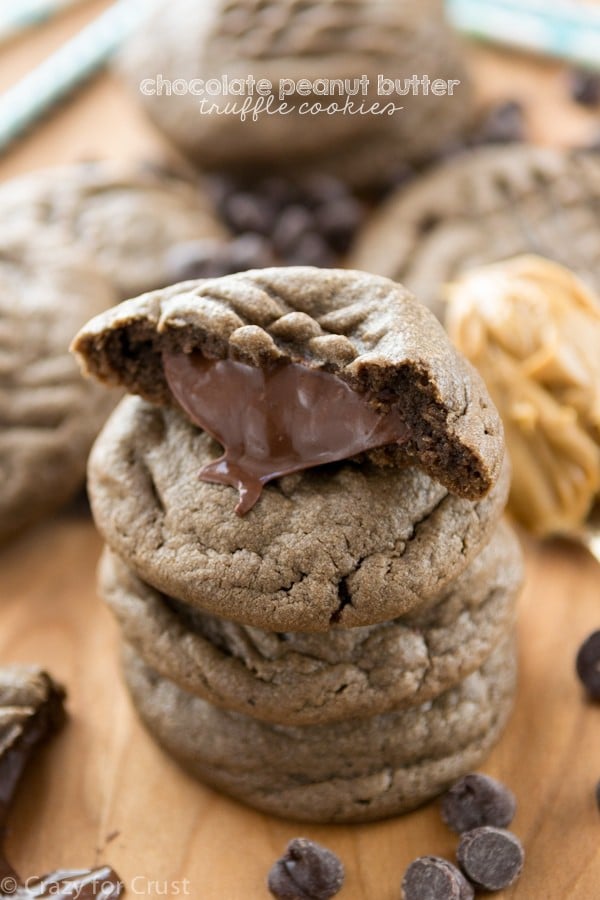 When I was in high school and college, my mom and I would make tons of Christmas cookies. We'd set up platters all over the dining room table and evenly divide up the fudge and rice krispie treats, the Russian Tea Cakes and the refrigerator cookies, and my personal favorite, the peanut butter blossoms. I remember painstakingly making a double batch of peanut butter blossoms every year, scooping small 1 tablespoon balls of dough, rolling them in sugar, and then planning how many really needed to go on the cookie platters vs. in my tummy.
Now, because my mom and I don't live very close, and because I bake cookies all day every day this time of year, we don't make our cookie platters together anymore. But peanut butter cookies are always on my to-do list when Christmas comes close. Y'all know my husband is a sucker for a peanut butter cookie and because it's one of the only desserts he eats, there is always a version in the works this time of year.
Enter: these epic chocolate peanut butter cookies.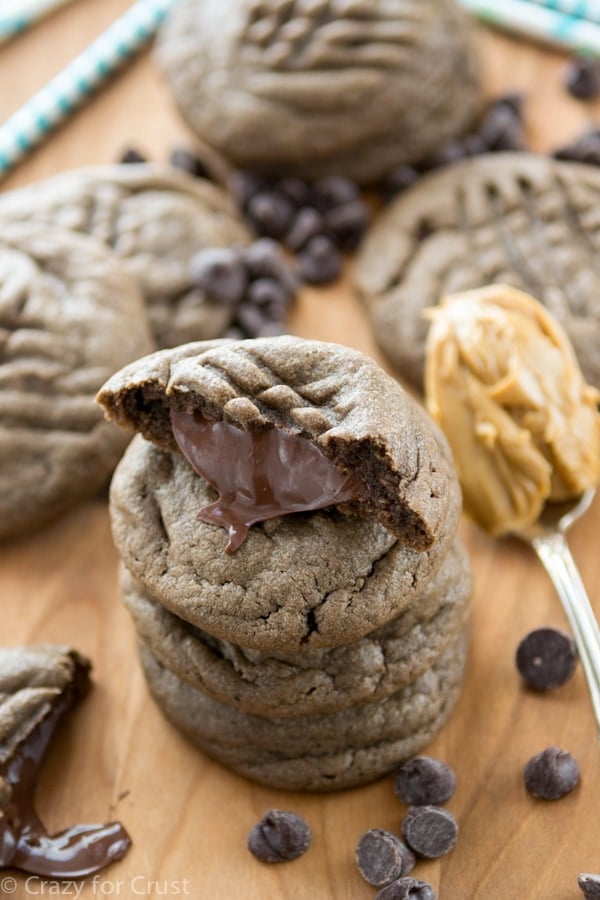 When Skippy asked me to be a part of their holiday YIPPEE campaign this year, I could not decide what I wanted to make. There are just so many good peanut butter cookie recipes out there – how would I choose what my next BIG recipe would be?
And then I thought: Chocolate. I have never made a chocolate peanut butter cookie before. I've made chocolate cookies and added peanut butter cups, but never filled an actual peanut butter cookie with chocolate.
So then I went to work on creating the best chocolate peanut butter cookie for you. It's hard work, this job, but someone has to do it. 😉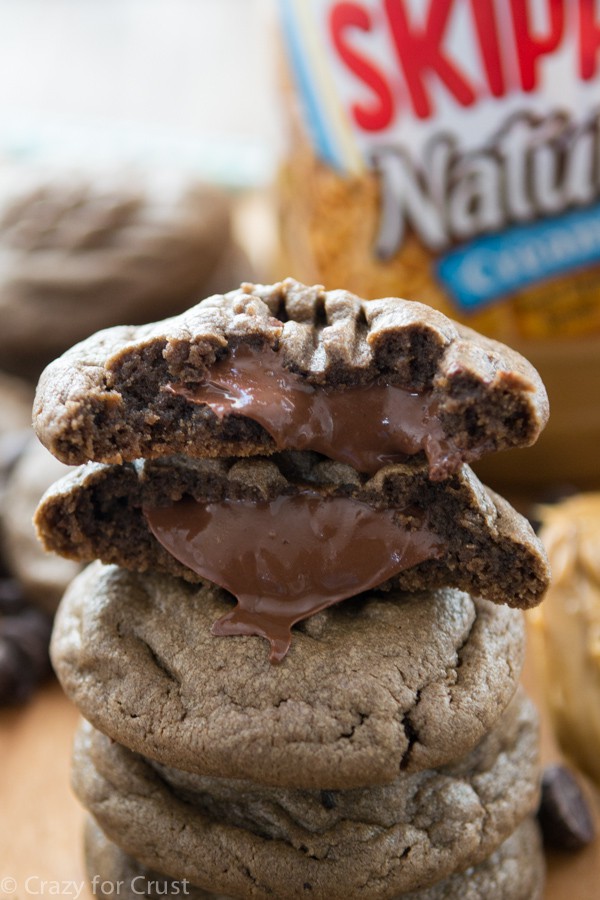 Chocolate Peanut Butter Truffle Cookies
I used my favorite peanut butter cookie recipe for the base of the cookie. And, as usual, I used Skippy Naturals Peanut Butter. SKIPPY has been my brand since I was a little girl, and it's what I use in every single peanut butter recipe on this blog (and in my book). I reduced the amount of peanut butter in the cookie, so that I could add two kinds of chocolate: melted semi-sweet baking chocolate and dark chocolate cocoa powder.
Note: I also made these with regular unsweetened cocoa and I liked them just fine, but I like the dark look of special dark cocoa. So use what you like!
The chocolate peanut butter cookie was good. It was fine. But I wanted something MORE, because, well, this is me we're talking about. I don't do normal very often. I prefer things like this. Or this. Or this!
So instead of just showing you a normal chocolate peanut butter cookie, I stuffed mine with a chocolate peanut butter truffle. Simply put, you melt chocolate chips with peanut butter, then chill the mixture until it's the consistency of a scoopable truffle. Then you roll the cookie dough around the truffle ball and bake it. When these are warm from the oven you get a gooey chocolate peanut buttery center. Once they completely cool, the center hardens a little and tastes like a soft peanut butter truffle…inside a peanut butter cookie.
There is no shortage of peanut butter OR chocolate flavor in these Chocolate Peanut Butter Truffle Cookies, that's for sure!

And that's kind of a good thing. Because peanut butter cookies are required eating at the holidays. They make our holidays fun and enjoyable. Especially when they ooze gooey chocolate, like theseChocolate Peanut Butter Truffle Cookies will. Am I right???
What makes a YIPPEE holiday for you? (Obviously, for me? It's eating cookies.)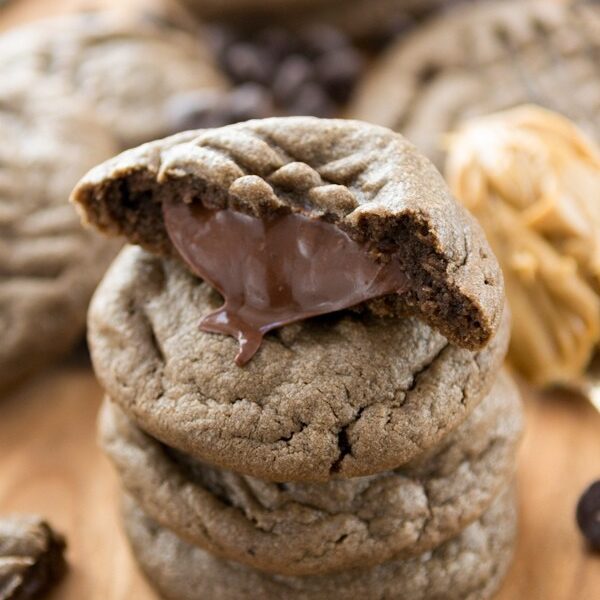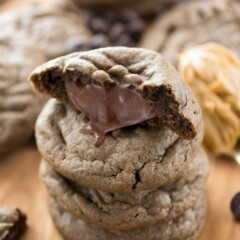 Chocolate Peanut Butter Truffle Cookies
A chocolate peanut butter cookie that's filled with a chocolate peanut butter truffle mixture, then baked. These are gooey, rich, and double the chocolate peanut butter flavor!
Ingredients
1

cup

semi-sweet chocolate chips

3/4

cup

peanut butter

divided (I use Skippy Naturals)

1/2

cup

butter

softened

3/4

cup

packed brown sugar

1/4

cup

granulated sugar

2

ounces

semi-sweet baking chocolate

melted and cooled slightly

1

large egg

1

teaspoon

vanilla

1

tablespoon

milk

2

tablespoons

unsweetened cocoa powder

I used Hershey's Special Dark

1/4

teaspoon

salt

1/2

teaspoon

baking soda

1 3/4

cups

all purpose flour
Instructions
Preheat oven to 350°F. Line 2 cookie sheets with parchment or silpat baking mats.

Place chocolate chips and 1/4 cup peanut butter in a microwave safe bowl. Heat on high power in 30 second increments, stirring between each, until melted and smooth. Freeze for no more than 10-12 minutes, stirring every few minutes, until the mixture is stiff like a truffle mixture, but still able to scoop into balls. Scoop 1 tablespoon size balls of this mixture and place on a third cookie sheet lined with wax paper. Chill until ready to use. (Note: some of the chocolate may get hardened, so it might be crumbly. Use your hands to mold it into balls. It's a little messy.)

Cream butter, 1/2 cup peanut butter, and both sugars in the bowl of an electric mixer fitted with the paddle attachment. Slowly mix in melted chocolate. Add egg, vanilla, milk, and salt, cocoa and baking soda. Mix until combined. Slowly add flour and mix until dough comes together.

Scoop 2 tablespoon sized balls of dough. Flatten each ball slightly and place one of the peanut butter chocolate balls inside, wrapping up the dough around them and rolling into a large ball. Make sure the cookie dough is sealed around the truffle or you'll get truffle spillage in the oven. Place on the prepared cookie sheets and press down slightly using the tines of a fork (there will be some resistance, they won't really flatten because of the inside.)

Bake for 8-10 minutes, until they just begin to loose their glossy sheen. I like to under bake them, but if you like a more done cookie, you can bake them the full 10 minutes. Cool completely on cookie sheets.

If you eat these within a few hours of baking they'll be gooey and drippy like the pictures. As the inside cools, it'll be more like a truffle on the inside of the cookie.

Store in an airtight container for up to 3 days or freeze for up to one month.
Recipe Nutrition
Serving:
1
cookie
|
Calories:
208
kcal
|
Carbohydrates:
25
g
|
Protein:
3
g
|
Fat:
11
g
|
Saturated Fat:
5
g
|
Cholesterol:
18
mg
|
Sodium:
510
mg
|
Fiber:
2
g
|
Sugar:
16
g
Nutritional information not guaranteed to be accurate
Click here to see more PEANUT BUTTER recipes!
Do you want to have a super fun holiday full of Skippy Peanut Butter? You know you do.
The holiday baking season is upon us! Enter the #SkippyYIPPEECookies Sweepstakes for a chance to win nutterific peanut butter and supplies for the ultimate peanut butter-filled holiday.
Here is how you can enter:
Follow SKIPPY brand on Pinterest
Create a new board called #SkippyYIPPEECookies Sweepstakes.
Pin three (3) SKIPPY cookie pins from this board to your #SkippyYIPPEECookies Sweepstakes board.
Pin at least three (3) other holiday pins (ingredients, holiday themed décor) to your #SkippyYIPPEECookies Sweepstakes board for a total of six (6) pins to complete your perfect YIPPEE holiday. See the official rules here.
(Need some ideas on what to pin? You can pin these Chocolate Peanut Butter Truffle Cookies. Or how about this. Or this. Or these! Those would all be perfect for holiday giving!)
What you can win:
Week 1: Ultimate kitchen baking kit (including a year supply of SKIPPY peanut butter, a kitchen utensil set, a set of mixing bowls, and a hand blender)
Week 2: $1,000
Week 3: $1,000
Week 4: Lifetime supply of SKIPPY peanut butter
(I want a lifetime supply of peanut butter. That's 600 jars (12 jars a year for up to 50 years)!! This prize will be rewarded as a year supply of SKIPPY peanut butter (12 jars) and a cash gift card for the remaining "588" jars. Think of how many Chocolate Peanut Butter Truffle Cookies you could make with that!)
I'm going to enter too. Follow my SkippyYIPPEECookies board here and get some ideas to repin to your board.
If you loved these Chocolate Peanut Butter Truffle Cookies, you'll love these:
Sprinkle Peanut Butter Cookies (gluten-free)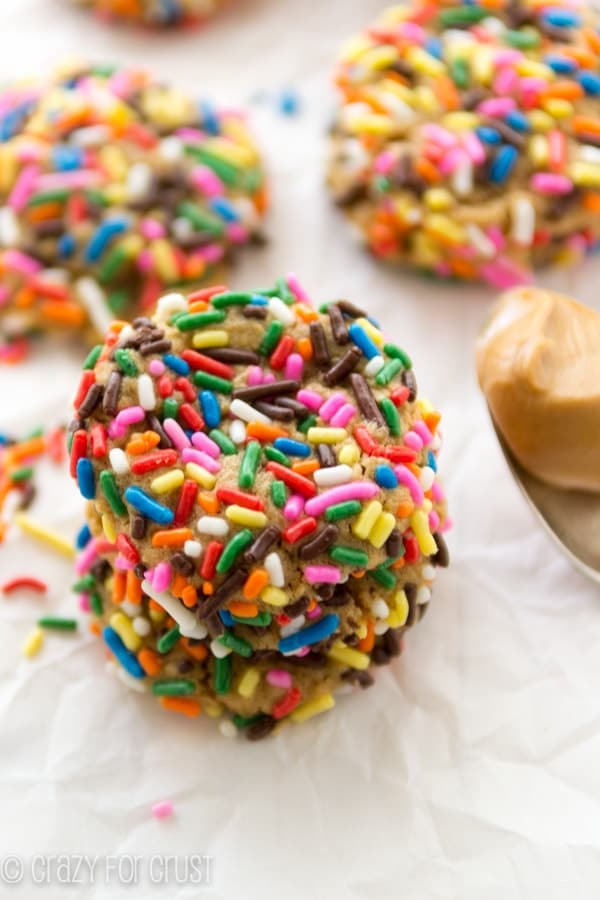 Chocolate Peanut Butter Cup Cookies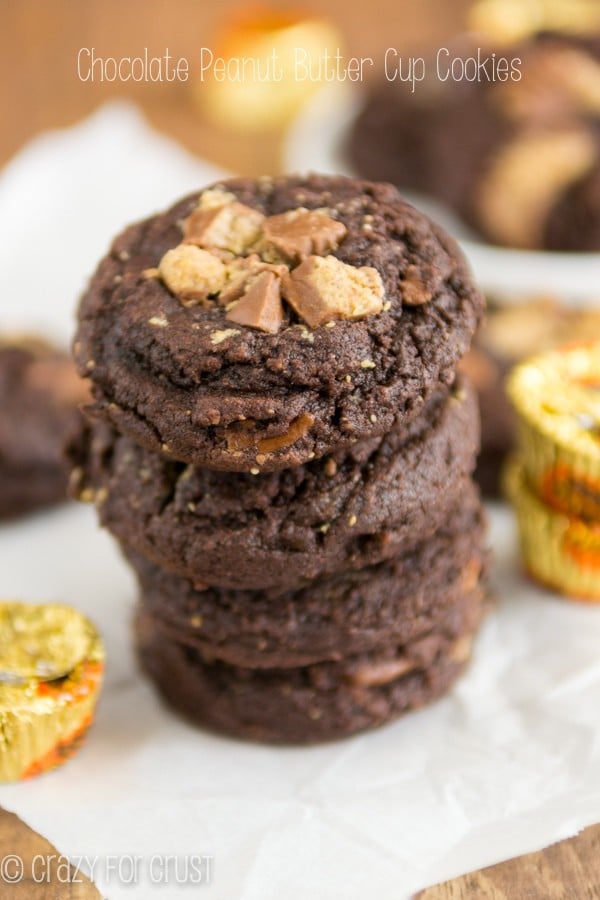 Snickers Stuffed Peanut Butter Cookies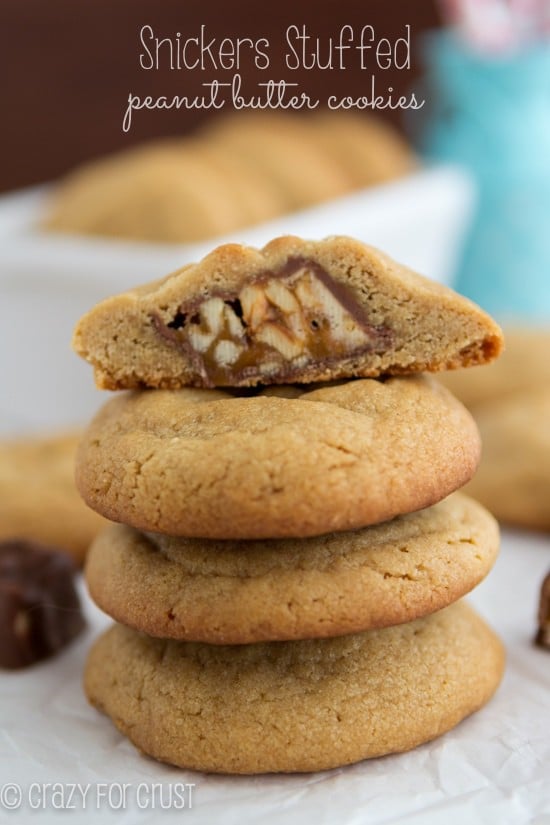 Easy Dark Chocolate Peanut Butter Cookies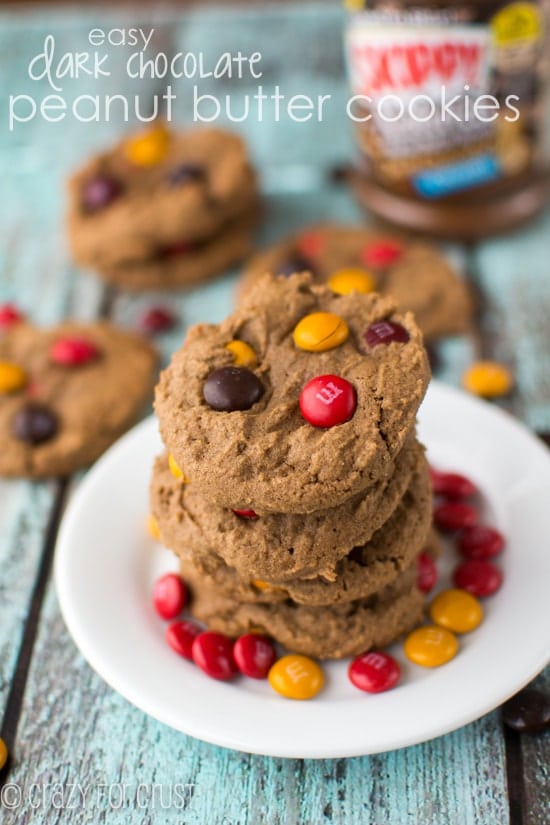 Sweets from friends:
Peanut Butter M&M Cookies by Baked by Rachel
Big Soft and Chewy Peanut Butter Crinkle Cookies by Averie Cooks
Peanut Butter Oatmeal Cookie Bars by Mom on Timeout
This post has been sponsored by Skippy Peanut Butter. All opinions are 100% my own. (But I'd do it for free because I love them so much, but shhhh, don't tell them that. ;))
Last Updated on February 2, 2023