Blueberry Crumb Pie
This post may contain affiliate links. For more information, read my disclosure policy.
Sometimes, you just want pie – and this Blueberry Crumb Pie will satisfy that craving! It's got crust and crumble – two of my favorite things and would be perfect for your 4th of July party!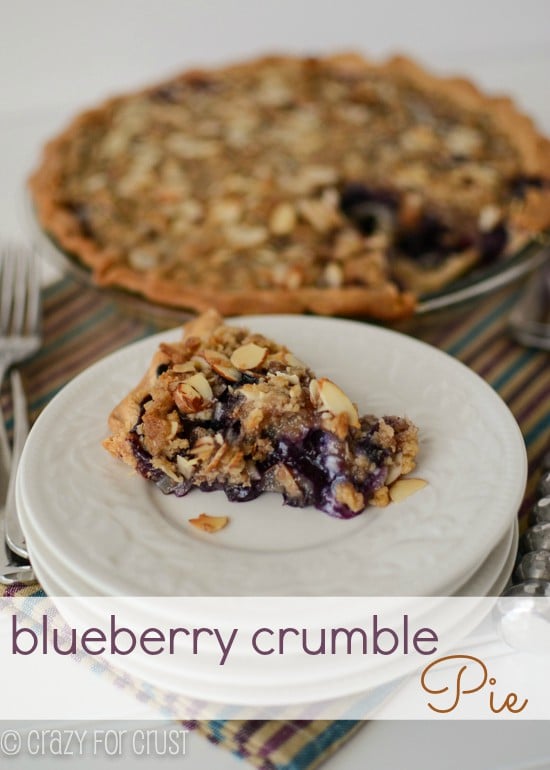 Last week, before we left, Jordan started summer tutoring. Now, normally I'm not one to be all study! study! study! during summer, but Jordan needs it this year. Her math skills are just not where they need to be going into third grade. So, off to a tutor she goes twice a week.
I was worried she'd moan. And complain. And whine and cry. But I was wrong.
She loves tutoring. She even loves that she gets homework. And she loves doing her homework.
Um, hello math-loving child. Who are you and what did you do with Jordan?
She said to me after the first session:
"Mom, when I add two numbers I had forgotten that I should start with the biggest number, so it's easier. I learned that in first grade and forgot. Now adding is easier!"
Um, I told her that approximately 1,342 times during the school year. But whatever. I'm her mom, so my voice is mute to her.
Oh well. At least she listens to someone!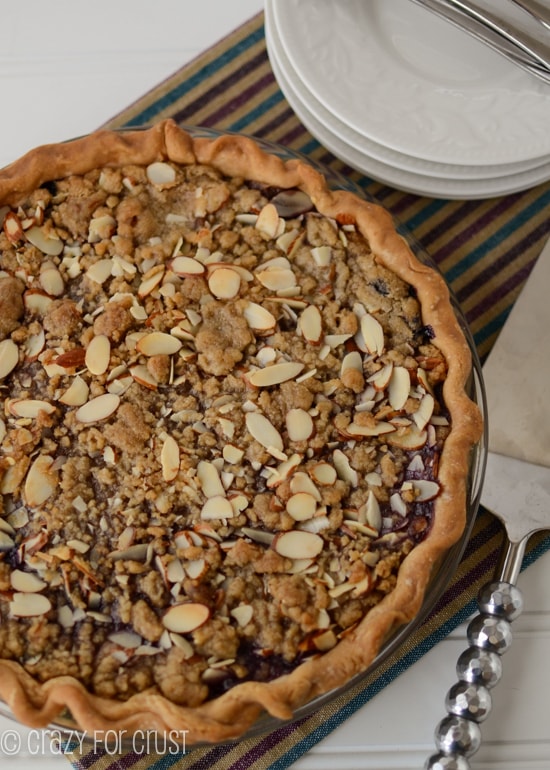 You all listen to me when I yell at you right? Like when I tell you I made the best cookies. Or the best apple crumb pie?
Good, because now I'm going to tell you about this blueberry crumb pie. I don't know if it's the best because it's the only blueberry pie I've ever eaten, but it was darn good. So, yeah. Let's go with BEST.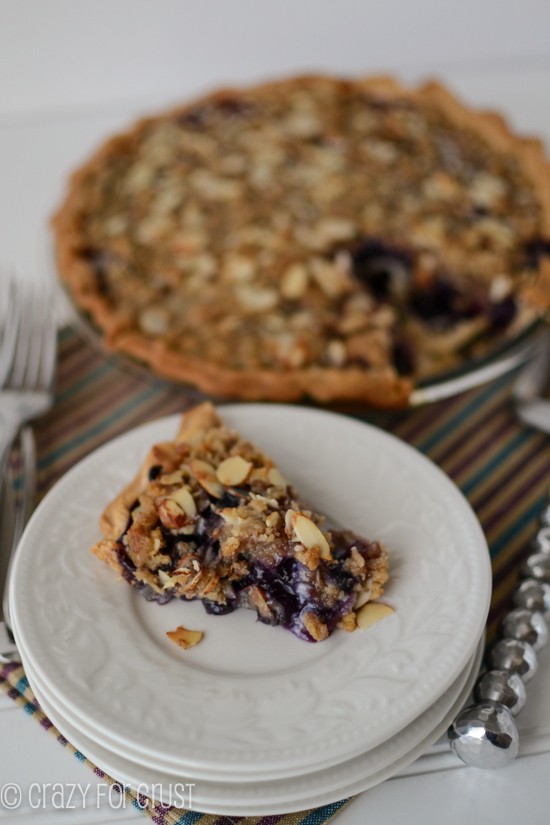 I started with a refrigerated pie crust. I also love my from scratch crust, but I was being lazy (and baking 4 other pies) the day I was making this.
The blueberries are tossed with some sugar, flour, and lemon juice for the perfect filling, and topped with white chocolate chips. White chocolate and blueberries should be married, in my opinion.
And the crumble. Oh, how I love crumble! I've made so many variations, and they're all my favorites. I love this version because it has almonds in it, and I'm a total sucker for almonds. Plus, it's made with brown sugar which makes it better x1,000,000 if you ask me!
This pie is perfect for any occasion, but especially for the Fourth of July! I think that Pie and Independence Day just go together, and the pop of the blueberries will just make your party table seem way more patriotic!
You believe me right? That this pie is fabulous?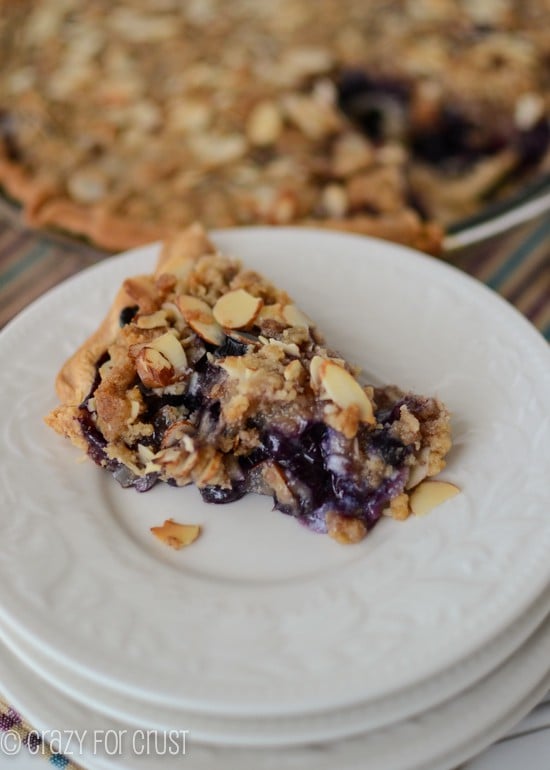 Good. At least someone believes me about something! 😉
Blueberry Crumb Pie
This Blueberry Crumb Pie is made with a fresh blueberry filling and topped with an almond crumble! It's the best berry pie recipe!
Ingredients
1 refrigerated pie crust — from a box of 2
5 cups frozen blueberries — drained (or fresh)
2/3 cup granulated sugar
1 tablespoon fresh lemon juice
1/2 cup white chocolate chips
3 tablespoons + 3/4 cup flour — divided
1 cup sliced almonds
3/4 cup brown sugar
6 tablespoons butter
Pinch salt
Instructions
Preheat oven to 350 degrees.

Unroll pie crust and place in a 9" pie plate. Crimp edges as desired. Chill until ready to fill.

Make the crumble by combining the nuts, brown sugar, 3/4 cup flour, and salt in a large bowl. Use a pastry cutter to cut in the butter until the mixture forms small crumbs. Set aside.

Place blueberries in a large bowl. Toss gently with sugar, lemon, and 3 tablespoons of flour.

Remove crust from the refrigerator and fill with berries. Top with white chocolate chips. Pour the crumble over the top and press down slightly to compact.

Place the pie on a cookie sheet to prevent over-spilling onto your oven floor. Tear 2" wide strips of aluminum foil and place them around the outer edge of the crust so it won't brown too quickly. Bake for 48-52 minutes (remove foil from crust about halfway through baking). It's done when the crust is browned and the topping looks crunchy. Cool completely before slicing.
See more of my ultimate pie recipes here!

Other must-have pies: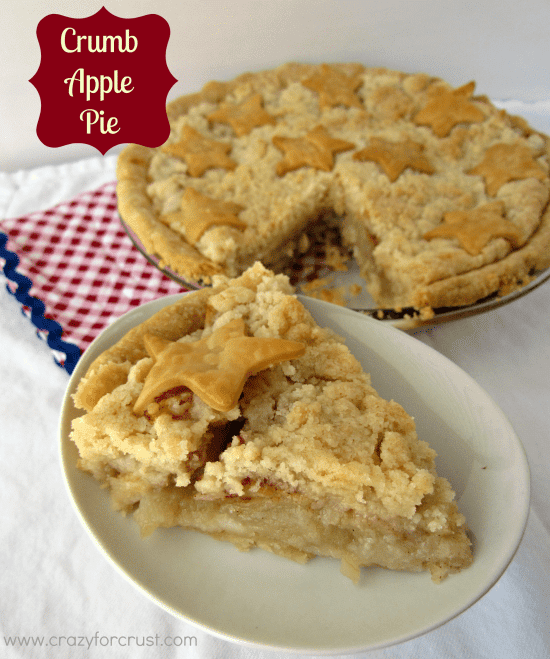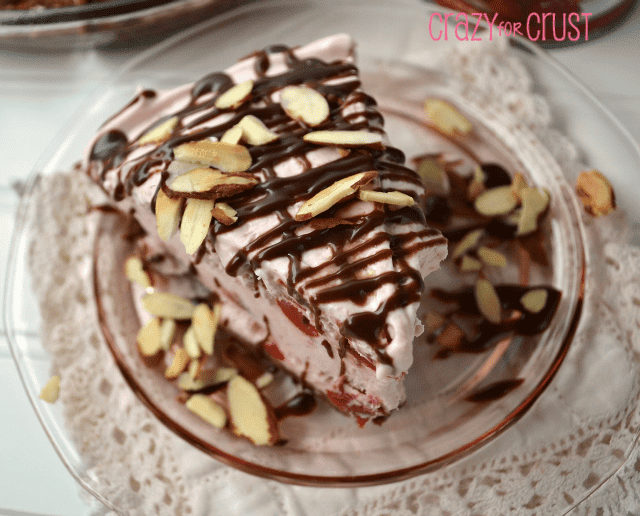 Sweets from friends:
No-Bake Yogurt Pie by Eat Cake for Dinner
Nutella Crack Pie by The Cooking Actress
Apple Toffee Crumble by Something Swanky