This post may contain affiliate links. For more information, read my disclosure policy.
Blueberry Crumble Pie is the BEST Blueberry Pie recipe! The blueberry pie filling is a foolproof recipe I've been making forever and it has a brown sugar crumble.
If you want to bring the best dessert, be sure to make this easy pie recipe!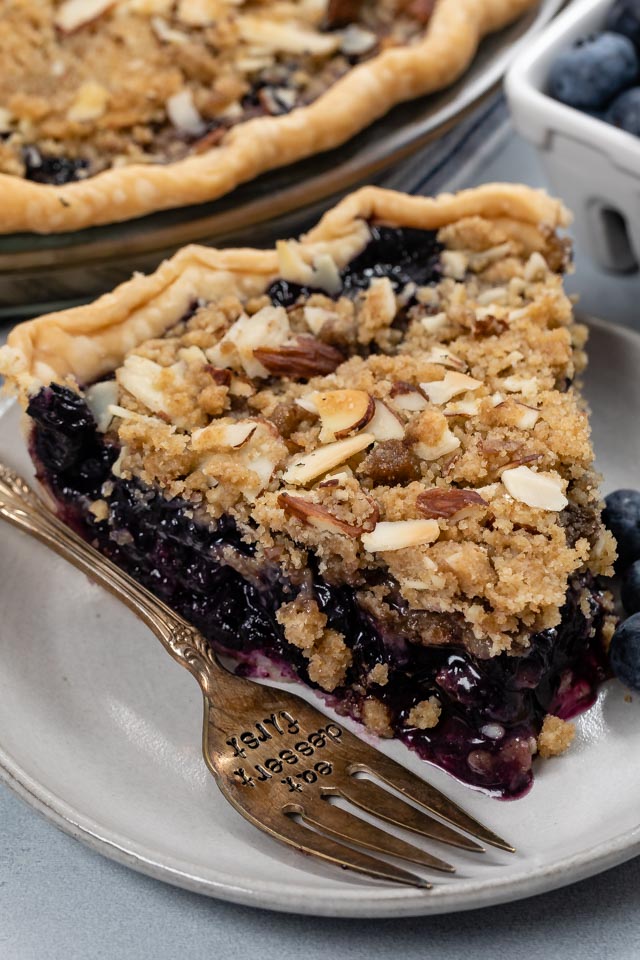 Why this is the BEST Blueberry Crumb Pie
Blueberry Pie is such a classic pie recipe and it's one of my most popular! The original one I made was a lattice top pie, but did you know you can make fruit pies with ANY topping? You get to choose:
Lattice
Double crust
Crumble
Crumble topping is my favorite way to make a fruit pie. Heck, I'd probably put crumble topping on ANY pie! My basic crumble topping is a versatile way to make any pie recipe. In that post I talk about variations and this is one of them!
Blueberry Crumb Pie Video
What is the best crumb topping for blueberry pie?
This isn't any old crumble pie: it's a brown sugar crumble with almonds. The almonds and brown sugar pair so well with the berries.
I love my original recipe with granulated sugar, but brown sugar crumble is pretty awesome too. It's crunchy and sweet with that telltale molasses flavor in brown sugar. I love the crunch of the almonds as well.
This crumble topping would be great on any fruit pie!
Using brown sugar in crumble topping adds a unique flavor to the pie!

PRO TIP
Should I thaw frozen blueberries before baking a pie?
I use frozen berries in most of my fruit pie recipes.
When using frozen fruit, be sure that it is completely defrosted and drained really well. You don't want any extra wetness in your pie filling!
How to make blueberry pie filling
This is my versatile GO TO pie filling recipe. I use it for EVERY fruit pie I make!
5 cups of fruit
Sugar
Lemon juice
Cornstarch
If you want a foolproof fruit pie filling that won't be too wet you must use my recipe.
1. How to deal with Frozen Berries: If you're using frozen berries, make sure they're completely defrosted and drained really well.
2. Mix Filling: Place blueberries in a large bowl. Toss gently with sugar, lemon, and cornstarch.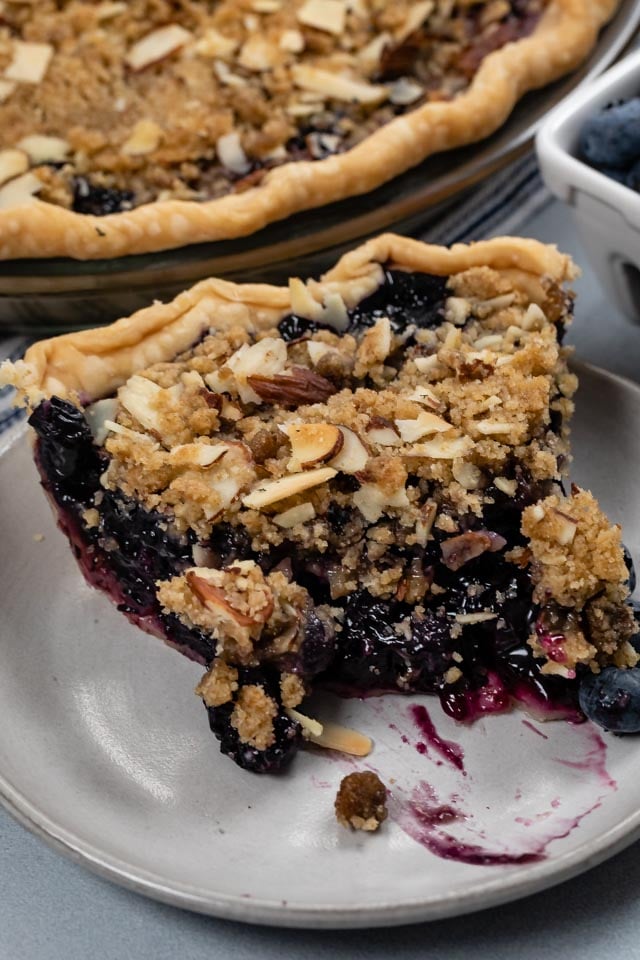 How do you thicken a blueberry pie?
I have used both cornstarch and flour in blueberry pie and I like cornstarch better. I find it solidifies the pie filling much better than flour.
You need to use one of them to thicken fruit pie and cornstarch is my #1 pick.
Best Pie Crust for Berry Pie
I started with a refrigerated pie crust for this pie. Sometimes I feel like baking from scratch and other times I want some help in the kitchen.
I also love making my from scratch crust. If you want to make a homemade pie crust, that's the recipe to use.
Really, you can do either for your pie crust. No one will care if you use a semi-homemade option and sometimes it's just so much easier to bake from scratch with a little help.
How to Make Crumble Topping
Flour: for binding
Almonds: for flavor and crunch
Brown Sugar: for a deeper flavor of sweetness
Butter: makes it that crunchy flavor you love
Dry Ingredients: Combine the nuts, brown sugar, flour and salt in a large bowl.
Cut in the Butter: Use a pastry cutter to cut in the butter until the mixture forms small crumbs. Set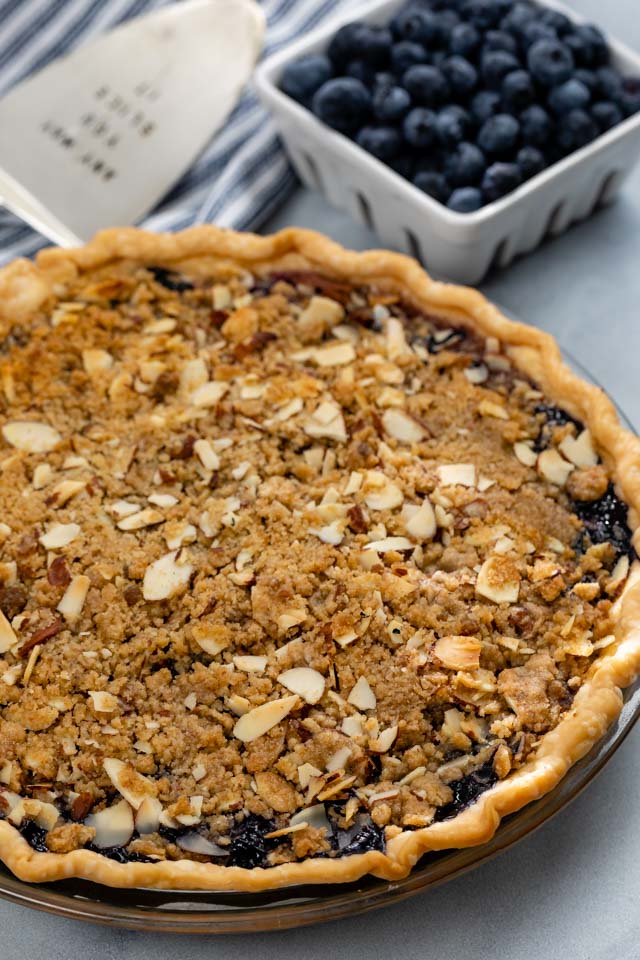 FAQ About This Pie
Avoid a soggy bottom crust!
To prevent a soggy bottom and make sure your pie crust is completely baked you need to blast it with heat for 10 minutes. I bake the pie at 425°F for 10 minutes then lower the oven temperature for the rest of the baking.
I also recommend using a pie crust shield or strips of foil to keep the edges from browning too much or getting too dry. People don't like pie crust because it burns and gets dry around the edges! A pie crust shield will fix that.
When is your blueberry crumble pie done?
It's done when the crumble topping is golden and the pie crust has browned. The filling around the edges will not look runny.
Help! Why is my Blueberry Pie runny?
There are a few reasons why your pie filling is runny:
Is your pie completely cool? Don't slice it until it's completely cool.
Did you drain your frozen berries VERY well before making the filling?
If you made your filling before you made your topping and the filling sat for too long – or you added it to the pie and didn't bake it right away – the berries will weep. Be sure to mix the filling right before adding it to the pie crust and baking (or drain it before you add it).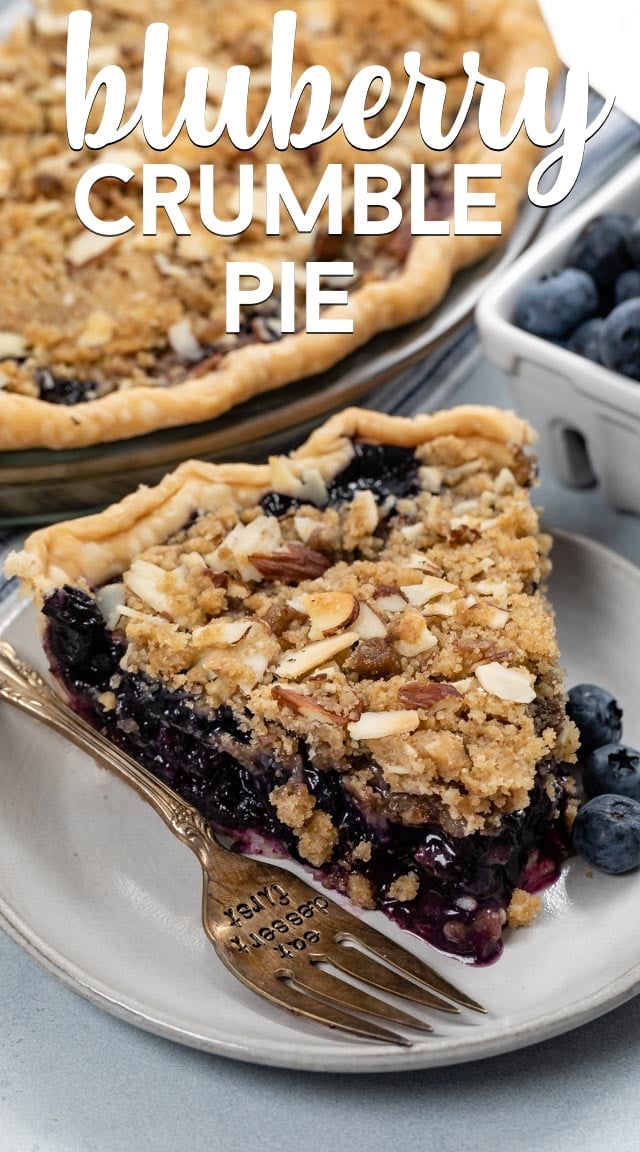 Other pie recipes to try:
Make this for dessert for any holiday with:
Have you made this recipe?
Tag @crazyforcrust on Instagram or hashtag it #crazyforcrust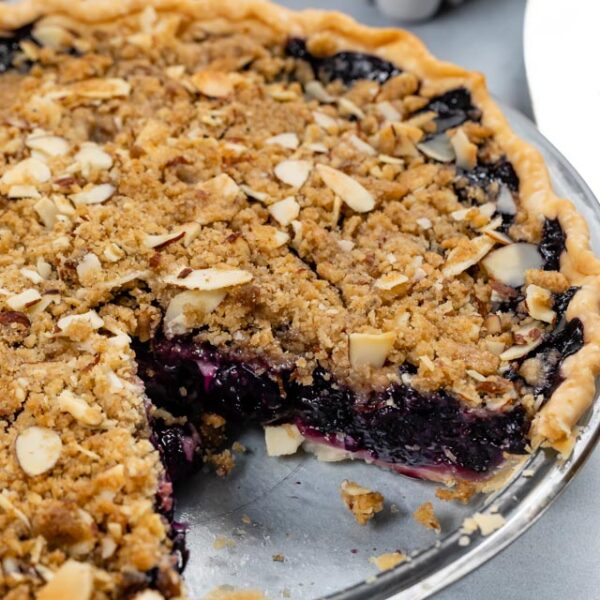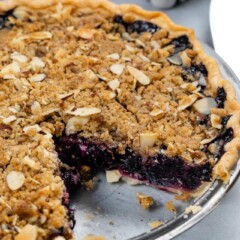 Blueberry Crumble Pie
This Blueberry Crumble Pie is made with a fresh blueberry filling and topped with an almond crumble! It's the best berry pie recipe!
Ingredients
For the pie filling:
1

pie crust

, homemade or from a refrigerated pack of two

5

cups

blueberries

, fresh or frozen (see note)

2/3

cup

granulated sugar

1

tablespoon

fresh lemon juice

4

tablespoons

cornstarch
For the crumble topping:
3/4

cup

all purpose flour

1

cup

sliced almonds

3/4

cup

packed brown sugar

6

tablespoons

unsalted butter

1/4

teaspoon

salt
Instructions
Unroll pie crust and place in a 9" pie plate. Crimp edges as desired. Chill until ready to fill.

Make the crumble by combining the nuts, brown sugar, flour and salt in a large bowl. Use a pastry cutter to cut in the butter until the mixture forms small crumbs. Set aside.

If you're using frozen berries, make sure they're completely defrosted and drained really well.

Place blueberries in a large bowl. Toss gently with sugar, lemon, and cornstarch.

Remove crust from the refrigerator and fill with berries. Pour the crumble over the top and press down slightly to compact.

Place the pie on a cookie sheet to prevent over-spilling onto your oven floor. Tear 2" wide strips of aluminum foil and place them around the outer edge of the crust so it won't brown too quickly. (Or use a pie crust shield) Bake at 425°F for 10 minutes, then lower the temperature to 350°F for 35-45 more minutes (remove foil from crust about halfway through baking). It's done when the crust is browned and the topping looks crunchy. Cool completely before slicing.
Recipe Notes
Note on blueberries:
Use fresh if you have them
You can use frozen berries but make sure that they're completely defrosted and they have been drained very well. Any excess water will cause your pie to bet wet.
Recipe Nutrition
Serving:
1
slice
|
Calories:
504
kcal
|
Carbohydrates:
76
g
|
Protein:
6
g
|
Fat:
21
g
|
Saturated Fat:
8
g
|
Cholesterol:
23
mg
|
Sodium:
168
mg
|
Potassium:
227
mg
|
Fiber:
5
g
|
Sugar:
46
g
|
Vitamin A:
312
IU
|
Vitamin C:
10
mg
|
Calcium:
67
mg
|
Iron:
2
mg
Nutritional information not guaranteed to be accurate
See more of my ultimate pie recipes here!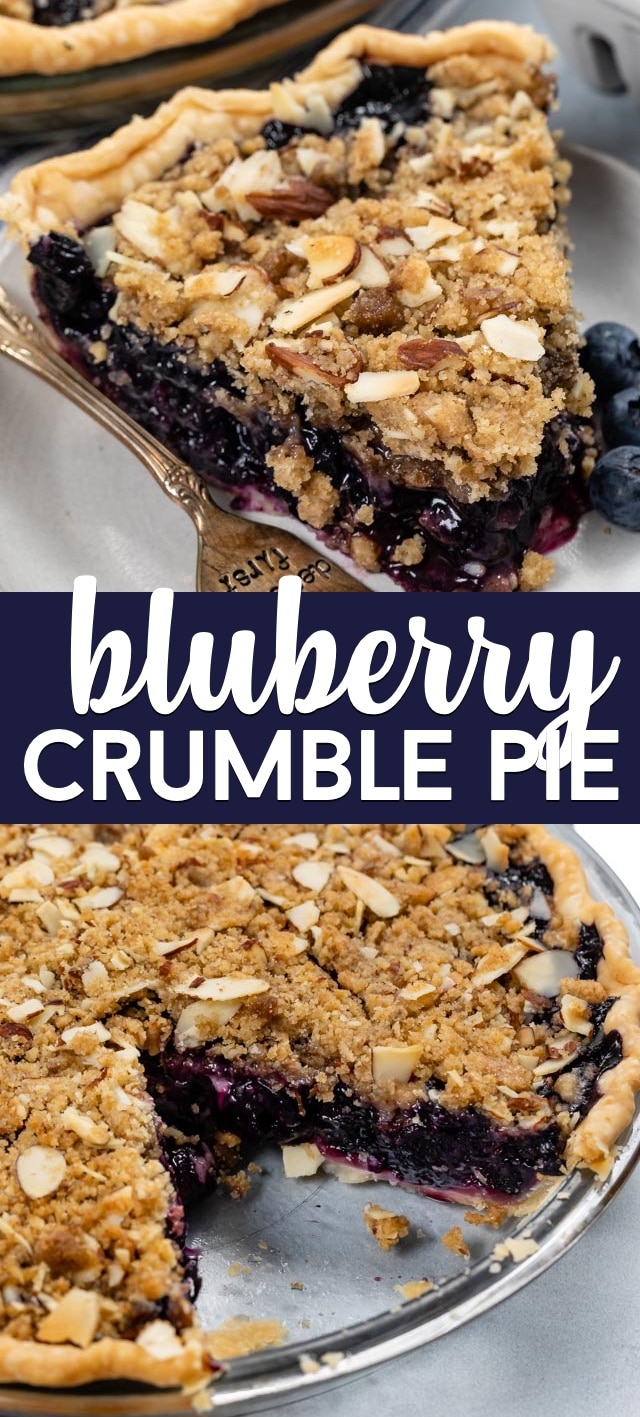 Blueberry Crumble Pie is the best way to make a blueberry pie. It's got a thick blueberry filling and a brown sugar crumble!
Last Updated on June 24, 2021