This post may contain affiliate links. For more information, read my disclosure policy.
Have you ever made turkey in a bag? This is my Mom's Thanksgiving Turkey Recipe – it's moist every time with delicious flavor thanks to her secret baste recipe. If there is one recipe from mom I look forward to all year, it's her turkey. It's the turkey I grew up with and ate every holiday, and now I make it for myself and it's SO easy to cook turkey in a bag.
Why make a turkey in a bag?
Why isn't the oven bag some sort of revolutionary thing? I just don't get it…if I lived in Star Trek and had the capability to say order up an instant Thanksgiving meal, I would. Using an oven bag is like doing that: poof! your turkey is done! WHY ISN'T THIS A THING?
My mom cooks her Thanksgiving turkey in an oven bag. It's just how she's always done it. It's the only way I've ever seen it done. It's the way I learned how to cook a turkey, the way I cook it, and it's the way I'll teach Jordan.
Why spend 8 hours making something when you can pop it in a bag and it's done in 3 with no basting required? With my mom's secret special baste (which is actually a sauce, because there is no basting), the turkey comes out moist every time. My mom has never made a dry turkey, ever.
Cooking turkey in a bag is like magic: done in 2-3 hours!

PRO TIP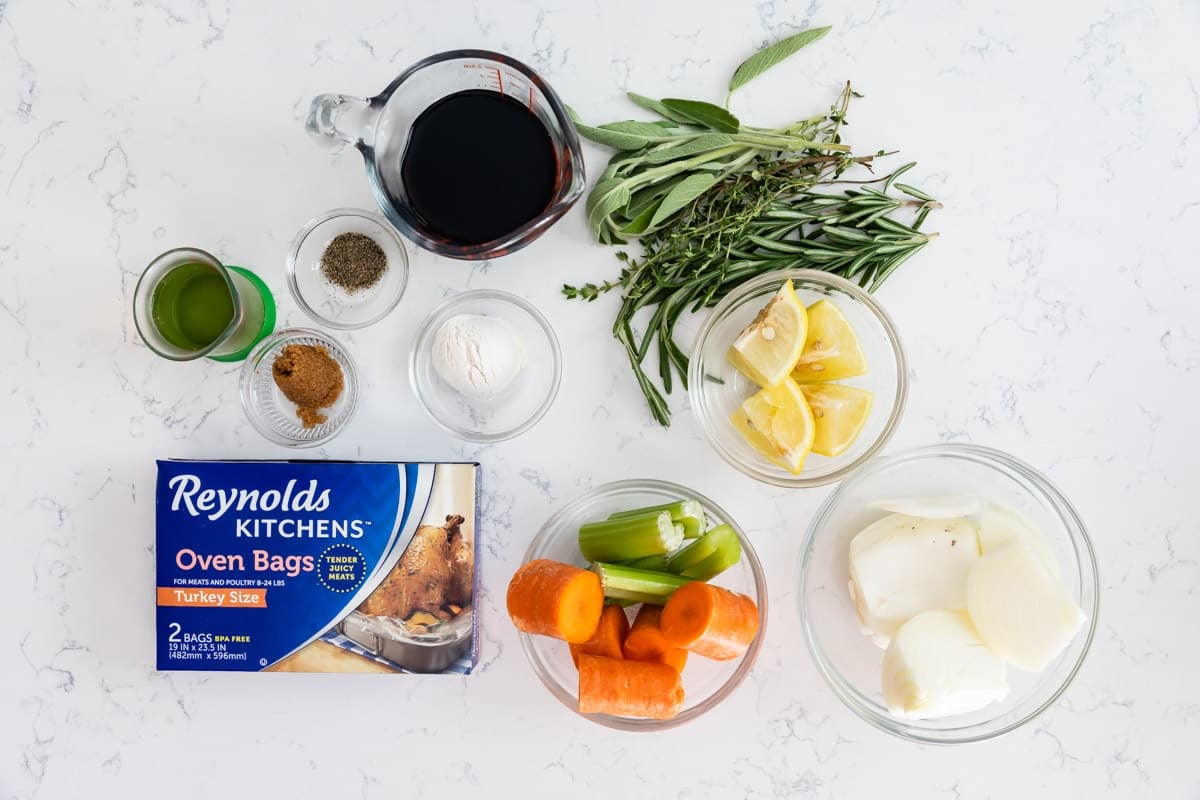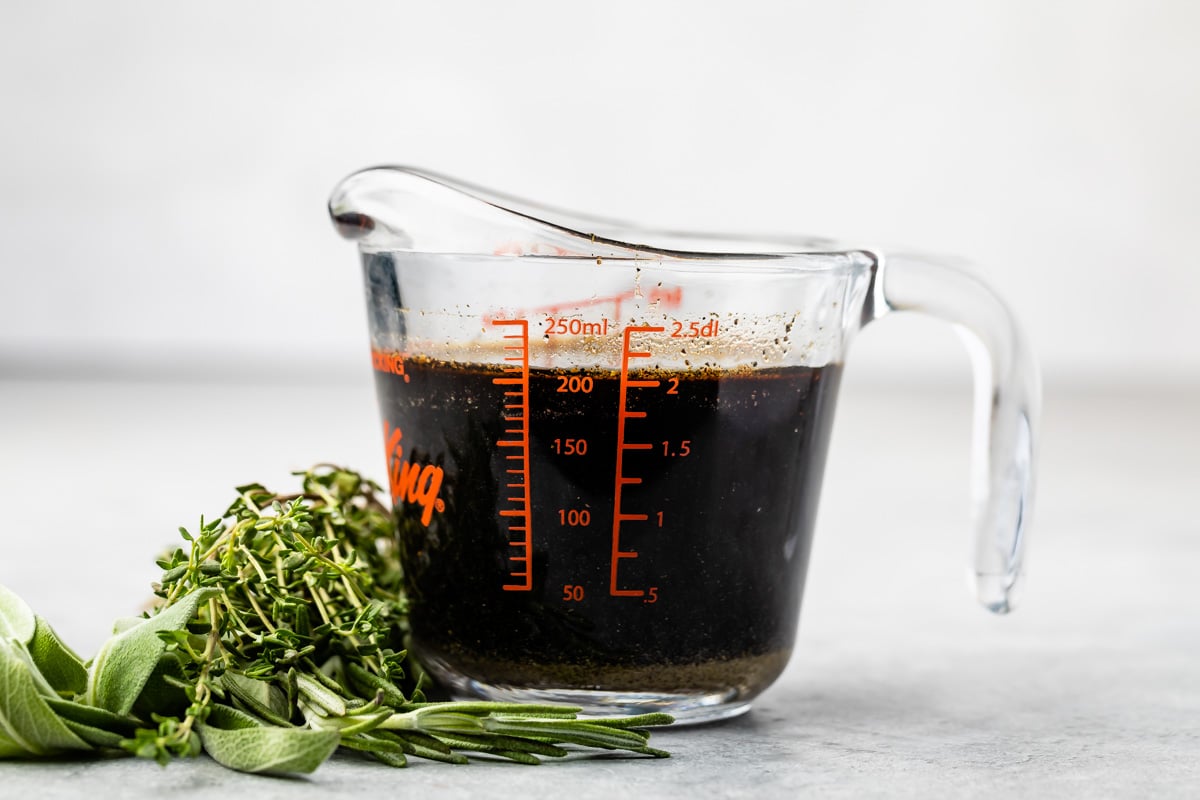 How to make your Thanksgiving turkey in a bag
Whisk all baste ingredients in a measuring cup.
Flour your bag with a tablespoon of all-purpose flour so the turkey doesn't stick.
Once you prep your turkey and add it to the bag, you just need to pour the baste all over it. The bag catches it, so there is no mess.
Slice 6 slits in the bag for air to escape.
The turkey cooks in the exact amount of time specified on the instructions in the bag box. There is a range of time for your turkey size, but basically, your turkey will be done in about 2-3 hours. Since your turkey cooks in a bag there is almost ZERO pan cleanup. << THAT is something I love.
While the turkey is cooking I make stock using the turkey neck, herbs, onions, celery, and carrots. This will help supplement the drippings for the gravy.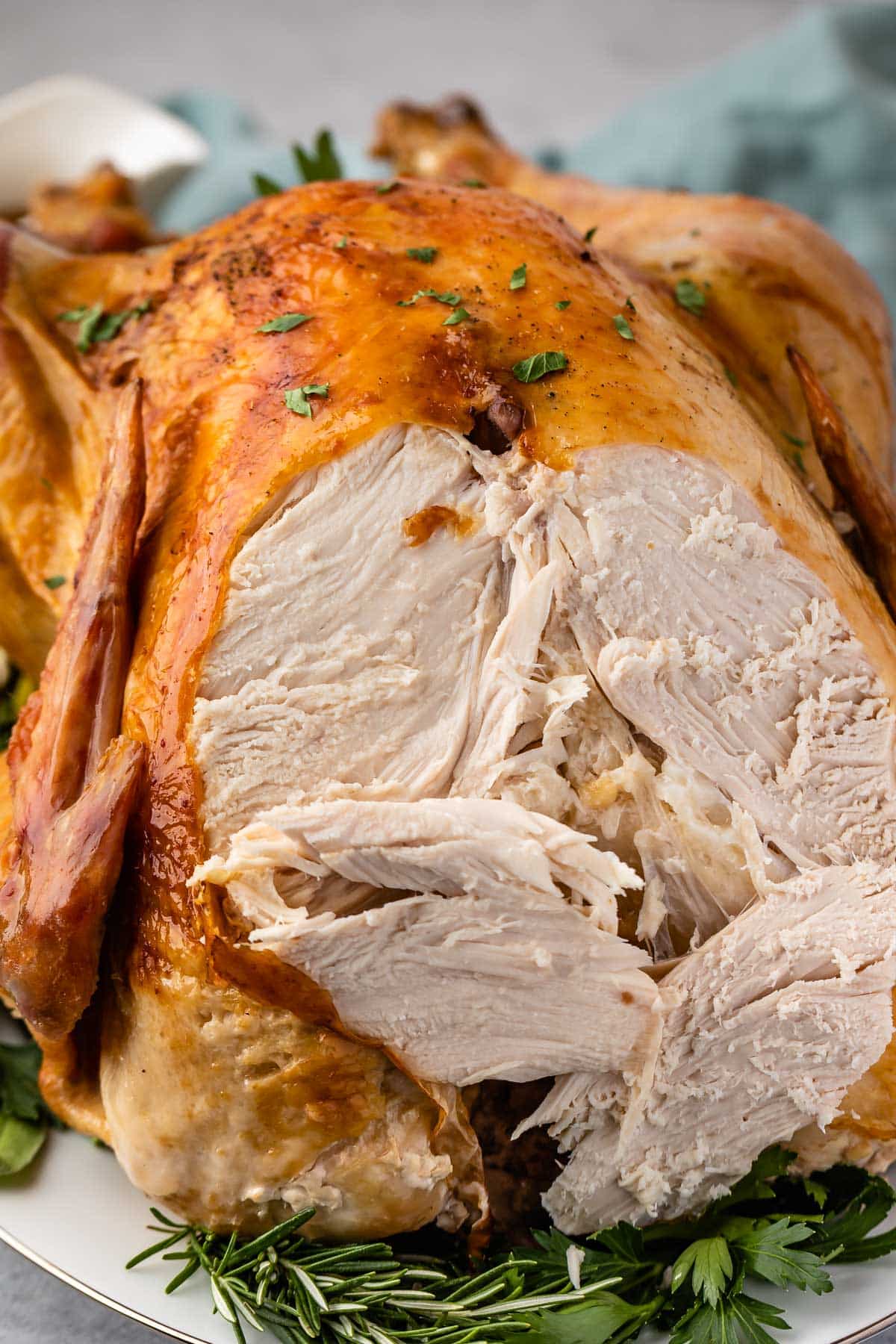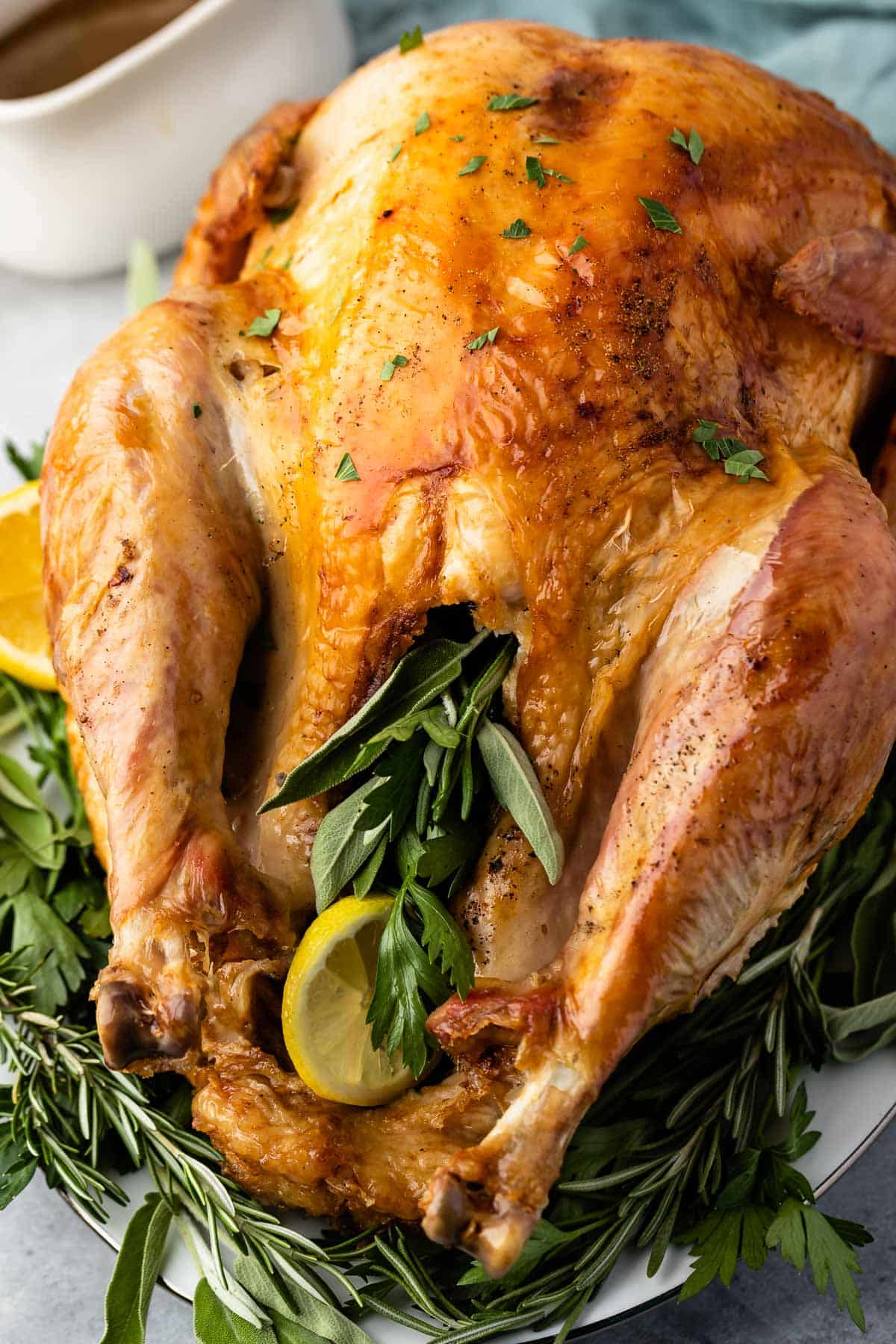 Tip From Dorothy
Expert Tip
The baste is important, don't skip that step. Use a sherry or wine you'd drink, not cooking sherry. You can omit it if you don't do alcohol, just use chicken stock instead.
Be sure to flour the bag as directed on the box, and to make sure to cut the holes in it. Both are really important steps.
Be sure to save the liquid in the bottom of the bag for gravy. Strain it and scoop off the fat, then use it in your favorite gravy recipe.
Follow the cooking times on the instructions on your box. It goes according to weight, but use a thermometer to make sure it's done.
FAQs
Is it better to cook a turkey in a bag or not?
I think it's better because it cooks faster and is always moist.
How long do you cook a turkey in a bag?
Follow the directions on the insert in the box the bag comes in. There is a chart for weight and whether your turkey is stuffed or not. The turkey will always cook in the time specified on that chart.
Is it safe to cook a turkey in a bag?
Yes totally safe – the bags are made of food and heat-safe materials.
Can I stuff my turkey in a bag?
You can if you want just be sure to follow the directions on the bag box for how long. I don't recommend stuffing the turkey in general because you need to be careful that it cooks all the way and that the stuffing is up to temperature – but you can do what you prefer.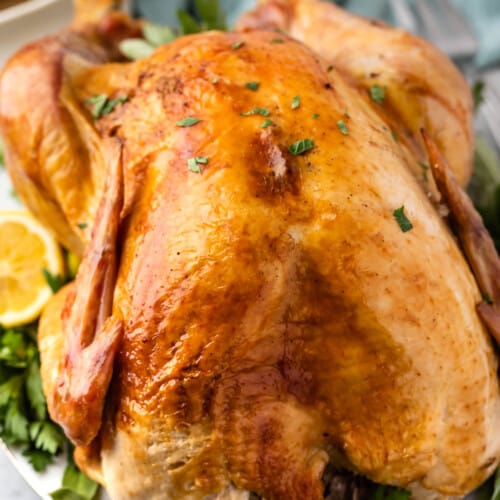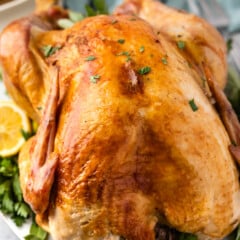 Mom's Thanksgiving Turkey Recipe
Mom's Thanksgiving Turkey Recipe is cooked in an oven bag! It's moist every time with delicious flavor thanks to her secret baste recipe.
Total Time
3

hours
10

minutes
Equipment
Reynolds Cooking Bag (turkey size)
Ingredients
1

whole turkey

thawed (you can also use a bone in turkey breast)

½

orange or lemon

sliced in quarters

½

medium yellow onion

skin removed and sliced in quarters

½

cup

(118ml) low sodium soy sauce

¼

cup

(59ml) sherry or white wine

½

tablespoon

(6g) packed brown sugar

¼

teaspoon

pepper

Reynolds Turkey Sized Oven Bag

1

tablespoon

(9g) all purpose flour
Instructions
Preheat oven to 350°F.

Remove the neck and giblets from your turkey, then rinse and pat it dry. Discard giblets and neck (see note).

Place sliced citrus and onion in the cavity of the turkey.

Whisk soy sauce, sherry, brown sugar and pepper together in a measuring cup.

Prepare the oven bag as directed on package (shake flour inside the bag and place the bag inside a roasting pan that is at least 2 inches deep).

Place the turkey in the bag. Pour the baste over the whole bird. (You do not need to salt the bird; the soy sauce does that for you.)

Seal the bag according to package directions and cut six 1/2 inch slits in the top of the bag.

According to the directions in the bag, the cooking time will be 1.5-2 hours for an 8-12 lb turkey, 2-2.5 hours for 12-16 lb turkeys, 2.5-3 hours for 16-20 lb turkeys, and 3-3.5 hours for 20-24 lb turkeys.

Cook turkey until the internal temperature reaches 180° in the thickest part of the thigh not touching the bone. Remove from oven and let stand in oven bag another 15 minutes.

While turkey is still in the pan, cut open the bag carefully and remove the turkey from the bag. Save the juices. Place on cutting board to rest until ready to carve.

Store leftover turkey in the refrigerator for 3 days. Freeze for up to 3 months.
Recipe Notes
Servings depend on size of turkey, as does baking time.
Because of the onion/citrus inside the bird, it may take to the longer end of the cooking times suggested on the bag instructions.
Neck: Want to make your own stock while the turkey cooks? Add the neck with a roughly chopped onion, carrot, celery stock and herbs to a 4Qt saucepan and fill with water (at least 1 inch above the items in the pan). Cover and simmer for 2 hours or until it's reduced by half. Drain out large chunks then strain through a wire mesh strainer. Use when making gravy.
I love making gravy with the juices left in the bag. Pour juices into a measuring cup and spoon off fat, then measure out however much needed. Normally with a mid-range size turkey I get about 2-3 cups juice just from the bag. Supplement with homemade or store bought turkey stock to make gravy as needed.
Turkey should rest at least 15 minutes before slicing.
Turkey will take 1 day for each 4-5 pounds to defrost in the refrigerator so plan accordingly!
Recipe Nutrition
Serving:
4
ounces
|
Calories:
40
kcal
Nutritional information not guaranteed to be accurate
Have leftover turkey?
Last Updated on October 1, 2023