This post may contain affiliate links. For more information, read my disclosure policy.
Make a Crockpot Pot Roast for the ultimate dinner! This easy pot roast recipe can be made in the crockpot or the instant pot. Crockpot Pot Roast with gravy is one of our favorite meals!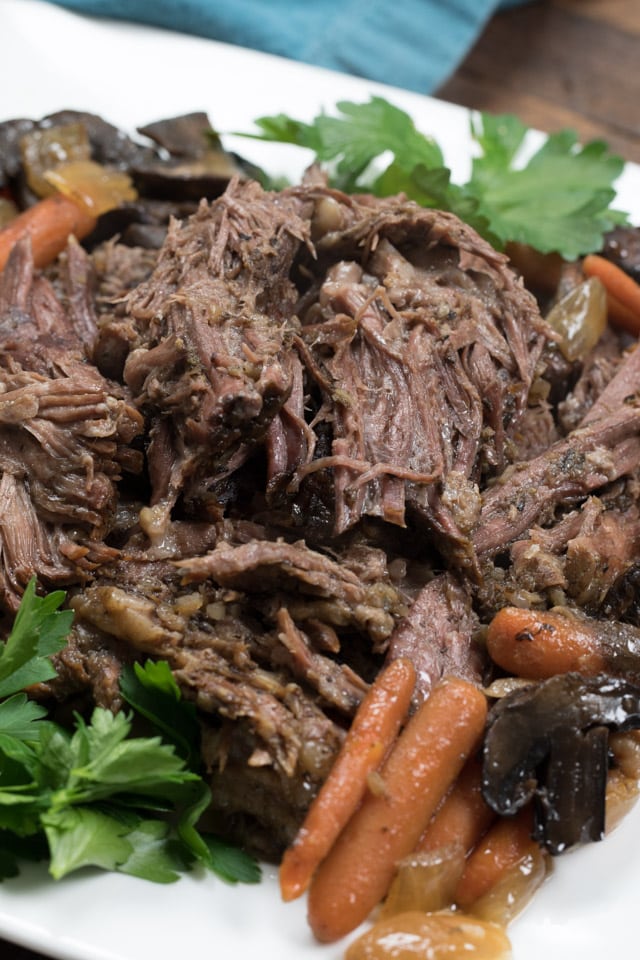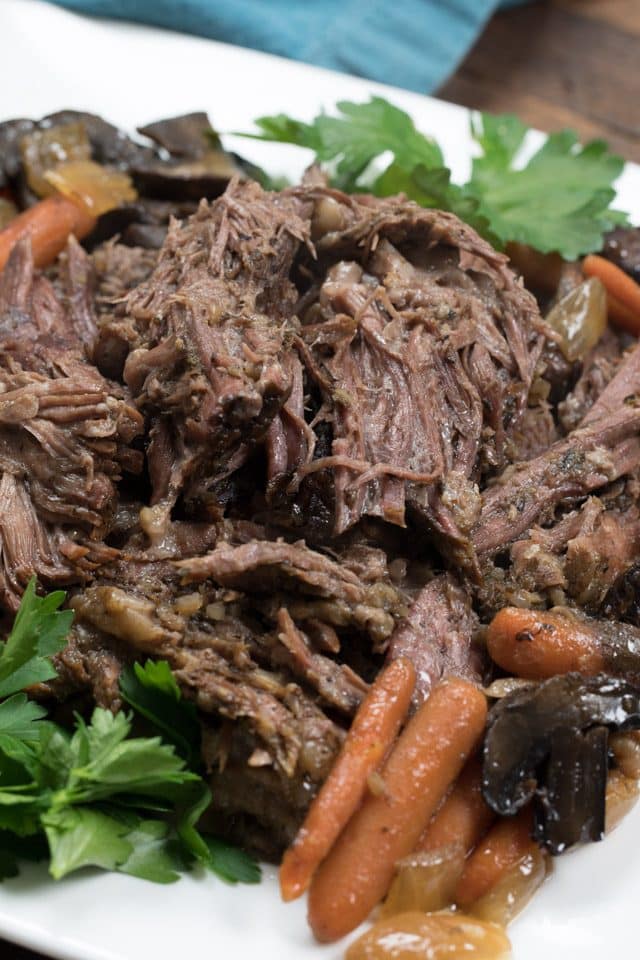 Table of Contents
BEST Slow Cooker Roast Beef and Gravy
I've been making this recipe since I got my first slow cooker 17 years ago and it's always a hit – even with the kids! (In fact, it's one of the only meats Jordan actually enjoys eating.)
I've fine tuned the recipe over the years and decided that this one is the BEST crock pot pot roast you'll ever make. It's the perfect Sunday dinner or even weeknight meal because it cooks while you're at work.
Making a pot roast in a slow cooker is easy and has minimal steps for ultimate flavor. And! If you got an Instant Pot for Christmas, I'm going to tell you how to make this in the pressure cooker too! I've done it both ways and both are fantastic with just a few edits for each recipe.
This easy Crockpot Pot Roast is a simple recipe with homemade seasoning, all covered with a rick 5-minute beef gravy. It will become your go-to pot roast recipe!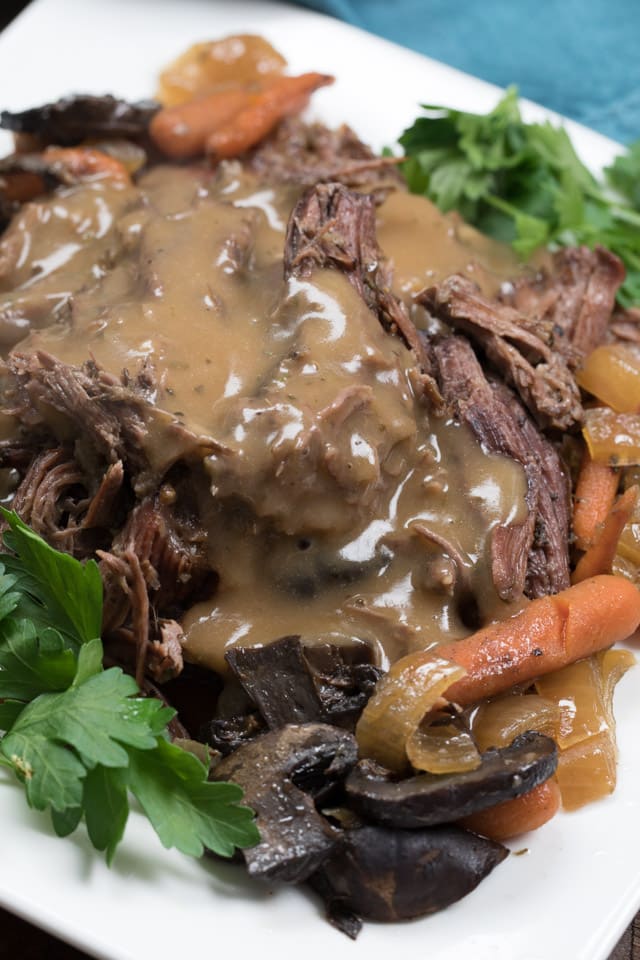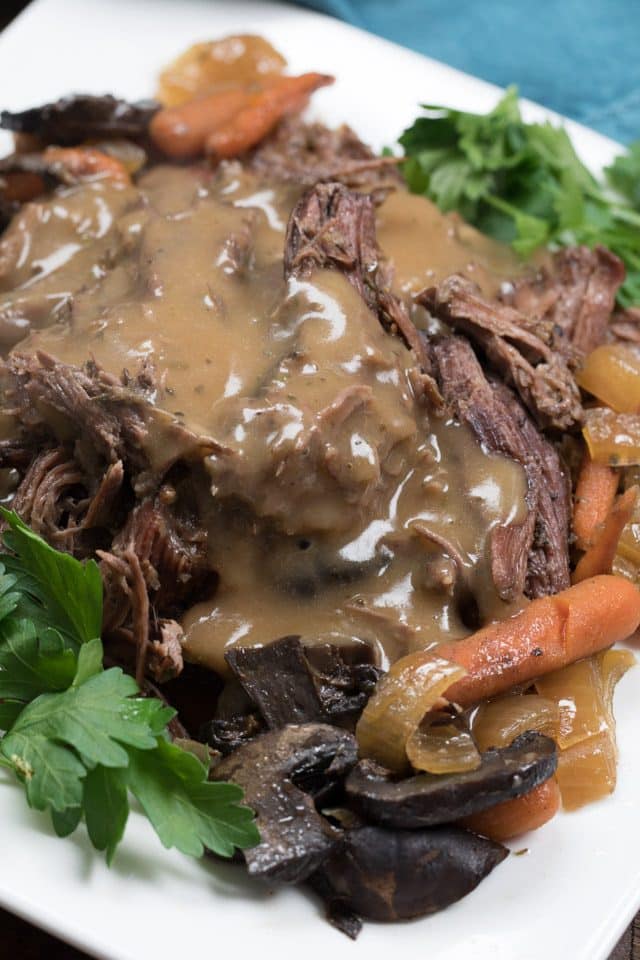 What kind of meat is pot roast?
The best kind of meat for a pot roast is a boneless chuck roast. I like using one that's about 2-3 pounds. Chuck roasts are relatively cheap compared to other meat and when it's made in the slow cooker it's tender and literally falls apart. Making a crockpot roast with vegetables couldn't be easier.
Ingredients in Crockpot Roast with Gravy
When I first started making this pot roast recipe I would use onion soup mix as my seasoning. I've since edited the recipe to make my own homemade onion soup mix seasoning because I sometimes make this roast in the pressure cooker. You can't use the soup mix in the pressure cooker because it has cornstarch (or other thickeners) in it, which will cause problems when it comes up to pressure.
Making a homemade onion soup seasoning mix is not only easy, but it's healthier too!
My homemade onion soup mix seasoning tastes just like the real thing without the artificial ingredients or thickeners.
Homemade onion soup mix contains:
Onion flakes
Garlic powder
Ground pepper
Dried thyme
Oregano
Paprika
Celery seed
I'm going to show you step by step how to make this pot roast in the slow cooker, then I'll explain how to do it in the Instant Pot.
How do you make a pot roast in the crockpot?
Start with your vegetables as the base.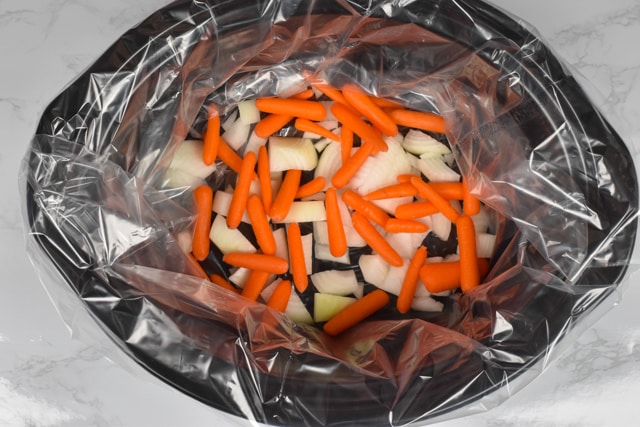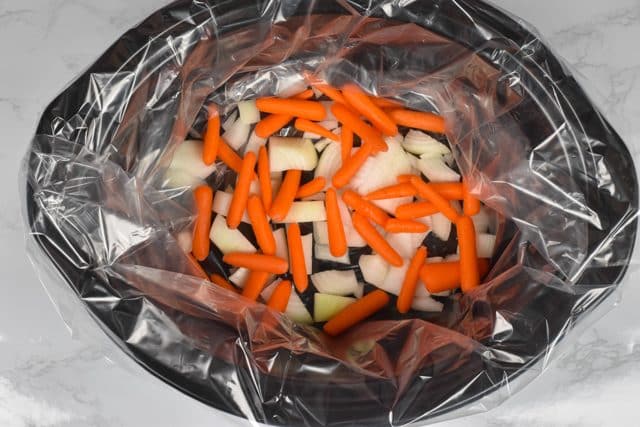 First, I add my vegetables to the slow cooker insert. Now, you can see from the photos that I'm using a crockpot liner. Reynonlds sells them and I always use them because it makes for easy clean-up, but you can just use nonstick cooking spray if you prefer.
Tip: using the liner makes making gravy easy – just lift out the bag and snip the end to get the drippings!
I'm using onions and carrots for this roast. Sometimes I add celery, if I have it. My mom likes to make crockpot pot roast with potatoes, but I don't like the boiled-consistency of slow cooker potatoes, so I make those separately.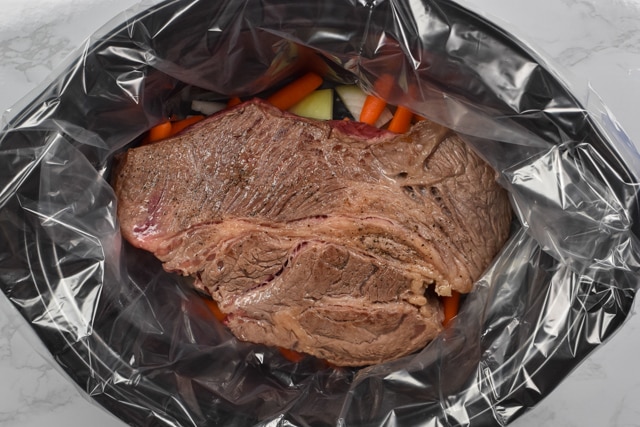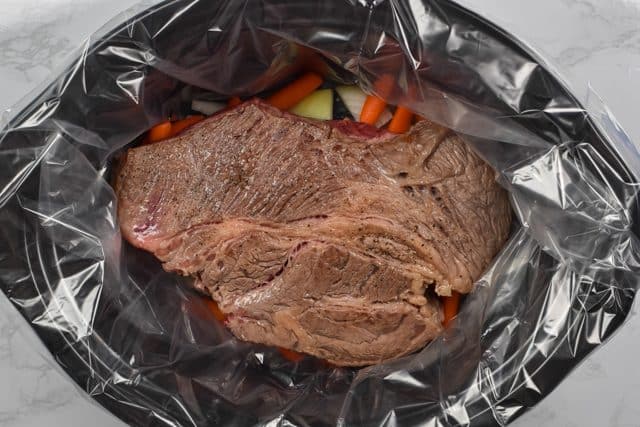 Then add the roast on top of the vegetables and it's time for seasoning.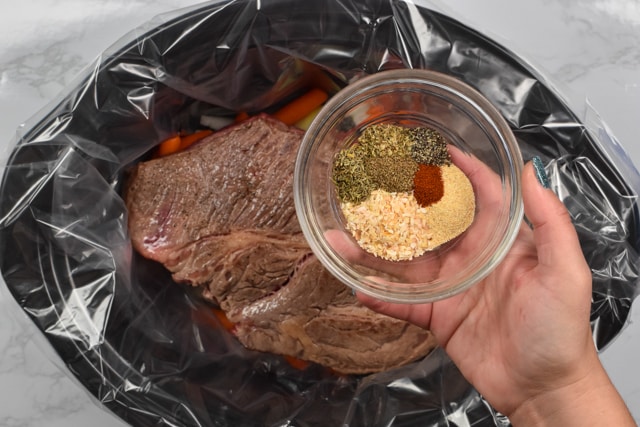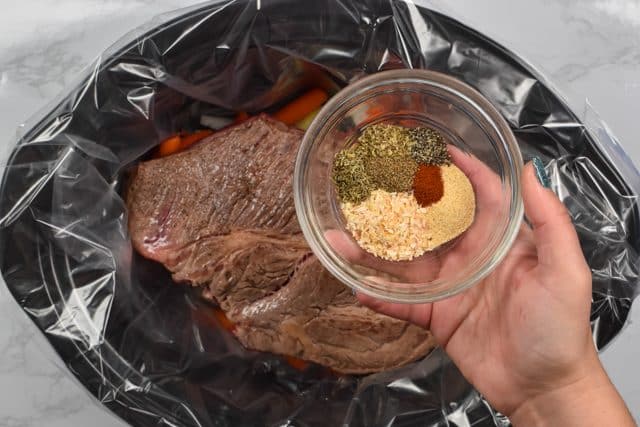 Mix those all together and then sprinkle it over the roast.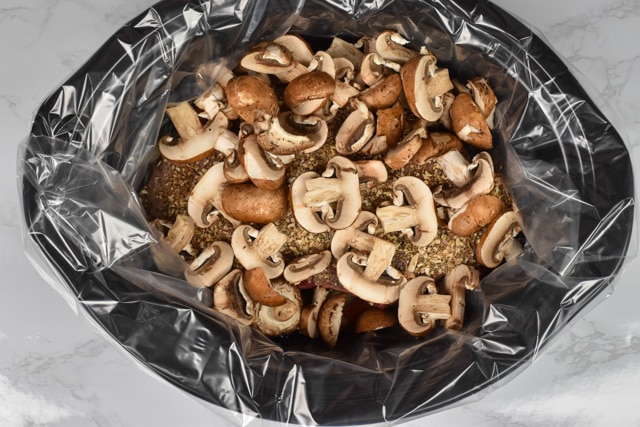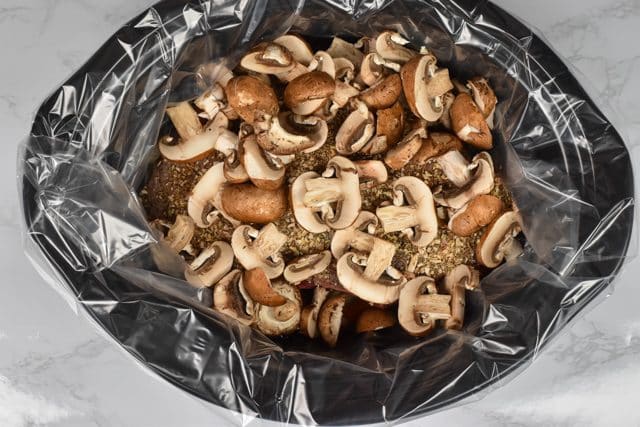 We are mushroom lovers, so I always add about 8 ounces of sliced mushrooms (any kind) to the top of my roast. If you're not a mushroom lover, you can skip these.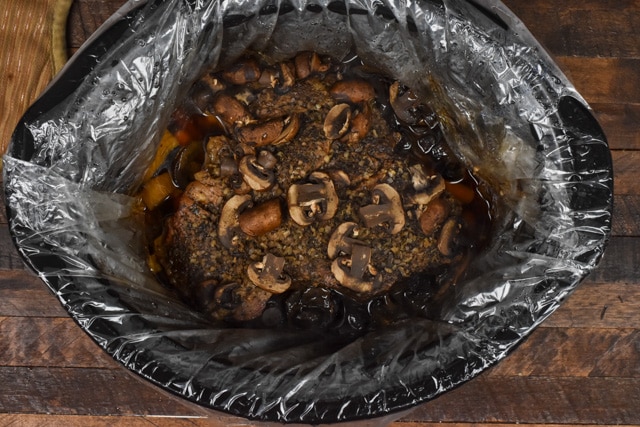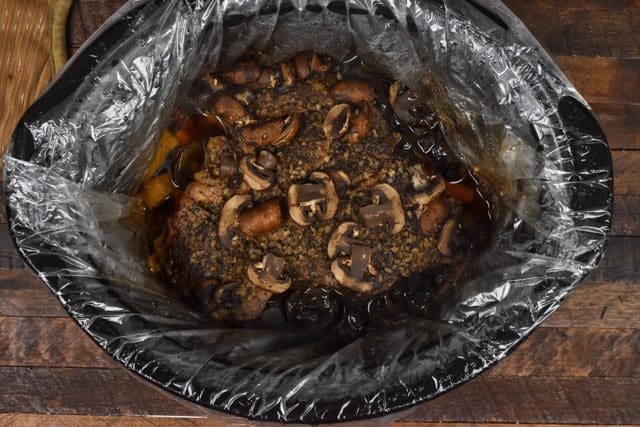 Do you have to brown a roast before putting it into the crockpot?
No, but it will taste better if you do. Searing the meat for a few minutes on each side will lock in the flavors and make this pot roast taste even more heavenly. Salt and pepper the roast before searing.
How long to cook pot roast in the crockpot
Then cover and cook on low for 8 hours. Your house will smell AMAZING after! Simply shred the roast and make my 5-minute gravy with the drippings.
Now, as promised, let's talk about making a pot roast in the PRESSURE COOKER.
If you don't have an Instant Pot or equivalent, you should get one. I absolutely love pressure cooker pot roast. It's SO GOOD. And it takes less than 8 hours, so if you forget to start it in the crockpot you can still have it for dinner.
How to cook a pot roast in a pressure cooker (Instant Pot):
You're going to sear it the same way you do when making it in a slow cooker. Most pressure cookers allow you to do this in the same machine as the pressure cooker itself. Warning though: sometimes my (Crock Pot version) pressure cooker overheats if I do that, so I just sear it on the stove.
Make sure to use my seasoning mix and NOT use onion soup mix. The thickeners in the soup mix will cause the machine not to be able to come to pressure.
Add the vegetables at the bottom, then the roast, seasoning, and mushrooms.
IMPORTANT: for the pressure cooker to work (come up to pressure), it needs at least 1 cup of water or stock in the bottom. I add 1 1/2 cups beef stock or broth.
Place the lid on the machine, lock it, and make sure the valve is set to keep steam in.
Cook on HIGH PRESSURE for 75 minutes.
After the time clicks down, allow the steam to naturally release for 10 minutes, then institute at quick release (careful, the steam is hot; I use a knife or something to open the valve).
Remove the meat and vegetables and make your gravy.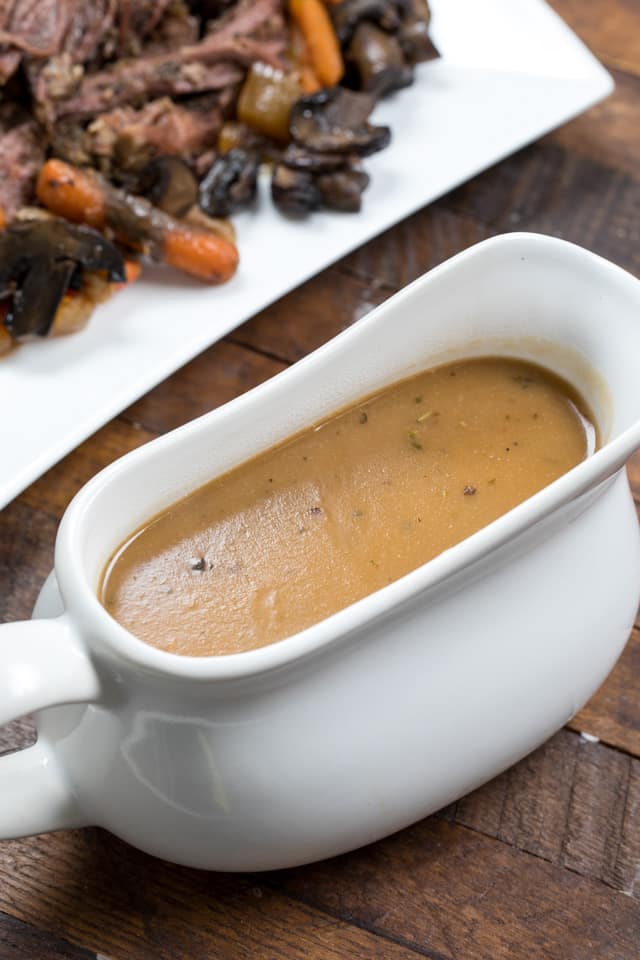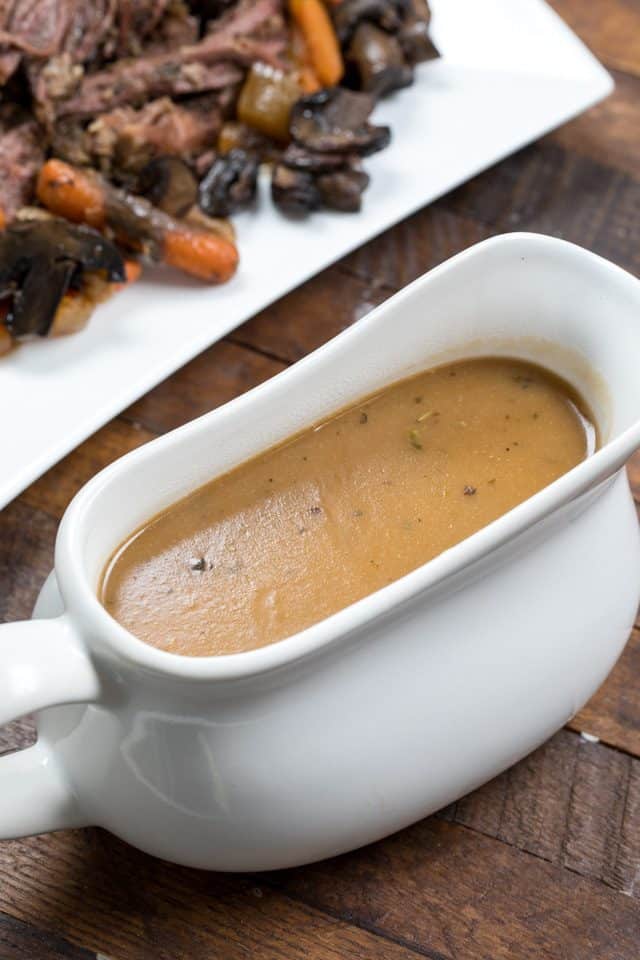 How to Make Gravy from Pot Roast
Sometimes I just serve the pot roast with the au jus it cooks in, but when I'm making Sunday Dinner or being fancy, I want gravy. My husband LOVES gravy so it's always the way to his heart.
I used this easy 5-minute gravy recipe, using beef stock and beef bouillon. You can either just use 2 cups of the broth or you can use the drippings and add enough stock to get to 2 cups, your choice!
Tip: I prefer powdered bouillon to the cubes. It's easier to work with.
Then serve your crockpot pot roast with gravy and the vegetables it cooked with. We love making roasted potatoes with this too!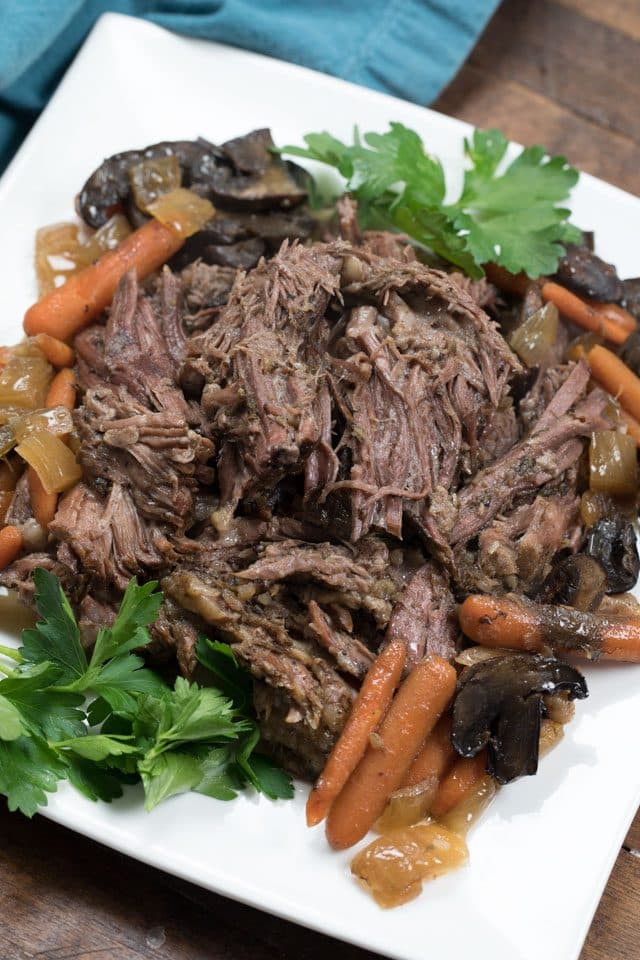 How to serve Pot Roast
Have you made this recipe?
Tag @crazyforcrust on Instagram or hashtag it #crazyforcrust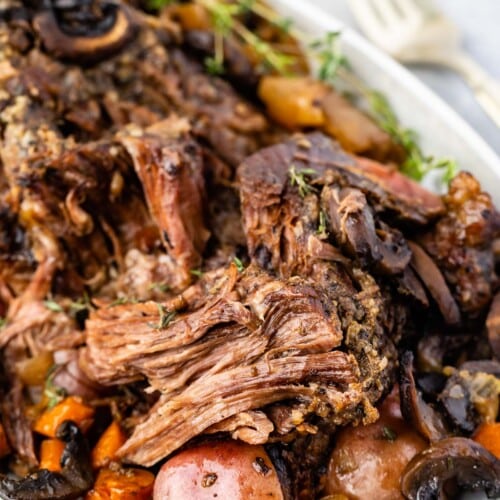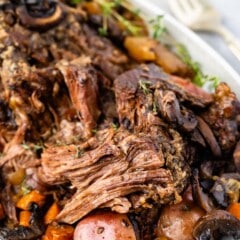 Crockpot Pot Roast
Crockpot Pot Roast is our favorite Sunday meal. Make this any night of the week in your slow cooker or pressure cooker and serve it with an easy beef gravy!
Total Time
8
hours
15
minutes
Ingredients
For the roast:
2-3

pound

Chuck Roast pot roast

3

ounces

baby carrots

or 2 medium carrots, sliced

1

medium

yellow onion

sliced

8

ounces

mushrooms

sliced

2

teaspoons

onion flakes

1

teaspoon

garlic powder

1

teaspoon

salt

½

teaspoon

ground pepper

½

teaspoon

dried oregano

½

teaspoon

dried thyme

¼

teaspoon

paprika

¼

teaspoon

ground celery seed
For the gravy:
2

cups

(473ml) beef stock and/or drippings from the roast

4

tablespoons

(57g) unsalted butter

¼

cup

(31g) all purpose flour

1

teaspoon

onion powder

¼

teaspoon

dried thyme

Salt and pepper

to taste
Instructions
Heat a large skillet over medium-high heat. Add 1 tablespoon olive oil. Salt and pepper the roast, then sear it 2 minutes per side.

Stir together all spices in a small bowl.
Slow Cooker Directions:
Place carrots and onions in the bottom of a 5-6 quart slow cooker. Use a slow cooker bag for easy cleanup!

Add the seared roast on top of the vegetables and sprinkle with seasoning. Top with mushrooms.

Cover and cook on low for 8 hours. Remove the roast and shred it. Reserve the liquid to make the gravy.
Instant Pot Directions:
Place carrots and onions in the bottom of the instant pot insert. Add 1 1/4 cups of beef stock into the pressure cooker.

Add the seared roast on top of the vegetables and sprinkle with seasoning. Top with mushrooms.

Cover and lock lid in place. Set on HIGH pressure for 75 minutes.

After the time is finished, allow a 10 minute natural release, then quick release.

Shred roast and drain juice for gravy.
Make the gravy:
Combine stock and/or juices from the meat in a large measuring cup. Heat in the microwave for about 2 minutes, or until heated through.

Meanwhile, melt the butter and add the flour. Stir to form a paste, cook for 1 minute. Add the spices then slowly whisk in the stock. Cook, stirring constantly, until the mixture thickens, just a couple of minutes. Salt and pepper to taste. Serve with roast.
Recipe Nutrition
Serving:
1
serving
|
Calories:
399
kcal
|
Carbohydrates:
11
g
|
Protein:
33
g
|
Fat:
25
g
|
Saturated Fat:
12
g
|
Cholesterol:
124
mg
|
Sodium:
764
mg
|
Potassium:
863
mg
|
Fiber:
1
g
|
Sugar:
3
g
|
Vitamin A:
2250
IU
|
Vitamin C:
3.7
mg
|
Calcium:
47
mg
|
Iron:
4.1
mg
Nutritional information not guaranteed to be accurate
**Did you make this recipe? Don't forget to give it a star rating below!**
Last Updated on May 20, 2022