This post may contain affiliate links. For more information, read my disclosure policy.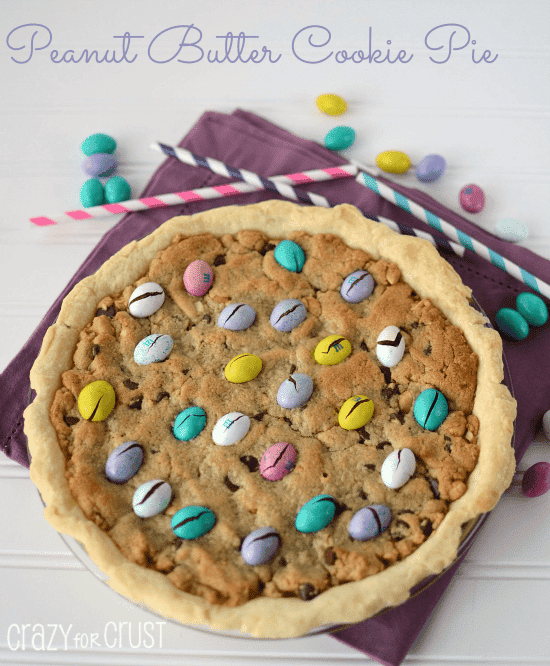 Last week I went to the post office. Now, normally that shouldn't be some sort of declaration, like "last week I had a root canal", but really, it is. Because, in my city, going to the post office really inspires root canal and doctor visit dread.
Usually, I avoid the post office at all costs. One of my local grocery stores has a post office inside it, clerked with friendly grocery store employees. I always get a smile when I do my mailing there. The real post office? Not so much.
I had to go to the actual post office instead of the grocery store cheater postal center because I was shipping some fun stuff a friend over in the UK. You can only ship international from the source, I guess. Anyway, I waited in line, filled out the customs slip as much as I could, and patiently waited my turn.
Let's talk about addressing a customs slip. The customs slips obviously are written by someone in America, who works for the USPS. Because all it lists are mailing address, city, province, postal code, and country. Now, the address I was using has several lines, way more than allotted for on the slip. I have no clue how to fill it out, I've only shipped international, like, three times in my whole life. Once was last November, to the same friend, and the kind postal worker helped me fill it out. Obviously I should have written myself a cheat sheet, because I couldn't remember what he told me to do.
When I walked up to the counter, the clerk first told me I had the wrong customs sheet, even though only one was available at the fill-out desk, so I would have to get out of line, fill it out, and wait again. Nice. Then, the kicker: I asked for help filling out the address and the postal clerk, the one that works for the place the ships all-the-packages, said:
"I don't know how to do that."
Me: "Um, really? Last time I did it the clerk filled it out for me."
Postal Clerk: "Well, we don't have information on how to do that. You just need to guess."
Um, okay. Sure. Let me just pay you twenty-five non-refundable dollars real quick, and guess about filling out the forms. Then I'll just cross my fingers and pray on some unicorns and leprechauns that my package will actually get to the UK.
Thanks for the help, USPS.
Anyway, I was aggravated, to say the least. So I came home and made peanut butter cookie pie. Peanut butter cookie pie reduces stress. It's a known fact.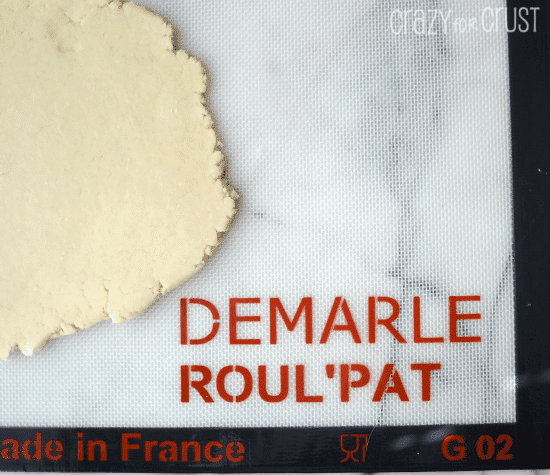 This pie starts with a homemade crust. Sure, you can use a refrigerated (or a frozen) one. I was in the mood to pound something, so I made homemade. The is my favorite crust recipe: all butter. I just love the taste of an all butter crust. And, if you keep your ingredients cold enough, and chill the pie shell right before filling and baking, your crust stays plenty flakey and delicious.
I rolled my crust out on one of my favorite kitchen tools, my Roul'Pat. Roul'Pat is from the makers of the Silpat and turns any work surface into a non-stick work area, perfect for rolling out things like pie and cookie dough, without any additional flour.
I just wanted to remind you how awesome the Roul'Pat is, because you can WIN ONE on Thursday at the Pi Day Pie Party! Don't forget to come link up a pie (or three) that day and enter to win.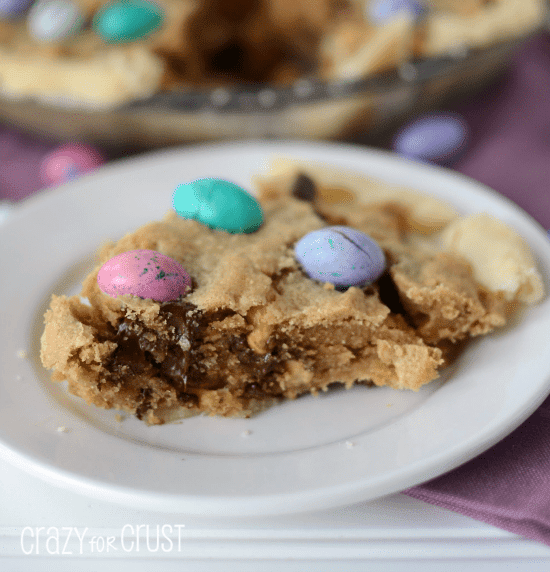 I filled my pie with the ultimate comfort food: a peanut butter cookie chock full of chocolate chips and peanuts. It's like a giant cookie with a pie crust. Rich with peanut butter and oozing with chocolate, this pie is certain to bring your mood up about 100%.
I got the idea for this pie when I was shopping at Target and saw the Easter Egg Peanut Butter M&Ms. I knew I wanted to put them on top of the pie filling, kind of like I did with the Raspberry Snack Cake a few weeks ago. I thought it was kind of cute how they cracked in the oven (totally not on purpose, BTW) and look like they're hatching.Feel free to use any kind of M&Ms that you like: peanut, regular, almond, coconut. Use regular colors for an all-year pie!
I really don't know how else to describe this peanut butter cookie pie. Except that well, it's a peanut butter cookie. IN A PIE.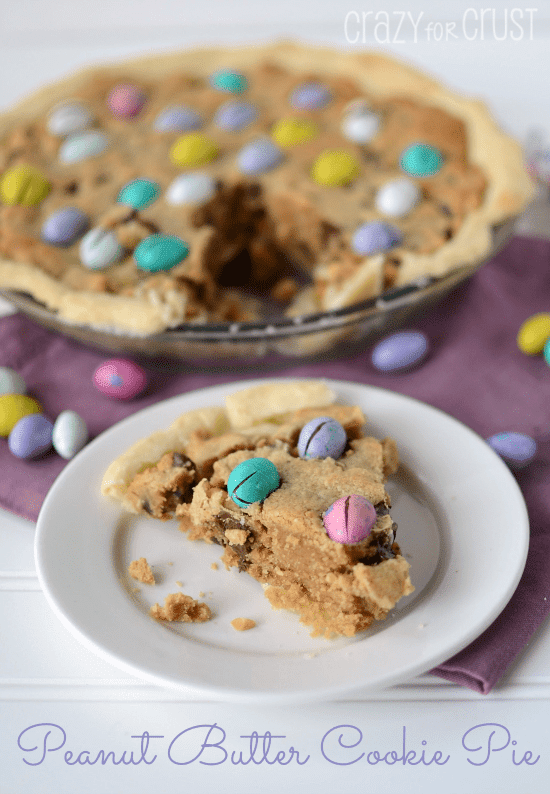 Oh, did you want me to tell you how to make it? You're in luck. I'm way more helpful than the USPS. Here's the recipe. 😉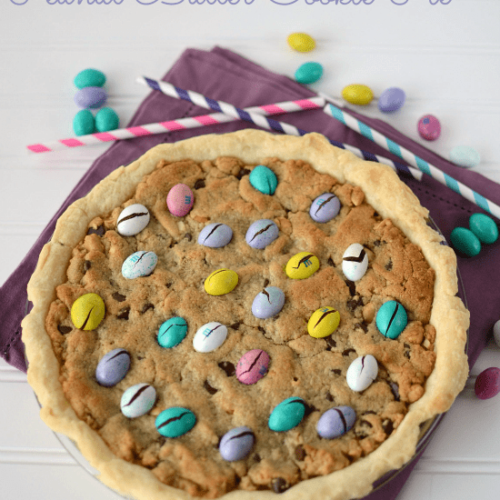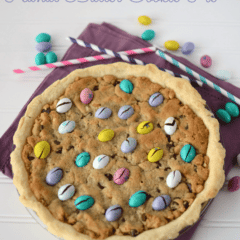 Peanut Butter Cookie Pie
A pie crust filled with a peanut butter cookie and M&MS!! The perfect indulgent cookie pie!
Ingredients
For the Crust:
1/2

cup

cold butter

cut into small pieces

1 1/4

cups

flour

1/4

teaspoon

salt

3-4

tablespoons

ice water

OR you can use 1 prepared crust

refrigerated or frozen

See photo instructions on making the perfect pie crust here.
For the Pie:
1/2

cup

butter

softened

3/4

cup

peanut butter

3/4

cup

packed brown sugar

1/4

cup

granulated sugar

1

egg

1

teaspoon

vanilla

1

tablespoon

milk

1/4

teaspoon

salt

1 1/2

cups

flour

1

cup

chocolate chips

1/2

cup

chopped peanuts

M&Ms

your favorite flavor, I used Peanut Butter M&Ms
Instructions
Make your crust: pulse flour and salt in a food processor. Add cold butter and pulse 3-4 times until it resembles crumbs. Add water, 1 tablespoon at a time, pulsing 2-3 times after each addition, until dough forms a ball. Turn out onto plastic wrap and shape into a disk. Chill at least 30 minutes (or overnight).

Note: you can also use a prepared crust from the refrigerator or freezer. If doing so, skip step 1.

Roll out pie crust to 1/8" thick. Place in a 9" pie plate and press to fit. Return to refrigerator until ready to fill.

Preheat oven to 350 degrees.

Cream butter, peanut butter, and both sugars in the bowl of an electric mixer fitted with the paddle attachment, about 2-3 minutes. Add egg, vanilla, milk, and salt and mix until combined. Slowly add flour and mix until dough just comes together. Stir in chocolate chips and peanuts.

Press cookie dough into the prepared pie crust. Top with M&Ms (as many or as few as you'd like!) Cover the edges of the pie crust with small strips of foil (so that it does not brown too quickly). Bake for about 30-32 minutes. Remove foil from pie crust edges and bake an additional 5-7 minutes until crust and the top of the cookie is browned. Cool before slicing. Pie can be made ahead of time and frozen, if desired.
Recipe Nutrition
Serving:
1
serving
|
Calories:
321
kcal
Nutritional information not guaranteed to be accurate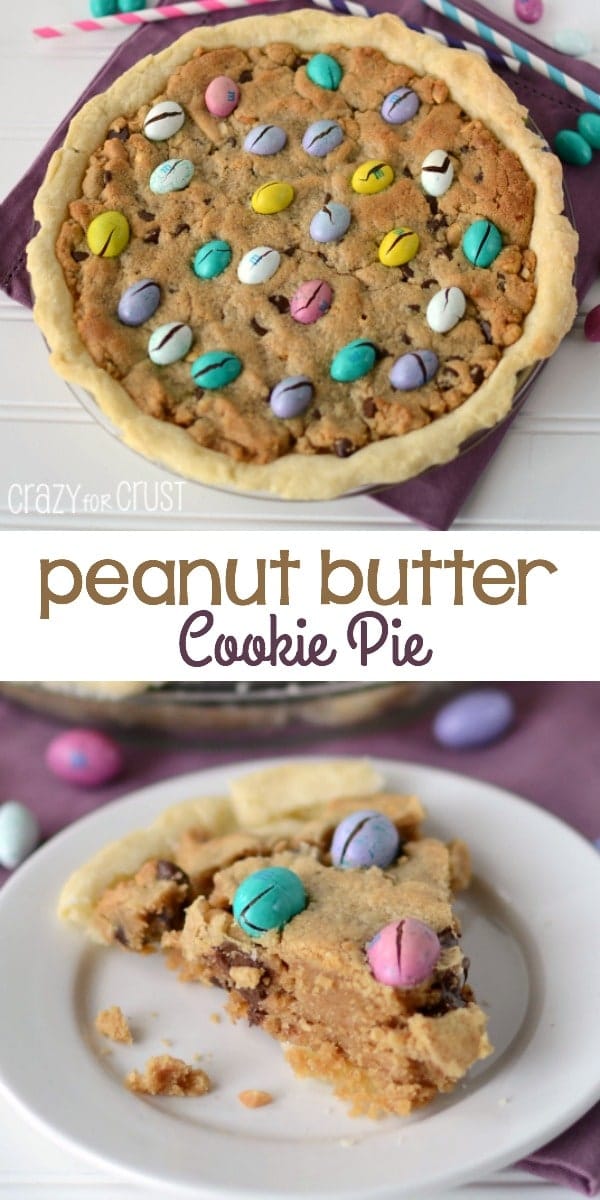 Need more Pie inspiration? How about these: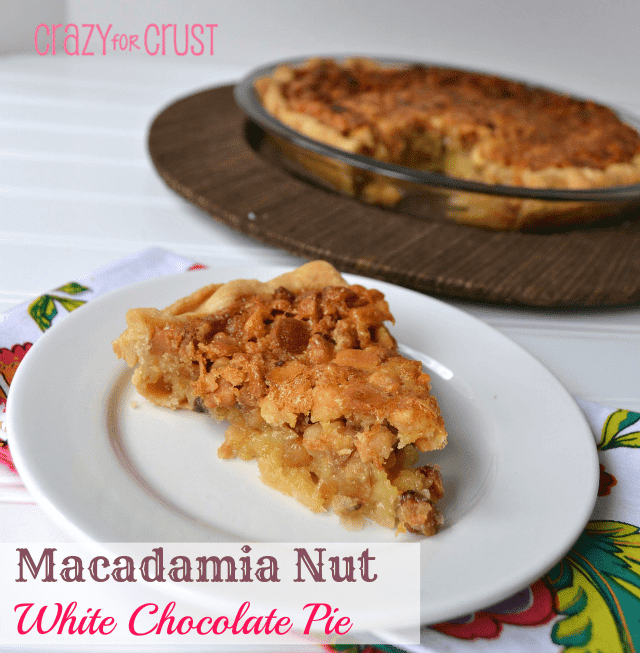 Pies from friends:
Last Updated on February 2, 2023