Blueberry Cornbread
This post may contain affiliate links. For more information, read my disclosure policy.
Blueberry Cornbread – this easy cornbread recipe starts with a doctored mix. The blueberries and some added sugar make this the PERFECT breakfast or dessert recipe.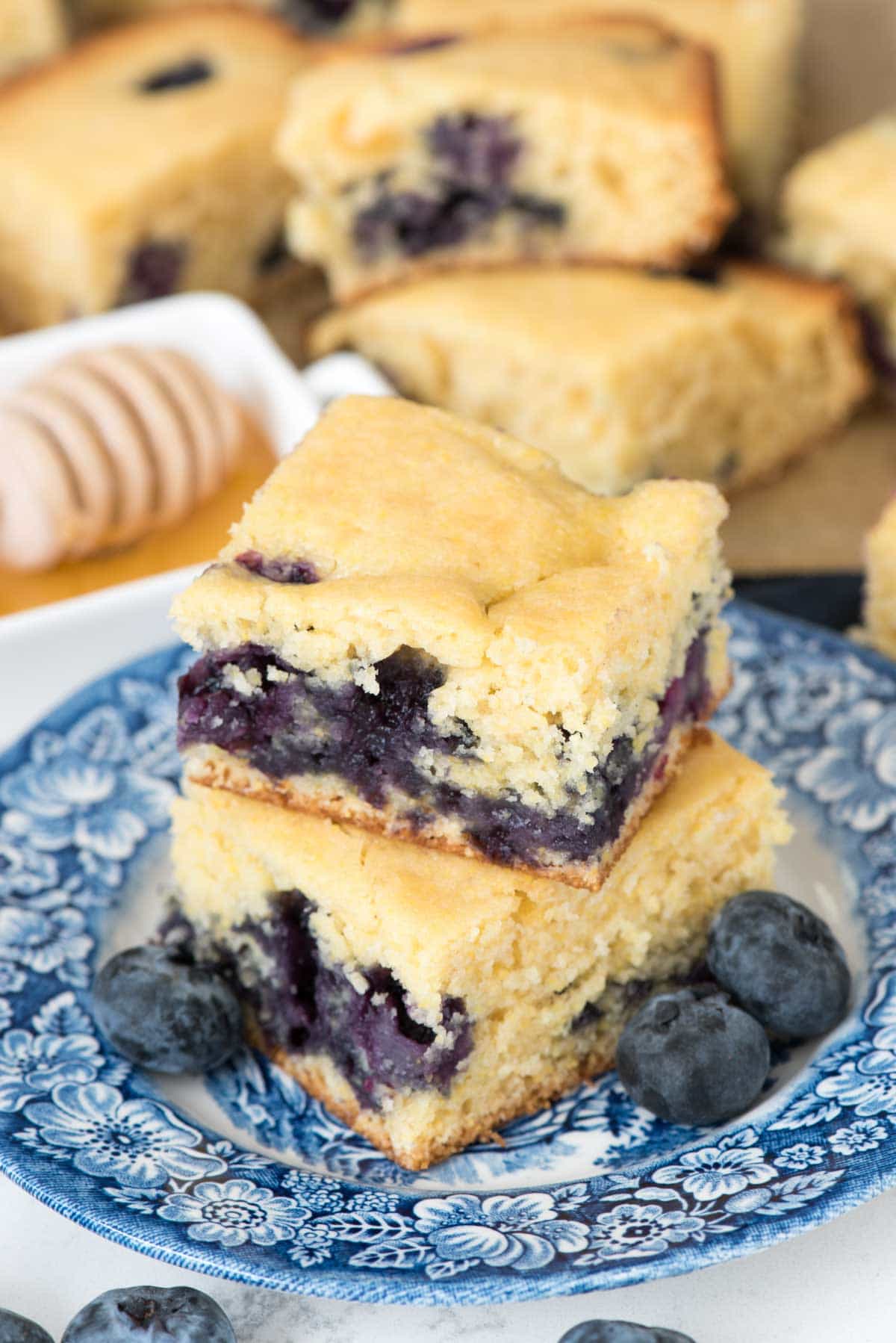 Dinner Time
This week has been totally cray, as my daughter likes to say. Between re-entry from a week long trip to Wisconsin (to see some friends and attend a video workshop) and Jordan's birthday this weekend, my calendar has so many things on it it's hard to read. On weeks like these, it's really hard to get anything done besides work. So when dinnertime rolls around, I start staring blankly into my refrigerator, thinking about the chicken that's still frozen. Please tell me I'm not alone in that??
One of my favorite last minute dinners is actually breakfast. Brinner, as we call it, appears a lot on busy weeknights when there's too much going on. It only takes a few minutes to scramble some eggs and brown up some bacon. Add a side of fruit or throw some leftover veggies in your scramble and you have a well-balanced meal…unless you're me and Jordan. We also require something sweet with our breakfast-for-dinner. Sometimes I'll make pancakes or muffins, but when I'm feeling even more in a pinch, I'll make cornbread. It has just a few ingredients and bakes up in a pan so there's no scooping or flipping.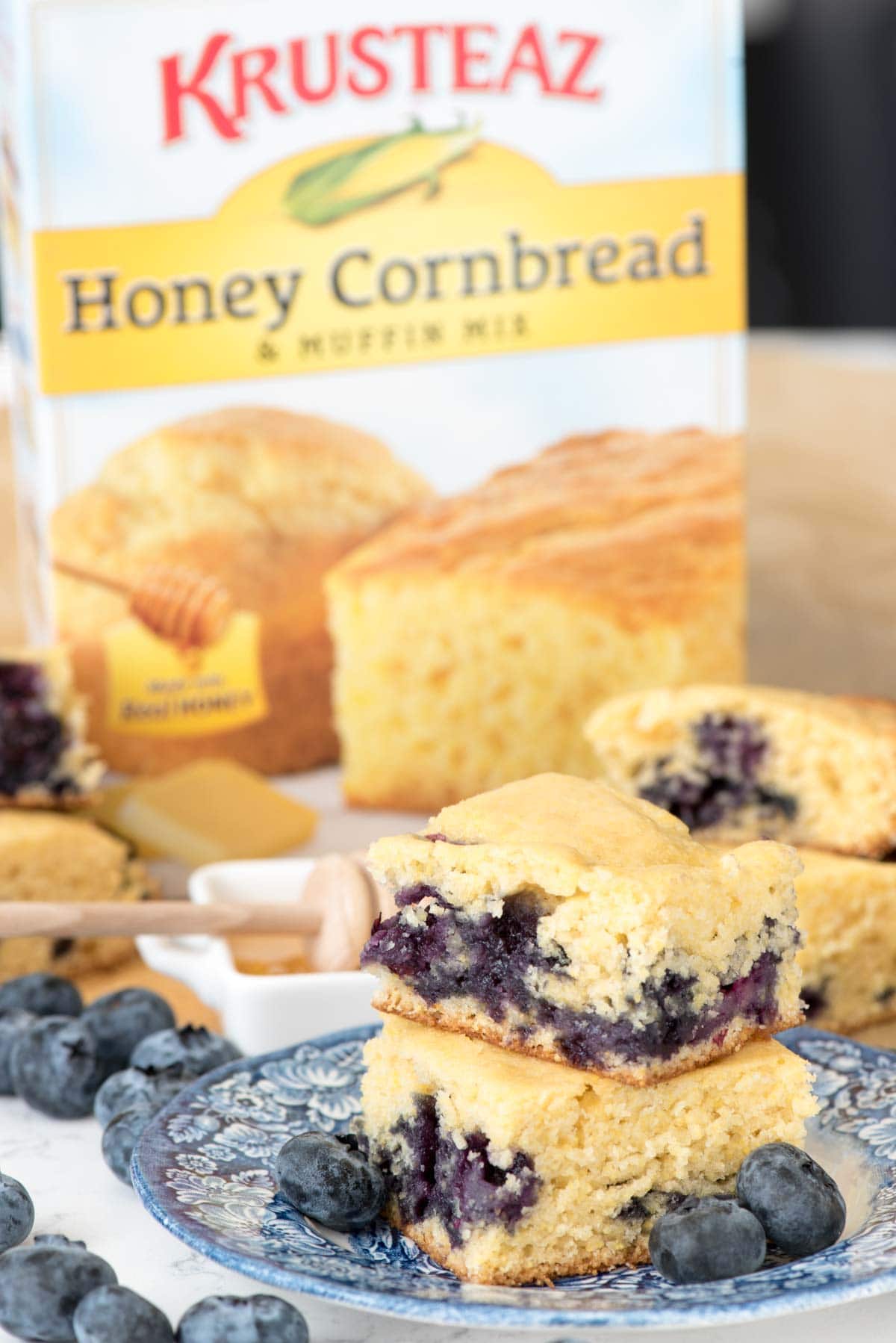 Blueberry Cornbread
One of my favorite cornbread mixes is Krusteaz Honey Cornbread mix. It's easy to prepare (just one bowl and a few minutes) and it's moist and delicious. I love to doctor it just a little, because we're sweet freaks, so I add a bit of brown sugar to make it perfect for us. I don't stop there though; we love to add blueberries to our cornbread too. They taste just like blueberry muffins, but with that telltale cornbread flavor.
If you've never added blueberries to your cornbread, you're missing out. Blueberry cornbread is unbelievably delicious! You really should start ASAP.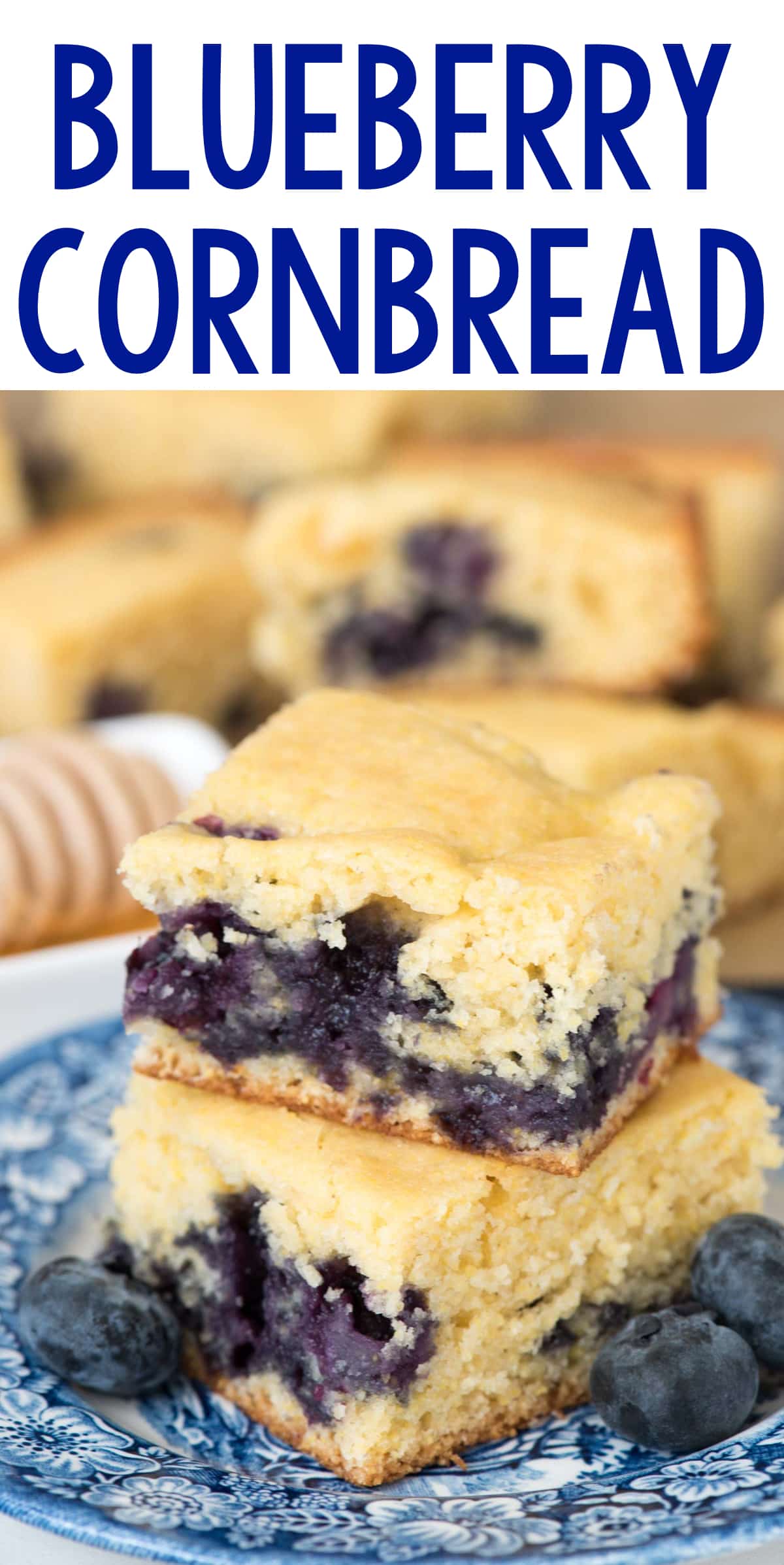 Blueberry cornbread is not only great for a sweet breakfast treat, but we eat it like cake, too! It's one of the best cornbread recipes we've ever eaten!
>>>CLICK HERE FOR THE FULL PRINTABLE RECIPE<<<
Servings: 10 -12 servings
EASY Blueberry Cornbread
EASY Blueberry Cornbread - this cornbread recipe starts with a doctored mix. The blueberries and some added sugar make this the PERFECT breakfast or dessert recipe.
Ingredients
1 15 ounce box Krusteaz Honey Cornbread Mix
1/4 cup packed brown sugar
2/3 cup milk
1/3 cup vegetable oil
1 large egg
6 ounces fresh blueberries
Instructions
Click here to get the FULL PRINTABLE recipe.
Nutrition Information
Amount per serving (1 /10th Blueberry Cornbread) — Calories: 270, Fat: 11g, Saturated Fat: 2g, Cholesterol: 21mg, Sodium: 432mg, Carbohydrates: 42g, Fiber: 2g, Sugar: 20g, Protein: 4g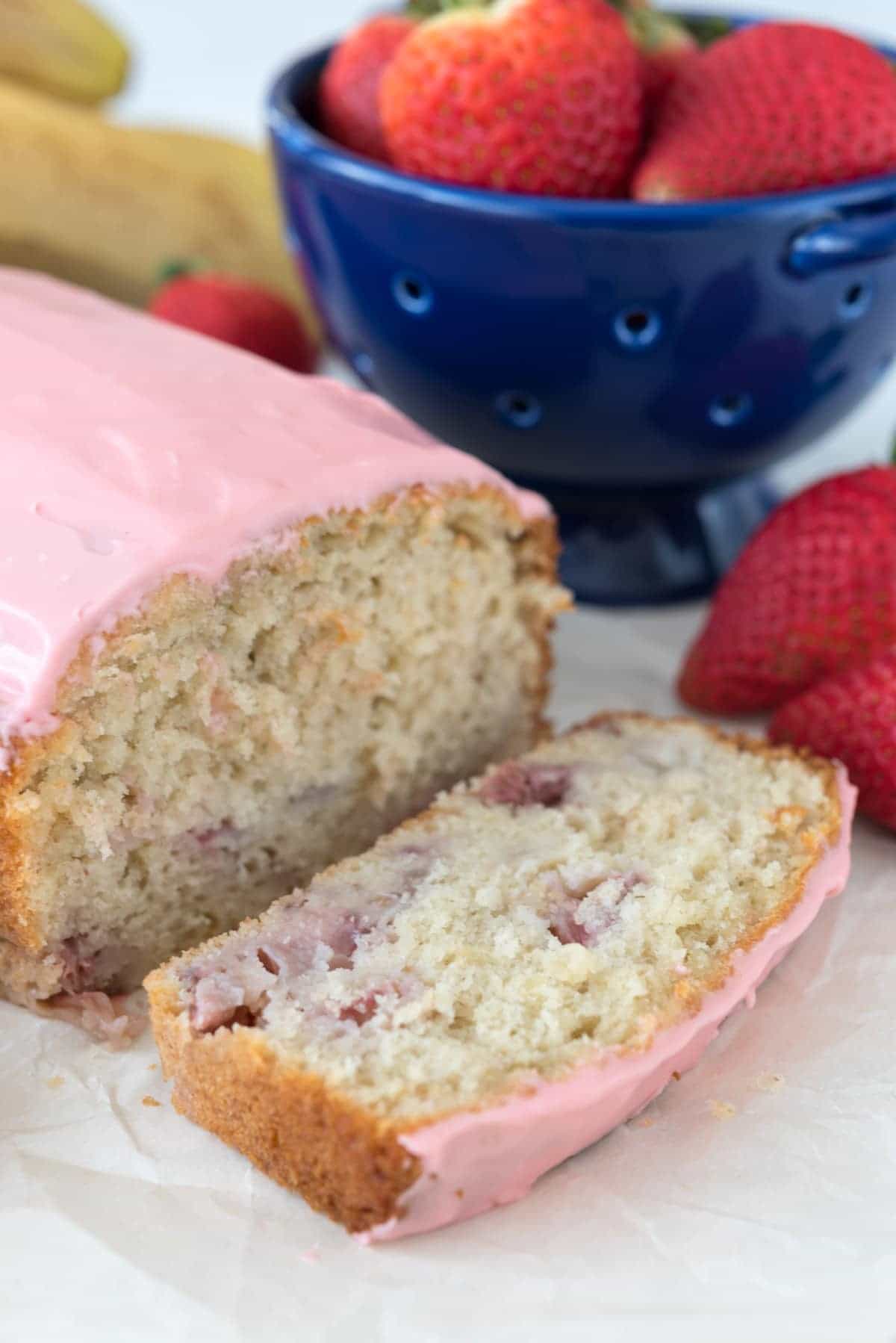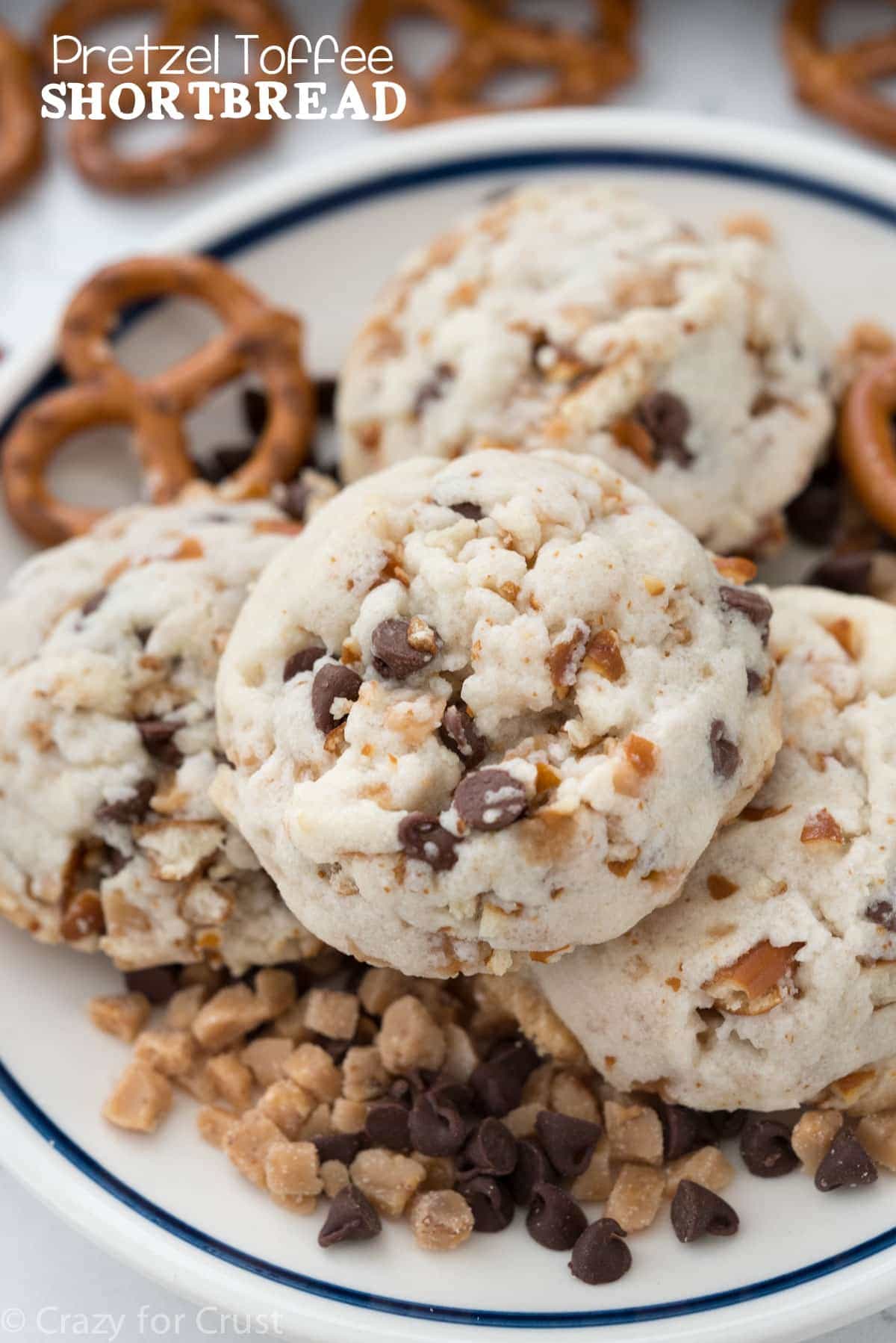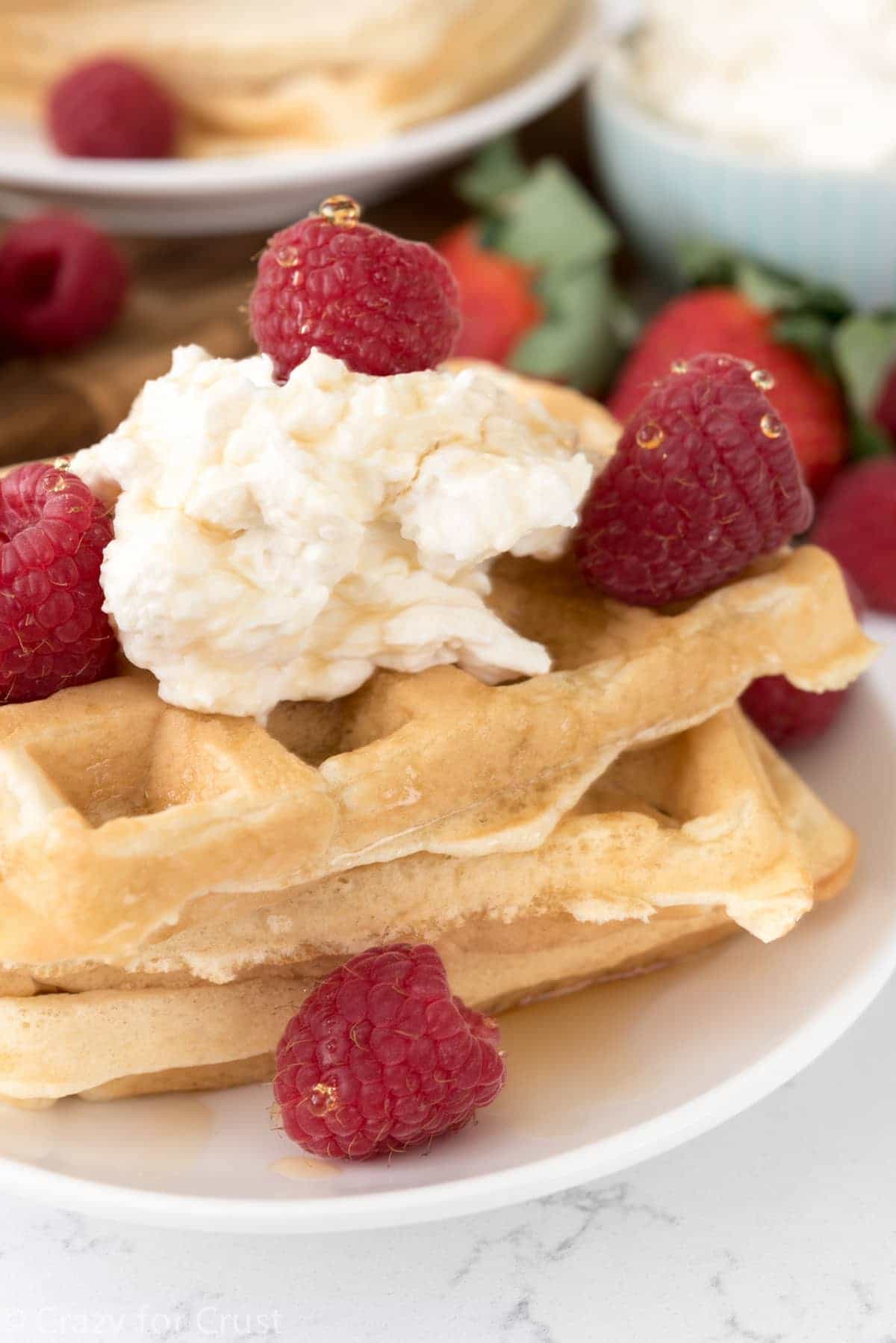 This post has been sponsored by Krusteaz. All opinions are 100% my own.