This post may contain affiliate links. For more information, read my disclosure policy.
Sweet Cream Biscuits are a drop biscuit made with heavy cream! This is the BEST biscuit you'll ever make – completely from scratch and easy. The dough comes together faster than when you make these from a box and they taste way better!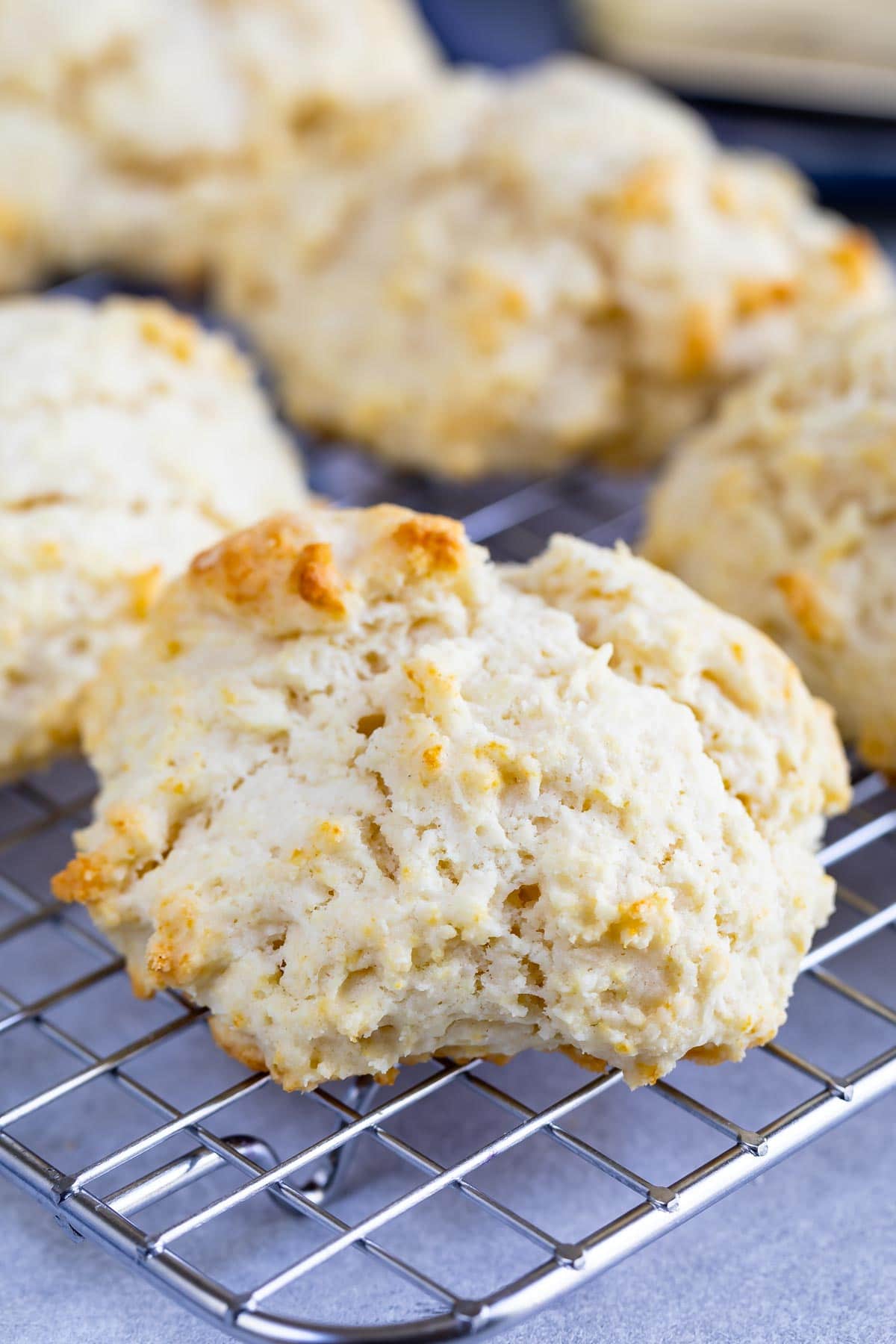 Why This Recipe Works
Cream Biscuits are the perfect kind of biscuit, especially if you're not used to making drop biscuits from scratch. They're soft and fluffy, SO easy to make, with a hint of sweet.
The heavy cream in the recipe does all the hefty lifting: the fat makes them soft and moist and the fact we don't have to cut in butter keeps too much gluten from forming, keeping these extra light.
What is the best cream biscuits recipe? THIS ONE! I add a little bit of sugar to the biscuits, making them perfect for shortcakes or breakfast, but these are great for dinner too (and you can omit the sugar if you prefer).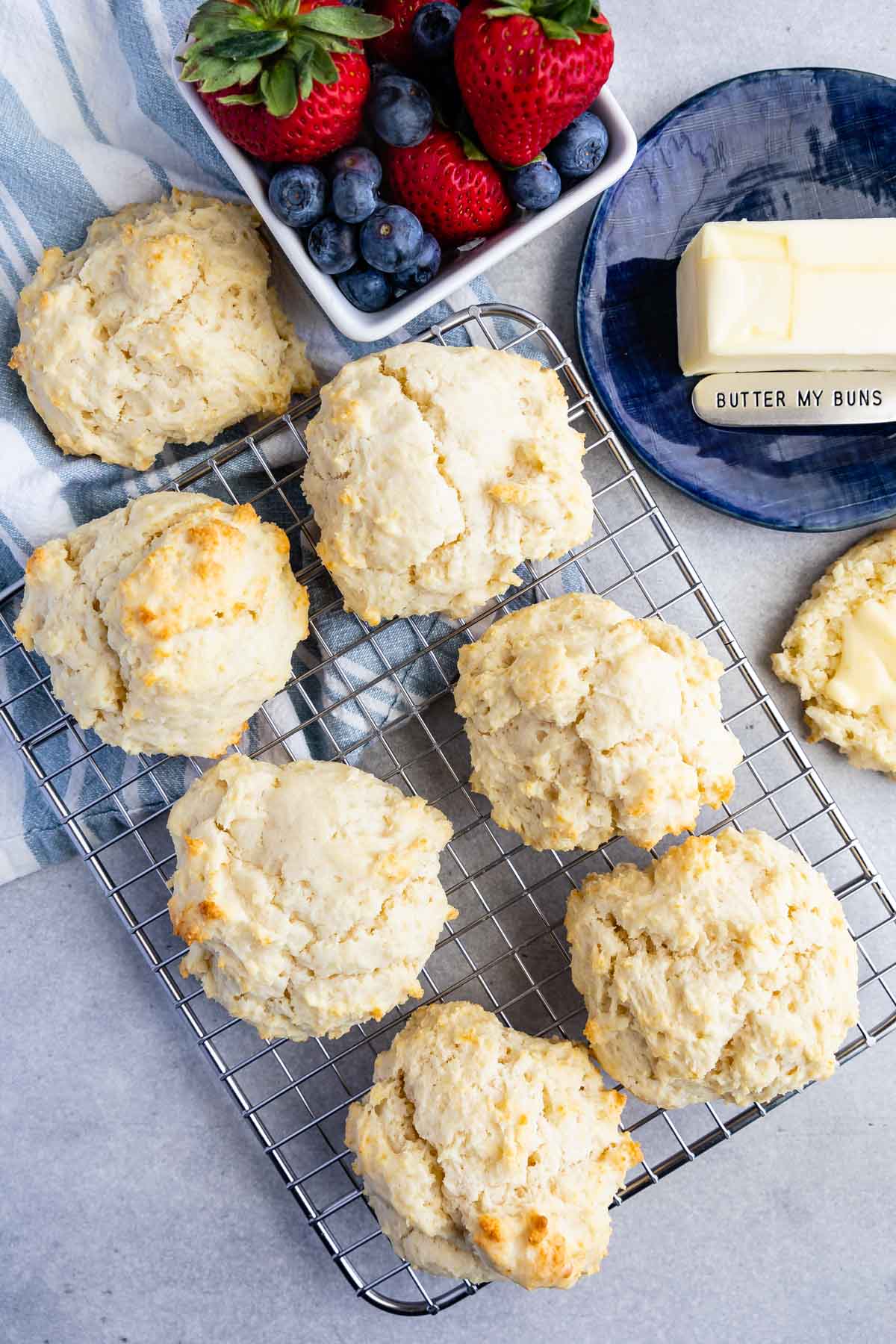 Ingredients in Drop Biscuits
Heavy Whipping Cream: This is the most important ingredient in this recipe. It does double duty, adding liquid to combine the dry ingredients AND adding the fat required for a soft and moist biscuit without butter.
Flour: I use all purpose flour in this recipe because it's what I always have in my kitchen. You can also substitute self-rising flour, more on that in a minute.
Sugar: I like adding some granulated sugar to the recipe because it gives them a hint of sweet. You can omit the sugar if you want.
Baking Powder: Needed to help them rise.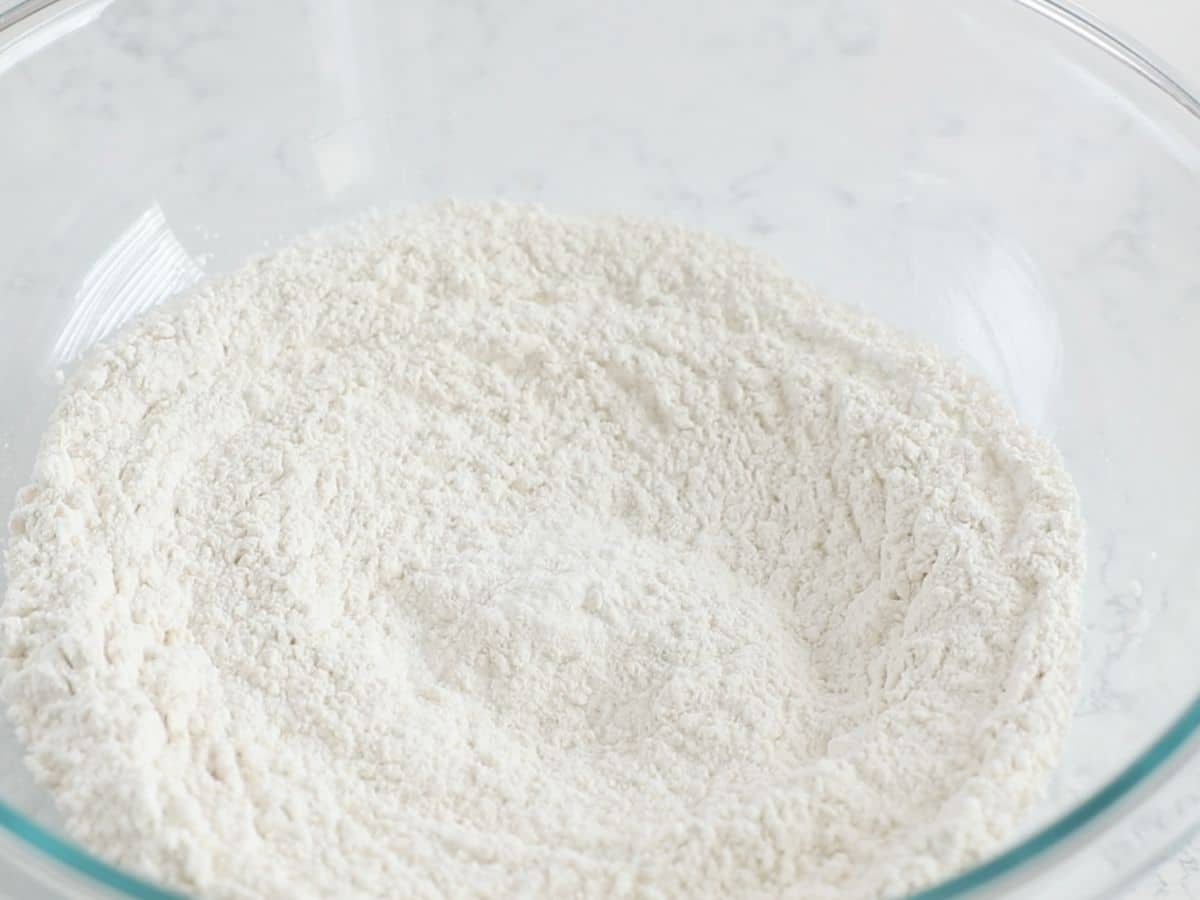 How to make Sweet Cream Biscuits
Whisk: Whisk together all the dry ingredients.
Cream: Add the heavy cream and stir until combined. Mixture will be wet.
Scoop: Use 2 spoons to scoop the biscuits onto your cookie sheet.
Bake: Bake at 425°F until the biscuits are golden brown on the tops.
Tip From Dorothy
Expert Tips
Omit the sugar to make a regular cream biscuit.
Substitute self-rising flour to make 3 ingredient drop biscuits.
Don't over mix! Biscuits should be mixed until just combined, which makes this recipe almost no-fail since there is no butter to cut into the recipe.
You MUST use heavy whipping cream. No substitutions on that!
Variations: Add blueberries or chocolate chips, chopped fruit or lemon zest to flavor your biscuits. Or make savory biscuits by omitting the sugar and adding herbs or shredded cheese.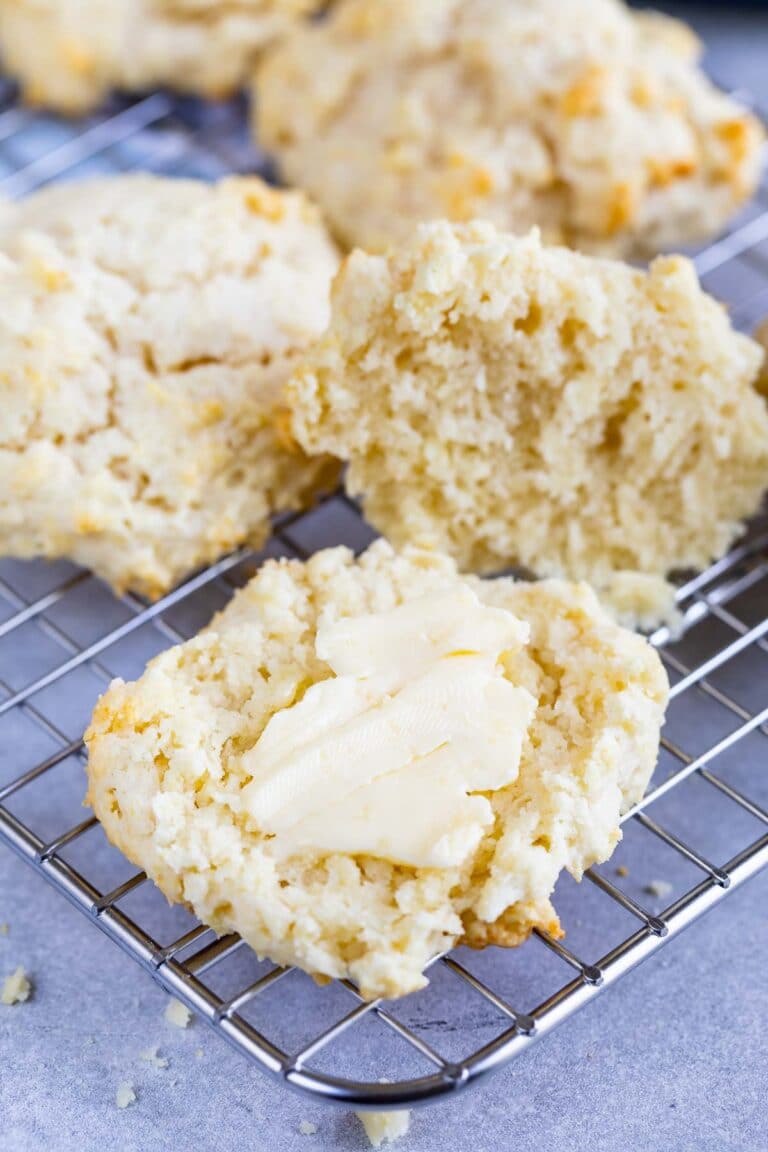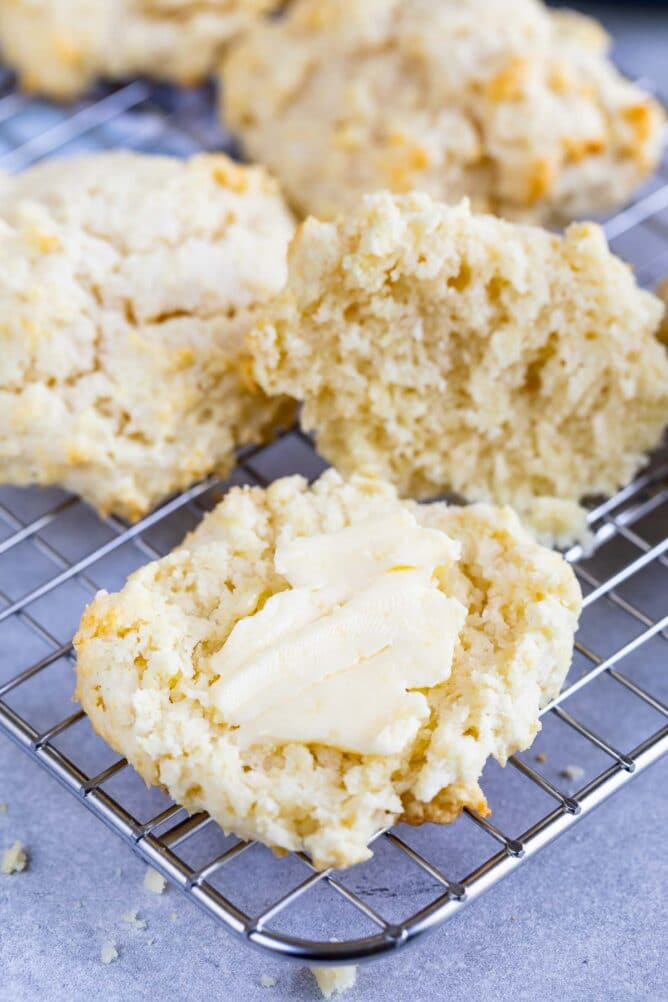 FAQ
Can I use heavy cream instead of milk in biscuits?
This recipe requires heavy cream. If you're not making this recipe you can most likely use either.
Can you use half and half instead of cream?
NO – you must use heavy whipping cream for the best soft biscuits. Since there is no butter in this recipe it needs the fat from the heavy cream.
How do you make drop biscuits?
Drop biscuits are called that because they are dropped onto the cookie sheet instead of rolled and cut. Use 2 spoons to help you: use one to scoop the mixture out of the bowl and another to scrape it off onto the cookie sheet.
How many biscuits does this recipe make?
I usually make about 8 biscuits from this recipe, however you can make smaller biscuits or larger ones to change the yield.
Storing and Freezing Biscuits
Store these in an airtight container for up to 3 days or freeze them for up to 2 months.
How do you make fluffy biscuits?
The key to a fluffy biscuit is threefold: use enough baking powder, use enough fat (heavy cream in this recipe) and don't over mix them.
What oven temperature do you bake biscuits at?
Homemade biscuits should be baked at a high temperature, 425°F.
Do you grease your pan for biscuits?
Grease your pan with butter or shortening when making biscuits, don't use parchment paper. They are best when they bake directly on the cookie sheet.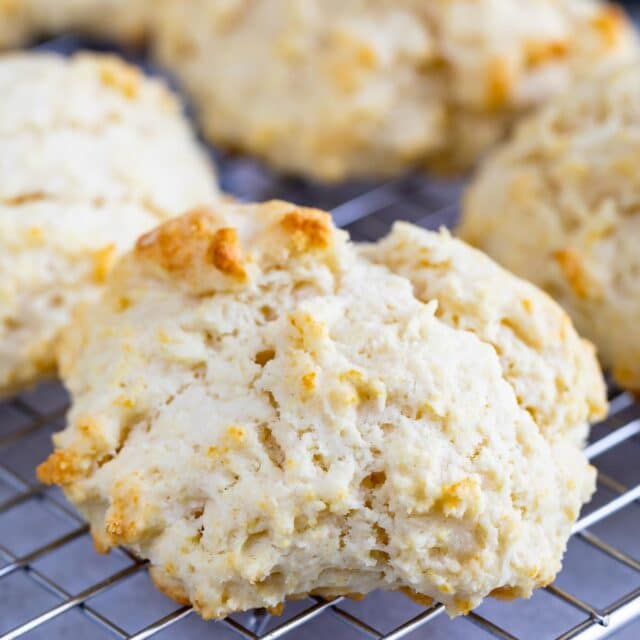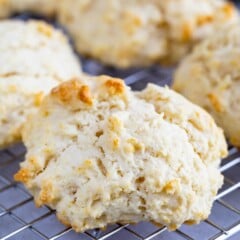 Sweet Cream Biscuits
Drop biscuits made with heavy whipping cream are the easiest homemade from scratch biscuits you'll ever make!
Ingredients
For shortcake:
2

cups

(248g) all purpose flour

2 ½

teaspoons

baking powder

½

teaspoon

salt

2

tablespoon

granulated sugar

1 ½

cups

(356ml) heavy whipping cream
Instructions
Preheat oven to 425°F. Grease a cookie sheet with butter or shortening.

Whisk flour, baking powder, salt and sugar in a large bowl.

Add the heavy whipping cream and stir with a wooden spoon or spatula until the dough comes together. It should become a thick dough and if needed, use your hands to finish working it together.

Using two spoons, scoop out and drop biscuits on prepared cookie sheets. Depending on size, you'll get about 8 biscuits, unless you want them smaller.

Bake for about 14-16 minutes, or until the tops and bottoms are golden brown and the biscuits are cooked through. I recommend rotating the pan halfway though baking for even cooking. Cool biscuits before serving.
Recipe Notes
You must use heavy whipping cream in this recipe, no substitutions
Omit the sugar if you prefer
Substitute self-rising flour in a same amount as the all-purpose but omit the baking powder and salt.
Recipe Nutrition
Serving:
1
shortcake
|
Calories:
281
kcal
|
Carbohydrates:
29
g
|
Protein:
4
g
|
Fat:
17
g
|
Saturated Fat:
10
g
|
Cholesterol:
61
mg
|
Sodium:
164
mg
|
Potassium:
193
mg
|
Fiber:
1
g
|
Sugar:
3
g
|
Vitamin A:
656
IU
|
Vitamin C:
1
mg
|
Calcium:
88
mg
|
Iron:
2
mg
Nutritional information not guaranteed to be accurate
Favorite Strawberry Recipes
Sweet Cream Biscuits are an easy drop biscuit made with heavy cream! This recipe makes the BEST homemade biscuits you'll ever eat – they're perfect for shortcakes!
Last Updated on March 31, 2023