This post may contain affiliate links. For more information, read my disclosure policy.
This Cornbread Stuffing with andouille sausage is the MOST requested recipe by my family every Thanksgiving, and I've been making it for more years than I remember.
Sausage Cornbread Stuffing is the perfect savory Thanksgiving side dish that will please everyone at the table. This is the only thing at Thanksgiving my picky eater likes!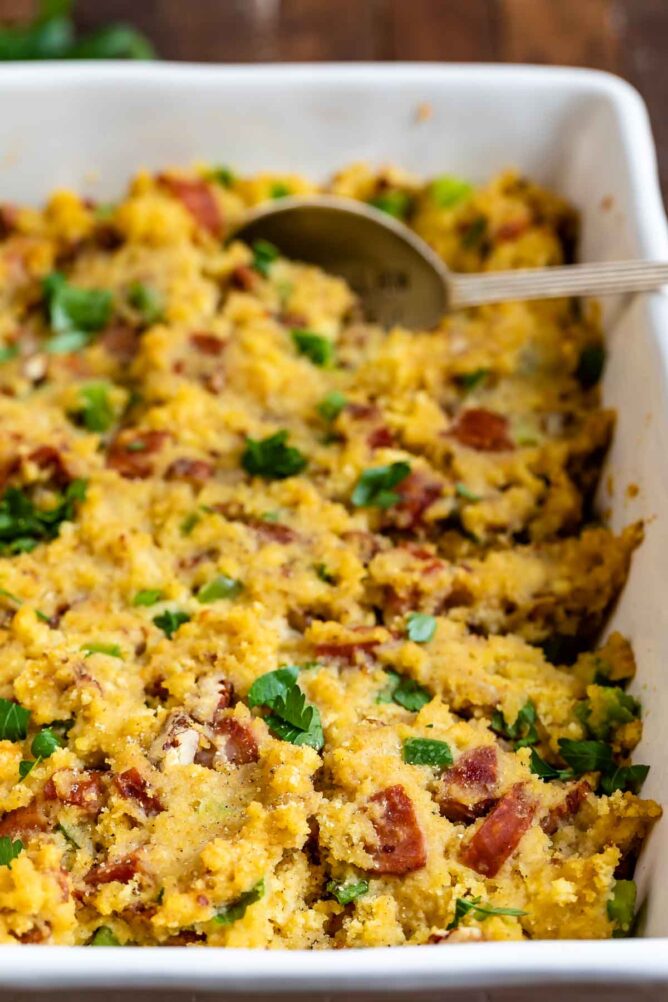 I started making this stuffing in college. I'd never had cornbread stuffing before, and I'd never had andouille sausage. I'd been reading an old cookbook of my mom's and came across a stuffing made with cornbread and sausage. I decided to make my own version on a whim and ever since then I've been making it several times a year.
The BEST Sausage Cornbread Stuffing
In fact, this is the ONLY recipe Jordan begs for at Thanksgiving. She really doesn't like anything else at that meal, except occasionally the knoepfle my dad makes and, of course, dinner rolls.
I think the fact that this is made with an entire batch of cornbread is why Jordan likes it so much. EVERYONE in my family expects this sausage stuffing. I make it at Thanksgiving and Christmas, and often during the year. Once Jordan requested it for her birthday.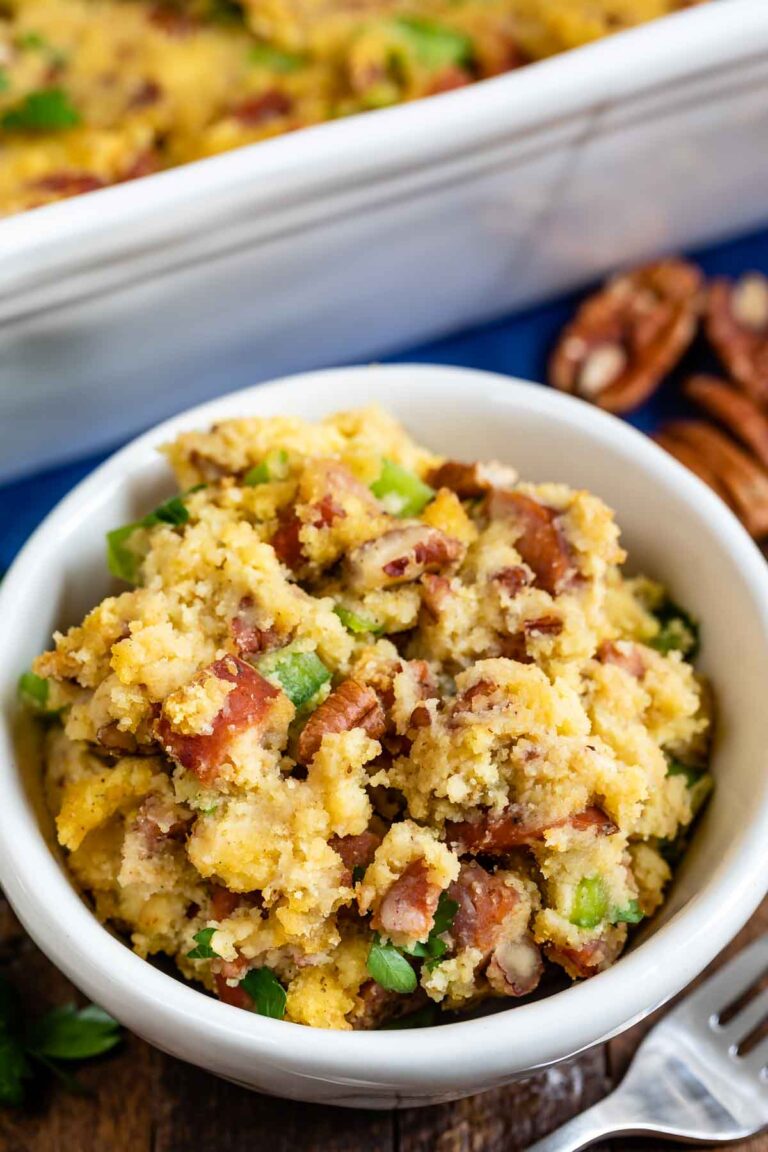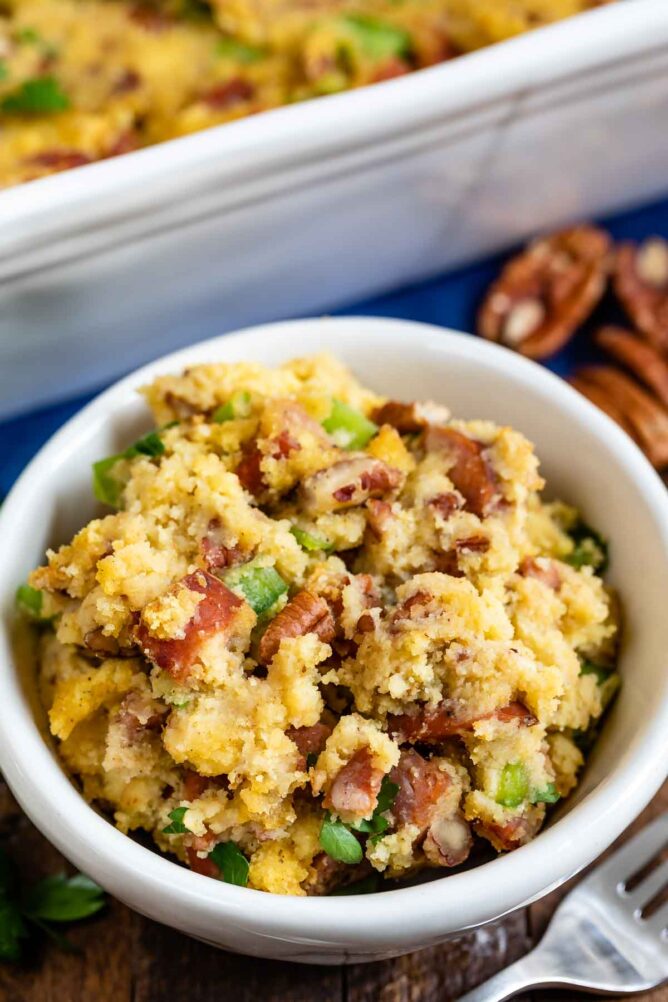 Ingredients
Okay, so let's break down the stuffing components:
Cornbread: I've always used Marie Callender's Cornbread Mix. It's a 16 ounce package that, when you add water, makes an 8×8 pan of cornbread. Because it's what I've always used, I can't use anything else. Every cornbread has it's own taste, texture, sugar content, etc., and this stuffing made with anything else tastes off for me.
However, if you have your own favorite cornbread recipe or box mix, use that. I also have used the Simply Homemade brand and it's just as good.
Make sure to get yourself an 8×8 pan size of cornbread, which is about 8-9 cups crumbled. (Pssst, my friend Averie has an amazing scratch cornbread recipe I love!)
Andouille sausage: It's a spicy sausage, kind of like linguisa but more savory and less greasy. I only eat it in this stuffing and it's the only one I'll use. Again, I started out using Aidell's and it's what I always use now.
I quarter each sausage and dice it up, fry it, and drain it well before adding it to the cornbread. The salty and spicy sausage is a great pairing for the sweet cornbread. They balance each other out, making this very savory even with all that sweet. Can't find the Aidell's? Use your favorite andoille!
Pecans: You can't forget the pecans! They add texture and crunch to the soft stuffing. I toast them before adding them to the mixture. The best bite of this stuffing has a little of my trinity: cornbread, sausage, and pecan.
Then you add some green stuff, seasonings, and chicken stock. Once you bake it, this is the best stuffing you'll ever eat, I promise.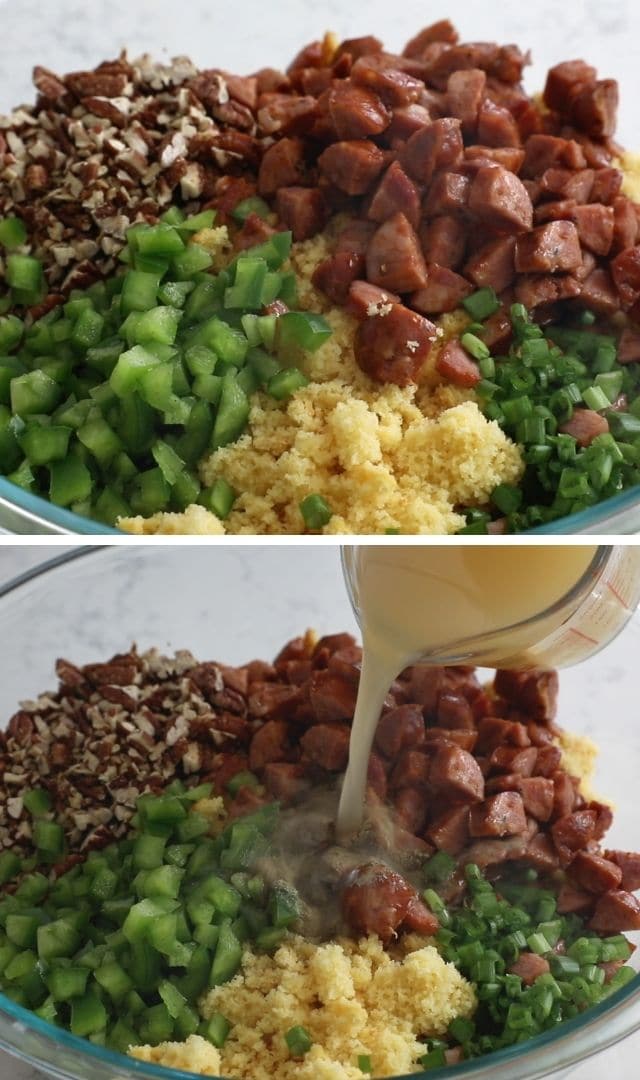 Tips and Tricks
Because the big day is often busy with cooking, I chop everything and bake my cornbread the day before. Then I make the stuffing in the morning of Thanksgiving, before it gets too hectic.
Everything in this stuffing is pretty much cooked. I'll often leave it, covered, on the counter, until it's time to bake it. You can even make the stuffing the day ahead, or if you're eating several hours after you make it, just pop it in the refrigerator.
Make sure to let it come to room temperature before you bake it. If you're like me, you have one oven that's pretty much consumed by the turkey. There's never room for the stuffing while the turkey is cooking, so I'll pop it into the oven as soon as the bird comes out. As long as it's room temperature it'll warm up while you let the turkey sit.
Bake it covered so it doesn't brown on the top too much. Then uncover it for about 5 minutes to let the top brown. I bake usually bake this in a corningware dish that has a lid, but you can also just use foil.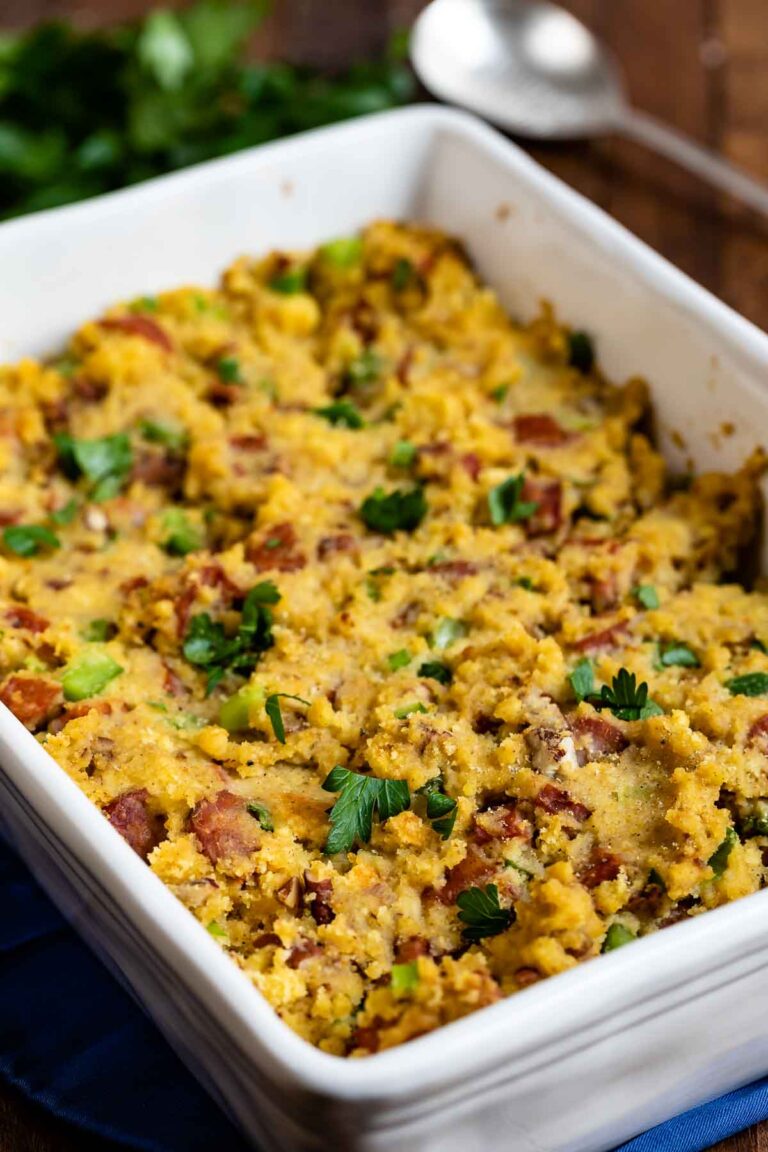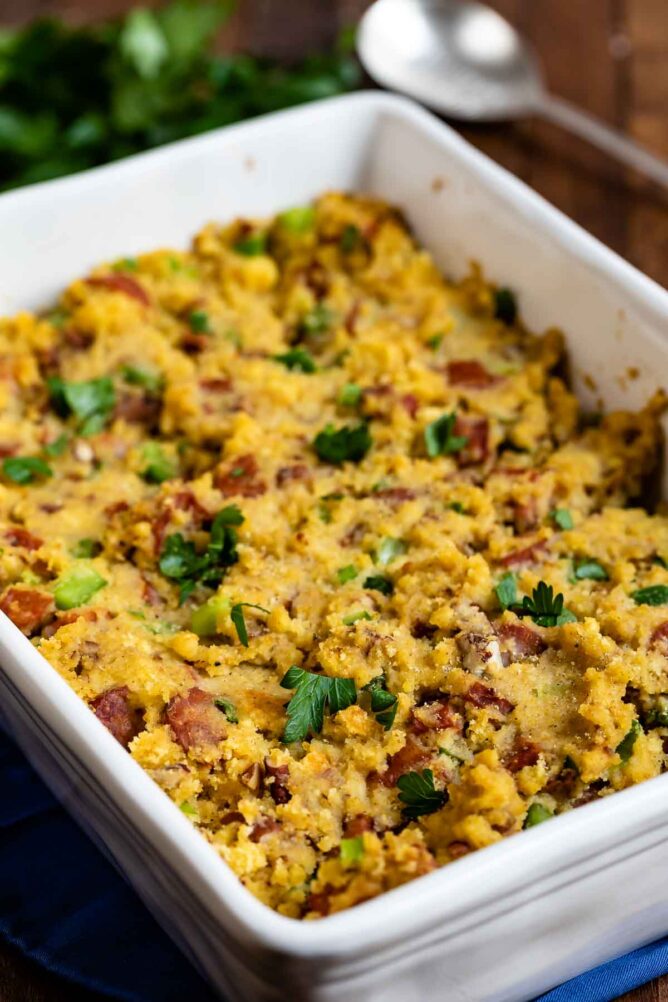 Prepare to have no leftovers. I'm not joking. Cornbread stuffing with andouille sausage is one of those recipes people eye the placement of on the table, to see how fast they can get to it before it goes around. Then, if they're at the tail end of the line, they'll be eying each person as they dish making sure no one takes more than their share. It's that good.
I hope you enjoy this as my family has!!
Serving Suggestions
Have you made this recipe?
Tag @crazyforcrust on Instagram or hashtag it #crazyforcrust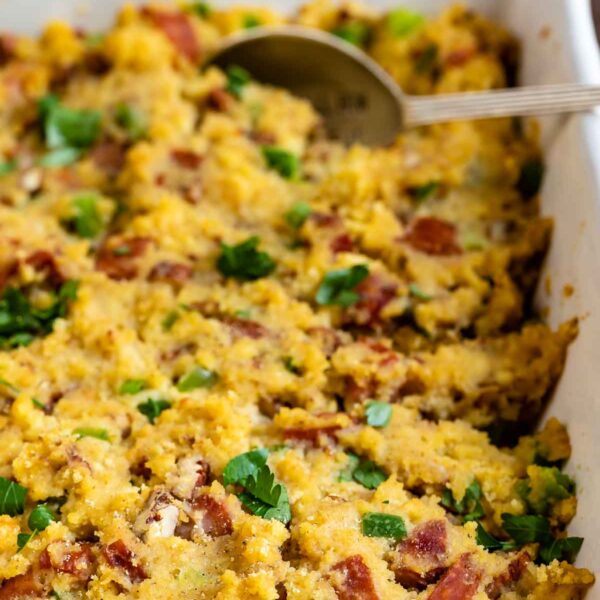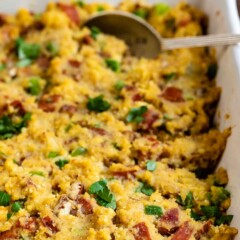 Cornbread Stuffing with Andouille and Pecans
This is the perfect side dish to any Thanksgiving meal! Sweet cornbread, spicy andouille sausage, and crunchy pecans make this my family's favorite stuffing…all year long.
Ingredients
8-9

cups

of crumbled cornbread

from a 16 ounce pouch that makes an 8×8 pan size (I use Marie Callender's Mix), see note

12

ounces

andouille sausage

quartered and diced bite size (I use Aidells Cajun Style Andouille)

1/2

cup

small dice green bell pepper

1/4

cup

small dice green onion

3/4

cup

toasted coarsely chopped pecans

see note

1/2

teaspoon

ground sage

1

cup

reduced-sodium chicken stock/broth
Instructions
Crumble cornbread and place in a very large bowl.

Cook sausage over medium heat in a large skillet until it's browned, about 5-7 minutes. Place on a paper towel lined plate and press with more paper towels to render the grease. Cool slightly, then add to the cornbread.

Add the bell pepper, green onion, pecans, and sage to the cornbread sausage mixture. Stir to combine. Add 3/4 cup of chicken stock and stir, adding more chicken stock as needed. The mixture should be wet but not sopping.

Pour stuffing into a dish that's about 2.2 Qt or 1.8L (I use a corningware dish or a 10×7 rectangular pan.)

At this point you can cover the stuffing and let it sit at room temperature up to 3 hours or chill for up to 24, until ready to bake. Let it come to room temperature before baking.

Bake in a 350°F oven, covered with a lid or foil, for about 15 minutes. Remove lid/foil and let brown for another 5-10 minutes, or until heated through. If you're making a turkey in the same oven, you can cook the stuffing at the same temperature. This recipe is easily adaptable in that way. Just adjust the time accordingly. Serve hot.
Recipe Nutrition
Serving:
1
serving
|
Calories:
541
kcal
|
Carbohydrates:
67
g
|
Protein:
13
g
|
Fat:
24
g
|
Saturated Fat:
6
g
|
Cholesterol:
26
mg
|
Sodium:
1051
mg
|
Potassium:
253
mg
|
Fiber:
7
g
|
Sugar:
20
g
|
Vitamin A:
163
IU
|
Vitamin C:
6
mg
|
Calcium:
63
mg
|
Iron:
3
mg
Nutritional information not guaranteed to be accurate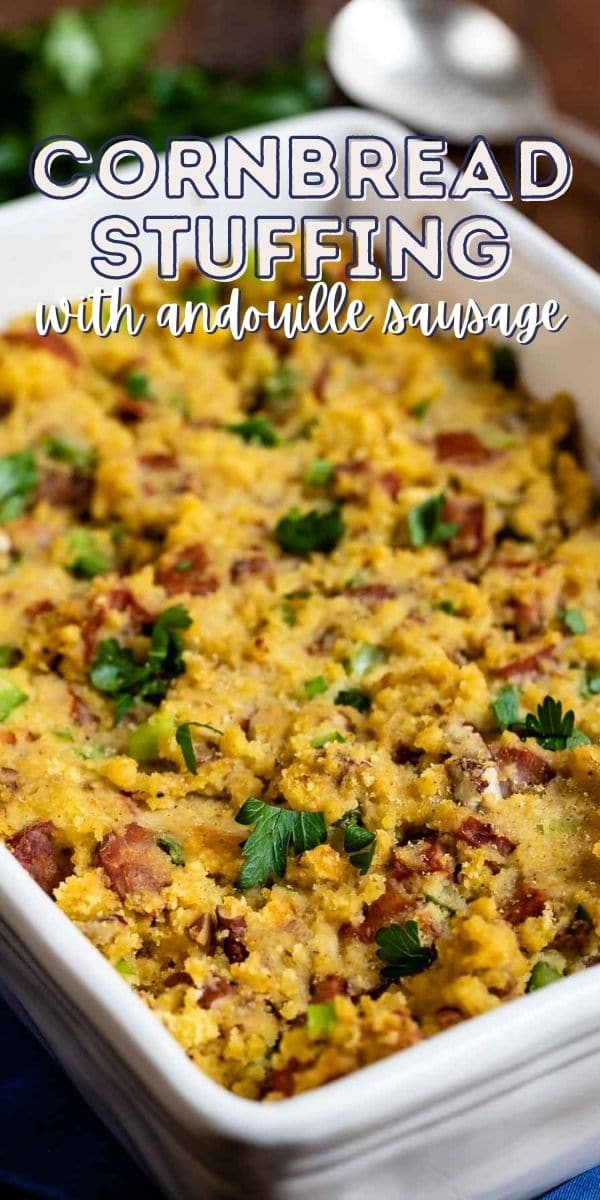 This Cornbread Stuffing is an easy Thanksgiving recipe with a star ingredient – andouille sausage! Make this dressing this year and everyone will love it- it's the only one we make!
Last Updated on October 13, 2020