This post may contain affiliate links. For more information, read my disclosure policy.
Learn how to make the best pumpkin scones that taste even better than Starbucks! These copycat scones are moist and full of pumpkin and fall spice flavor. They're so easy to make at home too!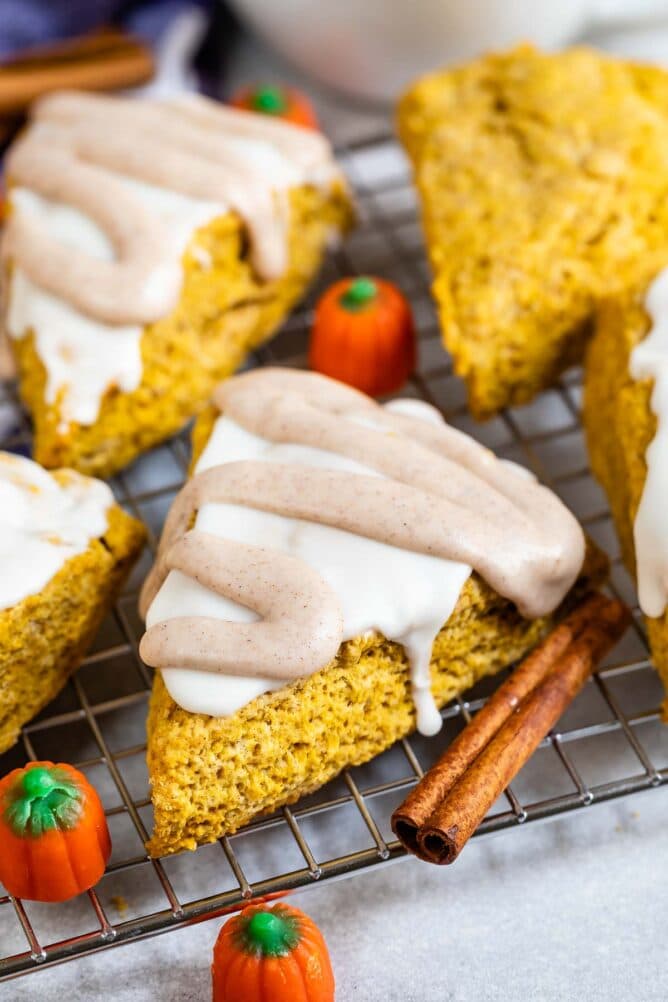 Table of Contents
I'm going to let you in on a bit of a secret: scones are easy to make! For some reason, they have a reputation for being difficult to make, but with the right recipe, you can make amazing iced scones.
Of course, I've got a great recipe for you to try! These copycat pumpkin scones are like the ones you get at Starbucks, but even better. They are soft, tender, moist, and topped with icing – altogether, the ultimate fall treat to go with your coffee. And you don't need to leave the house!
BEST Copycat Starbucks Pumpkin Scones
These scones are all about the pumpkin and fall spices. The flavors scream fall!
I'm showing you how to make them, plus sharing all of my tips, so they turn out perfectly.
These are iced scones, but you can serve them plain (if you like things a little less sweet) or opt for just one glaze to make them easier.
They are freezer-friendly and keep well at room temperature.
They taste even better than Starbucks. Once you try this pumpkin scone recipe, you'll want them from scratch every time.
I love to treat myself to the café treats, but when I figure out how to make my favorites at home, then watch out – I usually stick with the homemade versions. You'll see when you try them – this is seriously the best pumpkin scone recipe.
Ingredients in Pumpkin Scones
All-Purpose Flour: Be sure to measure it correctly.
Brown Sugar: I love the extra bit of flavor that brown sugar gives the scones, plus they stay extra moist.
Baking Powder: Be sure to check the date on your baking powder to make sure it isn't expired.
Spices: Salt, Cinnamon, Pumpkin pie spice
Butter: I like grating my butter to make it easier to cut into the dry ingredients! Make sure the butter is chilled.
Pumpkin Puree: For all that pumpkin flavor!
Large Egg: Helps keep the scones moist.
Heavy Whipping Cream: The fat in the cream helps keep the scones moist!
Vanilla Extract: For some extra flavor.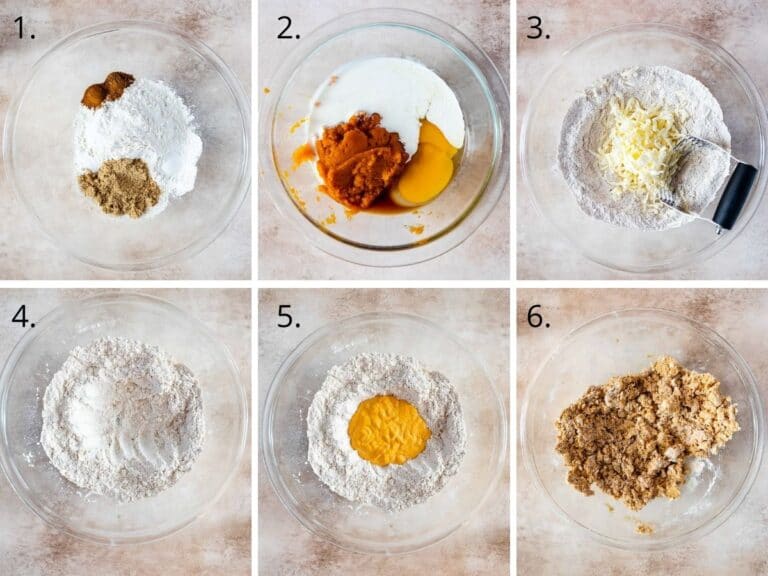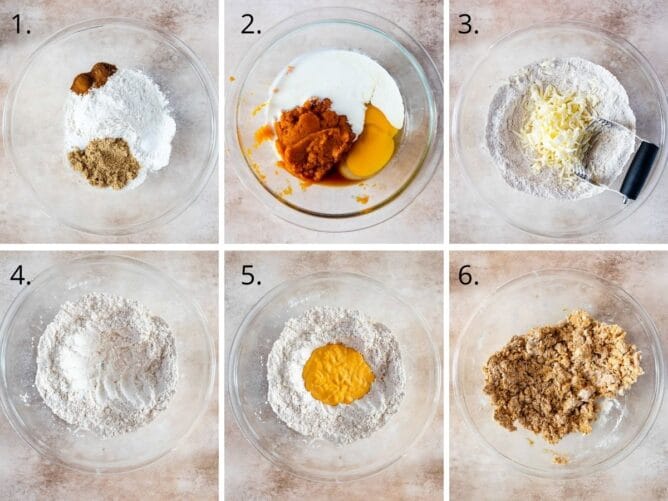 How to Make Pumpkin Scones
Whisk the flour, brown sugar, baking powder, salt, and spices in a large bowl.
Mix the wet ingredients together in a separate bowl.
Add the chilled grated butter and cut it into the flour mixture with a pastry blender or a fork. Blend until the mixture resembles coarse crumbs.
Make a well in the center of the dry ingredients.
Pour the mixture into the well you made in the dry ingredients.
Use a fork to mix the two just until the flour mixture is moistened.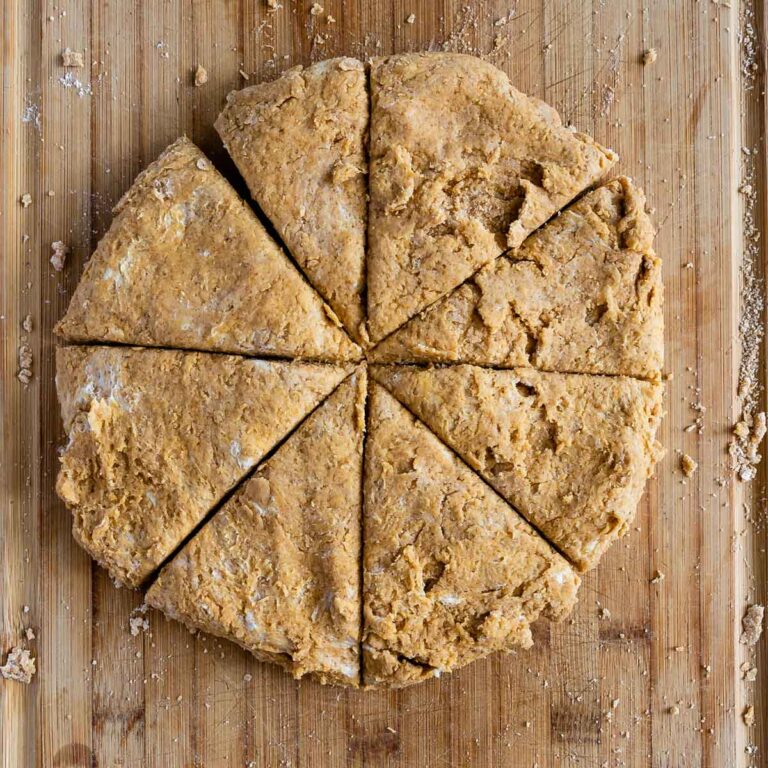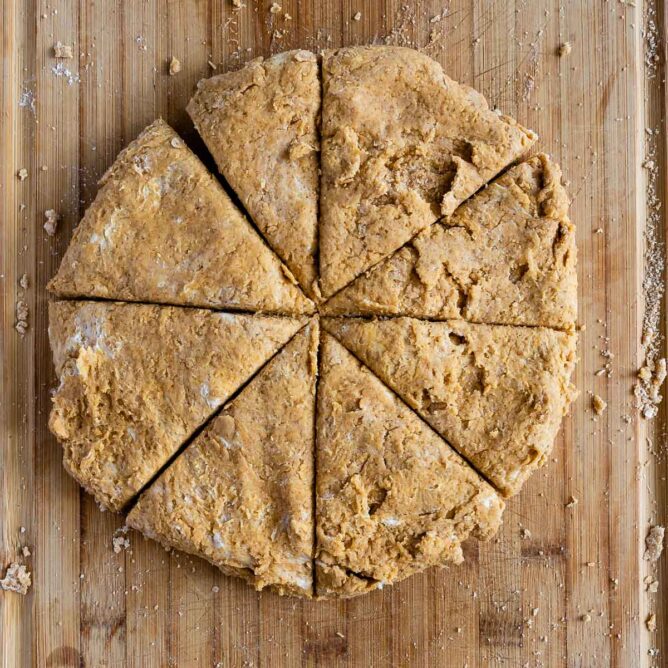 How to shape scones: Transfer the dough to a lightly floured surface. Knead the dough lightly until it is nearly smooth. Pat and shape the dough into a disc that's about 1″ thick. Cut the disc into wedges.
How long to bake scones: Place wedges on a prepared cookie sheet. Brush the wedges with whipping cream and bake them at 400°F for 15 to 18 minutes or until golden.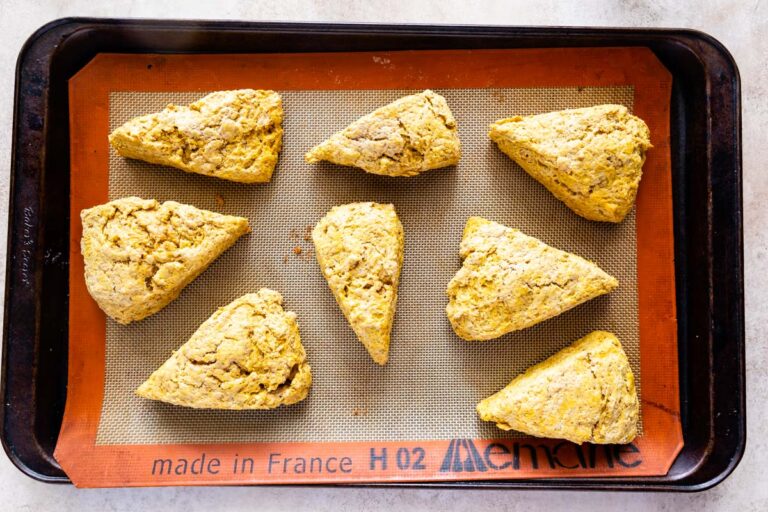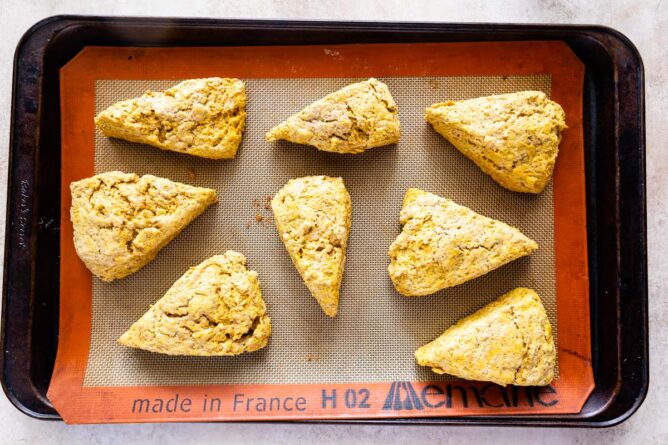 How to Frost Pumpkin Scones Like Starbucks
You can enjoy the pumpkin scones plain, but you need to try the icing to get the real Starbucks experience. It also adds the perfect amount of sweetness.
There are actually two icings: a plain one made with powdered sugar, cream, and a pinch of salt and a spiced one with the same ingredients plus cinnamon, ginger, and cloves.
You can make each by mixing the ingredients in separate bowls and then place the icings in resealable bags with the corners snipped off.
Frost each scone with the plain glaze first, spreading it, so it covers the top. Let it set, and then pipe the spiced icing in a zigzag on top so you can see the white underneath.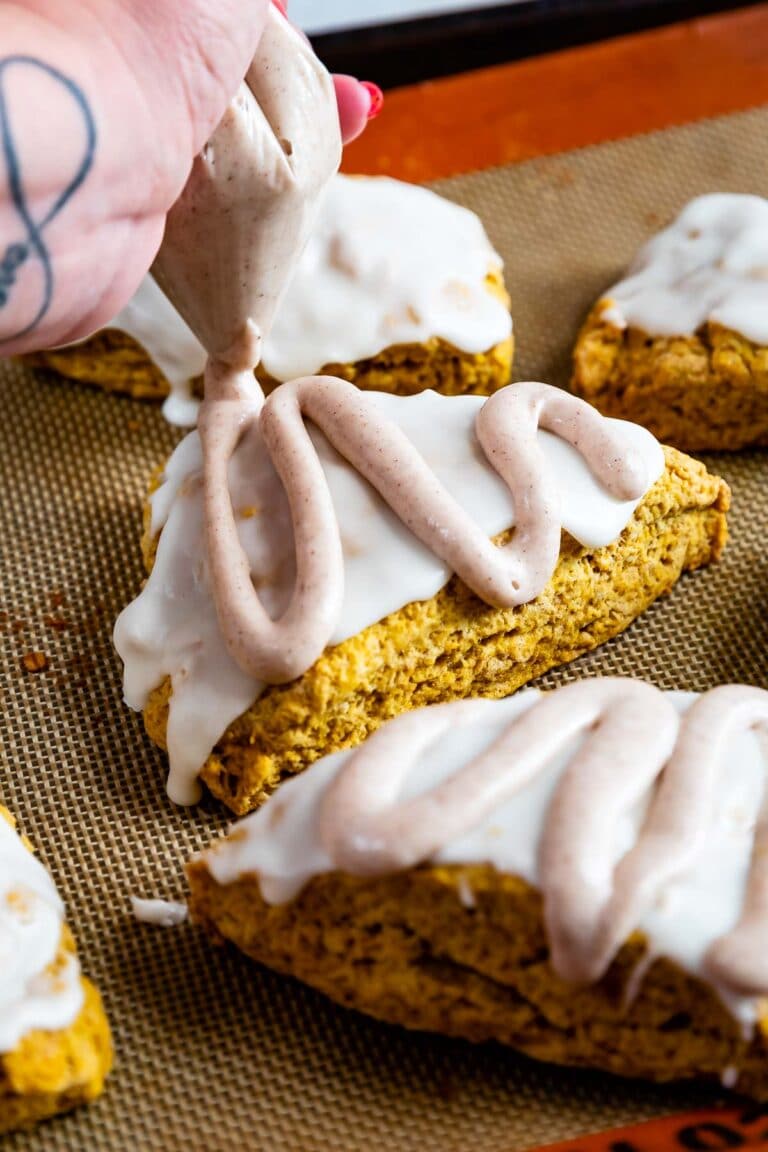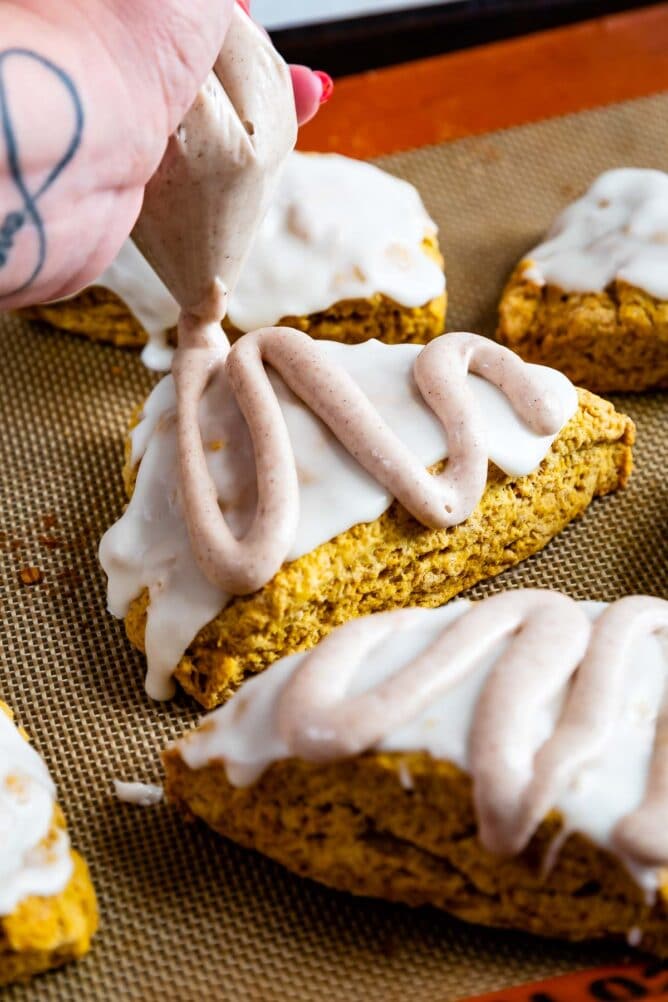 Tips
The most important thing when you make scones is not to overwork the dough. So, when you mix the wet and dry ingredients, do it just long enough so the flour is moistened. Then, when you knead the dough, only knead it 10 to 12 times.
If you don't want large scones, you can make mini pumpkin scones. After you knead the dough, divide it in half and form each half into a disc. Cut them into mini wedges and then bake them.
For the icing, feel free to just use the plain glaze or just the spiced glazed. You don't need to use both – they will still taste great.
The icing will not harden, so I don't recommend stacking the scones.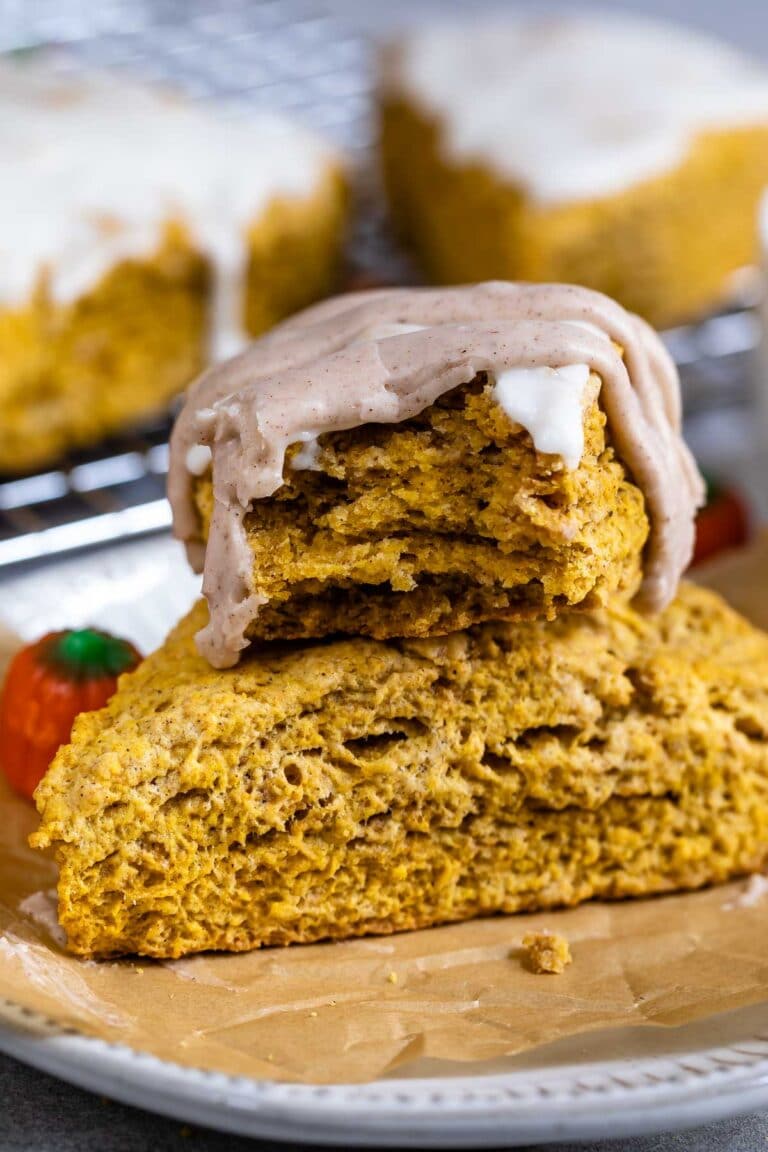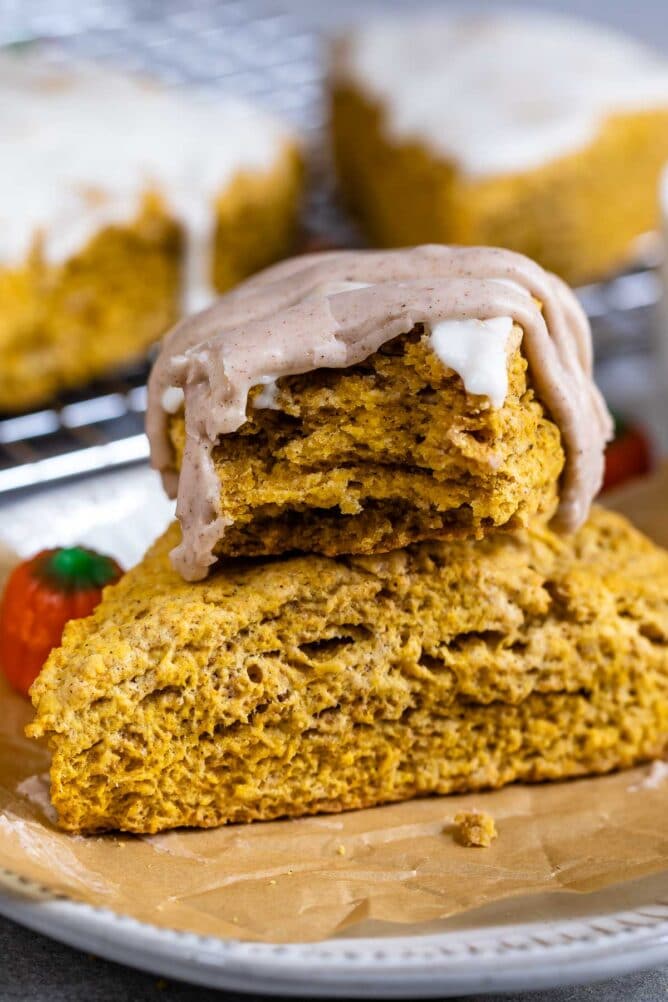 FAQ
Is a scone supposed to be more moist or on the dry side?
Scones should be moist and not dry. These pumpkin scones are not too sweet (unless you add the glaze), but they are moist and delicious.
How do I garnish scones?
The easiest way to garnish scones is with icing.
How does canned pumpkin differ from pumpkin puree?
Canned pumpkin is pumpkin puree, so they are basically the same thing.
Why do some scones fail to rise?
The culprit is usually the baking powder. If it is expired or if not enough is added to the recipe, the scones won't rise while they bake.
What is the best flour to make scones?
I like all-purpose flour. It works great, and it's the type of flour I usually have on hand.
How do I make my scones go brown on top?
Brush them with heavy cream or milk before you bake them.
What's the best way to store scones?
Store them in an airtight container so they don't dry out. If you iced them, keep them in a single layer. If you stack them, the icing will get messed up.
Can I freeze pumpkin scones?
Yes, they freeze great with or without the icing! Store them in a freezer container. If they are iced, be sure to freeze them in single layers.
What can you do with canned pumpkin that is not pie?
Have you made this recipe?
Tag @crazyforcrust on Instagram or hashtag it #crazyforcrust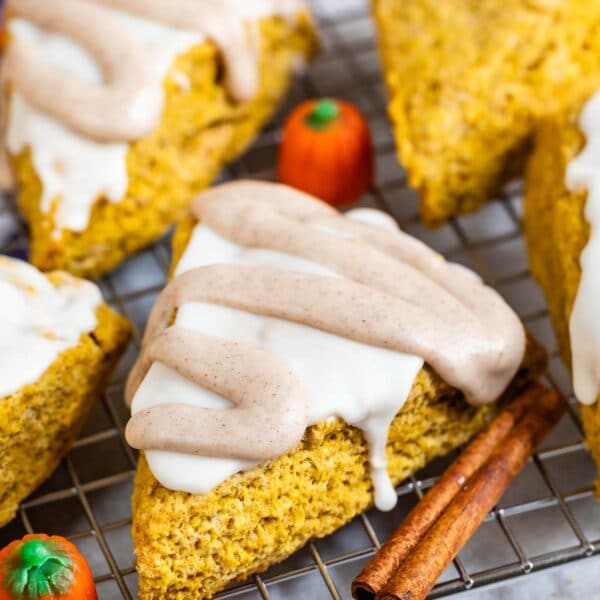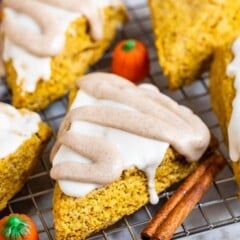 Pumpkin Scones Recipe
These are BETTER than Starbucks Copycat Pumpkin Scones with spiced icing. They're soft and moist and you can have them all year long once you know how to make scones from scratch.
Ingredients
2 ½

cups

(310g) all-purpose flour

⅓

cup

(67g) packed brown sugar

1

tablespoon

baking powder

½

teaspoon

salt

1

teaspoon

cinnamon

2

teaspoons

pumpkin pie spice

½

cup

(113g) unsalted butter, grated and chilled

½

cup

(122g) pumpkin puree

1

large egg

½

cup

(119ml) heavy whipping cream

1

teaspoon

vanilla extract
Plain Glaze:
1

cup

(113g) powdered sugar

3

tablespoons

(15ml) heavy whipping cream

Pinch

Salt
Spiced Glaze:
1

cup

(113g) powdered sugar

2-3

tablespoons

(10-15ml) heavy whipping cream

½

teaspoon

ground cinnamon

⅛

teaspoon

ground ginger

⅛

teaspoon

ground cloves

Pinch

salt
Instructions
Scones:
Preheat oven to 400°F. Line a cookie sheet with parchment paper or a silpat baking mat.

Grate your butter using the large holes of a box grater. Place back in the refrigerator to chill.

Place flour, brown sugar, baking powder, salt, and spices in a large bowl. Whisk to combine.

Cut the butter into the flour mixture using a pastry blender or fork, until the mixture resembles coarse crumbs.

Make a well in the center of the flour and butter mixture.

In a medium bowl or measuring cup, whisk egg, pumpkin puree, whipping cream, and vanilla. Pour into the well in the center of the flour mixture. Use a fork to stir just until moistened.

Turn out dough onto a lightly floured surface. Knead dough lightly until it is nearly smooth, about 10-12 folds in on itself. Pat dough into a circle that's about 1-inch thick. Cut into wedges. (If desired, make mini scones by first dividing the dough in half then patting into a circle and cutting.)

Place scones on cookie sheet. Brush the wedges with additional whipping cream. Bake for 15-18 minutes or until golden. Cool before topping.
Glaze:
Plain glaze: whisk powdered sugar with cream until smooth. Frost each scone and chill to set glaze.

If desired, make the spiced glaze. Place glaze in a small sandwich bag and cut off one tip and drizzle over the top of the ice scones once the frosting has set.

You can also just frost the scones with the spiced glaze and skip the

plain glaze, if desired.
Recipe Notes
The icing sets but is not hard, so I don't recommend stacking them.
Skip the plain glaze and just use spiced, or skip the spiced version all together.
The scones themselves aren't too sweet, so the icing adds that sweet punch, however they're also great plain with coffee!
Recipe Nutrition
Serving:
1
scone
|
Calories:
498
kcal
|
Carbohydrates:
72
g
|
Protein:
6
g
|
Fat:
22
g
|
Saturated Fat:
13
g
|
Polyunsaturated Fat:
1
g
|
Monounsaturated Fat:
6
g
|
Trans Fat:
1
g
|
Cholesterol:
84
mg
|
Sodium:
270
mg
|
Potassium:
273
mg
|
Fiber:
2
g
|
Sugar:
39
g
|
Vitamin A:
3126
IU
|
Vitamin C:
1
mg
|
Calcium:
113
mg
|
Iron:
2
mg
Nutritional information not guaranteed to be accurate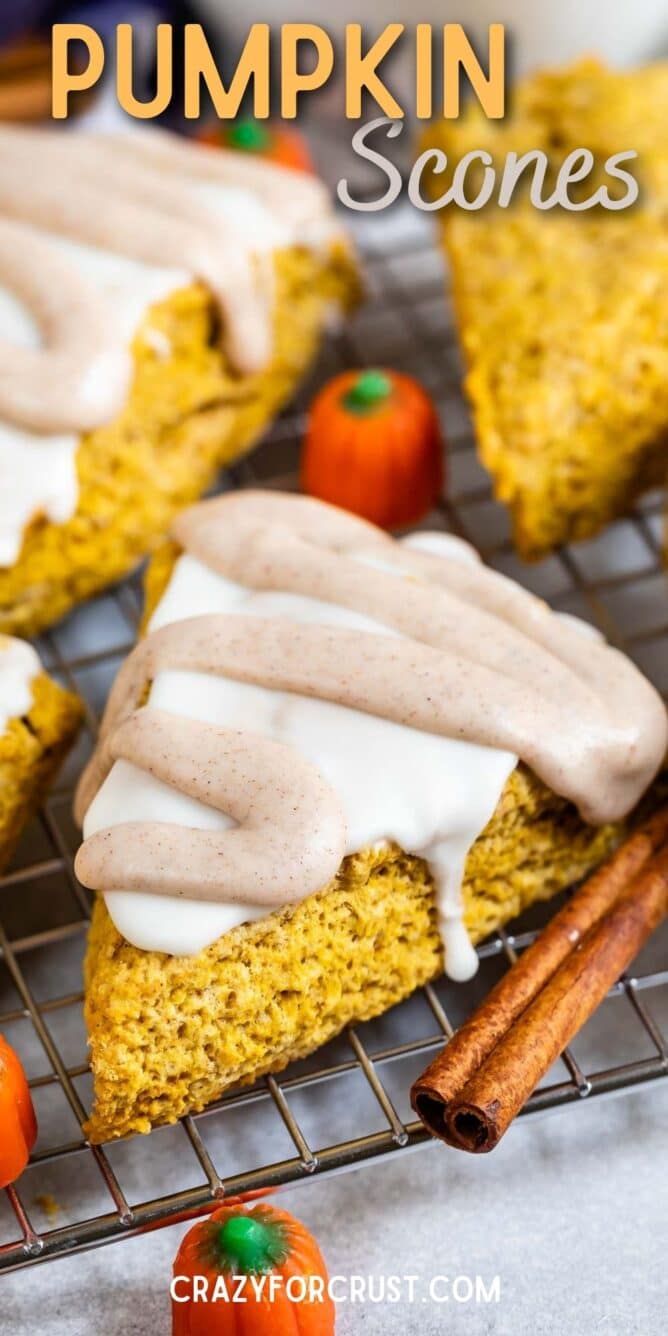 This recipe is perfect for anyone who loves pumpkin – whether you've made scones before or not! The recipe is easy, and they always turn out soft and moist. I hope you try this Starbucks pumpkin scone recipe soon!