This post may contain affiliate links. For more information, read my disclosure policy.
Use my easy cake flour substitute to make cake flour from all purpose flour! This simple substitution will lighten your cakes to make them fluffy without any extra trips to the grocery store.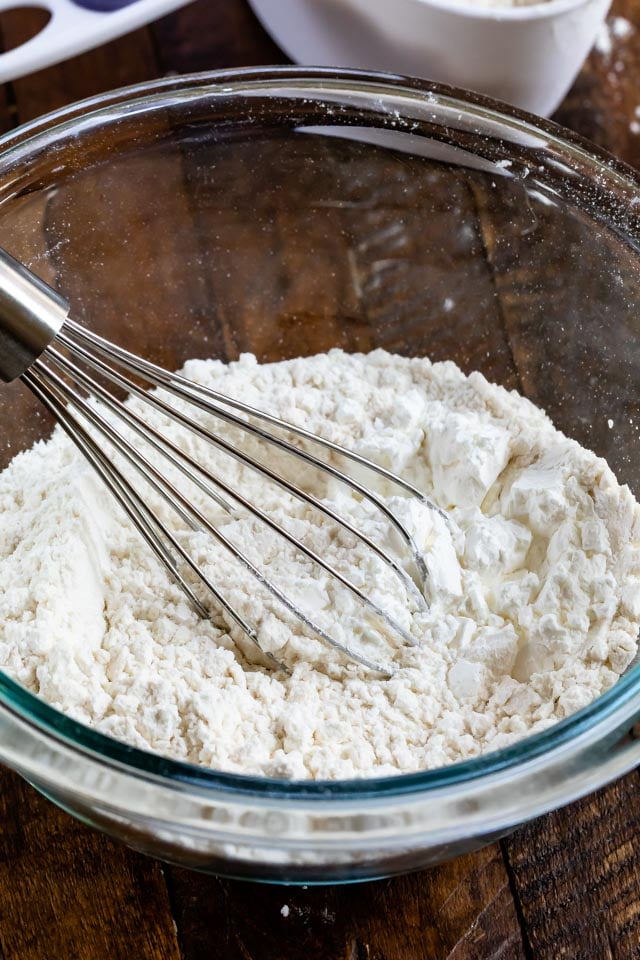 Table of Contents
How to make homemade cake flour VIDEO
We've all had it happen: we're making a cake and realize the recipe calls for cake flour when all we have is all-purpose. Do we run to the store or can we make cake flour at home?
If you're not sure what cake flour is or how to use it, you're not alone.
You'll notice most of my cakes call for all-purpose flour – this is because I never baked with cake flour growing up. I didn't realize that cake flour was even a thing until I started blogging!
If you've ever wondered what to use instead of cake flour, then this is the post for you.
Now that I know how easy it is to make a homemade cake flour substitute, I'm going to be trying my favorite recipes with it instead of using all-purpose flour!
What is cake flour made of?
Cake flour is a finely milled flour that's very delicate. It has a low protein count (which means less gluten). A lower protein count results in a lighter and fluffier recipe.
Cake flour is a much finer flour than other types of flour, which means that it absorbs more liquid during baking. This absorption results in that fine crumb you see in a lot of cake recipes, so you have to make sure your recipe has enough liquid.
It also helps distribute the fats in your cake, so if you have little chunks of butter that weren't mixed in, don't worry – the cake flour will take care of it.
What is the difference between all-purpose flour and cake flour?
All-purpose flour is great for most recipes because of it's high protein count. AP Flour has about 10-13% protein, which results in a dense and sticky dough. More protein = more gluten. This gluten/protein helps bind all the ingredients together. Since AP flour has so much protein, it's a strong binder.
In comparison, cake flour normally has about 5-8% protein, which is significantly less than AP flour. This is why cake flour produces a light and airy cake versus using all-purpose flour.
What does cake flour do to a cake?
Cakes made with cake flour will:
Have a soft and fluffy texture
Require more liquid than other flours
Distribute fats evenly so you'll have fewer lumps
Rise higher than cakes baked with other flours
Taste delicious!
How do I convert all purpose flour to cake flour?
It's SO EASY to do!
You should always use what is called for in a recipe for best results but in a pinch you can use my easy cake flour substitute:
2 tablespoons cornstarch + 1 scant cup of flour = cake flour!
A scant cup of flour means just shy of a full cup. (Learn all about baking terms!)
Basically, measure a cup of flour, take out two tablespoons, then add 2 tablespoons of cornstarch. Easy, right?
Be sure you're measuring your flour correctly.
Cornstarch helps stop the formation of gluten, mimicking how cake flour works.

pro tip
A lot of people ask me about making cake flour with baking powder, but you can't. Cake flour doesn't have leavening in it – flour that has baking powder is actually self-rising flour (and you can make self-rising flour at home too!)
Whether you're making cake flour at home because you don't have room to store another package of flour or you just forgot to buy it, this recipe will sure come in handy next time you bake a cake!
Recipes to try: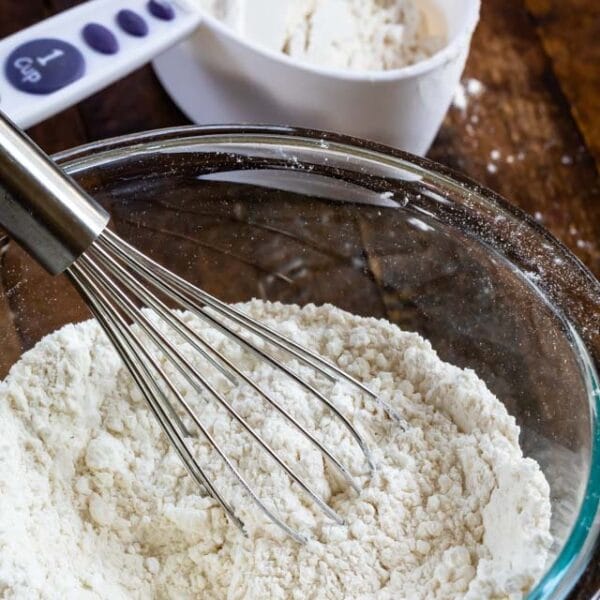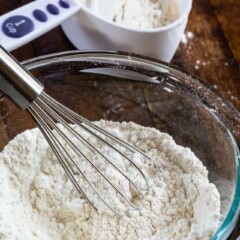 Cake Flour Substitute Recipe
Learn how to make a cake flour substitute from all purpose flour you can use at home!
Ingredients
1

cup

all purpose flour

2

tablespoons

cornstarch
Instructions
Measure out 1 cup of all purpose flour. Remove 2 tablespoons.

Add cornstarch to the scant 1 cup flour. Whisk.

Use as directed for cake flour in your recipe.
Recipe Nutrition
Serving:
1
cup
|
Calories:
455
kcal
|
Carbohydrates:
95
g
|
Protein:
13
g
|
Fat:
1
g
|
Saturated Fat:
1
g
|
Sodium:
3
mg
|
Potassium:
134
mg
|
Fiber:
3
g
|
Sugar:
1
g
|
Calcium:
19
mg
|
Iron:
6
mg
Nutritional information not guaranteed to be accurate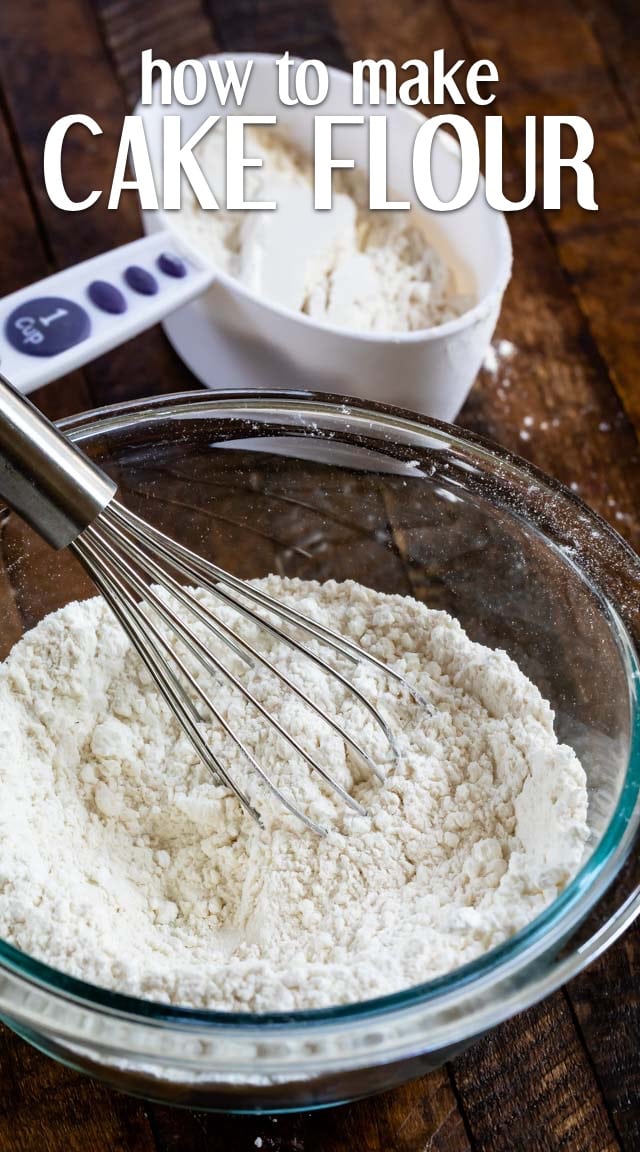 Last Updated on June 1, 2021