This post may contain affiliate links. For more information, read my disclosure policy.
Banana Coffee Cake combines two favorite breakfast treats into one amazing coffee cake! If you love banana bread you are going to love this coffee cake – it's the best way to use up overripe bananas.
I have been making this recipe FOR YEARS and every time I do people gobble it up. Coffee Cake never lasts long in my house.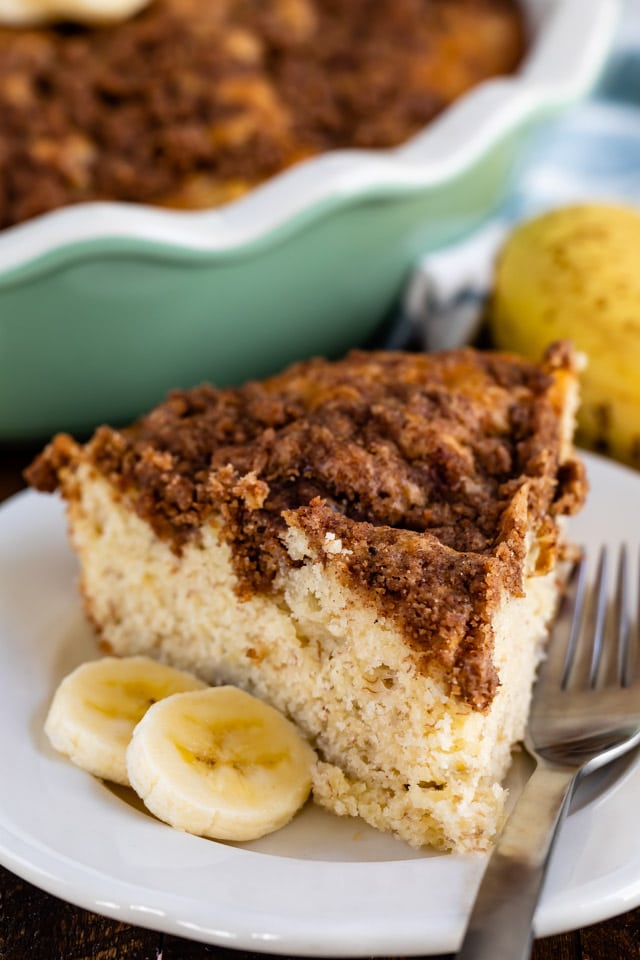 I've been making this Banana Bread Coffee Cake for years. It's my mom's homemade coffee cake combined with her banana bread recipe. Sounds amazing, right? If you haven't tried coffee cake made with bananas you are in for a treat – it's the best of two baked treats combined to make one amazing coffee cake.
It should come as no surprise that I am addicted to coffee cake. I have made so many versions: carrot cake, peanut butter, cinnamon roll pie, pumpkin, and zucchini. But this easy banana coffee cake is one of my all-time favorites. I mean, it's my mom's so maybe I'm biased but every time I make it everyone fights over the last piece. That's always a good review!
Table of Contents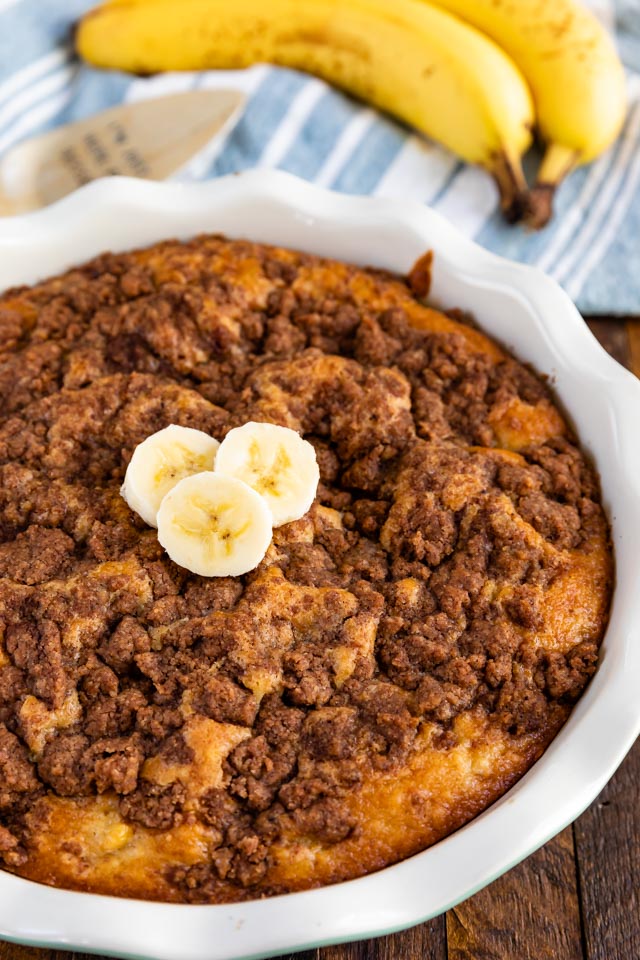 Use Up Overripe Bananas
Am I the only one who is thrilled when there are brown overripe bananas on the counter? When it happens, all I can think about is making this banana coffee cake recipe. I usually stack the deck in my favor and buy more bananas than we can eat in a week just so I have an excuse to make it.
People have asked my why they have to use overripe ones for banana recipes – can't I just use ones that look pretty without all those brown splotches? Nope, you want bananas past their prime – the uglier the better!
Those brown, spotty bananas do all kinds of good things for your baked goods:
The add a ton of banana flavor! Letting your bananas overripen develops a stronger flavor because the sugars concentrate as the bananas age.
They also break down easier. As they age, they soften so when you're ready to use them they mash easily.
They also add a ton of moisture, which is what you want. Dry banana cake or coffee cake is so not good.
How to Freeze Overripe Bananas
You can freeze bananas so if you have some that are just right for baking, but you're not ready to use them, you can pop them in the freezer for later. People gasp when I tell them that but I do it all the time!
Peel the bananas first because it's really hard to do this after they've been frozen.
Once peeled, you can cut them into chunks or keep them whole. I like to keep them whole since most banana bread and cake recipes call for whole bananas.
Place them on a baking sheet lined with parchment paper. You want to freeze them before placing them in a bag – that way they won't get stuck together in the bag as they freeze.
Freeze them on the baking sheet for 30 minutes and then transfer them to a freezer-safe bag. They will keep for three to four months.
To thaw, just leave them out at room temperature.
That's the complicated way. The way I do it: I toss them in the freezer, peels and all. Before I use them, I let them thaw on a plate at room temperature.
So, now that we have all of that sorted out it's time for coffee cake!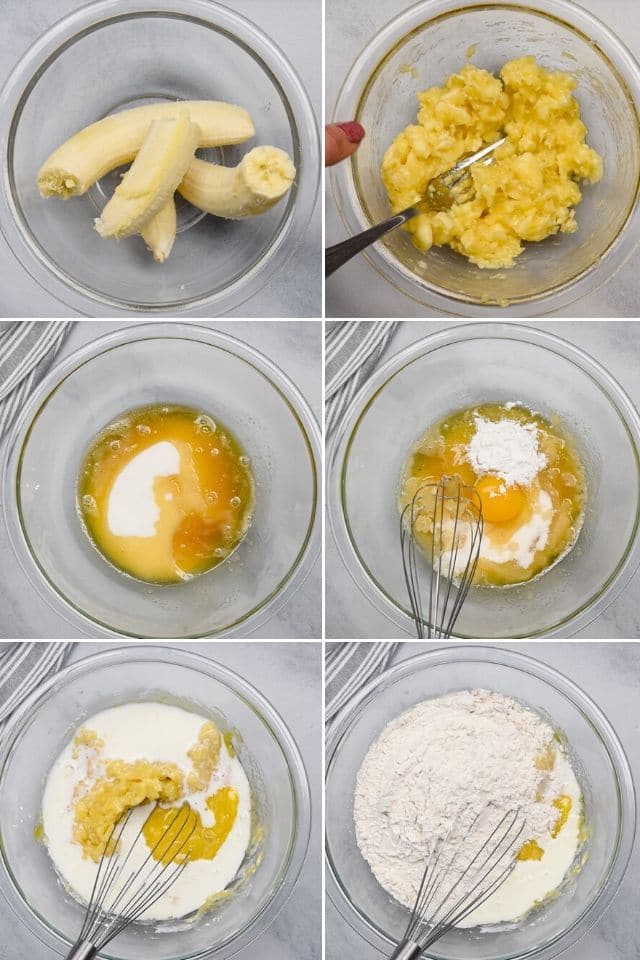 Ingredients for Banana Bread Coffee Cake
This coffee cake with banana starts with the cake batter, which is so easy to make.
I love to make this banana cake with browned butter and have included the steps in the recipe card in case you've never made it. It's an extra step but gives the cake a nutty, caramelized flavor that is so good. If you're in a hurry, regular melted butter works, too!
Learn how to make brown butter here!
Sugar
Browned butter
Mashed overripe bananas
Egg
Milk
Flour
Baking powder
Salt
Combine the sugar, browned butter, and egg in a large bowl. Add the milk and mashed bananas and stir until combined. In a separate bowl whisk the flour, baking powder, and salt.
Add the dry ingredients to the wet ingredients and mix until just combined.
Pour the batter into a prepared pan. You can use a 9×9" square baking dish or a 10" pie pan.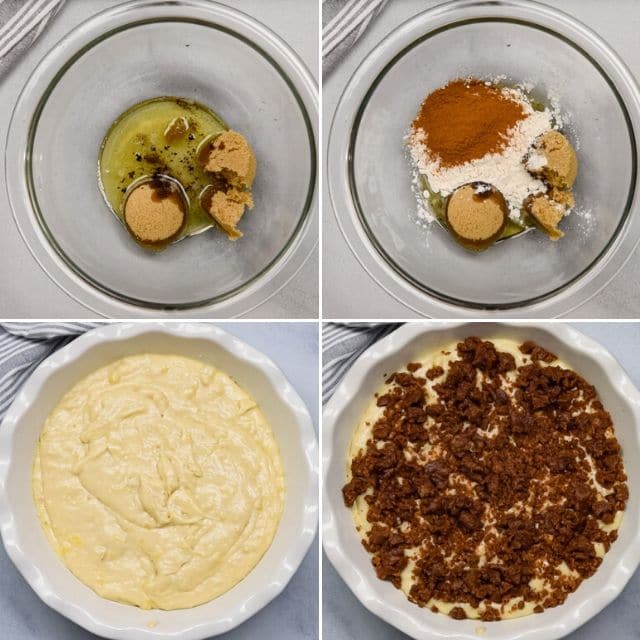 Cinnamon Streusel Topping
Once you've made the banana cake batter just mix up the crumble topping in a bowl. Here's what you need:
Brown sugar
Flour
Cinnamon
Browned butter (or regular melted butter)
Pecans or walnuts (optional!)
Once mixed just sprinkle all of that buttery, sugary goodness over the top of the cake batter in the pan.
Pop the coffee cake in the oven and bake it for 25 to 30 minutes at 350°F and enjoy the amazing scent of bananas, butter, and cinnamon as it wafts from the oven.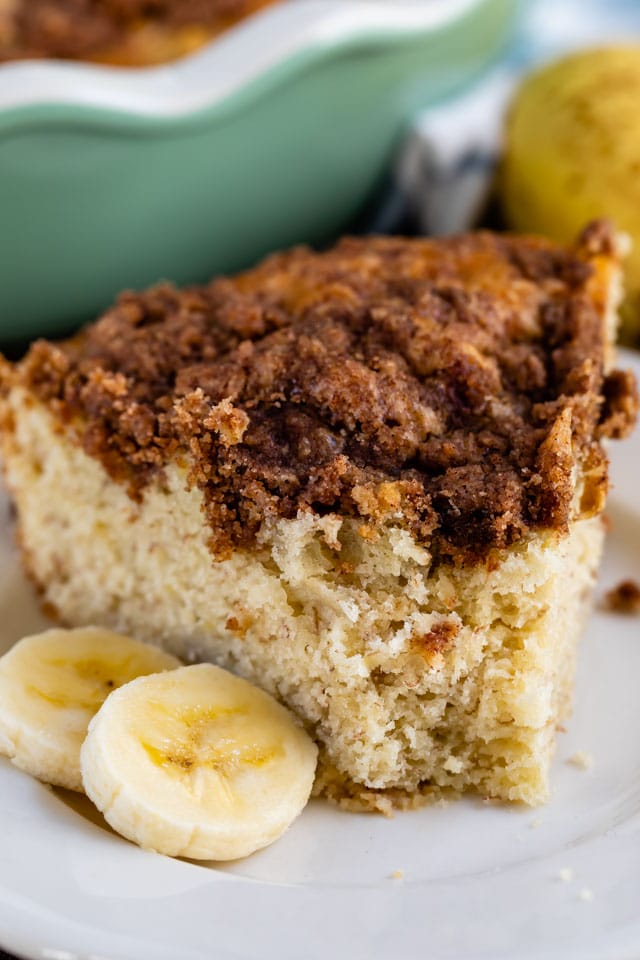 Can I Make Muffins Instead?
If you don't want to make a whole cake you can make banana coffee cake muffins instead. Just line a muffin pan with liners, add the batter and sprinkle the crumble topping over the top.
Make this Banana Coffee Cake for Breakfast or Brunch!
…OR DESSERT! Whenever I make this it's the first thing to disappear! People can't get enough of it – the combination of banana bread and coffee cake is a match made in heaven. Moist and tender cake topped with that buttery crumble topping is hard to resist – you have to try it!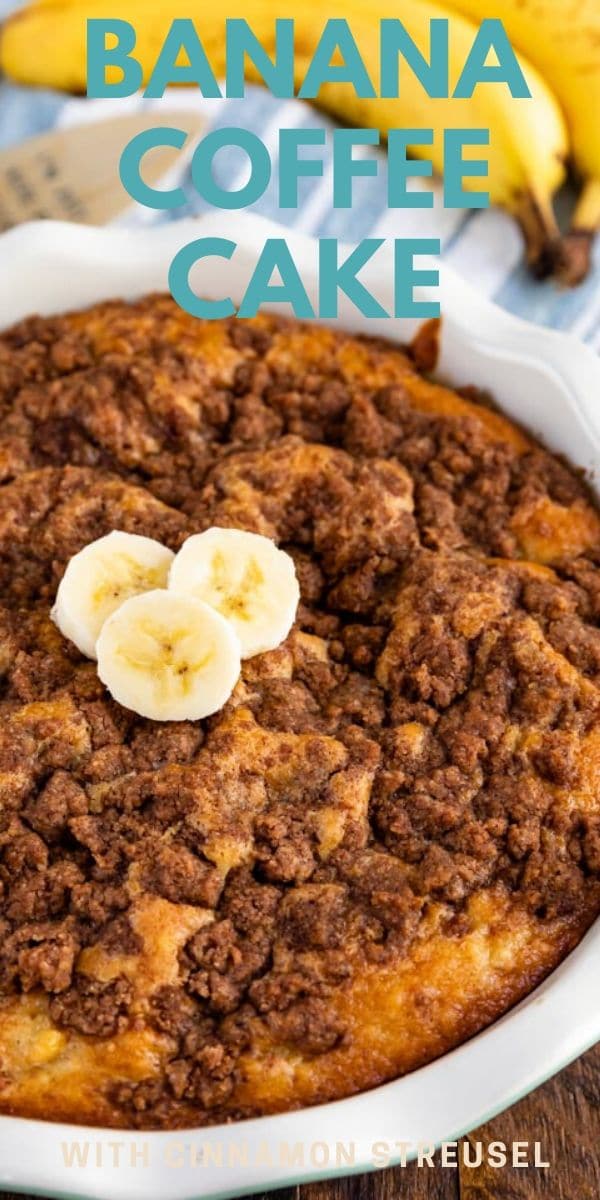 Other brunch ideas
Have you made this recipe?
Tag @crazyforcrust on Instagram or hashtag it #crazyforcrust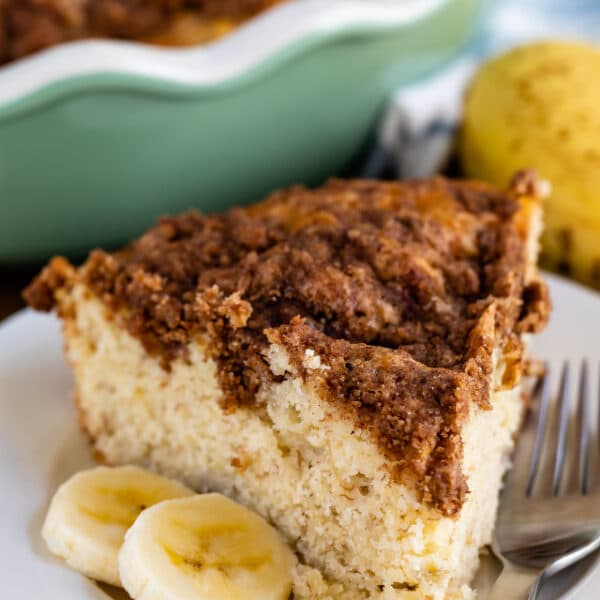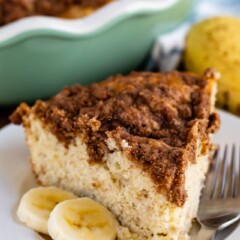 Banana Coffee Cake Recipe
Banana Bread Coffee Cake – this EASY coffee cake recipe is full of banana bread flavor with a nutty streusel on top! It's everyone's favorite breakfast or brunch recipe!
Ingredients
Coffee Cake:
3/4

cup

granulated sugar

1/4

cup

brown butter

(see step 2)

2

overripe

bananas

mashed

1

large

egg

2

teaspoons

baking powder

1/2

teaspoon

salt

1/2

cup

milk

1 1/2

cups

flour
1/3

cup

packed brown sugar

1/4

cup

all purpose flour

1

tablespoon

cinnamon

1/4

cup

browned butter

(see step 2)

1

cup

pecans or walnuts

optional
Instructions
Preheat oven to 350°F. Spray a 9" square pan or a 10" pie plate with cooking spray.

Add 1/2 cup (8 tablespoons) of unsalted butter to a small frying pan. Cook over low heat, stirring until it browns. It will foam up, then turn brown. Keep stirring the entire time. Once it turns brown the foam will diminish and the butter will become golden. Remove from heat. You are using this butter for both the cake and streusel.

Mix sugar, 1/4 cup of the browned butter, and egg in a large bowl. Stir in baking powder and salt, then stir in mashed bananas. Whisk in flour and milk stir until just combined. Pour in prepared pan.

Make the crumb topping: stir together brown sugar, flour, cinnamon, and remaining 1/4 cup browned butter, and nuts, if using. I like to stir them together with a fork.

Top cake with the streusel. Bake time will depend on pan, but it will take anywhere from 30-40 minutes. My thin pie plates and 9-inch pans take about 30 minutes, but the thick pan used in the photos took 40.

Cool slightly before serving.
Recipe Nutrition
Serving:
1
serving
|
Calories:
178
kcal
|
Carbohydrates:
32
g
|
Protein:
3
g
|
Fat:
5
g
|
Saturated Fat:
3
g
|
Cholesterol:
29
mg
|
Sodium:
145
mg
|
Potassium:
112
mg
|
Fiber:
1
g
|
Sugar:
19
g
|
Vitamin A:
160
IU
|
Calcium:
58
mg
|
Iron:
1
mg
Nutritional information not guaranteed to be accurate
Click here for easy ways to use overripe BANANAS
Banana Coffee Cake is a way to make banana bread into coffee cake! This is my mom's coffee cake recipe with banana and a crumble topping and is the perfect breakfast or brunch recipe if you have overripe bananas!
Last Updated on March 5, 2020