This post may contain affiliate links. For more information, read my disclosure policy.
This Peanut Butter Coffee Cake is full of rich peanut butter and topped with a cinnamon sugar chocolate chip streusel! This is pure breakfast indulgence – and a good one at that!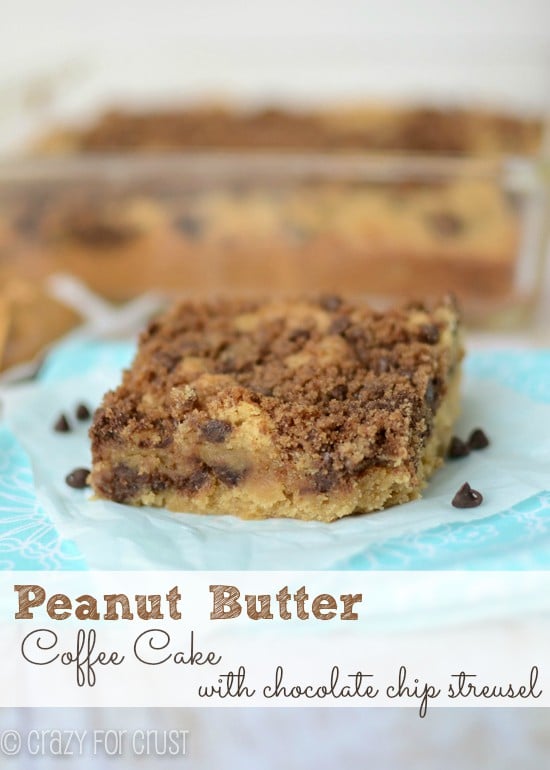 I'm about to blow your mind with Peanut Butter Coffee Cake that has a chocolate chip streusel. But first, I have a story for you that's going to make you laugh at me.
As you know, my cat is weird. I told you awhile back how much she loves my husband. I also think I've mentioned that she only will drink water out of a pink water glass on my nightstand.
Callie always has liked to drink out of water glasses. Every once in awhile I'd catch her and tell her no. Then, when we moved into this house, somehow she took to consistently drinking out of the pink water glass I'd bring upstairs for during the night. After several nights of waking to her slurping out of my glass, I gave up and bought a few of those glasses with lids to use. She got to keep the pink cup.
Now, every night I refill it for her. I change it out every few weeks, but only with another pink glass. (I learned the hard way at 4am one morning that she does not like green cups.)
So, last night I was getting ready for bed. I placed my (covered) water glass on my nightstand and went about the other getting-ready-for-sleep things. Then I grabbed my allergy pill and swallowed it down with a glass of water from my nightstand.
Get where this is going?
After the first swallow, I realized I wasn't using a straw.
After the second swallow, I realized the water tasted…weird.
Mid-third sip, it hit me I was drinking from the pink cup. Callie's cup.
Yes, my friends. Last night I drank 2 week old cat water. With cat hair and other…things in it.
I spit out the third sip. And brushed my teeth again. Are you still laughing at me?
What I really wanted was to wash the cat hair out with Peanut Butter Coffee Cake…but there wasn't any left.
Because it's the bomb diggity of coffee cakes.
I'm going to go out on a limb and tell you that this is the best coffee cake I've ever had. EVER.
Because it's full of peanut butter.
Can you even fathom it?
I used my Mom's coffee cake recipe and added peanut butter. I also switched up the sugar. I like brown sugar with my peanut butter cookies, so I used part brown and part white sugars.
Ohmigod the cake is so good. It's dense and soft and so peanut buttery you're going to go insane.
And then I gave it a crumble. Because all coffee cakes have a good crumble, right?
It's melted butter mixed with more brown sugar, cinnamon, some flour for binding…and chocolate chips. Because Peanut Butter and Chocolate together could solve all the worlds' problems.
The crumble is in the middle of the cake, and on the top. It's like a mouthful of crumble and cake and chocolate and peanut butter and seriously, I couldn't stand it. I made this for the teacher breakfast the other day and it was all I could do not to hoard it for myself.
This would be perfect for Mother's Day. If you're a mom, I think you should make it for yourself and not share. Hey, it's Mother's Day. Give yourself a gift.
I don't make many things twice…but I guarantee you I'll be making this again. And I won't be sharing it.
I may share a water glass with a cat…but I'm never sharing Peanut Butter Coffee Cake again. Ever. 😉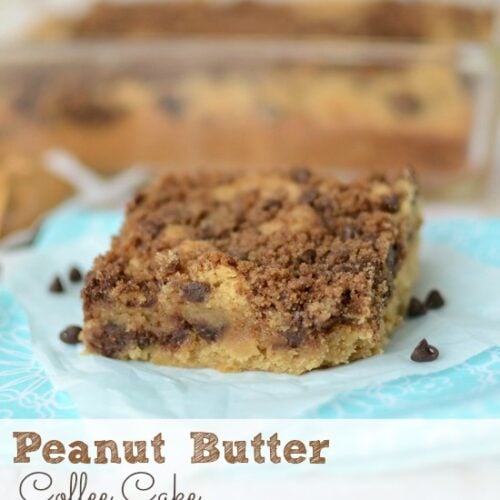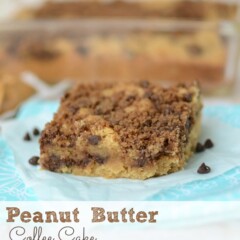 Peanut Butter Coffee Cake with Chocolate Chip Streusel
The perfect breakfast recipe: Peanut Butter Coffee Cake with Chocolate Chip Streusel. Everyone will LOVE this recipe!
Total Time
1

hour
30

minutes
Ingredients
For the Cake
1/2

cup

brown sugar

1/4

cup

granulated sugar

1/4

cup

1/2 of a stick butter, softened

1/2

cup

peanut butter

1

egg

1/2

cup

milk

I used nonfat

1 1/2

cups

flour

2

teaspoons

baking powder

1/2

teaspoon

salt
For the Streusel
1/2

cup

brown sugar

2

tablespoons

flour

2

teaspoons

cinnamon

2

tablespoons

butter

melted

1/2

cup

miniature chocolate chips
Instructions
Preheat oven to 350°. Spray a 9" square pan with cooking spray.

Whisk flower, baking powder, and salt together in a medium bowl.

Mix sugars, butter, peanut butter, and egg in a large bowl. Stir in milk. Stir dry ingredients into wet and stir until just combined.

Make the crumb topping: stir together brown sugar, flour, cinnamon, and melted butter. Fold in chocolate chips.

Place half the cake batter in the pan and spread to fit. Top with half the streusel. Repeat with remaining cake batter and streusel. Bake for 21-24 minutes until a toothpick comes out clean. (Mine took 22 minutes to bake.)
Recipe Nutrition
Serving:
1
serving
|
Calories:
236
kcal
Nutritional information not guaranteed to be accurate
Click here to see more PEANUT BUTTER recipes!

You may also like:
Overnight Banana Stuffed French Toast with Banana Syrup
Peanut Butter Muffins with Cadbury Eggs (or chocolate chips)
Sweets from friends:
Biscoff Coffee Cake Muffins by White Lights on Wednesday
Churro Waffles by Mostly Homemade Mom
Rolo Stuffed Monkey Bread by Something Swanky
Last Updated on May 13, 2020