This post may contain affiliate links. For more information, read my disclosure policy.
Learn how to make Churros in your air fryer! Air Fryer Churros are easier to make than deep-fried ones because you don't need all the oil and it doesn't make a big mess. Dip them in homemade chocolate ganache for an extra-special treat.
You can bake your churros in the oven, but I love them in the air fryer more!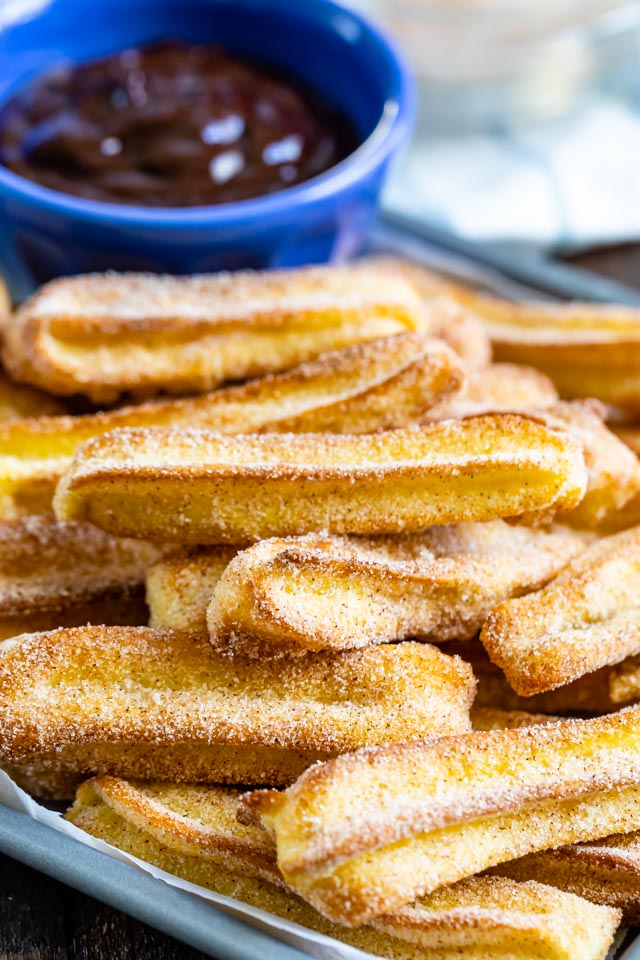 I love all fried food equally, but there is something special about churros. They are a popular snack from Spain and so addictive! Traditional churros are deep-fried but I use my air fryer to cook them and they turn out just the same – light, airy and crispy without all of the hassle of deep frying!
I've made Baked Churros for you before, but now I'm showing you how to make them even better – by doing it in the air fryer.
I love air fryer recipes because it's a great way to cook crispy, crunchy food without all the oil. An air fryer is basically a mini convection oven for your countertop – it works the same way by rotating hot air all around the food so it gets that amazing crispy texture you get when you deep fry, but with way less oil.
If you don't have an air fryer yet, scroll down because I'm going to talk about different ones, and which one is my favorite.
If you're looking for a new way to put your air fryer to use you have to try this air fryer churro recipe. Who can resist a crispy, cinnamon-sugar treat? No one at my house, that's for sure.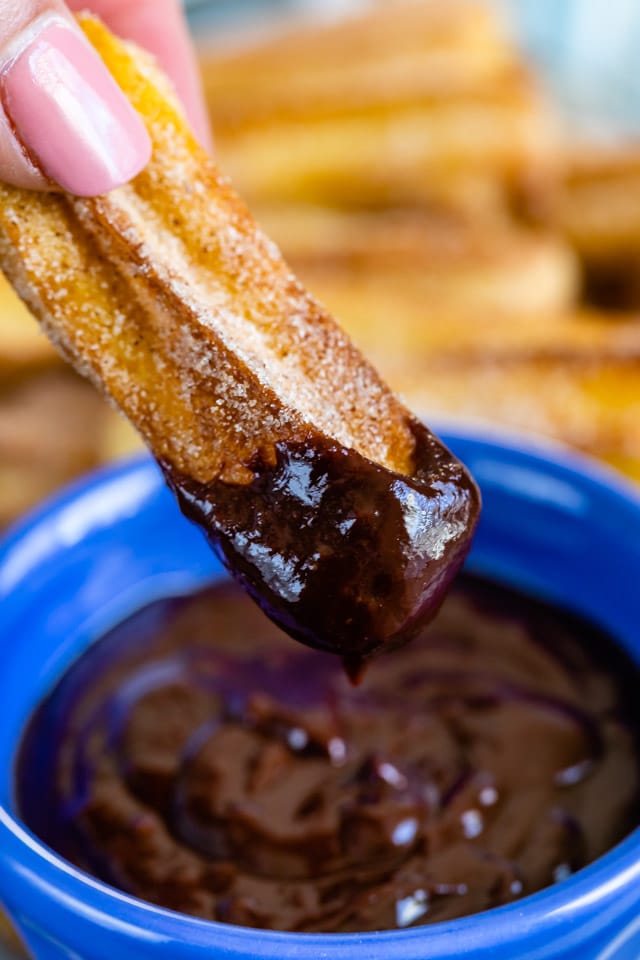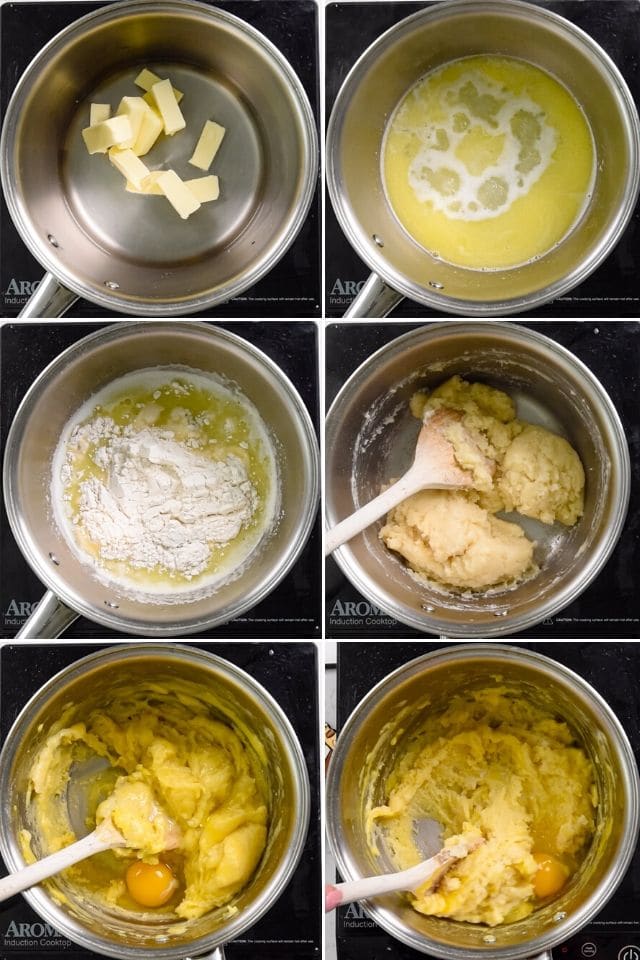 How to Make Churros
Whether you plan to cook your churros in the air fryer, in the oven or by deep frying it always starts with the same dough. Unlike other batters or doughs that you mix in a bowl, churro dough is cooked on the stove.
This dough is what is also called a Pate a Choux dough: it's a cooked pastry dough that uses steam for rising instead of yeast. It's the same dough used to make cream puffs and eclairs.
The dough contains:
Water
Unsalted butter, cut into pieces
Salt
All-purpose flour
Large eggs
Cinnamon
Granulated sugar
You the water, butter, and salt in a large saucepan and heat until the butter melts and the mixture comes to a boil.
Then, turn off the heat and add the flour and you stir until a thick paste forms.
The eggs get added one at a time, mixing well after each addition. Be sure to work fast so the eggs don't cook otherwise your churros will taste eggy – you want the eggs to incorporate smoothly into the dough.
Don't worry if the eggs seem like they won't mix in thoroughly – they will so just keep mixing continuously.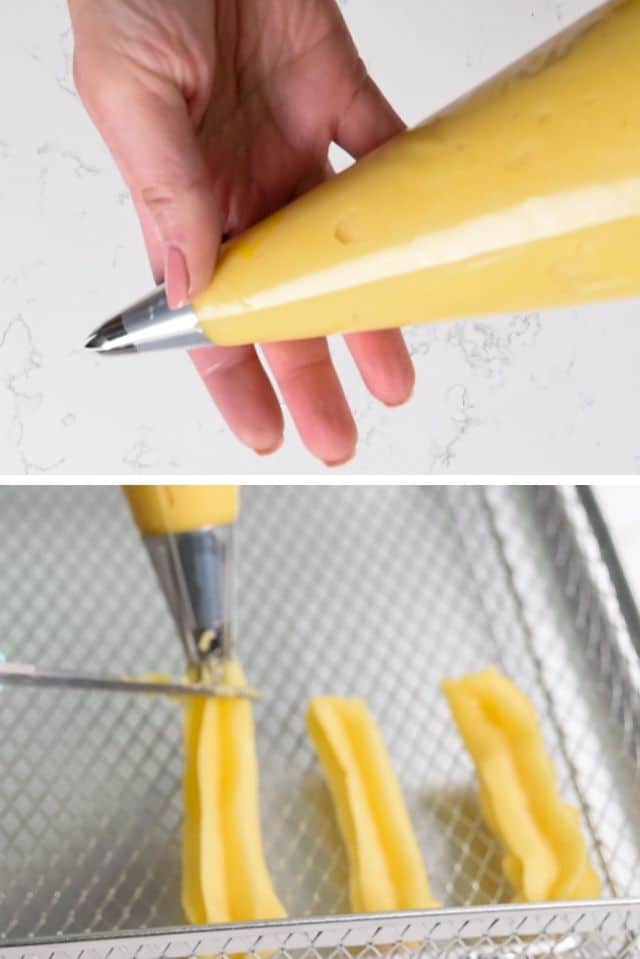 Forming the Churro Shape
Transfer the dough to a large pastry bag fitted with a star or 1M tip. Pipe the dough directly onto the air fryer basket. It helps to use a dinner knife or scissors to cut the dough away from the tip.
Spray the churros with cooking spray before you cook them – this is the best way to get a crunchy churro, so don't skip this step!
Preheat the air fryer at 375°F for 10 minutes. Place the churros in the air fryer and cook them for about 10 minutes or until they are golden brown and crispy.
While the churros cook, combine the cinnamon and sugar together in a bowl. Coat the hot churros in it before serving.
About Air Fryers
If you don't have an air fryer and are looking to get one, there are a few different kinds (and a range of pricing).
The traditional air fryers have a sort of egg shape with a large fryer "basket". These are often the cheaper version of the appliance. I have one of these but I don't love it because the basket is small and I have to cook in lots of batches.
My air fryer is a Cuisnart that resembles a toaster oven. It was a mid-priced model but I love it more than the traditional style because the frying basket is large and I can do more food in it at once.
There are also ones that are larger and more expensive, and do more things. I've even seen full toaster ovens that bake, toast, and air fry. So get one that you think you'll use most often. I love making fries and tater tots in my air fryer, as well as chicken breasts.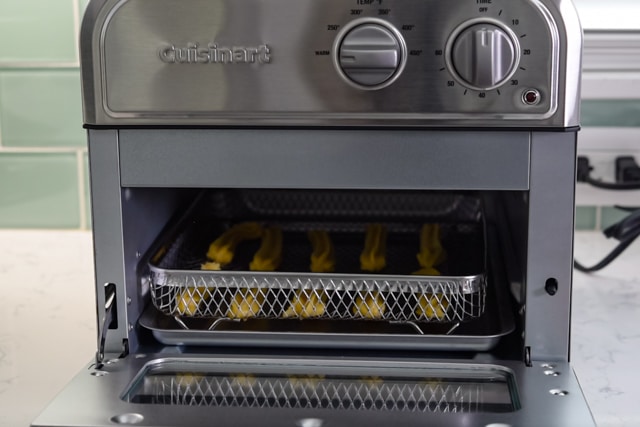 Notes about the Recipe Yield
You can pipe the churros in any shape and size you desire, but I usually do it one of two ways:
You can pipe three-inch churros and get approximately 60 total
Or, you can make seven-inch ones and get approximately 25 total
Dip Your Homemade Churros in Chocolate Ganache!
The churros are amazing warm from the air fryer with just the cinnamon-sugar coating, but even better when you dip them in homemade chocolate ganache!
All you do is combine heavy whipping cream and semi-sweet chocolate chips in a bowl. Microwave them for one minute and then stir until you have a smooth ganache.
How long do homemade air fryer churros last?
Not long at our house – they seem to disappear fast! They are best soon after they're made because they will turn soft after a while and lose their crispiness. You can keep them in an airtight container for a few days, but they won't be as good as when they were first made.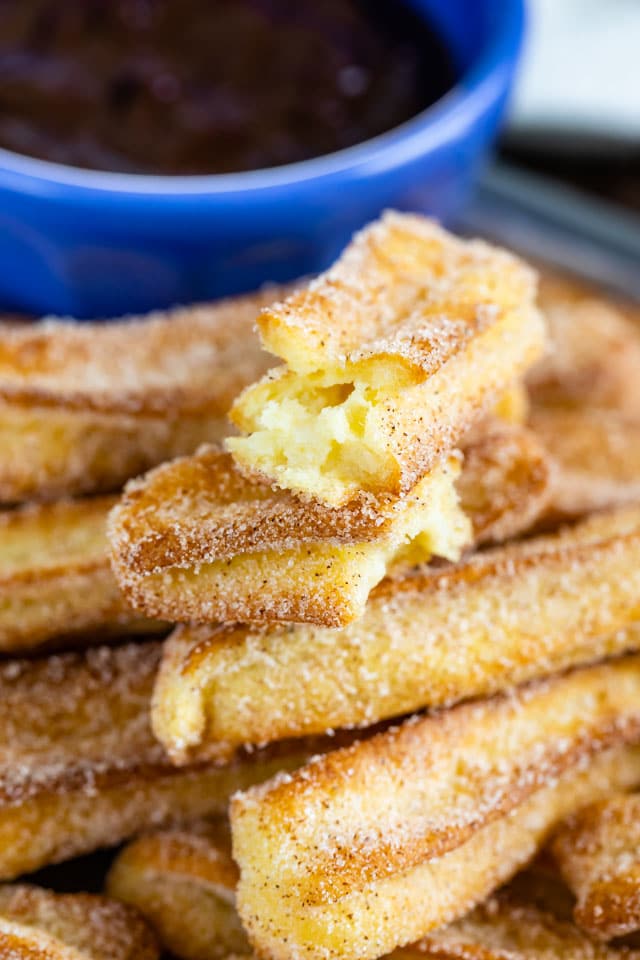 Common Churro Making Problems – Solved!
Making Pate a Choux dough can be finicky and a little difficult. It also happens fast, so it's one of those things, like making fudge, where you need to be completely ready BEFORE starting.
Tips for success:
READ the recipe entirely, all the way through, before starting.
Have all your ingredients ready to go before starting.
Use a mixer to mix in the eggs, if you are nervous about them not mixing in all the way.
Why do my churros taste eggy?
This is a common theme, unfortunately. The dough is made of cooked eggs and if not made properly it will be "eggy". To avoid this you must:
Make sure to remove the pan from the heat and burner (as the recipe states) before mixing in the flour. This will cool off the butter as the flour mixes in so that it won't be so hot as to cook the eggs.
Mix in the eggs quickly, so that they do not cook.
They take way too long to cook!
Another churro complain is that they take longer to cook. This happens for a few reasons:
Your churros are bigger than mine. That will make them cook differently.
Humidity and egg size can also cause this dough to be finicky and cook differently.
All air fryers are different and will cook different.
To avoid an overcooked churro, watch these during the first batch, so that you know how long they will take to cook.
To make them nice and golden, be sure to spray them with nonstick cooking spray.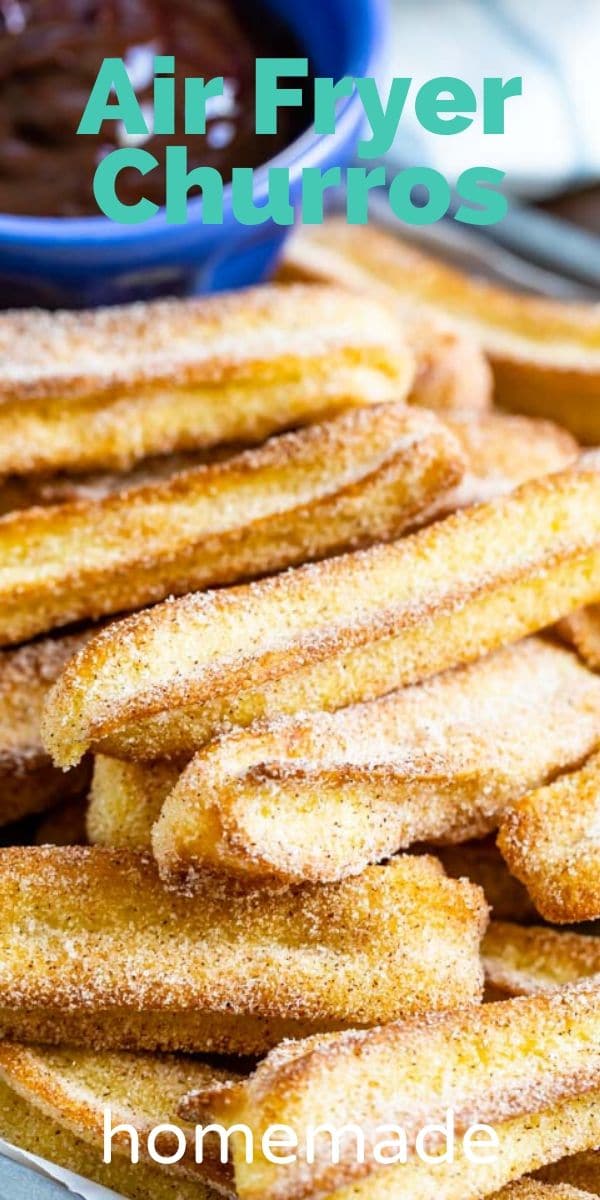 I've made these as a special snack for the family, but they're great as a breakfast treat, too. Oh, who am I kidding – they're pretty much amazing any time of day! With an air fryer they're so much easier to make, too. I hope you love them as much as we do!
Other Churro Recipes:
Have you made this recipe?
Tag @crazyforcrust on Instagram or hashtag it #crazyforcrust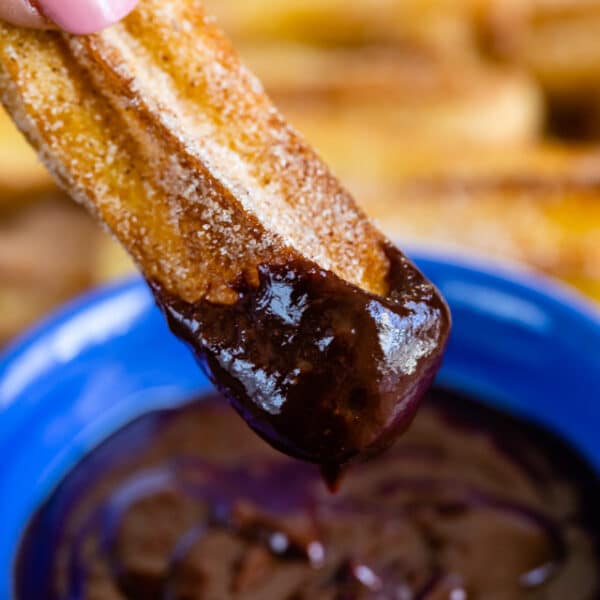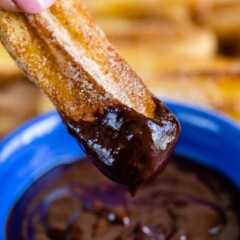 Air Fryer Churros Recipe
Make your own churros at home using this pate a choux dough and cinnamon sugar. These are cooked in the air fryer and are healthier than a fried churro!
Ingredients
Churros:
1

cup

water

1/2

cup

unsalted butter

1/4

teaspoon

salt

1

cup

all purpose flour

3

large eggs

2

cups

granulated sugar

2

tablespoons

cinnamon
Chocolate Ganache:
1/3

cup

heavy whipping cream

1

cup

semi-sweet chocolate chips
Instructions
Place water, 1/2 cup butter (sliced into tablespoons), and salt in a large saucepan. Heat over medium heat until butter is melted and stir occasionally until mixture boils.

Turn off the heat and stir in the flour. A thick paste will form.

Add eggs, one at a time, mixing well after each addition (work fast to avoid cooking the eggs). It'll seem like the eggs don't want to mix in but they will.

Place the churro batter in a large pastry bag fitted with a star or 1M tip.

Pipe churros in desired size and shapes onto air fryer basket. (This recipe makes approximately 60 3-inch long churros or 25 7-inch long churros. You may need to work in batches depending on the size of your air fryer.

Spray the churros with nonstick cooking spray. This will help them brown.

Preheat the air fryer for about 10 minutes to 375°F. Air fry them until golden-brown, depending on size this will take about 10 minutes depending on your air fryer. Watch the first batch to make sure they don't burn and so you'll know how long they take to cook.

Stir together sugar and cinnamon while the churros are frying. Toss hot churros in the cinnamon sugar to coat. Serve right after frying for best taste.
To make Chocolate Ganache:
Place 1/3 cup heavy whipping cream and 1 cup semi-sweet chocolate chips in a microwave safe cup or bowl. Heat for 1 minute, then whisk until smooth.
Recipe Notes
*Amount of churros will depend on size.
Recipe Nutrition
Serving:
1
serving
|
Calories:
86
kcal
|
Carbohydrates:
10
g
|
Protein:
1
g
|
Fat:
5
g
|
Saturated Fat:
3
g
|
Cholesterol:
18
mg
|
Sodium:
14
mg
|
Potassium:
25
mg
|
Fiber:
1
g
|
Sugar:
8
g
|
Vitamin A:
127
IU
|
Calcium:
8
mg
|
Iron:
1
mg
Nutritional information not guaranteed to be accurate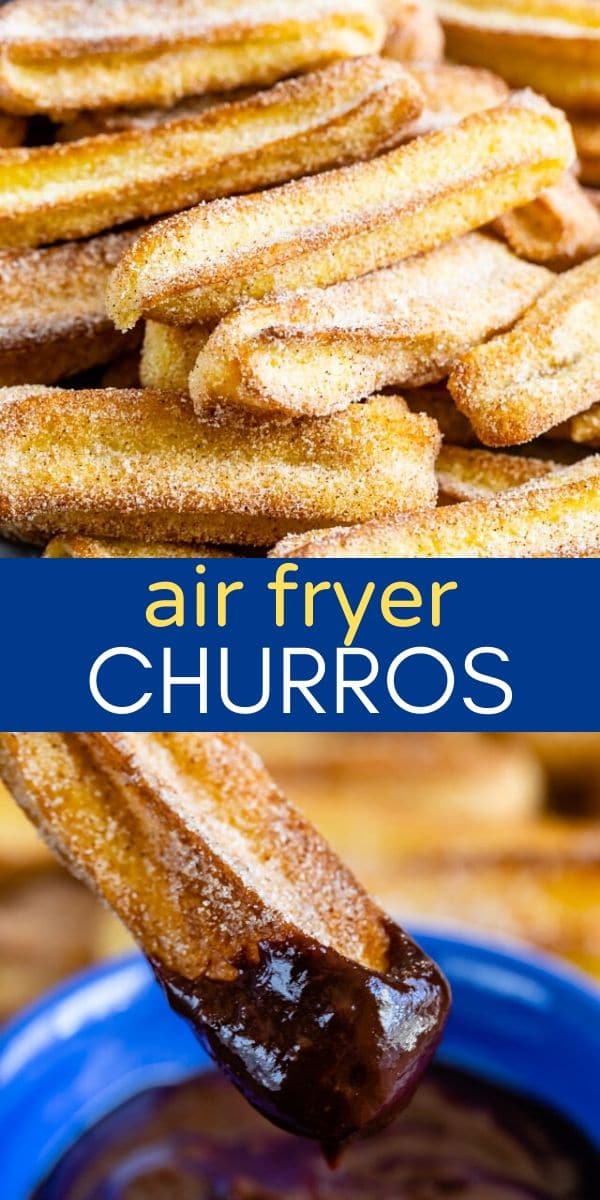 Learn how to make Churros in your air fryer! Air Fryer Churros are easier to make than deep-fried ones because you don't need all the oil. We even have a chocolate ganache dipping sauce included in the recipe!
Last Updated on May 5, 2020