This post may contain affiliate links. For more information, read my disclosure policy.
It's FAIR season! I love going to the fair for the food, like fried cookies and Churros. This year I decided to recreate one of my favorites at home: Easy Churro Bites with only 4 ingredients. And they're baked in a waffle maker – NO frying!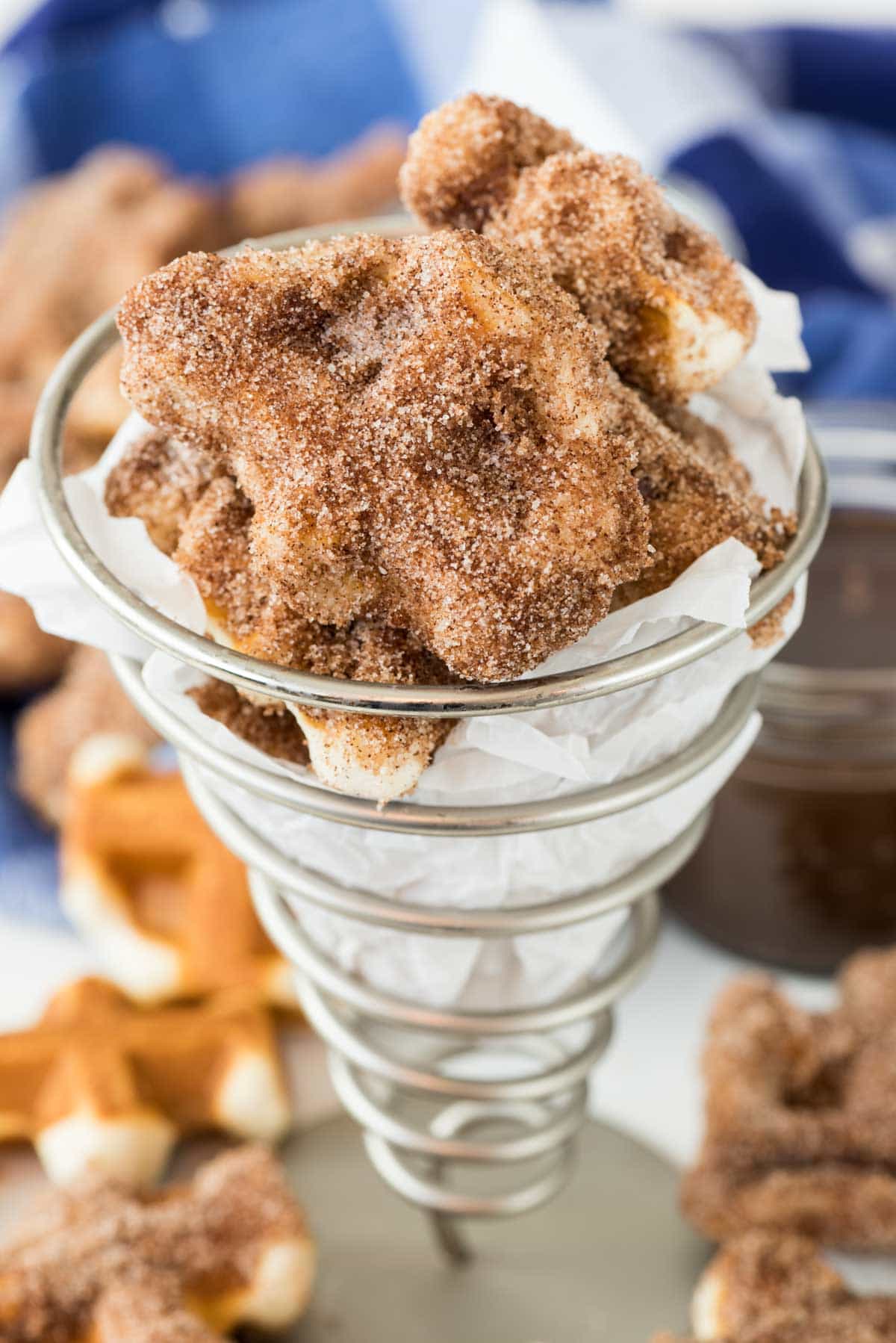 Last week, Jordan and I invited a friend and headed down to the fair. I swear, I wanted to eat all the things. Chinese food, corn dogs, lemonade, fried cheesecake, you name it! I totally grossed out the kids when I got chocolate covered bacon but it was really, really good. I could have eaten the entire basket of it, except I'd just downed orange chicken and was about to hit up the cotton candy and deep fried booth.
Honestly, does anyone go to the fair for anything but the fried brownies, face sized curly fries, and churros?
Calories don't count at the fair…right?
OMG…the food. Have you ever had deep fried cheesecake? It's the BEST thing ever, y'all. I also walked around for a few minutes with powdered sugar all over my face, neck and arms and the girls didn't bother to tell me. I'll get Jordan back some time, you can count on it. 😉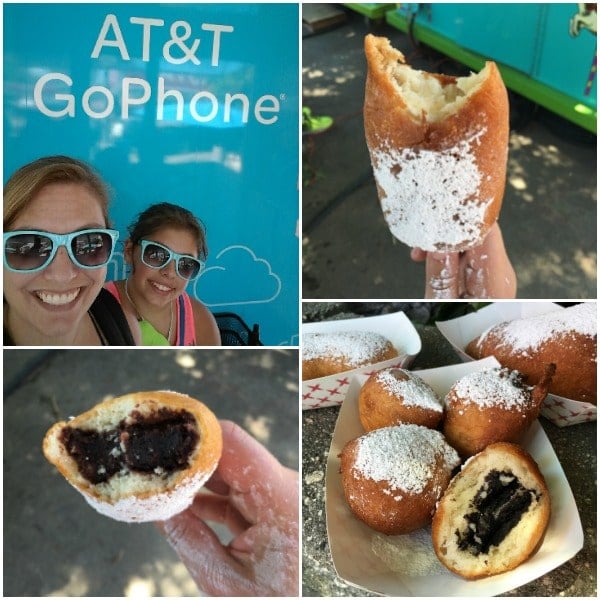 When we got home from the fair I was still craving churros, so I decided to make my own at home. Except I didn't want to fry anything and I was kind of feeling lazy so I didn't even want to mix anything.
Enter this recipe.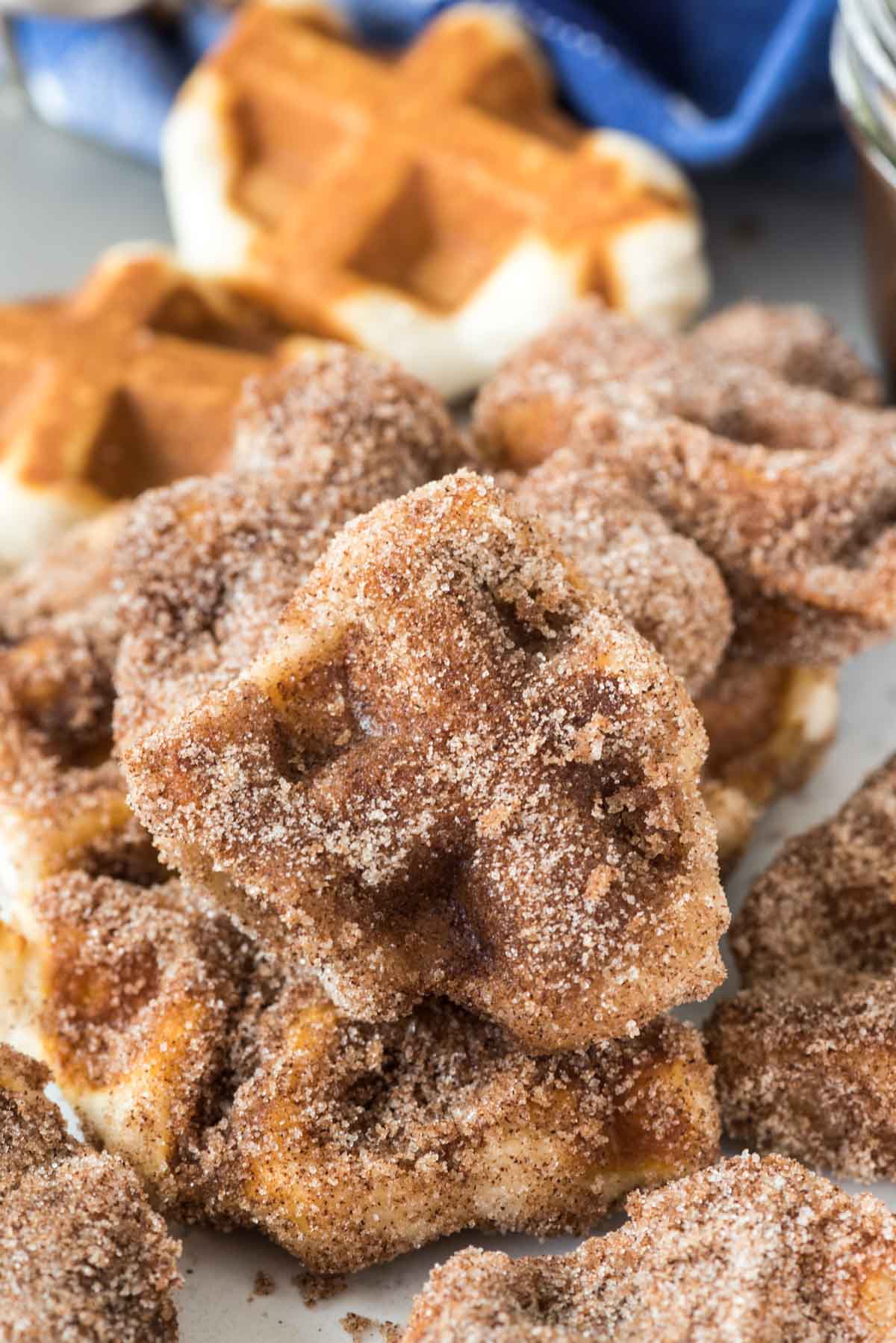 Ingredients in semi-homemade churros
This recipe has only 4 ingredients. The churros start with, you guessed it, canned biscuits! Here's what you need to make them:
Canned Biscuits
Butter
Sugar
Cinnamon
If you slice the biscuits in quarters you can get little bites perfect for making churros.
Not Baked Churros and Not Fried
You cook these in a waffle maker – no frying or dealing with the oven! You can use ANY waffle maker and the churros get nice and crunchy without dealing with anything extra.
Dip them in butter and cinnamon sugar and you have churro bites that are just as good as at the fair without the third degree frying burns or all the calories from the oil.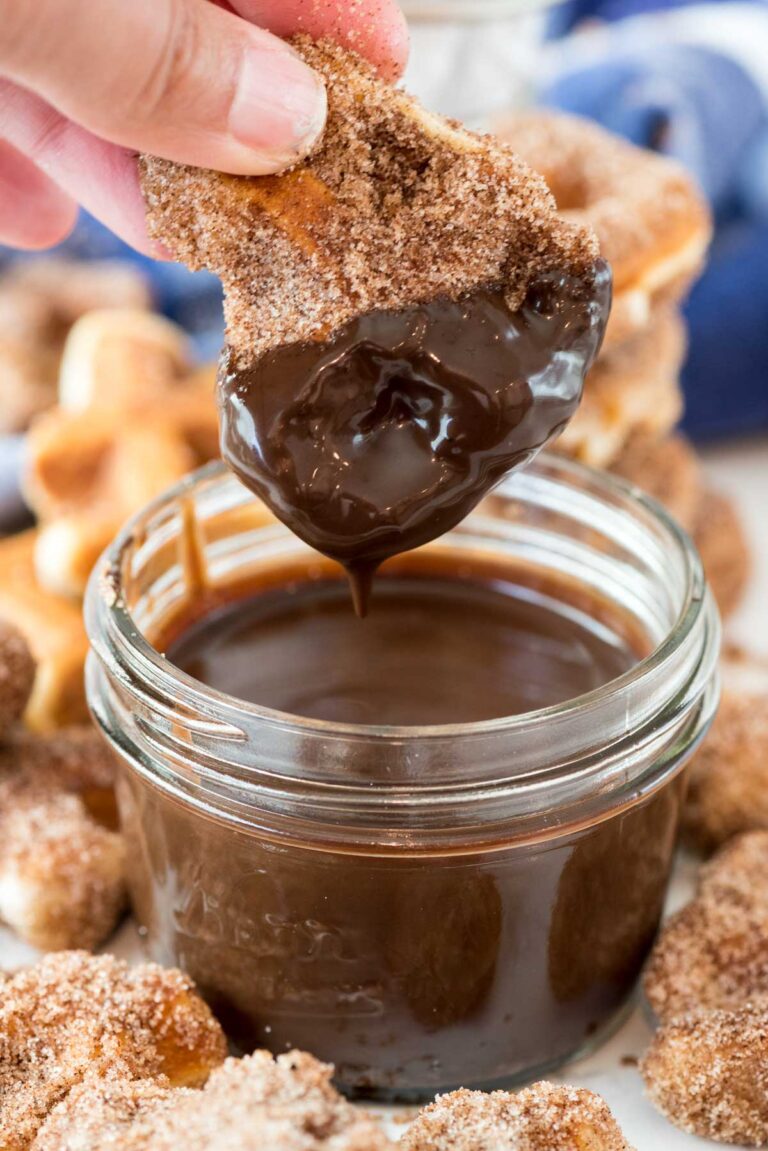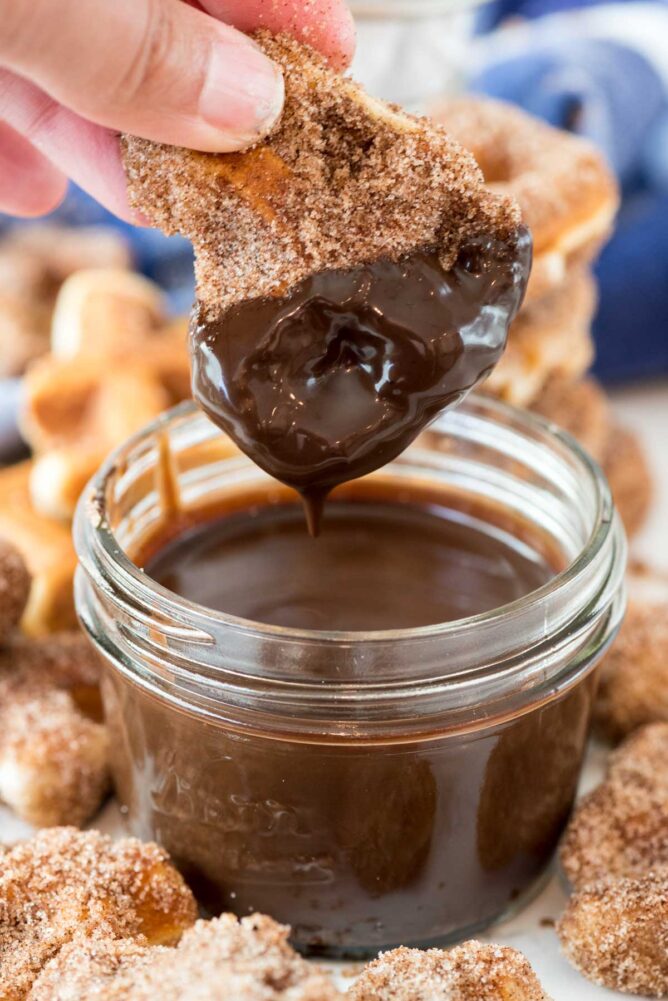 Bonus: dip these in an easy chocolate ganache for an extra decadent dessert. Seriously, I could drink chocolate ganache, but dipping churros? Even better!
Other Churro Recipes
Have you made this recipe?
Tag @crazyforcrust on Instagram or hashtag it #crazyforcrust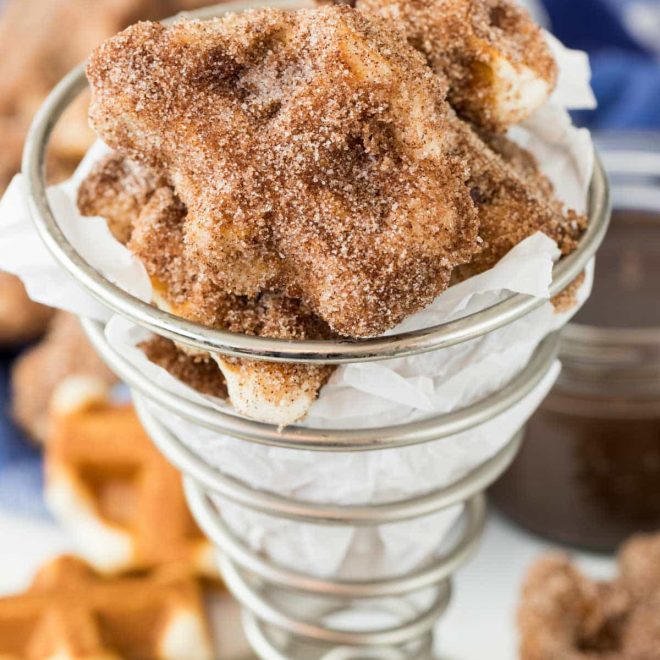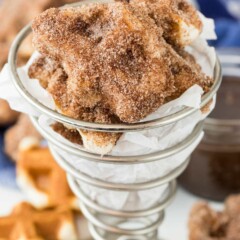 Easy Churro Bites
Easy Churro Bites – an easy 4 ingredient churro recipe! Pillsbury Grands Biscuits are cooked in a waffle maker and dipped in cinnamon sugar – so easy!!
Ingredients
1

can

8 rolls canned biscuits (not flaky)

6

tablespoons

unsalted butter

melted

1

cup

granulated sugar

3

teaspoons

cinnamon
Optional Chocolate Ganache:
1/2

cup

heavy whipping cream

3/4

cup

chocolate chips or chunks
Instructions
Preheat a waffle maker (mine has a 350°F setting).

Cut each biscuit into 4 pieces. Place melted butter in a bowl. Stir cinnamon and sugar in an other bowl. Line a cookie sheet with paper towels.

Place biscuit pieces into your waffle iron, separating them a little so they won't stick together. How many batches you have to make depends on the size of your waffle iron. Cook for 2-3 minutes or until the pieces are golden brown. Carefully remove them (they're HOT!), dip them in the butter and coat with cinnamon sugar.

These are best eaten right away or while they're still hot. They get soft once they cool. They're still good though!

To make the chocolate ganache for dipping: place heavy whipping cream in a measuring cup or small bowl. Add chocolate chips and microwave for 45-60 seconds. Whisk until smooth, heating more as needed to get all the chocolate melted. Let cool at room temperature.
Nutritional information not guaranteed to be accurate
Click HERE for more Pillsbury Dough Recipes!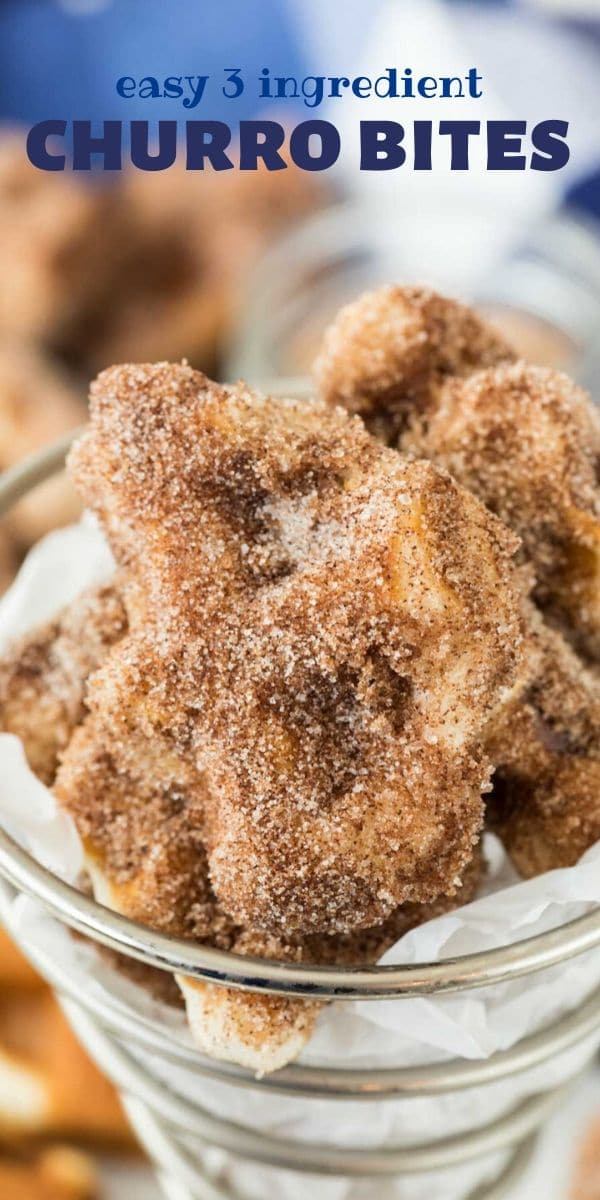 Churro Bites have 3 easy ingredients and aren't baked or fried. These are crunchy and perfect made with canned biscuits!
Last Updated on July 14, 2020