It's FAIR season! I love going to the fair for the food, like fried cookies and Churros. This year I decided to recreate one of my favorites at home: Easy Churro Bites with only 4 ingredients. And they're baked in a waffle maker – NO frying!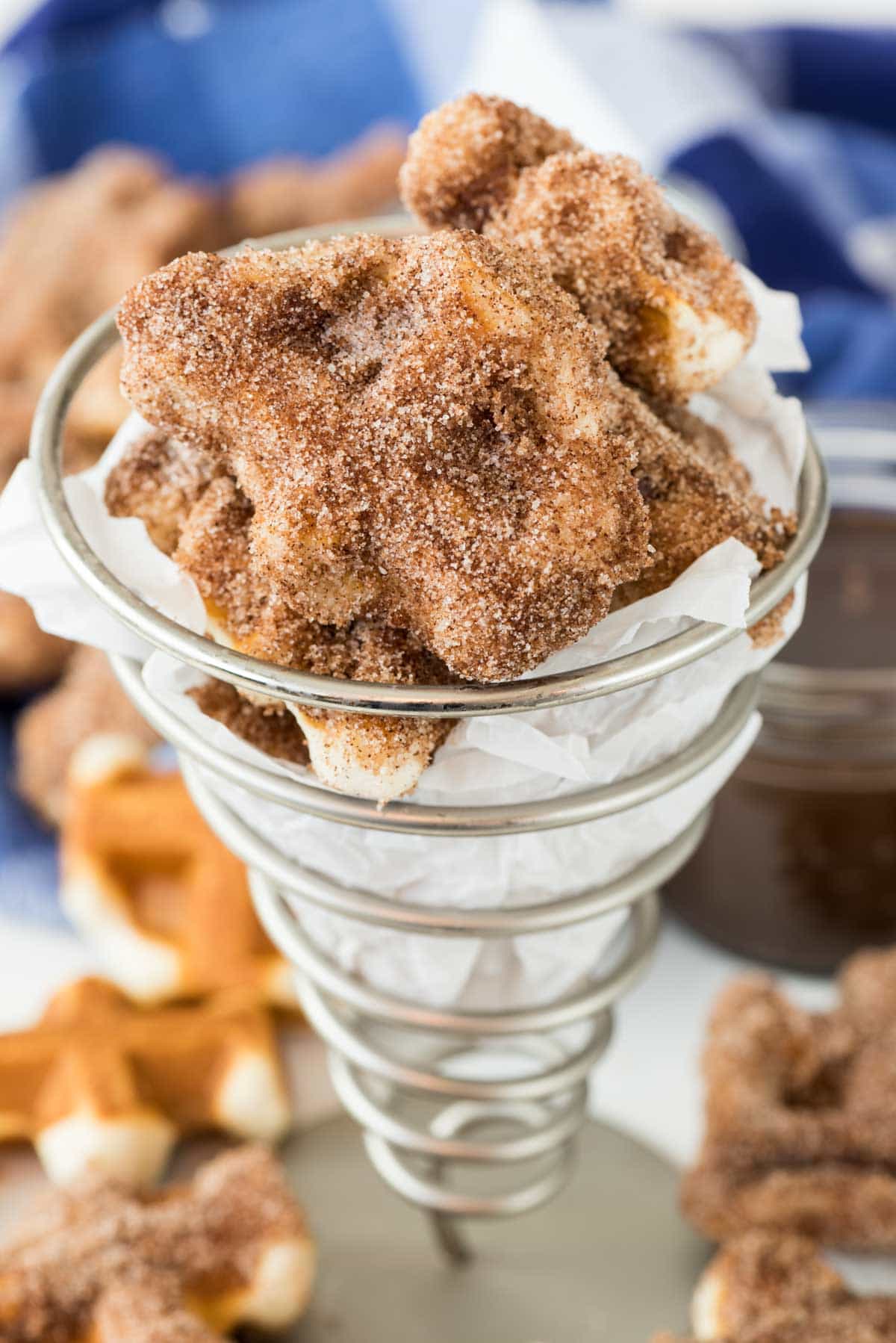 As we talked about last week, Jordan's getting older and more independent. She's been asking for a phone forever, but I'm not ready for her to have one (or for the expense and stress that comes with it). However, there are times I do wish she had a way to call me. She can text me and video chat now, but only if she has wifi, which isn't always possible. For the most part, she's always with me, but sometimes she's at dance for hours alone, or at friend's houses. And later this month she's going to San Diego with my mother-in-law for 4 days…without me.
What does all that have to do with these Easy Churro Bites? Well, a couple of things. I'd been contemplating getting Jordan a pay-as-you-go phone for JUST phone calls (you know, to test the phone waters a bit) when an opportunity to try the AT&T GoPhone came across my desk. It was meant to be, pretty much, don't you think?
Still can't quite get from phone to churro? Well, not only did they want me to test out the phone and service, but they wanted me to do it at the California State Fair. Hence, churros and lots of fair food!
Honestly, does anyone go to the fair for anything but the fried brownies, face sized curly fries, and churros?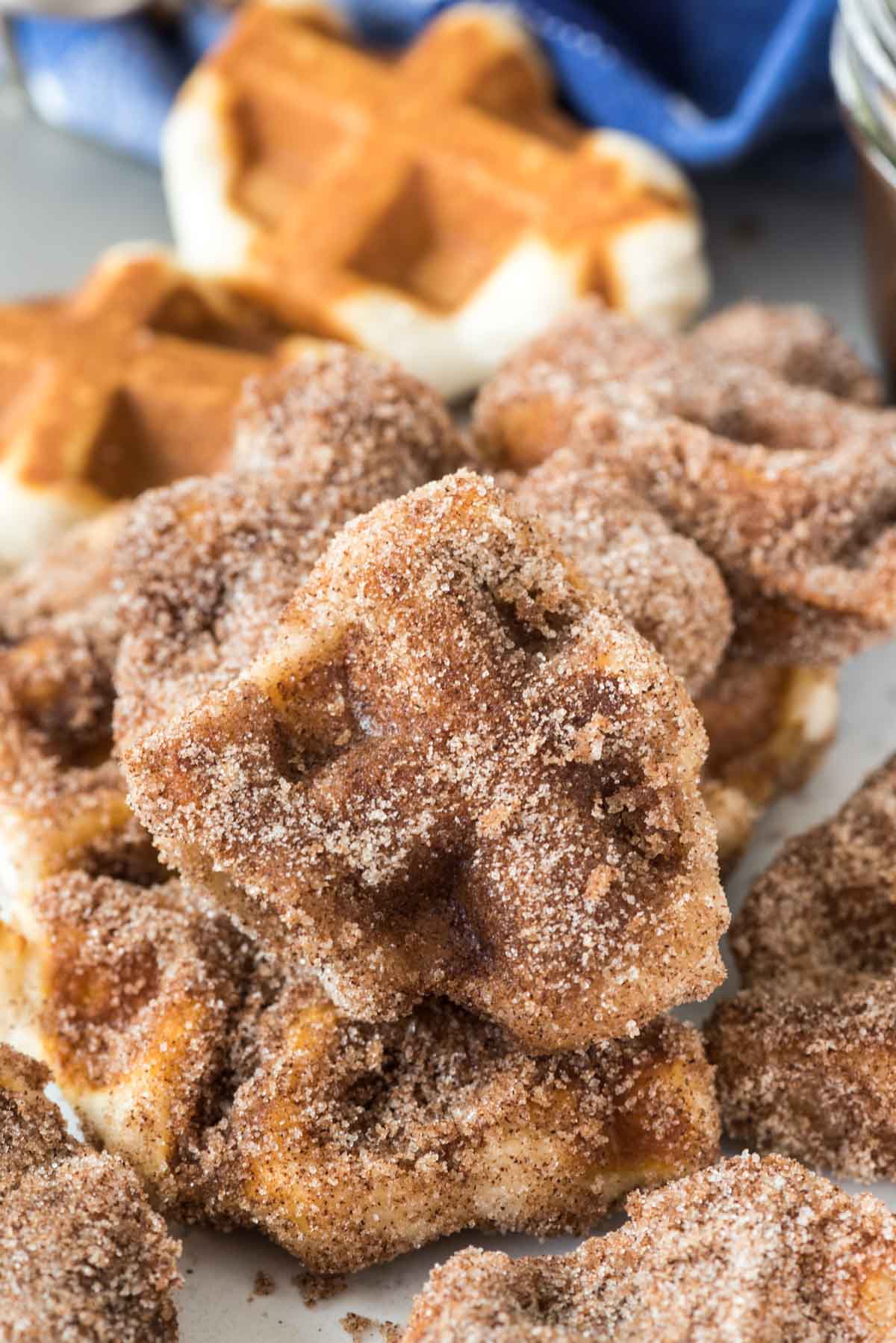 Last week, Jordan and I invited a friend and headed down to the fair. I swear, I wanted to eat all the things. Chinese food, corn dogs, lemonade, fried cheesecake, you name it! I totally grossed out the kids when I got chocolate covered bacon but it was really, really good. I could have eaten the entire basket of it, except I'd just downed orange chicken and was about to hit up the cotton candy and deep fried booth.
Calories don't count at the fair…right?
Before we left for the fair, I got Jordan all set up on her AT&T GoPhone. It's a Samsung, so it was a bit of a learning curve for me, but I really like the interface, and the camera was top notch.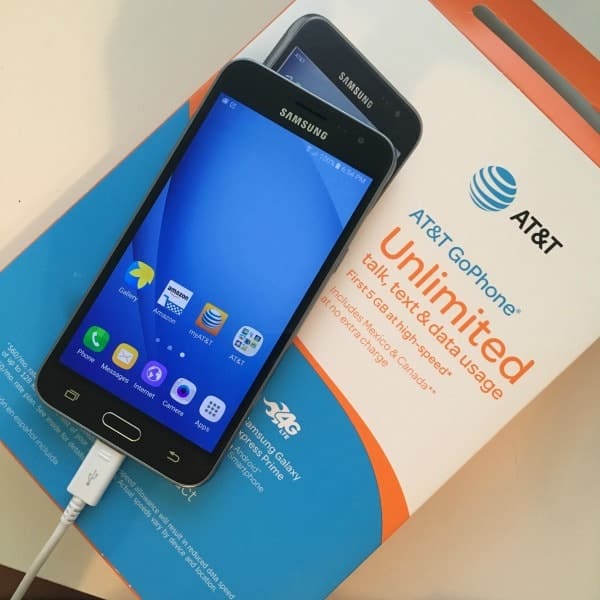 There are several choices of smartphones when you're picking out a GoPhone. Mine is a Samsung Galaxy Express. I set it up and loaded $45 onto my account and I was instantly connected to AT&T's 4G LTE network. One of the things I really love about this service is that there is no contract: I can choose a plan that fits my needs and change it as needed. Since Jordan will just be using this for phone calls, I can pick the lowest amount of minutes, and she can use wifi for any data.
Once our phone was set up, we headed to the California State Fair, where AT&T has a booth. They're visiting all sorts of events all summer long, so you might even see them! If you follow me on instagram, you may have seen my fair posts last week. All food, all day long. If you happen to be at a fair or event where AT&T happens to be, be sure to stop by the booth. The girls did a virtual reality game and then we got to make our own sunglasses, where we mix and matched frame covers.
And then there was the food. OMG…the food. Have you ever had deep fried cheesecake? It's the BEST thing ever, y'all. I also walked around for a few minutes with powdered sugar all over my face, neck and arms and the girls didn't bother to tell me. I'll get Jordan back some time, you can count on it. 😉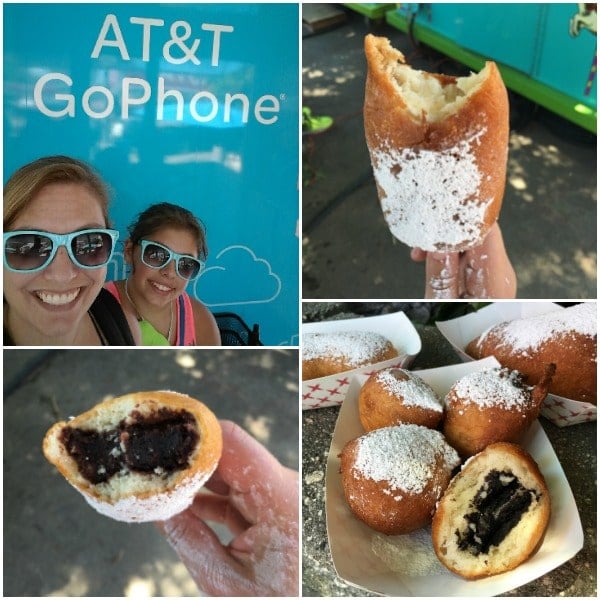 (Photos taken on my GoPhone the Samsung Galaxy Express Prime!)
When we got home from the fair I was still craving churros, so I decided to make my own at home. Except I didn't want to fry anything and I was kind of feeling lazy so I didn't even want to mix anything.
Enter this recipe.

This recipe has only 4 ingredients. The churros start with, you guessed it, canned biscuits! You just slice them in quarters and cook them in a waffle maker – no frying! Dip them in butter and cinnamon sugar and you have churro bites that are just as good as at the fair without the third degree frying burns or all the calories from the oil.
(That means I can eat more, right?)
Bonus: dip these in an easy chocolate ganache for an extra decadent dessert. Seriously, I could drink chocolate ganache, but dipping churros? Even better!
Easy Churro Bites
Easy Churro Bites - an easy 4 ingredient churro recipe! Pillsbury Grands Biscuits are cooked in a waffle maker and dipped in cinnamon sugar - so easy!!
Ingredients
1

can

8 rolls canned biscuits (not flaky)

6

tablespoons

unsalted butter

melted

1

cup

granulated sugar

3

teaspoons

cinnamon
Optional Chocolate Ganache:
1/2

cup

heavy whipping cream

3/4

cup

chocolate chips or chunks
Instructions
Preheat a waffle maker (mine has a 350°F setting).

Cut each biscuit into 4 pieces. Place melted butter in a bowl. Stir cinnamon and sugar in an other bowl. Line a cookie sheet with paper towels.

Place biscuit pieces into your waffle iron, separating them a little so they won't stick together. How many batches you have to make depends on the size of your waffle iron. Cook for 2-3 minutes or until the pieces are golden brown. Carefully remove them (they're HOT!), dip them in the butter and coat with cinnamon sugar.

These are best eaten right away or while they're still hot. They get soft once they cool. They're still good though!

To make the chocolate ganache for dipping: place heavy whipping cream in a measuring cup or small bowl. Add chocolate chips and microwave for 45-60 seconds. Whisk until smooth, heating more as needed to get all the chocolate melted. Let cool at room temperature.
Click HERE for more Pillsbury Dough Recipes!
Giveaway has ended.
WIN YOUR OWN AT&T GOPHONE!
One winner will receive an LG Phoenix 2 #ATTGoPhone with a $45 AT&T GoPhone Refill card.
Here's how to enter: Leave a comment on this post. That's it!
Contest rules: promotion is open between July 14, 2016 through July 24, 2016. You must be a legal resident of the United States and 18 years of age or older. Void where prohibited, no purchase necessary. Only one entry per person, extra entries will be deleted. View full rules HERE.
 This post was sponsored by AT&T but all opinions are my own.
All text and images © DOROTHY KERN for Crazy for Crust. Please do not use my images without prior permission. If you want to republish this recipe, please re-write the recipe in your own words, or link back to this post for the recipe. Disclaimer: Nutrition information shown is not guaranteed to be accurate.
This post may contain affiliate links. For more information, read my disclosure policy.
Published on: July 15, 2016