This post may contain affiliate links. For more information, read my disclosure policy.
These are the easiest Air Fryer Pretzel Bites made with premade pizza dough! These pretzel bites have that classic pretzel flavor and texture and cook in the air fryer for a great appetizer or snack with your favorite dipping sauces.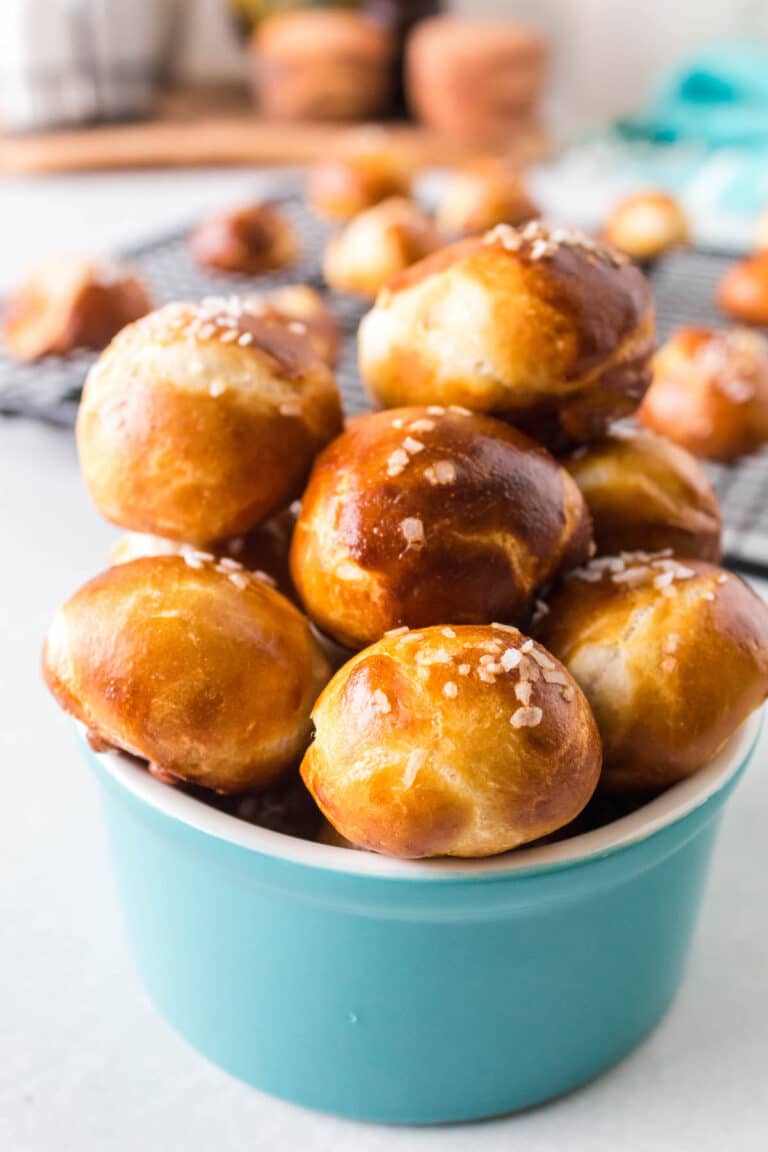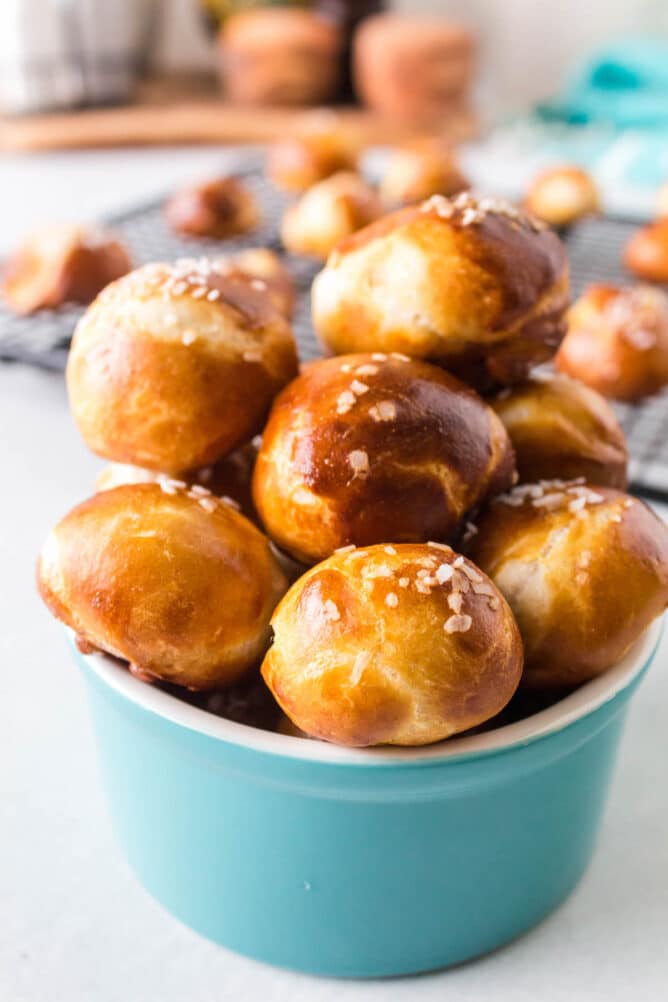 If you thought homemade pretzel bites were too hard to make, you are going to love this easy air fryer recipe. They're made with shortcut pizza dough, but you'd never know it – they have the best chewy texture and golden crust, just like classic soft pretzels.
Easy Air Fryer Pretzel Bites
If you make pretzels the old-fashioned way, you will spend a few hours making a yeast dough and waiting for it to rise. Super fun when you have time, but who has time? Not me, so these semi-homemade pretzel bites are my go-to.
Instead of making dough, we're using Pillsbury refrigerated pizza dough. It works well because pizza dough has that chew like pretzel dough once it's cooked.
We're not skipping the main thing that makes a pretzel a pretzel: boiling the bites in a baking soda and water mixture. This step is critical in achieving that shiny, tight crust and distinctive flavor. The best part is that it's not hard to do, especially since we're skipping the whole dough-making part.
Finally, instead of baking them, we're air frying them, which takes less than 10 minutes. So easy.
Make these pretzel nuggets for game-day, parties, holidays, happy hours, or your next Netflix binge! They're so easy you'll find all kinds of reasons to make a batch.
Table of Contents
Ingredients
Original Pillsbury Pizza Crust – you only need one.
Baking soda: This is how pretzels get that golden exterior and chewy texture.
Water
Egg wash – just lightly beat an egg with water in a small bowl.
Kosher salt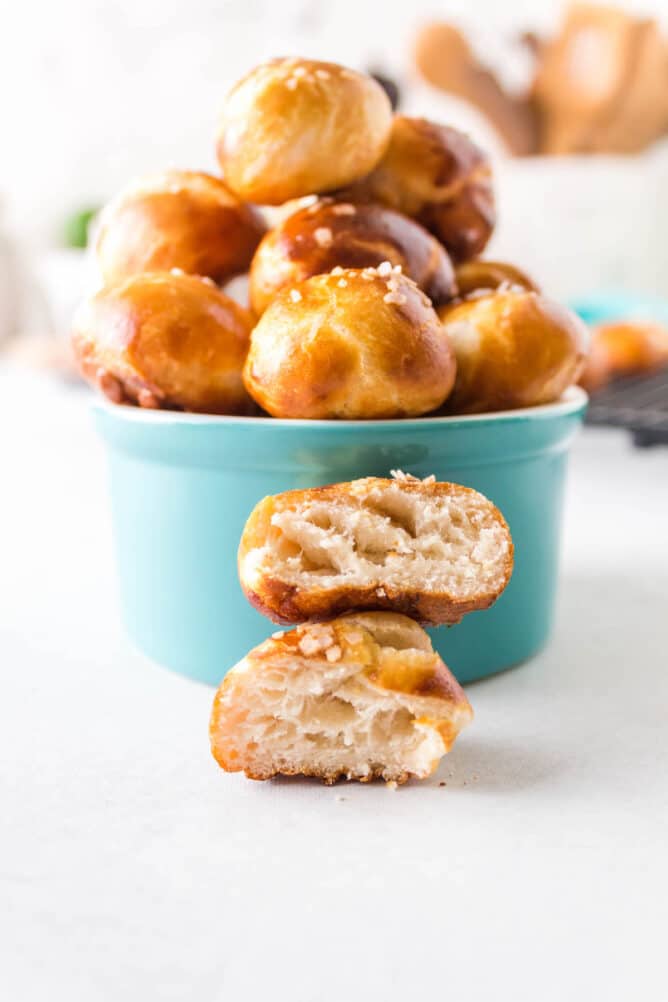 How to Make Pretzel Bites in an Air Fryer
1. Cut Bites: Take the pizza dough out of the package. It should be rolled into a log, which is what you want. Cut the log into eight pieces. The easiest way is to slice it in half and slice each half in half, so you have four parts. Slice each of those in half, so you have eight equal-sized pieces.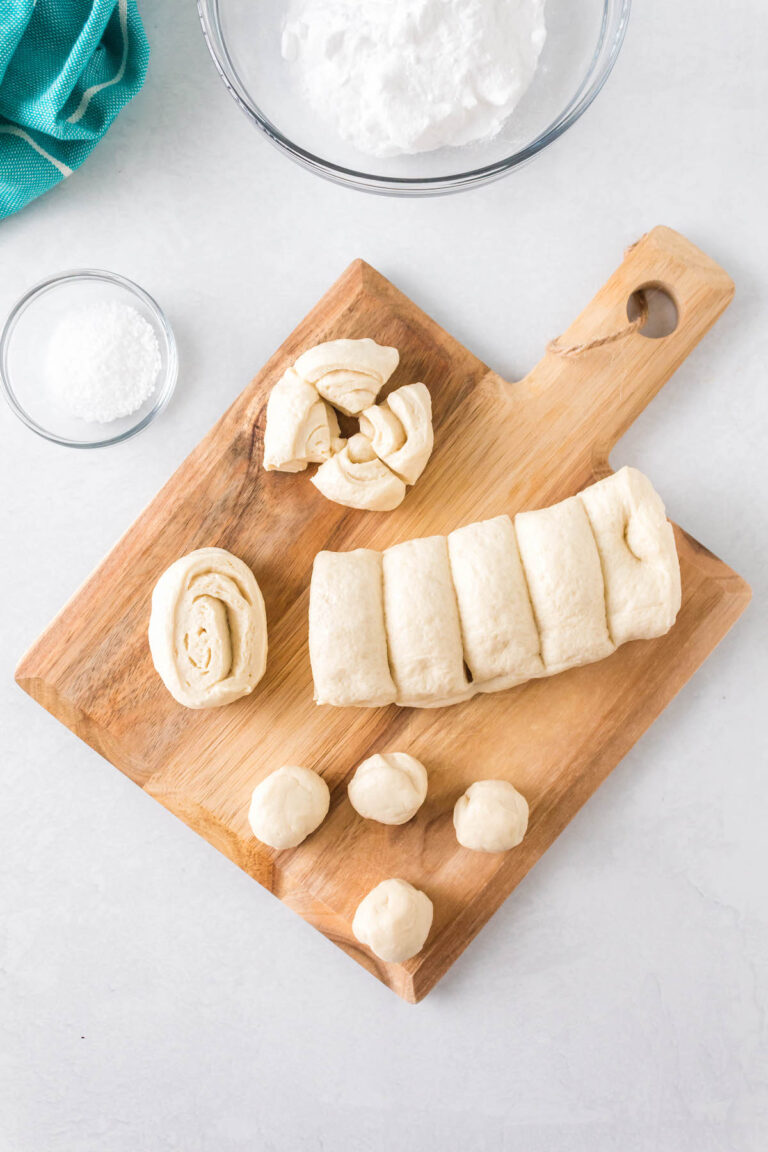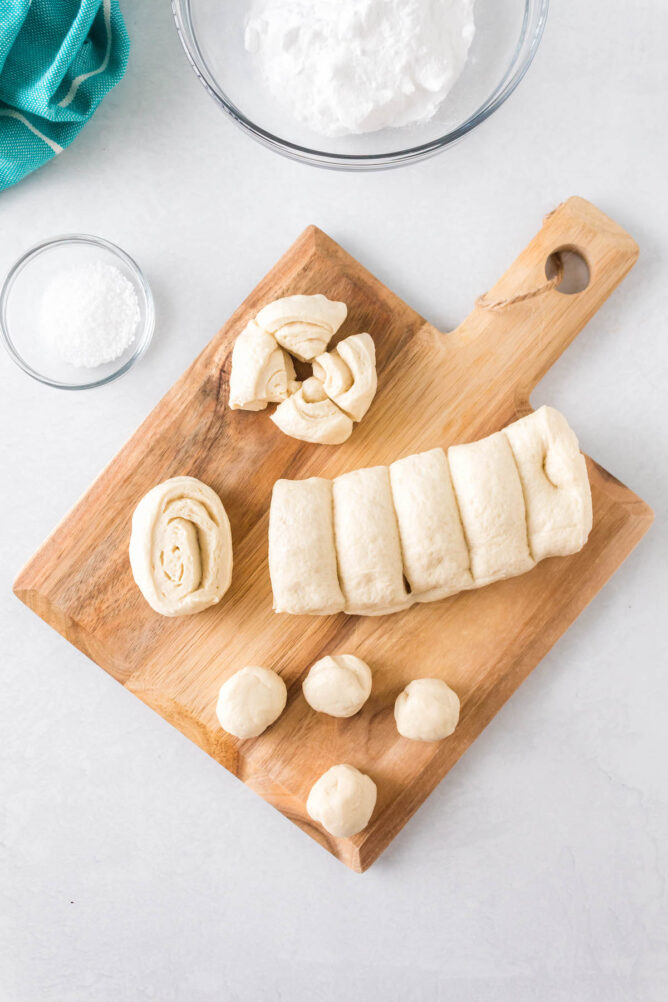 2. Once you have eight pieces, cut each one into four parts, so you have 32 pieces of dough. Roll each piece into a ball.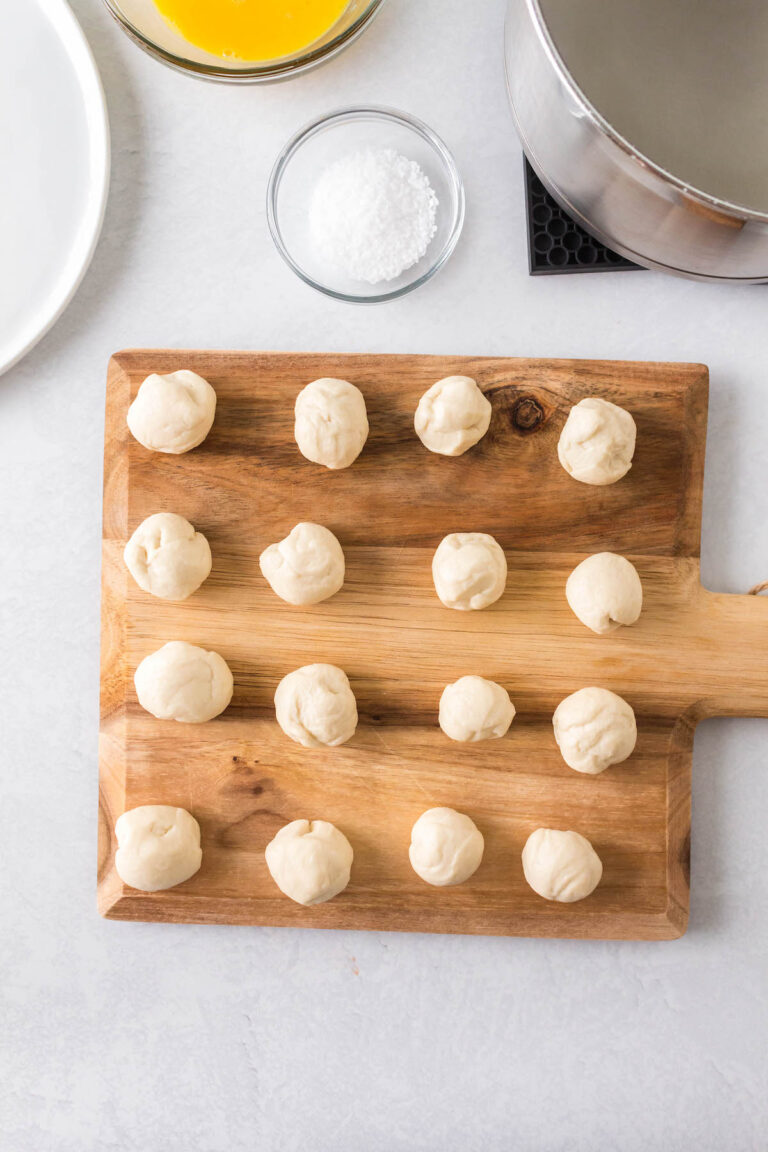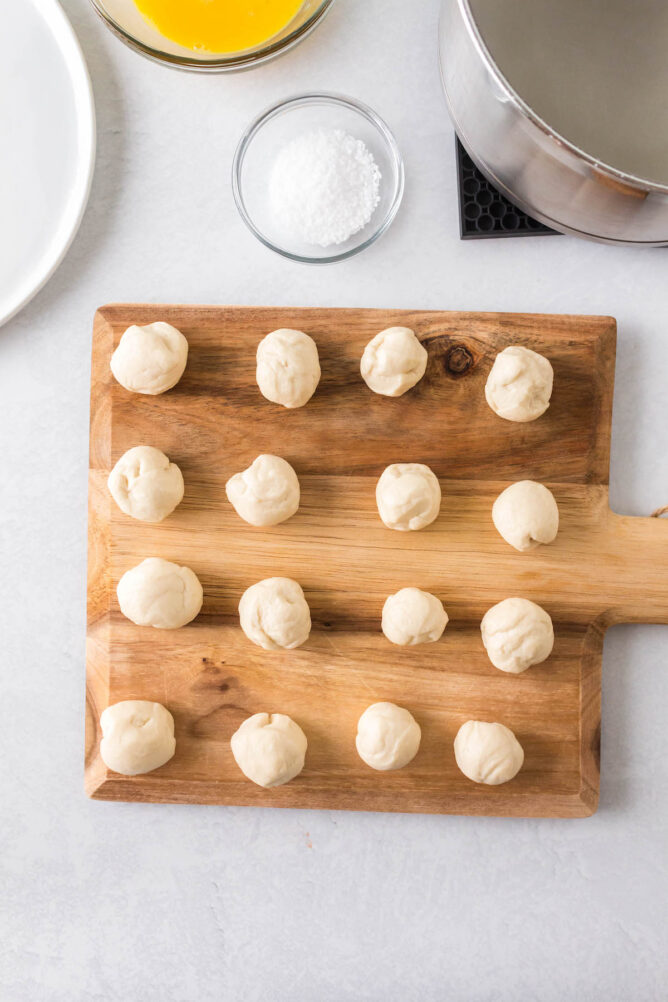 3. Pour the water into a saucepan and bring it to a rolling boil. Once it's at a strong boil, take it off the heat and add the baking soda and stir so it dissolves.
4. Baking Soda Bath: Drop each ball into the water for 20 to 30 seconds, take it out, and place it on a sheet pan or plate. Do this with all of the dough balls. I dunk four at a time and use a slotted spoon to scoop them out of the water.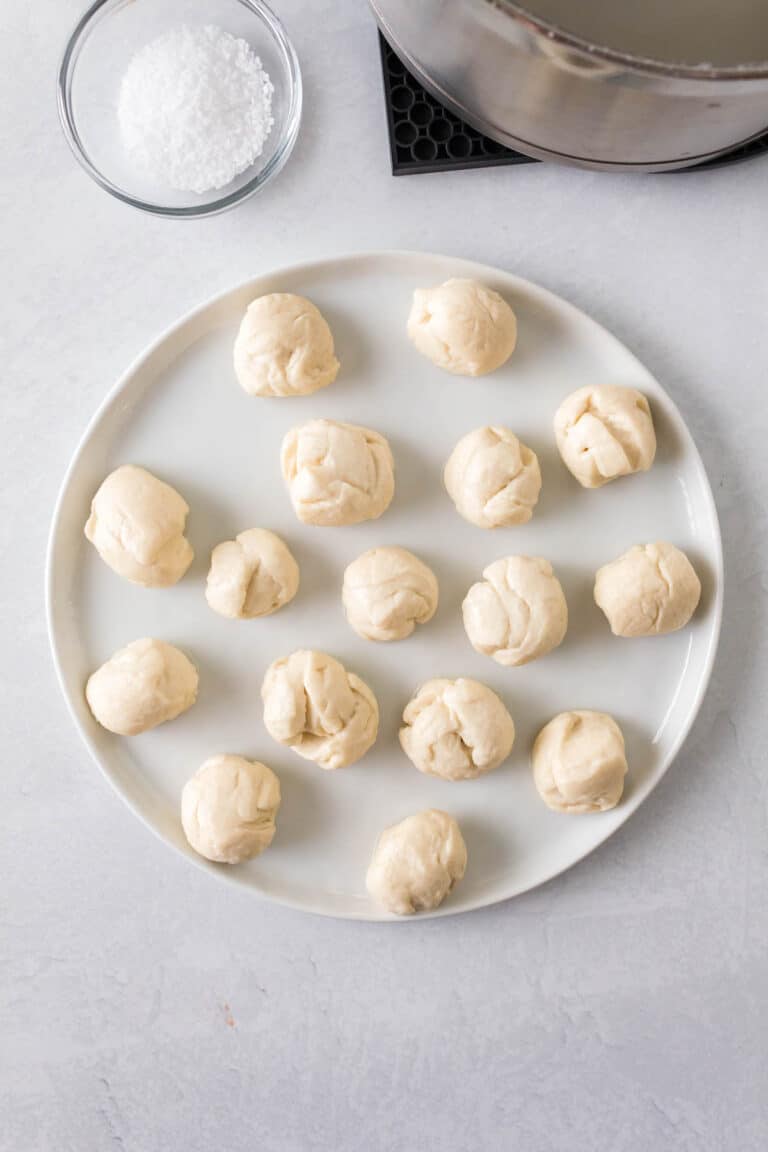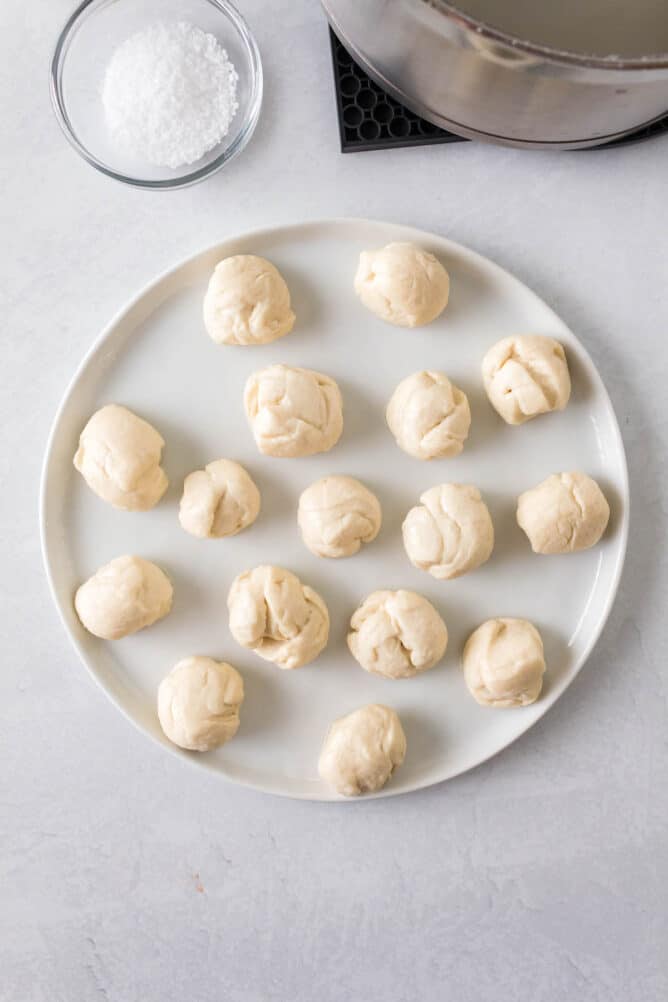 5. Brush the dough balls with egg wash and sprinkle them with salt.
6. Cook the pretzel bites in the air fryer at 350°F for six to seven minutes or until they are golden brown. Depending on the size of your air fryer, you may need to cook them in batches.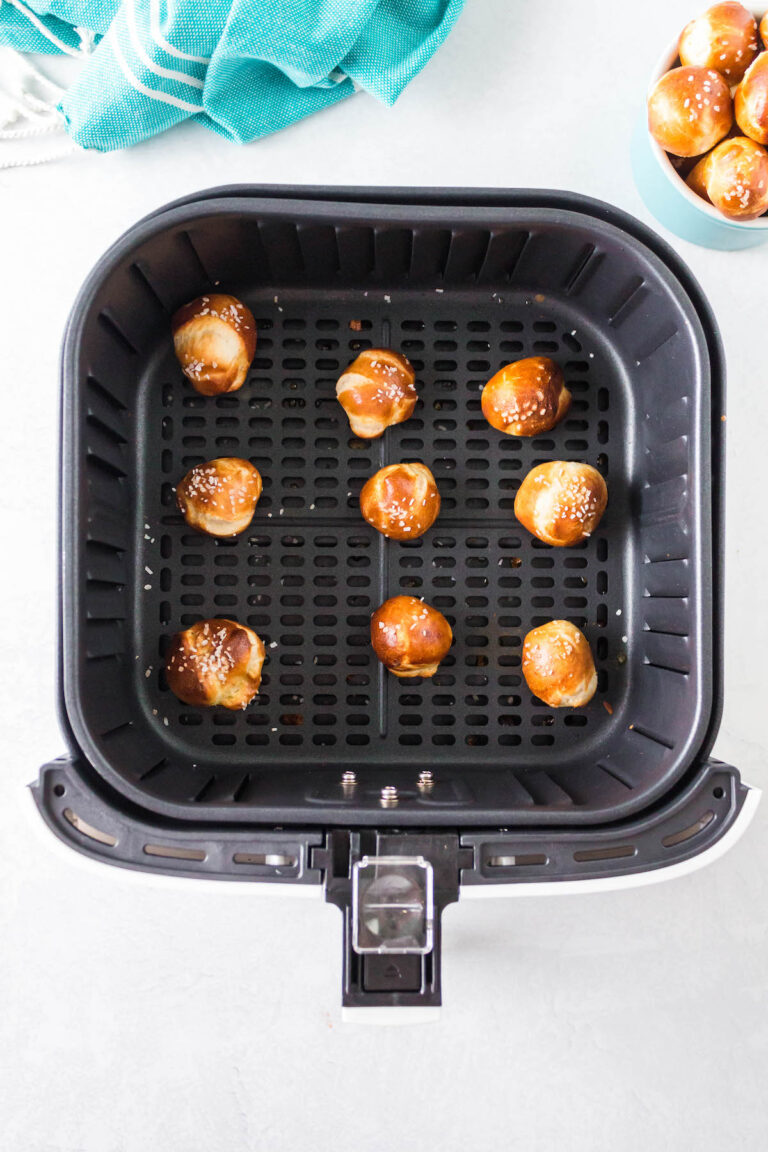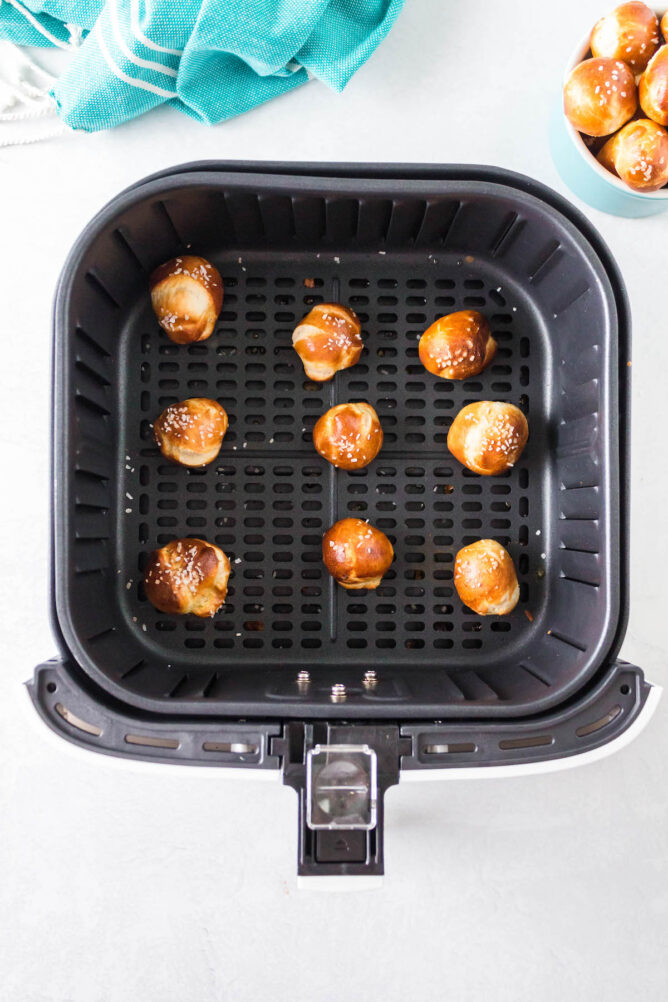 Recipe Tips
When you roll the dough into balls, the dough may want to come apart. Don't worry, and just try to form into a ball as best you can. You can lightly squeeze the dough but don't squish it. Otherwise, you won't have the ball shape once they're cooked.
They have a very strong pretzel taste from the baking soda. If you want to tone it down, you can reduce baking soda in the water.
If your kitchen is hot, you might want to keep the dough balls in the refrigerator while you're cooking them in batches. That way, they will hold their shape and not soften too much.
Don't overcrowd the air fryer. The balls need to be in a single layer with space between each. This will ensure they cook evenly. You can keep cooked pretzel bites on a sheet pan in a warm oven while you cook the rest.
Which Air Fryer I recommend
I have 2 air fryers I love:
Cuisinart Compact Air Fryer is a great model that looks like a toaster oven. I like the size of the basket and it cooks most things, except it can't fit a whole chicken.
Corsori Air Fryer: This is the big boy of air fryers and can fit a whole chicken – I just started using this one and like it (it's a more traditional looking air fryer.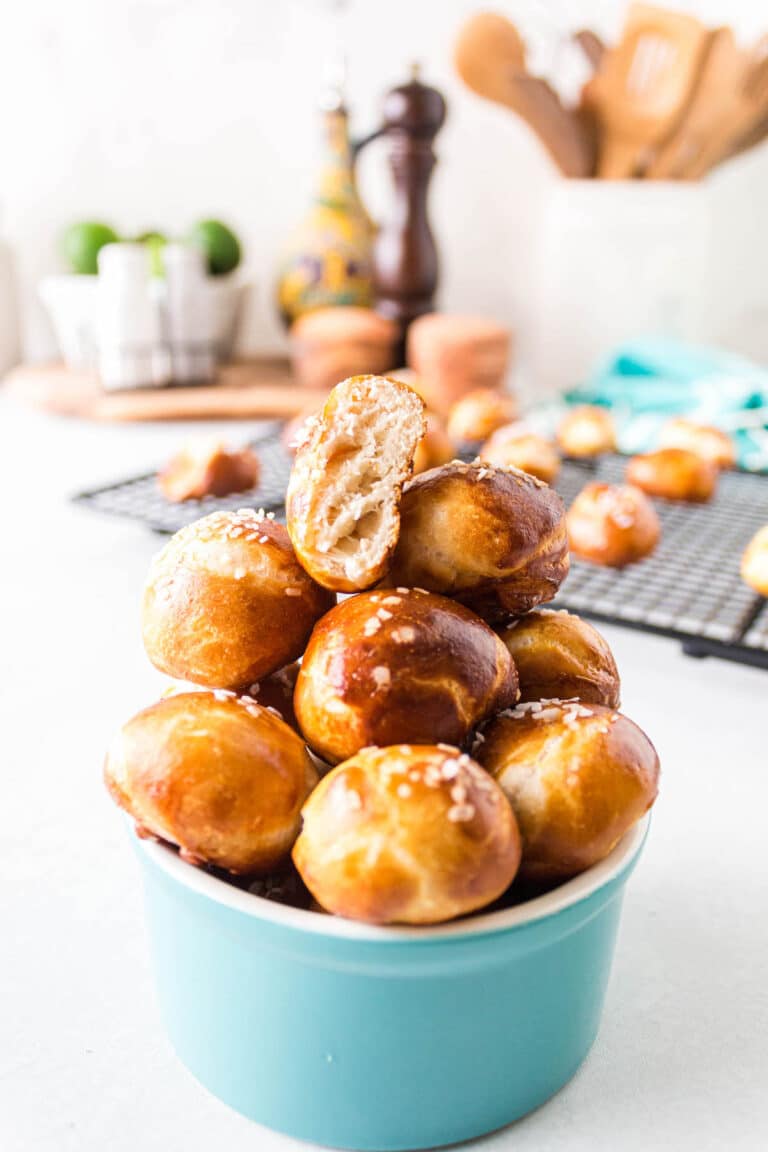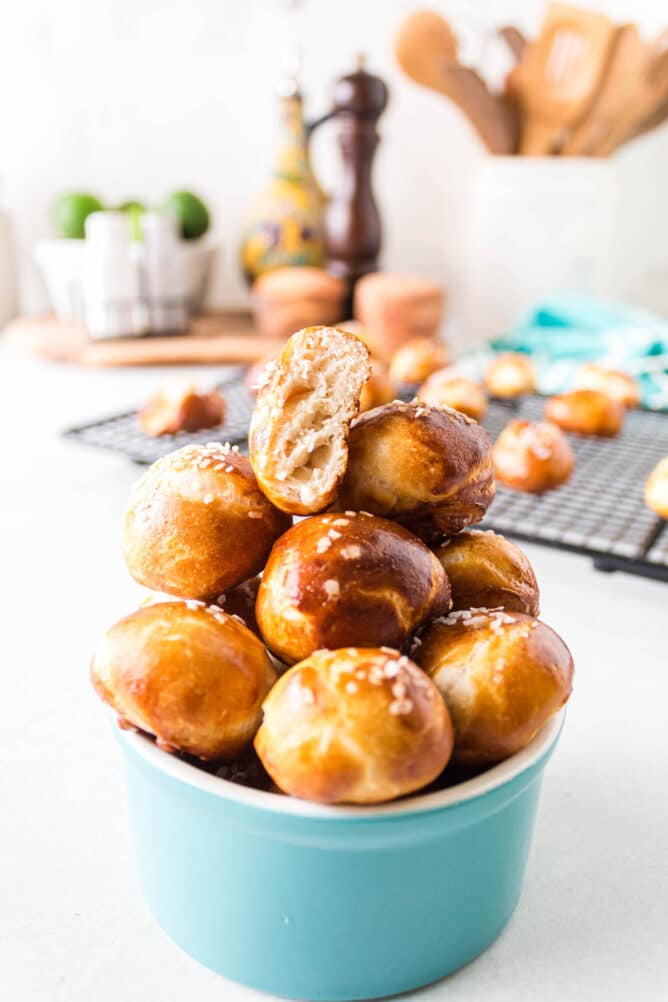 Dipping Sauce Ideas
These pretzel bites just beg for a sauce on the side – they are totally dunkable! Here are some sauces we love:
Any kind of mustard – we love honey mustard and spicy types of mustards.
Nacho cheese sauce
Marinara sauce
Ranch dip or dressing
Hot dips like spinach dip or other creamy cream cheese dips
For a sweet and salty twist, try a sweet dip like chocolate sauce or peanut butter dip.
Once you try these easy pizza dough pretzel bites, they might end up on your list of favorite snacks! They are so much easier than traditional ones but taste just as great. You'll see when you try them – they're so good.
More Pretzel Recipes You'll Love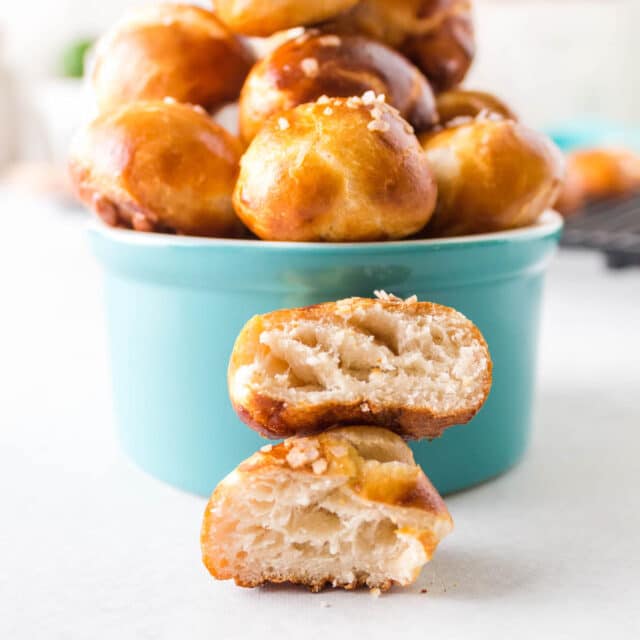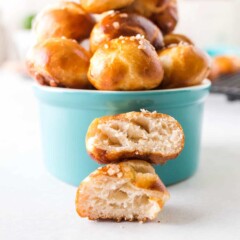 Air Fryer Pretzel Bites Recipe
If you thought homemade pretzel bites were too hard to make, you are going to love these Air Fryer Pretzel Bites – delicious and simple!
Ingredients
Pretzel Bites
1

Pillsbury pizza crust (original)

½

cup

baking soda

4

cups

water
Egg Wash
1

large

egg

1

tablespoon

water
Instructions
In a small bowl whisk egg and water together. Set aside. This will be your egg wash.

During this time, open your pizza crust and leave it in a log.

Cut into 8 slices, about 1 inch thick.

Each slice cut into quarters.

At the end you should have 32 pieces. Roll each one individually into a ball.

*NOTE* The shape might not be perfect ball, but it will work, trust me.

Pour 4 cups of water into a saucepan and bring to a boil

*NOTE* A boil with rolling in the middle not just on the side.

Once it is boiling, take off the heat and add ½ cup of baking soda.

Put on a hot pad and dunk each ball into the water for 20 to 30 seconds.

Place balls into a plate and with a pastry brush cover each ball with egg wash.

Sprinkle with kosher salt.

Place in air fryer basket. I have a Cosori 5,8 QT, so I place between 9 and 11 per batch.

*NOTE* This is important not to overcrowd your air fryer otherwise the bites won't cook evenly.

Cook at 350 degrees F for approximately 6 to 7 minutes or until nice and golden.
Recipe Notes
When you are rolling the dough into balls, roll as best as you can. If they try to separate, tightened your roll but don't "squish them". Once in the air fryer they will be nice and in a ball shape.
My kitchen is very hot, even now thanks to Florida. So, I put the balls I am not cooking back into the fridge to keep cooler.
If you are not too crazy about the "pretzel taste" I have noticed if I add less baking soda in water, the flavor is less intense.
I put about 4 balls in the hot water then back to a plate and continue with 4 more until all balls have taken a hot bath.
Recipe Nutrition
Serving:
1
serving
|
Calories:
32
kcal
|
Carbohydrates:
6
g
|
Protein:
1
g
|
Fat:
1
g
|
Saturated Fat:
1
g
|
Polyunsaturated Fat:
1
g
|
Monounsaturated Fat:
1
g
|
Trans Fat:
1
g
|
Cholesterol:
5
mg
|
Sodium:
823
mg
|
Potassium:
2
mg
|
Fiber:
1
g
|
Sugar:
1
g
|
Vitamin A:
7
IU
|
Calcium:
2
mg
|
Iron:
1
mg
Nutritional information not guaranteed to be accurate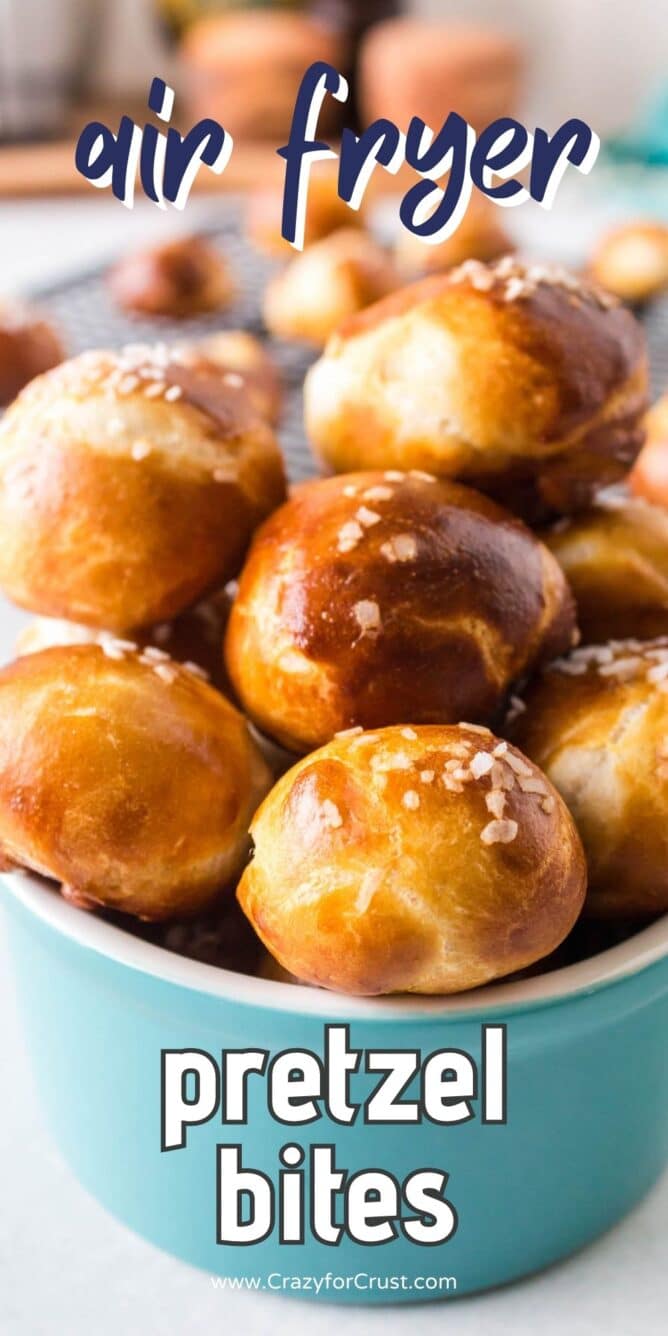 These are the easiest Air Fryer Pretzel Bites made with premade pizza dough. They have the best chewy texture and golden crust, just like classic soft pretzels.