This post may contain affiliate links. For more information, read my disclosure policy.
This EASY Potato Leek Soup is made in just 30 minutes. This is a FAMILY FAVORITE!
Potatoes and leeks are cooked with bacon to make the creamiest and most flavorful soup ever. If you're craving a warm and cozy bowl of soup, this thick and creamy potato leek soup is a great one to try.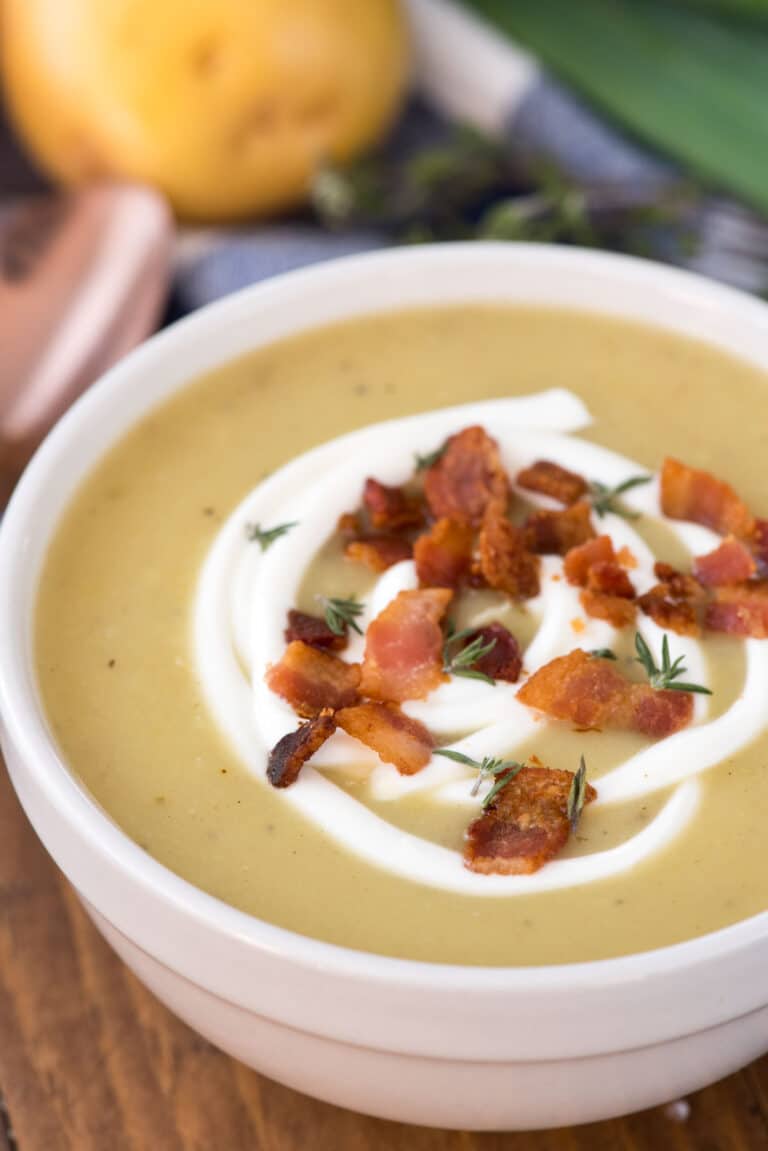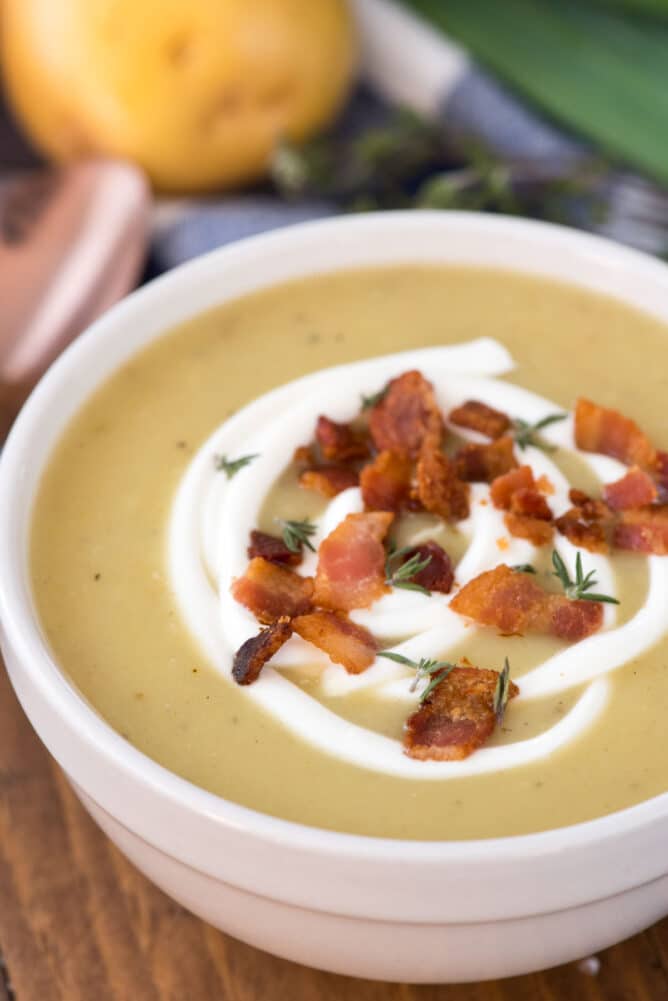 Table of Contents
Why You'll LOVE This Recipe
Looking for a new favorite winter soup? I can guarantee this silky smooth potato leek soup recipe is it!
This is an easy 30-minute soup recipe full of flavor. The potatoes make it filling and creamy, plus it has fresh flavor from leeks and a little smoky goodness from bacon. It's an easy leek soup with potatoes that you will love.
Looking for a vegetarian or vegan potato soup? This is it – just skip the bacon and use vegetable stock!
Soup is my ultimate comfort food, and we love making some sort of soup weekly in winter – I always look forward to the warmth and comfort it provides. This potato and leek soup is one we make on repeat. I can't get enough of it!
Silky Smooth Potato Leek Soup
This is a Rachael Ray potato soup recipe back when she did her 30 Minute Meal shows. Over the years, I've changed enough that I can say that this is my easy potato leek soup recipe; she just introduced me to the combination that is potato and leek.
Potato and leek are a classic combination, and this potato leek recipe makes the best creamy, silky soup. The best part is that you don't need any cream to make it – the potatoes create that creamy texture! So, this potato leek soup with bacon recipe is the perfect creamy and healthy soup for cold weather.
Ingredients in Leek and Potato Soup
Leeks: See below for more info! Most grocery stores will have them – they look like a giant green onion.
Bacon: I love the flavor this adds – finely chop it. You can omit to make vegetarian soup.
Garlic: Chopped garlic cloves add a TON of flavor!
Sliced Gold Potatoes – peeled or not peeled, your choice.
Stock: Low-sodium chicken stock or vegetable stock to make VEGAN Potato Leek Soup!
Spices: Salt, Black pepper and Dried thyme
What kind of potatoes do you use for potato leek soup?
Starchier potatoes are better for potato leek soup because they make a better creamy texture. Russet potatoes are often used, but I like Gold potatoes which have a decent amount of starch and a buttery flavor.
What is a Leek?
A member of the onion family, they're full of flavor. The flavor reminds me of a cross between a green onion and garlic, and I love adding them to stir fry, soups, and pasta.
How to Prep Leeks for Soup
One thing you need to know about leeks is that they grow in sandy soil. The inside of a leek almost looks like the inside of a tree trunk because of the rings of the onion wrapped around itself. Because of the way they grow, dirt gets trapped in the layers, so it's essential to clean them thoroughly.
To clean the leeks, simply slice them (discard the rough green tops) and soak them in a bowl of water. The dirt will fall to the bottom of the bowl, and your leeks will float on top. Easy peasy!
How to cook a leek for soup is easy once it's cleaned. Just slice it into pieces and cook it in a pot until it's softened.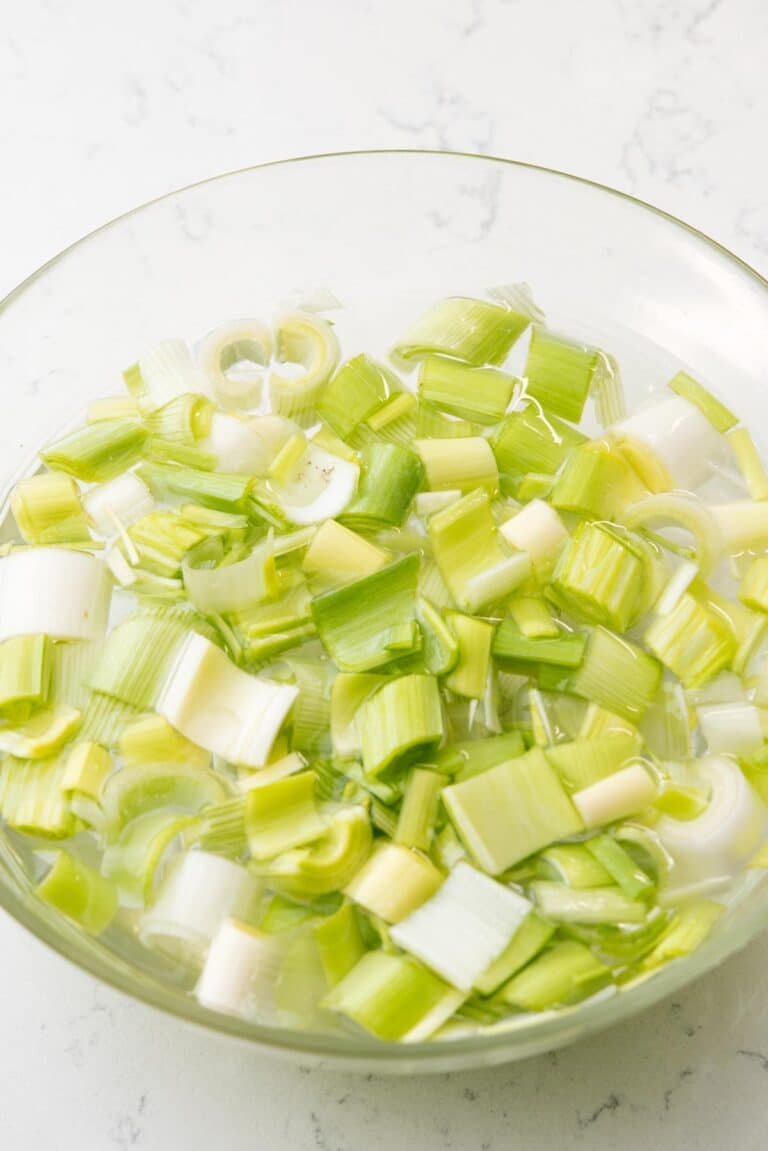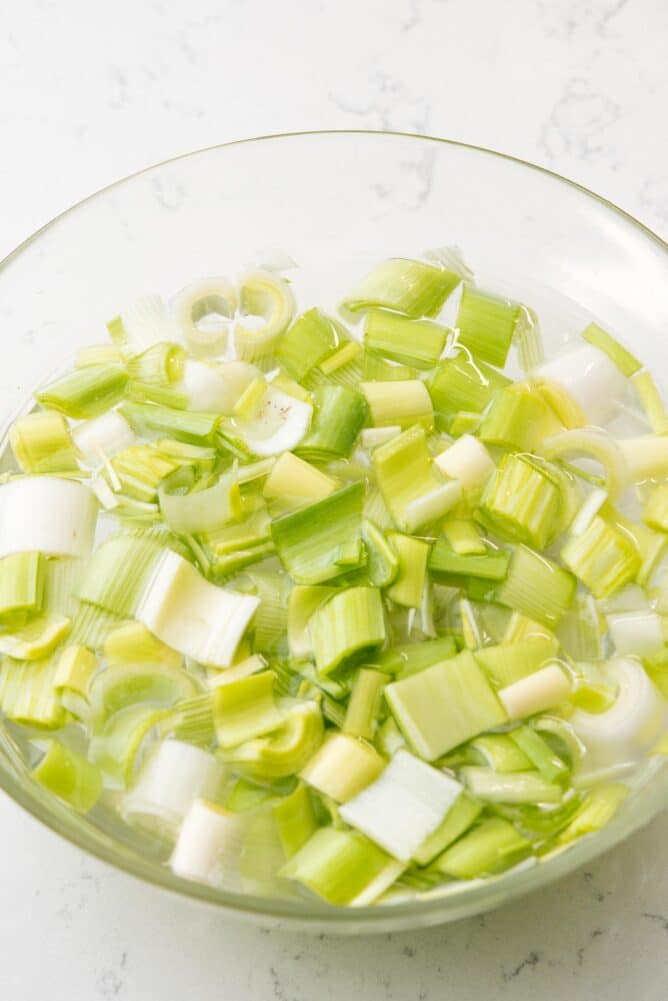 How to Make Potato Leek and Bacon Soup
1. Like all good soups, this one starts with bacon. Crisp your bacon in a heavy pot over medium heat. Once it's crispy, transfer it to a plate lined with paper towels. Leave the fat in the pan – you're going to cook the rest of the soup in the bacon grease.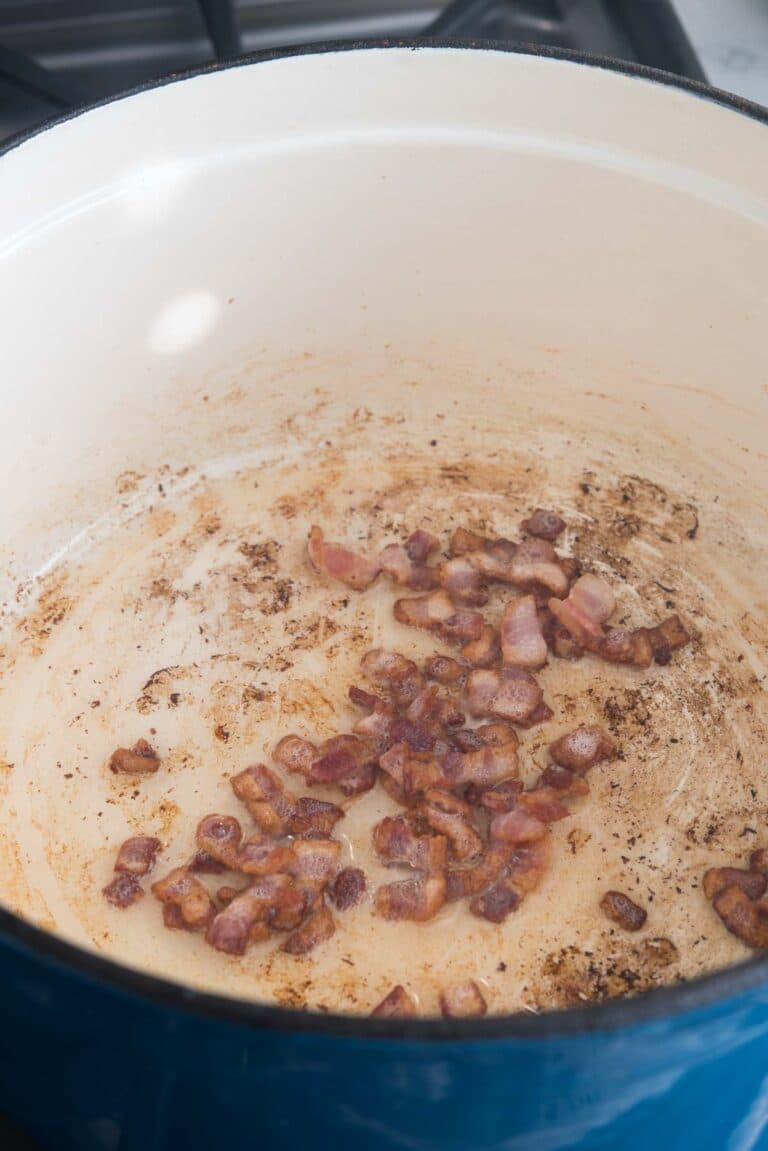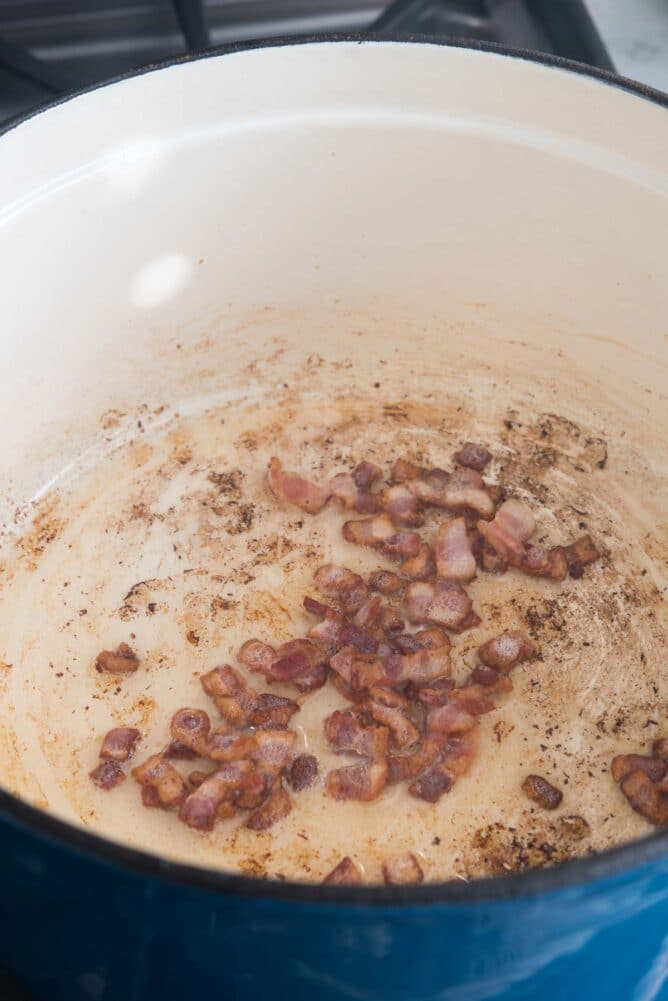 2. Cook your leeks in the bacon fat until they're soft and fragrant.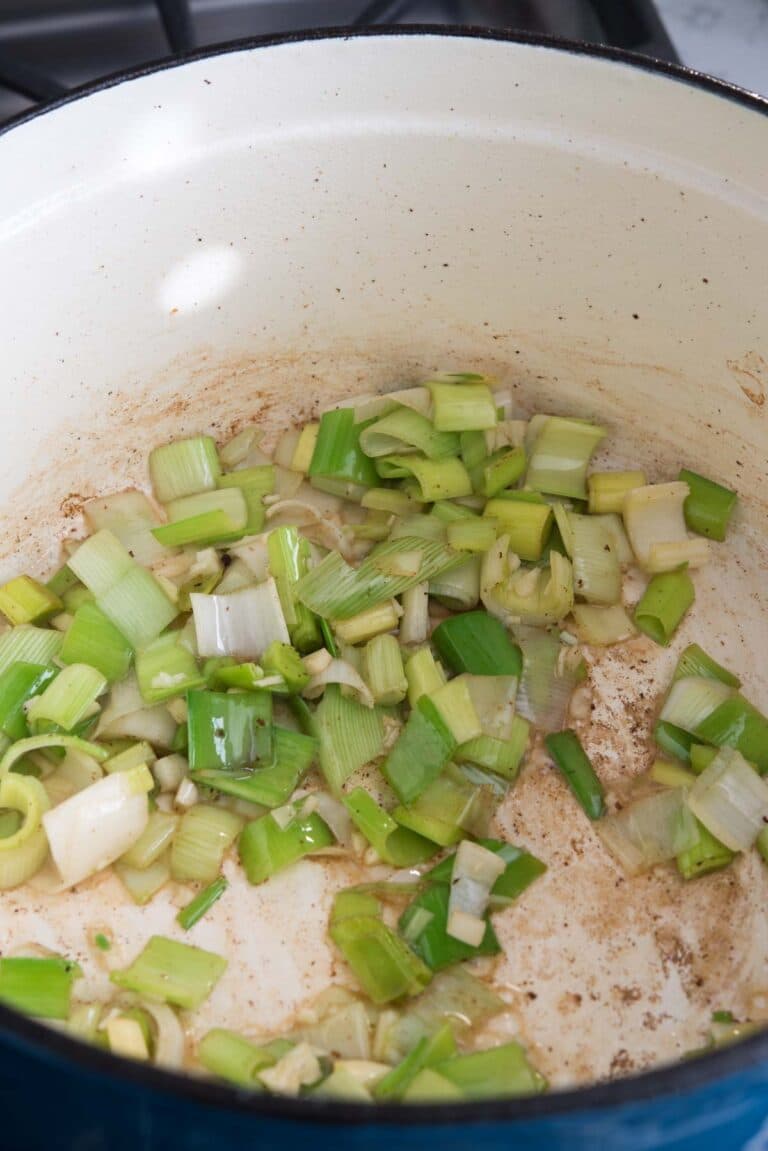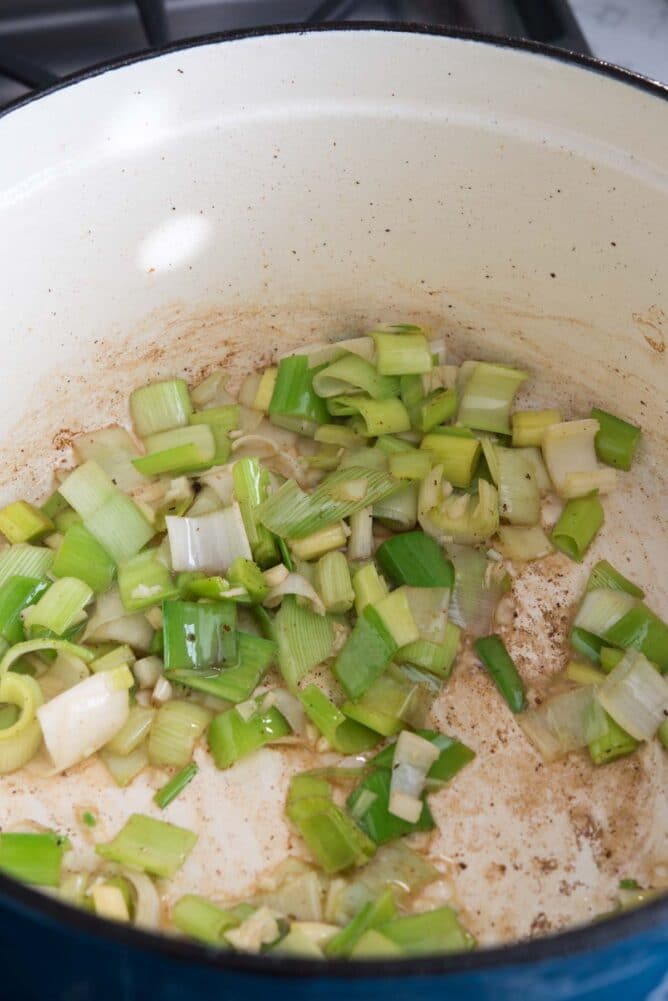 3. Add the garlic and sliced potatoes. Add the seasonings and stir to combine.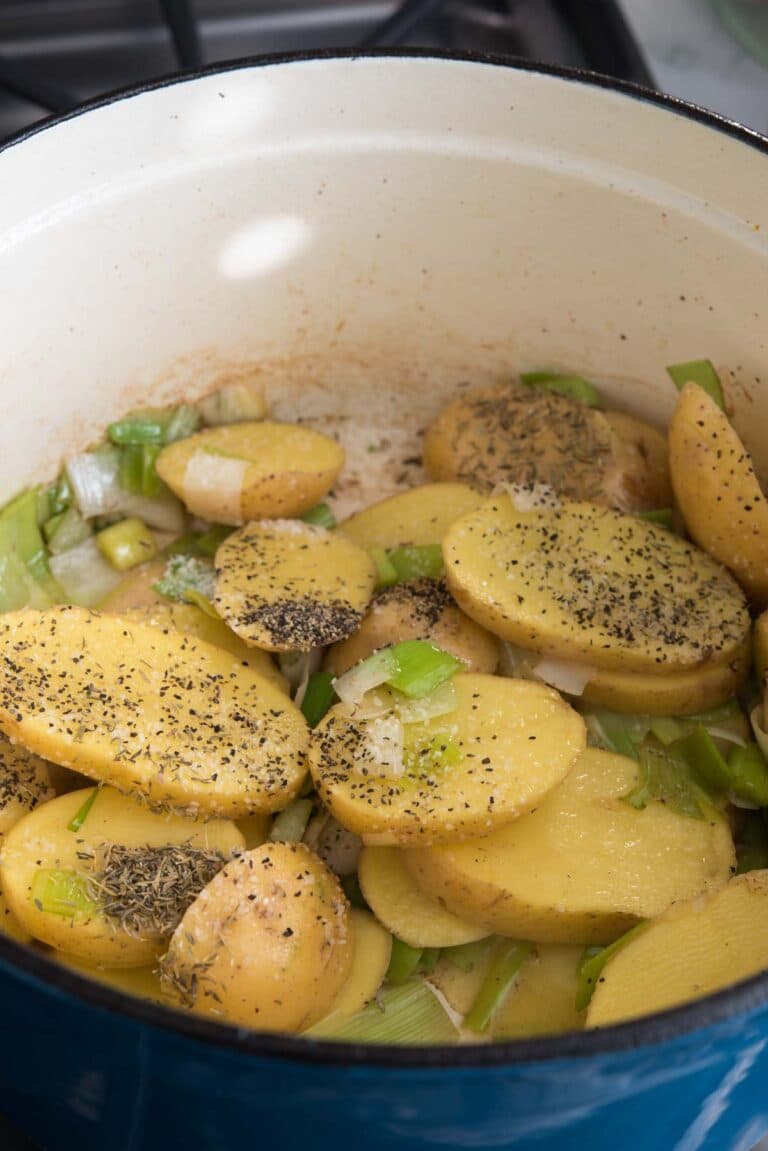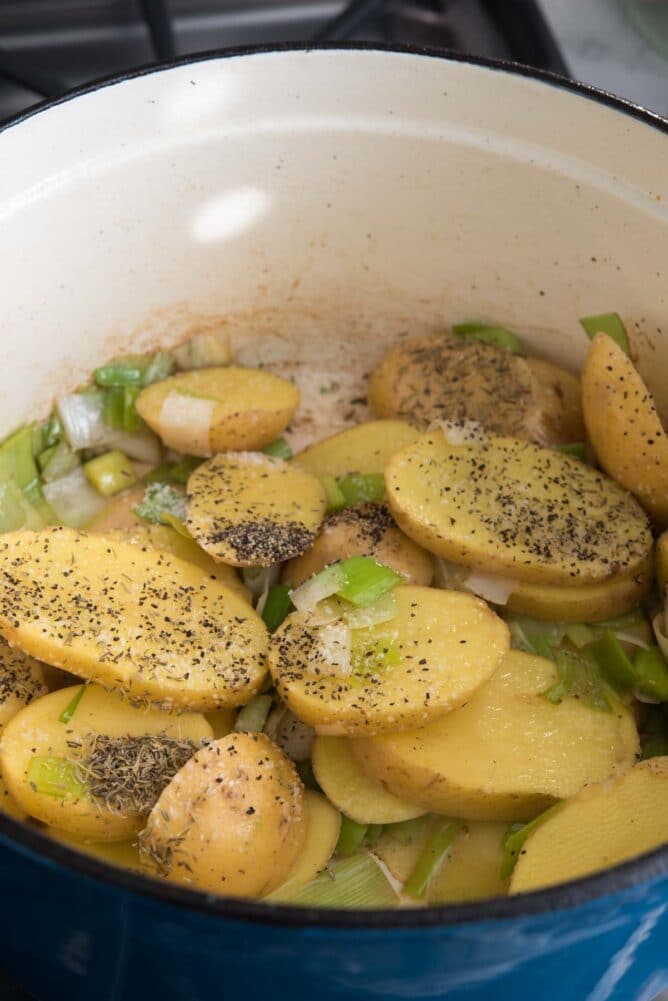 4. Add the stock, cover the pot, and bring the soup to a boil. Cook the soup until the potatoes are fork-tender.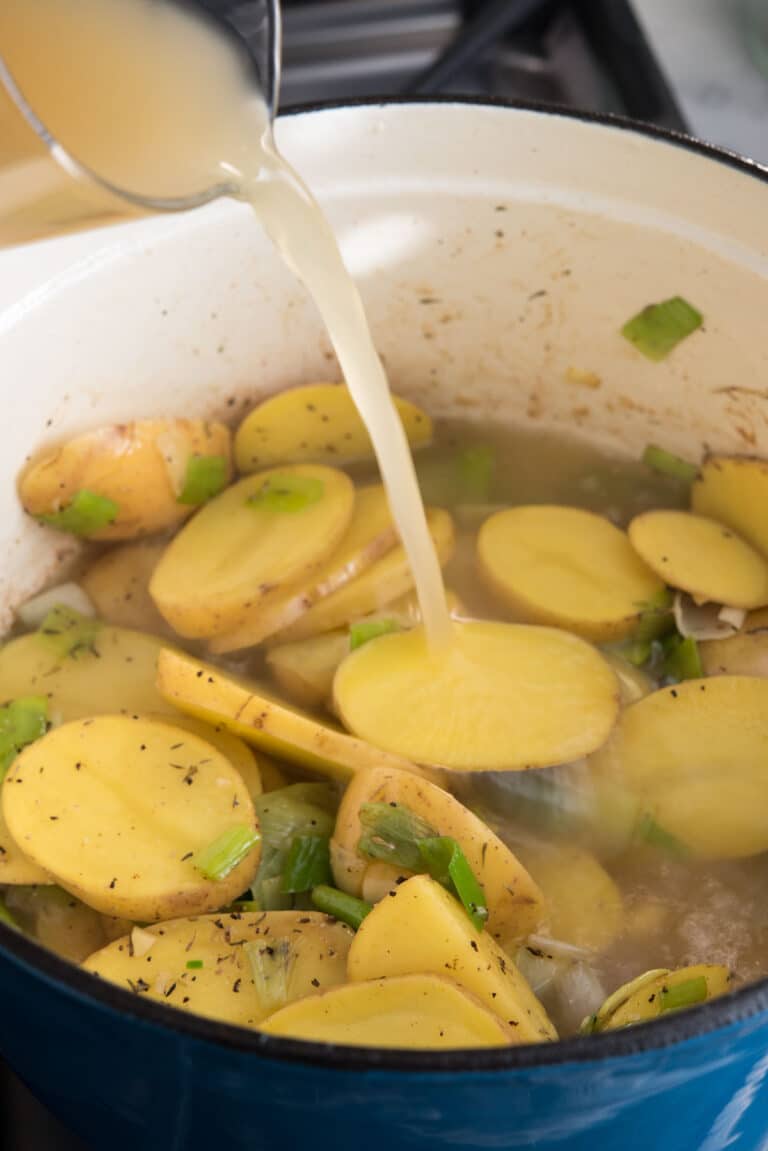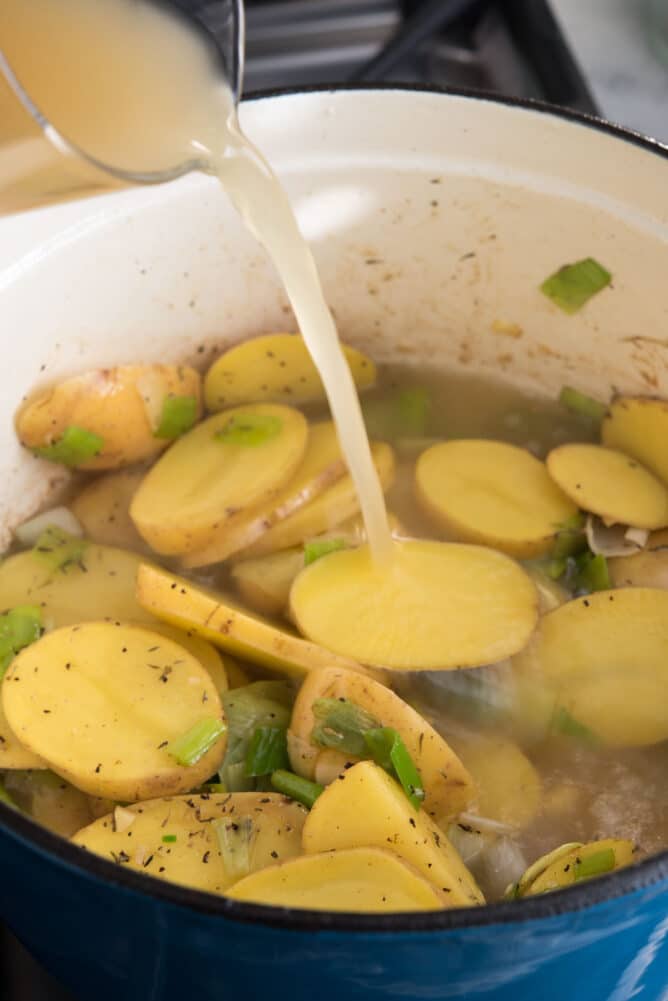 5. Once the potatoes are cooked, use an immersion blender to puree the soup in the pot. I like to chop the bacon and garnish each serving with it.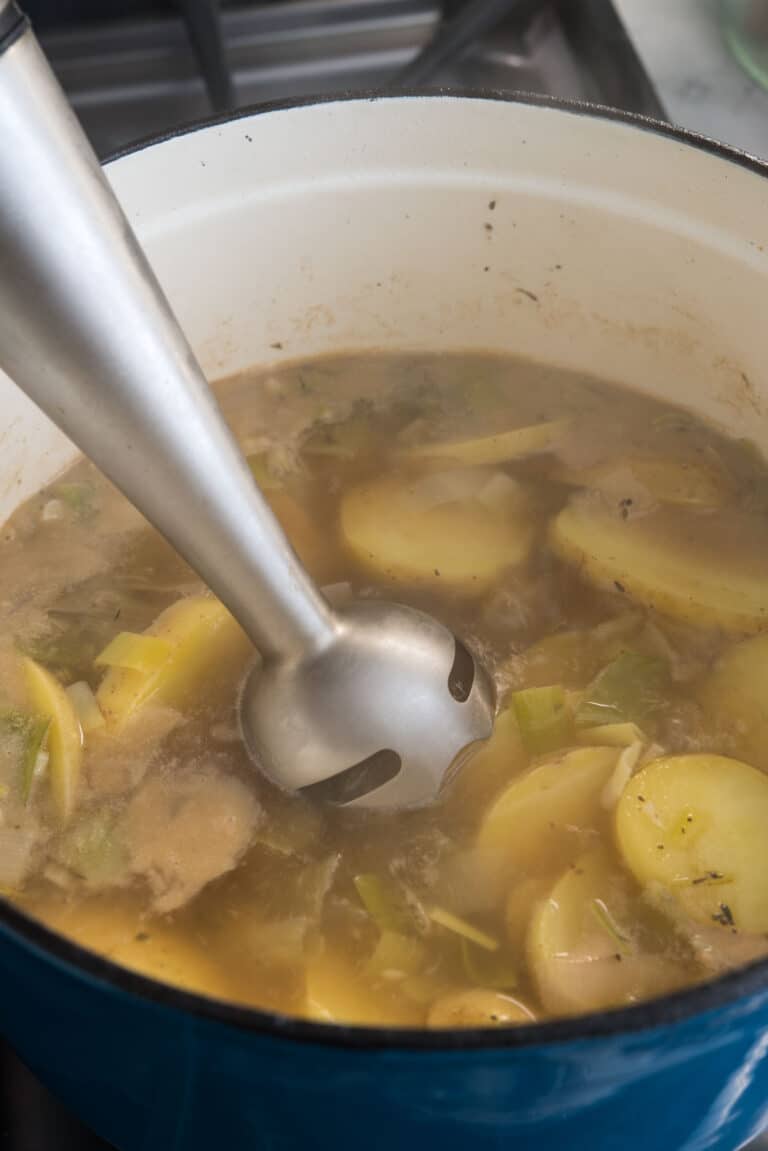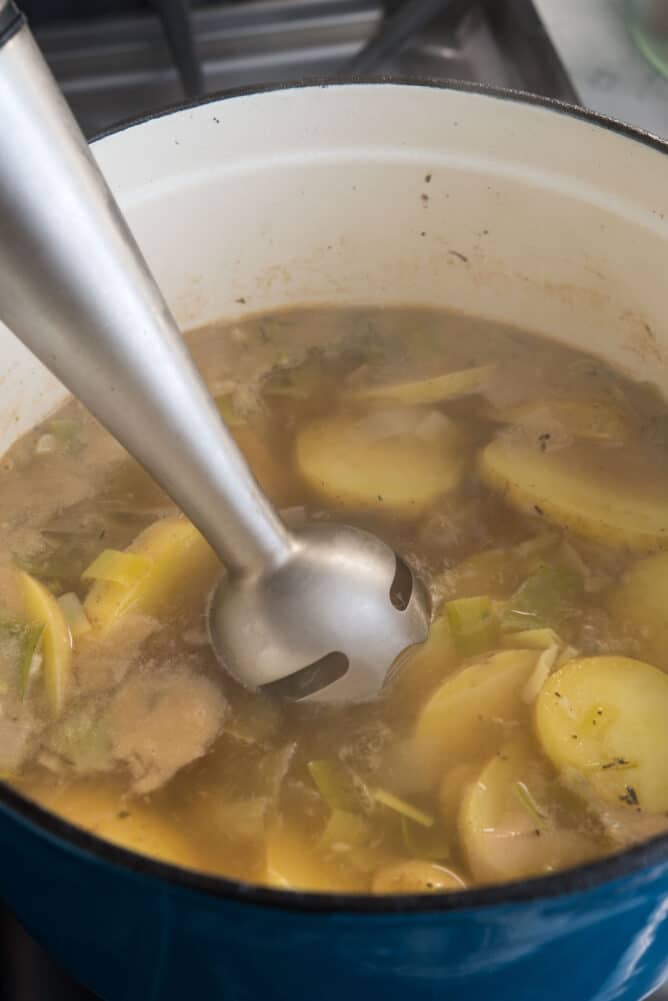 5. We also love leek and potato soup with sour cream! Add a dollop to each serving for a creamy, tangy finish.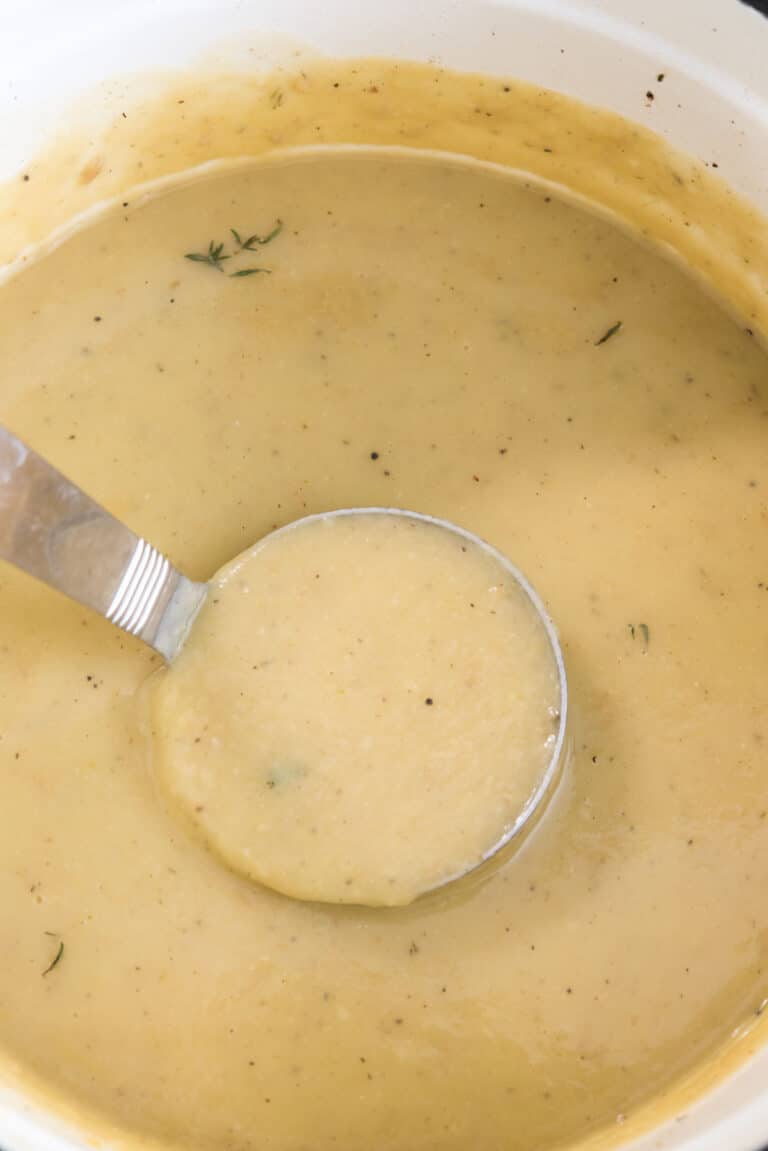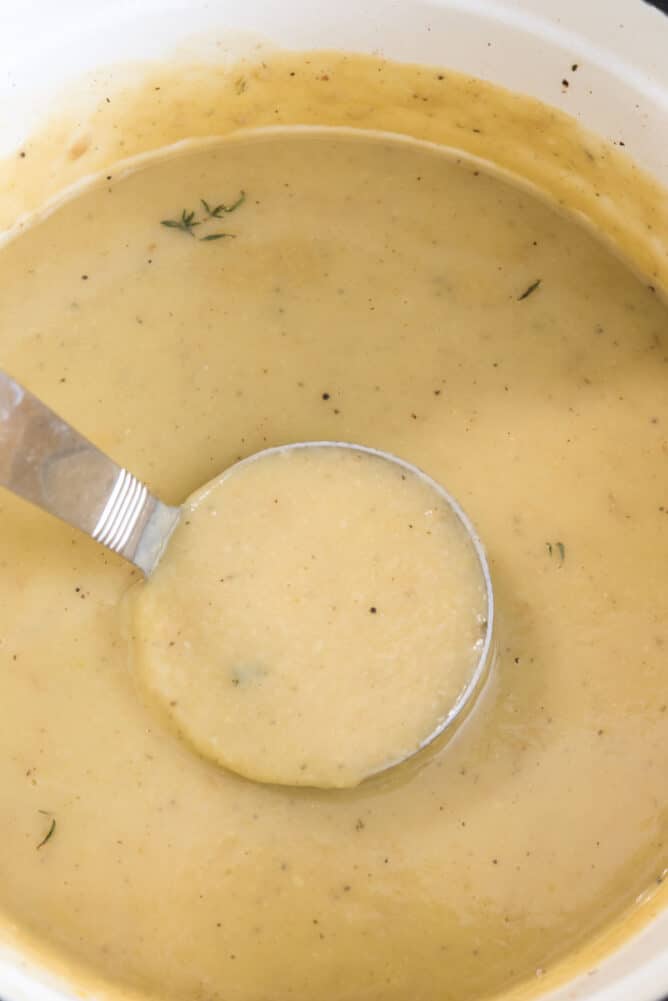 Expert Tips
I like to use chicken stock because it has a more concentrated flavor than broth. I highly recommend using a good quality chicken stock like Trader Joe's reduced-sodium chicken stock or the O Organics brand at Safeway. My last choice would be Swanson.
And speaking of stock, I prefer low-sodium, but if you use regular, be sure to reduce the amount of added salt in the recipe.
For the Gold potatoes, you can peel them or leave the peels on. I like to leave them on for added nutrition. If you use russets, I would peel them.
Flavor Variations: You can add different dried herbs or fresh ones like parsley, chives, or rosemary. You can also add some shredded cheddar cheese to make it cheesy!
Vegan or Vegetarian Soup: omit the bacon and use vegetable stock.
Do I have to use a blender?
If you don't have an immersion blender, you can blend the soup in a stand blender but blend in batches and leave space, so pressure doesn't build up in the blender. If you overfill the blender, the heat will build up pressure and cause a soup explosion.
If you don't have a blender, you can make leek and potato soup no blender recipe. Make it as instructed but instead of blending, use a potato masher to mash the potatoes in the soup. This will break down the leeks and potatoes – it will be chunky but delicious!
We love this quick leek soup on the thicker side, but you can thin it by adding more chicken stock.
Wondering how to make cream of potato and leek soup? You can add some heavy cream after you blend the soup!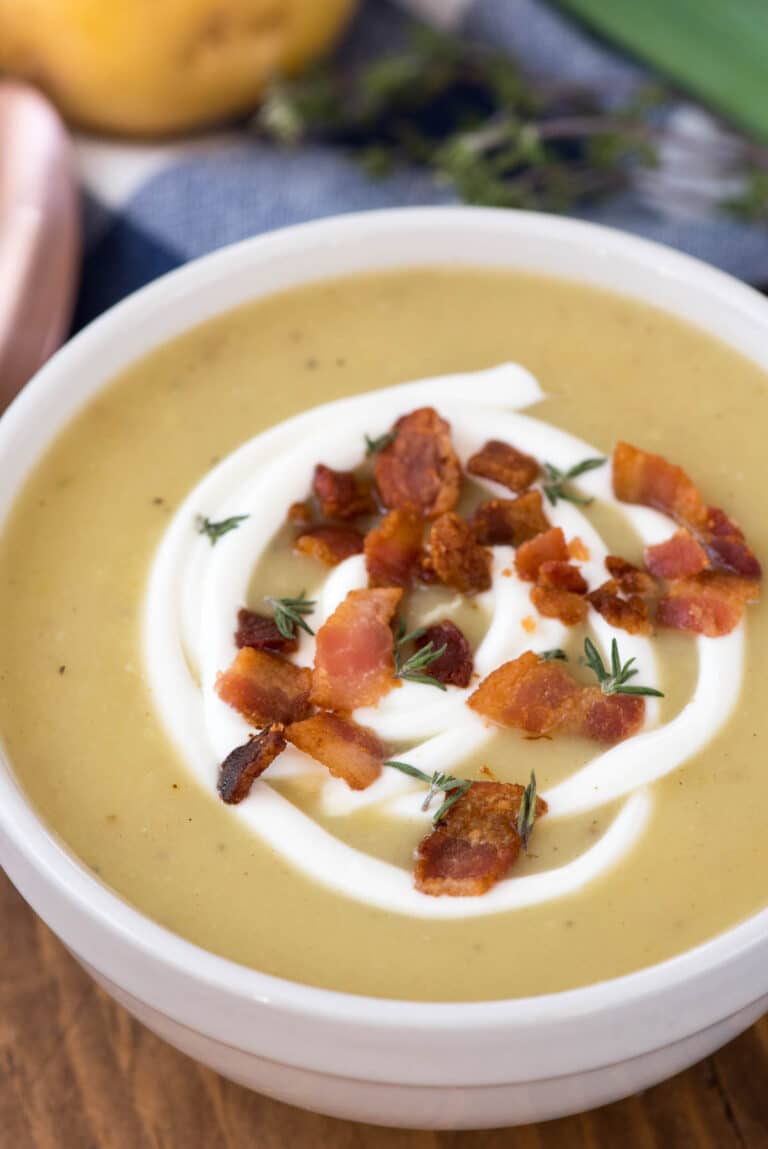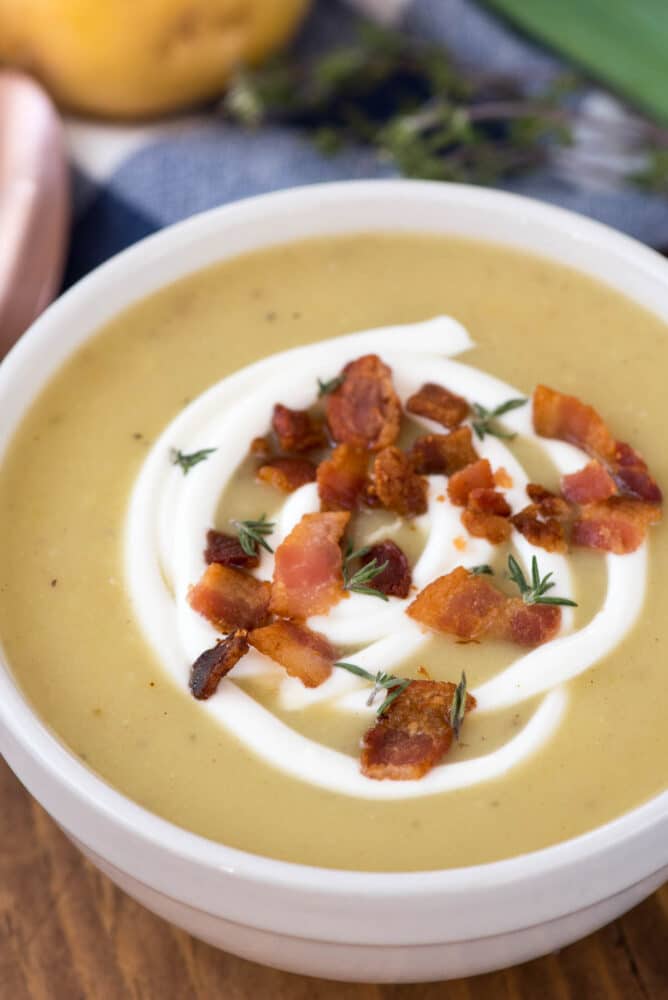 FAQ:
Do I have to peel potatoes for soup?
If you use potatoes with thin skins (like gold ones), you don't need to peel them. If you use russets or other kinds with thicker skins, you should peel them.
How do you freeze soup?
Cook the soup to room temperature and then ladle it into freezer containers. Leave space so the soup can expand while it freezes.
How long is potato leek soup good for?
It will keep in the refrigerator for three to four days. Or you can freeze it! As long as it's properly stored, potato and leek soup will keep in the freezer for up to six months.
How to reheat potato leek soup?
You can reheat it in the microwave or on the stove in a pot.
Can I make potato and leek soup vegan?
Yes, just omit the bacon and use vegetable stock instead of chicken broth.
What to Serve with Potato and Leek Soup
The only thing you need to go with your bowl of warm and cozy leek and potato soup is some bread to soak up all the deliciousness!
Potato leek soup: fast, delicious, and so comforting! You will LOVE the flavors – I mean, it has BACON! – and you'll love how easy this potato leek soup recipe is to make. Save for a cold and chilly day when you need a warm-up – you won't regret it!
Other Comforting Recipes
Have you made this recipe?
Tag @crazyforcrust on Instagram or hashtag it #crazyforcrust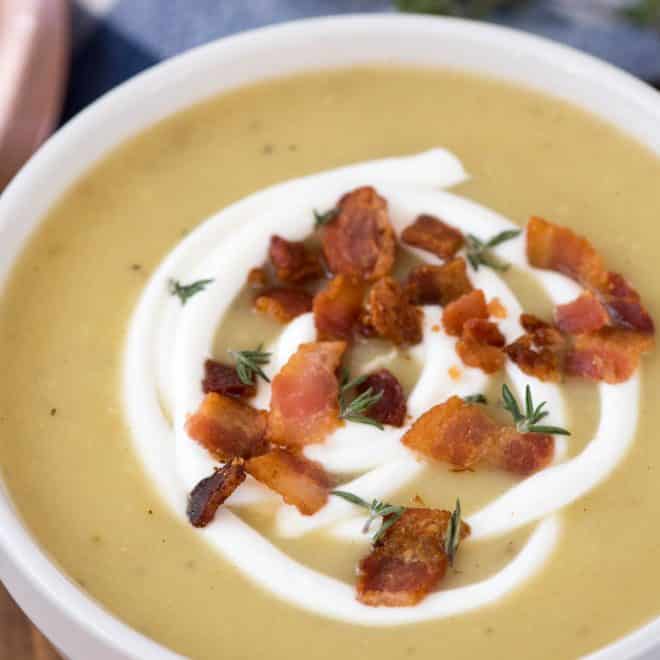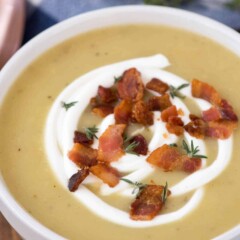 Easy Potato Leek Soup
This EASY Potato Leek Soup is made in just 30 minutes. It's a family favorite recipe we make multiple times a month! Potatoes and leeks are cooked with bacon to make the creamiest and most flavorful soup ever.
Ingredients
2

1" diameter leeks

3

slices

bacon

diced small

1-2

garlic cloves

chopped

6

small/medium Gold Potatoes

sliced (peeled or not peeled, your choice)

4

cups

low-sodium chicken

or vegetable stock

1

teaspoon

salt

plus more to taste

½

teaspoon

pepper

plus more to taste

½

teaspoon

dried thyme
Instructions
Heat a heavy bottom pot over medium heat. Cook your bacon until crispy. Set aside on paper towels to drain. Leave the bacon fat in the pot.

Meanwhile, slice and wash your leeks. Cut off the green tops and dice the remaining white portion. Soak in a bowl of water for a minute or two, allowing the dirt to sink to the bottom, then remove the leeks from the water.

Add your leaks to the pot, and cook until soft, about 3 minutes. Add the garlic and just saute until fragrant.

Add the potatoes to the pot with the leeks. Season with salt, pepper, and thyme and cook 2 minutes.

Add your stock, cover, and bring to a boil. Simmer until the potatoes are fork tender. Taste for seasoning – add more salt and pepper if needed.

If you are using a regular blender to puree, work in batches to blend your soup. NOTE: leave space in your blender for the heat to escape. Hot foods can explode in the blender if it's too full. If you have an immersion blender, use it in the pot. Blend until smooth. If the soup is too thick for your liking, you can add more stock or a bit of water to thin. (We like it thick.) Taste and adjust seasoning, if needed.

Serve with sour cream, crumbled bacon, and thyme.

Store leftovers in the refrigerator. Reheat leftovers with a bit of water to thin, as needed.
Recipe Nutrition
Serving:
1
/4 recipe
|
Calories:
284
kcal
|
Carbohydrates:
48
g
|
Protein:
13
g
|
Fat:
6
g
|
Saturated Fat:
2
g
|
Cholesterol:
13
mg
|
Sodium:
148
mg
|
Fiber:
3
g
|
Sugar:
7
g
Nutritional information not guaranteed to be accurate
Potato Leek Soup is silky smooth and such a warm comfort food. I use bacon in mine but you can make vegan or vegetarian potato soup with this same recipe!
Last Updated on March 4, 2022