This post may contain affiliate links. For more information, read my disclosure policy.
Candy stuffed into cookies is just plain good. When it's a Snickers stuffed into a peanut butter cookie? It's freaking amazing.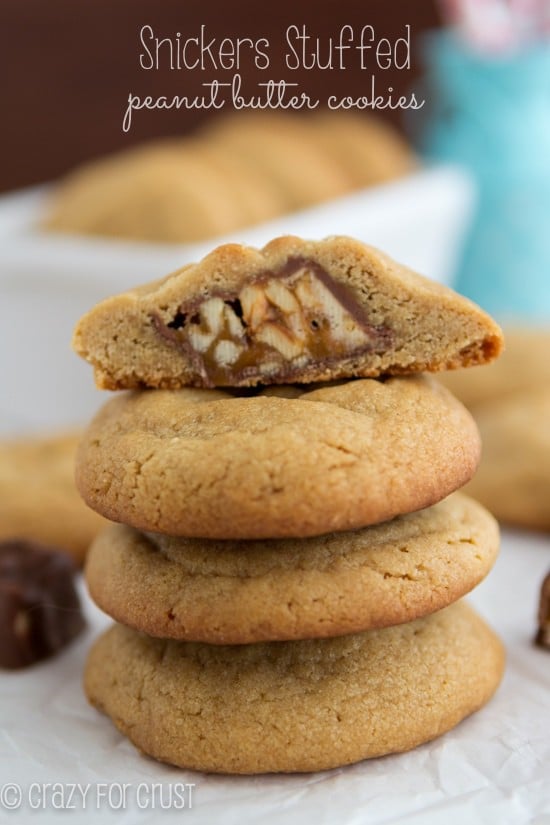 Is it me or is watching The View been reallllllly awkward lately? Every time Barbara is on (which is almost constantly it seems) I feel like I'm sitting at a family dinner where the kids get in trouble for every little thing.
Disagree with Barbara? Oh no you didn't!
Interrupt Barbara? God Forbid!
Call Barbara out for interrupting you? Mortal sin.
I've gotten to the point where I'm only hanging in there because she's leaving in a few months. It's really, really awkward to watch. Like a train wreck or that really awkward moment at a family dinner party when one person starts to criticize another at the table and you want to crawl underneath it and drink from your flask to get the night over with as soon as possible.
You know what else is awkward? When you instagram a photo of a stuffed peanut butter cookie before you eat it. Then you do eat it and you realize that brilliant idea! you had realllllly didn't translate to real life.
#awkward
But I'd promised a stuffed peanut butter cookie. Luckily I had some mini Snickers on hand. Mini Snickers stuffed in cookies can save any recipe!

These cookies are my favorite peanut butter cookie recipe. I've made them into ginormous Bakery Style cookies, I've made them into pie, and now I'm stuffing things inside them. Actually, I did that before, when I stuffed Rolos in them.
I like Snickers better than I like Rolos.
I think these are my favorite stuffed cookies of all time.
I mean, it's a peanut butter cookie + a Snickers. How could it not be amazing?
Just a few notes about this recipe:
I love Skippy Naturals, so that's the peanut butter I use to make all my cookies. You're safe using a regular peanut butter too, or a chunky one.
As usual, I like to

chill the cookie dough

before baking it. It ensures they'll stay fluffy and not flat.
Make sure your Mini Snickers is

completely enclosed in your cookie dough ball

. Otherwise, if there are any cracks in the candy, the caramel can leak out. That's also why you should err on the side of a little underdone. The longer you bake them, the more chance that the Snickers will spill out.

Let's talk candy sizes.

Snickers has several sizes: full candy bars, fun sized, mini, and bites . I used the mini candy bars for these cookies: they're smaller than a fun size and they are square in shape, and come individually wrapped. You could also use Snickers Bites for these cookies. I don't recommend cutting fun sized or large candy bars up because you'll have more of a chance of caramel spillage.
You need these cookies. Like, STAT.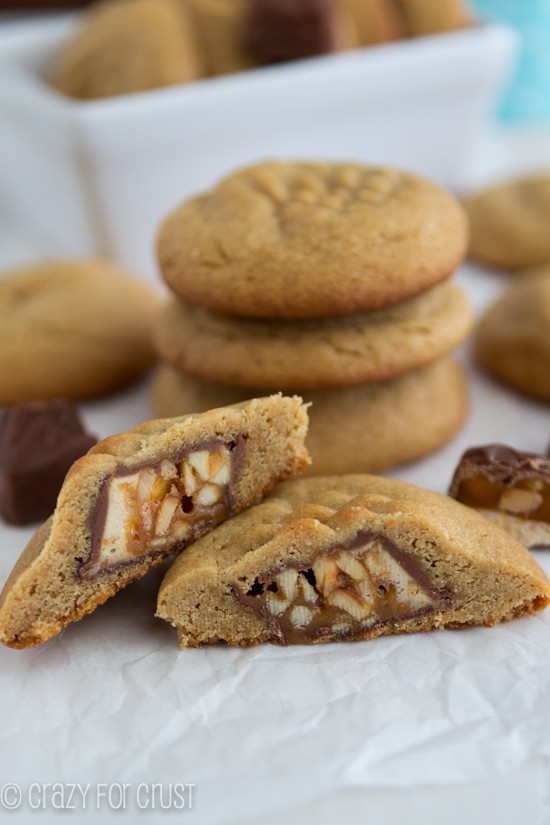 They're way less awkward than daytime TV, I promise!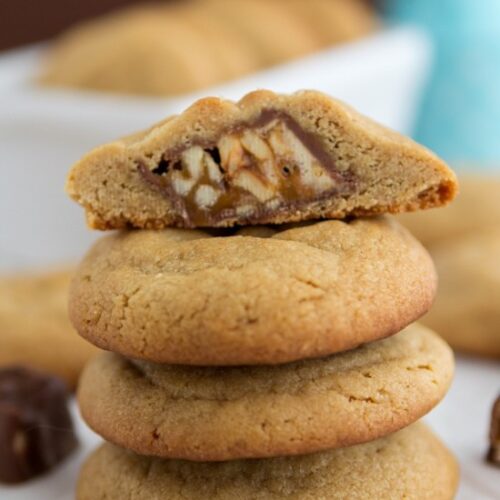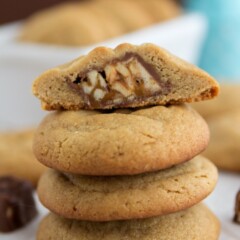 Snickers Stuffed Peanut Butter Cookies
Ingredients
1/2

cup

butter

softened

3/4

cup

peanut butter

3/4

cup

packed brown sugar

1/4

cup

granulated sugar

1

large egg

1

teaspoon

vanilla

1

tablespoon

milk

1/4

teaspoon

salt

1/2

teaspoon

baking soda

1 1/2

cups

flour

About 22 Snickers Minis

unwrapped
Instructions
Cream butter, peanut butter, and both sugars in the bowl of an electric mixer fitted with the paddle attachment. Add egg, vanilla, milk, and salt and baking soda. Mix until combined. Slowly add flour and mix until dough comes together. Chill your dough for at least 30 minutes.

Preheat oven to 350°F. Line 2 cookie sheets with parchment or silpat baking mats.

Scoop 2 tablespoon sized balls of dough. Press each one flat in the palm of your hand, place a Snickers Mini in the center and wrap the dough around it, rolling to form a ball. Place on cookie sheet 2" apart. Use a fork to make a small criss-cross pattern on the top. They won't flatten because of the Snickers, but they'll have the pattern.

Bake for 13-16 minutes, until they just begin to brown. Cool completely and remove from cookie sheets.

Store in an airtight container for up to 3 days. They can be frozen in sealable containers or ziploc bags between layers of paper towels for up to one month.
Nutritional information not guaranteed to be accurate
Click here to see more PEANUT BUTTER recipes!
Easy Dark Chocolate Peanut Butter Cookies
Toffee Pretzel Peanut Butter Cookies
Sweets from friends:
Peanut Butter Fudge Cookie Dough Bites by Bake Your Day
Chocolate Peanut Butter Lofthouse Cookie Stacks by Bakeaholic Mama
Peanut Butterfinger Blossoms by Something Swanky
Last Updated on June 8, 2020