This post may contain affiliate links. For more information, read my disclosure policy.
Mini Snickers Cheesecakes – easy cheesecakes made in a muffin pan with Oreo crust and a mini Snickers filling!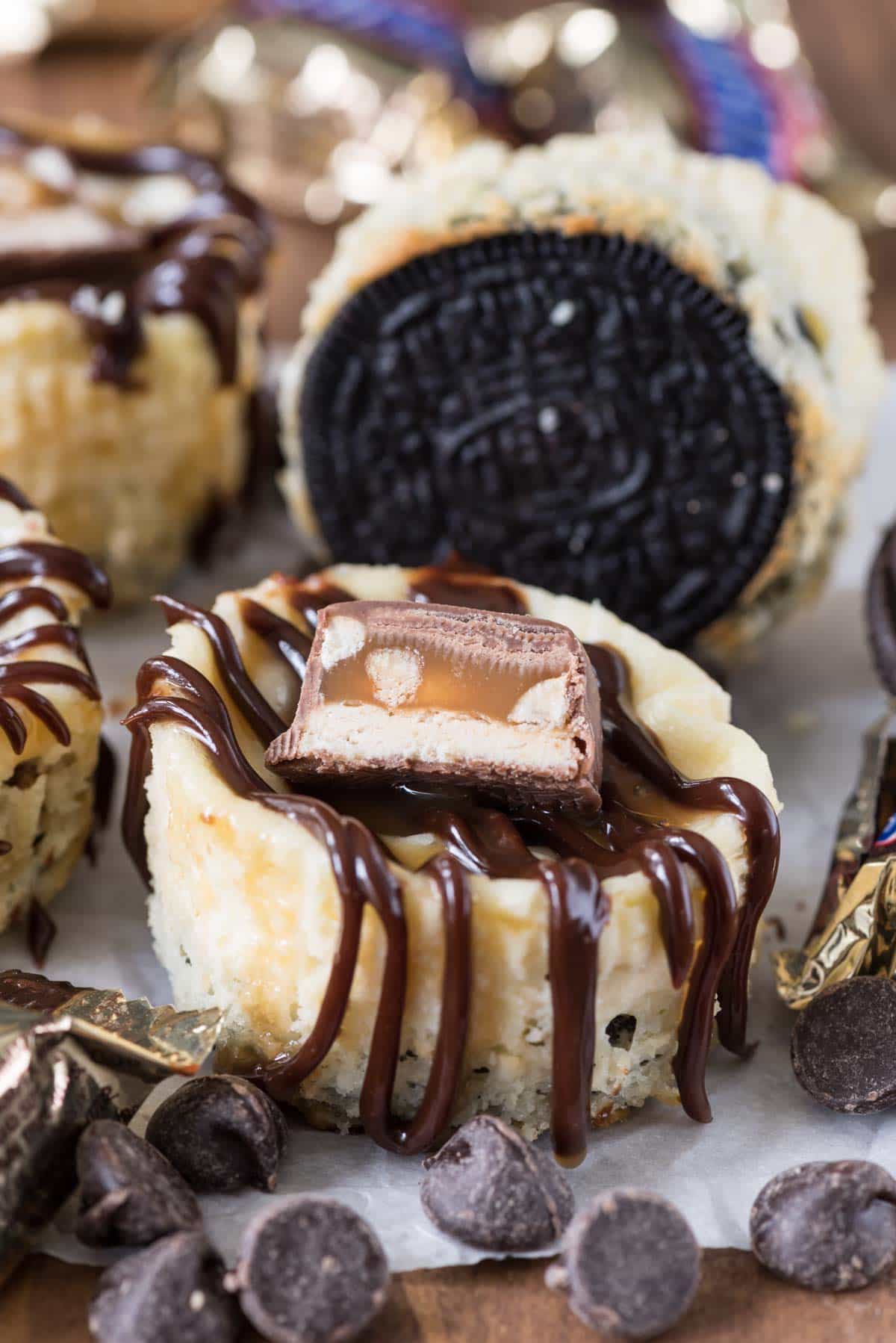 Jordan is at science camp this week. She's an hour away, staying in a cabin, with the entire 6th grade class. It's pretty cool actually, because the camp is actually an accredited school, run by teachers. They get to hike and stargaze and hold a snake. They have partners that they bunk with and a pretty rigorous schedule, and they even have to help prepare meals one of the days. They also have to share a bathroom, shower in front of their friends (with a curtain) and can't talk to us the entire time.
I'm not sure who is panicking more, me or Jordan. I mean, she's been gone that long before. I've been on business trips or she's gone to visit cousins without us, so it's not like we've never been apart. But the fact that we can't talk? That she can't just text me? That I had to write 5 letters to her and mail them ahead of time and that's the only communication we get? OMG.
When we went to the parent information night the guy was all, "Can you believe that some kids have never done this? Never camped out in the wilderness and hiked and looked at starts?"
I sheepishly hid myself and all my friends laughed at me. I don't camp, I require a hotel, preferably with a bar and room service. And two years ago we were driving home after an event and Jordan actually said to me, "MOM! The Target sign LIGHTS UP?!"
So yeah…this will be an experience for her…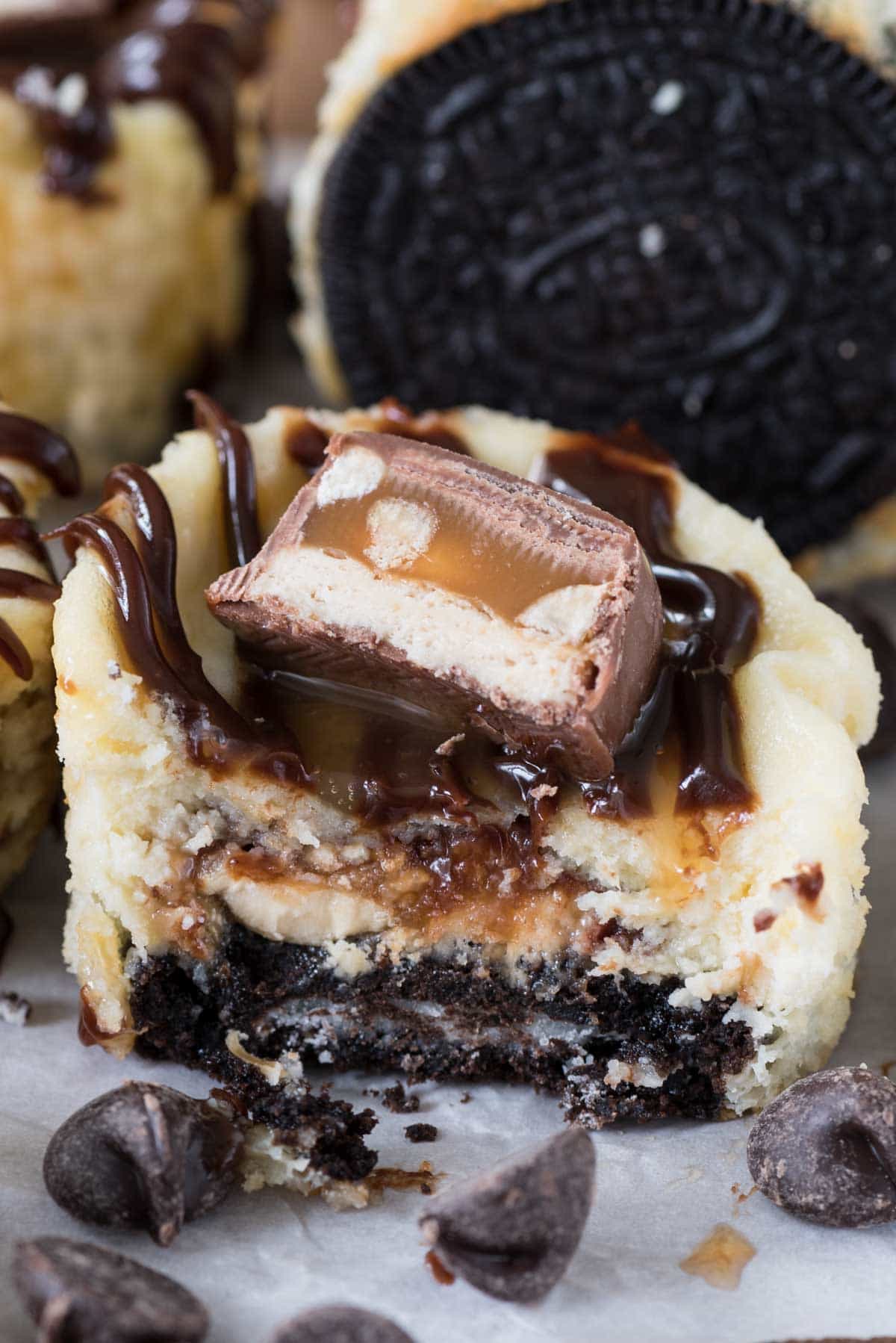 In the meantime, while she's gone, I'm baking up a storm and working like a madwoman. First up, Mini Snickers Cheesecakes. I love a mini cheesecake, don't you? They're the best. As much as I love traditional cheesecakes, the minis are just so much easier. This recipe makes 12 perfect cheesecakes, which make them great for a party or when you just want a little cheesecake. You can even freeze the leftovers!
I turned these into Snickers cheesecakes because we LOVE Snickers. They have an Oreo crust – I just popped an Oreo into each muffin cup. No need to crush or mix with butter. They fit perfectly and form their own crust.
The cheesecake is an easy mixture of cream cheese, sour cream, sugar, egg, and vanilla. Before I topped the crusts with the mixture I added a mini Snickers. You can use the little square ones or cut a fun size one in half. Then you bake and top them with caramel, hot fudge, and MORE Snickers before serving.
Snickers overload…but that's not a bad thing.

These can help you get through a week without your kid. So can a trip to Napa (hey, what can I say, #onlychildperks). And I won't be camping! 😉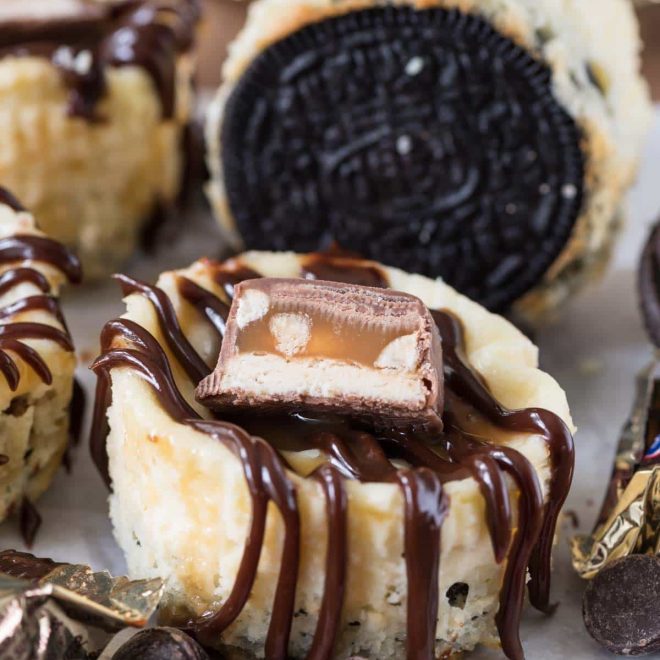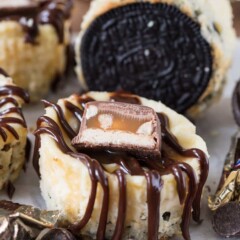 Mini Snickers Cheesecakes
Mini Snickers Cheesecakes - easy cheesecakes made in a muffin pan with Oreo crust and a mini Snickers filling!
Ingredients
12

Oreos

18

Snickers Minis

divided

8

ounces

cream cheese

softened

1/4

cup

sour cream

room temperature

1

egg

room temperature

1/4

cup

granulated sugar

1

teaspoon

vanilla extract

Hot fudge and caramel sauce

for topping
Instructions
Preheat oven to 350°F. Line a 12-cavity muffin pan with liners.

Place one cookie in the bottom of each liner. Unwrap and place one mini on top of each cookie. Reserve the remaining 6 minis for topping.

Beat room temperature cream cheese with a hand mixer until fluffy. Beat in room temperature sour cream. Beat in egg, sugar, and vanilla extract. (Room temperature ingredients are a must to avoid lumps!)

Evenly divide (about 2-2 1/2 tablespoons each) cheesecake among crusts. Bake for 18-20 minutes, until they just begin to brown. Cool completely and refrigerate for at least 3 hours or overnight.

Serve with a topping hot fudge and caramel and half of a Snickers mini. Store the cheesecakes in the refrigerator for up to 3 days or freeze for up to 1 month.
Nutritional information not guaranteed to be accurate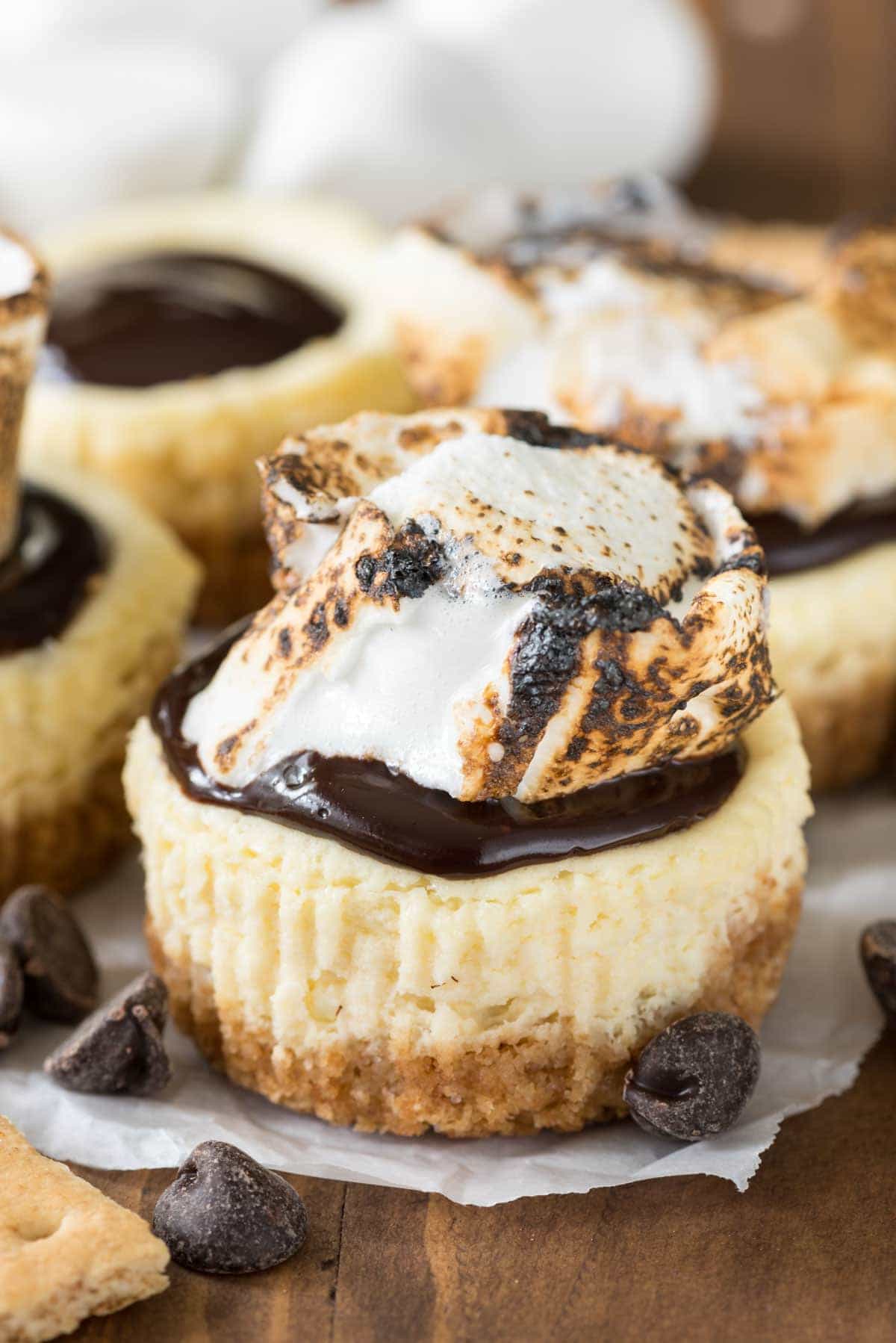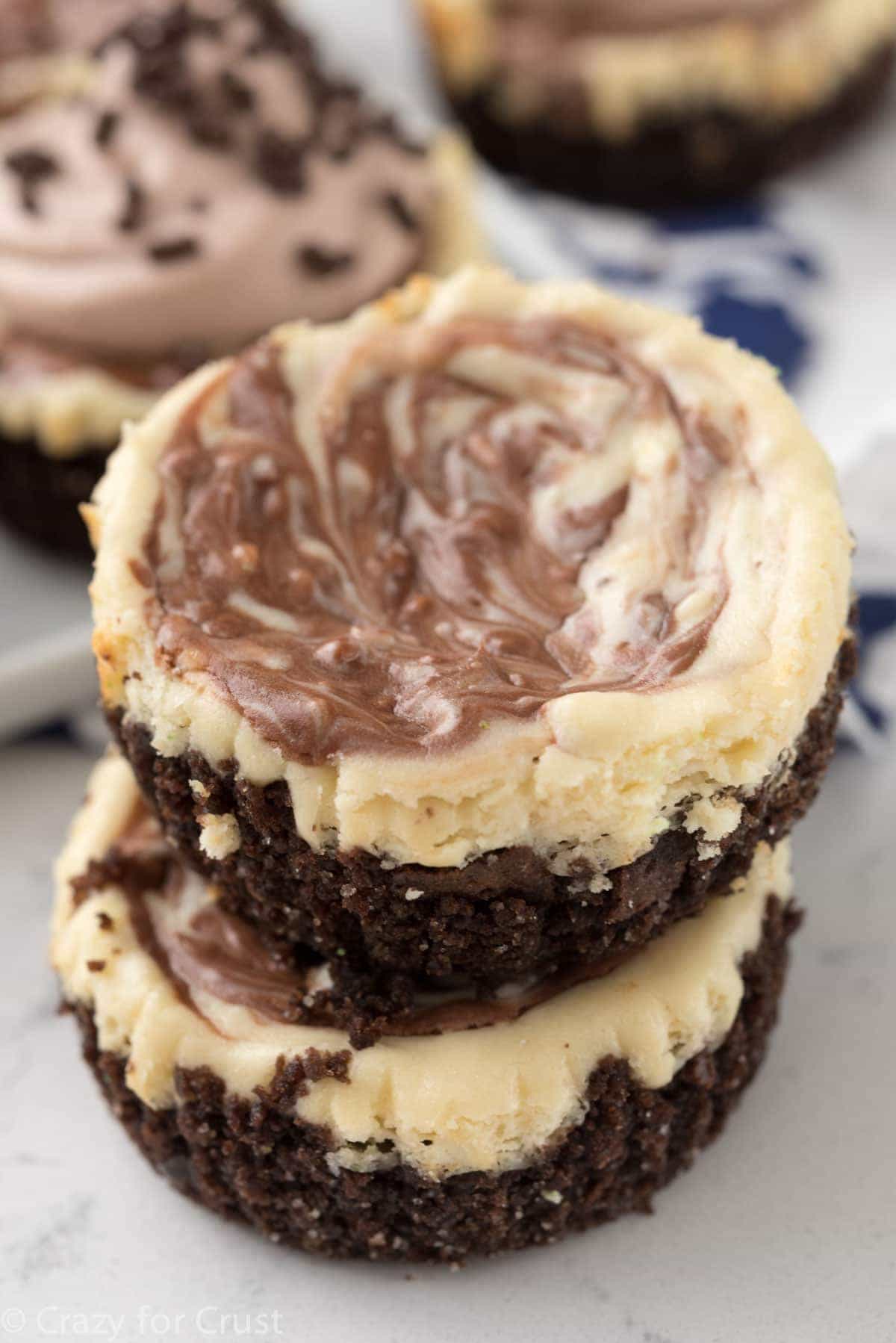 Mini Turtle Pumpkin Cheesecakes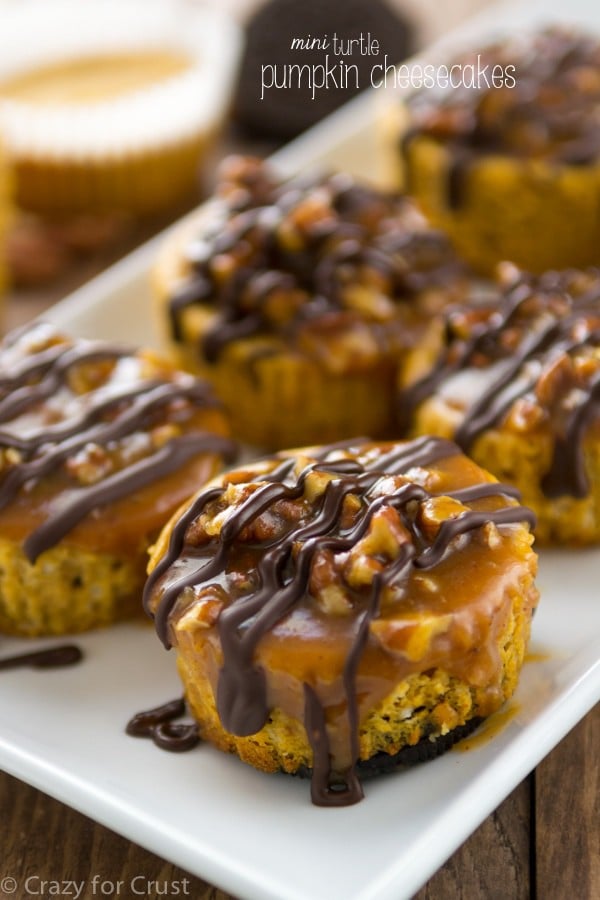 Sweets from friends:
Lime Mini Cheesecakes by Baking a Moment
Mini Cheesecakes by Spend with Pennies
Peanut Butter Chocolate Mini Cheesecakes by Gimme Some Oven
Last Updated on August 21, 2018