This post may contain affiliate links. For more information, read my disclosure policy.
Have I tempted you enough with peanut butter and carbs this week? In case you're mad at me for those recipes, this one is a little better for you: Skinny Sugar Free Kettle Corn. Just a few easy ingredients and it's the perfect lower calorie snack!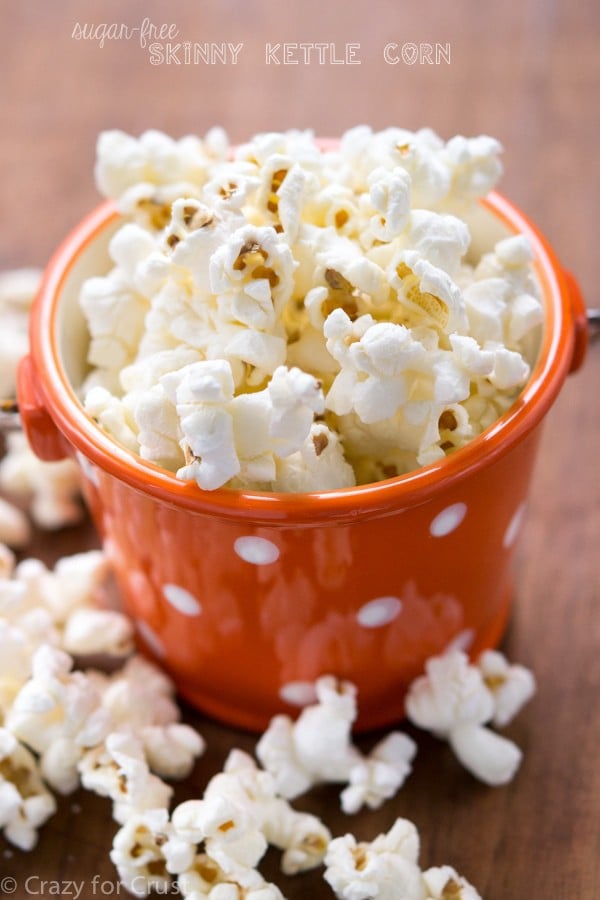 Snacks derail my healthy eating. Am I the only one? I'm good at breakfast, I eat healthy after my workout, and I get a good lunch. Then I do one of two things:
1. I skip my afternoon snack because I'm too busy or not very hungry, but by dinner I'm ready to eat my arm so I eat two helpings and then a plate of cookies. Or,
2. When it comes to snack time pretzels or a handful of almonds doesn't sound good, so I eat a bag of Chex Mix.
Neither of those two options is very helpful when I'm counting calories. This Sugar-Free Kettle Corn? Luckily, it is very helpful.
Healthier, lower calorie snack? Check. Kills my sweet tooth? Check.
This recipe is so good, and so easy, it's almost not even a recipe. But often non-recipes are the best kinds.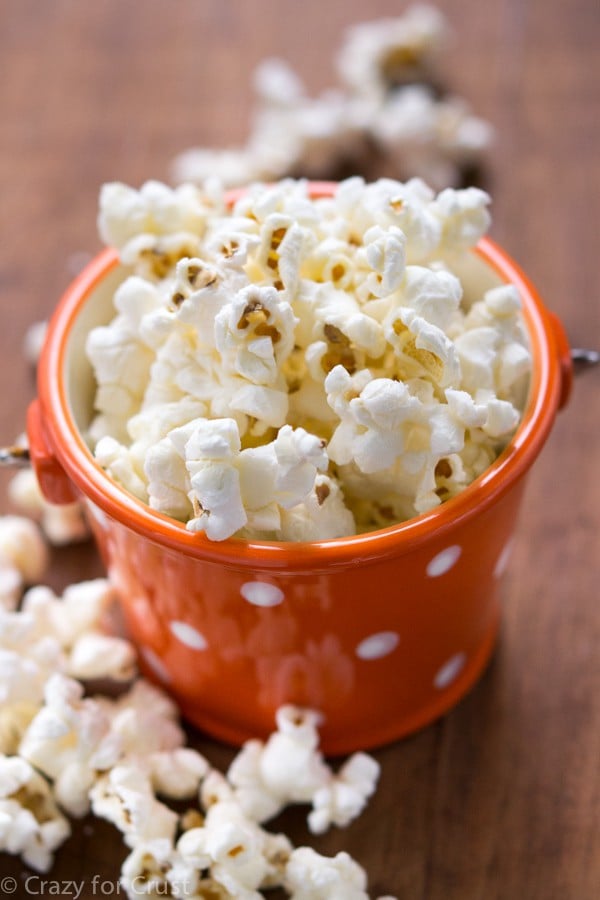 Like I said, this recipe is so easy it's almost not even a recipe. How did I make my popcorn skinny and sugar-free? Well, it's cheater kettle corn. There's no cooking involved, unless you count popping corn as cooking. You simply sprinkle popcorn with Splenda. Then it tastes sweet and salty, like the real deal.
Amazing, right??
I know some people out there are anti-Splenda. Let's just put this out there: I'm not. I use a packet in my coffee every day. So…I'm pro-sweetener, and Splenda is the only one I've tasted that, when used lightly, doesn't make me taste chemicals. But you can use your favorite brand if you prefer a different one.
Let's talk popcorn for a minute. You have two choices for popcorn:
1. Pop fresh. This is, obviously, the most healthy method. You're just getting popcorn, no additives. There are several ways to pop corn, but I suggest an air popper. They're inexpensive and you don't have to babysit your popcorn. Every time I try and make popcorn in a pot my house ends up smelling like burned popcorn for days. So…I use the air popper.
If you're using freshly popped popcorn, you'll want to add some melted coconut oil, butter, or butter spread and salt along with the splenda. Otherwise the popcorn is dry and not very appetizing.
2. Use microwave popcorn. Now, I know there are those out there that think microwave popcorn is the devil. I love the stuff and I'm not afraid to shout it from the rooftops. Microwave popcorn is up there with my love of Cool Whip. However, if you're using microwave popcorn be sure to buy the 99% or 95% fat-free, less butter, or the 100 calorie packs. Otherwise the popcorn is not skinny at all.
If you're using microwave popcorn, there is no need to add salt or melted butter. Just sprinkle with splenda.
Pretty much this is the easiest snack out there. It satisfies your salty, sweet, and crunchy cravings. And it saves up your WW points and calories so you can eat two of these.

And that? Is totally worth it.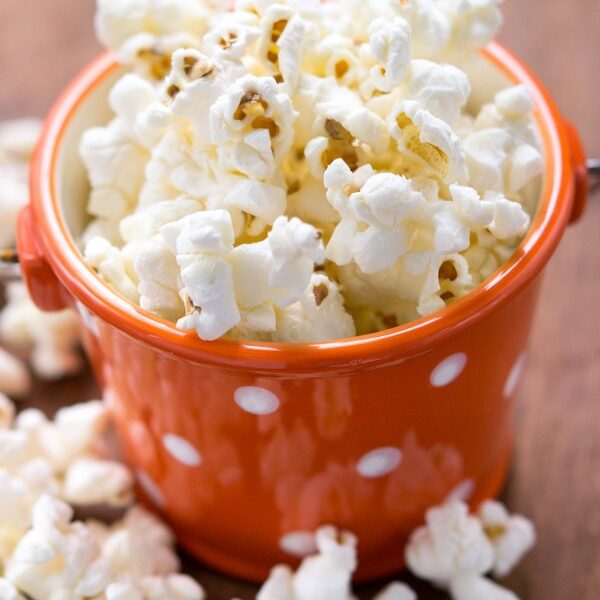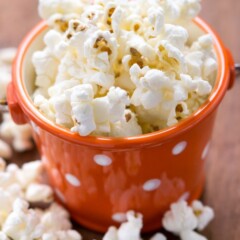 Skinny Sugar Free Kettle Corn
Just 2 or 3 ingredients and a few minutes gives you sugar-free kettle corn that's totally calorie and diet friendly!
Ingredients
2

cups

popped popcorn

see instructions for details

2

teaspoons

liquid coconut oil or melted butter spread

omit if using microwave popcorn

Salt

to taste (omit if using microwave popcorn)

1/2 to 1

packet splenda

to taste (or an equal amount of your favorite sweetener)
Instructions
You can use any method of popping popcorn for this recipe. My favorite way is air-popping, since it has no added oil or butter. You can also use microwave popcorn, but I suggest buying reduced fat, less butter, or the 100 calorie bags (regular microwave popcorn is NOT skinny).

Measure out 2 cups of popcorn and make sure you pick out any kernels.

Toss with melted coconut oil or butter spread (if you're using air-popped or freshly popped popcorn). Omit this step if you're using microwave popcorn that has butter flavoring.

Sprinkle abut 1/2 to 1 packet of splenda over your popcorn, to taste. You can also use your favorite sweetener in place of the splenda.

Eat it all, it's okay. It's not too bad for you!
Nutritional information not guaranteed to be accurate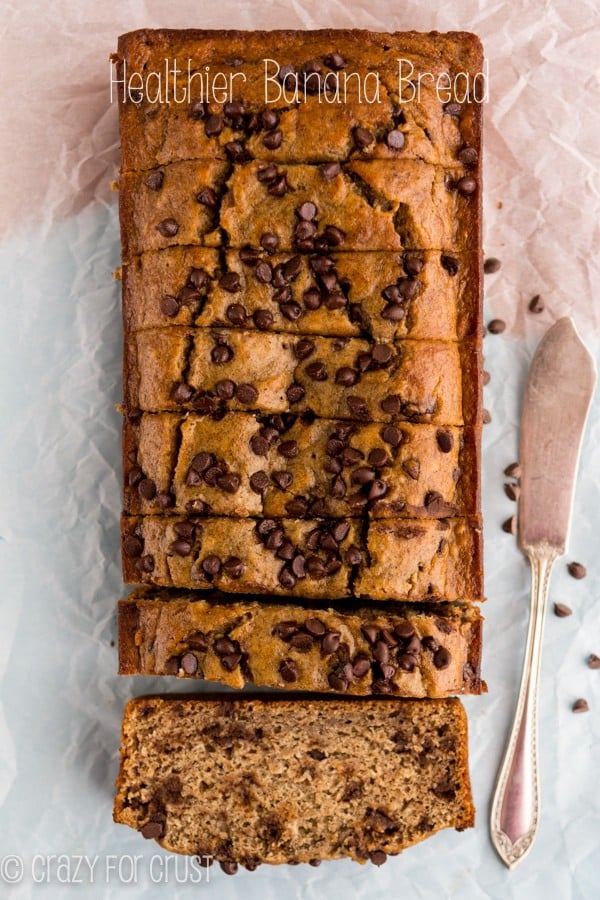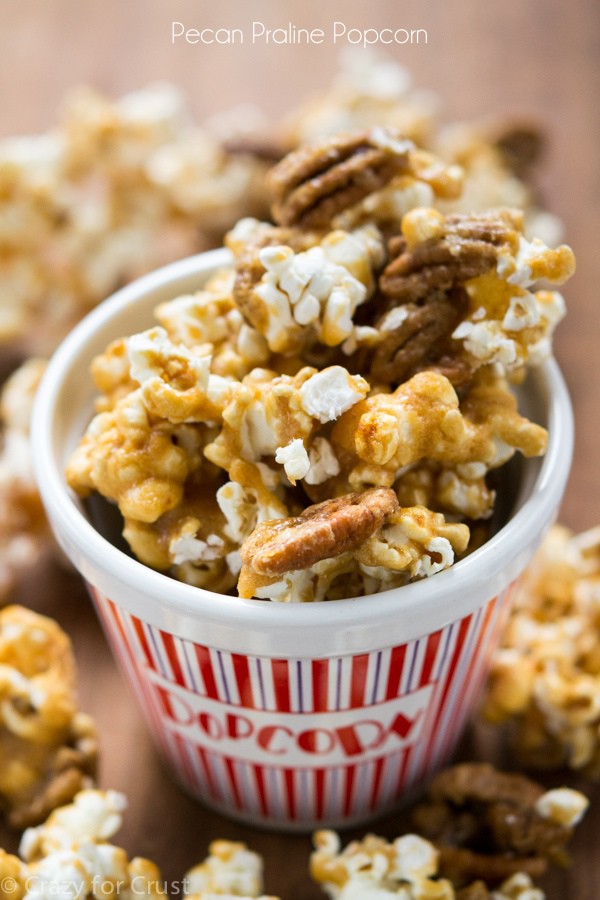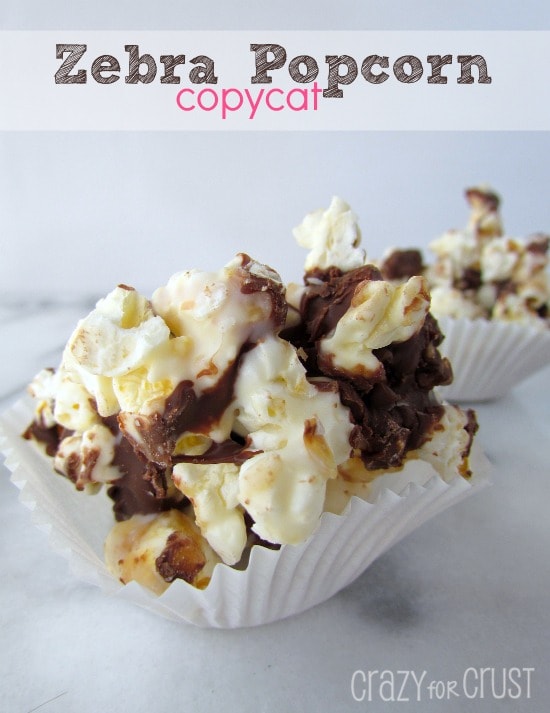 Sweets from friends:
3 ingredient chocolate popcorn bark by Sugar-Free Mom
Healthy Caramel Corn by Lauren's Latest
Cilantro Lime Popcorn by Bake Your Day
Last Updated on April 30, 2023