This post may contain affiliate links. For more information, read my disclosure policy.
I made Easy Pretzel Buns out of frozen dinner rolls. No flour, no mixer, no mess. Just a few hours of rising time and you get pretzel rolls for any meal! These easy pretzel rolls are boiled and baked and taste just like a soft pretzel – with a fraction of the work.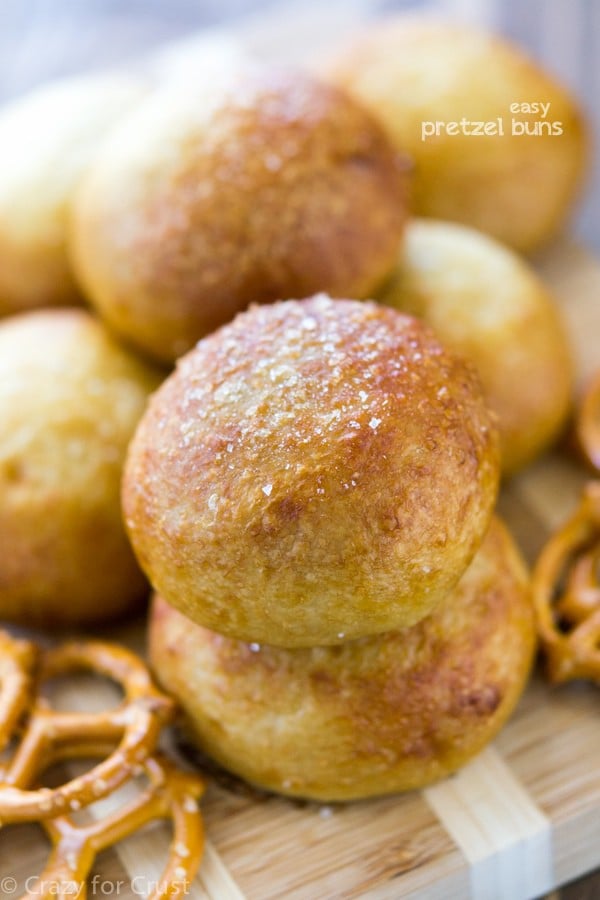 Quick, name one kind of bread you cannotstopeating. For me? Soft Pretzels. I can't even buy them or make them without eating the whole batch, which is why this recipe is probably going to be my curse. They sell pretzel rolls and pretzel sticks at most grocery stores these day and I cannot buy them. The worst is when I go to Costco and have to walk very quickly by the bread aisle lest I buy a Costco-sized bag of pretzel sticks or bites. It's ONE SERVING, if you ask me!
Basically, I'm obsessed with soft pretzels. (I love them so much I've even made them out of cake mix. Twice.)
I made pretzel buns a long time ago, from a Guy Fieri recipe. They were good, but they took such a long time. Mix the dough, let it rise. Punch it down, let it rise. Cut it up, let it rise. Boil, bake. OhmigoshIjustwanttoeatonerightnow!
These? Are not those pretzel rolls. These? Are easy. Like, no mixing. No flour. No mess. I started this recipe with frozen dinner rolls. They're the perfect dinner side dish or rolls for sandwiches!
RIGHT? I'm a genius. (Probably not, I didn't google. I like to think I came up with the idea. Especially since I did these easy pretzel bites awhile back.)
The fact that these require literally no work could be a good thing…or a bad thing. I don't know, are you dieting?
Easy Pretzel Rolls start with frozen dinner rolls. Boil them in baking soda and bake them and they turn into pretzel rolls!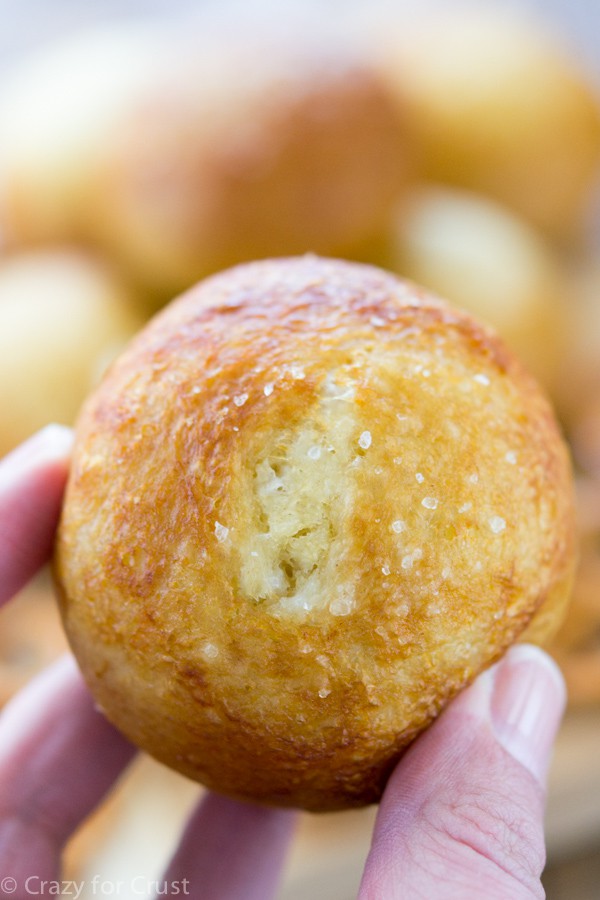 Really, it's that easy. No mixing, no yeast, no mess!
What makes pretzel bread different than other rolls?
Pretzels, like bagels, are boiled before baking. That's what gives them their chewier texture versus regular bread or rolls. The difference between pretzels and bagels is that pretzels are boiled in a baking soda bath instead of plain boiling water. You can skip the boiling and the baking soda, but then you won't have pretzel rolls. The acidity in the baking soda works magic and creates the pretzel!
Baking soda gives soft pretzels their brown, shiny crust and their distinctive pretzel flavor.
Don't skip the baking soda – because you won't get pretzels if you don't. Really, it's simple: you just boil water and add baking soda, then boil the rolls a minute or so before baking. It's a little added time but worth it.
What are pretzel buns made of?
Traditionally, homemade pretzel rolls are a yeast bread dough, made with flour and water, yeast, salt and oil. However, these pretzel buns are made of one ingredient: frozen dinner rolls.
I started with Rhode's Dinner Rolls (but you can use ANY frozen roll brand). I always have some brand of frozen rolls in my freezer because I like to make monkey bread with them and serve them for dinner occasionally. They come frozen individually, so you can grab 1 or 9 or 12 or whatever you need.
Since the rolls are frozen, you need to let them thaw and rise a little bit. Place them in a pan (like a 9×13″) that's been sprayed with cooking spray. Spread them out so they won't stick to each other, cover and let them sit for a few hours until they've thawed and then doubled in size. Now, if it's winter and your house is cold, this might take longer. I find that they rise quicker if I place the pan on a preheated oven. The heat comes off the oven and helps the yeast do it's magic.
You don't want these to get so huge that they collapse when you touch them. Just about double in size is perfect, err on the side of smaller. I made these the first time with just thawed not risen rolls and they worked fine, but they were just small.
Can you use refrigerated dinner rolls instead of frozen?
YES you can!! I've also done this same exact method using Pillsbury canned dinner rolls and crescent rolls. Check out my easy pretzel bites recipe!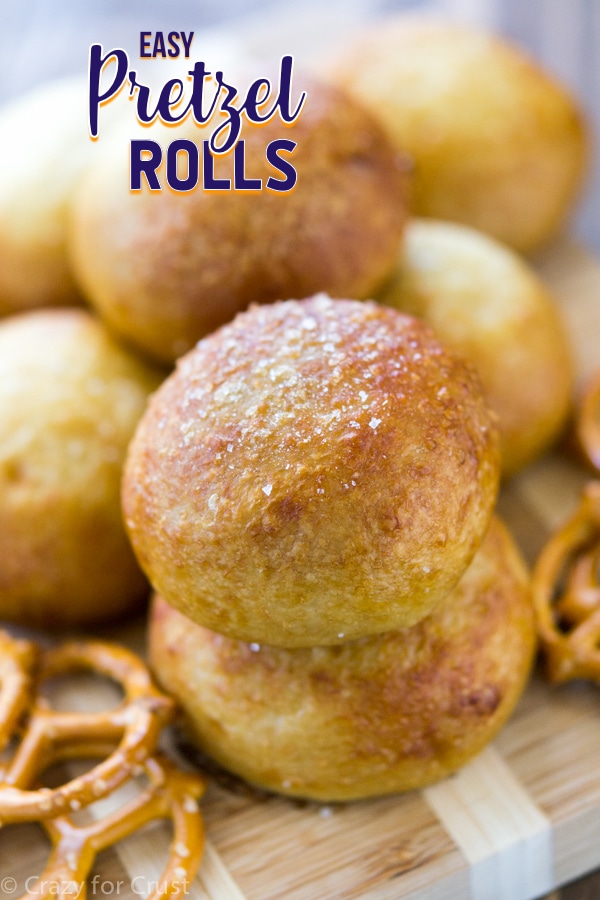 How do you boil pretzels?
It's really simple and just takes a few extra minutes.
Bring a large pot of water to boil.
Add the baking soda – be careful it'll boil over if the water in the pot is too full.
Boil the roll on each side about one minute, then remove to an oiled cookie sheet.
Dust with salt and bake!
How to eat pretzel buns:
(And, really, if you're asking me that, I don't know if we can be friends anymore.)
Dinner rolls that are pretzels – wow your kids.
Lunch sandwiches – they're perfect for lunch boxes.
Dip them in soup.
Dip them in cheese. It is Super Bowl season, after all.
Eat them plain, hidden in a closet, because you're supposed to be dieting.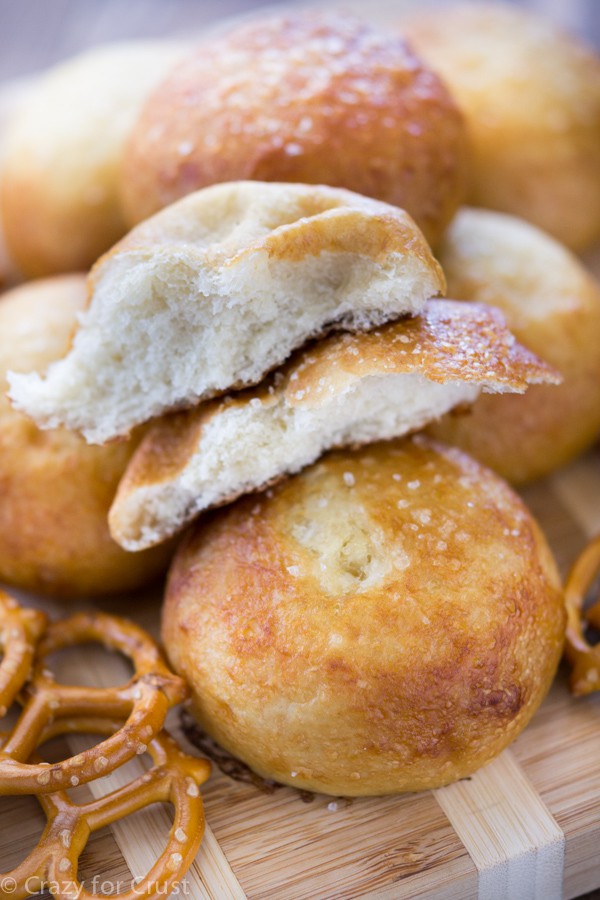 Other pretzel roll recipes that you'll want to try:
Want even more? Subscribe to Crazy for Crust to get new recipes and a newsletter delivered to your inbox. And stay in touch on Facebook, Pinterest, Twitter, and Instagram for all my latest updates. If you make this recipe, share a photo on social media tagging @crazyforcrust and using the hashtag #crazyforcrust.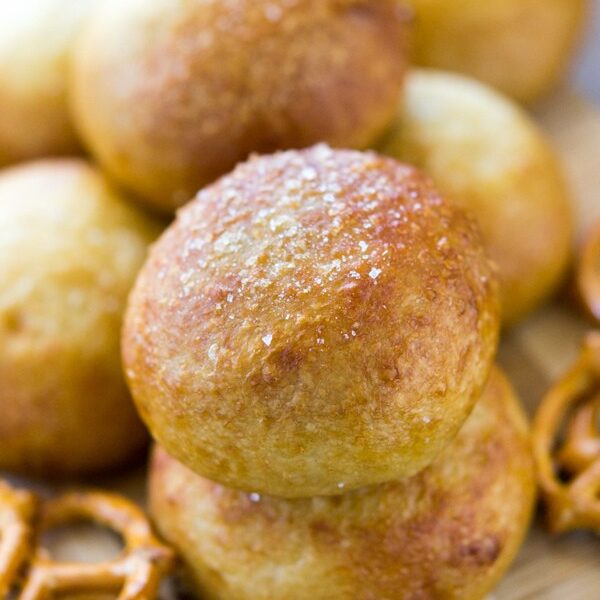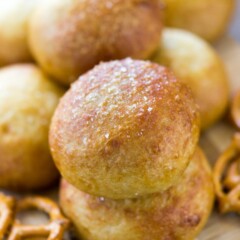 Easy Pretzel Rolls
These Easy Pretzel Rolls make the best dinner rolls or buns for sandwiches - they start with frozen or refrigerated dinner rolls so they're easy and fast to make!
Total Time
5
hours
15
minutes
Ingredients
Using frozen dinner rolls:
12

frozen dinner rolls

such as Rhodes (you can make more or less)

1/2

cup

baking soda

1

tablespoon

butter

melted

Coarse pretzel sea, or kosher salt
Using refrigerated dinner rolls
1

can

Grands! Biscuits

not flakey

1/2

cup

baking soda

1

tablespoon

butter

melted

Coarse pretzel sea, or kosher salt
Instructions
For frozen dinner rolls:
Plan ahead. Even though these are "easy" they still require rising time.

Note that different brands of frozen rolls might have different thaw/rise times. Check the back of your package; the Rhodes ones I use say to let sit for 3-5 hours before baking.

Place your frozen rolls evenly spaced in a 9x13" pan. (Make sure they have space to grow but won't touch each other.) Cover with plastic wrap and let sit until thawed and just under doubled in size. This will take about 3-5 hours, depending on how warm it is. I find that turning on the oven and leaving the pan on top will reduce the rising time significantly. Try not to let them puff too much or they will collapse when boiling. Just under double is perfect. Continue below.
For refrigerated dinner rolls:
Instructions for boiling and baking:
Preheat the oven to 400°F. Line a baking sheet with parchment or a silpat liner.

Fill a large pot halfway with water and bring to a boil. Add baking soda to the water. It will boil up when you add it, so it's important you leave room in your pot. Boil the rolls, 2-4 at a time depending on your pot size, for 1 minute on each side. Drain with a slotted spoon and place evenly spaced on your baking sheet.

Brush with melted butter and sprinkle with salt. Bake for 9-13 minutes or until they are golden brown. (Different rolls will bake in varied time - refrigerated vs. frozen vs. brands.)
Recipe Nutrition
Calories:
134
kcal
|
Carbohydrates:
20
g
|
Protein:
4
g
|
Fat:
5
g
|
Saturated Fat:
2
g
|
Cholesterol:
5
mg
|
Sodium:
2978
mg
|
Potassium:
49
mg
|
Fiber:
2
g
|
Sugar:
1
g
|
Vitamin A:
60
IU
|
Calcium:
76
mg
|
Iron:
1.5
mg
Nutritional information not guaranteed to be accurate
**Did you make this recipe? Don't forget to give it a star rating below!**
Click HERE for more Pillsbury Dough Recipes!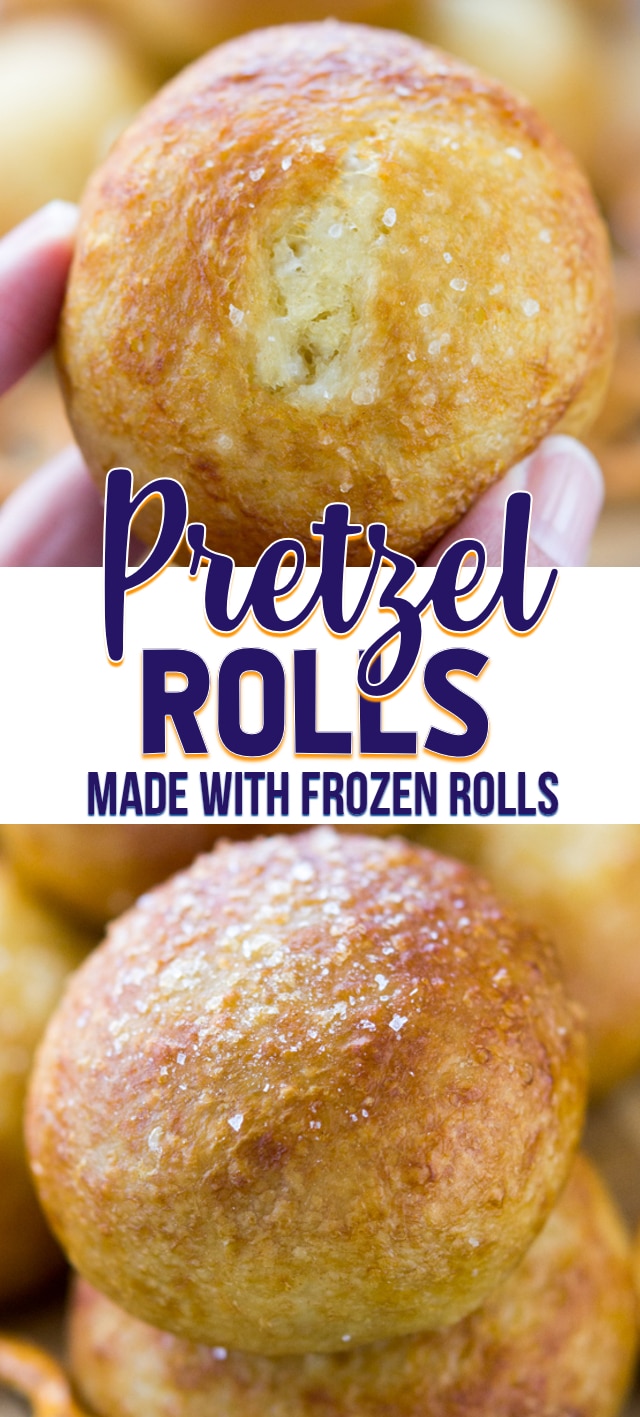 Last Updated on September 20, 2019