This post may contain affiliate links. For more information, read my disclosure policy.
Chocolate Fudge is such a classic recipe that we love to make all year. Fudge can be finicky to make, but this recipe is so easy that it is practically foolproof and way better than the regular "easy" fudge recipe – with a secret ingredient that will blow your mind!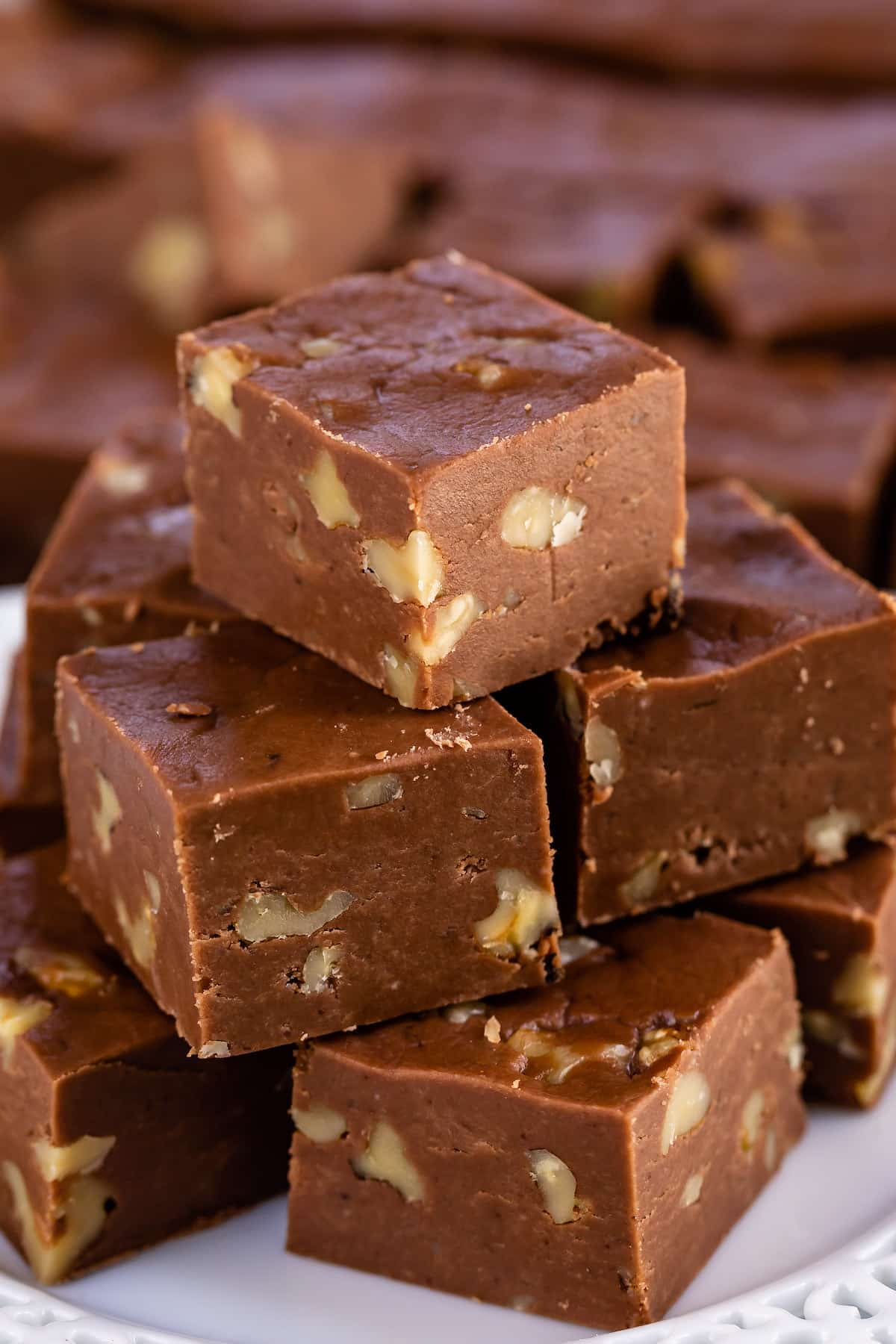 Old Fashioned Chocolate Fudge
I know that fudge is usually just thought about at the holidays, but it's really yummy all year long. It's my mother-in-law's favorite treat, so I often make it during the year (and at the holidays too).
It's so important to have a few basic fudge recipes up your sleeve, and this BEST Chocolate Fudge is one you should keep. Fudge can be finicky and that's why THIS recipe is so important: it's no fail but it's not your typical easy fudge, it's even better. Why?
It's no fail – seriously! The not-so-secret ingredient sounds weird, but it works!
You don't need a candy thermometer
It's chocolate fudge without sweetened condensed milk no hassle!
It's a chocolate fudge recipe with cocoa powder – the perfect semi sweet chocolate flavor.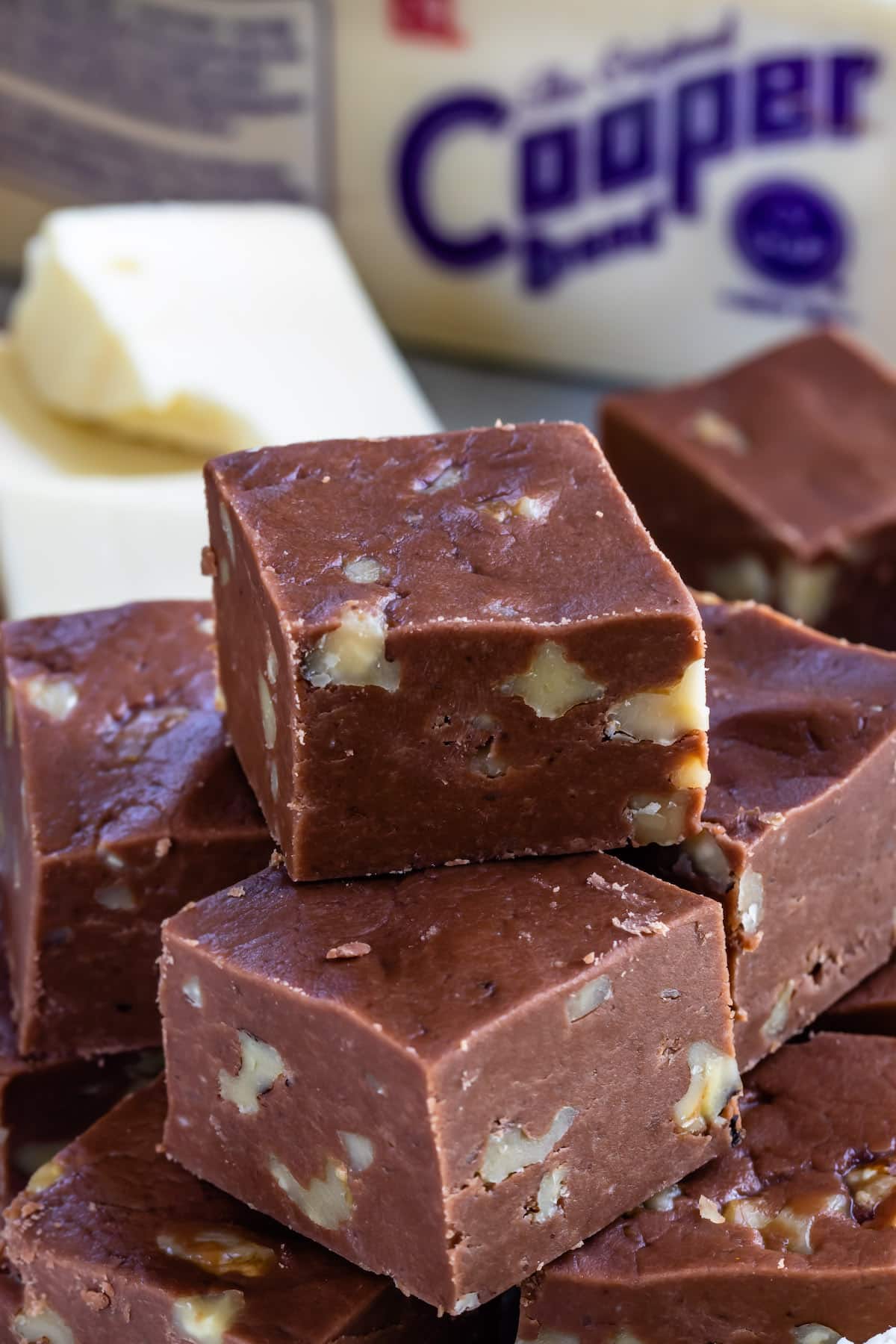 Why put cheese in fudge?
Adding the cheese gives the fudge that creamy texture you're looking for with a nice piece of chocolate fudge. It adds a silkiness and creaminess that you can't get with traditional fudge recipes.
The cheese also makes the texture of the fudge a bit different than regular cooked fudge recipes, making it set up without any worry. It's totally foolproof!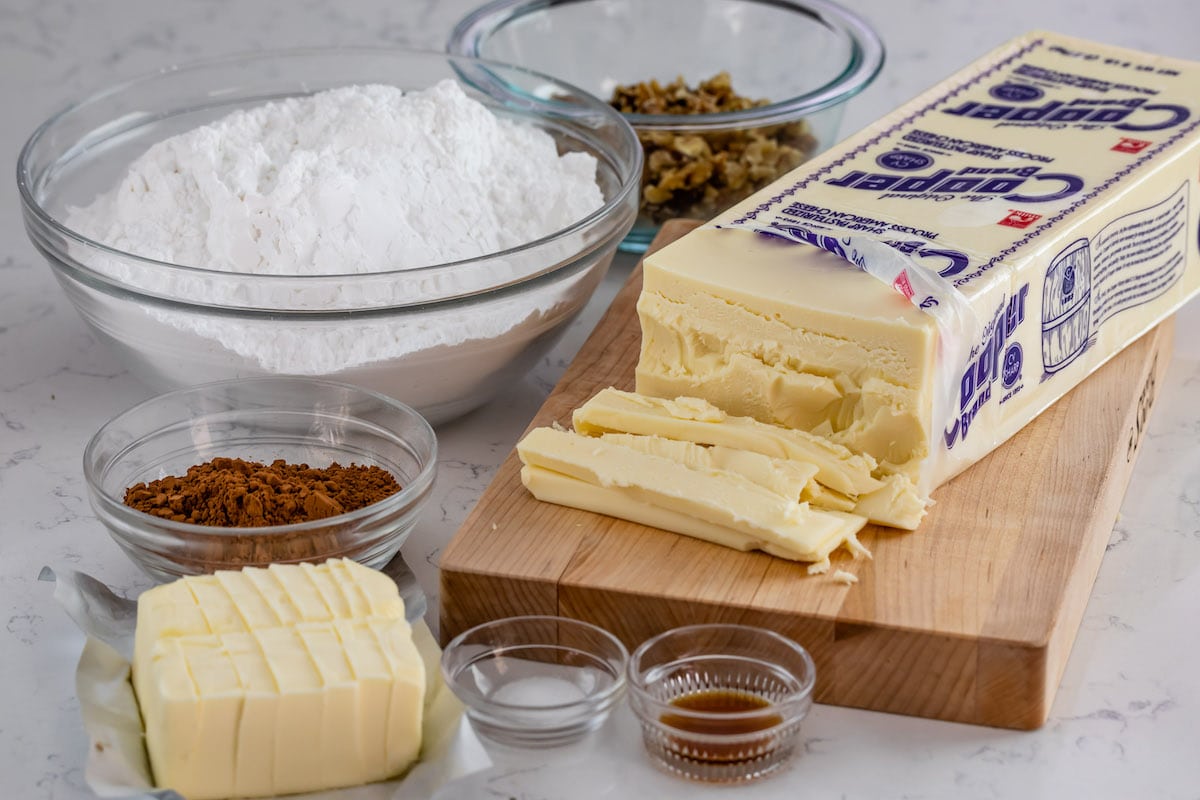 Ingredients in Chocolate Fudge
While every recipe for fudge varies widely, this one has just a few simple ingredients, and it's easy to make too!
White block american cheese or white cheddar cheese – american is great because it melts fast, but cheddar works too.
Butter – I always start with unsalted butter!
The powdered sugar and cocoa give this fudge the sweetness and chocolatey flavor. When it comes to nuts, you can leave them out, and you can use your favorite, although I love walnuts or pecans in fudge.
Nuts (optional) – Use your favorite kind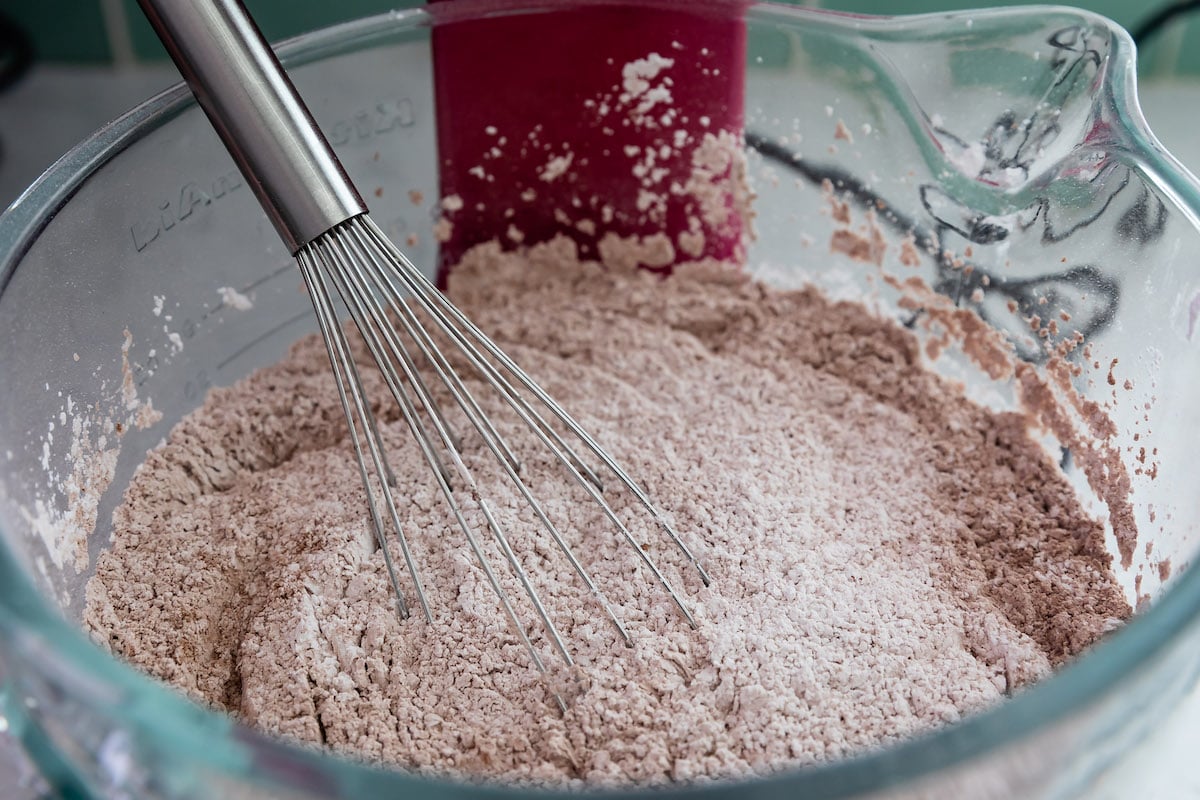 How to make fudge with cheese
The first thing you should do when making this fudge is whisk together the powdered sugar, salt and cocoa. If either the sugar or cocoa has a lot of lumps, sift them together, otherwise, just whisk them in your mixing bowl.
Next, melt the cheese and butter together in a medium saucepan. Note that it won't fully incorporate with the butter, and that's okay. I stirred it almost continuously and once the butter and cheese were both melted, whisk it until smooth.
Immediately add the hot cheese mixture into the powdered sugar mixture and mix until it's thick, then mix in the vanilla extract and nuts (if using). It's important that the cheese mixture stay hot or it'll start to harden if it cools too much.
The texture of the fudge mixture will be very thick. Press it into the prepared pan (lined with foil or parchment paper) and chill until set, about 1-2 hours. Then slice and serve.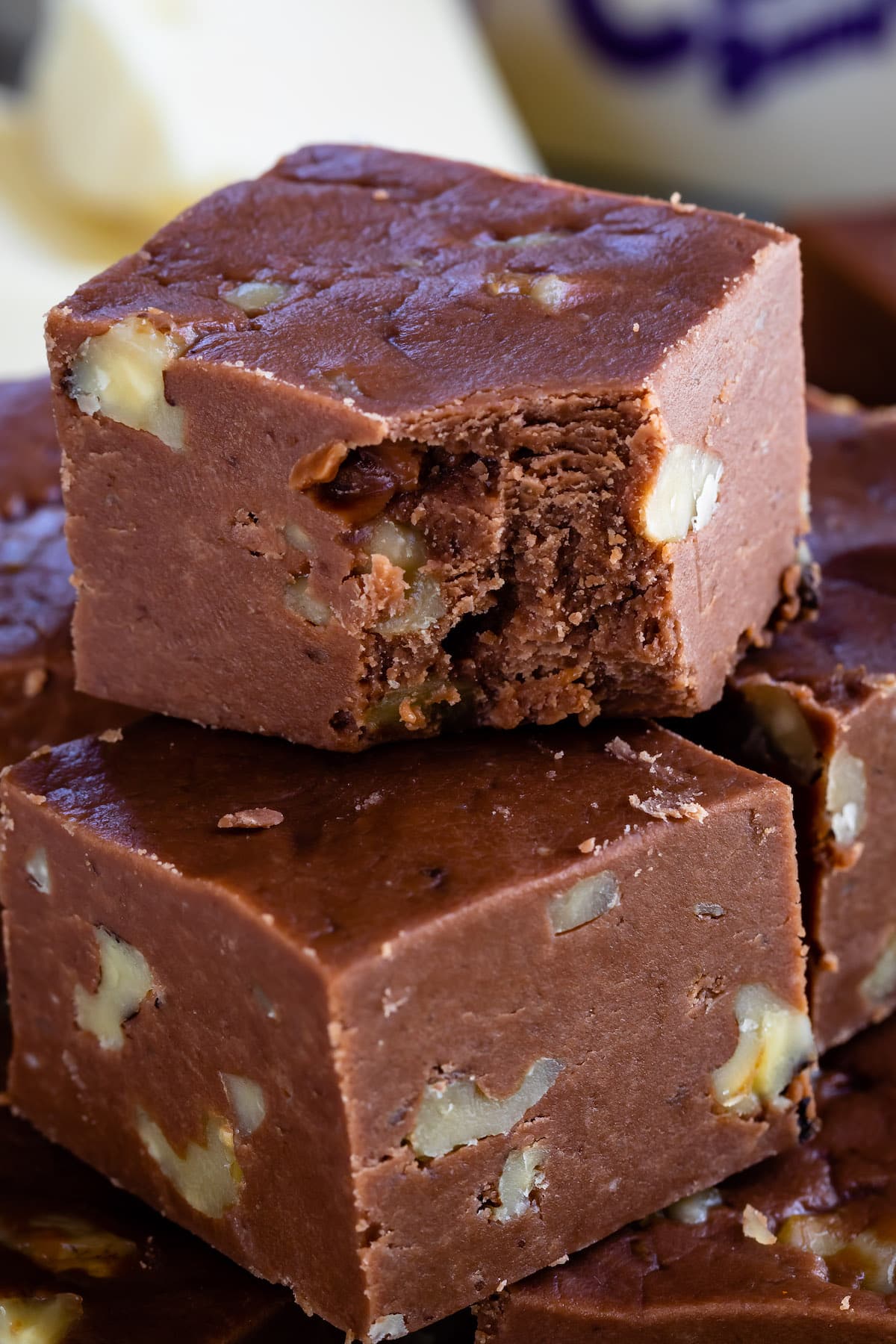 Tip From Dorothy
Expert Tips
Make sure you read the recipe before starting.
Make sure ALL your ingredients are assembled and measured out, and your pan is ready, before starting. Fudge making is fast work and you need to be prepared.
For this recipe, I recommend a stand mixer fitted with the paddle attachment if you have one. If not, a hand mixer and a (very) large bowl will work too. You can stir this by hand but it's a very thick mixture, so a mixer will help.
Fudge is one of my favorite things to make, especially at the holidays, because it has a longer shelf life than other baked goods. This will last about a week in the refrigerator or you can even freeze it for up to a month. Make sure to store it in an airtight container (a gallon size resealable bag is best). Fudge is also great for shipping because it stays good so long!
FAQ about making fudge
Why is my fudge grainy?
The best thing about this recipe is that shouldn't happen, because you're not cooking sugar.
How long does fudge need to set?
Another great thing about this recipe is it sets quickly, so after about an hour in the fridge it should be perfect.
My cheese and butter mixture hardened, what do I do?
If you don't mix the cheese mixture into the powdered sugar immediately after removing it from the heat, it can start to solidify. If that happens, reheat it a bit to re-melt the cheese and butter, and add 1 tablespoon of water if needed to thin.
Why is my fudge crumbly?
Again, this recipe makes a pretty perfect fudge, so it shouldn't be crumbly. But if it is, ask yourself if you made any substitutions. Or, did you pack your powdered sugar (and thus use too much?)
Can I make any substitutions for this recipe?
You can omit or change the nuts, or use other mix-ins (like candy). Same goes with the vanilla; I think other flavored extracts would be delicious. See the recipe for how to use salted butter instead of unsalted, but you MUST use REAL butter (no substitutes or spreads). You cannot omit the cheese or the recipe won't work.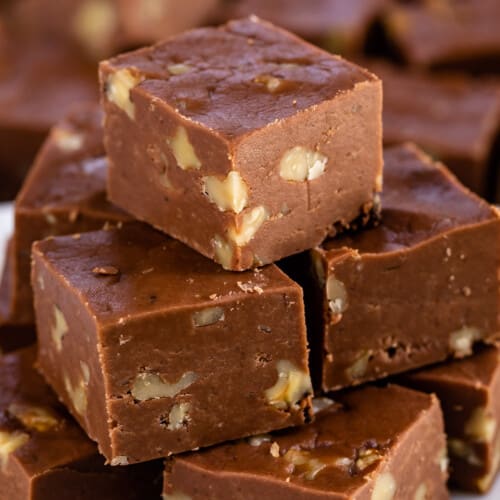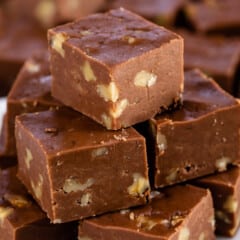 Creamy Chocolate Fudge Recipe
This chocolate fudge is easy to make and super creamy thanks to a secret ingredient: cheese! You'll never know the cheese is in the fudge; it's there to add texture and creaminess. This will become a favorite chocolate fudge recipe!
Total Time
2

hours
25

minutes
Ingredients
2

pounds

powdered sugar

907g

½

cup

unsweetened cocoa powder

50g

¼

teaspoon

salt

8

ounces

Sharp White Pasteurized Process American Cheese

227g

1

cup

unsalted butter

227g, sliced

1

teaspoon

vanilla extract

1 ½

cups

chopped nuts, optional

(pecans or walnuts work best, but use your favorite)
Instructions
Important: read the recipe and notes before beginning.

Prepare a 9-inch square pan by lining it with foil and spraying with nonstick spray.

Place powdered sugar and cocoa in a large bowl and whisk to combine. If there are lots of lumps, sift them together, but just whisking should be fine. Set aside.

Add butter and cheese to a medium saucepan. Heat over medium heat, stirring frequently, until it's melted and smooth.

Remove from the heat as soon as it's melted together and immediately stir the cheese mixture into the sugar mixture. Don't let the cheese mixture cool or it will thicken too much.

Stir the vanilla and nuts and mix well into the fudge mixture. Immediately press into the prepared pan.

Chill in the refrigerator until firm, about 1-2 hours. Slice and serve.
Recipe Notes
It's easiest to make this with a stand mixer fitted with the paddle attachment, but otherwise just use a large bowl and a wooden spoon or a hand mixer (the mixture will be thick and stiff to stir).
When making fudge it is important you have all your ingredients measured and your pan ready to go. It's a quick recipe – be sure to read these instructions before beginning.
You can also put this in a 9×13-inch pan to make more, smaller pieces. Don't use smaller than a 9-inch square.
To use SALTED BUTTER: omit the salt in the recipe.
If you can't find block american cheese, you can use white cheddar as well.
Adapted from Food Network.
Recipe Nutrition
Serving:
1
piece
|
Calories:
202
kcal
|
Carbohydrates:
27
g
|
Protein:
2
g
|
Fat:
10
g
|
Saturated Fat:
5
g
|
Cholesterol:
20
mg
|
Sodium:
123
mg
|
Potassium:
50
mg
|
Fiber:
1
g
|
Sugar:
25
g
|
Vitamin A:
217
IU
|
Vitamin C:
1
mg
|
Calcium:
74
mg
|
Iron:
1
mg
Nutritional information not guaranteed to be accurate
Easy Chocolate Fudge is a homemade fudge recipe that's super creamy and it turns out every time! This classic fudge is done in under 10 minutes and is made with a secret ingredient: cheese! This post was sponsored by Cooper Cheese in 2020.
Last Updated on July 11, 2023