This post may contain affiliate links. For more information, read my disclosure policy.
My Easy Palmiers are a 2-ingredient recipe so skip making Palmiers from scratch! Learn how to make these light and airy pastry cookies using crescent rolls!
I'm showing you how to make them with regular sugar and rainbow sugars so you can put your own special spin on them!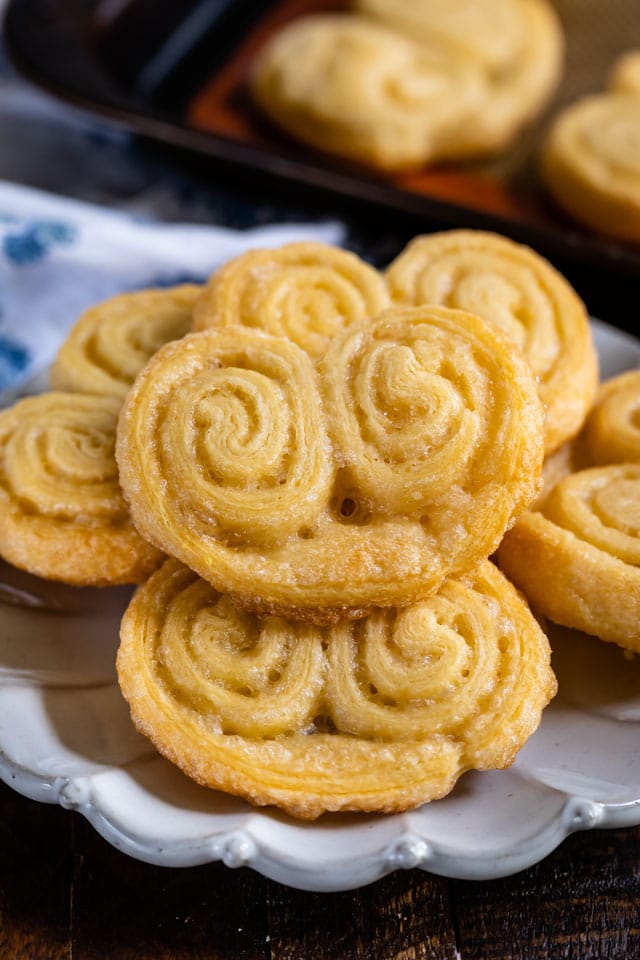 I absolutely love palmiers! They are a delicate French cookie made with puff pastry. They're light and buttery with a crunchy texture from sugar. Heaven! You can serve them for breakfast, dessert or a snack. I love that!
BUT… making them from scratch is a total pain, so I had to come up with a way to make them that is quick and easy! In this case, we're using our old friend crescent roll dough to make super easy palmiers. You only need two ingredients!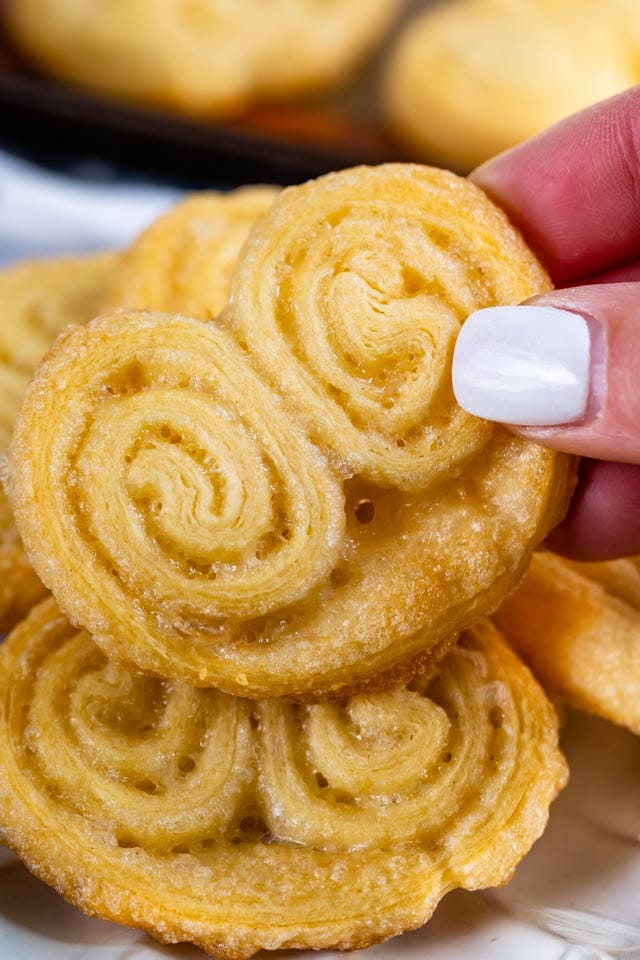 What are Palmiers Made of?
Traditional ones are made with puff pastry which is a type of pastry dough made up of thin layers of butter and dough that are rolled and folded many, many, many times. This process creates a buttery dough that has a wonderfully flaky texture after you bake it.
To make them, the dough is rolled flat, coated with granulated sugar, and then each edge is rolled up until they meet in the middle. Then the dough is sliced, baked and the dough puffs up into a shape resembling a palm leaf. Palm leaf = Palmier in French…I think. I'll have to ask Jordan…she's taking French.
For my easy palmiers recipe, I follow the same process but instead of using puff pastry I used crescent rolls. The dough is very easy to work with and (bonus!) you don't have to make it – just pop open a can of refrigerated dough.
I love using crescent roll dough for other things, like Churro Crescents, Lemon Sweet Rolls, or Strudel.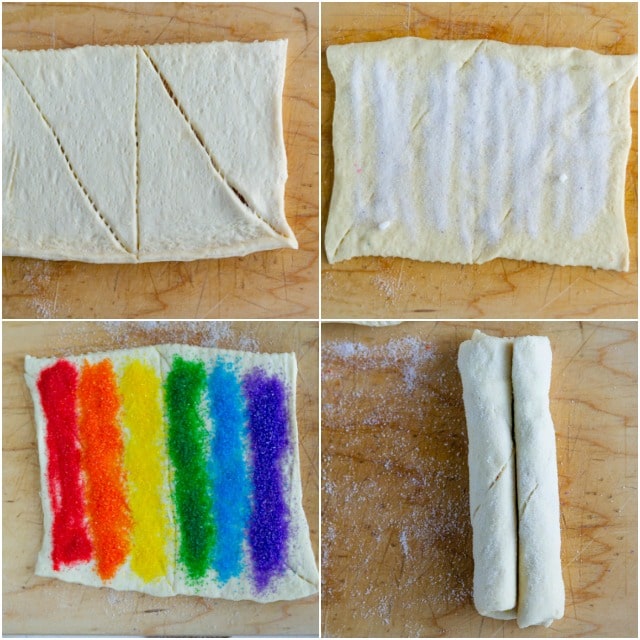 How to Make Palmiers with Crecent Rolls
Once you have your dough all you need is some granulated sugar and you're ready to make them:
Separate the dough into two rectangles along the perforated edge (4 triangles to a rectangle).
Starting with one rectangle, press all of the seams together so they are sealed. Repeat with the other rectangle.
Sprinkle 1 tablespoon of granulated sugar over one side of the crescent rectangle, press it lightly with your hands so it sticks to the dough. Gently flip over the rectangle and sprinkle sugar over the other side, too.
For each rectangle, roll up each side of the dough until they meet in the middle. Wrap in plastic and chill for at least 1 hour.
When you are ready to bake the palmiers, line two cookie sheets with silpat baking mats, parchment paper, or grease them with cooking spray. You need to do one of these things otherwise they will stick to the pan.
Take the chilled dough and slice it into ½" pieces. Place them on the baking sheet and bake them at 350°F.
Cool them for just a few minutes on the pan and then use a spatula to transfer them to a baking rack.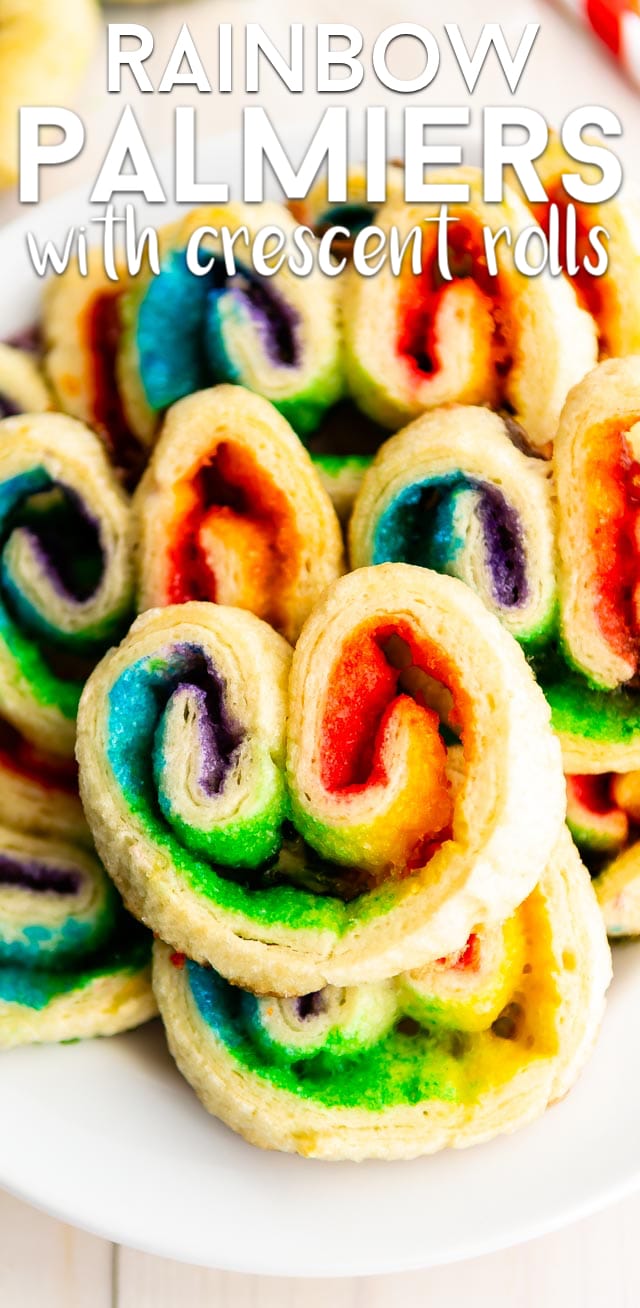 I love rainbows SO MUCH. My office is a whirlwind of rainbows, unicorns and sprinkles and that makes me so happy.
Years and years ago I told my family I wanted a rainbow birthday party when I turned 40.
My husband would say, "you'll probably change your mind" which was code for "I don't do pinterest and have no bleeping clue how to make a rainbow wreath so don't ask me too."
But guess what? I DID have that rainbow party when I turned 40. There were rainbow cocktails and rainbow desserts and a huge rainbow sprinkle cake. And it was AMAZING!
That's why I turned my Palmiers rainbow too!
Make Regular Palmiers or Give them a Colorful Twist!
You can make these with granulated sugar OR you can dress them up and use rainbow sugars to give them a colorful twist. Choose your favorite colors to give them your own personal touch – they're so cute this way.
I swear, I want to live in a rainbow.
Life would be so much for fun in a rainbow, wouldn't it? Everything would be happy and musical, we'd use unicorns as cars and it would rain Skittles. #bestlandever #rainbowland
Can I Use Frozen Puff Pastry?
Yes, you can use frozen puff pastry to make palmiers. Puff pastry is a little trickier to work with than crescent rolls, so be sure to follow the thawing instructions on the package before you get started.
The key to working with puff pastry is not allowing it to get too warm as you're working with it, so be sure to review the recipe steps before you start and work quickly.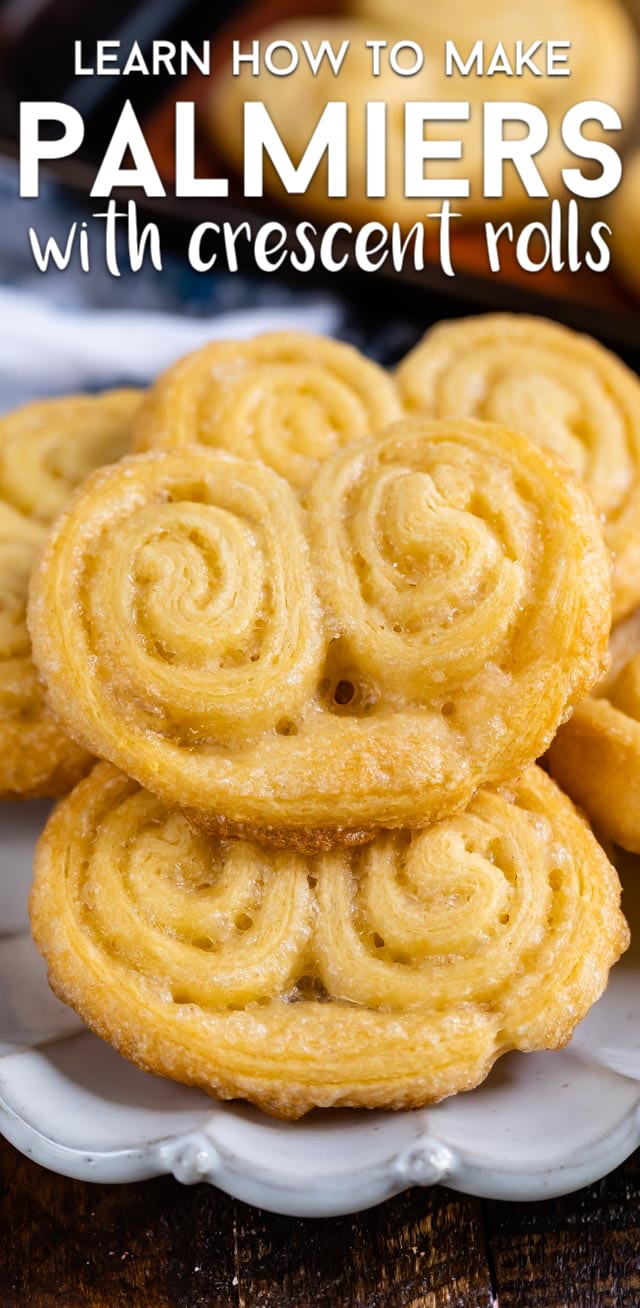 Serve Them for Breakfast, Dessert or as a Snack
I love a baked treat that can be served at different times. Palmiers are a fun brunch or breakfast treat or serve them as a dessert with coffee or tea. A palmier pastry is always nice as a sweet afternoon snack, too!
This is one of my favorite ways to use crescent dough – I hope you have fun making your own palmiers!
Other Rainbow Recipes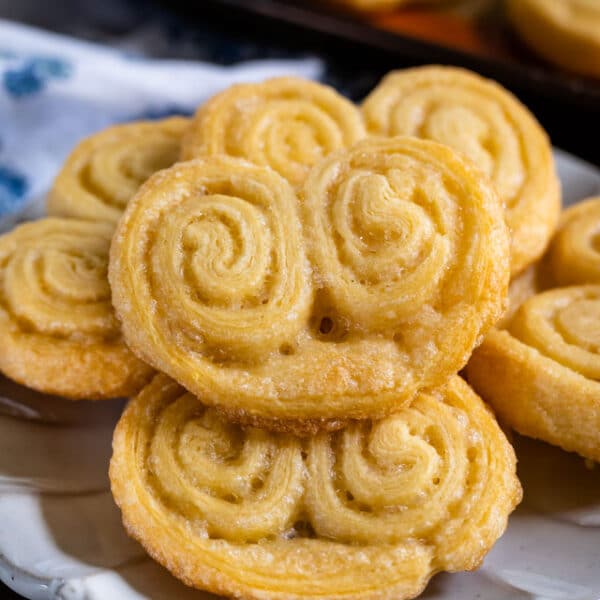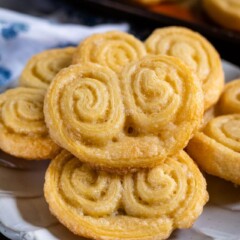 Easy Palmiers Recipe
Use crescent roll dough to make 2-ingredient palmiers! This easy recipe can be done with regular sugar or dress them up with rainbow sugar!
Ingredients
1

tube Pillsbury Crescent Roll Dough

8 rolls

2

tablespoons

granulated sugar

plus a few pinches
Instructions
Open Crescent Rolls and unroll dough.

Press all the seams together to seal. Sprinkle 1-2 teaspoons of granulated sugar over one side of the crescent rectangle, press lightly with you hands to adhere. Gently flip over the rectangle. Sprinkle 1-2 tablespoons of sugar on the other side. Roll up each side so that the two rolls meet in the middle. Wrap in plastic and chill for at least 1 hour.

Preheat oven to 375°F. Line two cookie sheets with silpat baking mats, parchment paper, or grease them with cooking spray. (These will stick if you don't do one of those three things!)

Slice the dough 1/2" thick. Place on cookie sheets, 2" apart. Bake for 10-20 minutes, until the bottoms start to get golden. Let cool on cookie sheet for just a few minutes, then run a spatula underneath so the melted sugar doesn't stick.

Rainbow Palmiers: Place the rectangle so that the width is longer than the height. Sprinkle sugars in vertical rows in the colors of the rainbow: red, orange, yellow, green, blue, purple. Roll up each side so that the two rolls meet in the middle. Wrap in plastic and chill for at least 1 hour.
Recipe Notes
To use puff pastry: thaw the frozen puff pastry as directed on the box. Proceed with the same directions as above, except bake at 400°F.
You can use any color sugar inside that you like.
Recipe Nutrition
Serving:
1
palmier
|
Calories:
37
kcal
|
Carbohydrates:
5
g
|
Protein:
0.3
g
|
Fat:
2
g
|
Saturated Fat:
1
g
|
Polyunsaturated Fat:
1
g
|
Monounsaturated Fat:
0.3
g
|
Sodium:
73
mg
|
Potassium:
0.02
mg
|
Sugar:
2
g
|
Calcium:
0.01
mg
|
Iron:
0.1
mg
Nutritional information not guaranteed to be accurate
Click HERE for more Pillsbury Dough Recipes!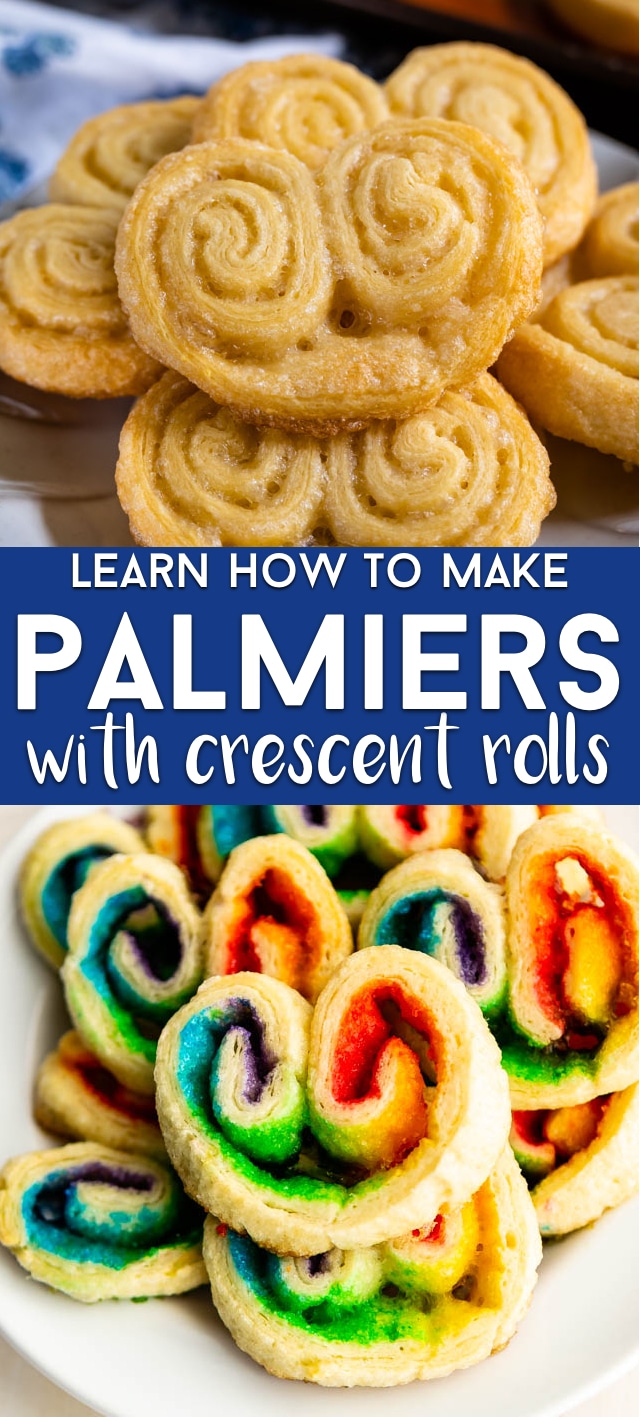 You can learn how to make my easy Palmier Cookie Recipe using crescent rolls! Skip making them from scratch and use 2 ingredients! So easy and you can any color sugar.
Last Updated on February 20, 2020