This post may contain affiliate links. For more information, read my disclosure policy.
These adorable Rainbow Cupcakes never fail to please! Everyone will think you spent hours making them, but the cupcakes are made with cake mix and couldn't be easier.
Each cupcake has layers of vibrant colors and is topped with pillow-soft homemade marshmallow frosting. Plus, I'm showing you how to top a rainbow cupcake four different ways. These easy rainbow cupcakes are perfect way to celebrate!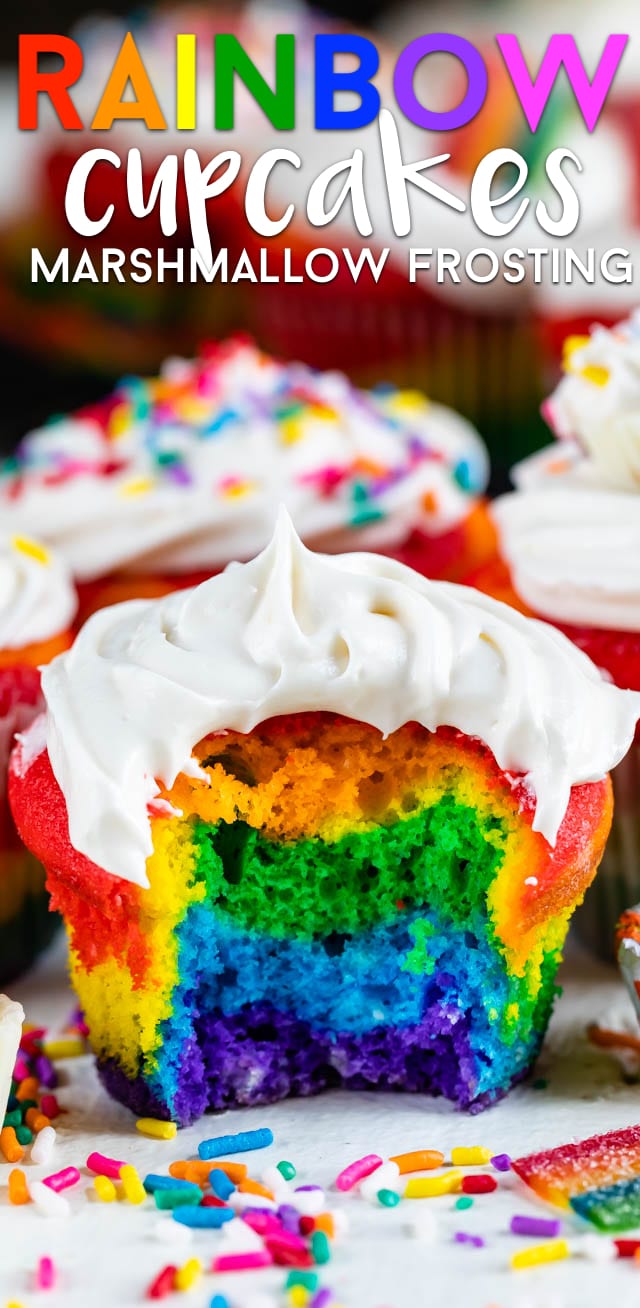 Best Easy Rainbow Cupcakes – for kids OR adults!
I am IN LOVE WITH RAINBOWS! I have been for years, even before they became so popular in recent years. Around my 35th birthday I declared that my 40th would be a rainbow party – and it was! My office is even decorated with unicorns, rainbows and, of course, lots of sprinkles!
I have been making this rainbow cupcake recipe for years and they always bring a smile to everyone's faces.
Table of Contents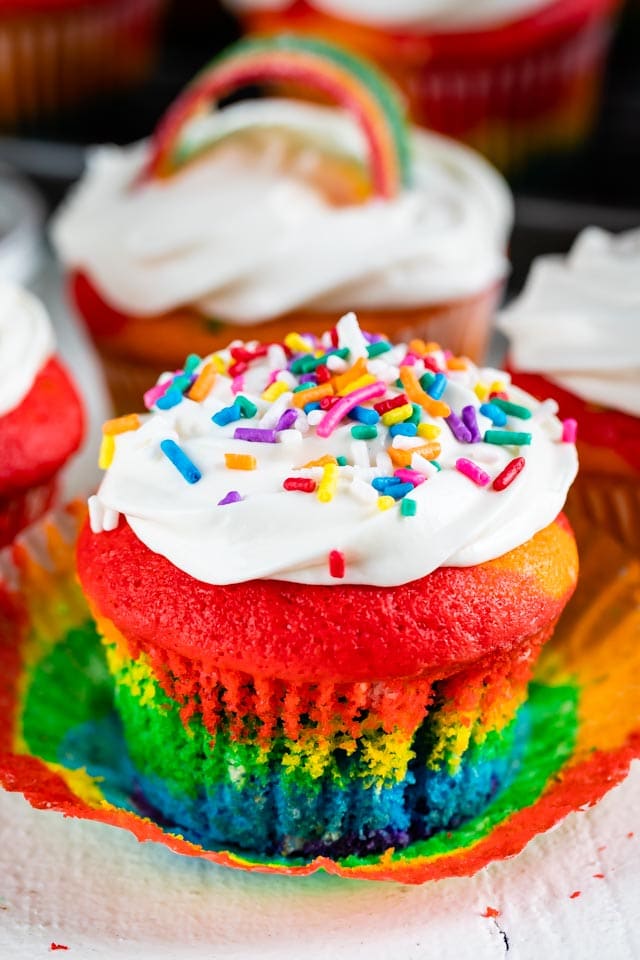 Why Use Cake Mix
People always assume they're homemade and I think it's the soft marshmallow frosting that makes the difference – pairing a homemade frosting with boxed cake mix is a great way to make it seem like all of it's homemade. It's a great trick to have up your sleeve.
Pair a homemade frosting with a cake mix cupcake and everyone will think they're homemade!

PRO TIP
So, in this post I'm showing you how to make the rainbow cupcakes and the from-scratch marshmallow frosting. Plus, I'll share four different toppers to decorate them. So, I gotta ask – are ready for some rainbow fun?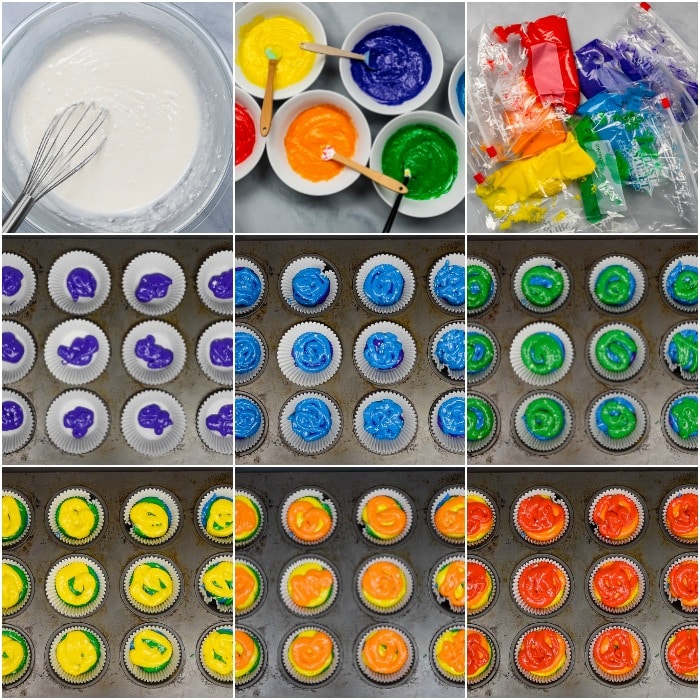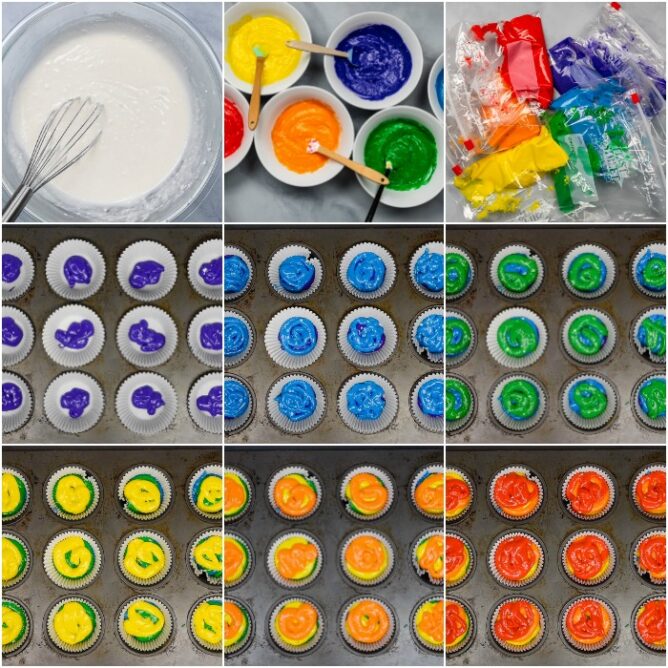 How to Make Rainbow Cupcakes
For the cupcake base you'll need a boxe of white cake mix. Normally cake mixes make about 18-24 cupcakes but with all of the coloring and transferring of dishes, these make about 12-14.
I recommend using white cake mix because you'll get very vibrant colors. Yellow cake mix is, well, yellow, and will muddy the colors of the food coloring.
Mix the cake mix: Just mix up the cupcake batter following the instructions on the package. Once it's made, divide it evenly among six bowls.
Food Coloring for Cupcakes
Divide: divide the batter in to 6 bowls.
Color the batter: Once your batter is divided it's time to create the colors. I like to use gel food coloring because the colors always turn out extra bright and pretty. For the colors, you'll need red, orange, yellow, green, blue, and purple.
TIP: use a ziplock bag! Add one color to each bowl and stir until the color is evenly distributed in the batter. To make it easy to create the cupcake layers, transfer each batter to its own Ziploc bag and snip off one corner so you can squeeze the batter through it.
Pipe: Now we're ready to create the layers. To create a rainbow, you will want to layer the colors in this order:
Purple
Blue
Green
Yellow
Orange
Red
So, start with the purple batter and squeeze a small amount into the bottom of each cupcake liner in the pan. You only need enough to cover the bottom of the liner. Repeat this process, layering a small amount each color on top of each other.
Bake: Once you've created all of the layers bake the cupcakes according to the package directions. Cool them completely before you decorate them with frosting and rainbow cupcake toppers.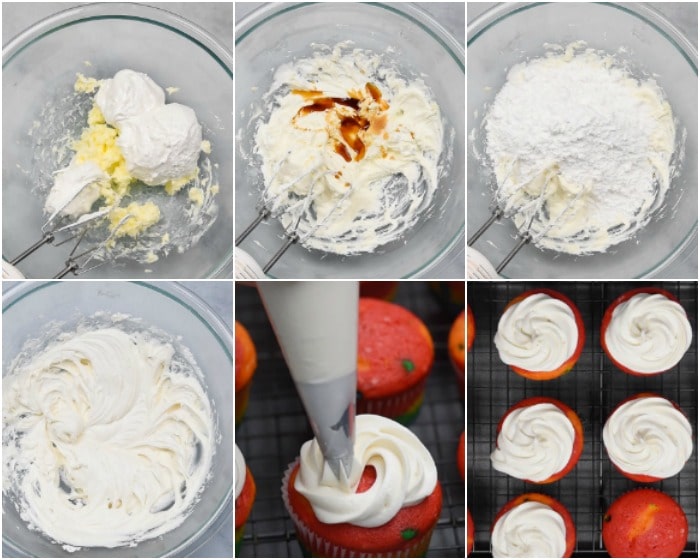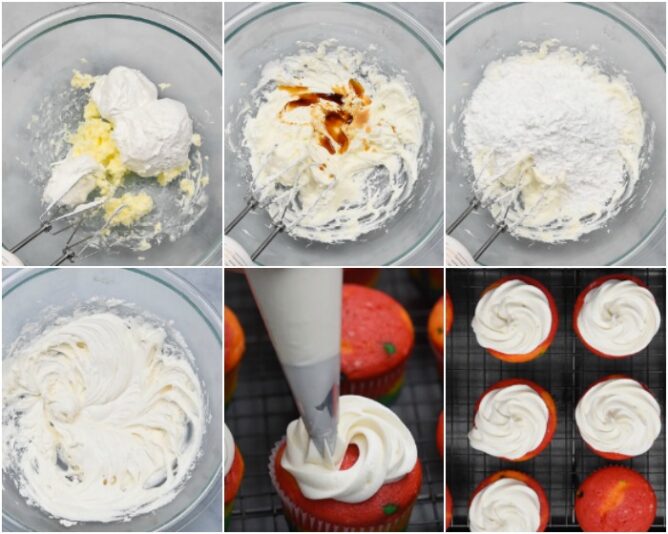 Homemade Marshmallow Frosting
Once your cupcakes are cooled, they are ready for decorating. I love marshmallow frosting for these because it looks like a cloud. I always like to imagine clouds taste like marshmallows, don't you? Plus, the rainbow and cloud combo is just too cute.
Homemade frosting makes cake mix cupcakes taste homemade! Here's what you need to make the frosting:
Softened unsalted butter
Jarred marshmallow crème/fluff
Powdered sugar
Vanilla
Pinch of salt
Cream the butter with the marshmallow crème until well combined. Add the vanilla and powdered sugar and beat together. Transfer the frosting to a piping bag and pipe the it onto each cupcake so it looks like a puffy white cloud.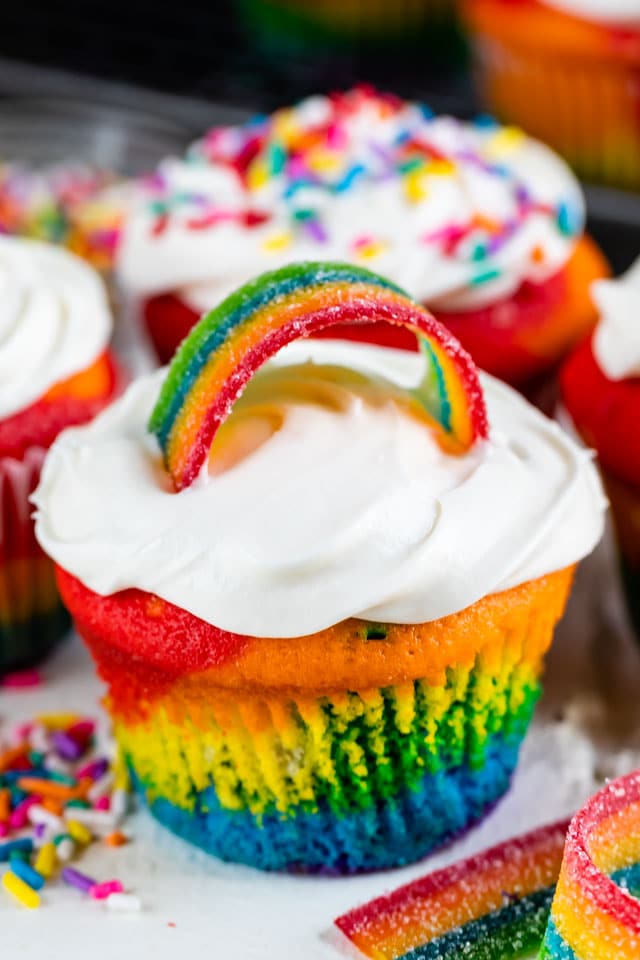 Four Different Toppers for Rainbow Cupcakes
What I love about these cupcakes is that there are several different ways to decorate them. These are my favorite rainbow cupcake toppers, but feel free to experiment!
Plain: For a simple decoration just top them with the marshmallow frosting – totally cute that way!
Sprinkles: Or, add some rainbow sprinkles to dress them up a little. So easy.
Rainbows: You can also top the frosting with an Airhead Extreme which is a chewy rainbow-colored candy. Just lightly press one end into the surface of the cupcake, bend it into an arch and secure the other end in the cupcake so it looks like a little rainbow.
Mini cupcakes: You can create a mini "cupcake" decoration by topping the frosting with a mini white chocolate peanut butter cup. Add a dollop of frosting on top with some sprinkles.
They are almost too cute to eat! Almost. You're going to want to take a bite just to see that beautiful rainbow inside. I hope you love them as much as I do!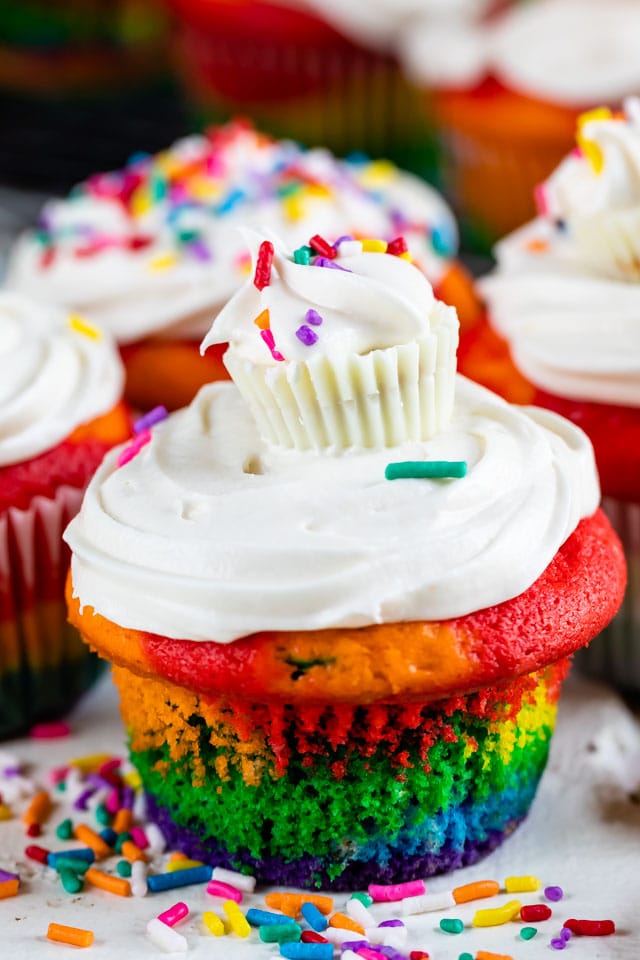 FAQ/Tips
Storing: you can store the frosted cupcakes loosely covered until ready to eat. No need to chill them unless you've made them a day before.
Freezing: you can freeze the unfrosted cupcakes and the frosting separately. Let thaw before frosting.
Make ahead: make the cupcakes and frosting up to 24 hours ahead. Store frosting in refrigerator.
Do I need to grease the liners? No you don't need to grease the cupcake liners for these.
How long do cupcakes take to bake? Follow the directions for baking on the box mix. Make sure not to over bake them so the red layer stays red.
Piping tip: use a ziploc bag for easy piping into the cupcake pan.
What is the best icing for rainbow cupcakes? Something fluffy and white, which is why I love the marshmallow frosting!
Other rainbow and unicorn desserts
Have you made this recipe?
Tag @crazyforcrust on Instagram or hashtag it #crazyforcrust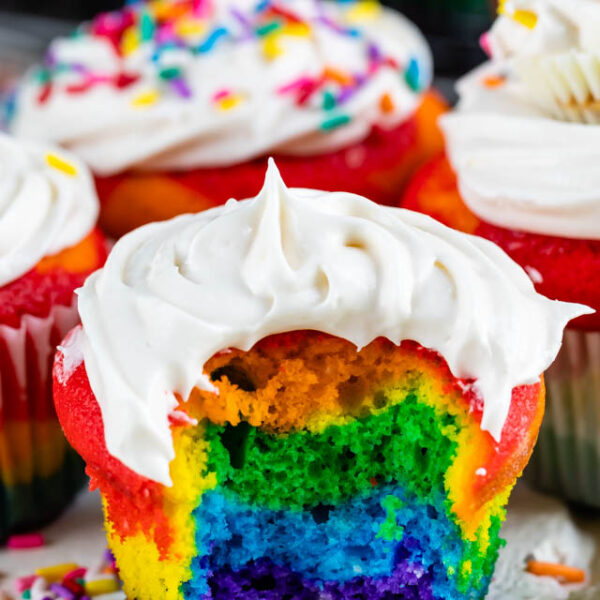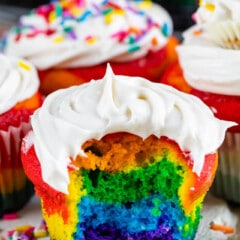 Rainbow Cupcakes Recipe
These are my favorite EASY Rainbow Cupcakes! Start with a box mix for the cupcake but make a homemade marshmallow buttercream frosting and FOUR different ideas for topping!
Ingredients
For the Rainbow Cupcakes
1

15 ounce box

white cake mix

, prepared with eggs, oil, and water called for on the box

Food coloring

(red, orange, yellow, green, blue, purple (gel food coloring works best for vibrant colors)
Marshmallow Buttercream
1/2

cup

unsalted butter

softened

1

7 ounce jar

marshmallow creme

1 1/2

cups

powdered sugar

1

teaspoon

vanilla

Pinch

salt
For the Cupcake Toppers
24

white chocolate Reese's Peanut Butter Cups

or

12

Airheads Extremes

cut in half, or

rainbow sprinkles
Instructions
Make the Cupcakes
Mix the cake batter according to the recipe or box directions. Line your muffin tins with cupcake liners.

Divide your batter evenly among six bowls. Add food coloring to each bowl, one for each color of the rainbow (red, orange, yellow, green, blue, purple). Stir to combine.

You are going to layer the cupcakes into the liners in a reverse rainbow, so the purple is on the bottom and the red is on the top. To make this easier to do, place each color in a separate quart-sized Ziploc bag. Seal the bag almost all the way, leaving about 1/2″ open for air to escape. Snip off a tiny corner and place a small amount in each cupcake liner, starting with purple (use just enough to cover the bottom of the liner). Repeat with the remaining colors in this order: blue, green, yellow, orange, red.

Bake according to box directions. Let cool completely.
Make the frosting
Beat butter and marshmallow creme together until smooth, then mix in powdered sugar, vanilla and salt. Frost cupcakes as desired (I like using a 1M tip).
Topping the cupcakes
Leave plain with the frosting.

Place an Airhead Extreme in a rainbow arch on top.

Place a white chocolate peanut butter cup on top, frost it with frosting and sprinkle with sprinkles (like it's a mini cupcake ton top).

Store cupcakes in refrigerator to set frosting (it's a bit fluffy and will collapse if it's not set).
Recipe Nutrition
Serving:
1
cupcake
|
Calories:
128
kcal
|
Carbohydrates:
15
g
|
Protein:
1
g
|
Fat:
8
g
|
Saturated Fat:
5
g
|
Cholesterol:
20
mg
|
Sodium:
2
mg
|
Sugar:
15
g
|
Vitamin A:
236
IU
|
Calcium:
2
mg
Nutritional information not guaranteed to be accurate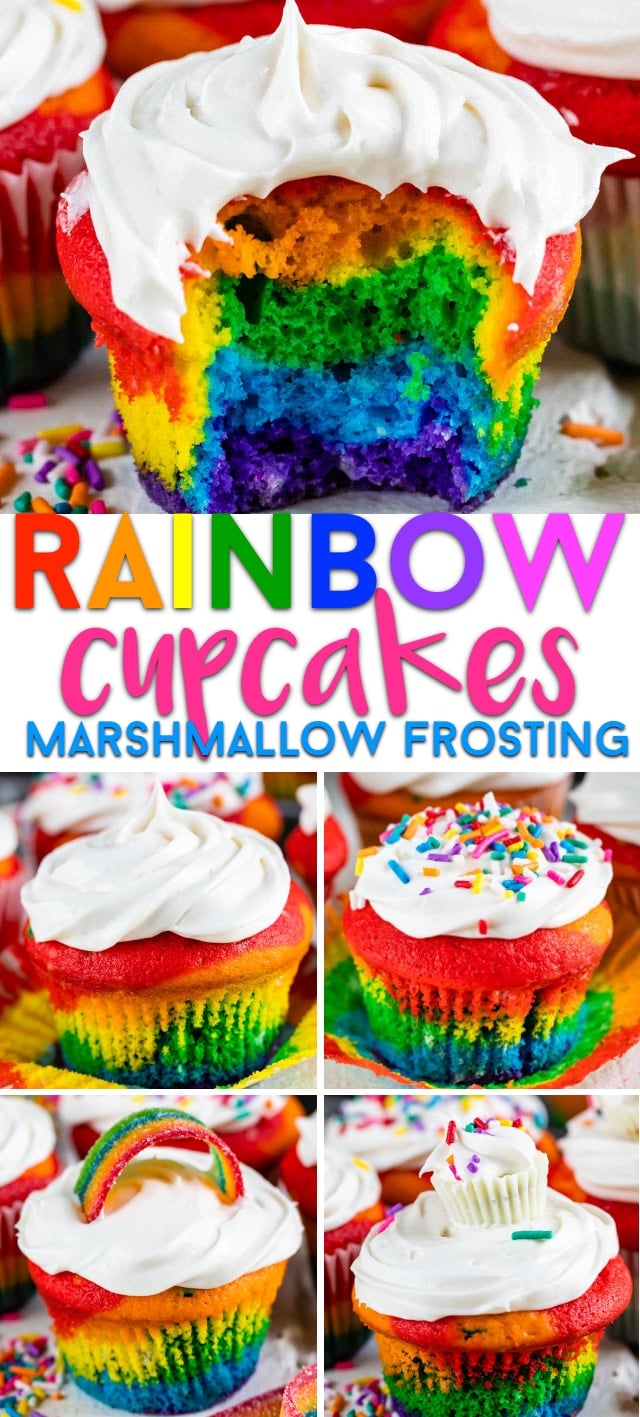 Rainbow Cupcakes with marshmallow frosting are such a fun and easy way to celebrate! These DIY cupcakes use a cake mix but have a homemade marshmallow buttercream. Learn how to make rainbow cupcakes with 4 different decoration toppers!
Last Updated on February 17, 2021