This post may contain affiliate links. For more information, read my disclosure policy.
When it's a million degrees outside there isn't anything better than a big bowl of ice cream. This easy Peanut Butter Ice Cream Topping is the perfect addition to your summer sundaes!
I've gotta say, I love peanut butter sauce better than caramel or hot fudge sauce on ice cream!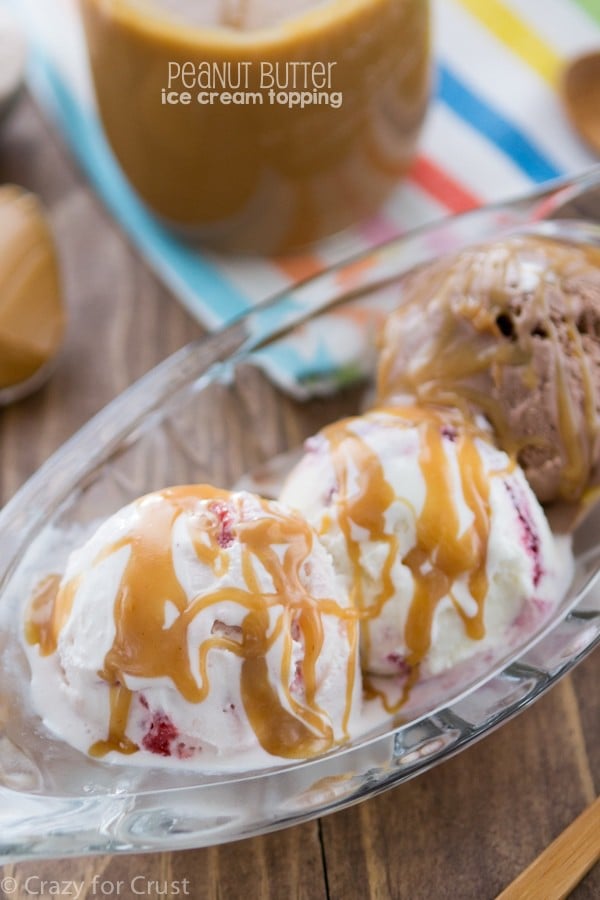 I really, really miss Blockbuster. Same goes with Hollywood Video and all those mom and pop video rental places. Maybe I'm aging myself but there's just something about walking into a video rental store and looking at all the options, picking up the DVD cases and reading the movie descriptions that I really miss.
Going to Blockbuster for a movie night was an event, right? Remember that? I could spend an hour in there perusing all the options. And I'd always find something good to rent, even when I knew nothing about any of the new release movies before walking into the store.
Now? Now I can spend hours (literally) on Netflix and Amazon trying to find something to watch on date night and nothing looks good. Being all digital totally makes you judge a DVD by its cover. And since I'm about 100 years old, or so it seems, I haven't heard of any of the movies out and none of them look good at all.
So, last weekend, Mel and I gave up on finding a new movie to rent and we rented Pretty Woman instead.
You guys know that's my favorite movie ever, right? And Mel wanted to rent it. #whyIlovehim
You guys, I'm not exaggerating when I say Pretty Woman is my favorite movie. It's probably been 10 years since I watched it in full and I can still recite the entire thing.
This is how obsessed I was with the movie: when I was in college I literally wore out the VHS tape. As in, I was watching it and the tape broke and my boyfriend at the time had to go out and buy me a new tape that second because I had a meltdown. #truth
The only thing that would have made our date night Pretty Woman watching better is if we had eaten huge ice cream sundaes smothered with peanut butter ice cream topping. Because as obsessed as I am with that movie, Mel is that obsessed with peanut butter.
Peanut Butter Ice Cream Topping is the best sauce ever – perfect for any sundae or just eating with a spoon. It's like eating liquid peanut butter!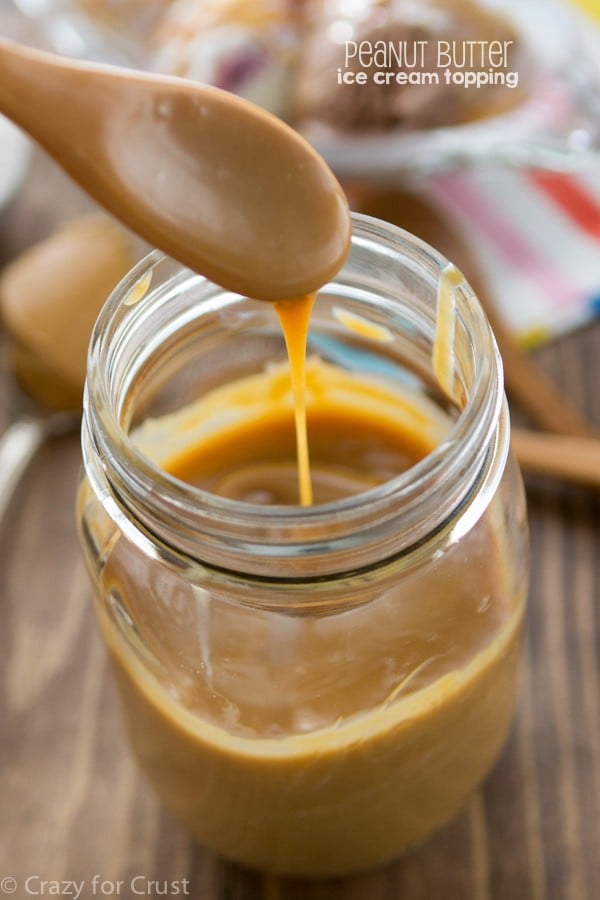 If you have dreams of drizzling peanut butter over ice cream or just drinking liquid peanut butter then this is the recipe for you.
Now, if you just wanted thinned out peanut butter, all you have to do is pop it in the microwave. But if you want a sweet peanut butter sauce for pancakes or ice cream, then you need to make this recipe!
All I can think about is drizzling this sauce over ice cream along with my thick homemade chocolate sauce so that my ice cream will taste like a peanut butter cup.
Ingredients in peanut butter ice cream topping
This recipe has only 4 ingredients
peanut butter
sweetened condensed milk
water
vanilla
You heat them all together until a thick syrup forms. That's it. It probably takes 10 minutes and you have the perfect sauce for ice cream, milkshakes, pancakes, and more.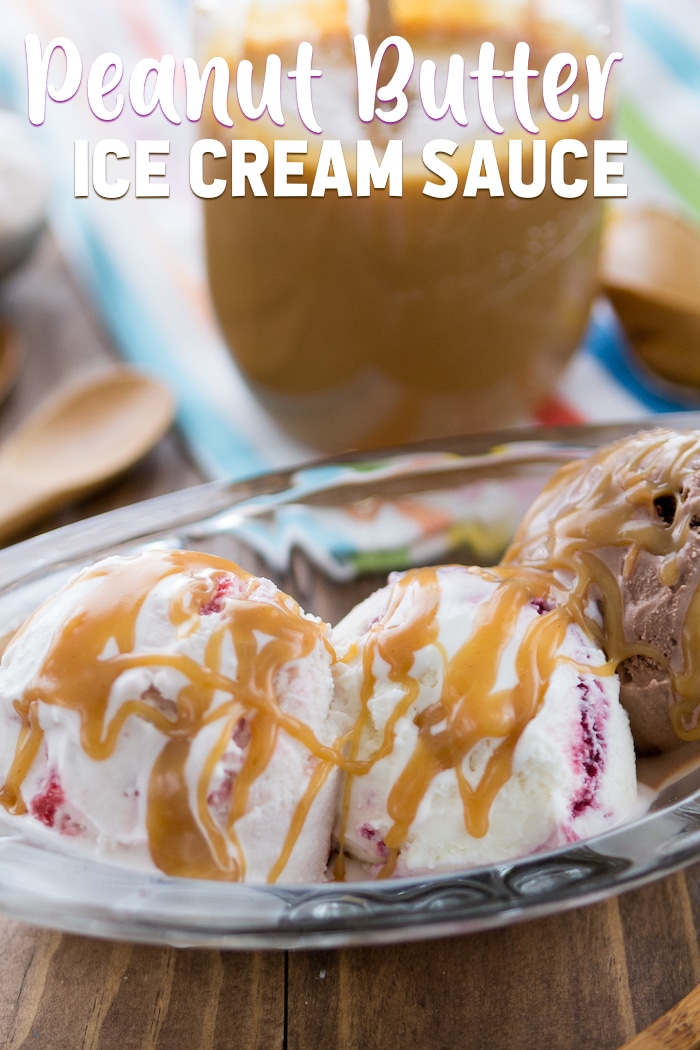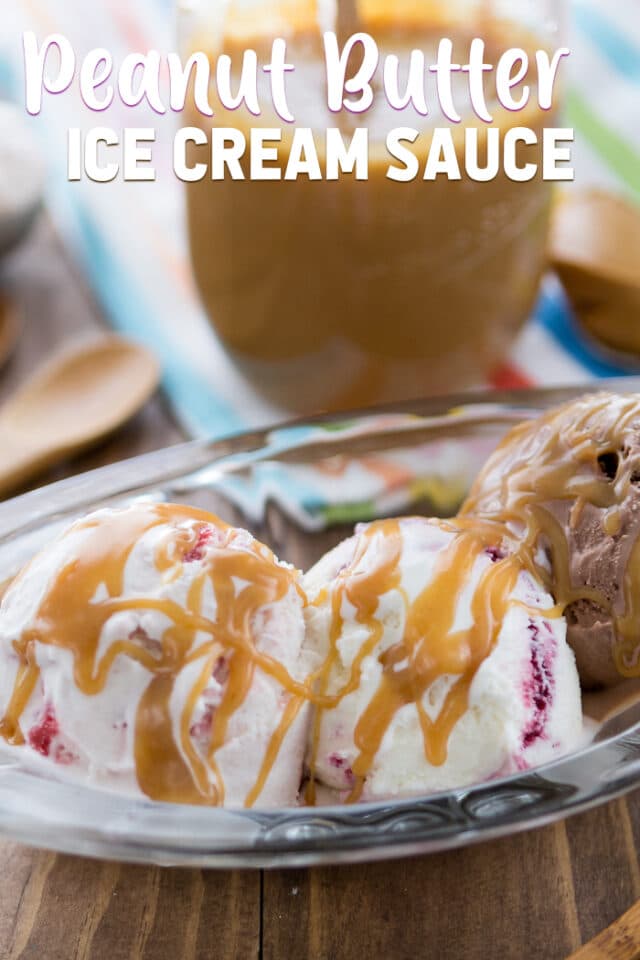 When you're choosing a peanut butter for this recipe I highly recommend a regular store bought peanut butter NOT a no-stir kind. Natural peanut butter (that separates) won't melt correctly. You can use the "naturals" choices from Skippy or Jif or the other regular store brands, but those are natural no-stir peanut butters.
When choosing a sweetened condensed milk, you can use regular or fat-free for this recipe.
This is probably one of the easiest recipes you'll ever make. Peanut Butter melts easy and the sauce comes together quick. It's basically no-fail!
To be honest, this ice cream topping didn't even make it to the ice cream. I *may* have eaten more of it with a spoon. And I *may* have put it in my coffee. <–That was a good decision, BTW.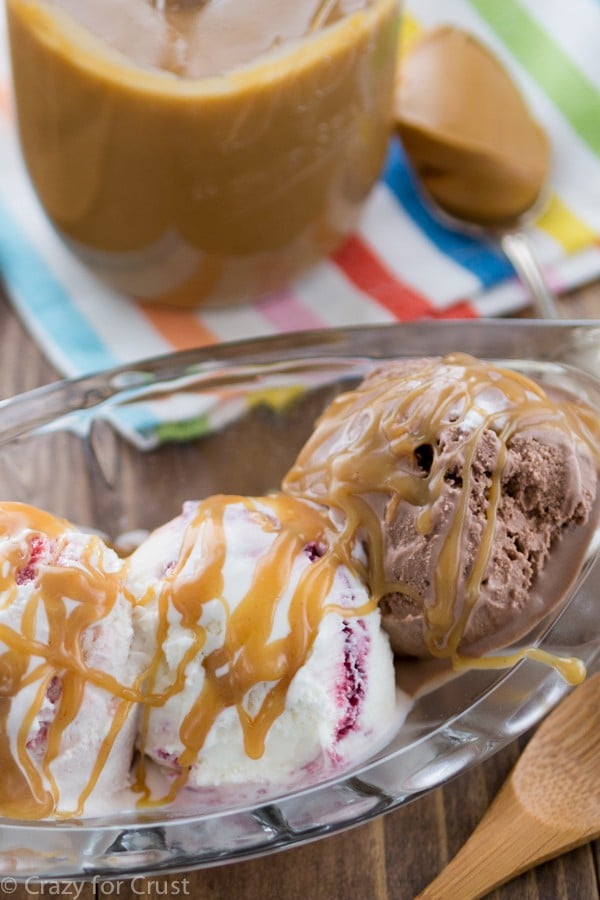 Uses for peanut butter ice cream topping:
Other ice cream toppings you'll love:
You don't even need any special tools for this recipe, it's that easy!!
Want even more? Subscribe to Crazy for Crust to get new recipes and a newsletter delivered to your inbox. And stay in touch on Facebook, Pinterest, Twitter, and Instagram for all my latest updates. If you make this recipe, share a photo on social media tagging @crazyforcrust and using the hashtag #crazyforcrust.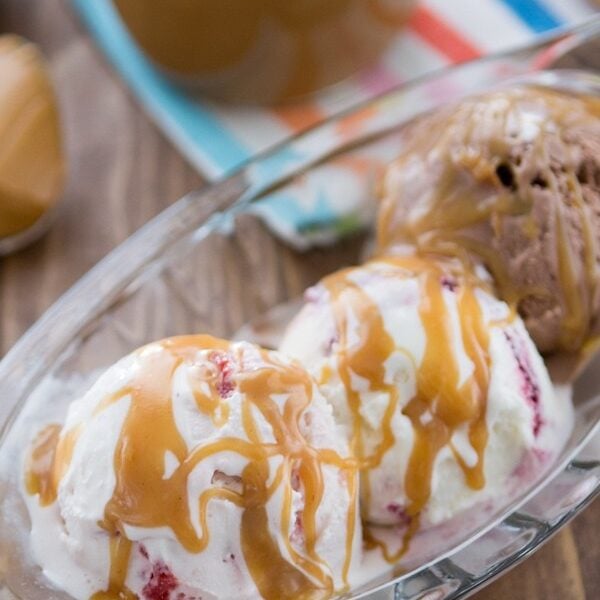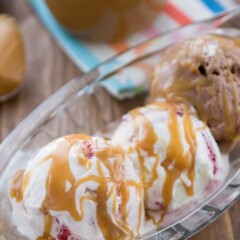 Peanut Butter Ice Cream Topping
Make your own DIY Peanut Butter Ice Cream Topping at home! Easy, just a few ingredients, and it tastes so good!
Ingredients
1/2

cup

sweetened condensed milk

1/2

cup

creamy peanut butter

don't use a Natural Peanut Butter

5

tablespoons

water

1

teaspoon

vanilla extract
Instructions
Place sweetened condensed milk and peanut butter in a small saucepan over low heat. Stir until smooth. Add water and stir until it is incorporated. Remove from heat then stir in the vanilla.

Transfer sauce to a jar to cool. It will thicken as it cools. To make it pourable, just heat it in the microwave for a few seconds, then stir and drizzle or pour over your favorite ice cream. Store covered at room temperature.
Recipe Nutrition
Serving:
1
tablespoon
|
Calories:
79
kcal
|
Carbohydrates:
7
g
|
Protein:
3
g
|
Fat:
5
g
|
Saturated Fat:
1
g
|
Cholesterol:
3
mg
|
Sodium:
49
mg
|
Potassium:
88
mg
|
Fiber:
1
g
|
Sugar:
6
g
|
Vitamin A:
25
IU
|
Vitamin C:
0.2
mg
|
Calcium:
31
mg
|
Iron:
0.2
mg
Nutritional information not guaranteed to be accurate
**Did you make this recipe? Don't forget to give it a star rating below!**
Click here to see more PEANUT BUTTER recipes!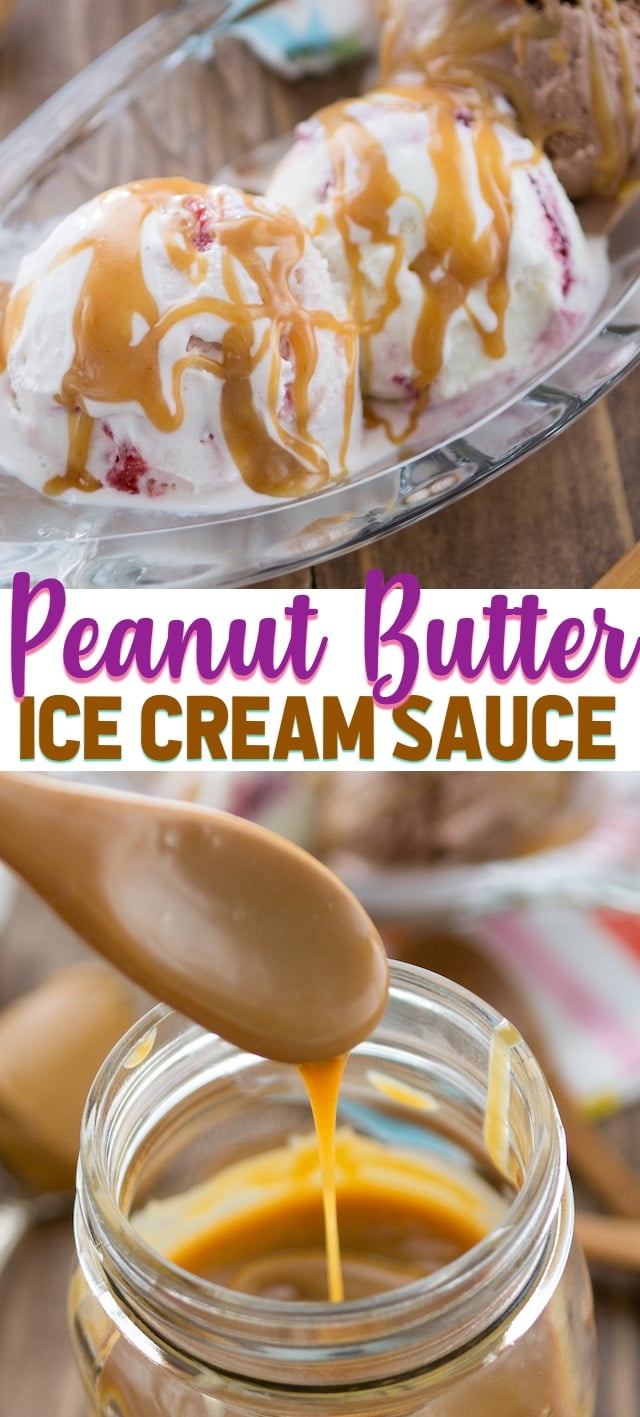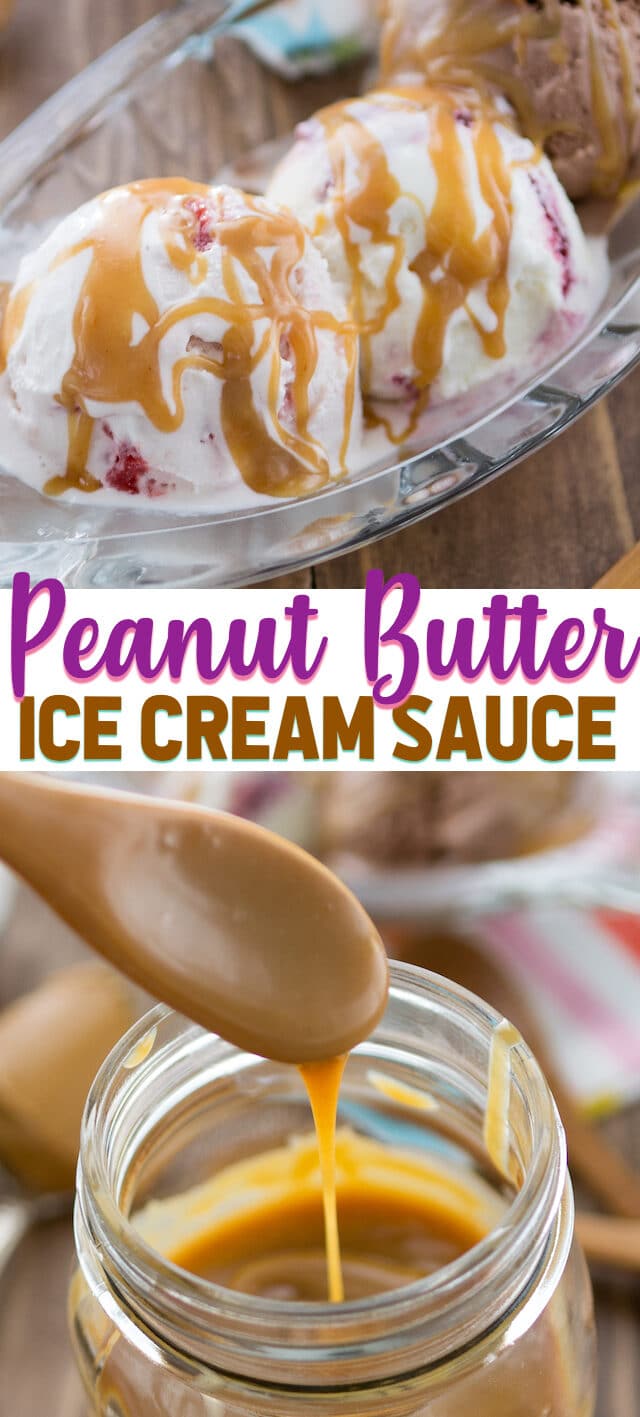 Last Updated on September 23, 2019