This post may contain affiliate links. For more information, read my disclosure policy.
Peanut Butter Cup Cupcakes – What's better than a chocolate cupcake? A PEANUT BUTTER CUP Cupcake that's a chocolate cupcake filled with peanut butter filling and topped with the BEST chocolate frosting ever.
…and then sprinkled with Reese's Peanut Butter Cups because, duh.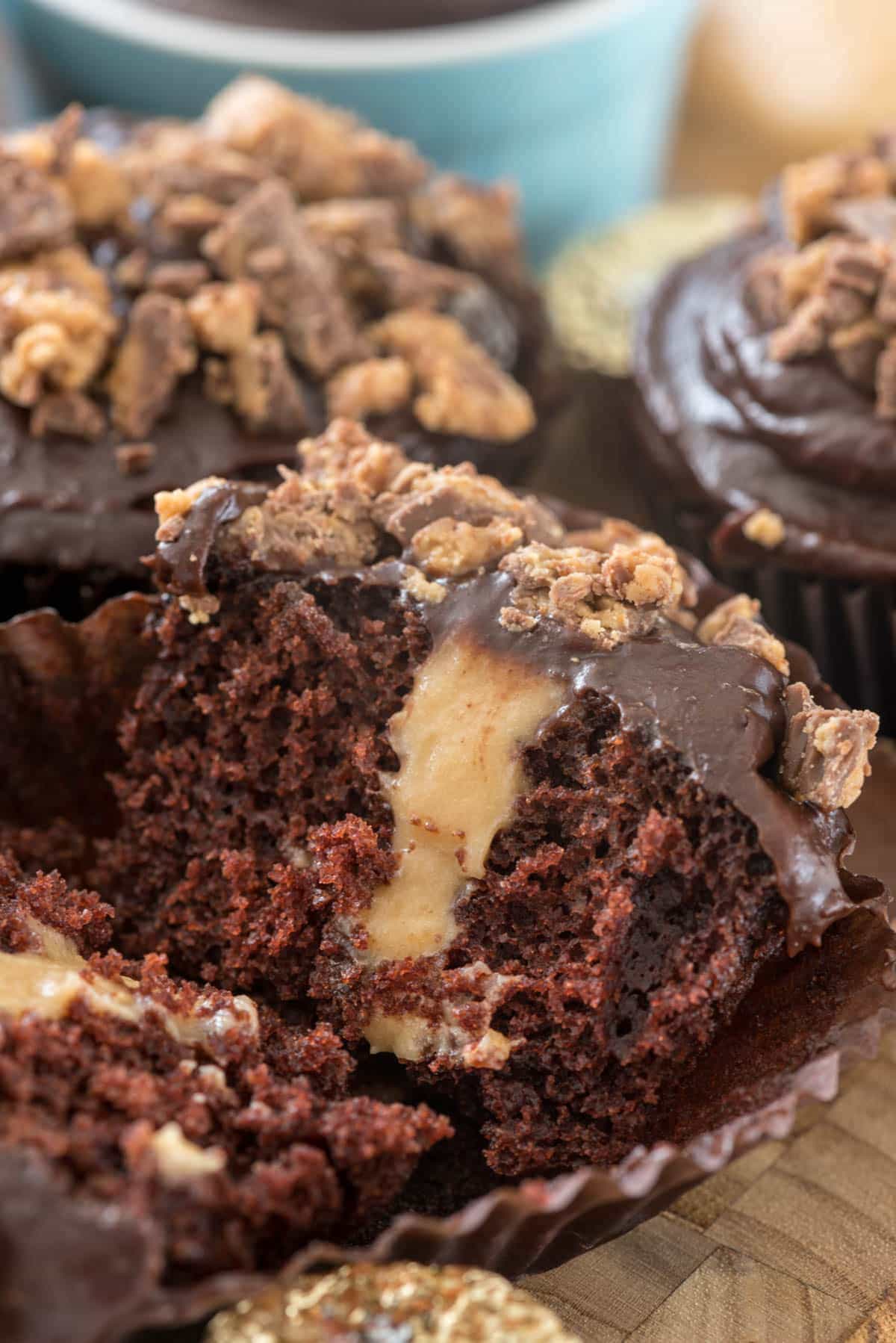 First of all, I'd like to thank you all for the kind words about my post this past Friday. I swear, every time I write about something serious like that I toss and turn all night before it posts, thinking, "What am I doing? Am I crazy to be so open and transparent? People are going to think I'm insane!" And then I open my comments, check my email and read my Facebook notifications. And I realize that posts like that are one of the reasons I love this blog – because I have a voice and I should be using it. So anyway, thank you for all your support. I pink puffy heart you all so much!!
Now, let's talk about CUPCAKES!! You guys, these are EPIC. Totally legit cupcakes. EVERYONE raved about them. Remember that party I went to last week, where the birthday girl liked peanut butter and chocolate? I did a whole table of PB&C goods: Rolo Stuffed Peanut Butter Cookies, Reese's Stuffed Chocolate Chip Cookies, a chocolate peanut butter cake, and THESE cupcakes.
They were TO DIE FOR. Birthday girl is lucky she got any, I'm not joking!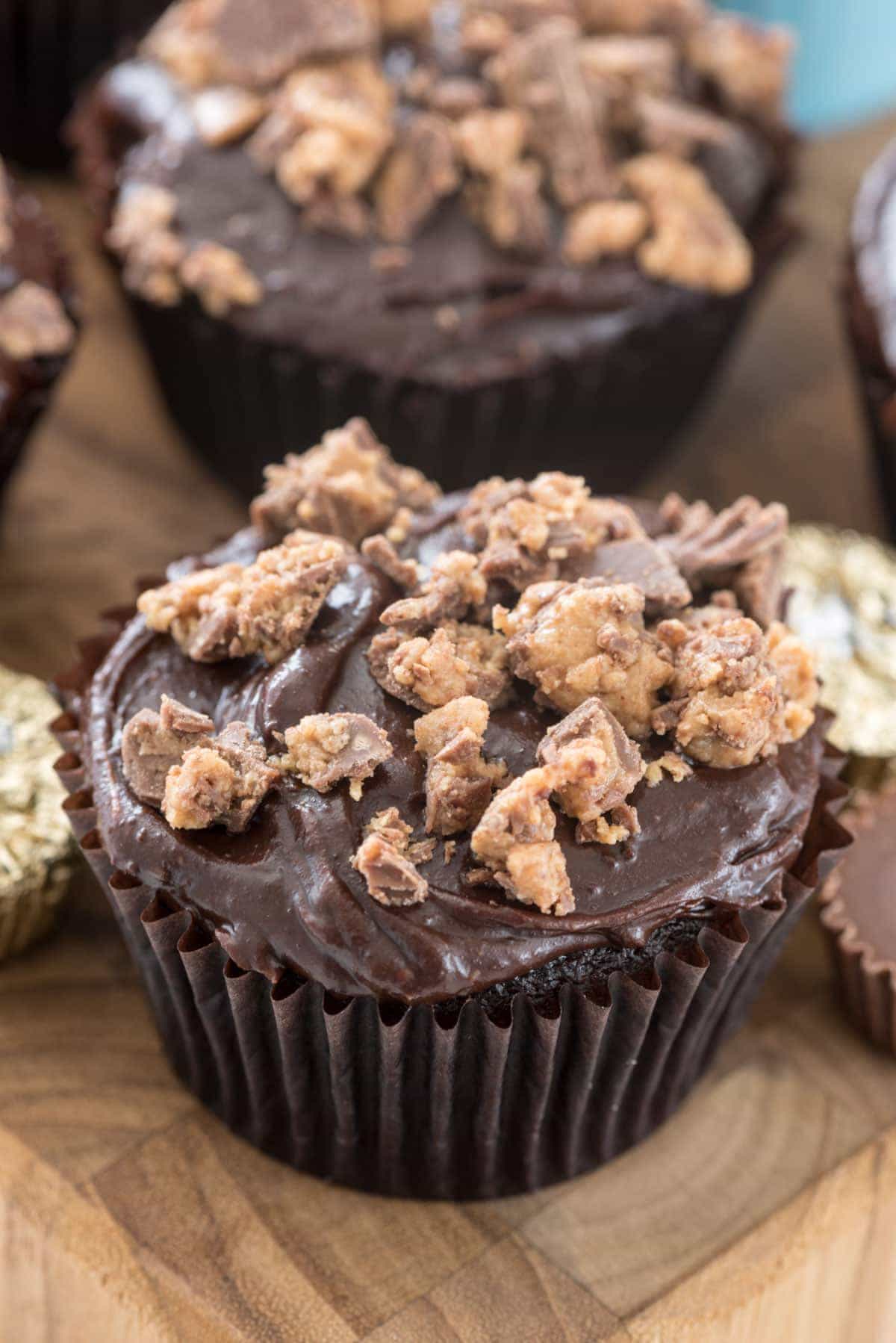 How To Make Peanut Butter Cup Cupcakes
For some reason, I don't have very many cupcake recipes on this blog. Maybe because I'm not a huge cake person? (I know, sacrilege, right?) But you know what I kind of person I am? I'm a frosting person. And a FILLING person. By God, give me a cupcake with filling and frosting? I'm a happy girl!
These Peanut Butter Cup Cupcakes satisfy all those requirements.
First, the cupcake. This is my absolute favorite chocolate cupcake recipe. I like it better than the box mix, pinky swear. And it's pretty much just as easy to make. There are NO eggs in this cupcake; the leavening is done with baking soda and vinegar. The result? A super fluffy and moist cake. Really, you MUST try it.
Then, I filled the cupcake with the peanut butter version of this whipped cream frosting. Peanut butter and granulated sugar get mixed up and then whipped into the fresh whipped cream as it mixes. The result? A rich and creamy peanut butter filling!
And then? THEN the magic happens: the frosting. This frosting, you guys. Again, if you make ONE thing on this recipe, let it be the frosting. It's a cooked chocolate frosting, made with melted butter and granulated sugar. You boil it, then let it cool (the wait is worth it) and it thickens up, almost like melted fudge or ganache.
Get. Me. A. Spoon!

These Peanut Butter Cup Cupcakes are worth ALL the steps, I promise. That frosting is worth running 5 miles!
Here are a few tips for cupcake success:
I am loving these cupcake liners I got on amazon. They are perfect for chocolate cupcakes because you can't see through them like you would white, and they weren't too thin or too greasy.
Want to skip making cupcakes from scratch? No problem,

use a box mix

and then just make the filling and frosting. No one will know!
There are

two good ways to fill a cupcake

. One,

cut a small cone shape out of the top/center

of the cupcake and fill with the filling, then frost. You can even replace a bit of the top of the cupcake, if you want. Or,

for a much easier filling method

, use the Bismarck tip with a pastry bag and just press it into the cupcake. Press to fill the cupcake, moving the tip around very gently until you can see the filling is filling up the spaces inside. Then frost as usual.
I chilled my frosting for a few hours to help speed along the thickening process. You can even start by making the frosting before you make the cupcakes, if you're in a hurry.
Try to share, if you eat too many of these your tummy will hurt. Trust me, I know. 😉
Want even more? Subscribe to Crazy for Crust to get new recipes and a newsletter delivered to your inbox. And stay in touch on Facebook, Pinterest, Twitter, and Instagram for all my latest updates. If you make this recipe, share a photo on social media tagging @crazyforcrust and using the hashtag #crazyforcrust.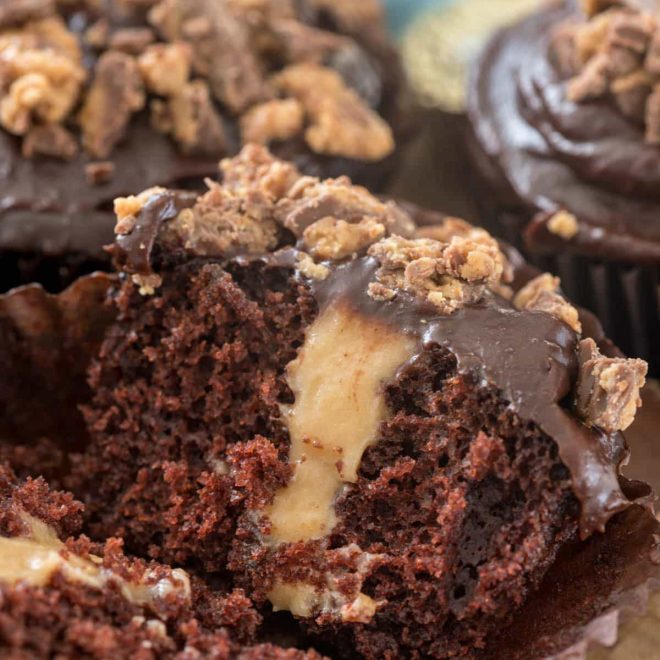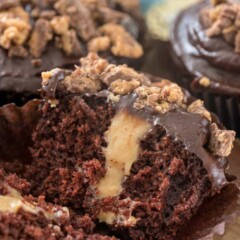 Peanut Butter Cup Cupcakes
These Peanut Butter Cup Cupcakes have it all: an easy chocolate cupcake filled with peanut butter filling and the BEST chocolate frosting!
Ingredients
You can use 2 dozen baked and cooled chocolate cupcakes

from a box mix OR
For from scratch cupcakes:
3

cups

(372g) all purpose flour

2

cups

(400g) granulated sugar

½

cup

(40g) unsweetened cocoa powder

2

teaspoons

baking soda

1

teaspoon

salt

2

cups

(474ml) hot water

¾

cup

(177ml) vegetable oil

2

tablespoons

(30ml) white or distilled vinegar

1

tablespoon

instant coffee granules

optional

1

teaspoon

vanilla extract
For the Frosting:
½

cup

(113g) unsalted butter

1 ½

cups

(300g) granulated sugar

1 ¼

cups

(100g) unsweetened cocoa

¼

teaspoon

salt

1 ¼

cups

(287ml) heavy whipping cream

¼

cup

(62g) sour cream

1

teaspoon

instant coffee granules

optional

2

teaspoons

vanilla extract

Chopped Reese's Peanut Butter Cups

for garnish
For the Filling:
½

cup

(134g) creamy peanut butter

not natural

½

cup

(100g) granulated sugar

½

teaspoon

vanilla extract

1

cup

(237ml) heavy whipping cream
Instructions
Want to skip the skip of making cupcakes from scratch? No problem, buy plain ones from the store or make them from a box mix, skip to step 5.

Preheat oven to 350°F. Line cupcake pans with liners (around 30).

Make the cupcakes: whisk the flour, sugar, cocoa powder, baking soda, and salt in a large mixing bowl. Whisk the hot water, oil, vinegar, coffee (if using), and vanilla in a large measuring cup. Whisk, then stir, the liquid into the dry mixture.

Divide evenly among cupcake liners (about 2/3 full) and bake for about 15 minutes, until a toothpick comes out clean. Cool completely before filling and frosting.

While the cupcakes are baking, make the frosting. The frosting requires cooling/chilling time. Melt the butter in a medium saucepan over medium low heat. Stir in the sugar and cocoa. It will make a thick paste. Whisk together the heavy whipping cream, sour cream, vanilla, and coffee (if using) in a large measuring cup. Slowly stir the cream mixture into the saucepan, whisking as needed, until smooth. Cook until the mixture is thick and hot, 4-8 minutes (just until it starts to bubble), then cool for 2-3 hours. I like to cool it until the bowl is easy to touch, then chill it until it's thick like frosting, stirring occasionally. Chilling will help it set faster, especially if it's warm in your house.

Make the filling: beat peanut butter and sugar with a hand mixer or stand mixer fitted with the whisk attachment until smooth. Add in vanilla, then slowly add whipping cream and turn the speed to high. Beat until stiff peaks form. Chill until ready to use.

To assemble cupcakes: fill each cupcake with some of the peanut butter filling. You can either use a knife to cut out some of the cupcake and spoon or pipe it in, or you can use a Wilton Cupcake Filling Tip (Bismarck) and a pastry bag to fill by just pushing the tip into the cupcake and moving it slightly as you press the bag to fill the cupcake. Frost with the frosting and sprinkle with chopped peanut butter cups.

Store in refrigerator up to 3 days. Cupcakes can be made and frozen ahead of time for up to one month. Filling should be used within 24 hours (store in refrigerator) and frosting can be made up to 2 days ahead and stored in the refrigerator (it might harden completely, let come to room temperature and stir to loosen).
Recipe Nutrition
Serving:
1
cupcake
|
Calories:
378
kcal
|
Carbohydrates:
42
g
|
Protein:
5
g
|
Fat:
23
g
|
Saturated Fat:
9
g
|
Cholesterol:
33
mg
|
Sodium:
1801
mg
|
Fiber:
3
g
|
Sugar:
29
g
Nutritional information not guaranteed to be accurate
**Did you make this recipe? Don't forget to give it a star rating below!**
Click here to see more PEANUT BUTTER recipes!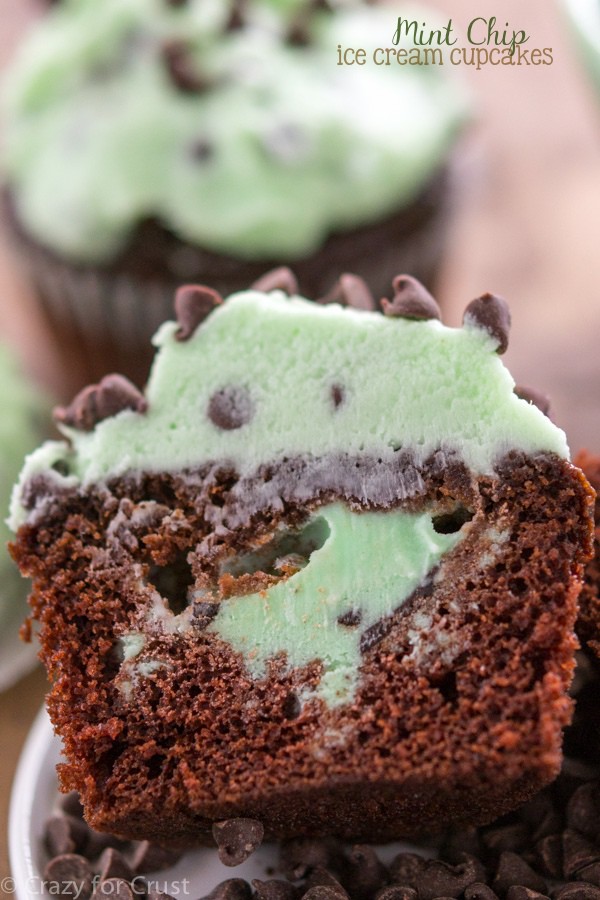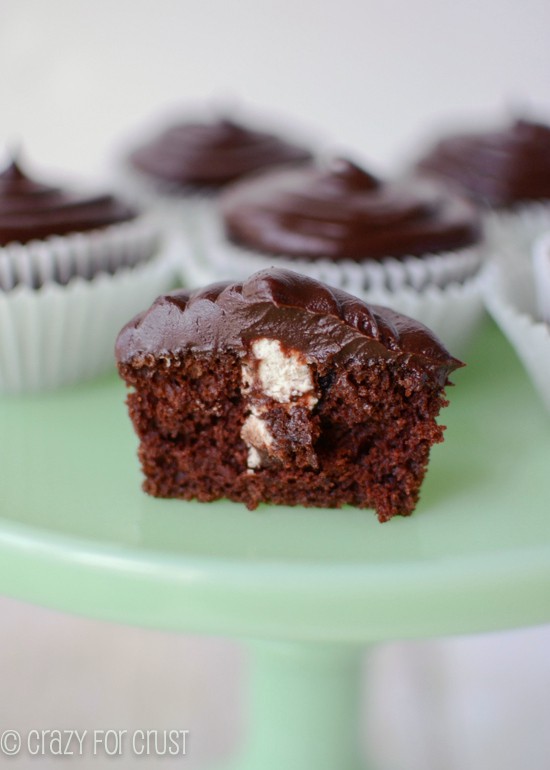 Last Updated on February 2, 2023